When pears are ripe at your local farmer's market it's the perfect time to make a pear smoothie with ginger and take advantage of the fruit in season. Our pear smoothie recipe is good for you and pears are readily available all year round. If you love the flavor as much as I think you will you'll be making it every day as we do.
Any time you can enjoy a green smoothie, you are treating your body to all of the goodness of chlorophyll in a form we love. Ginger adds a flavor and intensity to this drink that cannot be matched.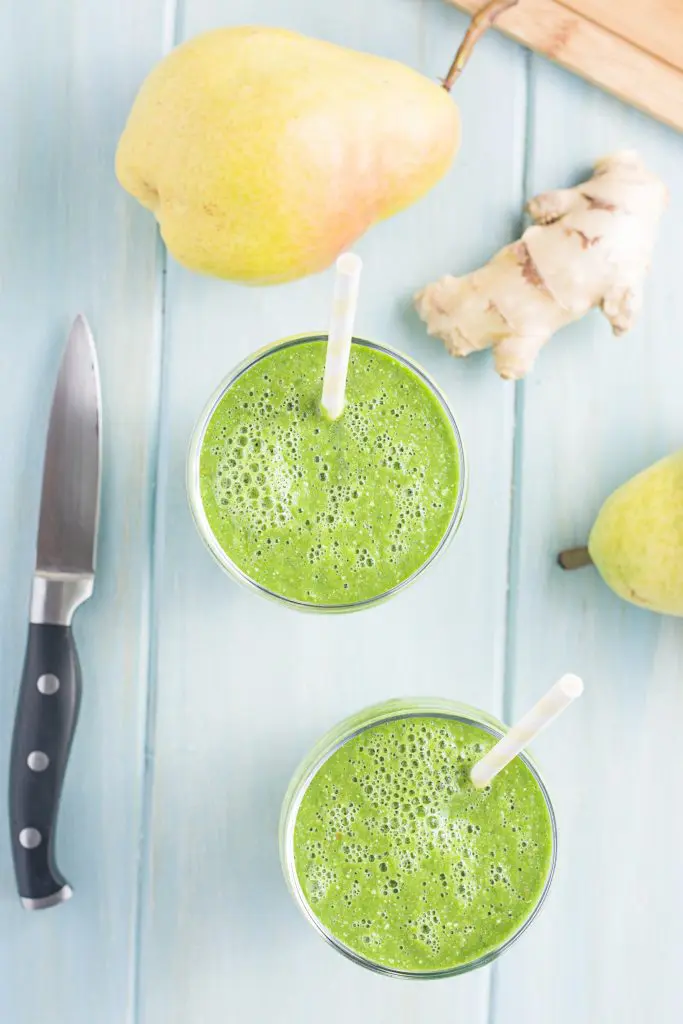 How to Make A Pear Smoothie with Ginger
With a good blender, smoothies are incredibly easy to make. This Pear Smoothie Recipe comes together fast and has all the sweetness of pear with the bite of ginger to balance out the green.
All you have to do is throw all of the ingredients into your blender and blend until it comes out smooth. Some blenders will come with instructions for a specific order to add ingredients for best results. Follow those instructions.
Consume immediately for best results.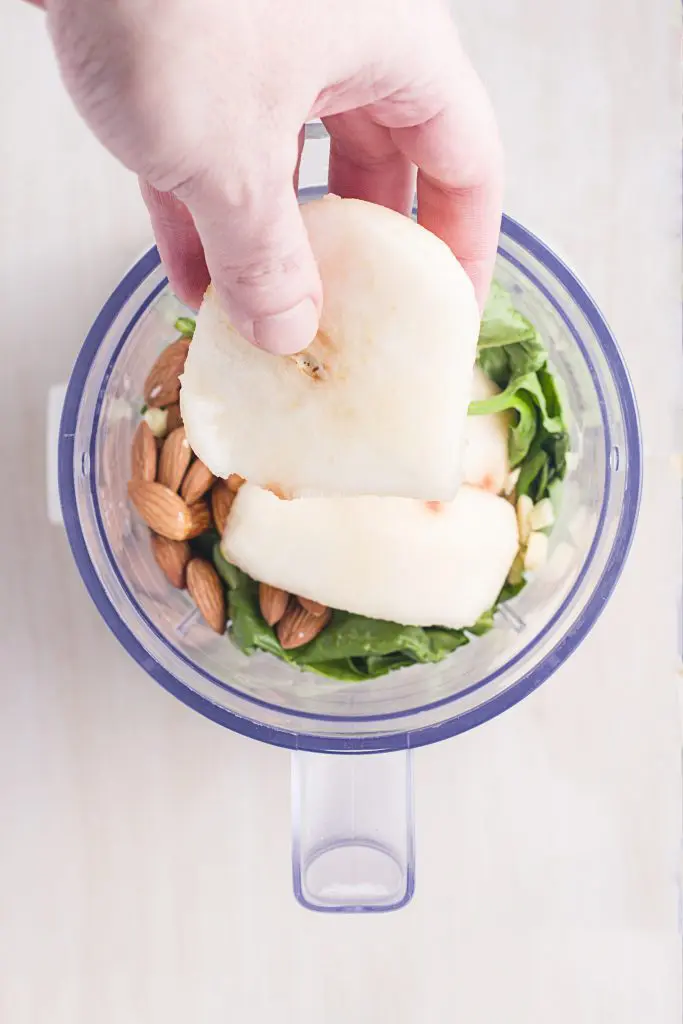 Equipment You Will Need for Pear Smoothies
All you really need to make a great pear smoothie is a great blender. These are the brands I recommend.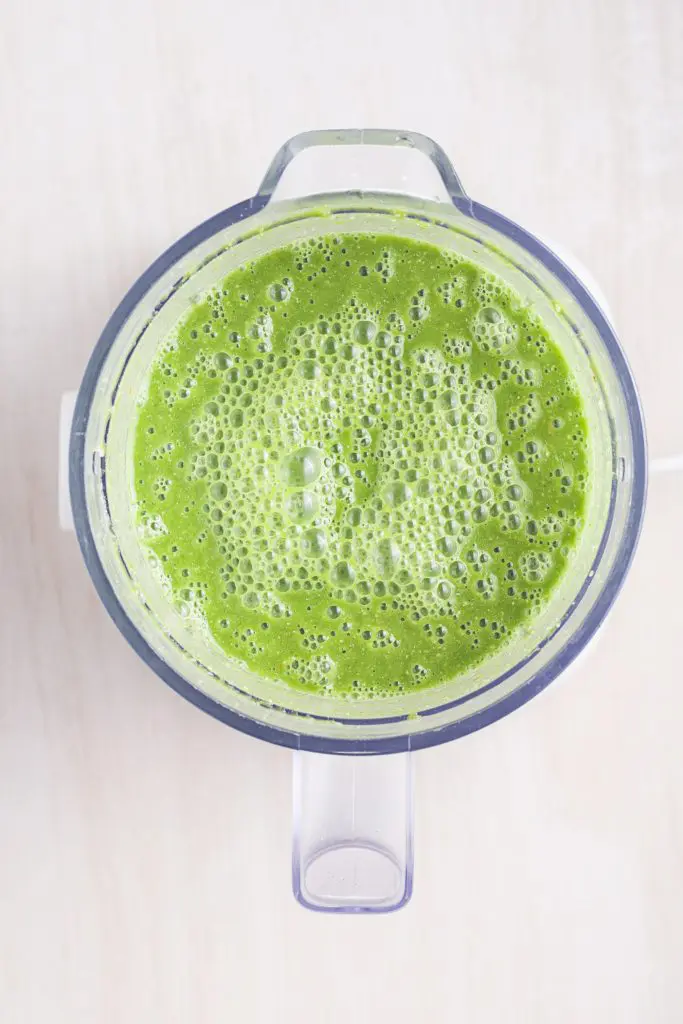 Ingredients for your Green Smoothie
Pear. Cored and quartered. I highly recommend pears from your local farmers' market when they are in season.
Spinach. Rinsed and drained. Spinach adds significant nutritional value without compromising the flavor.
Ginger. Peeled and Chopped. Ginger is said to have anti-inflammatory benefits. Make sure to look for fresh ginger. It should be firm, with bright papery skin that hasn't dulled. Avoid ginger with soft spots or discoloration on the skin.
Lemon Juice. Fresh squeezed or from a bottle.
Almonds. If you have time, roasting improves the flavor.
Cold Wáter.
Crushed Ice.
Vanilla Extract.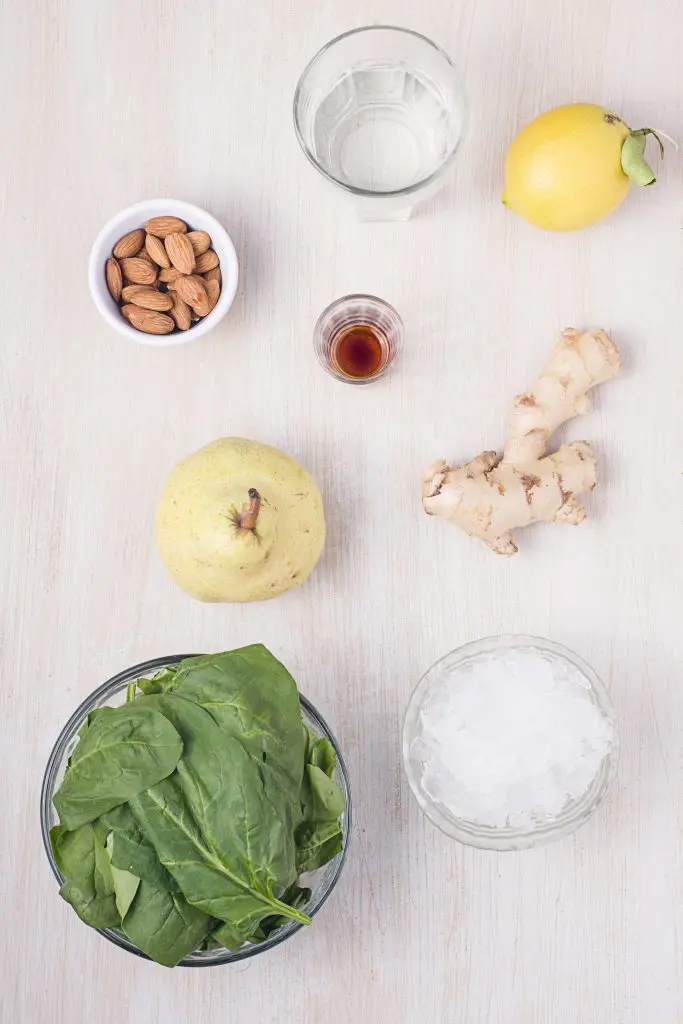 Tips for Making the Pear Smoothie with Ginger
Add more ice if you like a thicker smoothie. Add less ice for a thin smoothie.
Don't be tempted to add more sugar regardless of what it is. Once you get used to a smoothie that's less sweet, you'll enjoy its health benefits as is. If you do prefer a sweeter smoothie, we suggest local honey.
Make enough smoothies for the week and freeze them in portion sizes. You'll enjoy the convenience when rushing out the door.
Pear Smoothie Variations
Add hemp seeds for additional protein.
Ground flaxseed for Omega-3 essential fatty acids and fiber.
Chia seeds are another Omega-3 powerhouse and will help thicken your smoothie.
Turmeric is said to be an anti-inflammatory. The bright color will change the color of your smoothie.
Wheatgrass is full of iron, calcium, magnesium, and vitamins A, C, and E and can be purchased as a powder or liquid.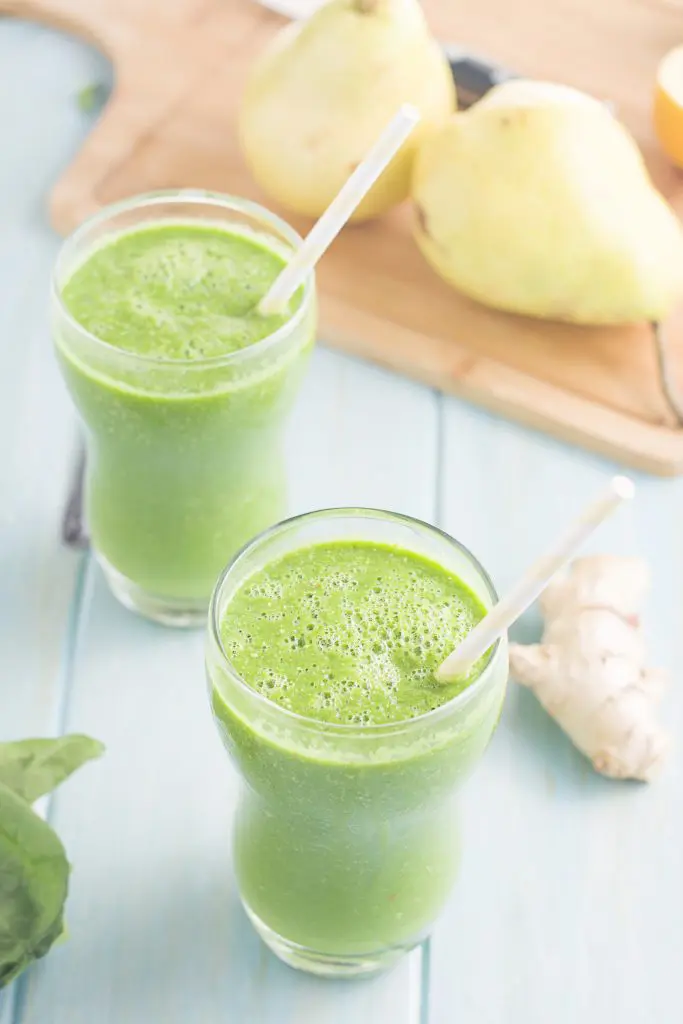 Pear Smoothie FAQ
Are green smoothies really that good for you?
Check out these potential health benefits of green smoothies. The wonderful thing about green smoothies is that they help you get more leafy greens into your diet. We all know we need more raw leafy greens for vitamins, minerals, and fiber. But actually eating the number of greens we need can be a challenge. Our pear smoothie is the perfect solution.
What is the healthiest liquid to put in a smoothie?
Water is a fantastic choice since most of us are already dehydrated and water is an odorless and tasteless liquid that adds bulk to our pear smoothie without any calories.
Unsweetened almond milk also works really well, is low calorie, and adds protein and vitamins.
Is it better to drink a green smoothie or eat the fruit?
Drinking a smoothie is like condensing multiple fruits and vegetables into one food experience. You still get the fiber, nutrients, and micronutrients, you just get them in a smaller package. Plus it's a great way to sneak leafy greens into your diet. If you have digestive issues, making a smoothie out of your daily fruit intake helps the process along.
Is a smoothie enough for breakfast?
Smoothies are a great way to start your day and definitely can be a healthy breakfast as long as you watch portions and choose a smoothie with plenty of vitamins, and minerals and not as much sugar. That's what makes our pear smoothie so great! Smoothies with fiber and protein are excellent nutrition.
What does Ginger do in a smoothie?
Ginger warms you up and is thought to increase circulation. Besides that, ginger brightens up a dull smoothie with a fun and unexpected flavor.
Do you peel ginger for a smoothie?
It's super easy to peel ginger for a smoothie. The papery skin comes right off when you rub it with the tip of a spoon. Technically, the peel is edible though so there is some disagreement about whether the ginger should be peeled or not. You get to decide!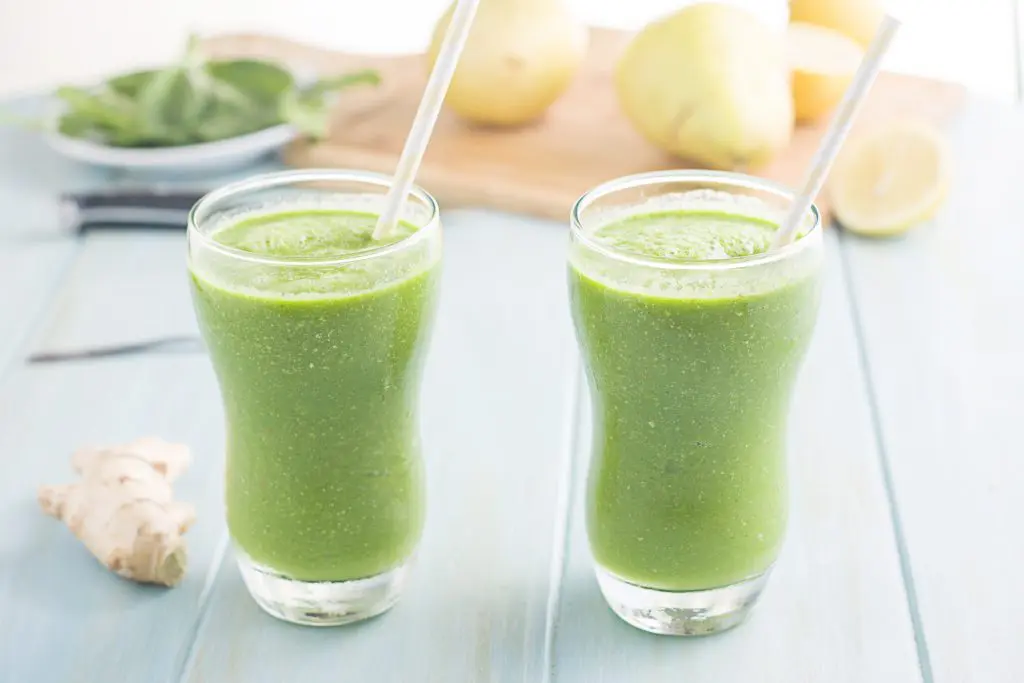 Recipes you may enjoy
Don't Forget To Come Back And Let Me Know How Your Pear Green Smoothie Turned Out!
Here's more Farmer's Market Week Recipes
Starter and Smoothie Recipes
Side Dishes Recipes
Main Dish Recipes
Farmer's Market Week is always the first week in August. Whether you have a great local farm stand or market, are a member of a CSA or purchase your fruits and vegetables at the supermarket, follow our
Pinterest board
, for great recipes including those for appetizers, drinks, breakfast, lunch, dinner, dessert and more.