Make a fast, dairy-free smoothie bowl with our Strawberry Banana Smoothie Bowl recipe. Add the mix-ins you love and enjoy a delicious, good-for-you, life-giving breakfast before you start your busy day. In just minutes.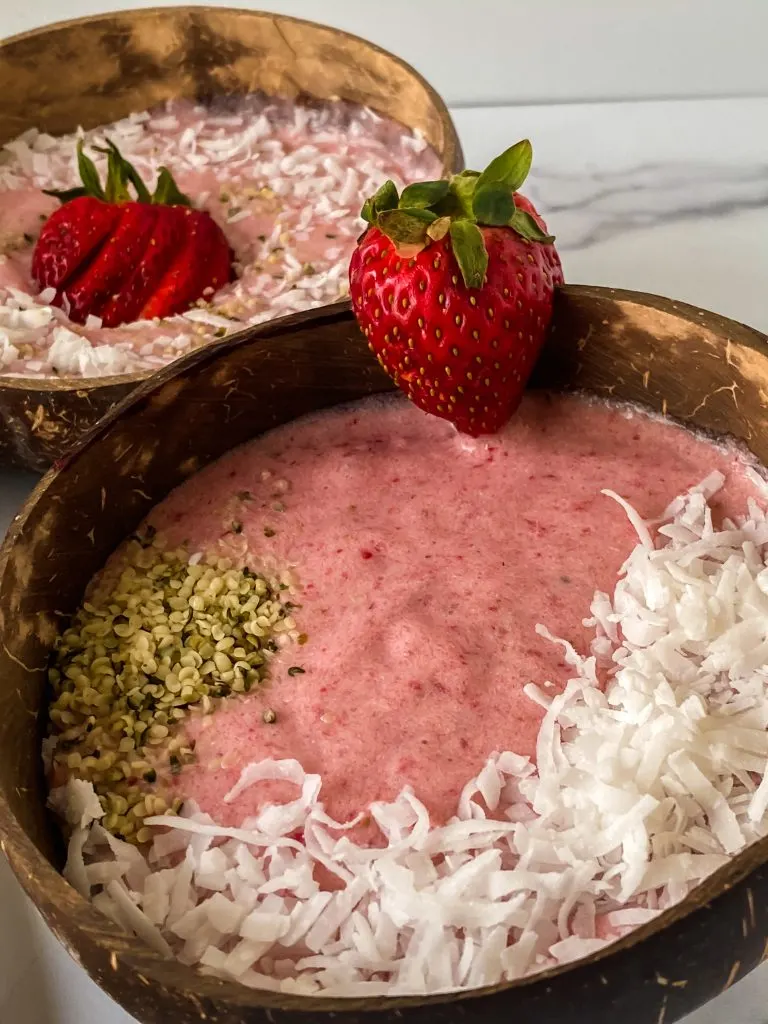 Eating a quick but healthy breakfast doesn't have to cost you valuable time as you rush out the door. Blending up a quick smoothie is breakfast on the go or a delightful relaxing snack on a warm day.
Why You'll Love Our Strawberry Banana Smoothie Bowl Recipe
Versatile. Use only the ingredients you like and easily change up the ingredients to try new flavors. Gather up the ingredients you love or want to try and keep them together in a special spot in your fridge or pantry for fast breakfasts.
Gluten-free. No need to add grains of any kind or risk gluten contamination when you make your own smoothie bowl.
Minimal ingredients. Keep what goes into your body limited to the things you want to put in your body. No surprises or hidden ingredients here.
Quick and easy to make. Don't struggle to make your breakfast, lunch, or healthy snack! Our Strawberry Banana Smoothie Bowl makes a perfect breakfast, or even a healthy dessert when frozen!
Equipment Needed To Make Smoothie Bowls
Blender. A good powerful blender is life-giving to your kitchen just like smoothies are life-giving to your body. Not only can you make amazing smoothie bowls you will also be able to make soup, butter, sauces, and more. It's worth the investment.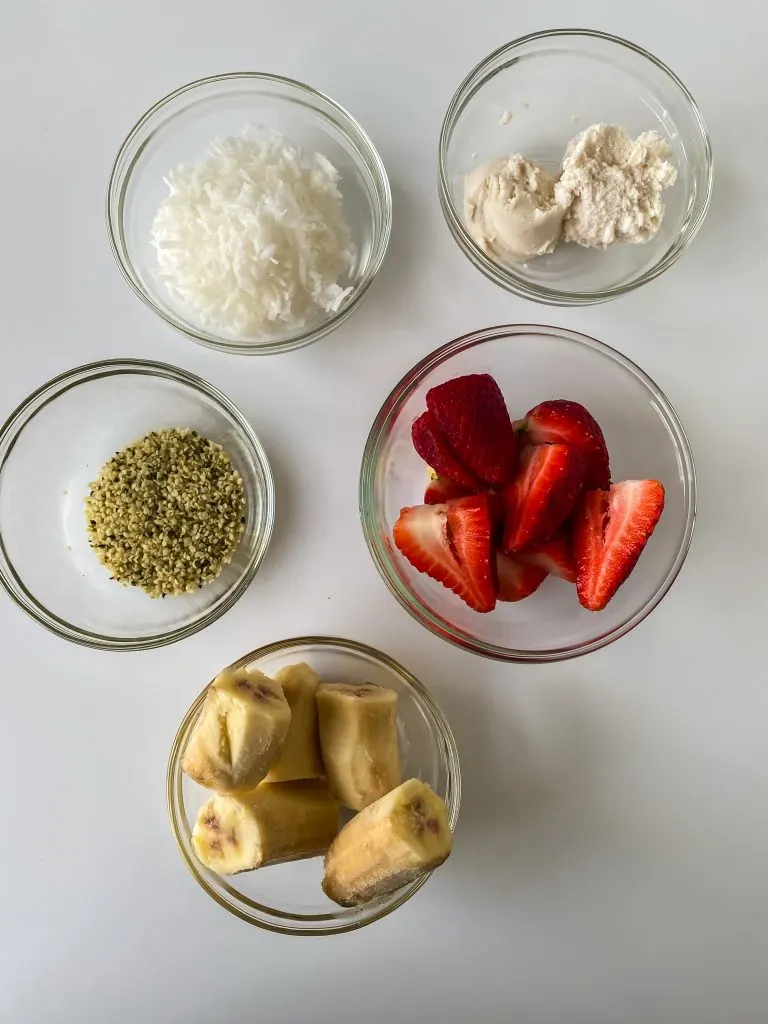 Ingredients For Your Strawberry Banana Smoothie Bowl
Coconut milk (solids). Coconut solids is the fat/cream at the top of the can when you open up coconut milk. It makes this smoothie thick and creamy while adding good-for-you fat. Coconut milk is said to aid in weight loss, contain antioxidants, have anti-inflammatory properties, and strengthen the immune system among other benefits. Any milk or milk alternative can be used but substitutes can lessen the thickness of this smoothie bowl.
Strawberries. Frozen for a thicker Smoothie Bowl. Slice them to blend more easily.
Bananas. Frozen works best and gives it the consistency of a milkshake.
Shredded Coconut.
Please note, that the printable recipe card has ingredient quantities, complete instructions, and nutritional information. The following is a quick overview of the recipe.
How To Make A Strawberry Banana Smoothie Bowl
Making a smoothie bowl is so easy because all you have to do is put the ingredients you want to be pureed into a blender and pulse it until you get your desired consistency. Then pour it into a bowl and add the mix-ins you love like hemp seeds or fruit. That's it! Simple, delicious and so good for you.
Step One. Put all the ingredients in a blender and pulse.
Step Two. Add mix-ins and enjoy.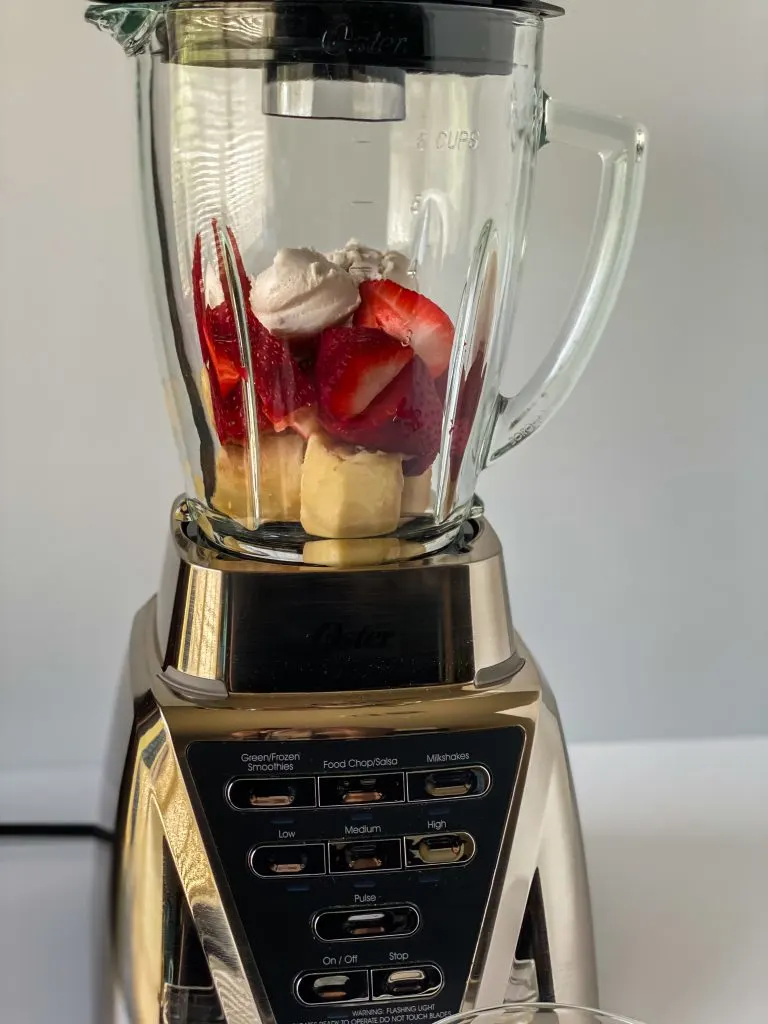 Substitutions & Additions
I love adding protein powder, chia seeds, ground flax, and hemp seeds or nut butter for
additional protein.
Add fresh spinach. The color is ghastly but it's delicious. Fresh beets, cauliflower or
avocado would be delicious too.
Top with shredded coconut, chopped nuts, or a few mini chocolate chips.
Stir in or top it with some Vanilla Granola.
Add 1 or 2 tablespoons of Agave or Honey for more sweetness
How To Store Strawberry Banana Smoothie Bowls
How long do smoothies last?
Store leftovers in a mason jar in the fridge for 24 hours and use a fork to mix it back together if it settles.
Freeze in ziplock bags. Allow to thaw slightly for a smoothie or eat frozen for a frozen treat. Strawberry Banana Smoothie Bowls are best eaten right away.
Can Smoothie Bowls be refrigerated?
No, I don't recommend storing them in the refrigerator. It will separate and be unappetizing once it is no longer frozen.
Can I Freeze Smoothie Bowls?
Yes, freeze & reblend pour it into popsicle molds or freezer-safe containers for a delicious snack that tastes like ice cream!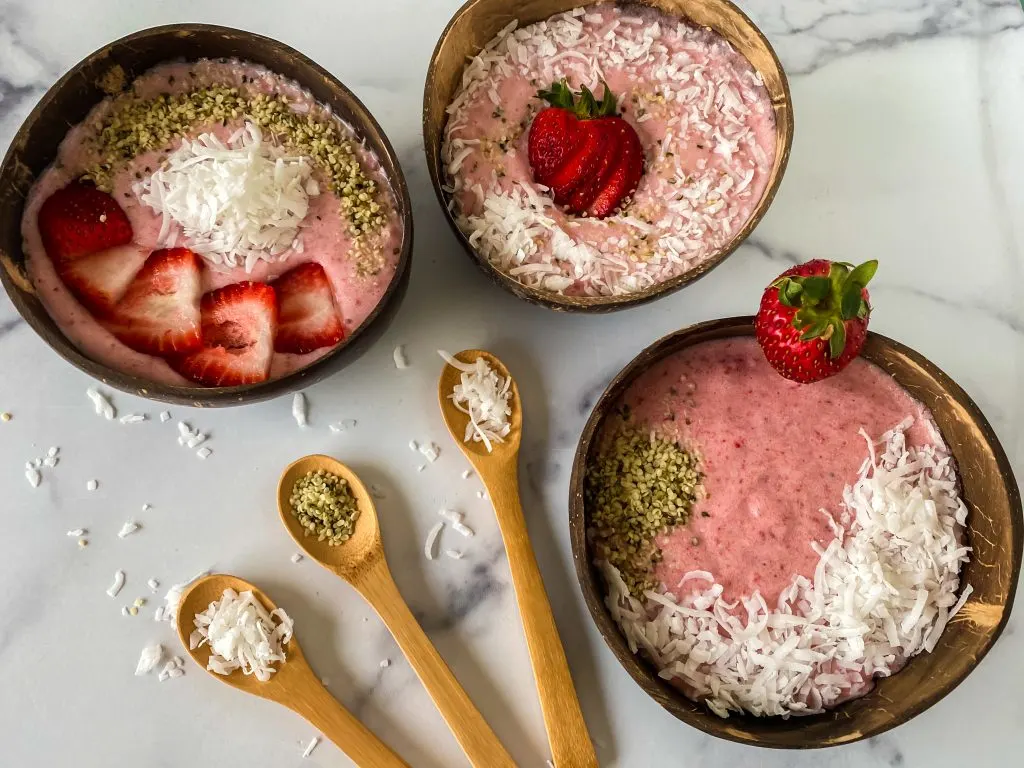 Smoothie Bowl Recipe FAQs
Is a smoothie bowl healthy?
Yes! The ingredients in this recipe are healthy. There is sugar in fruit, however, it isn't refined sugar. It also adds antioxidants and vitamins. That being said, too much of anything adds unwanted calories so don't overdo the serving size.
Is this recipe safe for celiacs?
Yes, this recipe is safe for celiacs. The ingredients are gluten-free. If you suffer from celiac disease you know that it's important to read labels. Even though an ingredient is gluten-free, it must also be safe from cross-contamination.
What's the benefit of a strawberry banana smoothie bowl versus a smoothie?
When you make a smoothie bowl you can add additions that you normally wouldn't
drink through a straw such as chopped nuts or shredded coconut.
Tips to Make the Perfect Strawberry Banana Smoothie Bowl
Peel and cut up bananas and freeze them in smoothie-sized portions.
Use frozen bananas to thicken this smoothie. Fresh bananas will give the smoothie more of a milkshake consistency.
You can use 2 bananas for a larger, thicker smoothie bowl. Add 105 calories to the total given.
Store leftovers in a mason jar in the fridge for 24 hours and use a fork to mix it back together if it settles.
Freeze in plastic zipper bags. Allow to thaw slightly for a smoothie bowl or eat frozen for a frozen treat.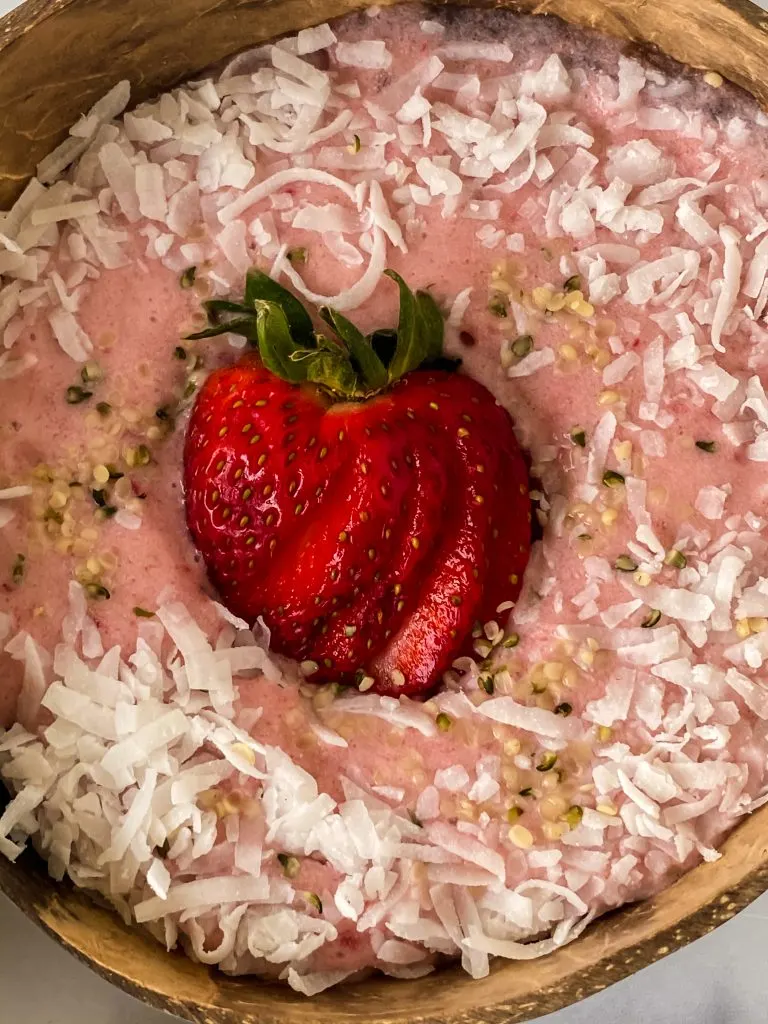 Other Smoothie Recipes You'll Love
Chocolate Hazelnut Smoothie Bowl Recipe
Pear Smoothie with Ginger (Green Smoothie)
Mango Kiwi Smoothie In Three Simple Steps
Don't Forget To Come Back And Let Me Know How Your Strawberry Banana Smoothie Bowl Turned Out!