Creamy Garlic Parmesan Chicken Pasta is a one-pot meal that only takes 30 minutes to make. It's a perfectly delicious meal for a weeknight dinner or entertaining guests.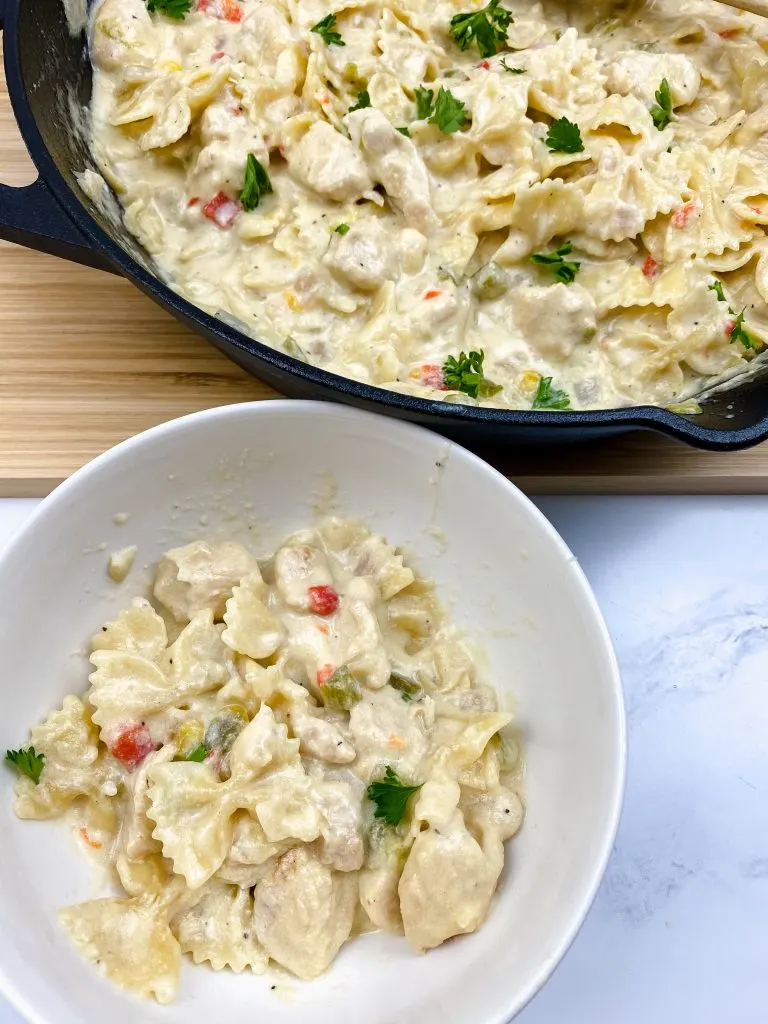 Whether you are cooking your first meal for a significant other or feeding a hoard of guests, this one-pot garlic parmesan chicken pasta recipe is ideal. Creamy and delicious pasta with chicken pairs perfectly with bread and salad you could grab at the store to make the meal even easier.
Why You'll Love This Garlic Parmesan Chicken
Delicious. As good any restaurant version, this homemade chicken parmesan pasta is so tasty your family will ask for it over and over again.
Fast. You'll only need ten minutes of prep time and thirty minutes in a skillet to finish off this dish.
One Dish. Cook the pasta right in the sauce with the chicken — less mess to clean up!
Equipment Needed To Make Creamy Garlic Parmesan Chicken
Braiser – I like using a braiser for this recipe because it has a large surface area for cooking evenly and it's pretty enough to take to the table.
Wooden utensils – These utensils are beautiful and will not scratch your pans.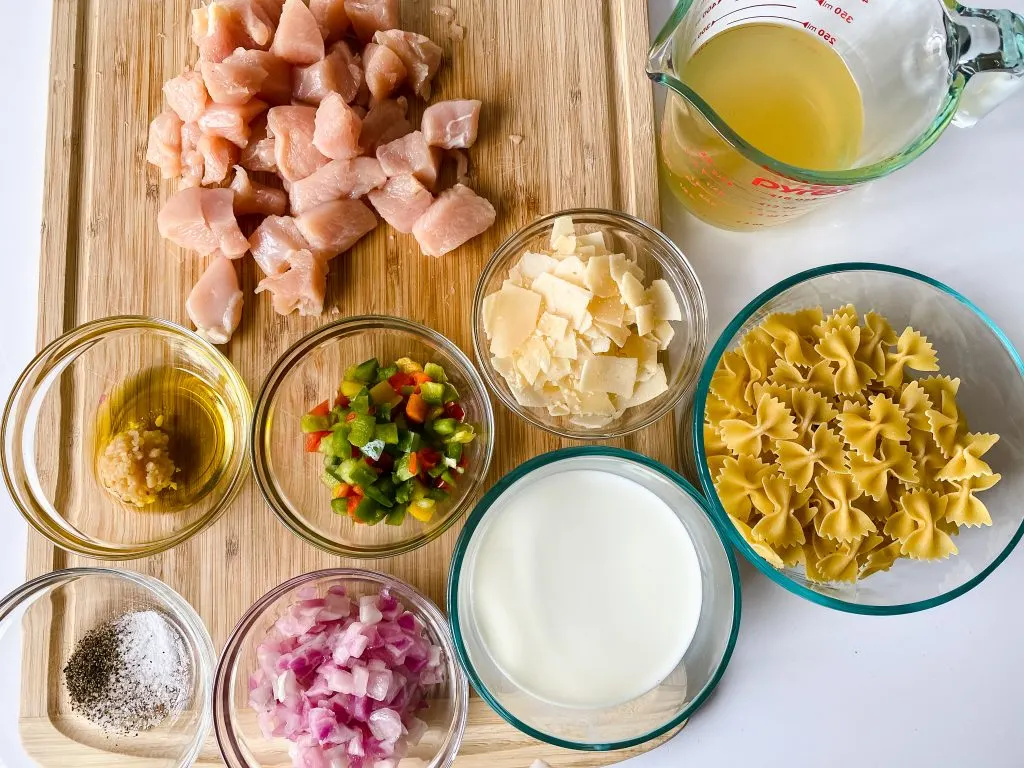 Ingredients For Your Parmesan Chicken Pasta
Chicken Breasts. Great flavor, lower fat content, and white meat.
Olive Oil. Extra Virgin Olive Oil adds flavor and healthy fat to your cooking.
Unsalted Butter. Necessary for flavor.
Onion. You can use red onion or yellow onion.
Bell Pepper. Mix colors for a beautiful effect.
Garlic Cloves. Minced using a handy garlic press is best.
Chicken Broth. I prefer to use a low fat and low sodium variety.
Milk. I prefer to use whole milk because the added fat helps the sauce.
Heavy Cream. I wouldn't substitute this ingredient with anything else. It helps the sauce thicken and is delicious.
Bow Tie Pasta. You can pick fusilli, rotini, or elbow if you prefer.
Salt and Pepper. To Taste.
Shredded Parmesan Cheese. A good quality parmesan is worth the price.
Chopped Parsley. For garnish.
What's the best chicken to use for Parmesan Chicken Pasta?
I used two boneless, skinless, chicken breasts. You could use chicken thighs or any chicken that can be cut uniformly so that they cook at about the same rate.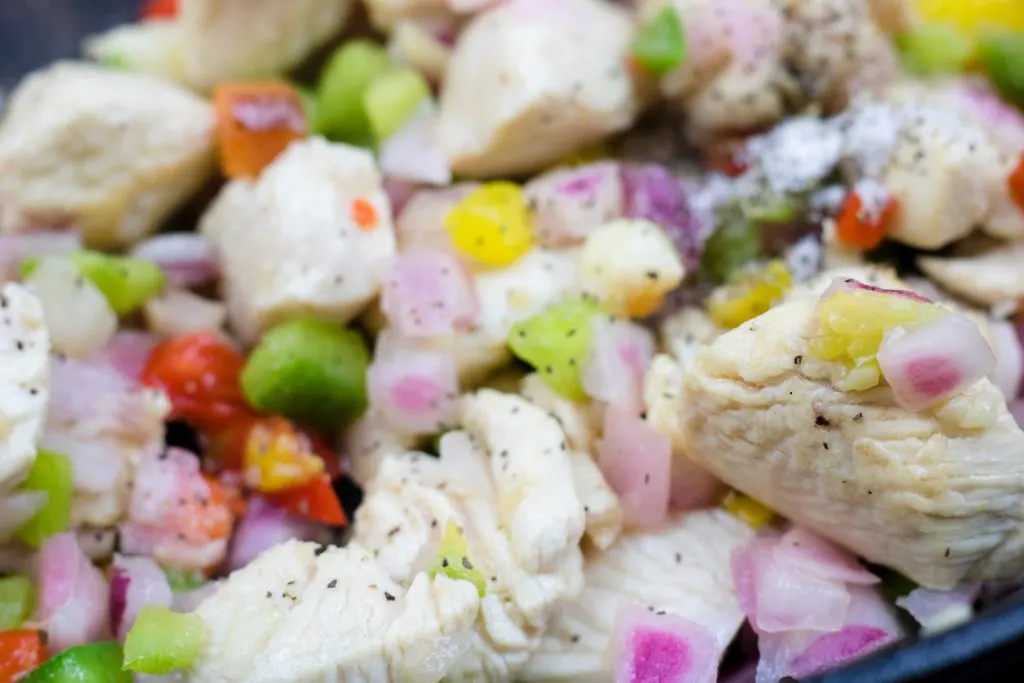 Please note, that the printable recipe card has ingredient quantities, complete instructions, and nutritional information. The following is a quick overview of the recipe.
How To Make Parmesan Chicken Pasta
It takes ten minutes to prep this dish and about thirty minutes of cooking time. That makes it a relatively easy pasta dish that tastes amazing.
Step One. Heat up the olive oil and butter. Cook the chicken until no longer pink.
Step Two. Add in the onions and peppers and cook until the chicken browns.
Step Three. Add the seasoning and cook a little longer.
Step Four. Add uncooked pasta, milk, cream, and chicken broth. Boil and then simmer.
Step Five. Add parmesan and more liquid if needed. Serve hot!
What to Serve with Your Parmesan Chicken Pasta
I serve this dish right from the stovetop. You could also put it in a casserole dish and top it with bread crumbs, additional cheese, or both. Put it in the oven until browned and serve. Serve with bread and salad for a perfect meal. Try these recipes.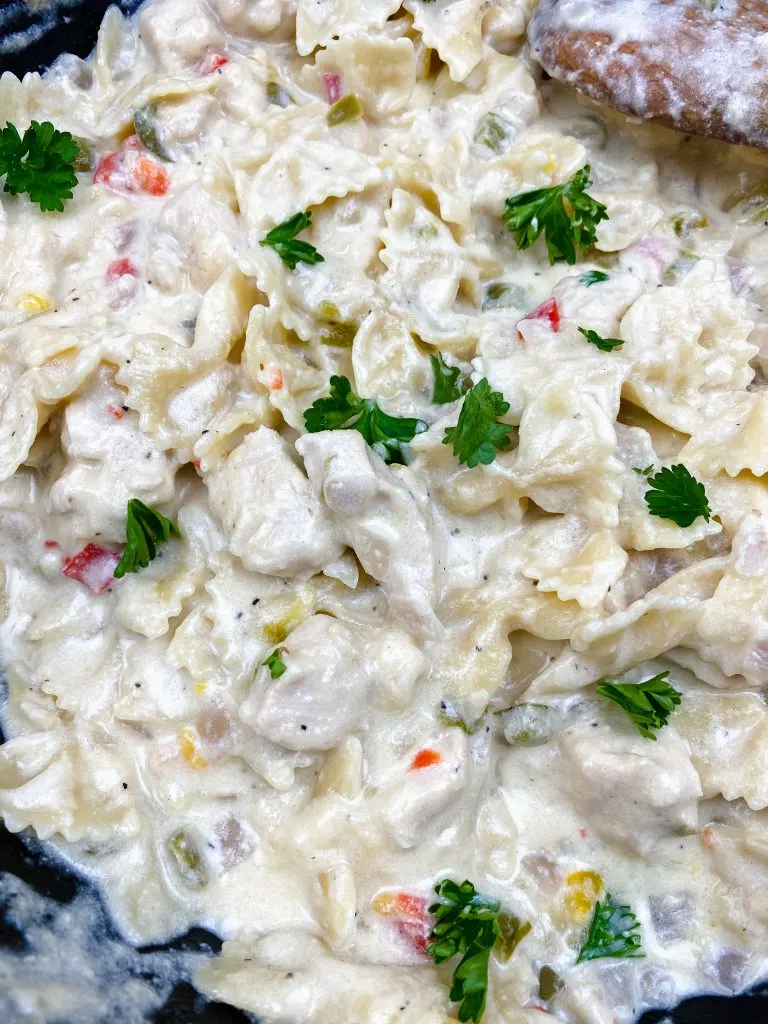 Substitutions & Additions
Cheese – Freshly grated or shredded Parmesan is what I used and prefer. However, you could also use another semi-soft cheese such as Romano, Pecorino, Mozzarella, or Manchego.
Veggies – Fresh mushrooms, zucchini, sundried tomatoes. Cook when you add the onions and bell peppers.
Try adding a frozen veggie medley to this dish! Add them when the liquids are added, stir and let simmer.
How To Reheat & Store Parmesan Chicken Pasta
Best Way To Store Garlic Parmesan Chicken
Use airtight containers to keep your leftover parmesan chicken pasta in the refrigerator or freezer.
How Long Will Parmesan Chicken Pasta Last In the Fridge?
Two Days. Keep your leftover chicken parm noodles in the refrigerator for up to two days. Cooked chicken does not keep long. If you will not eat it all in two days, freeze individual portions for later use.
Can I Freeze Garlic Parmesan Chicken
Yes. Freeze individual portions in microwaveable bowls and you will have an easy work lunch any day of the week. Keep frozen parmesan chicken pasta for up to three months in the freezer as long as it is in an airtight container.
How To Reheat Creamy Garlic Parmesan Chicken
The easiest way to reheat parmesan chicken pasta is in the microwave. Add a pat of butter to the top or put a tiny bit of water in the bottom of the bowl to help rehydrate the pasta. Heat for one minute at a time until a safe temperature is reached.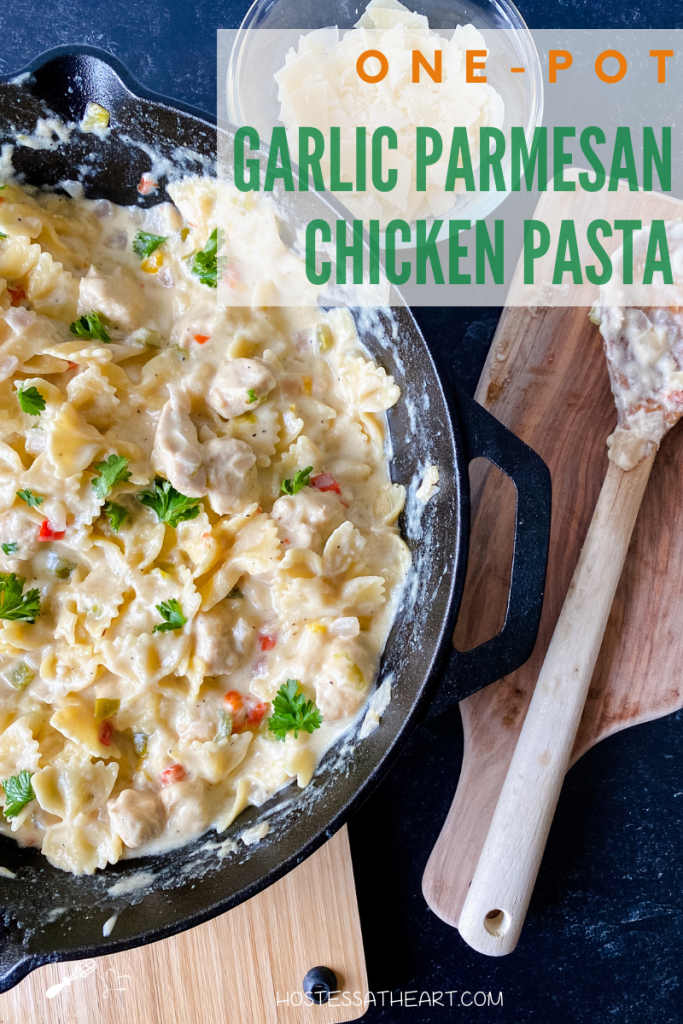 Garlic Parmesan Chicken Pasta FAQ

What pasta goes with parmesan?
I prefer a pasta noodle that is approximately the same size as the chicken pieces for a balanced dish such as bow tie, fusilli, rotini, or elbow. You also want to make sure that it's not such a big pasta that it will not cook with the chicken when covered for 20 minutes.


Is Chicken Parmesan and Parmesan Chicken the same thing?
Not in this recipe. Chicken Parmesan is usually a breaded chicken cutlet served with a marinara often over pasta. This dish uses cubed chicken in a creamy sauce more like a casserole.
Tips to Make the Perfect Parmesan Chicken Pasta
Don't overcook once the pasta is added.
Brown the chicken for a great flavor.
Use freshly grated cheese.
Keep an eye on the skillet while simmering, stir every 5 mins or so to make sure there is no sticking or burning.
Add more milk or cream if the liquid evaporates out too quickly.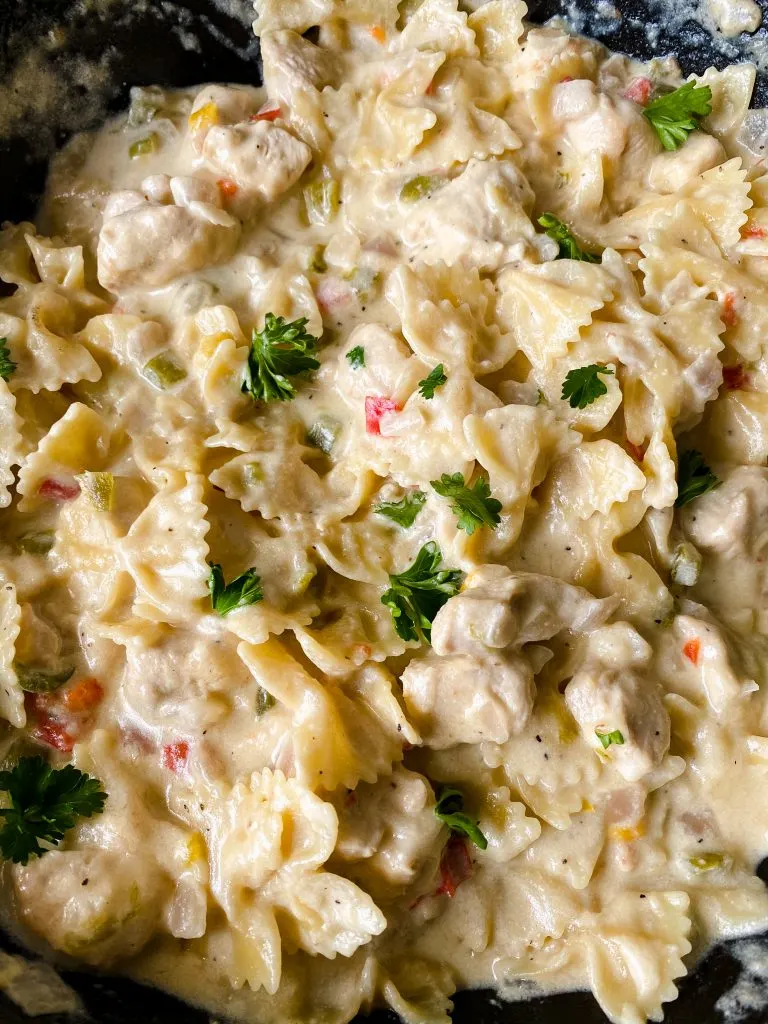 Other Pasta Recipes You'll Love
Creamy Shrimp Pasta with Tomato and Spinach
Chicken Asparagus Pasta Recipe
Saucy Thai Basil Chicken Noodle Bowl Recipe
Don't Forget To Come Back And Let Me Know How Your Garlic Parmesan Chicken Turned Out!
This recipe is in celebration of National Dairy Month. I'm teaming up with some very talented bloggers for this event. Just look at all of these amazing recipes!
Monday #DairyMonth Recipes