This Peach Bundt Cake Recipe is moist and tender and full of warm cinnamon and chunks of fresh juicy peaches. Relax with a good book, and your favorite beverage, and enjoy a slice of this delicious Peach Cake.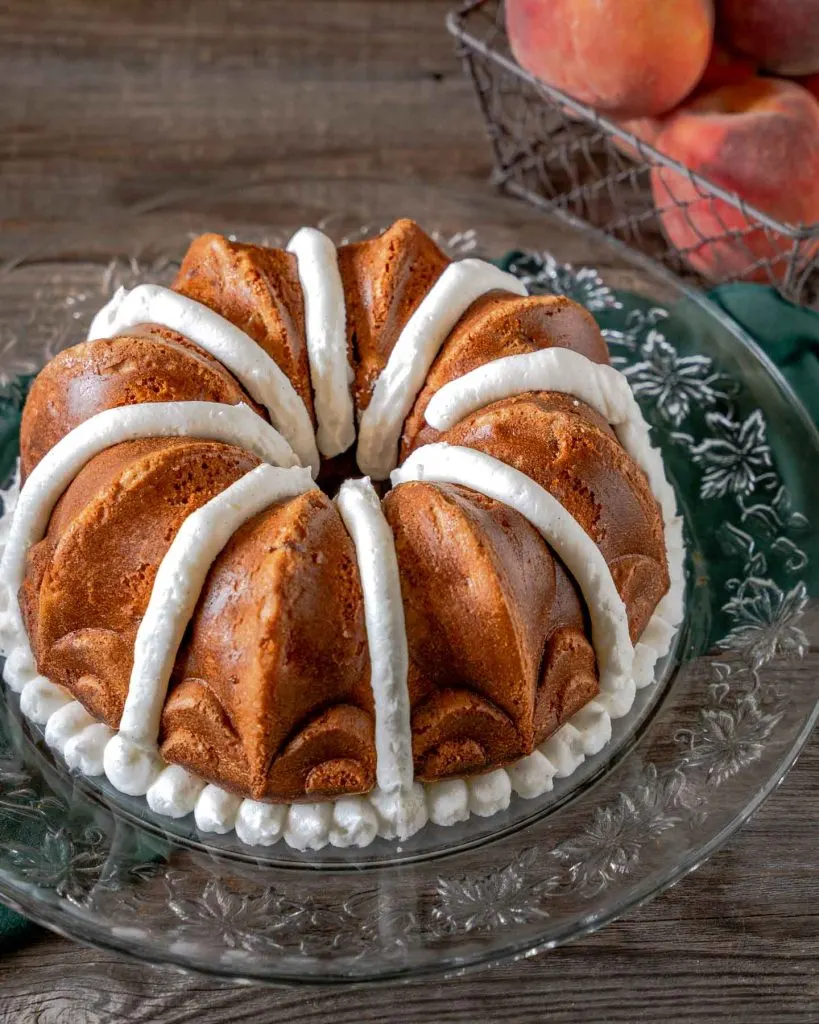 This Fresh Peach cake is easy to make and one of my favorite ways to use fresh peaches when they show up at the farmer's market.
Why You'll Love This Peach Bundt Cake
Moist. The peaches, butter, yogurt, and brown sugar give this beautiful cake so much moisture it's the perfect crumb.
Gorgeous. Nothing else impresses like a beautifully presented bundt cake.
Flavorful. Peaches, brown sugar, cinnamon, and nutmeg give this cake a warm rich flavor.
Equipment Needed to Make a Peach Cake
10″ Bundt Cake Pan. The beautiful shape of a bundt cake also happens to be one of the easiest shapes to slice evenly. I love making cakes in this pan!
Sifter. The cake has the perfect texture when the ingredients are sifted as described in the recipe.
Mixing Bowl. Use a large mixing bowl to mix up the peach cake recipe.
Hand Mixer. Every kitchen needs an electric hand mixer for fast easy mixing of baked goods!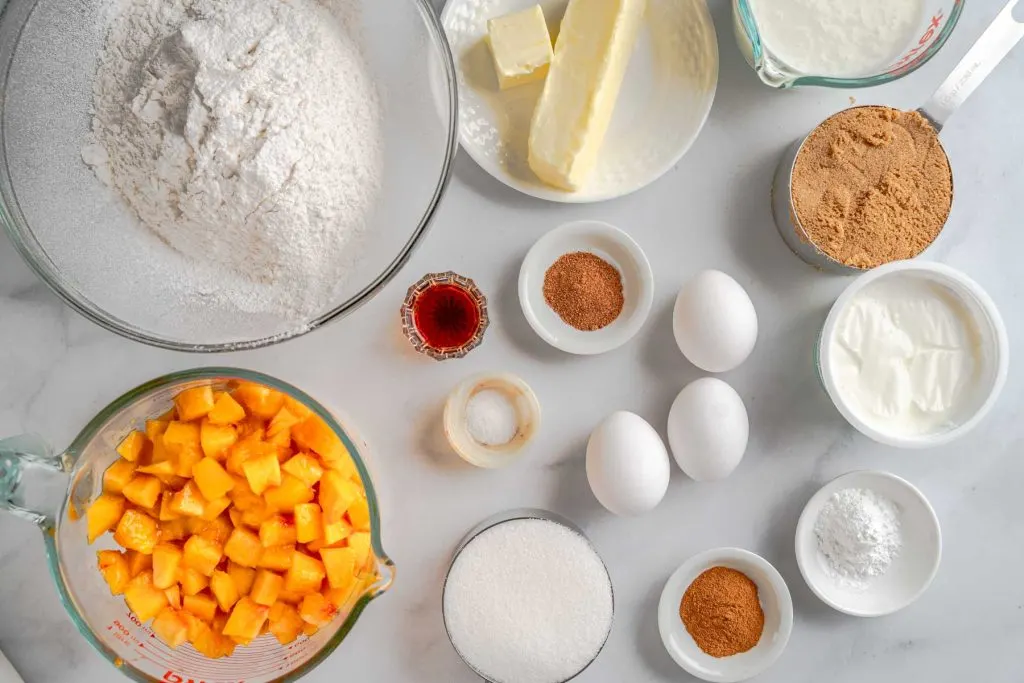 Ingredients for Peach Cake Recipe
Ingredients for this From-Scratch Peach Cake
Cake Flour. Having the right kind of flour can make or break this cake. Cake flour is lighter than all-purpose flour which prevents the cake from being dense. You can use all-purpose flour but your cake will have a different texture.
Sugar. White sugar.
Baking Powder.
Cinnamon.
Ground Nutmeg.
Salt.
Dark Brown Sugar. The dark version has more moisture and a more intense molasses flavor. You can use light brown sugar if you have to but it isn't quite the same.
Unsalted Butter. If you use salted butter, reduce the salt in half.
Buttermilk. If you don't have buttermilk, you can make a good substitute using milk and vinegar.
Peaches. White or yellow peaches will both work.
Plain Yogurt.
Eggs.
Ingredients for the Vanilla Bean Frosting
Shortening. I like using butter-flavored shortening but you can use either.
Vanilla Bean. You can substitute with vanilla bean paste or 1 tsp vanilla extract if needed.
Powdered Sugar.
Cream.
Please note, that the printable recipe card has ingredient quantities, complete instructions, and nutritional information. The following is a quick overview of the recipe.
How to Make Peach Cake
Step One. Preheat your oven first and get it perfectly hot.
Step Two. Grease and flour your pan before you start as well so that everything is ready.
Step Three. Sift plenty of flour, and then measure out three cups. Whisk the remaining dry ingredients into the sifted flour.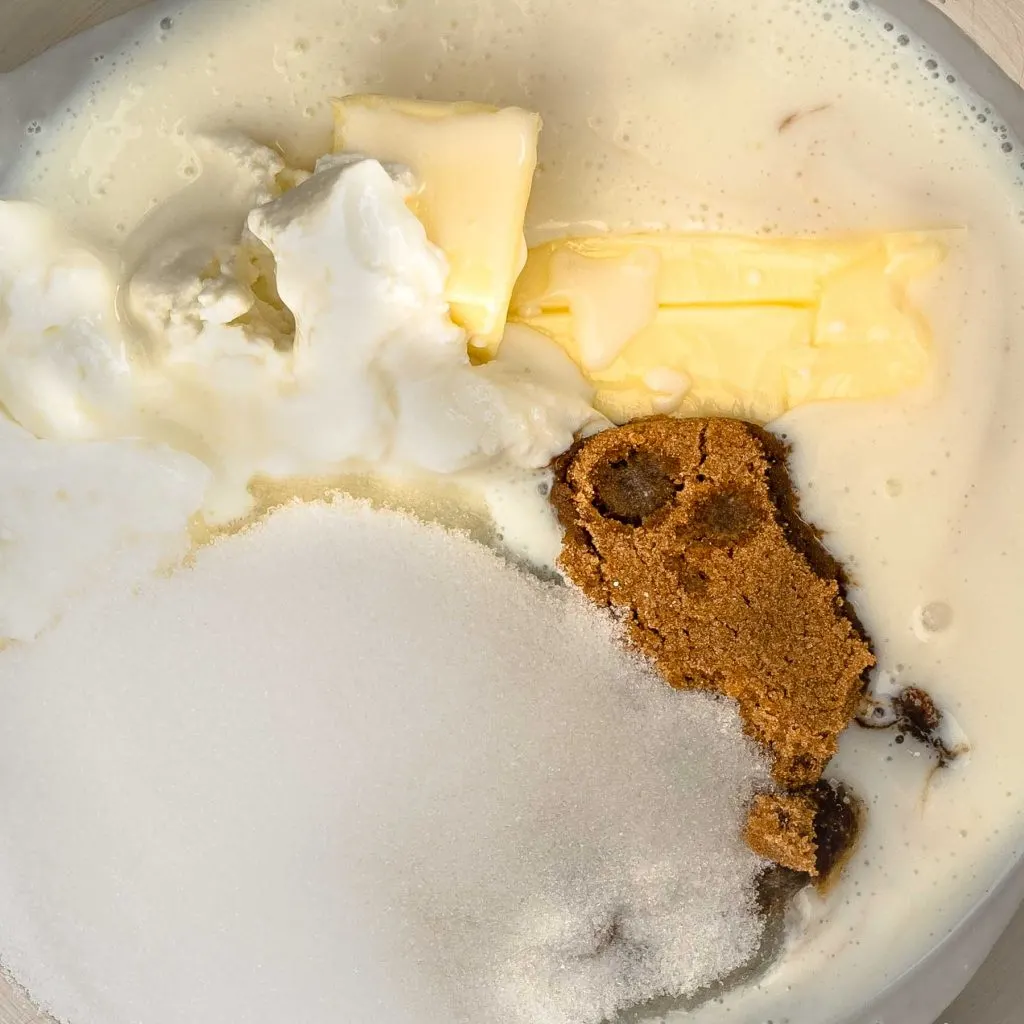 Step Four. Mix the sugars, butter, yogurt, and buttermilk in a second mixing bowl for a few minutes, then add the eggs and vanilla and beat again.
Step Five. Slowly spoon the dry ingredients into the wet ingredients and mix on low until everything is fully incorporated.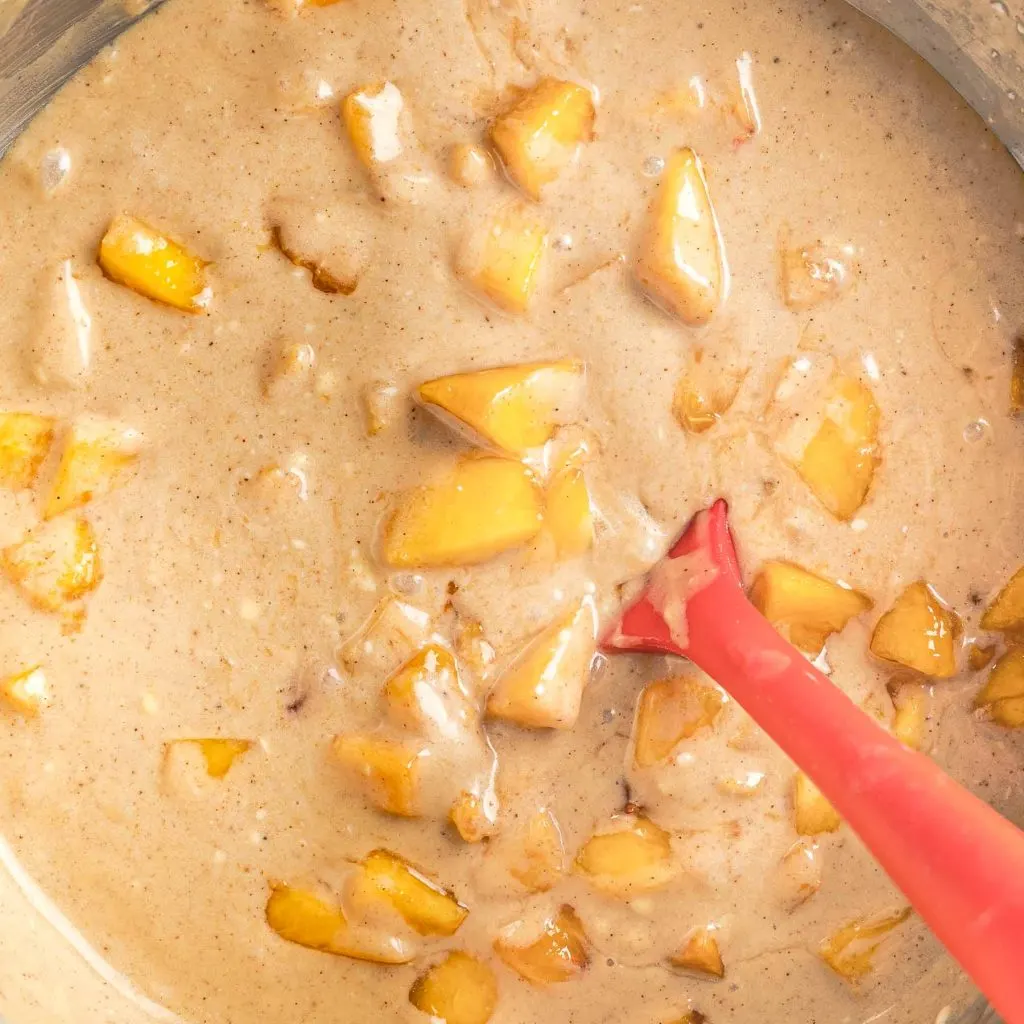 Step Six. Fold the peaches into the batter.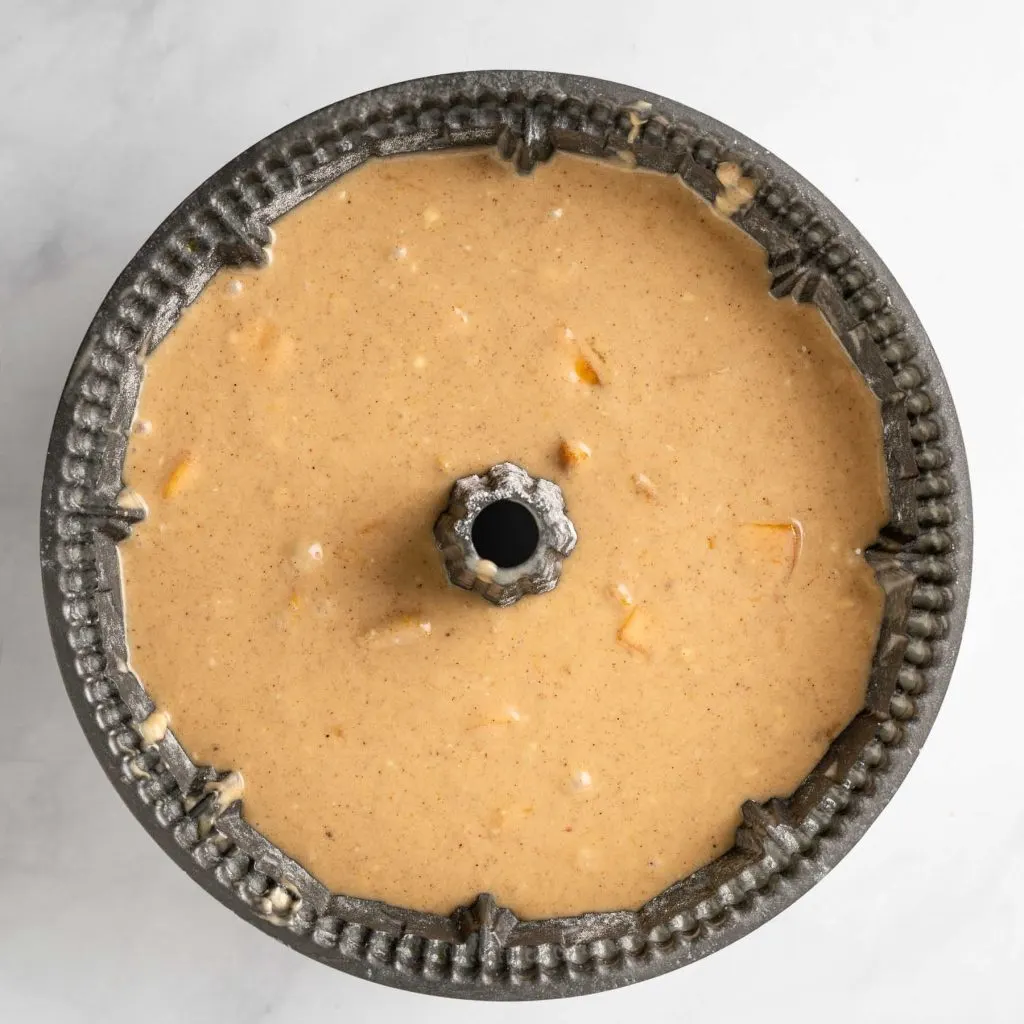 Step Seven. Fill the pan and bake the cake. Make sure to cool it completely as described on the recipe card.
How To Skin A Peach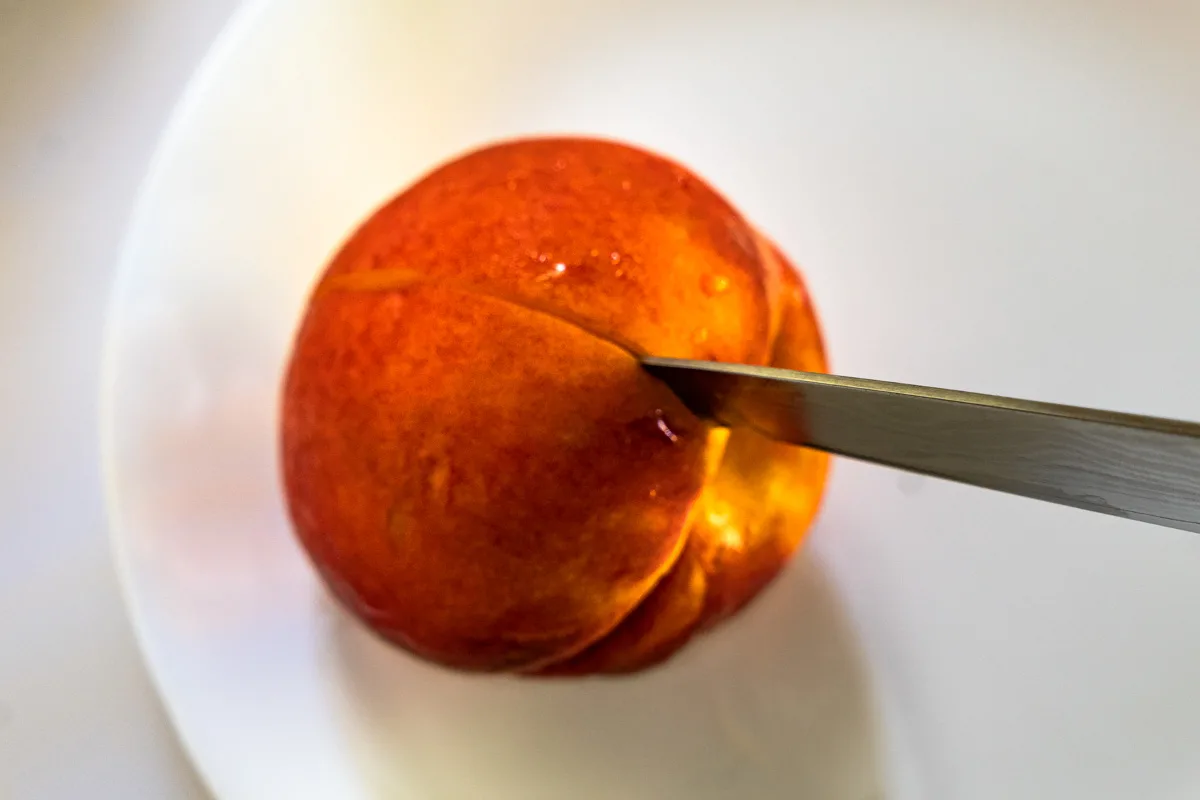 Wash and score the peach skin with the tip of a sharp knife 4 to 6 times down the length of the peach.
Add the peaches to boiling water and keep them submerged or turn them for 30 seconds.

I use a spyder strainer for holding the peaches down, turning them, and removing them from the hot water.

Submerge the peaches in an ice bath for 10 seconds.
Slide the skin from them immediately.
What to Serve with your Peach Bundt Cake
This beautiful cake is lovely just as it is. If you don't want to frost the cake, you can dust it with powdered sugar for a nice touch. A warm beverage is a delightful addition to your dessert.
Substitutions and Additions
Change up the cake a little with a brown butter glaze or cream cheese frosting.
Give the cake a dusting of powdered sugar and serve it with a scoop of vanilla ice cream.
Add a third cup of raisins or dried cranberries for a nice touch.
1/2 to 3/4 cup of nuts such as pecans or walnuts would be delicious.
How To Store Peach Cake
Best Way To Store Peach Bundt Cake
Keep leftover cake covered at room temperature or refrigerated for a couple of days.
How Long Will Peach Cake Last In the Fridge?
3 days. After that, it becomes real moist. It's best to freeze if it's not going to get used in 2 days.
Can I Freeze/Thaw Peach Bundt Cake
Yes, best thaw in the refrigerator so the icing doesn't become watery.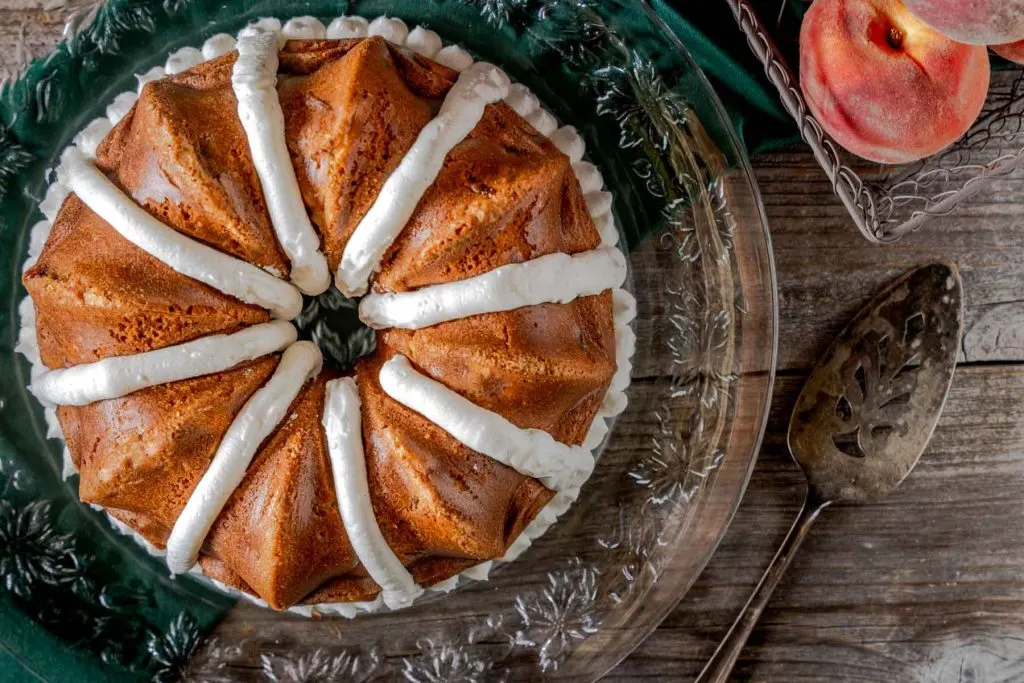 Peach Bundt Cake FAQs
Do I have to use fresh peaches?
No. You can use thawed frozen peaches if you like. I haven't used canned peaches for fear that they would be too soft.
Does peach cake need to be baked in a bundt pan?
No. You can use two 9-inch round cake pans or a 9×13 pan. My Pan Conversion Post is a great source for changing pans
Can you make a peach cake ahead of time?
Yes. Make your cake no more than one day in advance. I wouldn't frost it until the day you serve it.
Want more delicious recipes? Follow Hostess At Heart on Pinterest!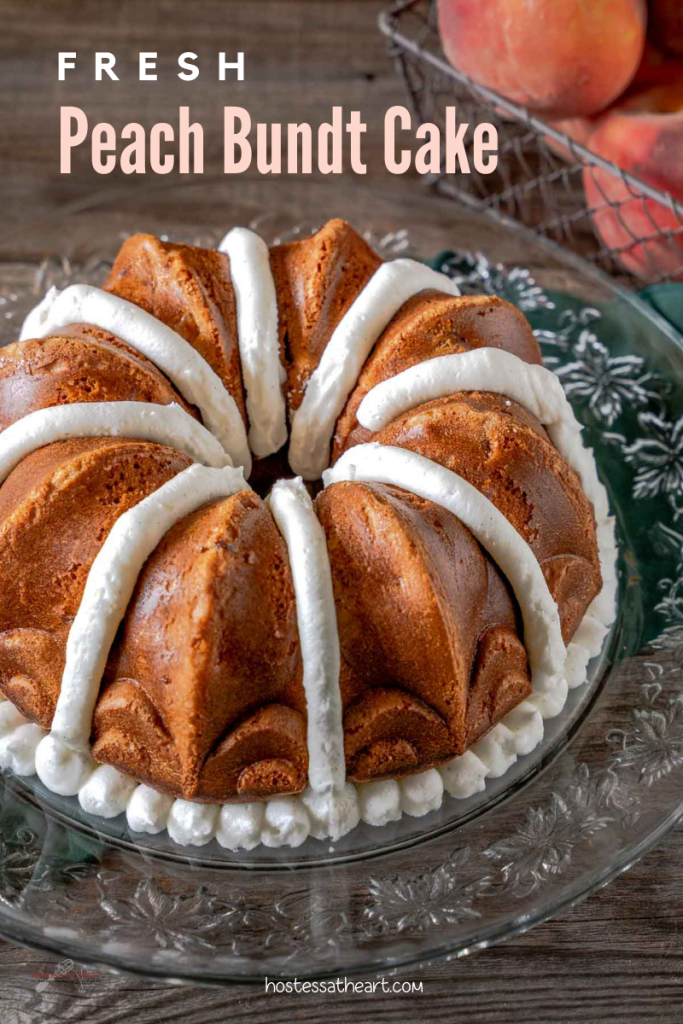 Tips to Make the Perfect Peach Cake
Cake – We use a 10-inch bundt pan. This cake doesn't rise a lot so you can fill the pan 3/4 full.
Remove your eggs and butter so they're at room temperature when you use them. They'll blend easier. Don't worry if your butter doesn't totally whip into your liquid ingredients. It will blend when you combine the wet and dry together.
Sift cake flour before measuring it. Sifting aerates and increases the volume so if you measured and then sifted you would be using more than what this peach cake recipe needs.
Don't overmix. You want your butter and sugar light and fluffy but everything else should be mixed until just incorporated.
Prepare the pan. Bundt pans aren't as complicated as they look, but you do need the pan to be properly greased and floured.
Make it easy. Set the bundt pan on a baking sheet, it will be so much easier to get the cake out of the oven safely.
Rotate your cake. Turning the cake in the oven halfway through prevents uneven baking.
Don't overbake the cake. If a toothpick, dinner knife, or cake tester comes out with just a few small crumbs your cake is ready to go. Cool the cake thoroughly in the pan to finish it off.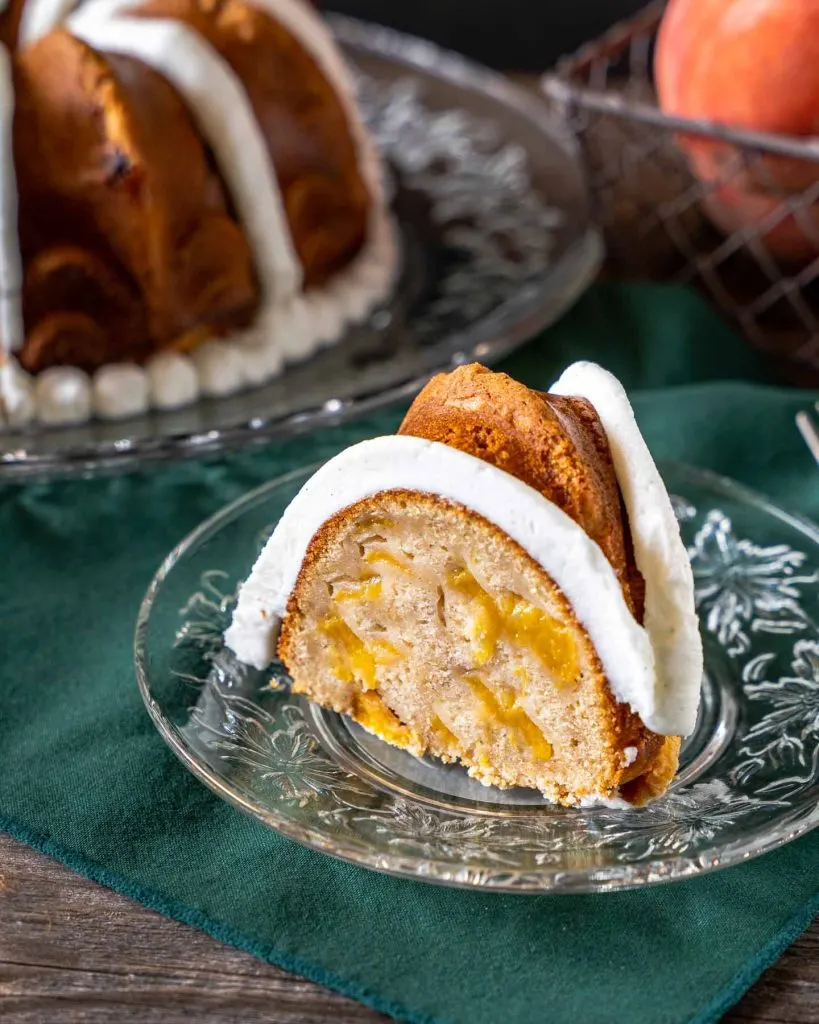 Tips to Make the Perfect Vanilla Bean Frosting
Sift your powdered sugar. It will blend so much easier.
Frosting can be made ahead of time, covered, and refrigerated until you're ready to use it. This recipe will make more than what you will need to pipe it as we did. You can also frost the entire cake.
Other Peach Recipes You Will Love
Don't Forget To Come Back And Let Me Know How Your Peach Cake Turned Out!
Check out my Peach Bundt Cake Web Story!