This Glazed Fresh Peach Pie recipe could possibly be the easiest fresh peach dessert recipe you'll ever find. Fresh peach pie is a no-bake recipe with layers of luscious fresh peaches under a delicious glaze. It's perfect for those lazy days of summer or a warm fall evening.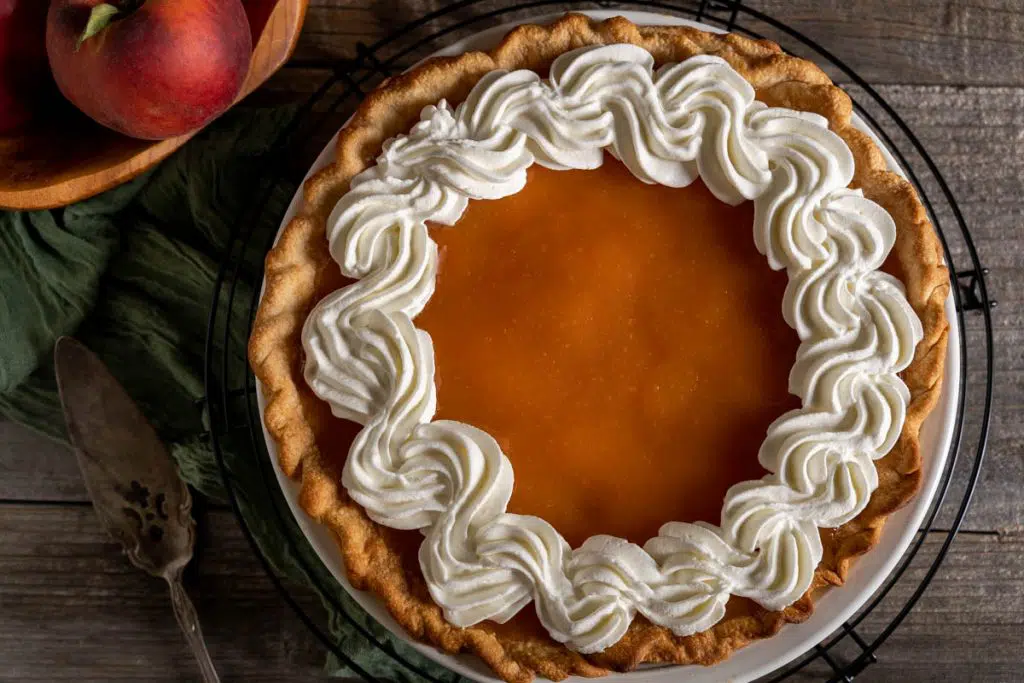 When it comes to fresh peaches, we just can't get enough of them whether it's putting them under a buttery brown sugar topping like in our Peach Crisp, loading them into our Upside-Down Peach Cake, or making a Fresh Peach Sauce perfect for a Bellini or Yogurt Parfait. It's no lie that we love an easy peach dessert.
Why we LOVE this No Bake Peach Pie
Making this Fresh Peach Pie recipe is a perfectly easy and delicious way to use fresh peaches without having to turn on the oven.
Many no bake peach pie recipes contain tapioca as a thickener. If you don't cook the fruit pie filling correctly, it doesn't thicken properly. This recipe doesn't use it, making this recipe for fresh peach pie easier to make.
This cool pie is refreshing and can be made ahead of time so you can enjoy sharing summer bliss with friends and family.
Fresh Peach Pie Recipe No Bake
Wait a minute! That sure looks like a baked peach pie right? Rest assured, this is indeed a no bake peach dessert.
We wanted a tender flaky crust so we blind-baked our homemade crust using pie weights. You can use a store-bought graham cracker crust for this pie for a truly no-bake Fresh Peach Pie or you can buy a 9-inch pie shell and bake it. Now, let's show you how to make this glazed peach pie recipe.
Kitchen tools you may need
Hostess At Heart participates in affiliate programs. As an Amazon Associate, I earn a commission from qualifying purchases. Please refer to my disclosure page for more information about these affiliate programs.
Pie Plate – This pie plate is so pretty, and makes fluting a pie crust a no-brainer.
Whisk – I love my whisks and have them in several sizes, shapes, and colors. I have a gadget obsession I guess and love these!
Pie Server – The first piece of pie is the hardest to get out right? I find that this server does a great job getting every slice of pie out of the pie plate. It's great for pizza or quiche too.
How to make this easy Fresh Peach Pie Recipe
Peach Pie Ingredients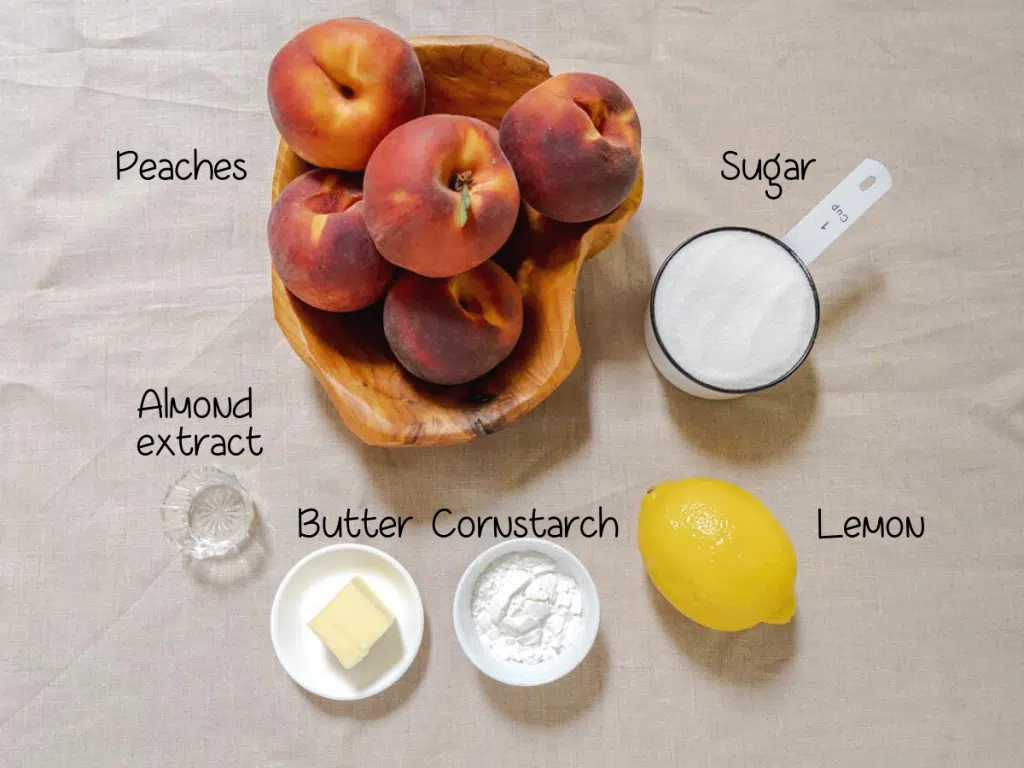 Peaches – fresh and ripe.
Sugar – white granulated sugar.
Lemon – we used a little in our fresh peaches and in our glaze. It brightens up the peach flavor and helps them keep that beautiful color.
Cornstarch – used as a thickening agent in our glaze.
Butter – we use the real stuff.
Almond extract – you could also use vanilla but we loved the almond-peach combination
Water – tap water or whatever you drink is fine.
Please note, that the printable recipe card has ingredient quantities, complete instructions, and nutritional information. The following is a quick overview of the recipe.
We started by preparing our peaches. We skinned them, removed the pit, and then sliced them. You'll want to crush or puree enough of your peaches in a food processor to get one cup. Put the rest of the sliced peaches in a bowl and drizzle them with some lemon juice.
How to make peach pie glaze
In a medium-sized saucepan add the crushed or pureed peaches, water, and sugar together until you have a clear thickened sauce. Combine 1 tsp of fresh lemon juice with the cornstarch and whisk it into the glaze mixture. Whisk constantly until thick. Add the butter and almond extract. Set aside to cool slightly.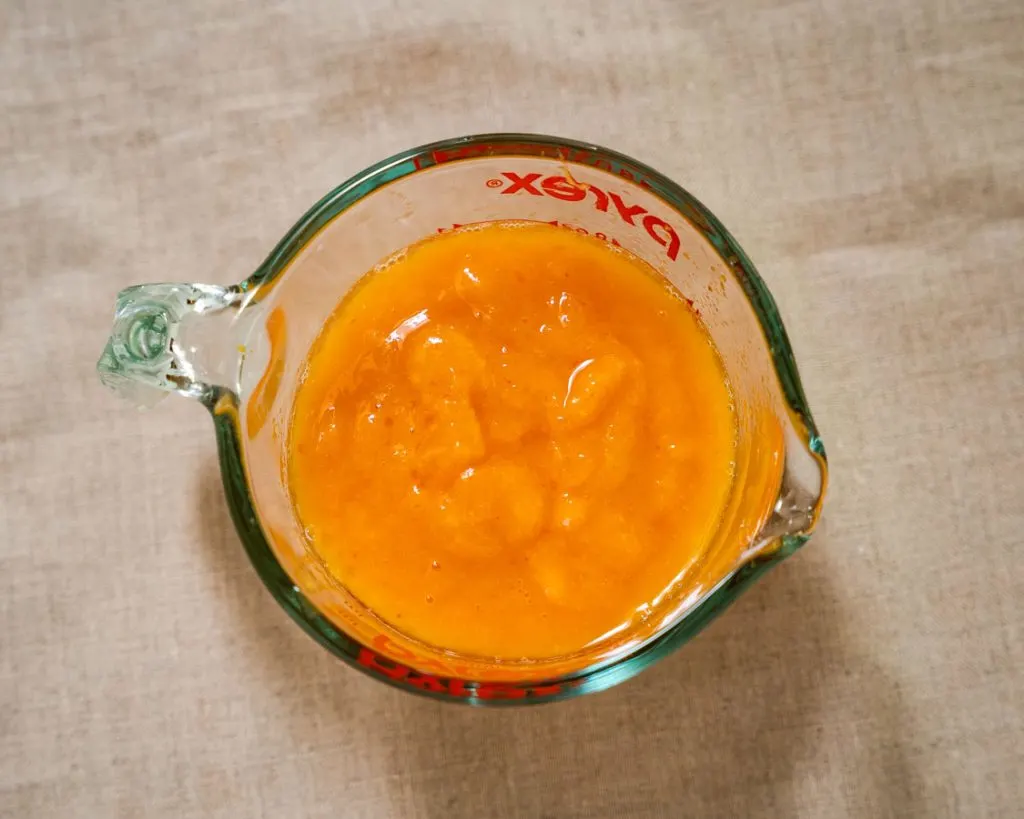 Assembling your Fresh Peach Pie
Put the fresh peach slices into the pie shell.
Spoon or pour the peach pie glaze over the fresh peaches. Make sure you completely cover the sliced peaches.
Chill for 4 to 6 hours or overnight.
The easiest way to skin a peach
Wash and score the peach skin with the sharp tip of a knife 4 to 6 times down the length of the peach.
Add the peaches to boiling water and keep them submerged or turn them for 30 seconds.

I use a spyder strainer or slotted spoon to hold down the peaches in the water, turning them, and removing them from the hot water.

Submerge the peaches in an ice bath for 10 seconds.
Slide the skin from them immediately.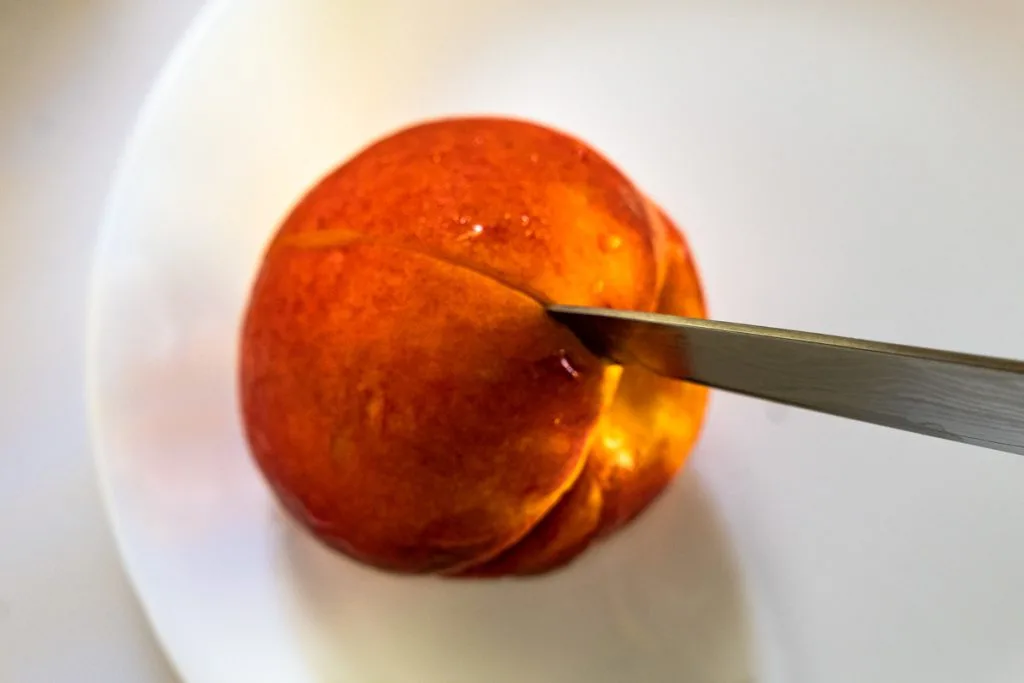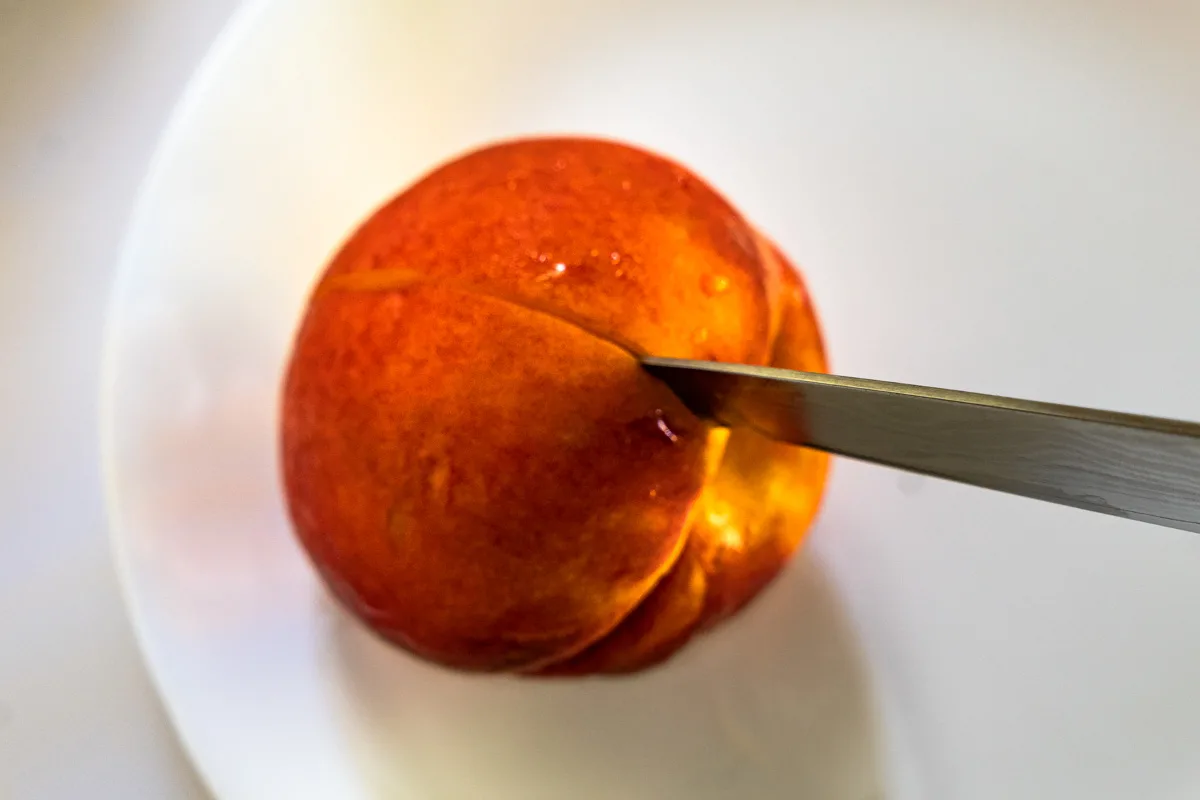 Tips for Glazed Peach Pie Success
Don't over-fill the pie shell with fresh peach slices. We filled ours between 2/3 and 3/4 full using a 9″ pie place.
Use a whisk to stir the glaze. If the cornstarch starts getting lumpy, whisk it thoroughly until it dissolves completely.
Be sure to cover all of the peaches with the glaze. We make sure that all of our peach slices were laying on their sides so we didn't have any peaches sticking up through the glaze.
Chill this pie completely before you cut it.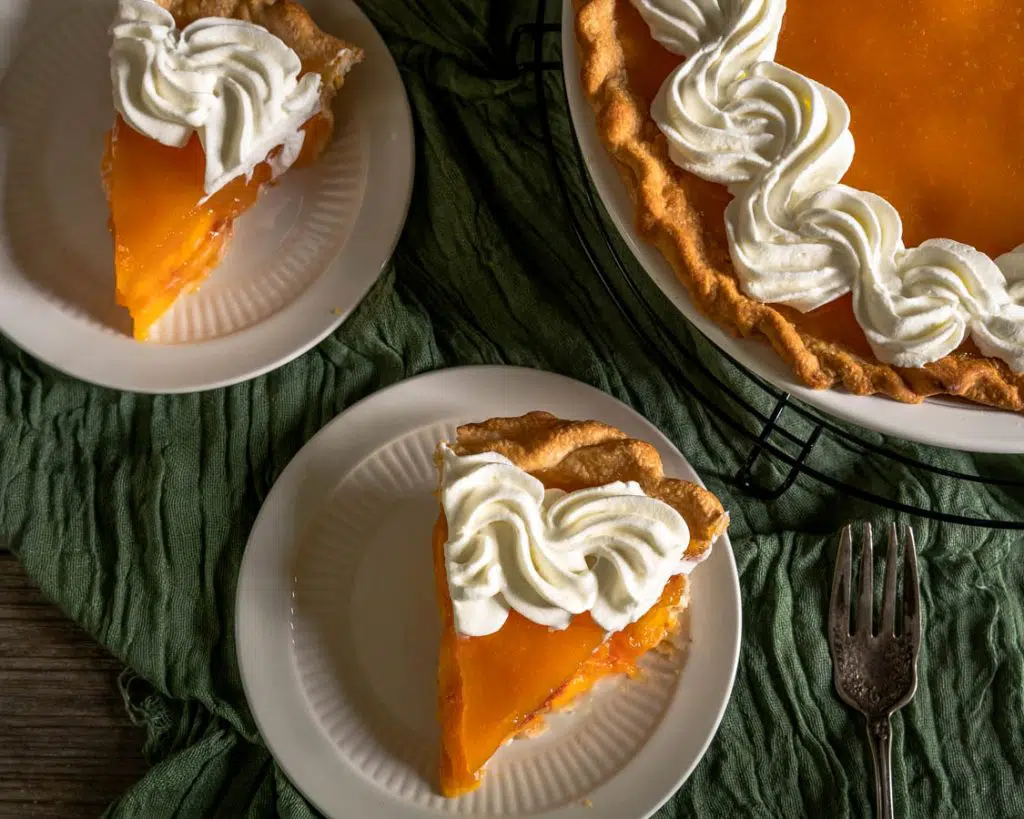 Easy peach pie variations
We love the flavor of almonds with peaches. Our homemade almond shell that we used with our Raspberry Linzer Torte would be amazing!
Fresh ground nutmeg or a touch of ground cinnamon in the filling would be delicious
Frequently asked questions
How many peaches do I need for this homemade peach pie
We used 6 medium-sized peaches. We needed enough fresh peaches to make 1 cup of pureed peaches and enough sliced peaches to fill our 9-inch pie shell ⅔ thirds full.
Can you use canned or frozen peaches?
We do not recommend using canned or frozen peaches in this peach pie with glaze recipe. When you make a peach pie with cooked filling, the juices cook off. Since we don't cook our filling, we don't want to use canned or frozen peaches that tend to contain more liquid which would make our crust soggy.
How do you store this No-Bake Peach Pie?
We store leftover pie in the refrigerator, lightly covered. It's best eaten within 2 to 3 days. We don't recommend that this pie be stored at room temperature or that it be frozen. Freezing this pie could have an effect on the texture of the glaze.
Can this pie be made with a double crust, topped with a crumble topping, or lattice top crust?
No, it can't since this is a no bake peach pie.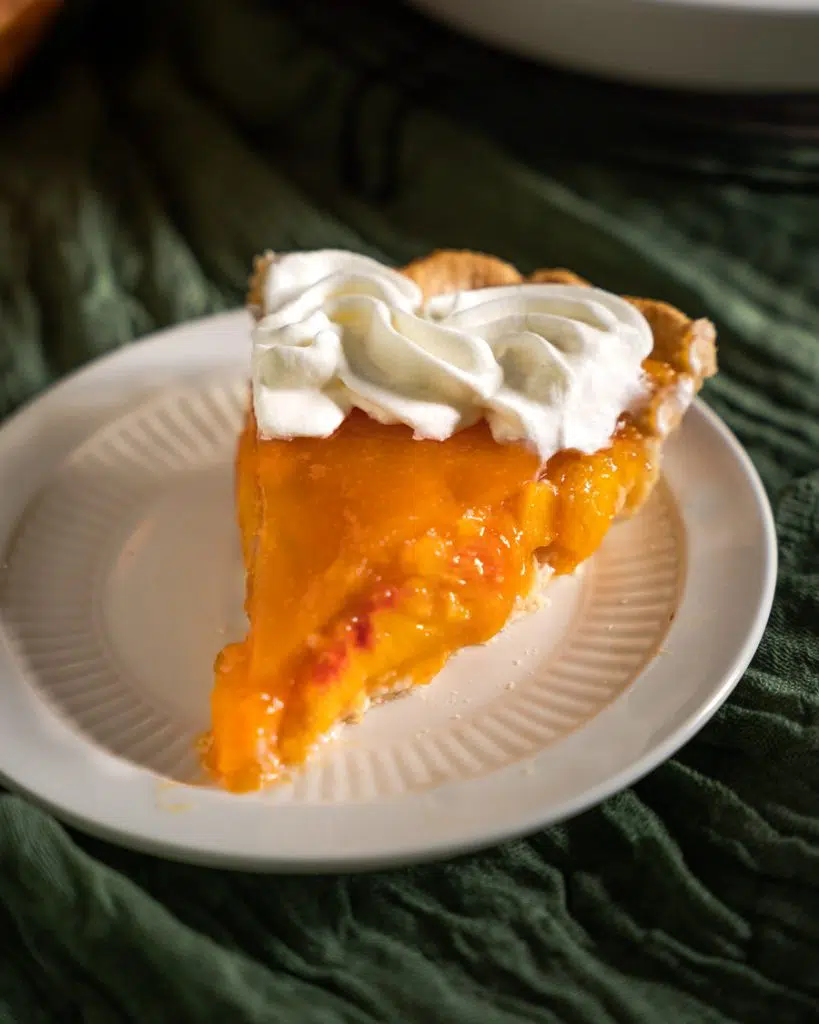 Serving suggestions
This pie is perfectly delicious right out of the refrigerator. We enjoyed dressing it up with a little fresh whipped cream. You could also share it with a dollop of vanilla ice cream.
Note: This pie is intended to be served cold and shouldn't be heated prior to serving.
If you like this recipe, we would appreciate your comment and a 5-star ⭐️⭐️⭐️⭐️⭐️ review!
More amazing fresh peach recipes!
Summer's sweetest tradition is juicy peaches and I overbuy during peach season. Luckily, I have some amazing fresh peach recipes to share!
Don't forget to come back and let me know how your No Bake Fresh Peach Pie turned out!
We love pie and here are some of our favorite pie recipes!
More Great No-Bake Pie Recipes
We love a creamy no-bake pie recipe. We make our Chocolate Cheesecake Pie a zillion times a year and summer wouldn't be summer without a Lemon Icebox Pie or a Blueberry Lemonade Pie just to name a few. You can find all of our pies here!
More #FallFlavors Recipes Below:
Appetizers and Snacks
Breakfast and Baked Goods
Soups and Salads
Side Dishes
Main Dishes
Desserts
Thank you to our #FallFlavors sponsors, Millican Pecan, Dixie Crystals, Melissa's Produce, Taylor & Colledge, Nairn's, and Republic of Tea who supported this year's event.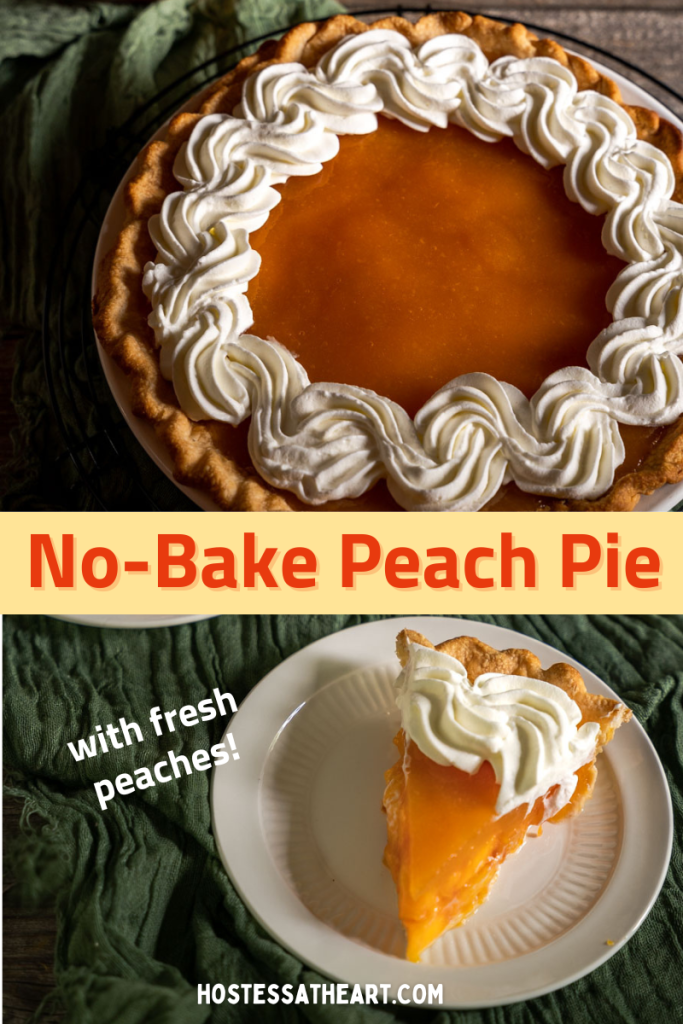 This post has been updated to improve our reader's experience. No changes were made to the recipe.