My Peach Kuchen starts with a sweet soft buttery dough layered with fresh peaches and topped with creamy custard. You'll love this easy fruit dessert.
Using those fresh summer peaches right off the tree when they are ripe and full of flavor makes this particular kuchen hard to beat. With a delicious smooth custard on top, you won't even need ice cream!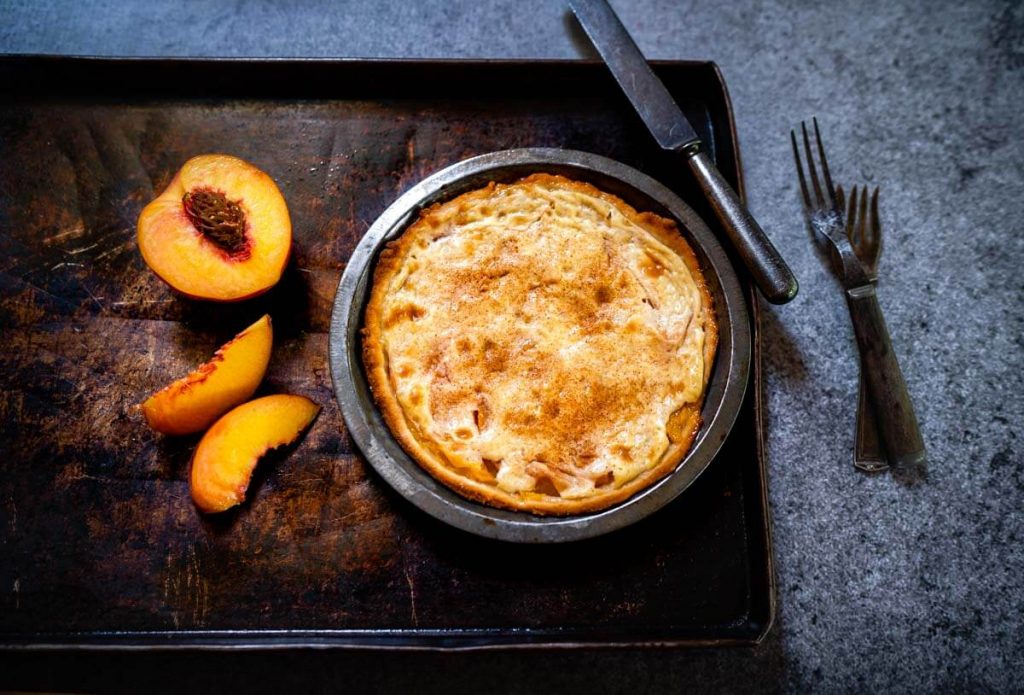 I mean, not that you aren't allowed to have ice cream with kuchen, but it's not a requirement. With multiple layers of goodness, this dessert is a treat that is perfect on its own.
What is Kuchen?
When you say, "Oh, I just put a kuchen in the oven for dessert." Your kids and friends are all going to say "What in the world is that?" Hardly anyone makes kuchen anymore, which is what makes it incredibly special.
Kuchen is the German word for a cake topped with a cream or custard filling. According to Wikipedia, Kuchen is often served to friends with coffee.
Kuchen (pronounced "koo-ken") is the German word for "cake," (because the recipe came from Germany) but a real kuchen is so much more than that!
Traditional kuchen is like a delicious mash-up of cake and pie, topped with creamy custard. The word may be pronounced kugan or koo-ken or ku-gen depending on heritage.
To make our kuchen recipe, you will need a pan with a rim. Roll the dough very thinly for the pan.
The crust for kuchen is non-fussy, sweetened dough. It's easier than pie crust and creates a unique and delicious dessert.
Why Make Peach Kuchen
Whether you are baking for family or baking for company, our peach kuchen recipe is a winner. We love the play on cake versus pie, and the custard honestly just takes it over the top.
One thing we love about kuchen is that you just don't see them very often. Which is a shame, because they are so delightful to eat!
This recipe makes 4 9-inch pie plate kuchen. We love making them and putting them in the freezer for an easy fresh peach dessert. You can use any container with a rim or even a 9×13 cake pan for a larger crowd.
Another great reason to make any kuchen recipe is simplicity. You don't have to mess with a fussy pie crust, and you don't have to worry about tidy frosting either.
Once it comes out of the oven, it's ready to go! Unlike a fruit pie, kuchen is unlikely to be runny or refuse to set.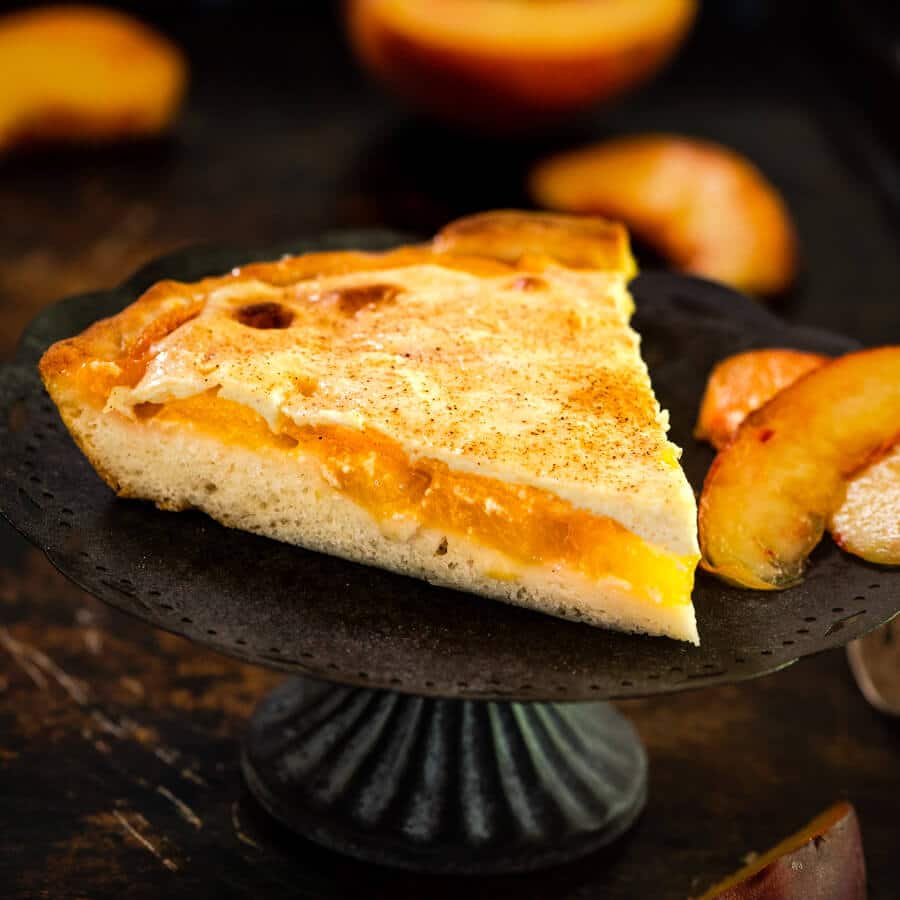 Ingredients for Peach Kuchen
Fresh Peaches.
Eggs. Room Temperature eggs are necessary for this recipe, so set them out a couple of hours before you are ready to bake. If you forget, you can put them in a bowl and cover them with room temperature water for 5 minutes.
Sugar. Just ordinary granulated white sugar.
Cinnamon.
Yeast. Rapid Rise Yeast in the packets.
Whole Milk. The milk needs to be at room temperature as well so set the measured amount out with your eggs. You can also just warm it up a bit in the microwave.
Heavy Cream. We used Heavy Whipping Cream. Measure it and let it come to room temperature as you did with the milk and eggs.
Butter. Softened butter. Place the butter out on the counter when you put out your milk, cream, and eggs.
All-Purpose Flour.
How to Make The Peach Kuchen Recipe
Make the dough first so that it can rise. Our kuchen dough recipe is simple, sweet, and comes together so easily! That's one of the beauties of kuchen actually. Just mix a few ingredients and knead it until smooth, and let it rise!
While the dough is rising, you can make the custard.
Cook the ingredients in the kuchen custard recipe over low heat, whisking constantly until the mixture starts to thicken.
Remove the custard from the heat.
When the dough is ready, preheat your oven to 350º.
Roll out the dough large enough to cover the bottom and 1/2 to 3/4 up the sides of your pie plate.
Arrange peaches over the bottom. We recommend laying the sliced peaches on their side so the ends don't poke through the custard.
Spoon the custard over the fruit and sprinkle the custard with a mixture of cinnamon and sugar.
Bake, cool, and serve! With coffee of course.
More complete instructions for the Peach Kuchen Recipe are included on the printable recipe card!
If baking scares or confuses you, check out or Baking Basics Techniques, Tools, and Ingredients article.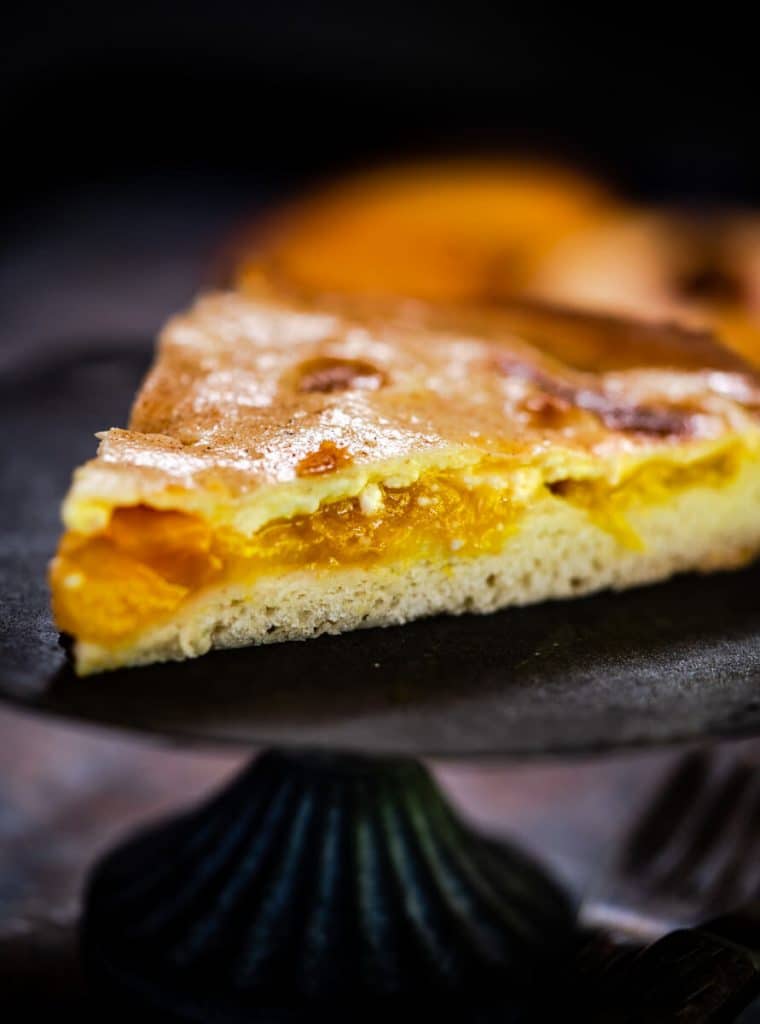 Tips for Making the Kuchen Recipe
We used the Raisenne® Dough Riser to prove our dough. The dough can take 1 hour to 90 minutes to double without it but only took 35 minutes using it. Place your dough in a warmer area covered and without drafts. (This is not a sponsored post but I am a Raisenne Affiliate).
Don't forget to gently turn the pan in the oven halfway through to ensure an even bake.
We use fresh peaches. You can use frozen peaches but thaw them first, remove the ice crystals, and drain off any extra liquid.
Don't let the custard boil. Use patience and once the mixture starts to steam, drizzle the egg in slowly, and remove the custard from the heat as soon as it starts to thicken.
Storing the Kuchen Dessert
You can keep leftover kuchen in the refrigerator for up to three days. Use an airtight container.
If you wish, you can freeze individual servings of kuchen in freezer-quality zipper bags for up to three months, and thaw to serve. Do not heat to serve because this will make a mess of the custard.
Baking Tools You May Need
Beautiful Blue Rimmed Pie Plate. A deep pie plate in a gorgeous color. Remember we made 4 pies with this recipe.
Mixing Bowls – We use this set of bowls for mixing, serving, and storing, and transporting food. The pretty lids guarantee no spilling too!
Rolling Pin – I'm old school what can I say? I have three rolling pins and keep going back to my tried and true classic rolling pin.
Another Kuchen Recipe You Will Love
Strawberry Kuchen. When strawberries are in season, nothing beats this delicious Strawberry Kuchen for taste and comfort.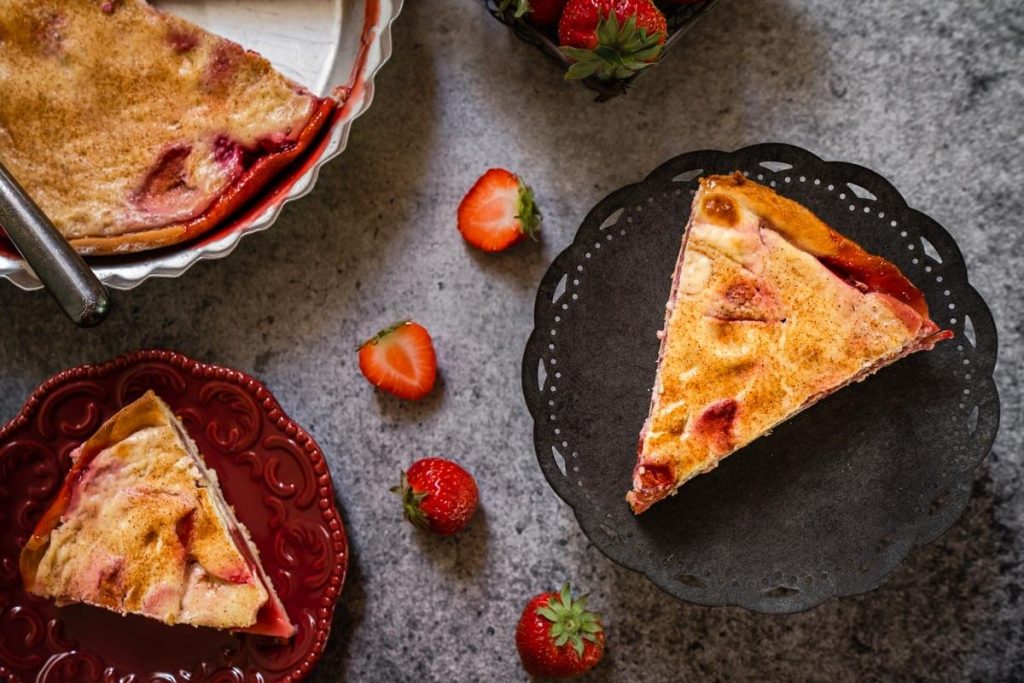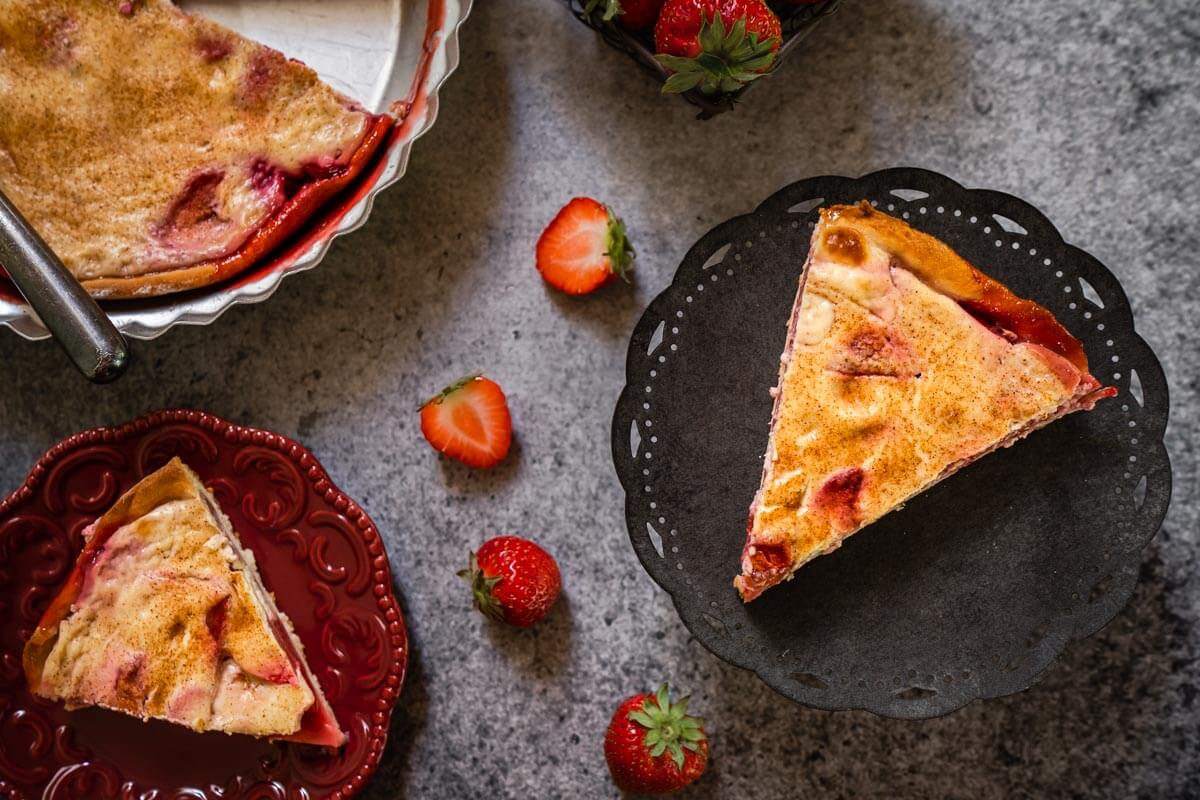 Peach Recipes to Try
Yes, our Peach Kuchen is an easy fruit dessert, but we always like to offer plenty of options to tempt your tastebuds. Here are a few other peach desserts to consider.
Peach Crisp Recipe. Another easy but tasty peach dessert.
Upside-down Peach Cake with Hot Rum Sauce. I mean, who wouldn't want to eat this? It's heavenly.
Quick Streusel Peach Bread. A beautiful and unique quick bread perfect for coffee.
Peach Crumble Dessert. Easy dessert loaded with velvety peaches under a crunchy oat topping.
Peach Cake. A show stopper that's tender, moist, and absolutely delicious!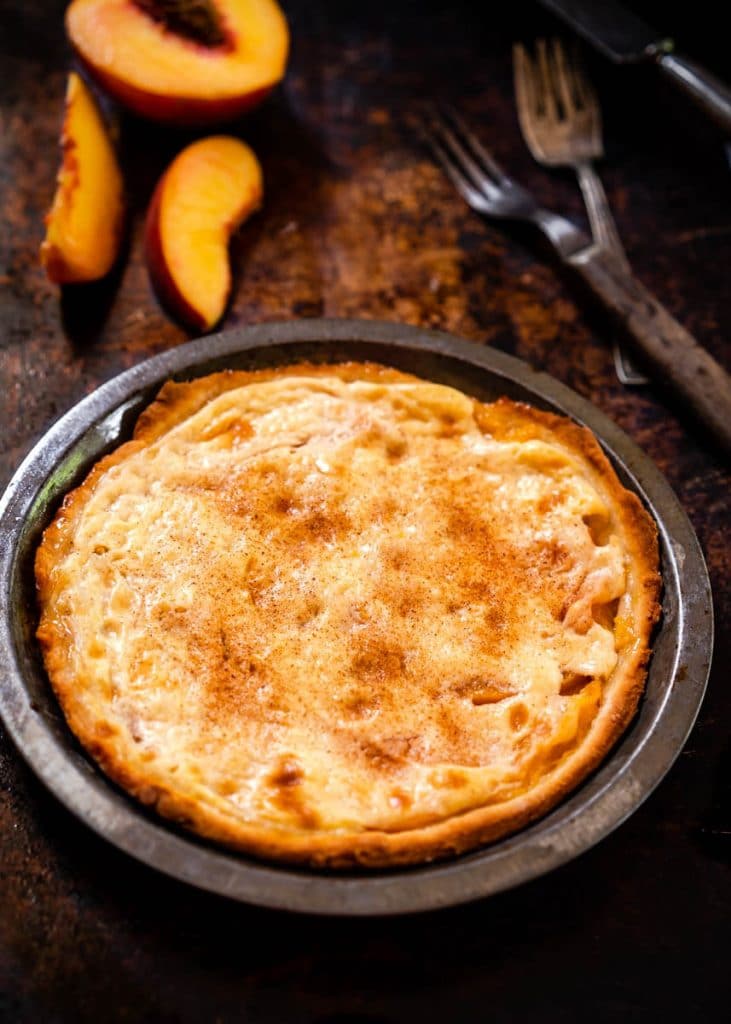 Here's more Farmer's Market Week Recipes
Starters and Drinks Recipes
Side Dishes Recipes
Main Dish Recipes
Dessert Recipes
If you like this recipe, we would appreciate your comment and a 5-star ⭐️⭐️⭐️⭐️⭐️ review!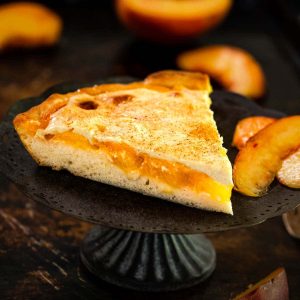 Peach Kuchen Recipe
Peach Kuchen Recipe has a thin sweet dough layered with fresh Peaches and topped with a smooth and creamy custard.
Ingredients
Kuchen Dough
2

eggs

room temperature, whisked

1/2

cup

sugar

1/4

tsp

cinnamon

sliced

4½

tsp

instant yeast

(2 packets of rapid rise yeast)

1¾

cups

whole milk

room temperature or warmed to 98°F

1/2

cup

butter

softened

6

cups

all-purpose flour

4 to 6 cups
Kuchen Custard
6

eggs

whisked, room temperature

3

cups

cream

1

cup

whole milk

1/2

cup

sugar

1

tsp

cinnamon

1/8

tsp

salt
Fruit
4

cups

peaches

fresh, sliced
Equal amounts of cinnamon and sugar for garnishing.
Instructions
Make the dough by stirring the milk, sugar, yeast, cinnamon, and eggs together. Add the softened butter and break it up into pieces with a spatula.

Add 3 cups of flour and stir together with a spatula. Add additional flour until the dough comes together. Continue adding flour until the dough is soft but not sticky.

Place the dough in an oiled boil. Cover and let rise until increased in volume 30% to 50%. Please see the recipe notes.

While the dough is rising, make the custard.
Custard
Over low heat, combine the cream, milk, cinnamon, sugar, and salt. Heat until steaming. Slowly drizzle in the eggs, whisking continuously until mixture has started to thicken. Remove from the heat and set aside.
Assembly
Preheat the oven to 350°F. Spray 4 pie plates with non-stick cooking spray.

Roll out pieces of dough large enough to cover the bottom of a pie plate and 1/2 to 3/4 up the sides of the plate.

Layer the fruit on the dough. Don't layer above the sides of the dough.

Spoon the custard over the top of the strawberry layer.

Sprinkle the top of the custard with a mixture of cinnamon and sugar.

Bake for 30 to 40 minutes, turning the pan half-way through.

Cool before serving. Store leftovers in the refrigerator.
Notes
The recipe makes 4 9-inch Kuchens. This recipe can be adapted to any baking dish with a rim (sides) such as a cake pan.
We used the Raisenne® Dough Riser to prove our bread. The dough can take 1 hour to 90 minutes to double without it. Place your dough in a warmer area covered and without drafts. Our dough took only 35 minutes to raise!
Nutrition
Calories:
333
kcal
Carbohydrates:
37
g
Protein:
7
g
Fat:
18
g
Saturated Fat:
10
g
Cholesterol:
108
mg
Sodium:
91
mg
Potassium:
169
mg
Fiber:
2
g
Sugar:
12
g
Vitamin A:
764
IU
Vitamin C:
2
mg
Calcium:
68
mg
Iron:
2
mg
Nutritional Disclaimer
This recipe was calculated using the exact brands and measurements I used to make this recipe. If you are following a strict diet please note changing anything will cause the nutritional info to change. My calculations are intended as a guide only.
Farmer's Market Week is always the first week in August. Whether you have a great local farm stand or market, are a member of a CSA or purchase your fruits and vegetables at the supermarket, follow our
Pinterest board
, for great recipes including those for appetizers, drinks, breakfast, lunch, dinner, dessert and more.
Pin this amazing Peach Dessert!