Strawberry Kuchen Recipe has a sweet buttery dough layered with juicy fresh strawberries and topped with creamy custard. You'll love this easy Strawberry Dessert.
We love this fresh strawberry fruit dessert so much that we made a delicious Fresh Peach Kuchen version too.
This post has been updated to improve readers' experience. No changes were made to the recipe.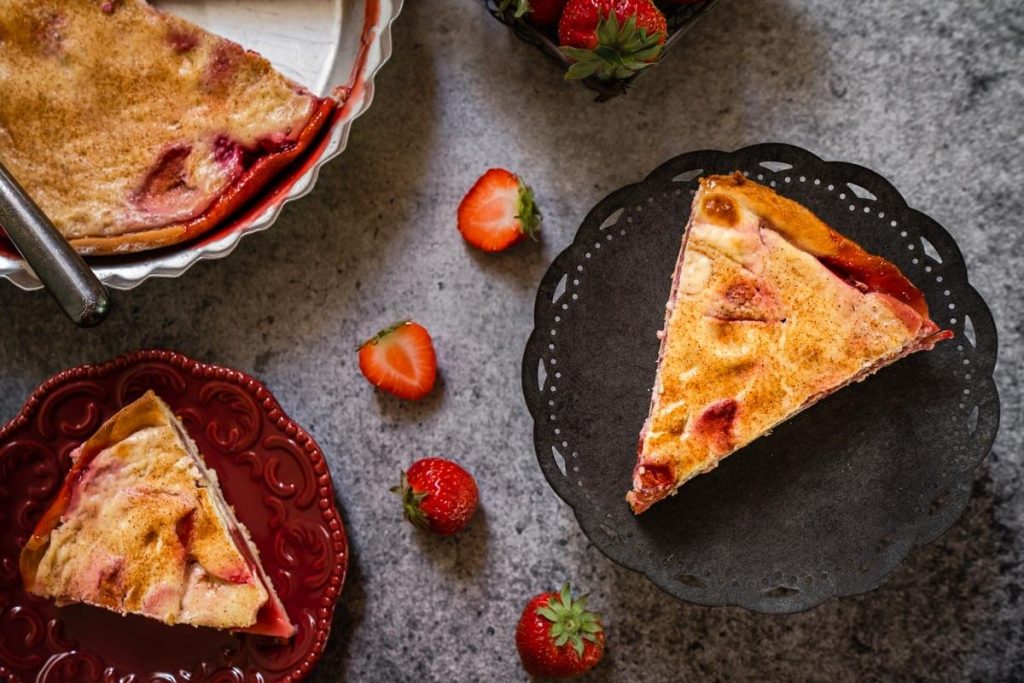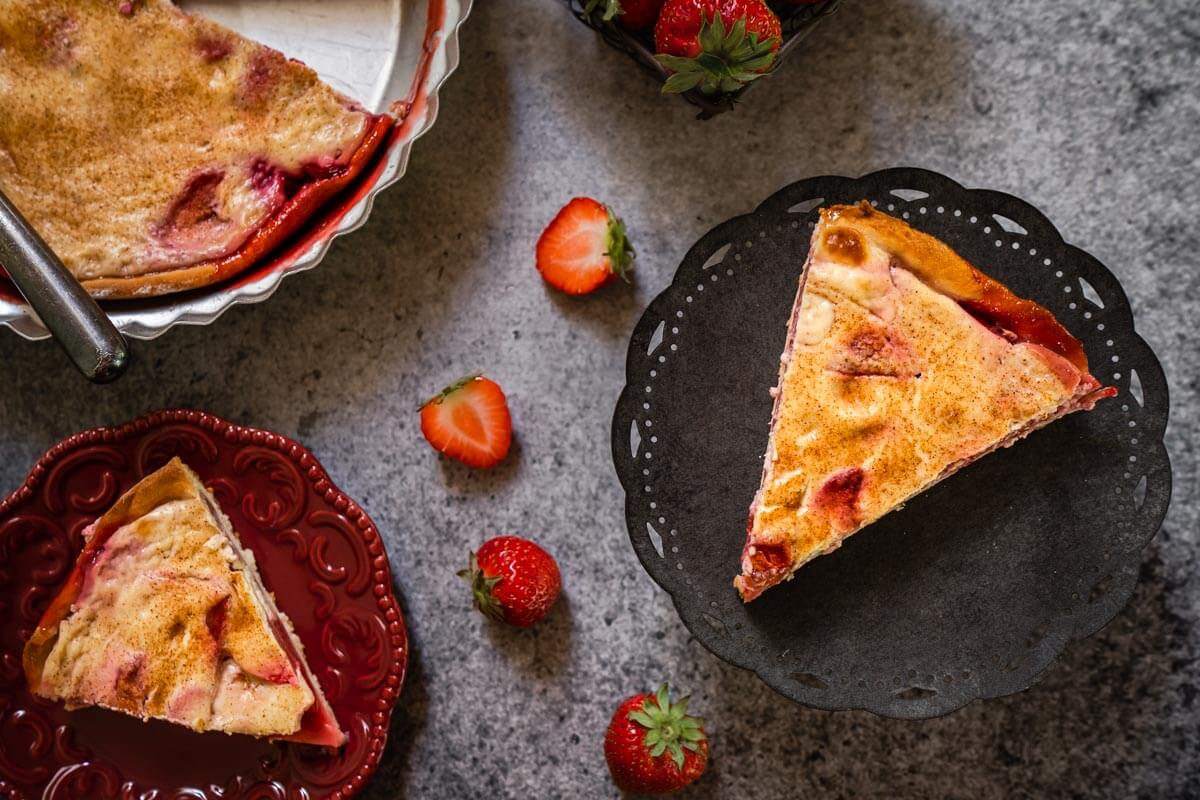 Strawberry Kuchen is a slightly sweet recipe that's perfect for brunch or as an easy Strawberry Dessert to share with friends. It looks like you went to a lot of work but it comes together in a jiffy.
Growing up my mother always had an Apricot Kuchen in a white bakery box hidden in the freezer.
The truth is she didn't need to hide it because we didn't like it.
This recipe was in her sister's handwriting, and typical of those ladies, it left out about 60% of what I needed to know in order to make it. I just love those recipes though.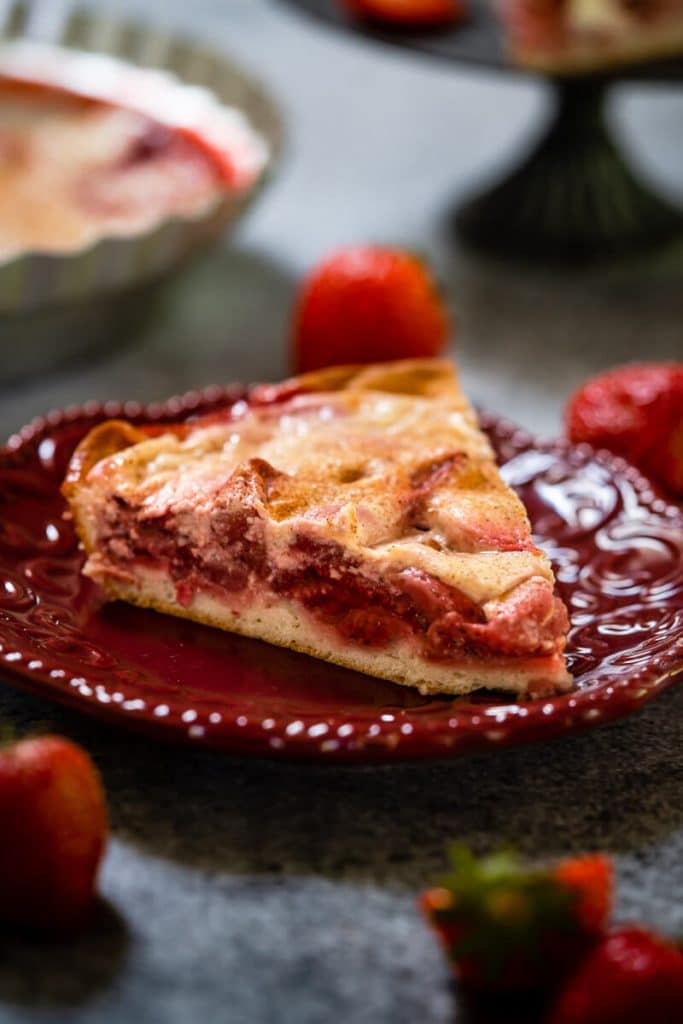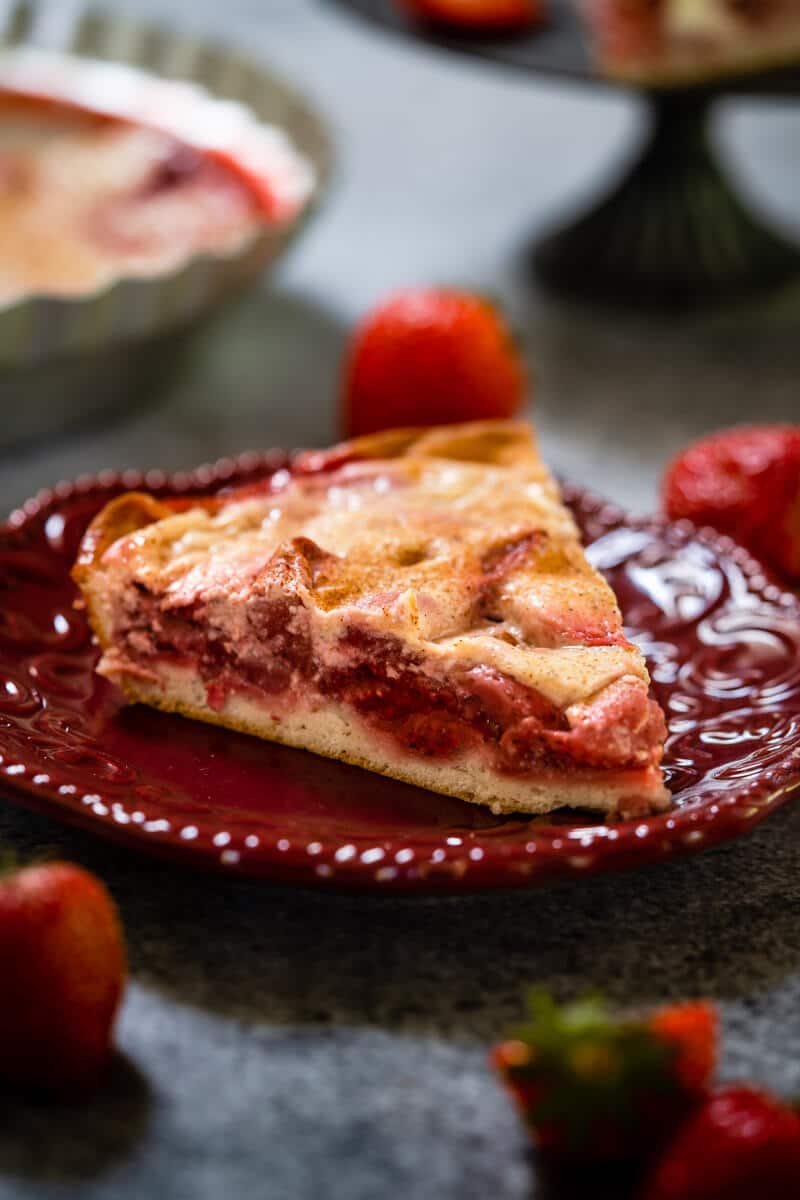 What is a Kuchen?
Kuchen is a German word for "cake". Kuchen desserts are traditionally served to friends with a cup of coffee.
We pronounce Kuchen as Ku-gen but it can also be pronounced Koo-ken. I've also seen it spelled Coogan and Cougan cake.
Kugen recipes can be sweet and use a variety of fruit or can be savory such as a Cheese Kugen.
Our strawberries are just beautiful now so we went with a fresh Fruit Strawberry Kugen recipe which makes the perfect Strawberry Dessert for summer.
How to make Kuchen
Kuchen dough recipe
I made this kuchen recipe a couple of times, and the first time I made it I rolled the dough a little thicker and brought it up over the edge of my pie plate.
Leaving the dough thicker makes for a cake-like crust.
Rolling the dough thinner makes it more like a pastry crust. In my opinion, rolling the dough thinner balances the dough with the fruit and custard layers evenly.
There's a touch of cinnamon in the dough that makes it perfect with the custard.
Kuchen dough is very easy to work with. It's soft and tender and is easy to roll. Here are some helpful tips.
Tips for the perfect Kuchen pastry dough
Ingredients should be at room temperature which makes blending them easier.
Add the all-purpose flour gradually. My dough required about 6 cups. I stirred in 3 cups initially and then gradually added the next 2 to 3 cups.
Once you can handle the dough, mixing it by hand will give you a feel for the dough's consistency. You want the dough soft and tender.

Adding too little flour will result in a sticky dough.
Adding too much flour will result in a heavier and less tender dough.

Have a large oiled bowl ready for the dough to rise along with a kitchen towel or plastic wrap to cover it until doubled.

Cover the dough so it doesn't develop a crust when exposed to air.
Place the bowl in a warmer area without drafts.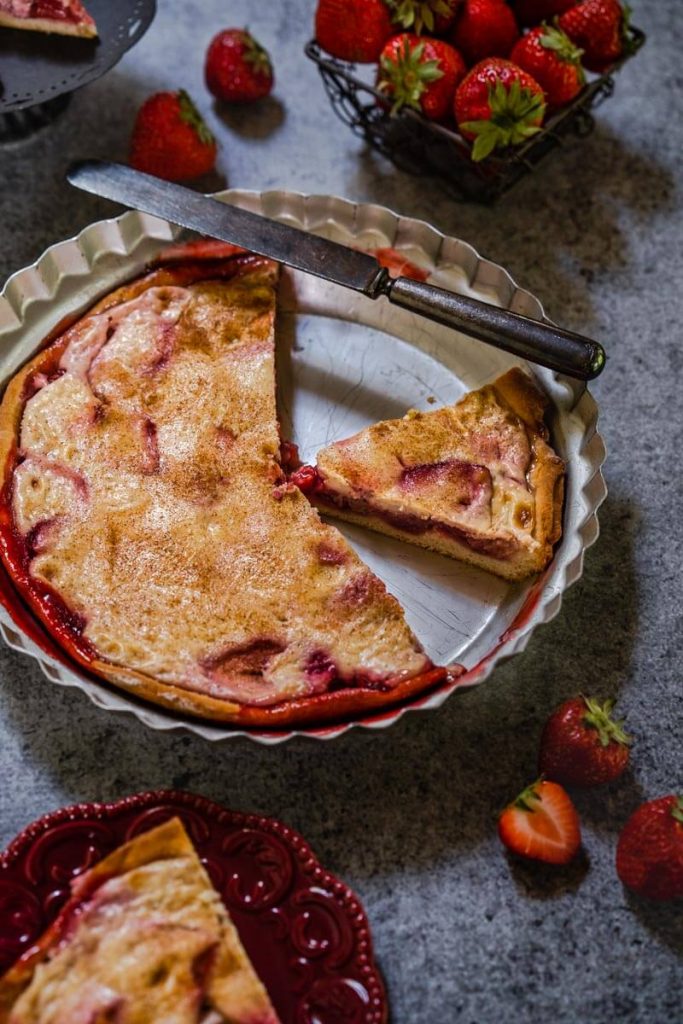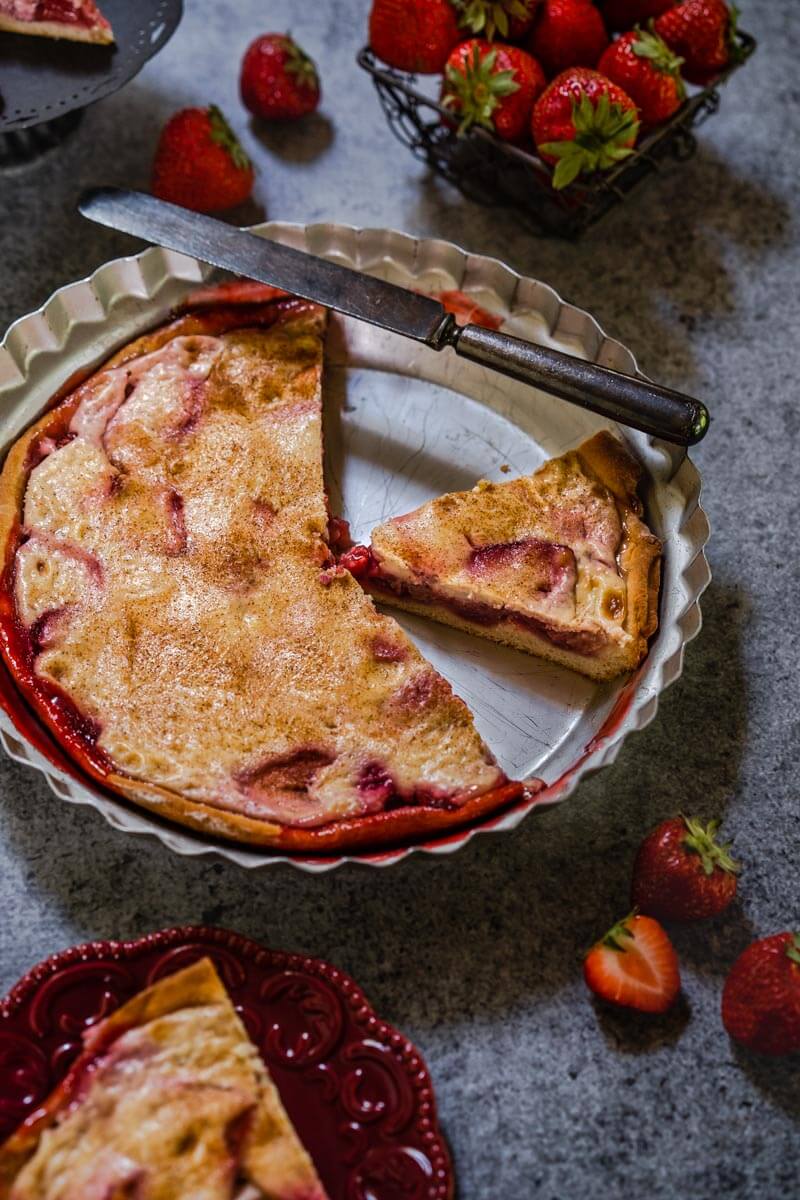 This post is sponsored by Raisenne® Dough Riser. The love of their product and my opinions are 100% my own.
If you remember my Soft Kifli Walnut Roll Crescents, I introduced to you the Raisenne® Dough Riser.
Our experience with yeast dough such as in our Apple Kolache Recipe and our Brioche Bun Recipe is that it takes 1 hour to 90 minutes to double.
Using the Raisenne® Dough Riser our dough doubled in only 35 minutes. Unheard of!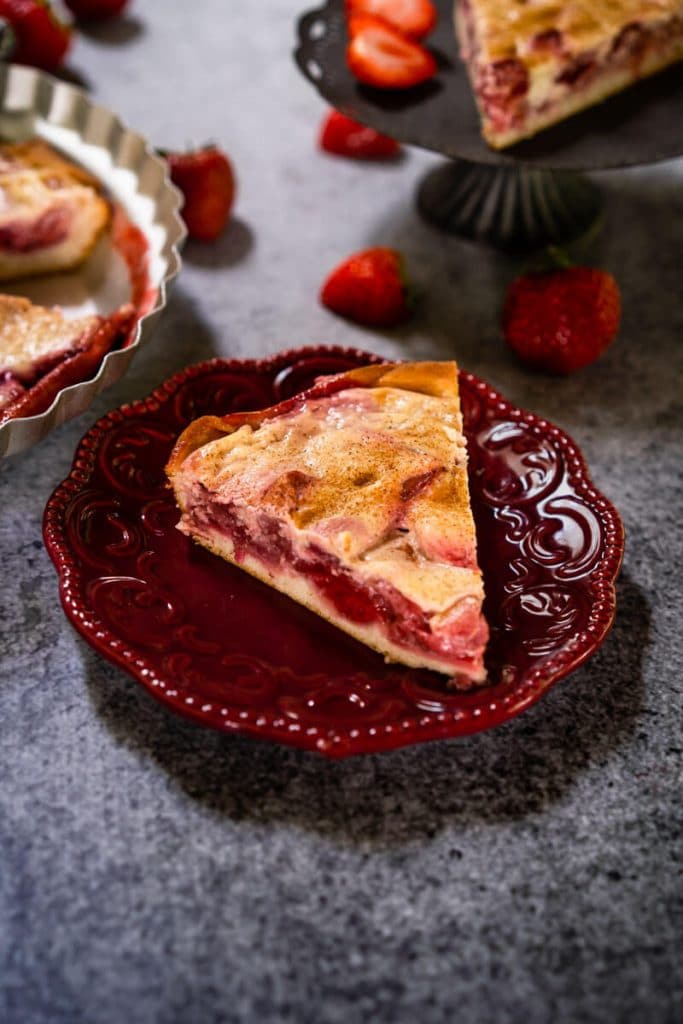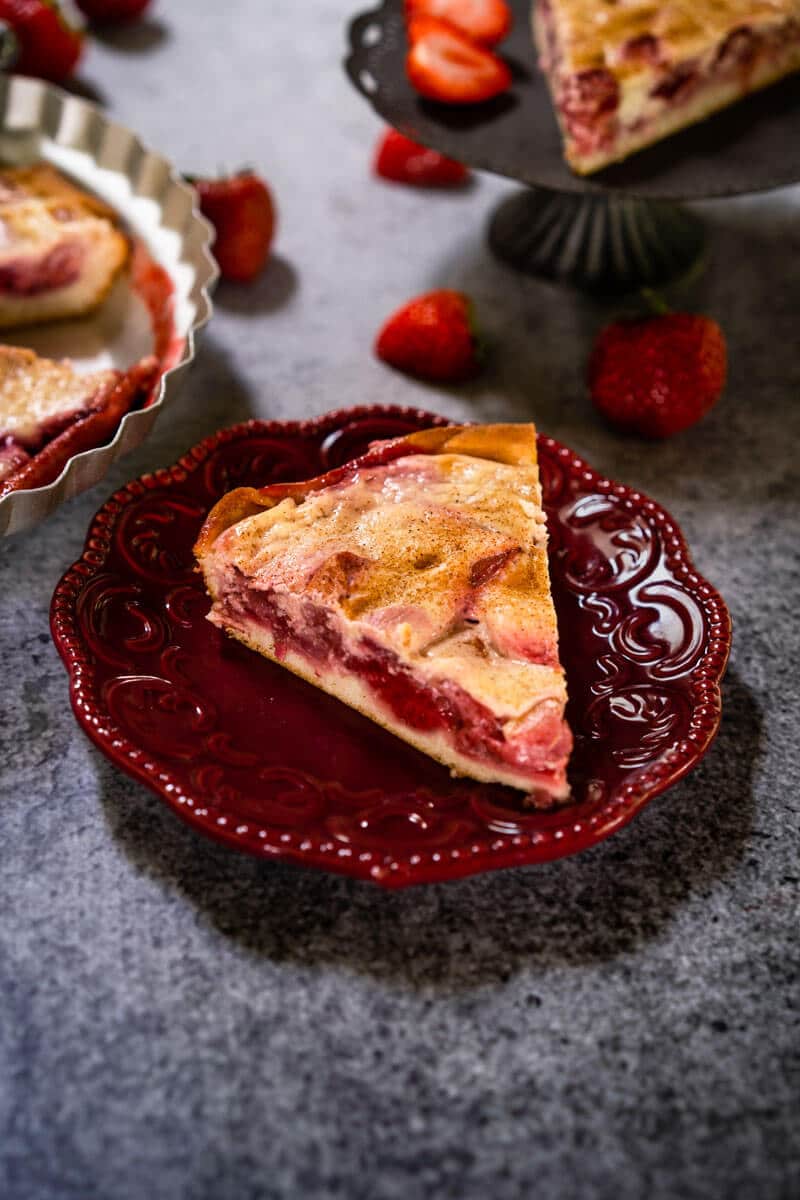 This innovative product is only sold on their website and is not available in stores.
Here are a few reasons why I'm promoting this product.
Raisenne Dough Riser is safe! The Raisenne Dough Riser maintains a temperature of 85°F / 29.4°C so it will not burn you or the surface it's used on. It is designed to shut off rather than overheat.
The Raisenne Dough Riser is made in Wisconsin, U.S.A.
You can easily store the Raisenne Dough Riser between two baking sheets, in a drawer, or in the original packaging. It doesn't take up precious kitchen space as other appliances can.
Another reason I love the Raisenne® Dough Riser is it's affordable!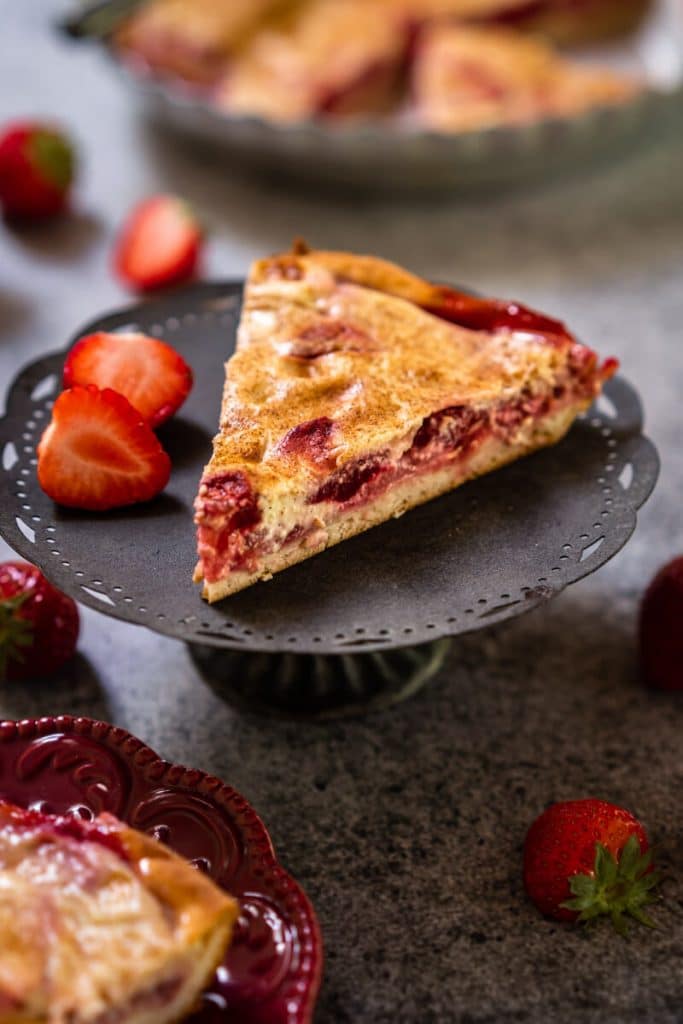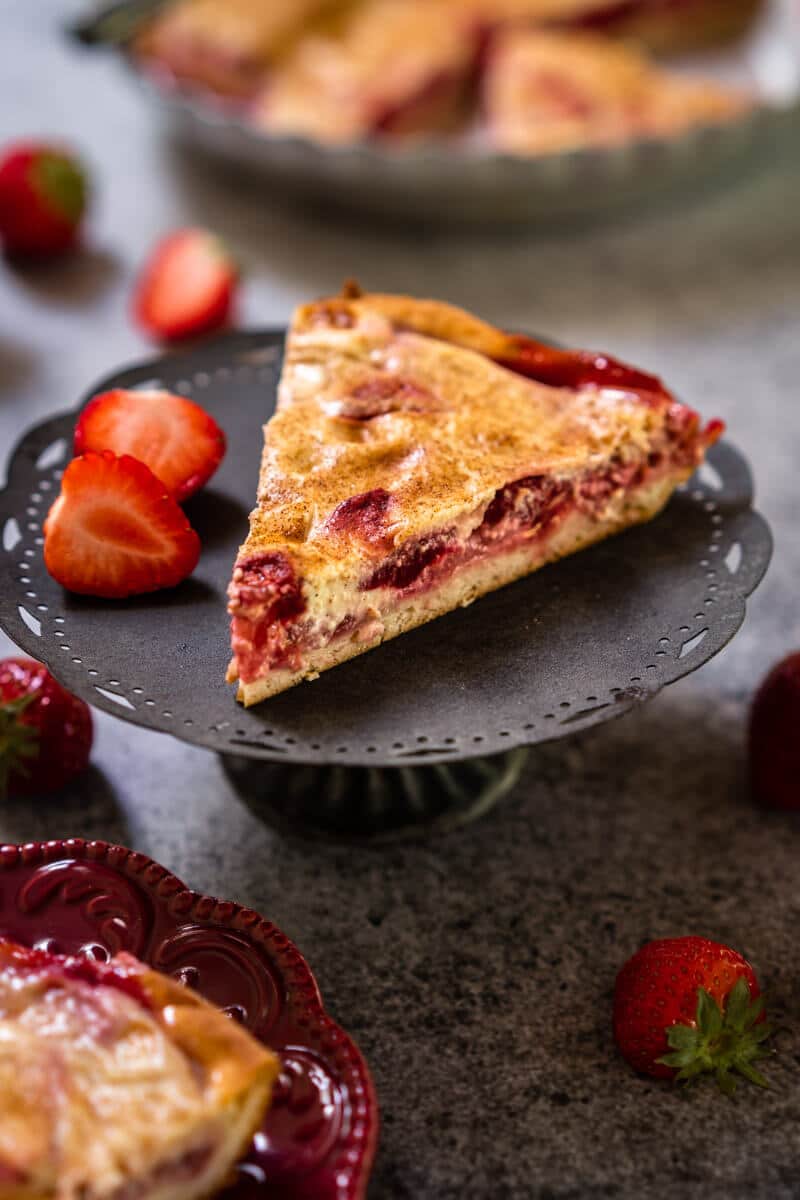 The custard isn't difficult to make. I wanted my custard less eggy and a little sweeter so added more sugar than what the recipe calls for.
It's still not real sweet but you can cut the sugar in half if that's how you like it.
The following tips will help you to make the perfect smooth creamy custard topping.
Tips for the perfect Kuchen Custard
You can start making the Custard as soon as you start proofing the dough, or made first.
Use all room-temperature ingredients.
Whisk the eggs together in a separate dish prior to making the custard.

I like using a glass measuring cup for my eggs. That makes adding them much easier.

Don't cook your cream ingredients too quickly. Cook it slow and as soon as it starts steaming it's hot enough to add the eggs.
Add the eggs to the steaming cream mixture slowly at a drizzle, whisking the whole time. This is called tempering.

If you added them directly all at once, you would have scrambled eggs.
If you added the eggs at the beginning with the cream it would be lumpy.

The eggs are what thickens the cream mixture into a custard. When the starts to thicken, remove it from the heat.

The custard will thicken when baked and cooled so don't over-thicken it. Please watch the video for the consistency.

This recipe comes together quickly so there isn't any need to chill the custard.
Tips for Strawberry Kuchen Dessert assembly
This recipe makes 4 pie plates or more, depending on how thin you roll the dough. You can make this recipe in any container that has sides and is oven-ready. Kuchen bars are easy to cut and serve when baked in a 9×13 baking dish.
Roll the dough thinly and place it on an oiled pie plate. Press the dough up the sides of the pie plate but not over the rim.
Layer the fruit on top of the dough but don't go over the sides of the dough. Otherwise, some of the fruit can bake over and behind the dough.
Sprinkle the top with equal amounts of cinnamon and sugar.
Store Kuchen in the refrigerator or freeze in an air-tight container for up to 3 months.
If you like this Easy Kuchen recipe, here are a few more I think you'll enjoy
Pin this amazing Strawberry Kuchen Recipe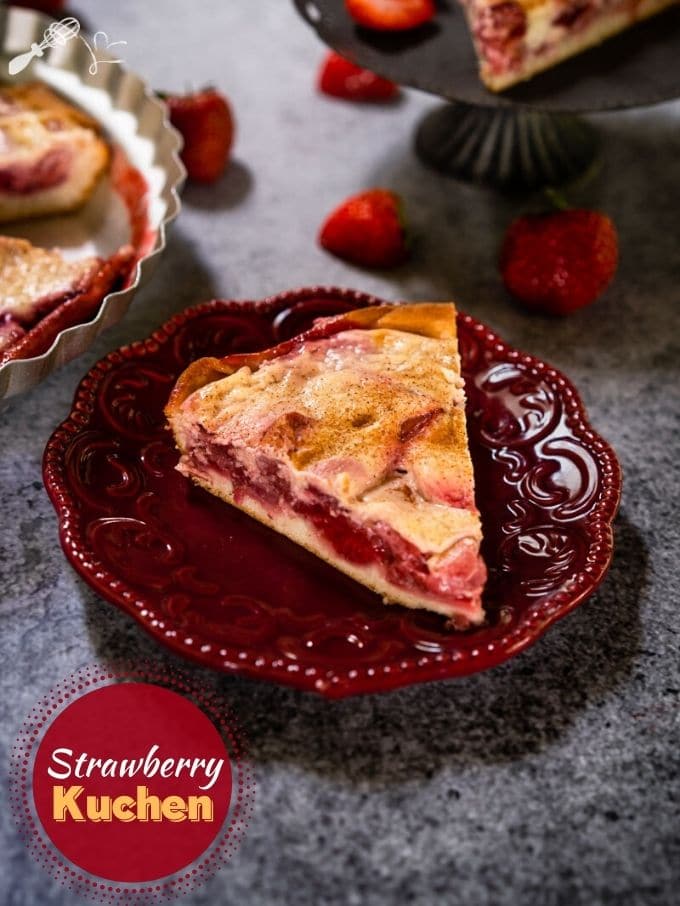 If you like this recipe, we would appreciate your comment and a 5-star ⭐️⭐️⭐️⭐️⭐️ review!
I may have to start hiding my fresh Strawberry Kuchen in my freezer. It's that good!
Our most Popular Recipes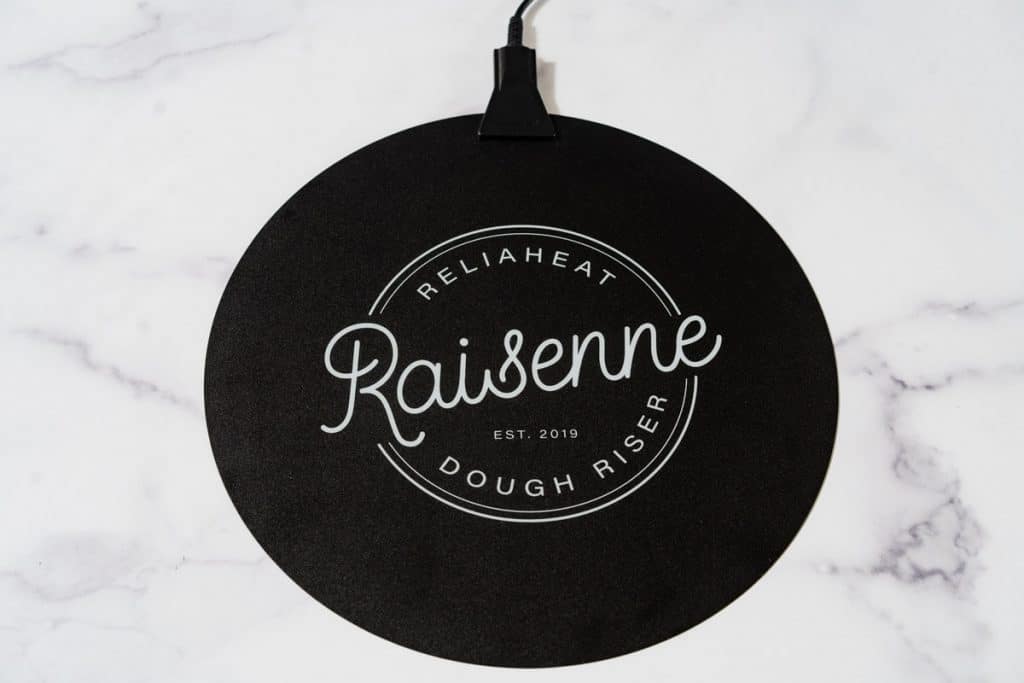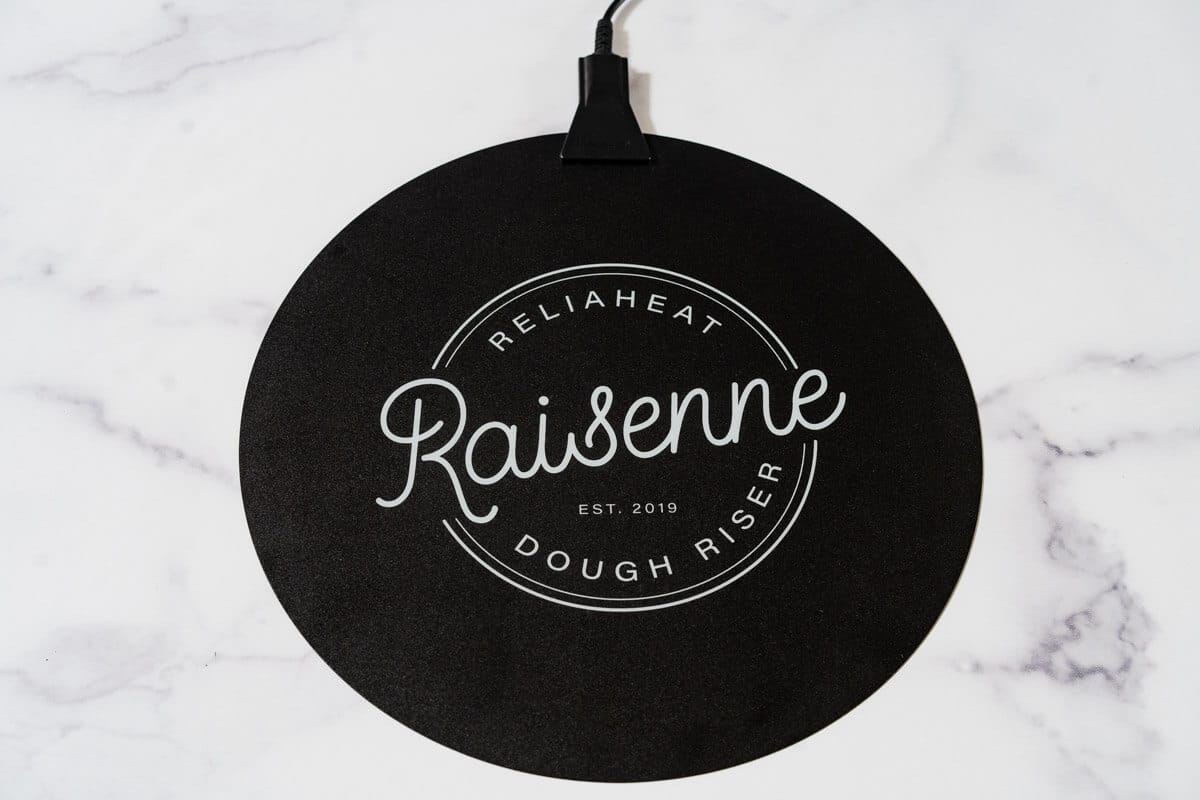 Pin it now!