Strawberry Cupcake Recipe bursts with fresh strawberry flavor. These moist fluffy cupcakes are topped with a luscious homemade strawberry buttercream frosting.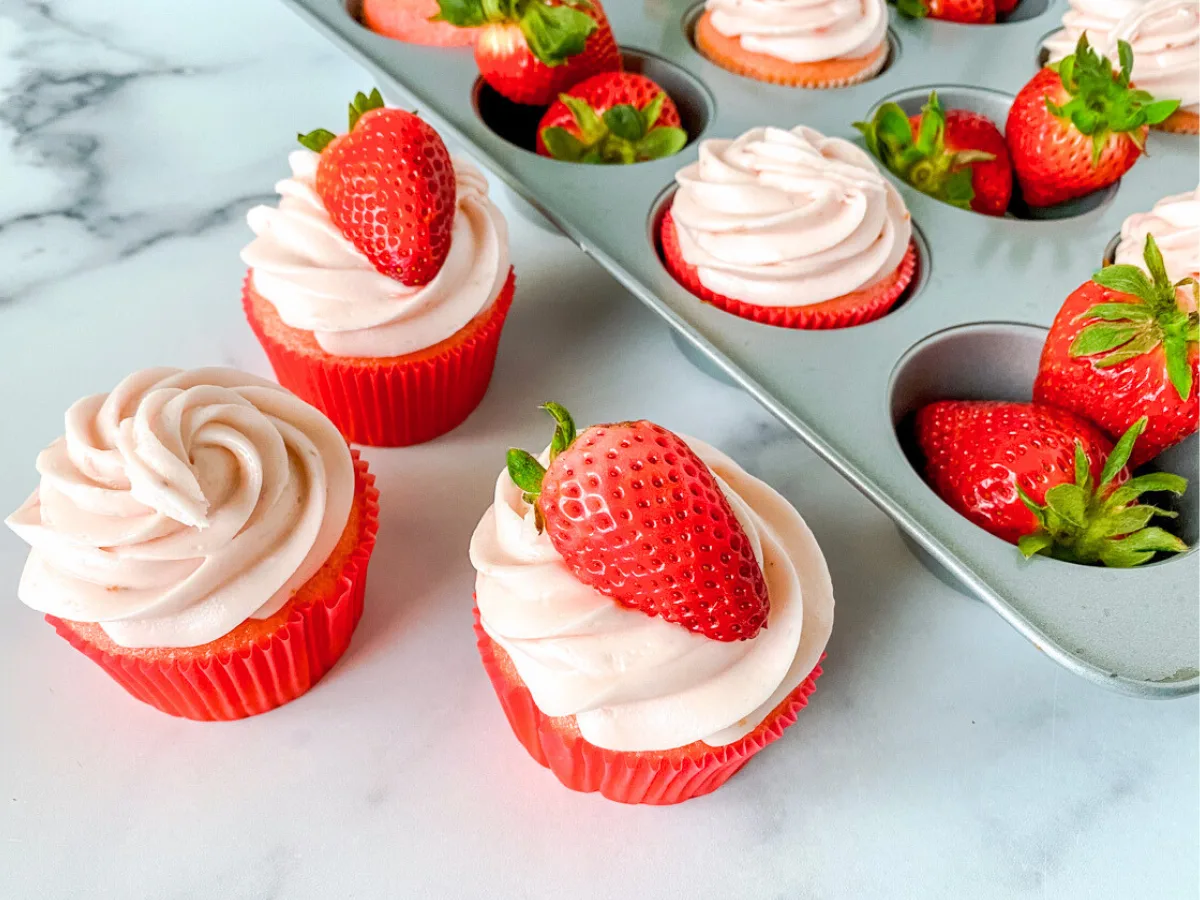 Indulge your sweet tooth with this easy-to-follow recipe that looks bakery beautiful but can be easily made at home. They're the perfect summer dessert but can be made any time of year.
Why You'll Love This Recipe for Strawberry Cupcakes
Purely Gorgeous. You aren't going to find a more lovely dessert for your Valentine's Day, Mother's Day Brunch, your baby shower, or a Saturday afternoon picnic. This one is perfect.
Flavorful. Unlike vanilla buttercream cupcakes, which have their place, this Strawberry Cupcake recipe has so much bright flavor. It tastes fresh with no artificial flavors.
Easy. Making homemade cakes is so simple you may never buy a boxed mix again.
Equipment Needed
Ingredients you'll need for this recipe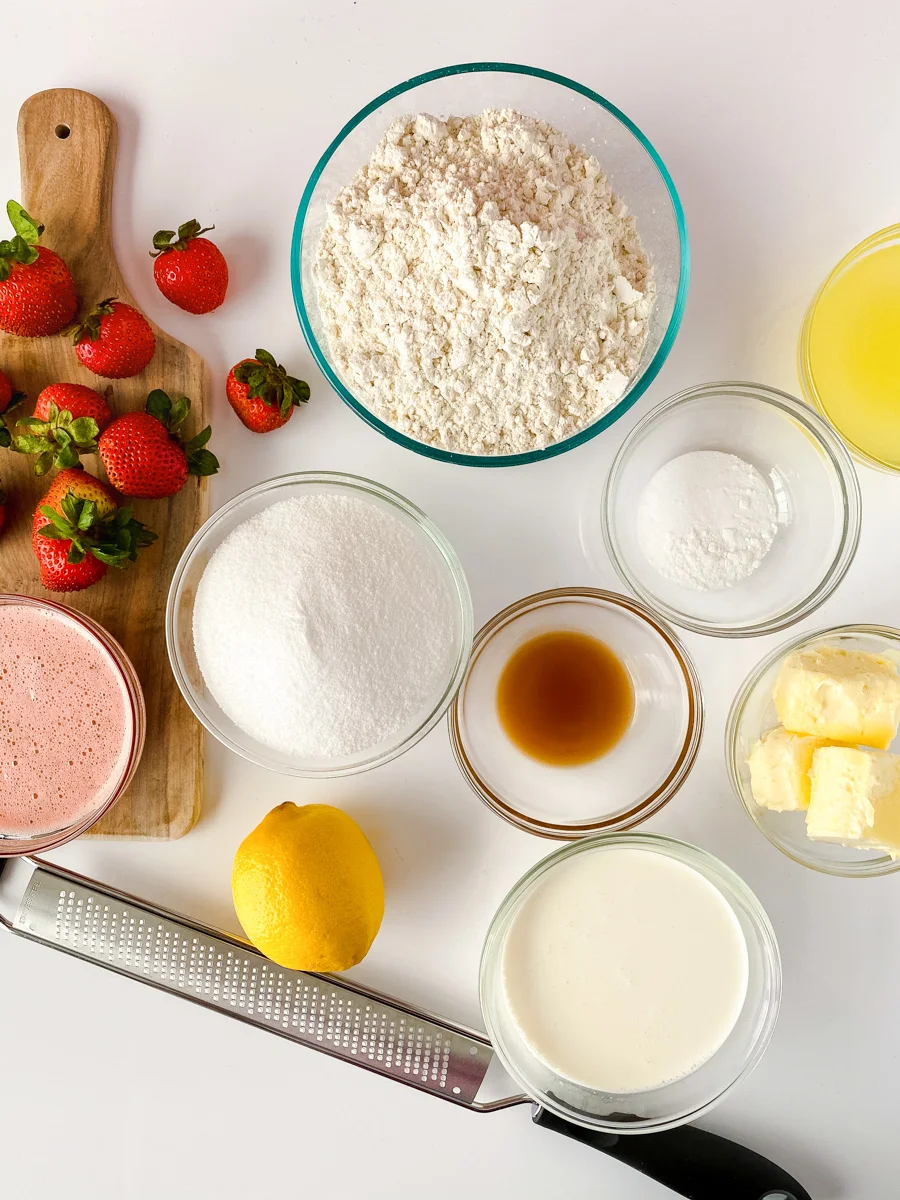 Strawberry Puree Ingredients
Sugar.
Water.
Strawberries.
Ingredients for the Cake Batter
All-Purpose Flour.
Baking Soda.
Baking Powder.
Salt.
Unsalted Butter.
Sugar.
Egg Whites.
Zest of one Lemon.
Lemon Juice.
Milk.
Strawberry Purée.
Ingredients for Strawberry Buttercream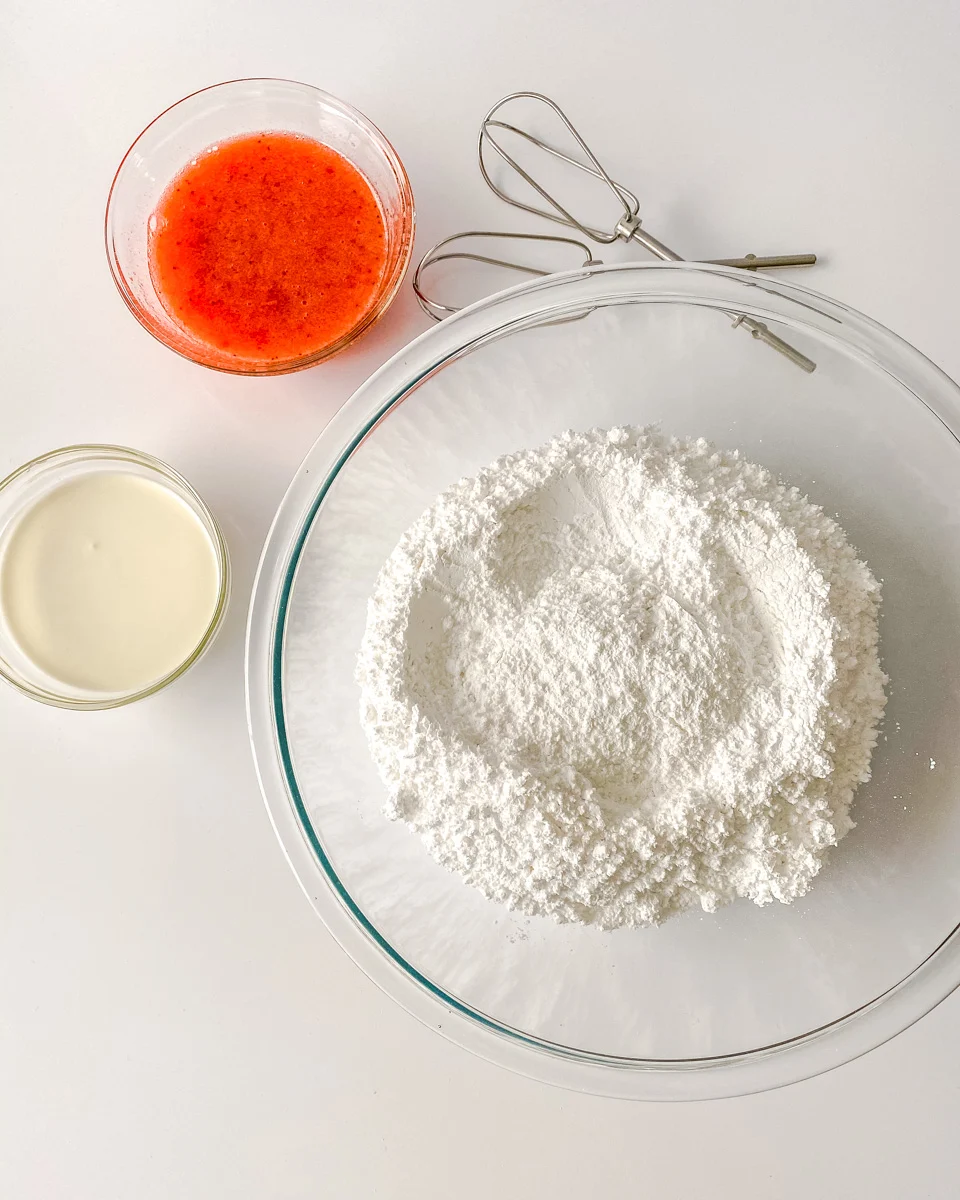 Unsalted Butter.
Powdered Sugar.
Strawberry Purée.
Heavy Cream.
Pink Food Coloring. Optional.
How To Make Strawberry Cupcakes Recipe
Please note, that the printable recipe card has ingredient quantities, complete instructions, and nutritional information. The following is a quick overview of the recipe.
Step One. Start by making the Strawberry Purée.
Combine all the ingredients for the puree in a saucepan and simmer over medium-low heat. Smash the berries with a potato masher, blender, or food processor, or stick blender. Cool the fruit completely.
Step Two. Get Everything Ready for the Strawberry Cake Recipe.
Always begin by preheating your oven. Line your muffin tins with cupcake liners or grease the pan with shortening. Pull out the ingredients and equipment for the recipe, and ensure you have everything you need.
Step Three. Mix the wet ingredients.
Using an electric stand mixer fitted with a paddle attachment or a handheld mixer, cream the butter and sugar. Add the egg whites and vanilla. Beat until well incorporated.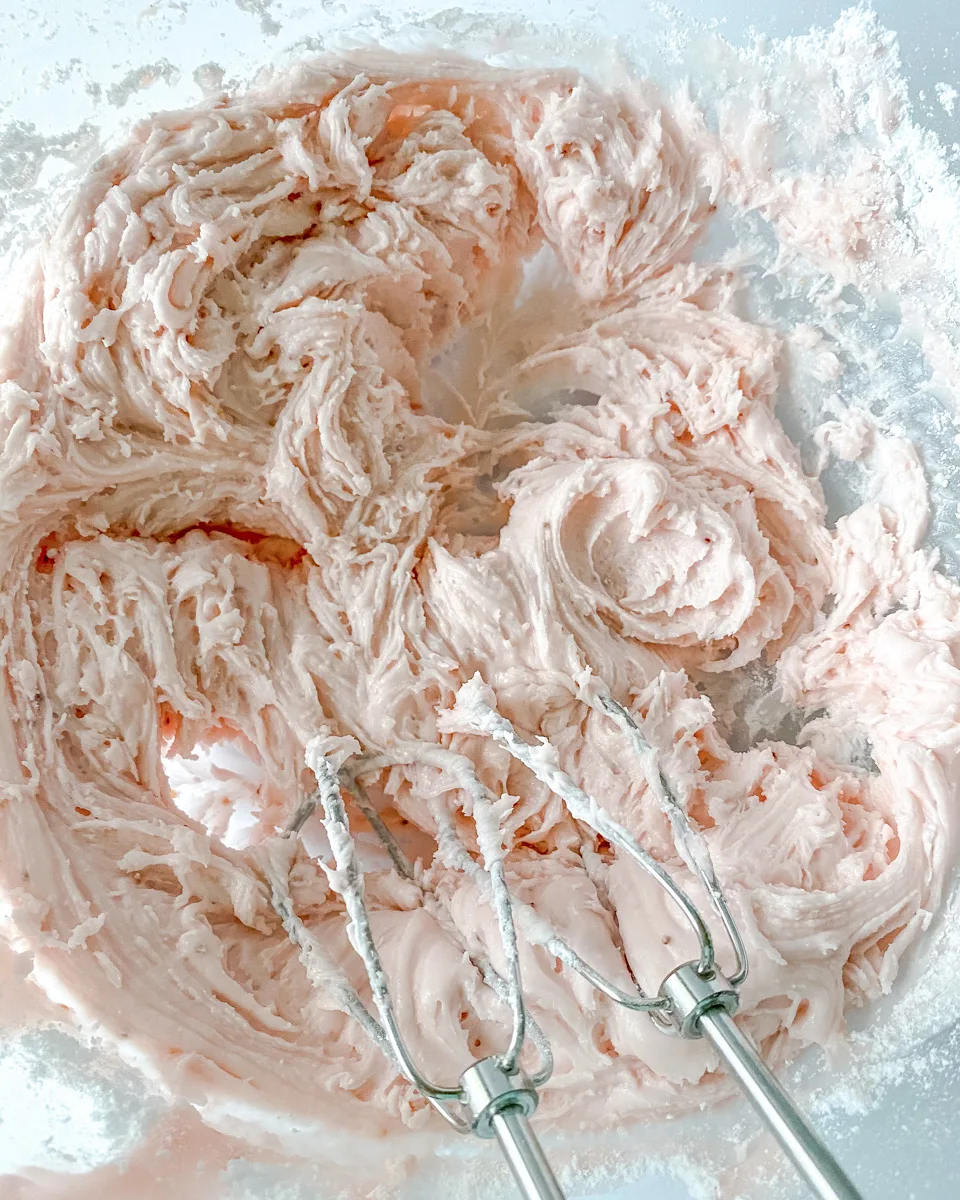 Step Four. Combine the dry ingredients.
Combine flour, baking powder, baking soda, and salt in a large mixing bowl.
Step Five. Finish Mixing the Cupcake Batter.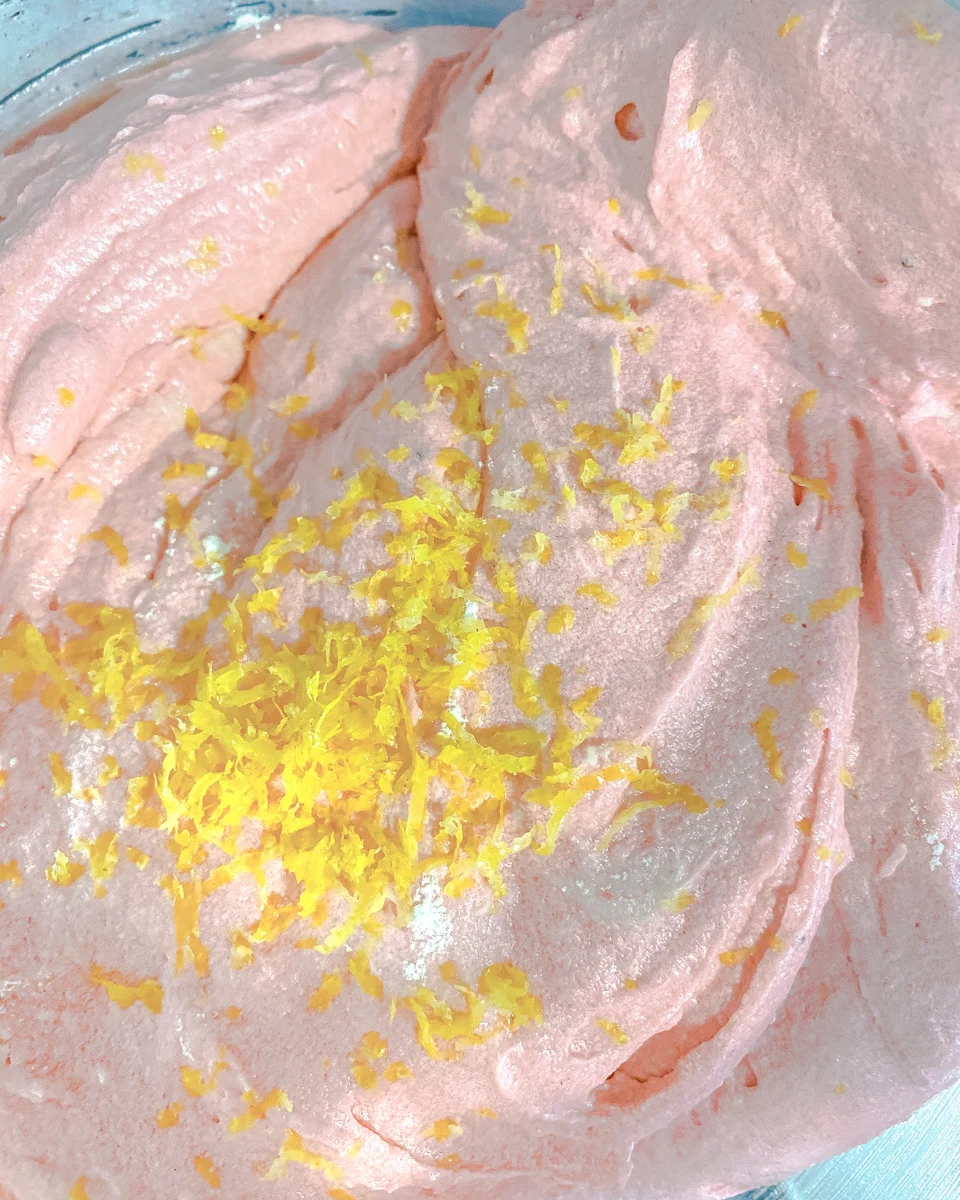 Alternate between adding the dry ingredients and the milk slowly until both are incorporated into the butter mixture. Finally, add lemon zest and strawberry puree. The batter will be thick.
Step Six. Bake your Strawberry Cupcakes.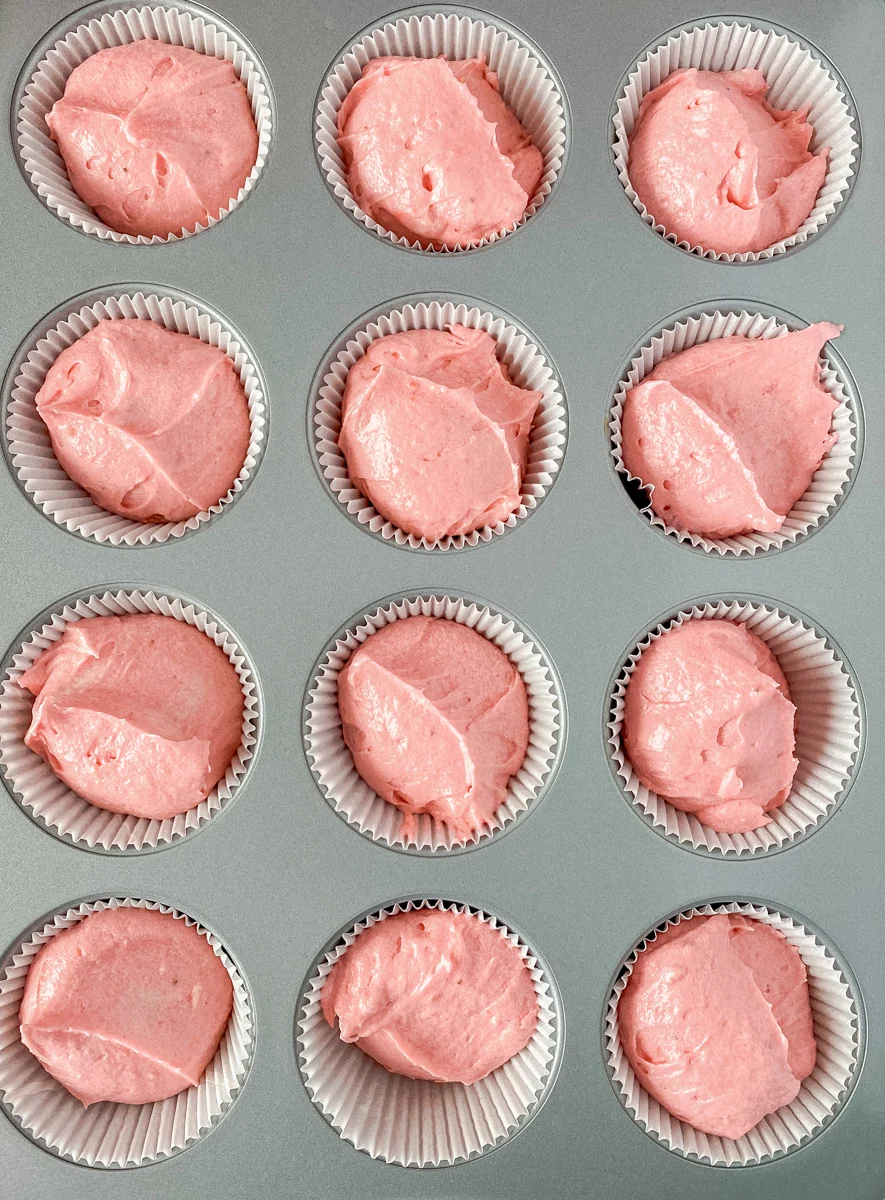 Fill your muffin tins and bake your cupcakes. Allow them to cool completely before frosting. Frost the cupcakes with the strawberry buttercream using a star piping tip and disposable piping bag. Top with a strawberry slice.
How to Make Strawberry Buttercream Frosting
Step One. Using a medium mixing bowl and an electric hand mixer, or in the bowl of an electric stand mixer, beat the butter until smooth.
Step Two. Add the powdered sugar and mix with the butter.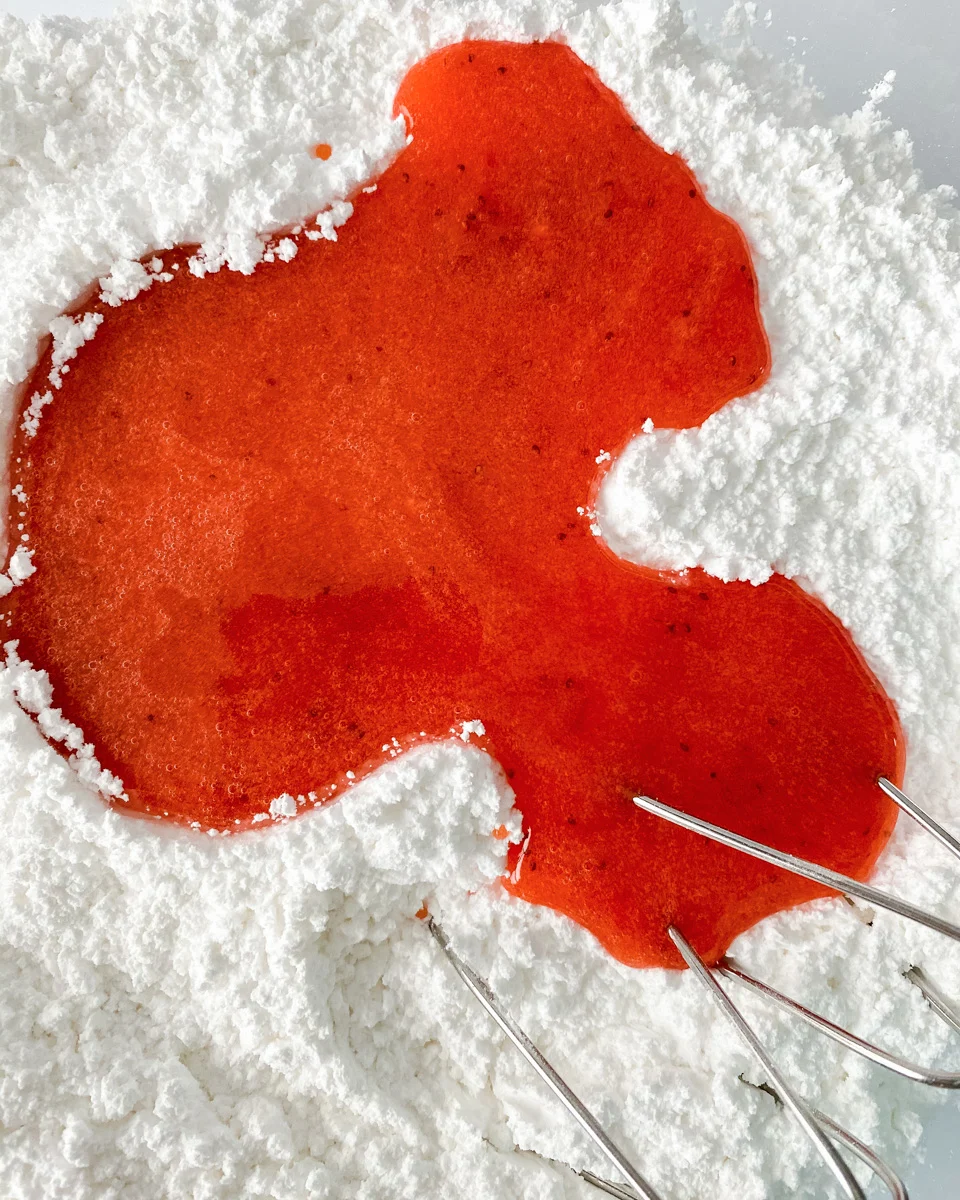 Step Three. Slowly begin to incorporate the strawberry purée.
Step Four. Add the heavy cream and beat on high speed for 5 mins.
Add more powdered sugar if the frosting will not hold a stiff peak.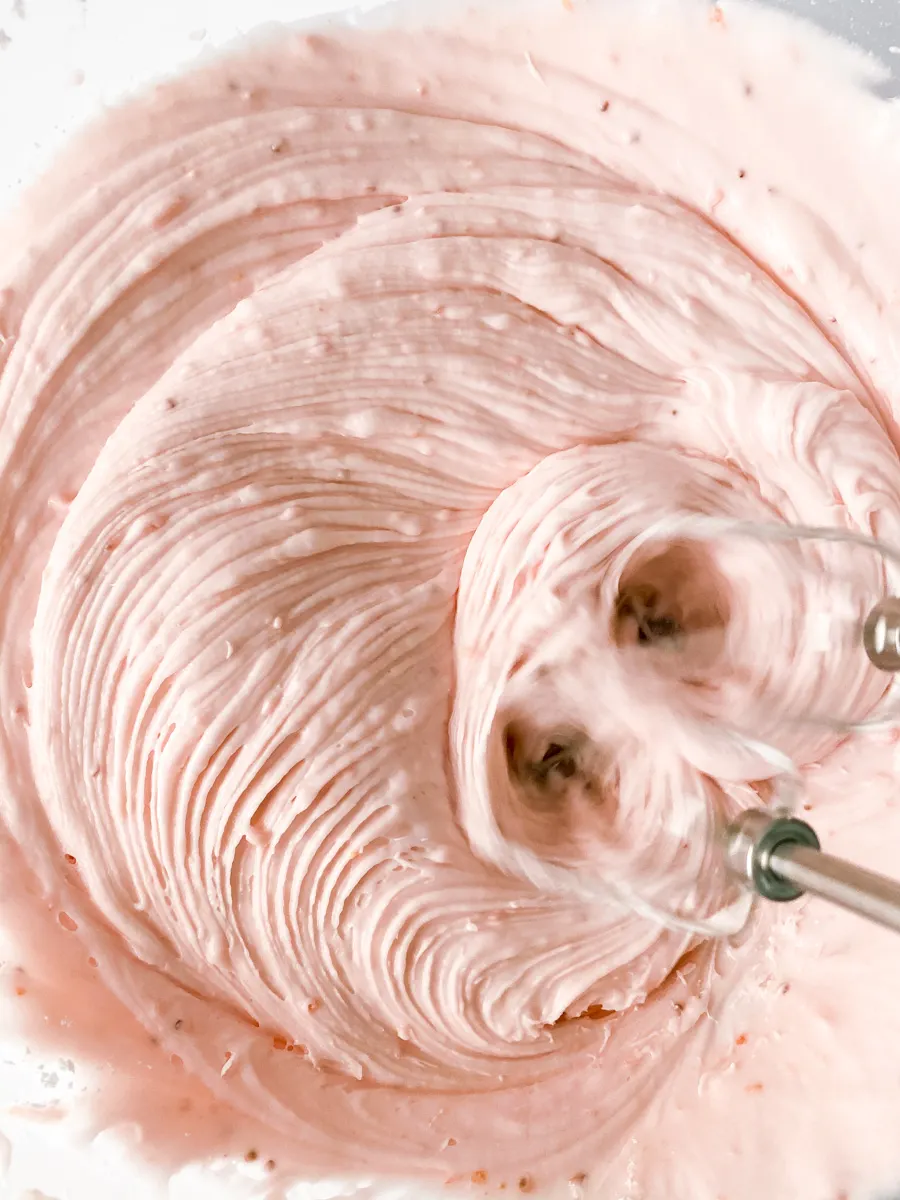 Frequently Asked Questions
What is the secret to super moist cupcakes?
You need air bubbles. The way to get super moist cupcake perfection is to create a batter that expands in the oven. If it is mixed too much, the bubbles pop and your cupcakes get dense. Do not overmix your batter.
Can I make cupcakes three days in advance?
Cupcakes can be made two days in advance, unfrosted. Frosting can also be frozen or refrigerated separately in an airtight container, but it will need to be brought to room temperature if you plan to pipe it onto the cupcakes.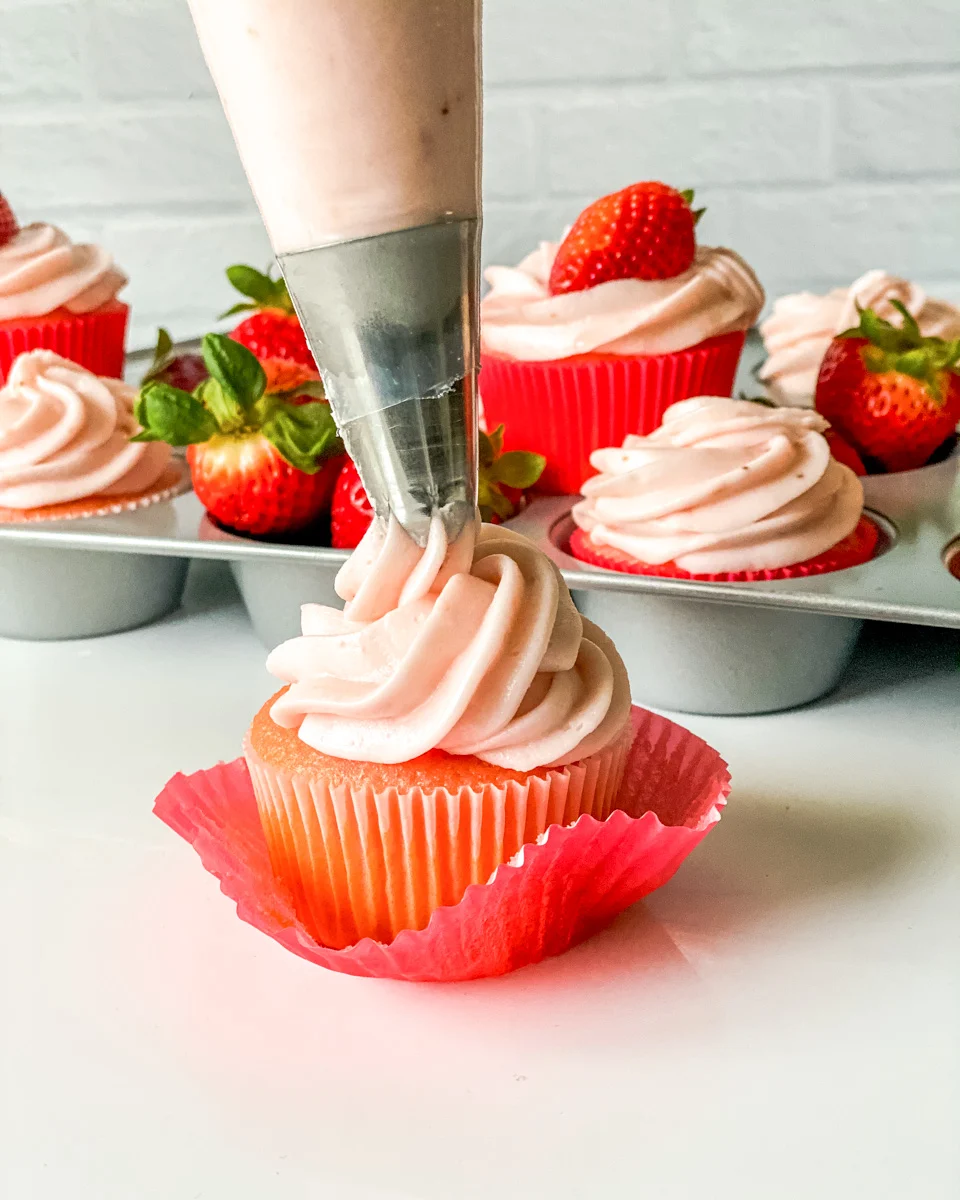 Can I frost cupcakes the day before?
It's best to frost them the day you want to serve them but you can frost them the day before. Lightly cover the tops of them with a piece of plastic wrap so the frosting doesn't develop a crust.
Should I chill the cupcakes before frosting them?
You'll want to wait to frost the cupcakes when they're completely cooled. I often put them in the freezer for 5 to 10 minutes before frosting. That's not technically necessary, but the frosting doesn't get as soft, especially in a warm environment.
What is the best icing tip for cupcakes?
If you want to pipe the frosting on the cupcake, I find a 1M tip works well. If you don't have cake decorating supplies, you can cut the corner from a plastic bag to form a bag for the frosting.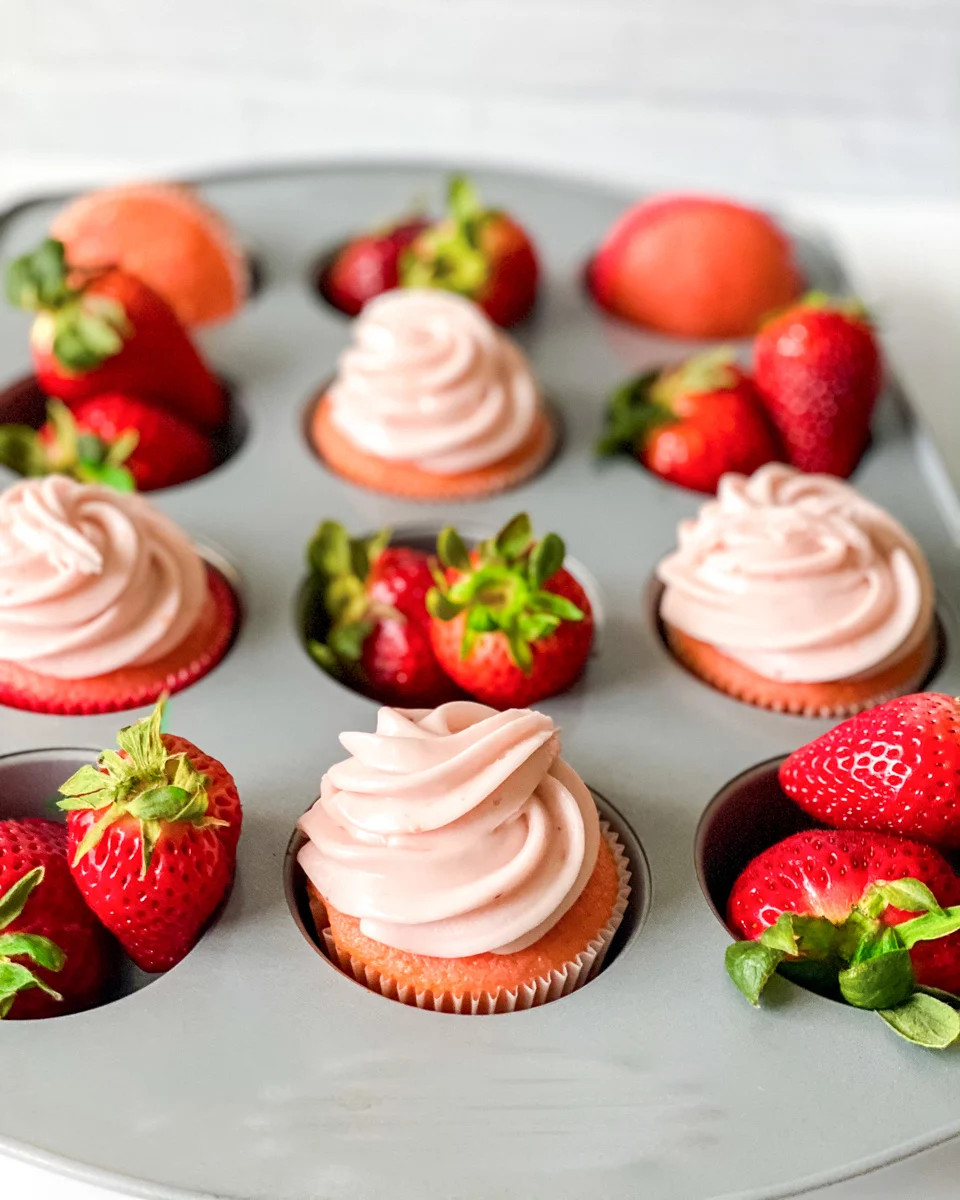 How To Store Homemade Strawberry Cupcakes
Best Way to Store Strawberry Cupcakes
Keep your cupcakes in an airtight container at room temperature or in the refrigerator. Either way, they will last for several days.
Can I Freeze Fresh Strawberry Cupcakes?
Yes. Freeze frosted or unfrosted cupcakes in an airtight container for up to three months. You can also freeze the baked cupcakes and frosting in separate containers and then frost them when they're thawed. You may need to add a little extra cream if the frosting is too thick.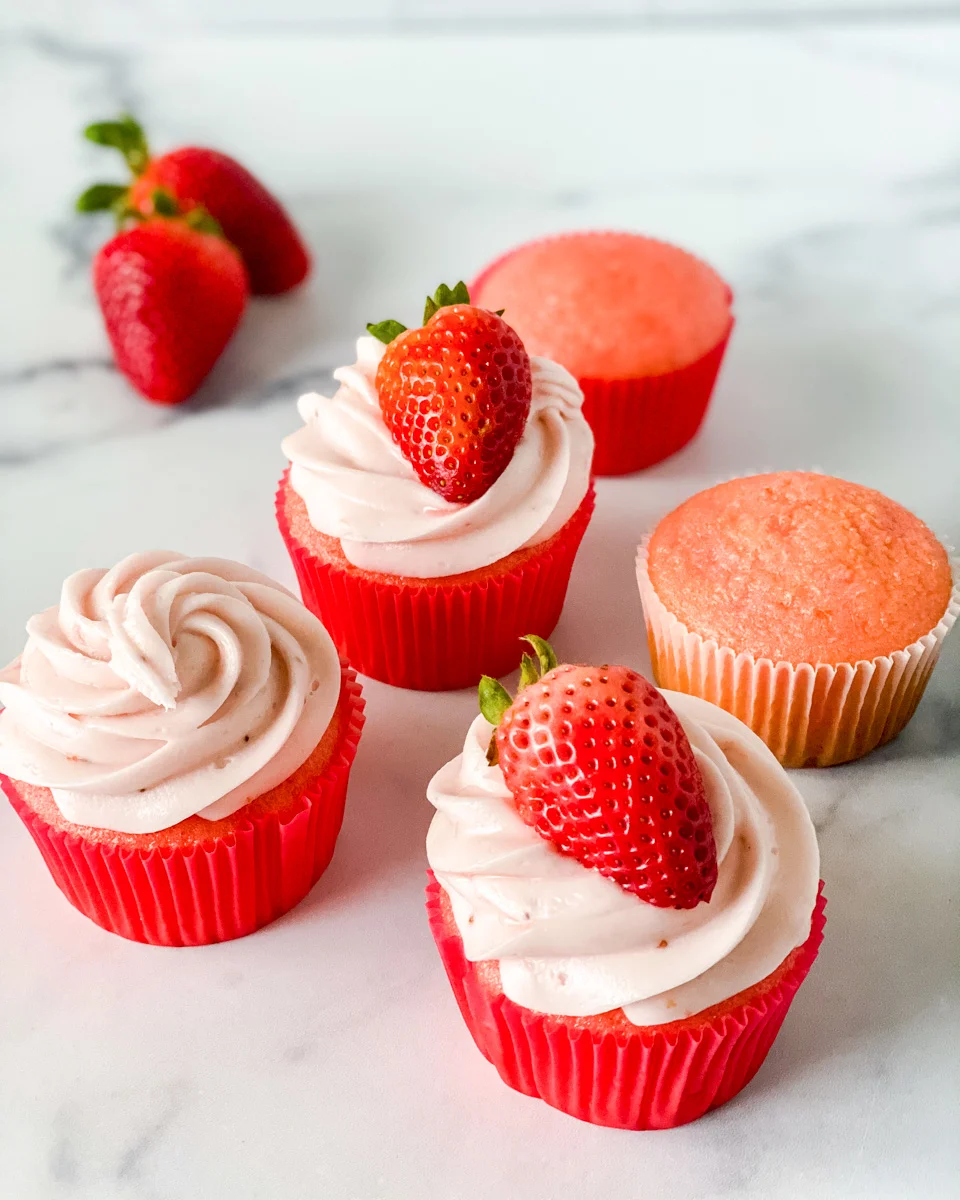 Tips for the Perfect Strawberry Cupcakes
For optimum results, thoroughly preheat the oven and avoid opening the door during baking.

Don't overbake. When a cake tester or toothpick is inserted into the center of the cupcake contains just a few moist crumbs, remove the pan from the oven. Let them remain in the pan for about 5 minutes. Turn them out onto a cooling rack and let them cool completely.

Checking the cupcakes before the cook time has about 5 minutes remaining will give you an idea of how much more time they need.

Don't overmix the batter. You'll deflate the air out of it, and your muffins will not be fluffy.
Don't use old or expired ingredients, and measure the ingredients correctly.
Don't overfill. Doing so creates a mushroom top. I use an ice cream scoop for the perfect-sized cupcake.
Depending on the weather or climate will determine how much liquid is necessary. For climates with more moisture in the air, you may notice it takes a lot of powdered sugar to get a stiff peak. If you get up to 2 lbs (8 cups) of powdered sugar, add a pinch of salt to balance out the sweetness.
As a good rule of thumb, don't dump all the purée in at once. Slowly add the puree, watching the texture of the frosting as it's whipped for 5 mins to incorporate air, making it fluffy. Add more puree as needed.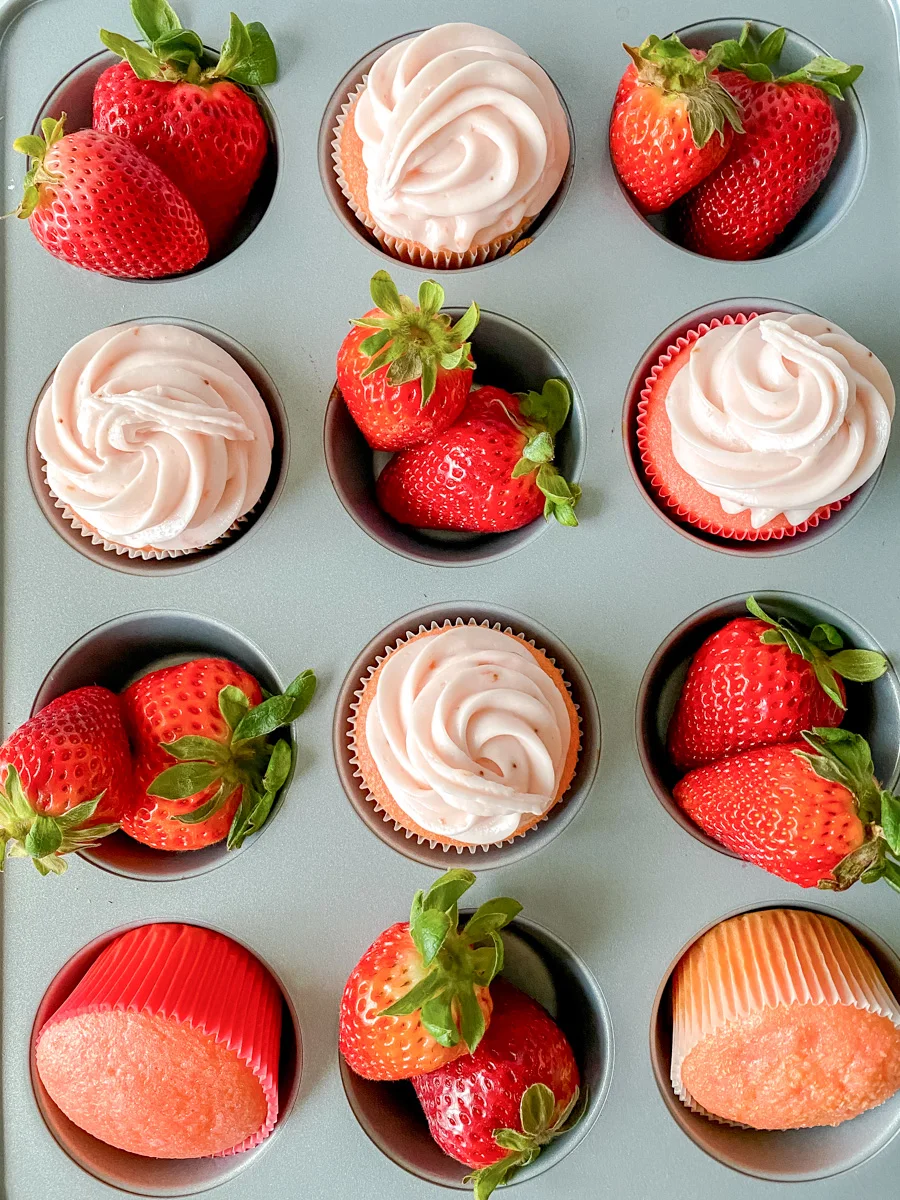 Recipe Variations
This strawberry cupcake recipe makes 24 cupcakes. You could easily make 48 mini cupcakes or divide the batter and make a layer cake.
Instead of making the strawberry puree, you can use a purchased strawberry jam or strawberry compote.
When strawberries aren't in season, make this recipe all year long using thawed frozen strawberries.
Replace the homemade strawberry buttercream with your favorite frosting.
Top each cupcake with a slice of fresh strawberries.
If you enjoyed this recipe, check these out!
I hope you enjoyed this delicious recipe as much as we do. Drop me a comment below, and don't forget to give it a star rating. ⭐⭐⭐⭐⭐. Your comments and ratings help others decide if this recipe is for them too.
Pin this amazing recipe!