Strawberry Cheesecake Salad is an easy 4-ingredient fruit salad recipe that tastes like a dessert. It's perfect for casual meals or a special occasion.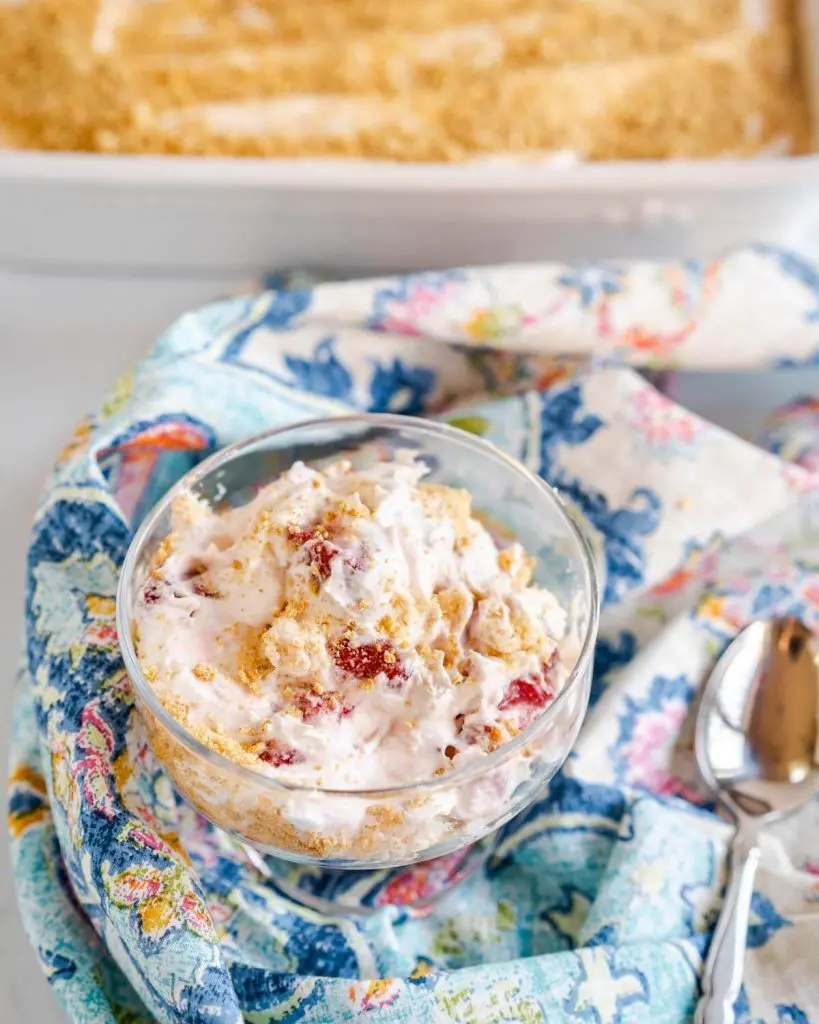 Strawberry Cheesecake Salad is our go too for simple get-togethers or special occasions.
This Cheesecake Salad recipe uses only 4 ingredients and is easy enough for the youngest of helpers.
This creamy fruit salad combines sweet strawberries with a whipped topping that's been garnished with graham crackers.
It tastes like a Strawberry Cheesecake without all the fuss.
This easy Cheesecake salad can be made ahead giving you time for other tasks when entertaining.
Dashes of red color make it the perfect holiday side.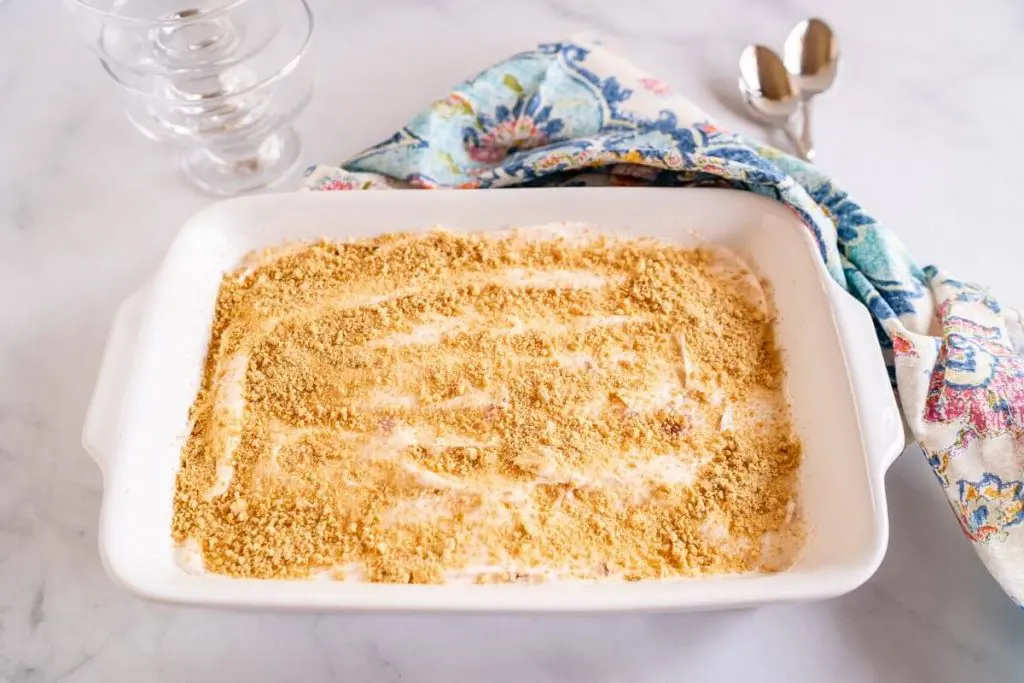 Ingredients & Variations
Sliced Strawberries packed in syrup – These strawberries can be found in the frozen area of most grocery stores.

You could use any fruit here however, you want a fruit that isn't going to deteriorate before the salad is consumed such as raspberries that breakdown quickly.

Whipped topping – We buy pre-made but you could easily use heavy whipping cream and make it yourself.
Instant Cheesecake Pudding – This salad would be delicious with another pudding flavor such as vanilla or white chocolate.
Graham Crackers – We sprinkled them over the top like a garnish which would resemble a cheesecake crust. You could omit the graham crackers if you choose.

We recommend just garnishing the top of the salad instead of mixing the graham crackers into the salad because the graham crackers will lose their crunch.

Additional Cheesecake Salad ingredients – Make it your own. Here are a few additions you can use:

Mini marshmallows
Chopped pecans or walnuts
Crushed and drained pineapple
Vanilla wafer crumb garnish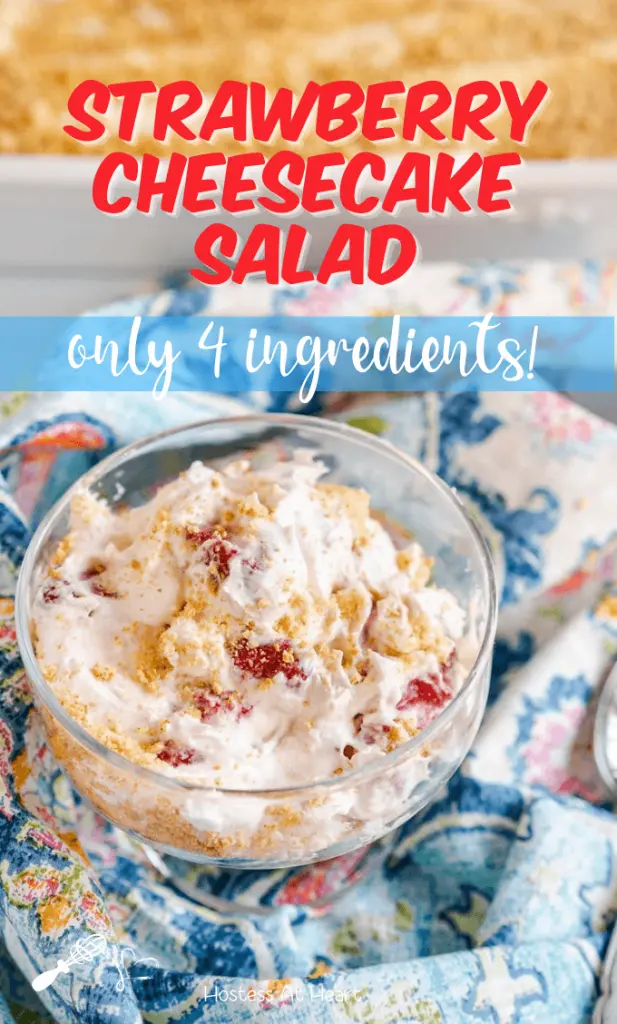 How to make Strawberry Cheesecake Salad Recipe
Add the strawberries and their juices to a large bowl.
Sprinkle the instant pudding over the strawberries and stir until dissolved and evenly combined.
Fold in the whipped topping.

Be careful that you don't over mix or stir aggressively. The structure of the whipped topping will break down.

Add any additions if desired and serve or cover and refrigerate.
This salad can be a day in advance and stored in the refrigerator. This salad serves 12. I've actually had it in my refrigerator for up to a week and it was still delicious.
We just cover it with plastic wrap. We've never frozen this salad.
More Fruit Salad Recipes
We love a good salad! You can find all of our salads here!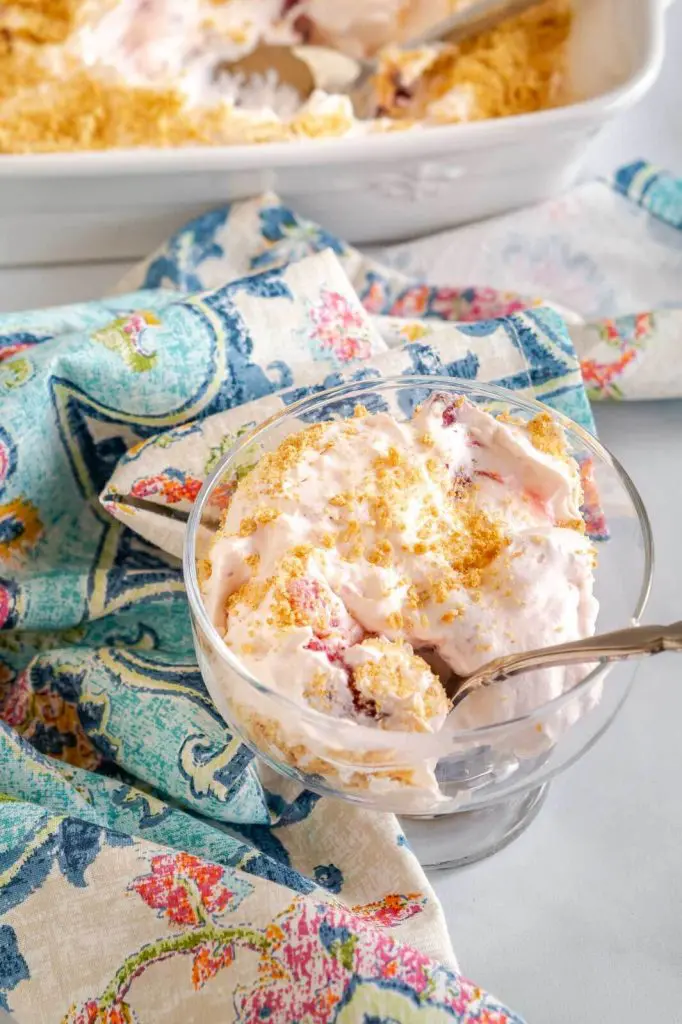 Items you may need
The glory of this recipe is that you can mix it in any dish and get just as fancy as you want when you serve it.
Items I used when creating this recipe were my favorite mixing bowl and spatulas. We also served this simple recipe in these pretty little dessert dishes.
Serve this Cheesecake Salad with these recipes
What's your favorite go to salad recipe? Once you've tried our Strawberry Cheesecake Pudding Salad recipe I hope it's this one!
If you like this recipe, we would appreciate your comment and a 5-star ⭐️⭐️⭐️⭐️⭐️ review!
Pin it!