Turkey Sloppy Joes are a healthier homemade sloppy joe that's made with everyday ingredients. It's a quick and easy weeknight meal or perfect for entertaining.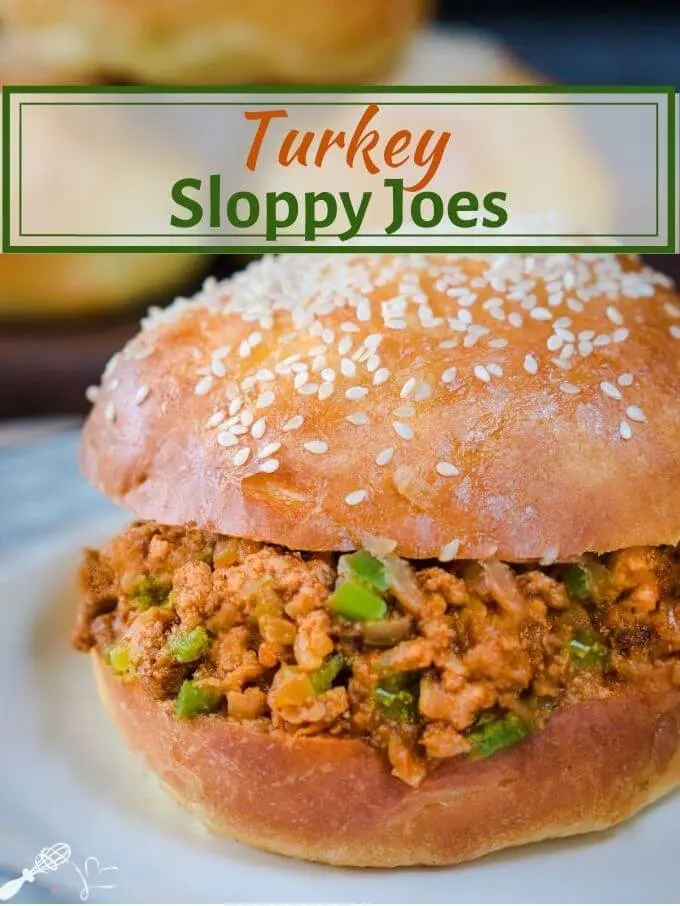 Turkey Sloppy Joes are quick and delicious. Eating healthier doesn't have to mean bland or tasteless.
Making Sloppy Joes with Turkey is a healthier option as long as you don't add a lot of fat and sugar. We'll show you an easy recipe with everyday ingredients that your family will love.
They're easy enough to make ahead of time that guarantees dinner when you're ready. It also makes this recipe perfect for entertaining.
Did you ever make sloppy joes with the sauce that came out of a can?
I loved those things growing up and never got tired of them.
Another question for you. Have you ever looked up the ingredients of what's in that can? High fructose syrup and corn syrup, and salt.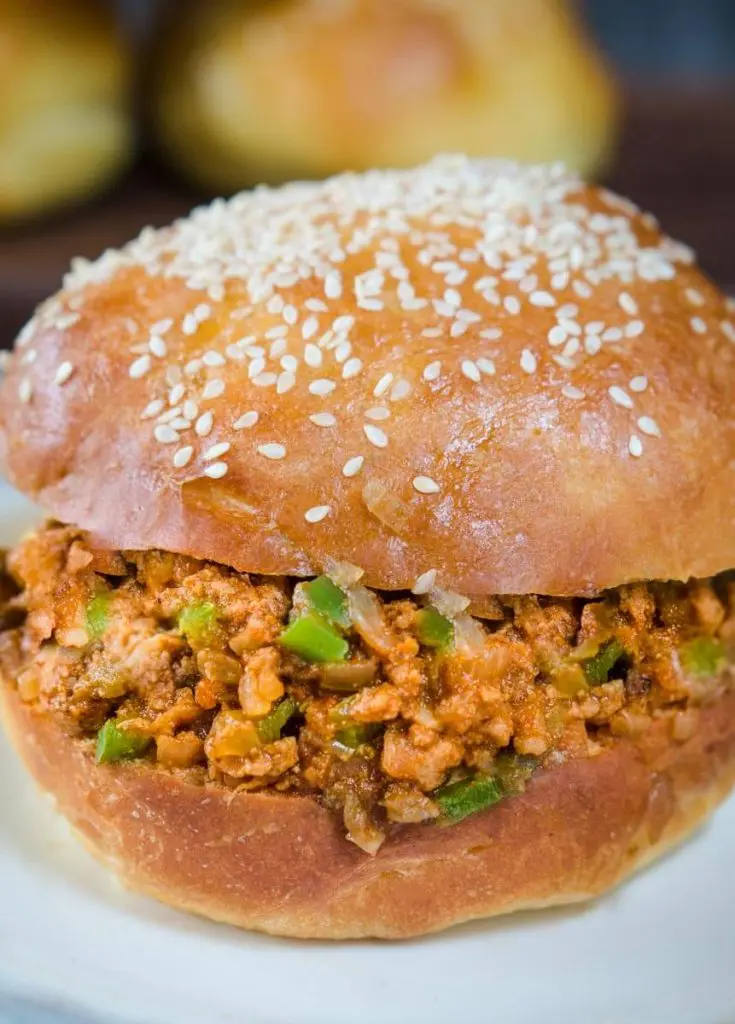 Now I'm not preaching to the healthy choir here but I thought that I could come up with something just as good without some of that other stuff.
Homemade is always best, right? It really took me a while to come up with what I thought was a good Turkey Sloppy Joes recipe.
Cooking with ground turkey sounds easy, but it can be bland and dry.
What's in Ground Turkey Sloppy Joes
Ground Turkey – I use white ground turkey. Ground turkey made with dark meat can equal or even be greater than the fat and calories of beef.
Onions – I use yellow onions. You can also use white onions or a sweet onion such as Vidalia.
Garlic – I love using garlic in recipes like this. It really bumps up the flavor.
Green pepper – vegetables add flavor, and the right ones don't compete with flavor.

Tip: if your family aren't vegetable eaters, you can puree them. They'll never catch on!

Jalapeno – This is totally optional, but we love the sweet heat combination.
Seasonings – Turkey is bland! We used cumin, chili powder, and a bit of salt and pepper to dress up our turkey sloppy joes.
Brown sugar – We use a small amount of dark brown sugar. You can use light or a sugar substitute.
Worcestershire sauce – We believe that it gives the meat a rich flavor which makes it perfect in this recipe.
Tomato sauce – We use the no-salt variety.
Olive oil – Since turkey is so lean, it needs a little fat to brown it. You can substitute with any neutral cooking oil.
Can I Make This Sloppy Joe Recipe With Ground Beef?
Yes, you can! Since turkey is so lean it doesn't need to be drained. So, if you use beef, brown your meat and then drain it. You can then add the ingredients for your homemade sloppy joe sauce.
You can also substitute the turkey for ground chicken.
You may like our Spicy Sloppy Joe Recipe too!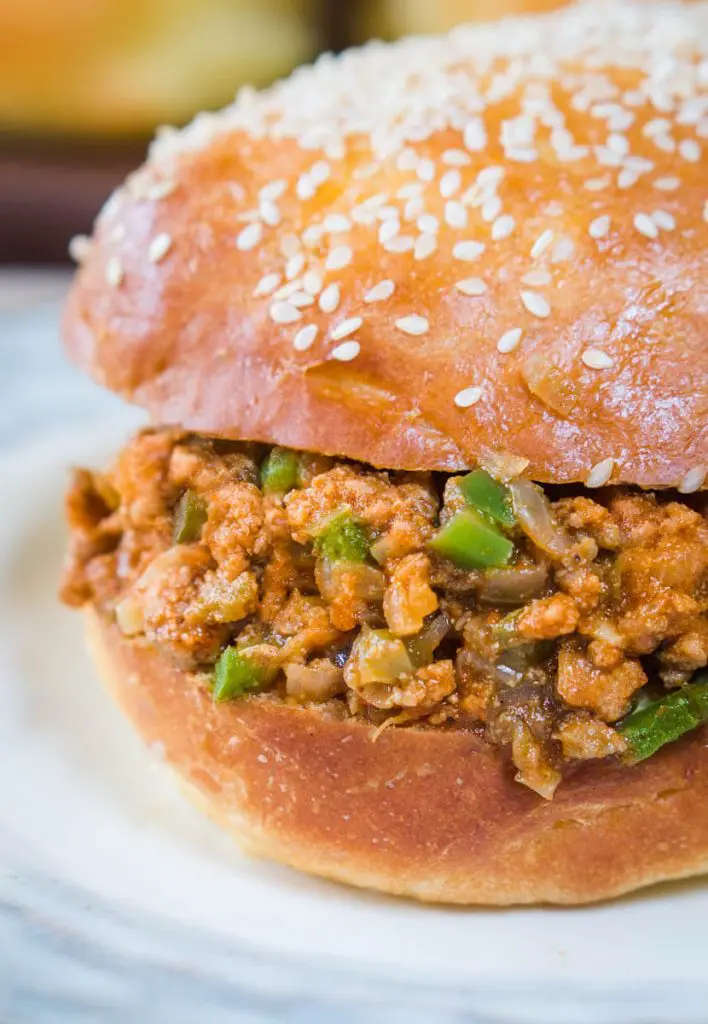 How to make Sloppy Joes with Ground Turkey
Heat the oil in a large skillet and cook the onions and green pepper for 2 to 3 minutes.
Add the ground turkey. Cook until the turkey is fully cooked.

Turkey doesn't brown as beef does. It tends to stay white or a light gray. The homemade sloppy joe sauce will add color and flavor.
Don't overcook the turkey. It will become dry and crumbly.

Add the garlic and jalapeno (if using). Cook just a couple minutes and then add the cumin and chili powder. Cook until aromatic or just another minute or two.
Add tomato sauce, Worcestershire sauce, and brown sugar. Add salt and pepper to taste.
Let the ingredients simmer together until heated through.
Slow Cooker Turkey Sloppy Joes Recipe
With a little prep work, you can make your Sloppy Joes with Turkey in the slow cooker.
We would still saute and brown the turkey as directed in steps 1-3 above, and then put everything in the crockpot together. Let it cook on low for 4 to 6 hours or on high 2 to 3 hours.
You can easily double or triple this recipe making it perfect for entertaining.
You can definitely make this recipe ahead of time or you can make plenty and freeze it for another meal. We put it in serving-size containers and freeze for up to 3 months.
Thaw in the refrigerator overnight and reheat in the microwave or in a saucepan. If it needs more sauce, you can just add a little bit of water or make up a small batch of the homemade sloppy joe sauce.
Our favorite Turkey Sloppy Joe Sides
To make this sandwich extra amazing, how about whipping up some buttery Brioche Buns to put them on?
Eating well doesn't mean that it doesn't taste good, include weird ingredients, or take a lot of time.
We LOVE cooking with Turkey! You can find all of our turkey recipes here!
Some of our healthier dinner recipes
If your family likes beef sloppy joes, they're probably not going to notice the difference when you make this easy Sloppy Joe with Turkey. We sure don't miss the extra fat and calories.
We used our favorite braiser to make this recipe. I love the wide bottom so everything cooks quickly and evenly. We also use wooden utensils because they are strong enough to break up the meat but don't scratch our pans.
Our most popular recipes
Pin this recipe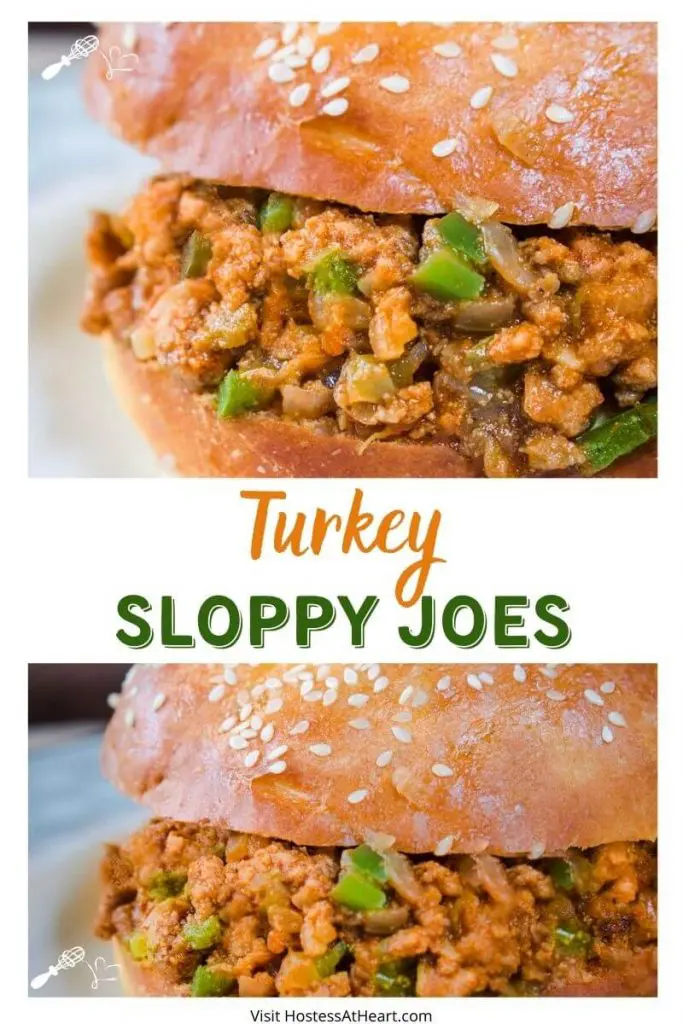 Do you have a dish switch that you make that your family loves? I'd love it if you will share it with me? We get our inspiration for our recipes from you!