Healthy Shrimp Fettuccine can be on your table in 10 minutes. This recipe proves that you can put a dish on your table that is quick, healthy and delicious.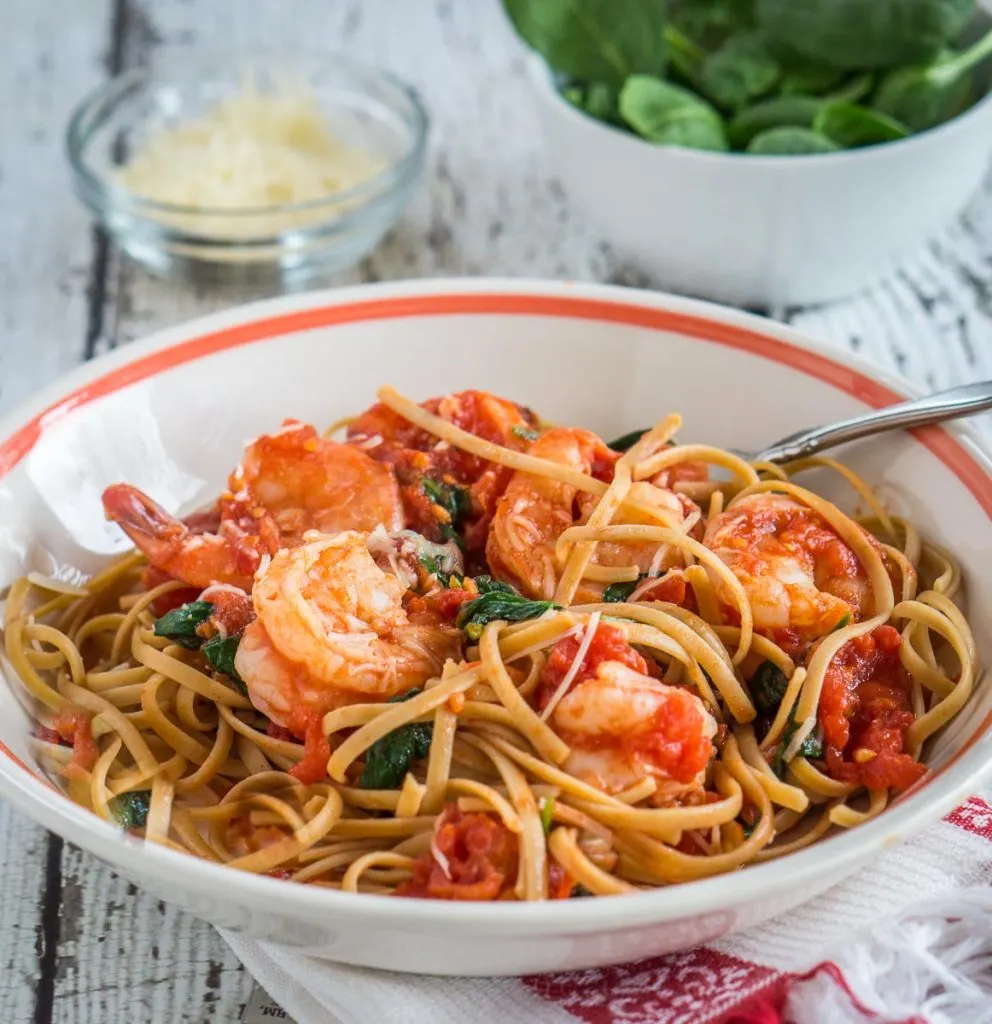 When you eat Healthy Shrimp Fettuccine, the last thing that you think of is how healthy it really is. There is nothing missing from this delicious dish except for the extra fat and calories.

You guys know what an influence my grandmother was in my love for cooking and baking right?
It was so much more than the food she made. It was about the conversations that we had and the gentle guidance she provided without criticism.
One thing I've never shared is that she passed away relatively young from a sudden heart attack.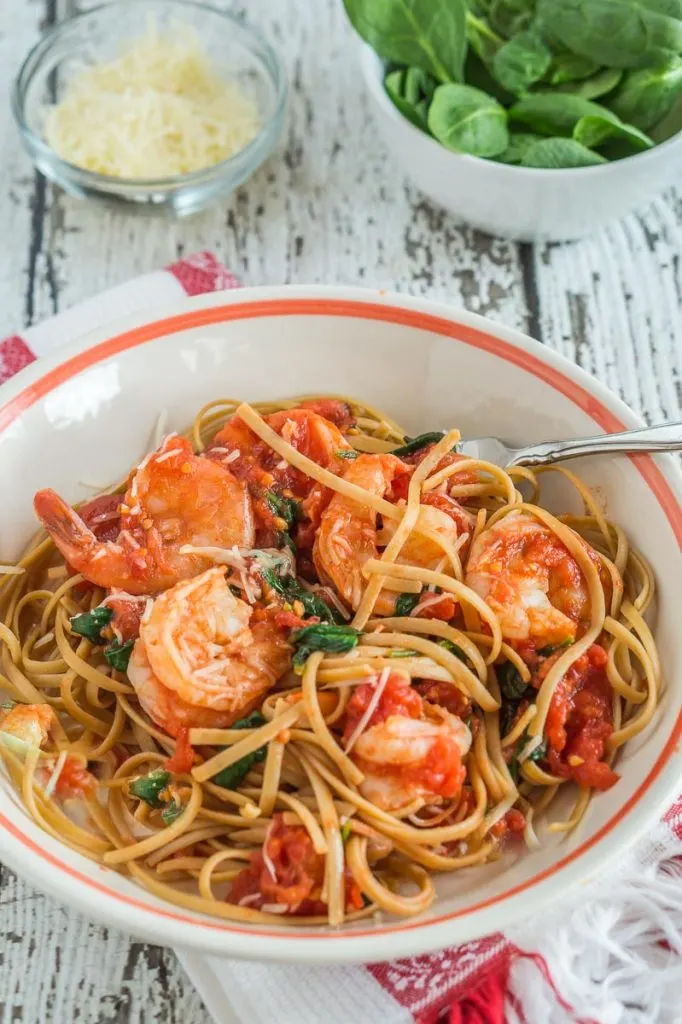 The food she made was warm and comforting not to mention delicious.
A lot of dishes started with a spoonful of lard from the container she kept on the stove. If there was any grease left from a pan it got poured into that container.
When I say grease, it was basically animal fat from bacon or other fried foods.
This post is sponsored by ConAgra Brands. All opinions are mine alone.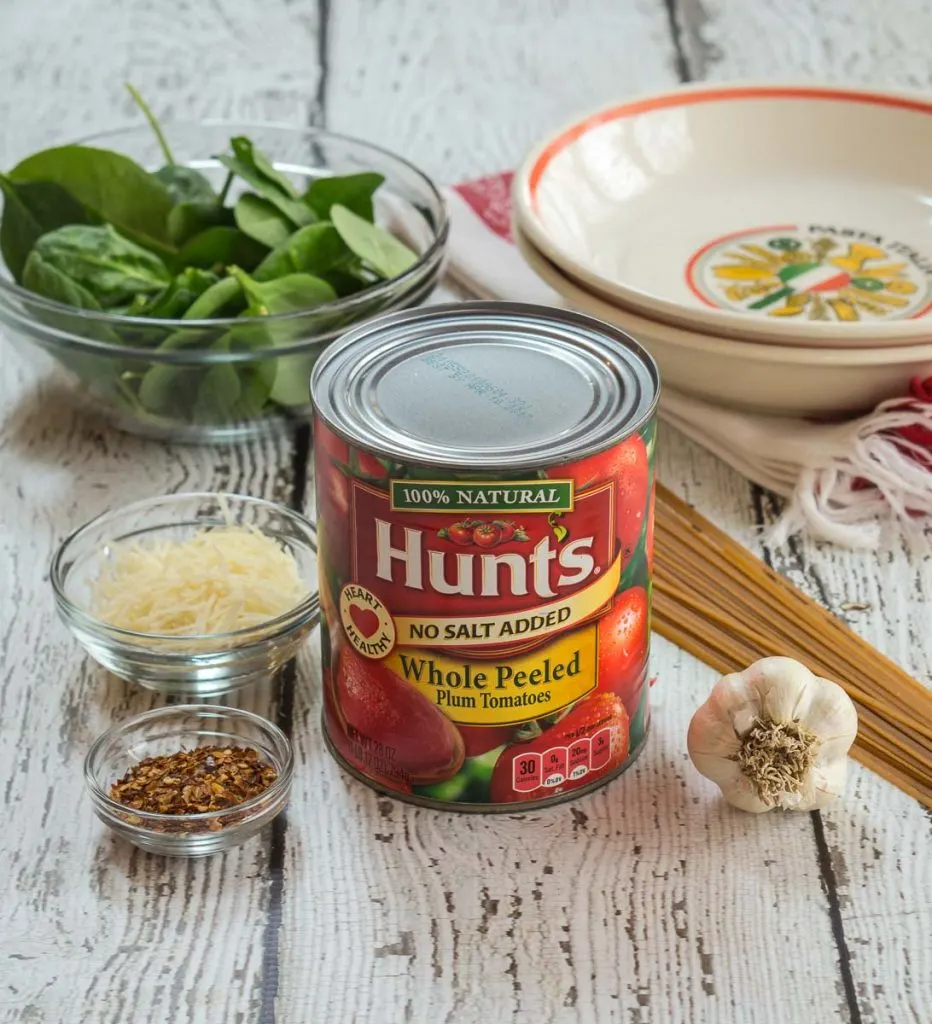 We know so much more today, and if we choose, can eat much healthier.
Just knowing that I have heart disease in my family inspires me to follow a healthy diet (most of the time) and exercise regularly. Eating healthy isn't difficult and can be quick and delicious too.
I use Hunt's Tomatoes all the time. In this recipe, I used their Whole, Peeled, No-Salt Added Plum Tomatoes.
I was able to make this a "heart-healthy" recipe by using:
Hunt's No-Salt Added Plum Tomatoes so I can control the amount of sodium in this recipe.
Herbs for flavor instead of a lot of salt.
Shrimp is a lean protein.
Fresh spinach is packed with good for you vitamins and antioxidants.
Whole wheat fettuccine noodles added whole grains and fiber.
Don't have time to make it now?

Pin it

for later!
Eating meals like this is not a sacrifice or a "diet food" that leaves you hungry before you've left the dinner table. It's beautiful food that I would be proud to serve to guests.
Another thing about my grandmother was that she was frugal as were a lot of people in that era. This Shrimp Fettuccine dish is a very reasonably priced meal to make and I love that!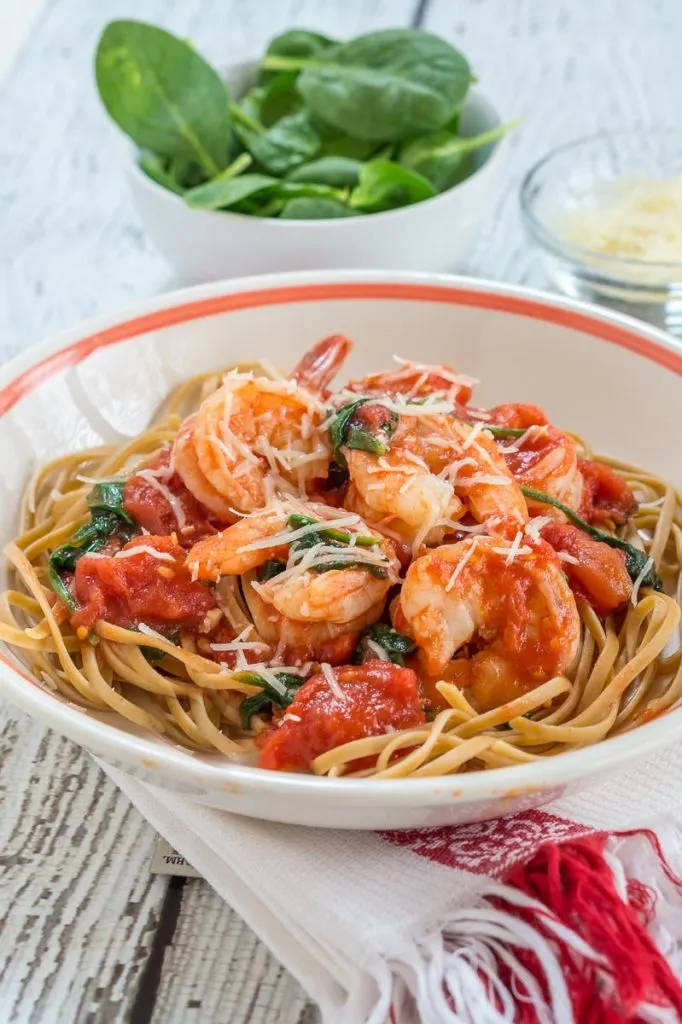 If you enjoyed this delicious shrimp recipe, check these out!
Our most popular recipes!
Here are a couple more meals that are healthier and taste great!