Make the perfect grilled sweet potatoes with this easy, delicious recipe! Enjoy the flavor of grilled sweet potatoes in foil in only 20 minutes, a quick and tasty summertime side dish. Try this recipe today!
This post was updated in 2019 to improve our reader's experience. No changes were made to the recipe.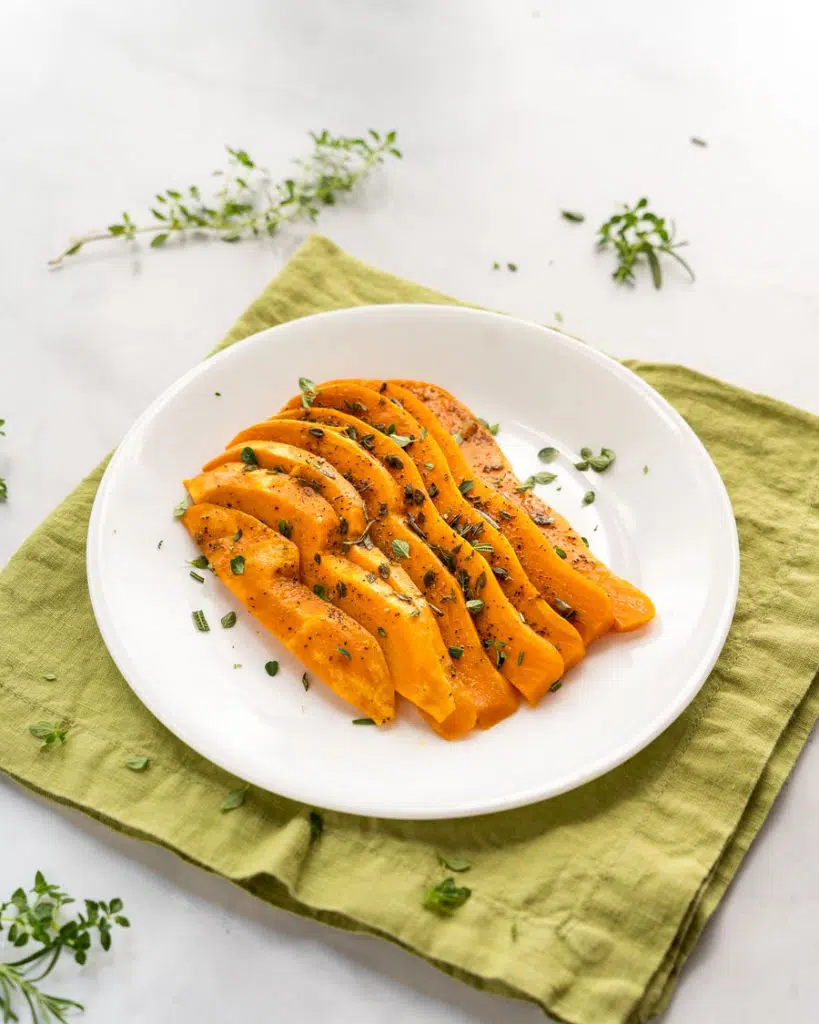 Grilled Sweet Potatoes in foil can't be easier and make the perfect side dish for any meal. If you're not a griller, we will show you how easy they are to bake in the oven too!
These sweet potatoes are good for you and delicious. Oh, and cleanup can't be any simpler either! Here are some great reasons we love grilling sweet potatoes in foil.
Why We Love Grilling Sweet Potatoes in Foil
Easy clean-up! Just throw out the foil and you are finished cleaning up the mess.
They don't dry out. By grilling sweet potatoes in foil, you are essentially baking them.
Making sweet potato packets prevent the potatoes from falling through the grill grates.
Delicious – By cooking them in foil the olive oil and spices are infused into the sweet potatoes.
You can tailor the spices to your taste. We love rosemary, thyme, cayenne, or just salt and pepper with a drizzle of olive oil.
Can easily be done in the oven if you don't have a grill or discover you've run out of propane. Or, in our case, knee-deep in snow.
Convenience – Can be grilled alongside your chicken or burgers so your meal is all done at once. I love hanging out with John while he's grilling instead of being in the house.
Grilling sliced sweet potatoes makes them cook faster. An oven-baked whole sweet potato takes 40 to 60 minutes depending on their size. My grilled sweet potato recipe takes twelve minutes on the grill.
No heating up the house.
Sweet potatoes are naturally gluten-free and a great source of vitamins, minerals, and fiber.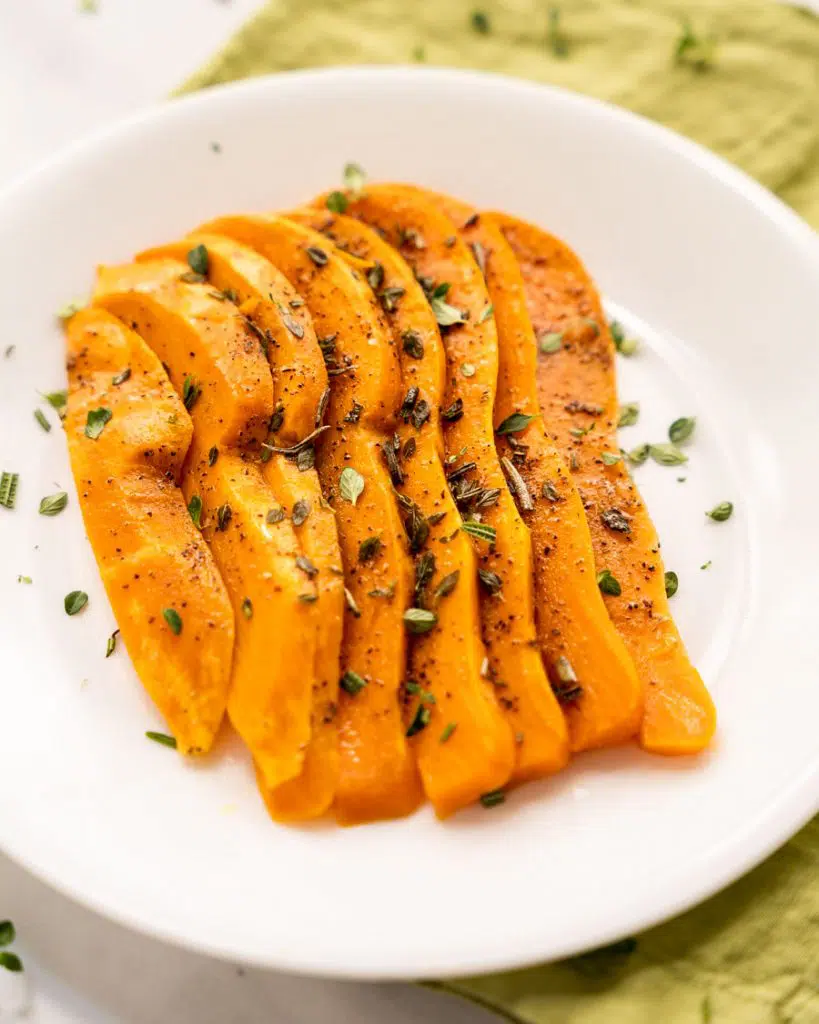 How to Grill Sweet Potatoes
Before you start preparing the potatoes, get your grill going so that it's nice and hot when your packets are ready to go.
Prepare your sweet potatoes by washing them and removing any blemishes. You don't have to peel sweet potatoes before grilling or baking them. If you prefer to remove the peeling, remove it with a vegetable peeler.
Slice the sweet potato in half once lengthwise. Turn each half so that it is cut side down, and slice 1/4 inch slices from the halves. If the potato is large, make two sweet potato packets. A good knife and cutting board are a must!
Cut foil slices large enough to fan out the slices of half of one sweet potato with room to fold it into a packet. Spray the foil with cooking spray.
Fan out the sweet potato slices on the foil and drizzle with olive oil, herbs, salt, and pepper. Fold it all up and crease the folds well to prevent leakage of oil.
Place all of this on your preheated grill for about twelve to fifteen minutes, turning the packet over halfway through.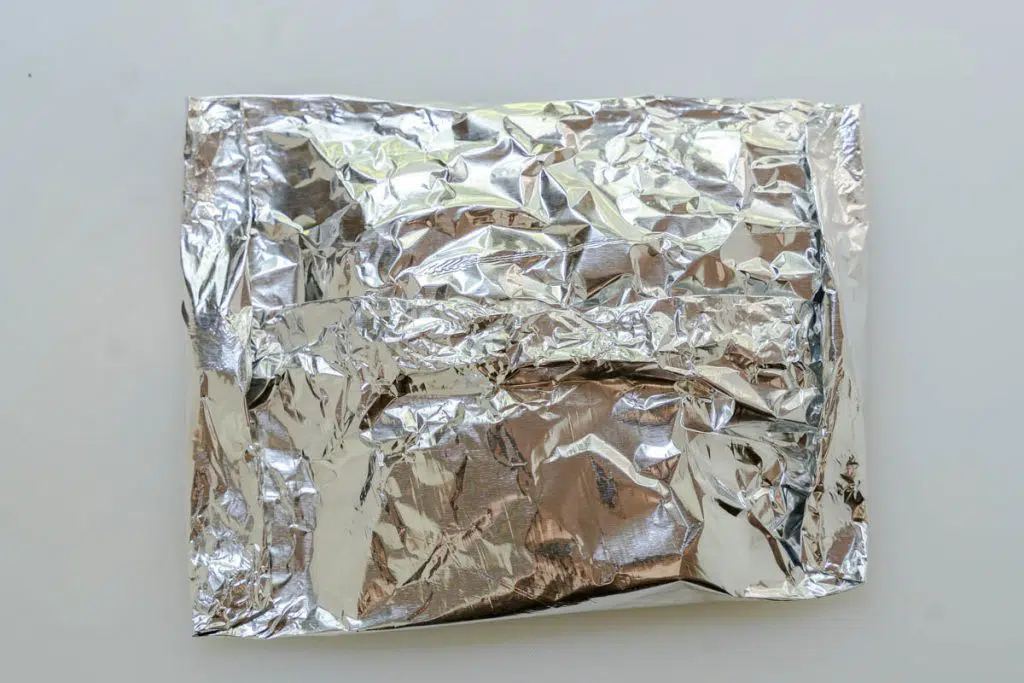 Ingredients for the Grilled Sweet Potato Recipe
Sweet Potatoes. If you have extra-large ones you can split each potato into two foil packets which is what we do.
Olive Oil.
Herbs of Choice. We use fresh rosemary and thyme most of the time. Dried herbs will work in a pinch. Other fresh herbs also work well – check out our list of variations!
Salt and Pepper.
How long to grill sweet potatoes?
Check the potatoes after 10 minutes by opening up the packet. Pierce them with
a fork. If they are getting soft, just seal them up and remove them from the grill.
The heat of the packet will continue to cook the sweet potatoes for a short period of time.
If they are still hard, seal them back up and cook them for an additional 3 to 5
minutes.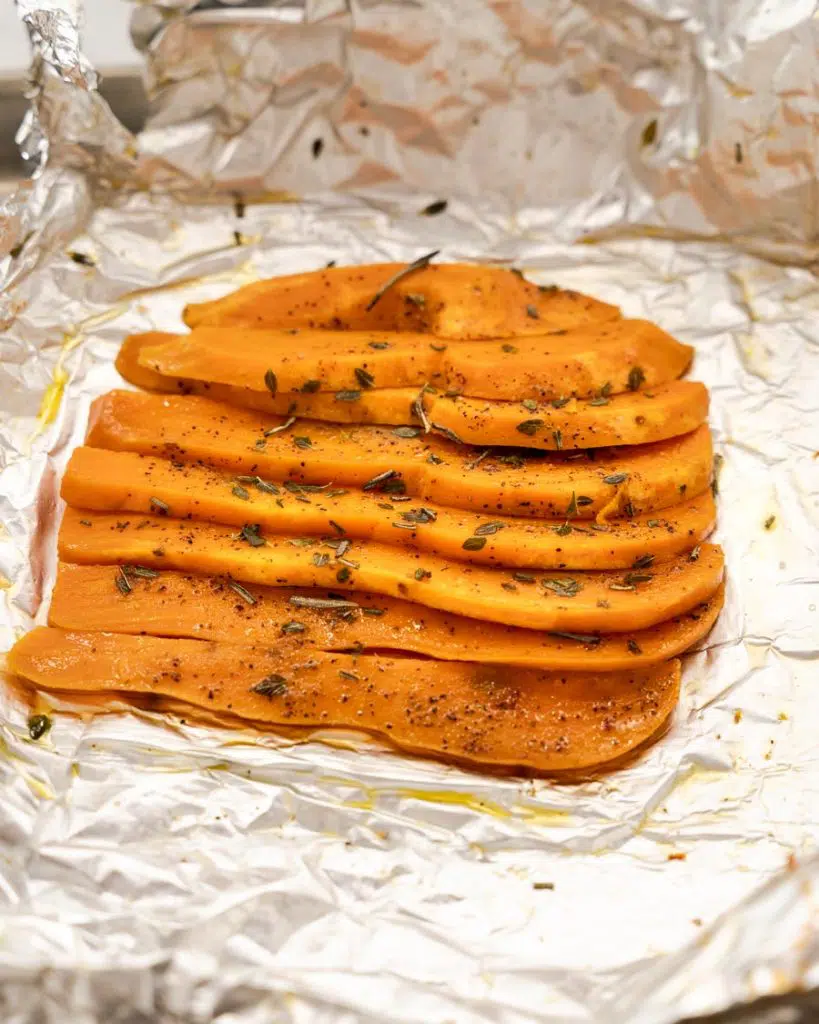 FAQ's
Can I bake sweet potato slices in the oven? Yes!
How to bake sweet potatoes in foil
Preheat the oven to 375°F.
Place the sweet potatoes on a foil-lined baking sheet that's been sprayed with non-stick cooking spray or drizzled with olive oil.
You can also wrap the sweet potatoes in foil just as you would if you grilled them. We put the foil packets on a baking sheet which makes them easier to remove from the oven and assures our juices don't drip into the oven if our foil packet leaks.
How long does it take to bake sweet potatoes at 375°? You'll want to check them after 10 minutes. It can vary according to how thick you cut the sweet potato slices. Just pierce them with a fork and if they're tender, remove them from the oven. If they're not tender check them frequently.
What Goes Well With Sweet Potatoes?
If you are looking for great proteins to serve with our grilled sweet potatoes in foil try one of these main dishes: Cheese Stuffed Meatloaf, Pork Chops, or Grilled Lamb Loin Chops.
One of the dishes that I always make Sweet Potato Packets with is Turkey Sloppy Joes! It's a match made in yummy heaven.
Cut sweet potatoes into thick wedges and serve with a dipping sauce such as this amazing blooming onion dipping sauce for an easy appetizer.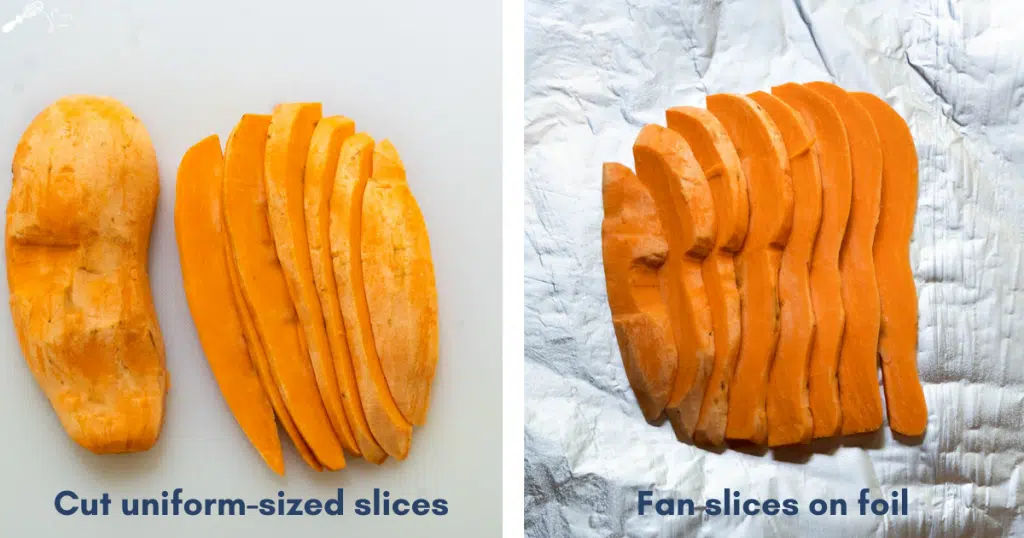 Tips to Make Our Grilled Sweet Potato Recipe
Slice the sweet potatoes evenly so that they will cook evenly and be done at the same time. We recommend 1⁄8 and no larger than 1⁄4 thick.
If you want a heartier slice of potato, slice them thicker or into wedges. Just note that they will take a bit longer to cook.
By cooking sweet potato slices in foil, no parboiling is required which is recommended when you put the slices directly on the grill.
We prefer putting 1/2 of the potato in a foil packet. That's a serving size in our house, and it makes a manageable-sized potato packet for the grill.
Check the potatoes after 10 minutes by opening up the packet. Pierce them with a fork.

If they are getting soft, just seal them up and remove them from the grill. The heat of the packet will continue to cook them for a short period of time. You don't want them to overcook. They'll become very soft. If that accidentally happens, just mash them up. They'll still be delicious and no one will know the difference.

We don't recommend adding ingredients that will add liquid such as canned pineapple which would make the grilled sweet potato soggy. You could do so at the end by opening up the packet and just spooning on a little crushed pineapple for the last couple of minutes.
Variations on Grilled Sweet Potatoes In Foil
You can use a yam or sweet potato for this recipe.
Grilling sweet potatoes makes their natural sweetness come out. I generally just drizzle them with a little olive oil.

However, for those that love a candied sweet potato, a drizzle of maple syrup or honey or even a sprinkle of brown sugar would be delicious too.

Any of these herbs and spices work well with sweet potatoes: just a sprinkle of salt and pepper, chili pepper, cilantro, cinnamon, coconut, garlic, ginger, nutmeg, rosemary, thyme, smoked paprika, allspice, cinnamon, and clove. Try one or combine a few and see what you love!
Add dried fruit to the packet. If you prefer, you can add fresh or canned fruit as indicated in our "Tips" section.
Related Recipes
If you like this recipe, we would appreciate your comment and a 5-star ⭐️⭐️⭐️⭐️⭐️ review!
Are you a sweet potato lover? What is your favorite way to prepare them?
Pin it!