Baked Potato Soup Recipe is like a creamy loaded baked potato loaded with bacon, green onion, and more cheese! It's delicious comfort food that will warm you from the inside out.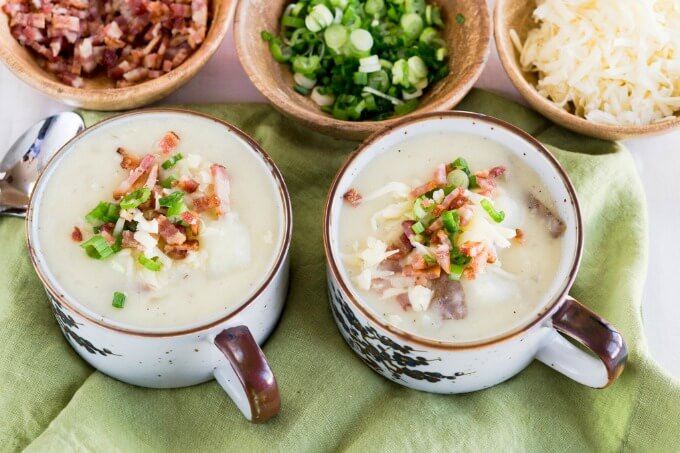 Creamy Potato Soup Recipe
I've got to come clean. I don't like nor ever have I liked potato soup or scalloped potatoes. My mother frequently made both of those meals much to my dismay!
John doesn't get it. Scalloped potatoes are served at all of the funerals around here and John is under strict orders that they don't show up at mine. I've threatened him that I'll haunt him for the rest of his life if they do.
Scalloped potatoes and potato soup were made very similarly in my opinion. Potatoes floating in watered down milk with some butter thrown in and sometimes ham or bacon…yuck. John and the kids always liked potato soup but never at home. I neglected them I know.
I love baked potatoes and the more you can pile on them the better. So in a weak moment, I decided to give my version of a loaded baked potato soup a try.
I think you're going to love it. It's a quick and easy potato soup recipe that gets my stamp of approval. I think I ate it three days in a row and loved it.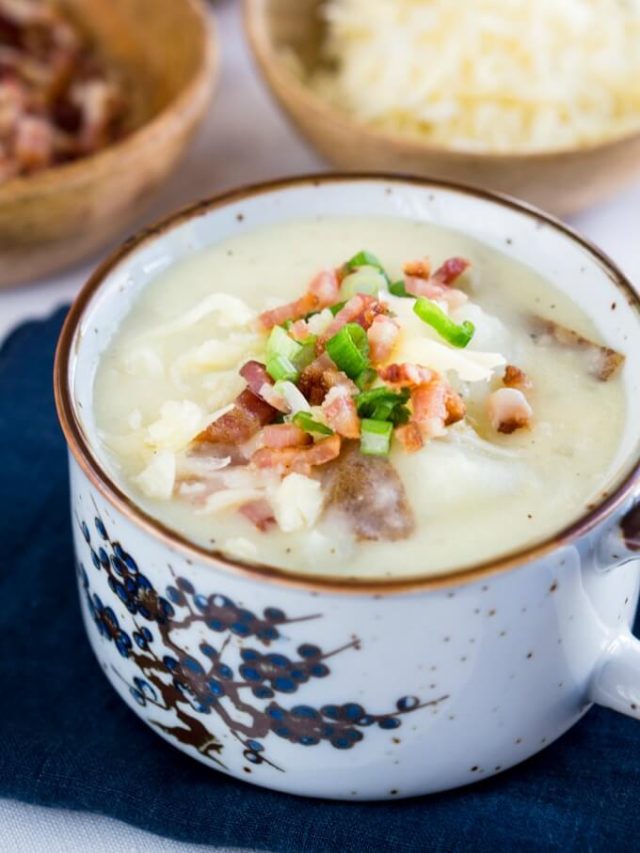 Let me show you how easy it is to make this cheesy potato soup
The great thing about soup is you can make a little or a lot. Just increase or decrease the amount of ingredients used. It won't make any difference to the flavor.
Ingredients for creamy potato soup recipe
russet potatoes
onion
bacon
cheddar cheese
unsalted butter
chicken stock
whole milk
flour
salt and pepper
green onion (optional garnish)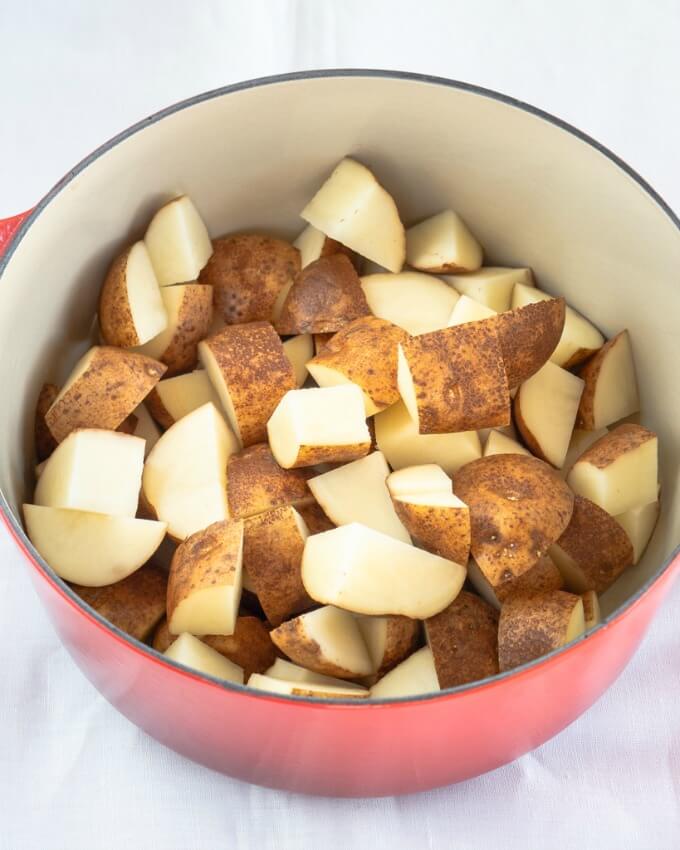 Steps to make easy potato soup
cook potatoes
Saute onions
bake bacon
Smash cooked potatoes
add flour to milk
combine ingredients and heat through
serve and garnish as desired
Pro Tip
One of the things I love about baked potatoes is the skin. So I left it on them on. I used russet potatoes because they are firmer and less likely to become mushy! So cut them in large 2-inch chunks and don't let them overcook. Cover the potatoes in chicken stock instead of water for added flavor.
You don't have to bake the bacon. You can cook it in the skillet with the onion. I bake it because even though it's delicious, I wanted the fat in my soup.
The soup will thicken as it heats through so don't attempt to thin it or thicken it until it's hot (simmering)
Variations you can make
Use a similar firm potato such as Yukon Gold
Replace whole milk with cream or half and half
Use ham instead of bacon or leave both out for a vegetarian option
Add fresh or dried herbs such as thyme and rosemary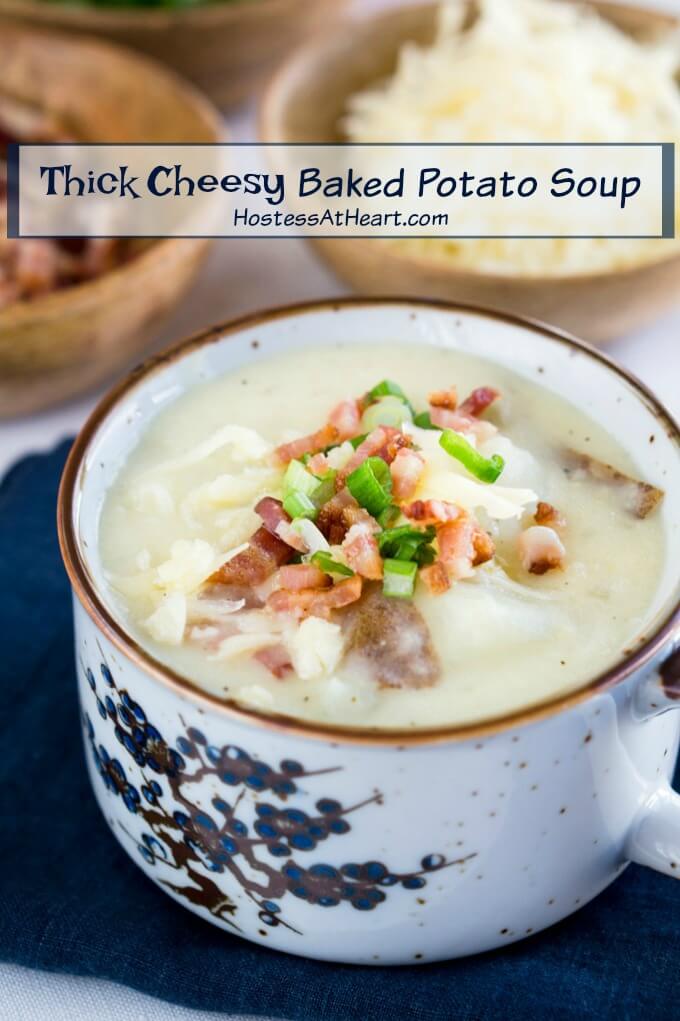 You can find all of our soup, stew, and chili recipes here!
Here are a few more recipes you may enjoy
Don't forget to stop back and let me know how your Cheesy Baked Potato Soup Turned out!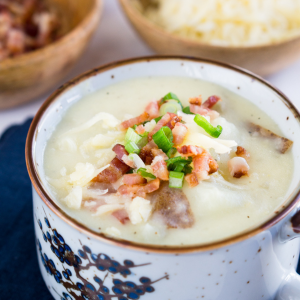 Thick Cheesy Baked Potato Soup Recipe
Thick Cheesy Baked Potato Soup is like a creamy loaded baked potato in a bowl. It's a delicious comfort food that the whole family is going to will love. You'll love how easy it is!
Ingredients
6

cups

cubed russet potatoes

scrubbed and cut into 2-inch cubes

6

cups

chicken broth

or enough to cover the potatoes

1

lb

bacon

I used thick-cut

2

cups

cheddar cheese

white or yellow freshly shredded

4

tbsp

unsalted butter

3

cups

whole milk

1/2

cup

flour

salt and pepper

3

green onions

thinly sliced white and green sections
Instructions
Put the potatoes in a large dutch oven or stock pot. Cover with chicken stock and cook until tender. Don't drain.

Bake the bacon on a rack set on a rimmed baking sheet lined with foil for 10 minutes in a 400° F oven. Remove all of the bacon except for 4 slices and put it on a plate lined with a paper towel. Put the 4 slices of bacon back in the oven for 2-4 minutes or until crispy. Once cooked allow them to drain on the plate covered with the paper towel. Cut the bacon that was cooked for 10 minutes in 1-inch pieces. Chop the crispy bacon finer for garnishing the soup.


Using a potato masher to coarsely smash the potatoes leaving large pieces. This helps thicken the soup and creates texture.


Heat a skillet and add the butter. Saute the onion until it begins to soften.

Stir the flour into the milk and whisk until smooth. Stir into the potatoes and chicken stock mix. Add 1-1/2 cups of the cheese, chopped onion and cubed bacon with the rest of the ingredients. Cook until the soup begins to simmer and it's heated through.

If soup is too thick add additional milk or chicken stock to thin it. If it's too thin add a little more flour blended with milk (or water). Let it come up to temperature before judging the thickness. It does thicken as it heats.

Garnish with green onion, remaining cheese and crispy bacon.
Notes
You can dice the raw bacon and cook it with the onion if you don't want to bake it. Baking it reduces the overall fat content of the soup. It is flavorful though so it's up to you.
Nutrition
Calories:
198
kcal
Carbohydrates:
5
g
Protein:
7
g
Fat:
16
g
Saturated Fat:
7
g
Cholesterol:
36
mg
Sodium:
494
mg
Potassium:
169
mg
Sugar:
1
g
Vitamin A:
270
IU
Vitamin C:
5.3
mg
Calcium:
130
mg
Iron:
0.5
mg
Nutritional Disclaimer
This recipe was calculated using the exact brands and measurements I used to make this recipe. If you are following a strict diet please note changing anything will cause the nutritional info to change. My calculations are intended as a guide only.
Hostess At Heart participates in affiliate programs. As an Amazon Associate, I earn a commission from qualifying purchases. Please refer to my disclosure page for more information about these affiliate programs.
I always make a large batch and then freeze the leftovers in serving-sized containers.
Soup Pot. I use this large pot for a lot of soups and stews and it's a great size for cooking pasta too!
Lastly, I use my potato masher for smashing potatoes. I use it when I make guacamole too!