Spice up your salad game with this easy chopped Thai salad recipe. Our spicy Thai dressing is the perfect complement to the beautiful blend of crisp greens and vegetables. Make this tasty Thai recipe today!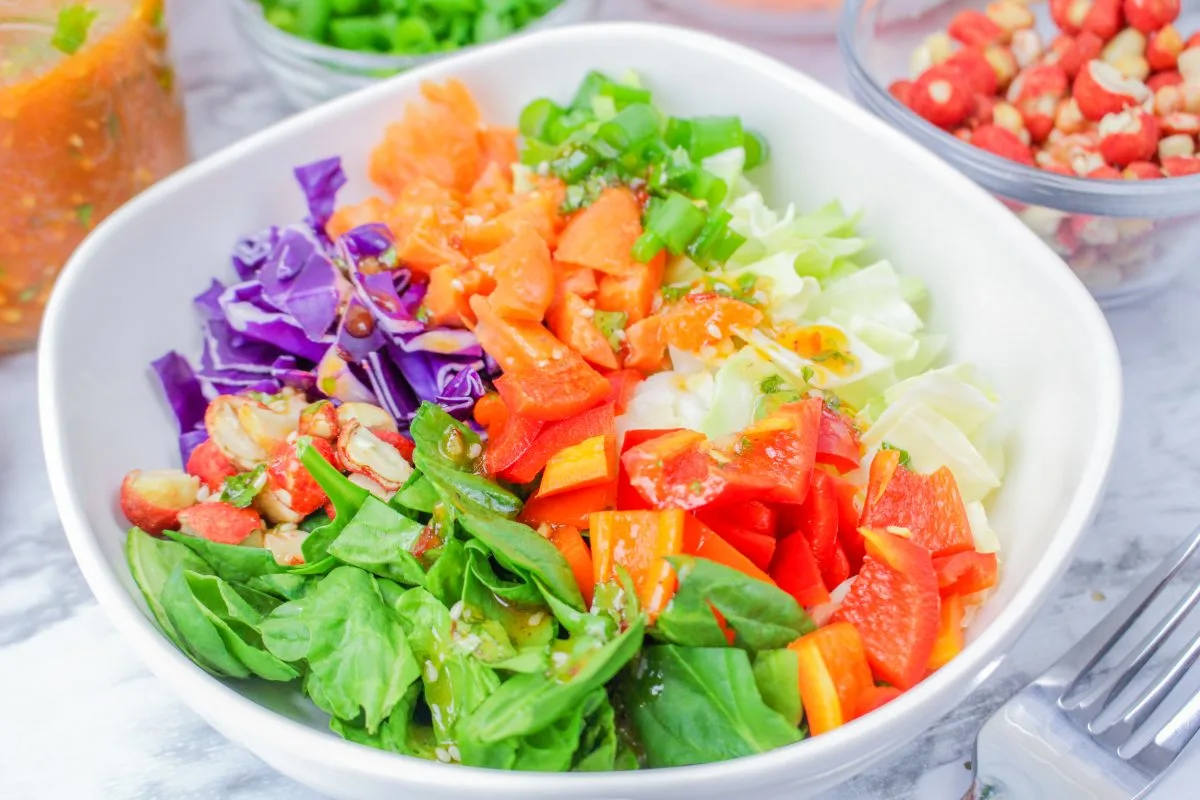 One of my favorite things in the world is the amazing salads found at Asian restaurants. That's why learning how to make chopped Thai Salad with Spicy Thai Dressing at home was a game changer. Yes, you can make that amazing peanut dressing at home.
Why You'll Love About This Thai Peanut Salad
Satisfies that craving for Thai food at home. You know that craving. The one that says "Go out to eat and spend a lot of money because you must have that salad again." But no – you don't have to spend a bunch of money. You can do this.
Versatile. Our Spicy Thai Salad recipe works as a main meal, light lunch, or a great side dish. Eat it with or without protein. Add or subtract ingredients. Make the recipe work for you.
Healthier. Regular soy sauce or even low-sodium soy sauce is loaded with sodium. We didn't add either to our Sesame Garlic Dressing, this salad is much lower in sodium than commercial salad dressing.
Vegan – Perfect for entertaining when you don't know if your guests practice a specific way of eating.
Ingredients you'll need for this recipe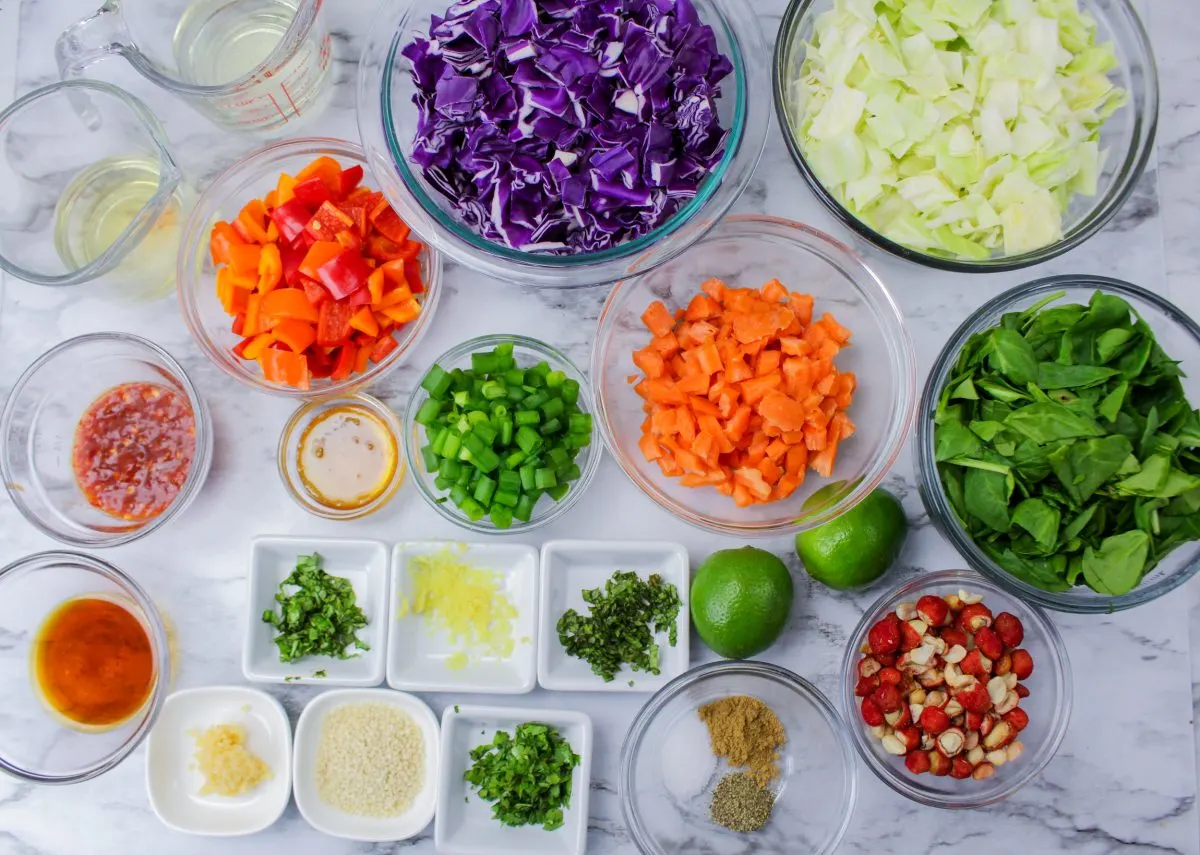 Ingredients for the Thai Salad Recipe
Spinach. Baby kale could also work.
Red Cabbage. Sometimes called purple cabbage. Already prepared rainbow cabbage mix will also work.
Green Cabbage. You could use iceberg lettuce or romaine lettuce instead or stick with just one color of cabbage.
Carrots. You can chop your own carrots or buy pre-shredded carrots.
Bell Peppers. Can be mixed colors or all one color.
Green Onions. Or Scallions.
Roasted Peanuts. Spicy or salty.
Homemade Spicy Thai Dressing. See the recipe we've included for this delightful homemade dressing!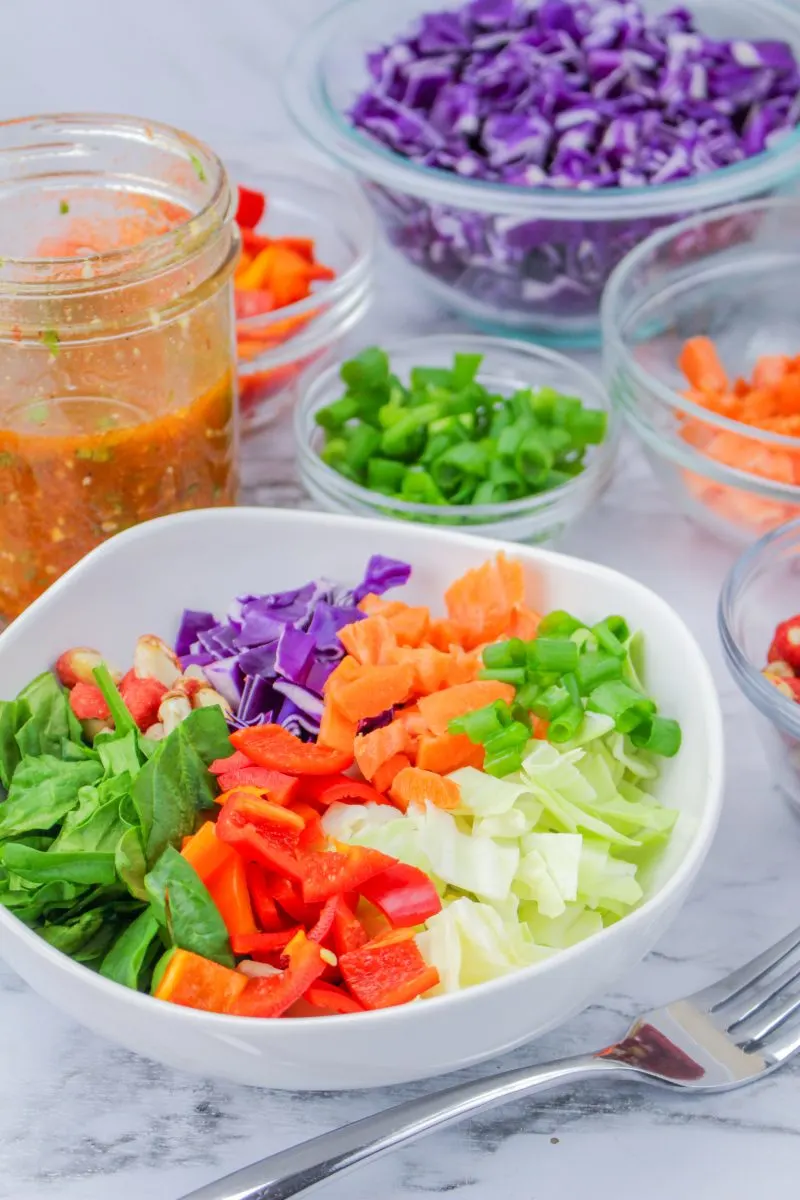 Spicy Thai Salad Dressing
Peanut Oil.
Rice Wine Vinegar.
Chili-Garlic Sauce.
Sesame Oil.
Fresh Basil.
Fresh Mint.
Fresh Cilantro.
Fresh Lime juice.
Honey.
Sesame Seeds.
Fresh Ginger.
Minced Garlic.
Ground Coriander.
Salt and Pepper.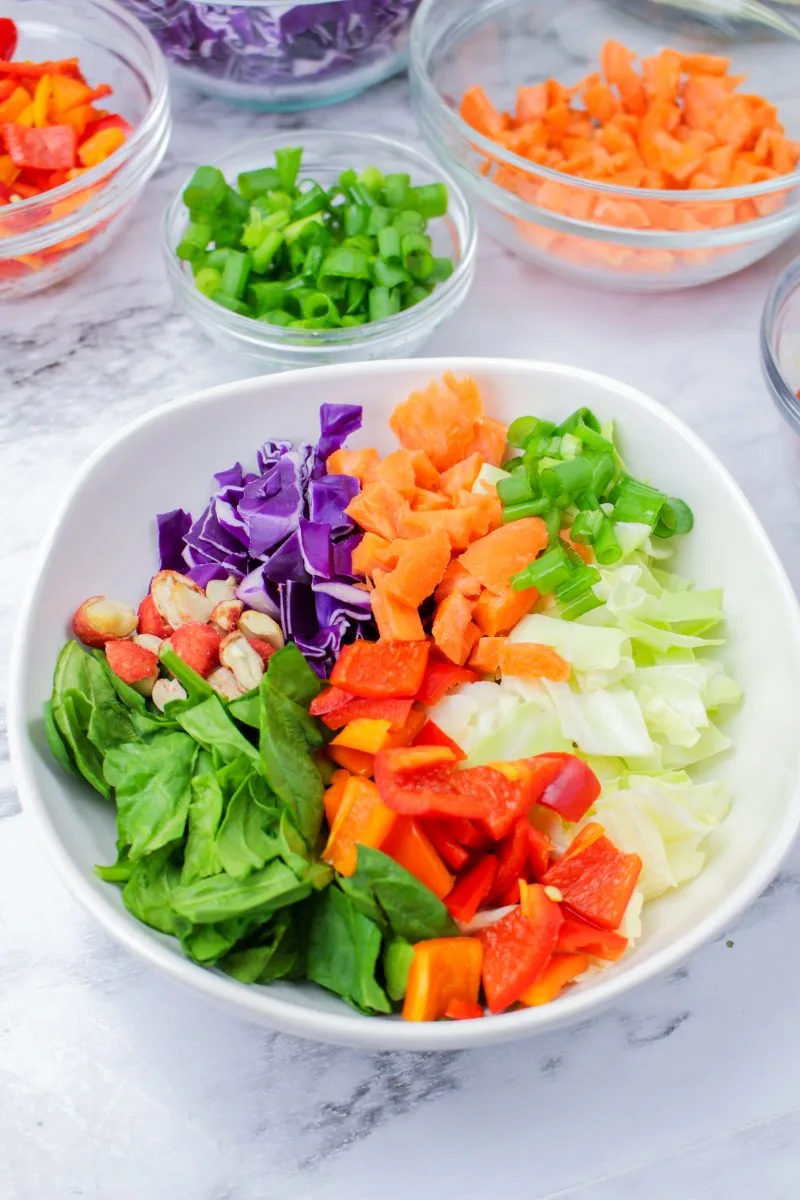 How To Make Thai Salad
Please note, that the printable recipe card has ingredient quantities, complete instructions, and nutritional information. The following is a quick overview of the recipe.
Step One. Prep the veggies for Chopped Thai Salad.
Chop all of your salad ingredients as consistently as possible. While your knife is out, go ahead and chop or mince all of the herbs as well.
Step Two. Mix the Thai Peanut Salad.
In a large bowl, mix the salad ingredients together.
Step Three. Make Homemade Thai Salad Dressing.
Combine the peanut dressing ingredients together in a jar or salad shaker and shake until well combined. There's no need to use a blender or food processor to make this Thai-inspired salad dressing.
Step Four. Put it all together.
Mix the salad with the dressing and refrigerate for two hours. If you have extra salad, set it aside with some of the dressing to mix on another day.
Garnish your beautiful salad with chopped cilantro, crunchy peanuts, and a lime wedge. A spritz of lime gives the salad a crisp, bright flavor.
Frequently Asked Questions
What crunchy veggies go well in a Thai salad and how should they be prepared for best taste and texture?
Our Asian Asian salad recipe includes red bell peppers and carrots for texture and flavor. Purple cabbage adds flavor and a crunchy texture. If you want to up your fresh vegetables, snow peas, grape tomatoes, watercress, English cucumber, or celery are great choices.
Rinse and chop cold veggies for the best taste and texture. Do your best to keep the pieces all the same size.
How do you make Thai peanut dressing?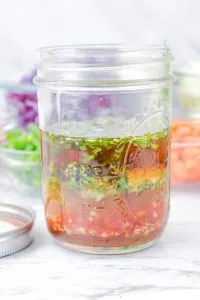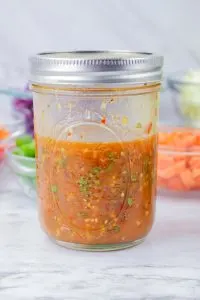 Simply add all of the ingredients to a jar and shake it up. Store the extra in the jar you've mixed it in. You can also put it all in a mixing bowl and use a whisk. There's no need to use a blender or food processor.
Variations
We use fresh spinach as our salad greens. You could use Kale salad or even a spring mix of salad greens.
Grilled chicken, cooked shrimp, and thinly sliced steak are very common proteins to add to this salad, but you can add your favorite proteins. You can prepare meat on the grill or sautee it on the stovetop. Baked salmon would also work very well with this flavor profile. Make your life super easy with a rotisserie chicken diced for the salad.
Add a little heat with diced jalapenos, red pepper flakes, or Thai Red Curry.
Avocado is a nice touch with this salad and may help take a little of the heat out.
Many people enjoy adding shelled and cooked edamame or chickpeas to a Thai Salad.
Add fresh fruit such as shredded green papaya or fresh mango for natural sweetness.
Crispy Chinese Noodles or Wonton Strips are a nice touch to add even more crunch.
For convenience, you can purchase a dressing such as Honey Lime Vinaigrette.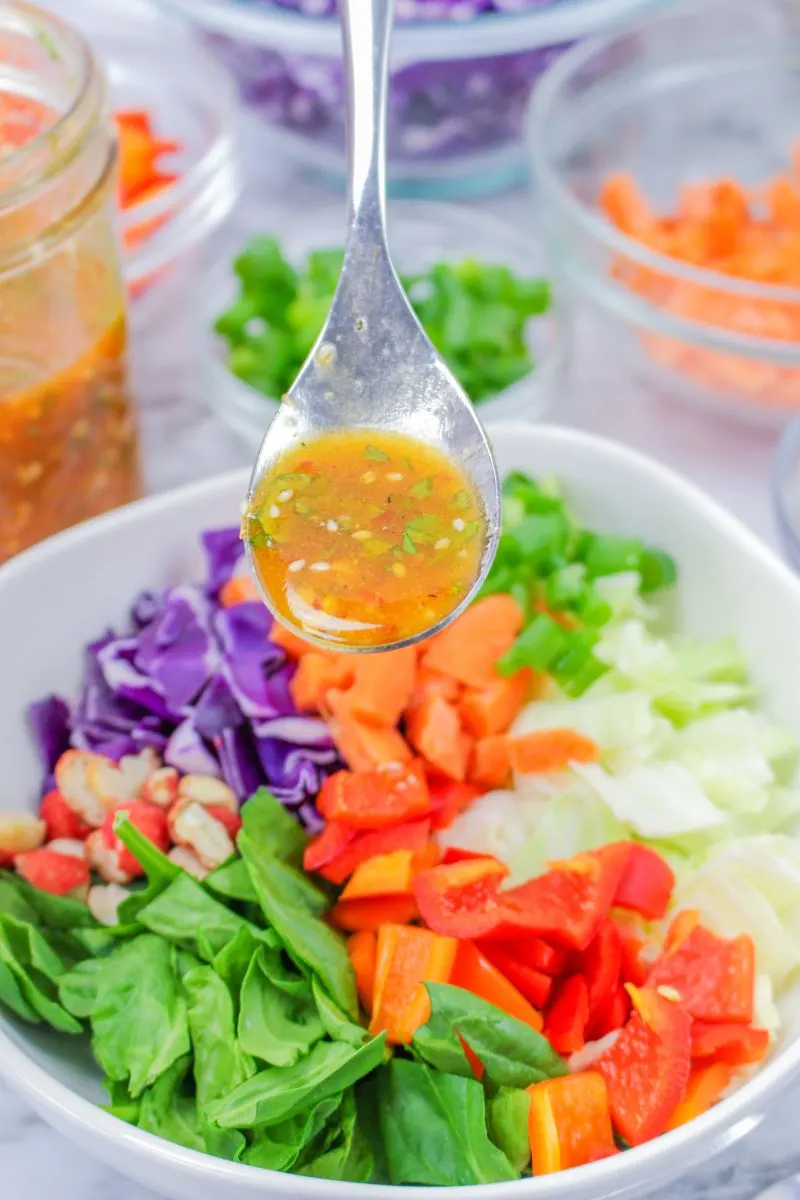 How To Store Thai Peanut Salad
Best way to store Chopped Thai Salad
Store leftovers without dressing in an airtight container in the refrigerator for up to a week depending on the freshness of your produce. Store leftover dressing in a jar with a lid. Toss the salad with dressing when you are ready to enjoy it.
Can I freeze Thai Salad
No. But you can freeze the dressing if you have extra you want to save for later.
Tips for the Perfect Chopped Thai Salad
Choose your veggies carefully. Leafy greens should be without brown edges or wilting leaves in the bag. Carrots, green onions, and bell peppers should be firm, without wrinkles or discoloration. Herbs for the dressing should not have brown leaves or wilted edges.
Knife cuts matter. For any chopped salad, you should try to get your knife cuts as consistent as possible. When every ingredient in the salad is exactly the same size, the result is very palate pleasing and enjoyable to eat.
This salad dressing can be prepared up to 2 hours prior to serving. If you prefer this salad to be more like a slaw, toss together all of the ingredients except for the peanuts. Add the desired amount of dressing and stir to coat. Marinate the salad in the refrigerator for 2 hours. Add the peanuts prior to serving.
To reduce the spiciness of the dressing, decrease the amount of chili-garlic sauce.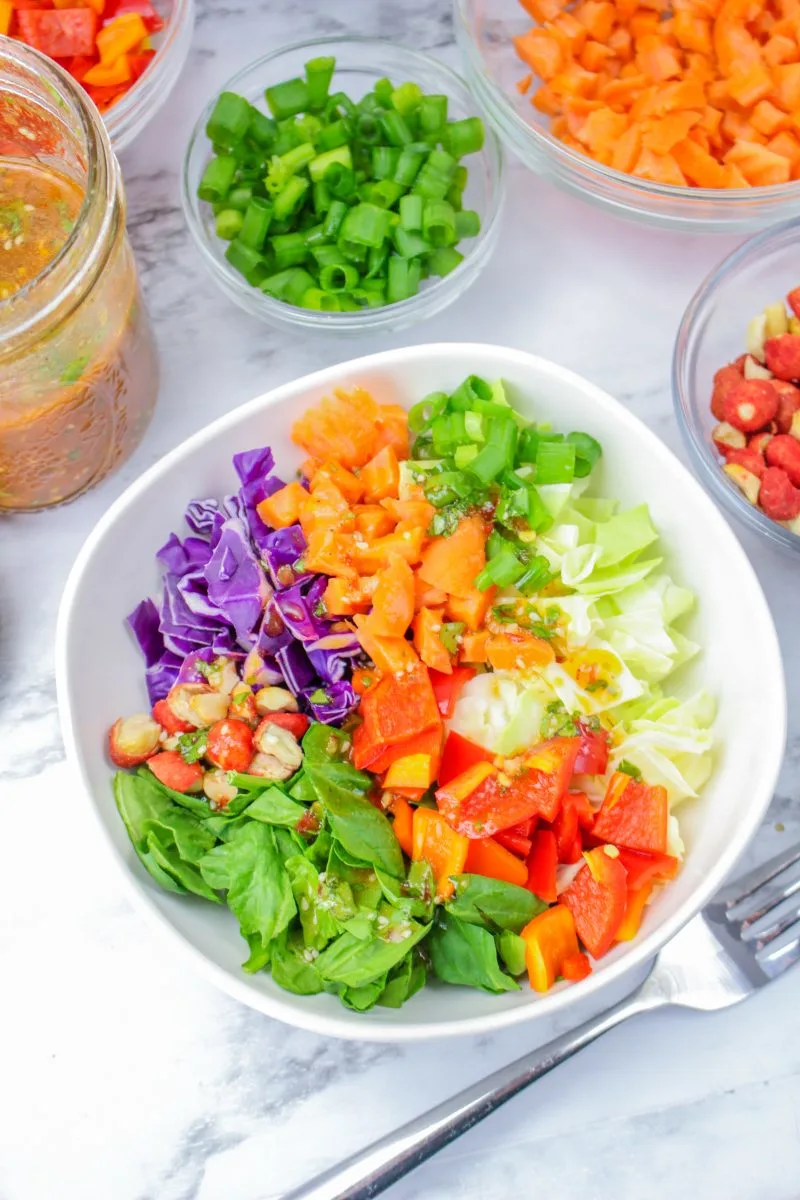 If you enjoyed this Chopped Thai Salad recipe check these out!
If you tried this delicious recipe, don't forget to rate it and leave me a comment telling me what you think. I love hearing from you!
Pin this amazing recipe!