Strawberry Spinach Salad with Strawberry Vinaigrette is a real show-stopper that's perfect for a fancy event and easy enough for every day.
You'll love the fresh strawberry vinaigrette over the salty Feta cheese and crunchy pecans smothered over fresh spinach and strawberries.
This post has been updated from 2014 to improve my readers' experience.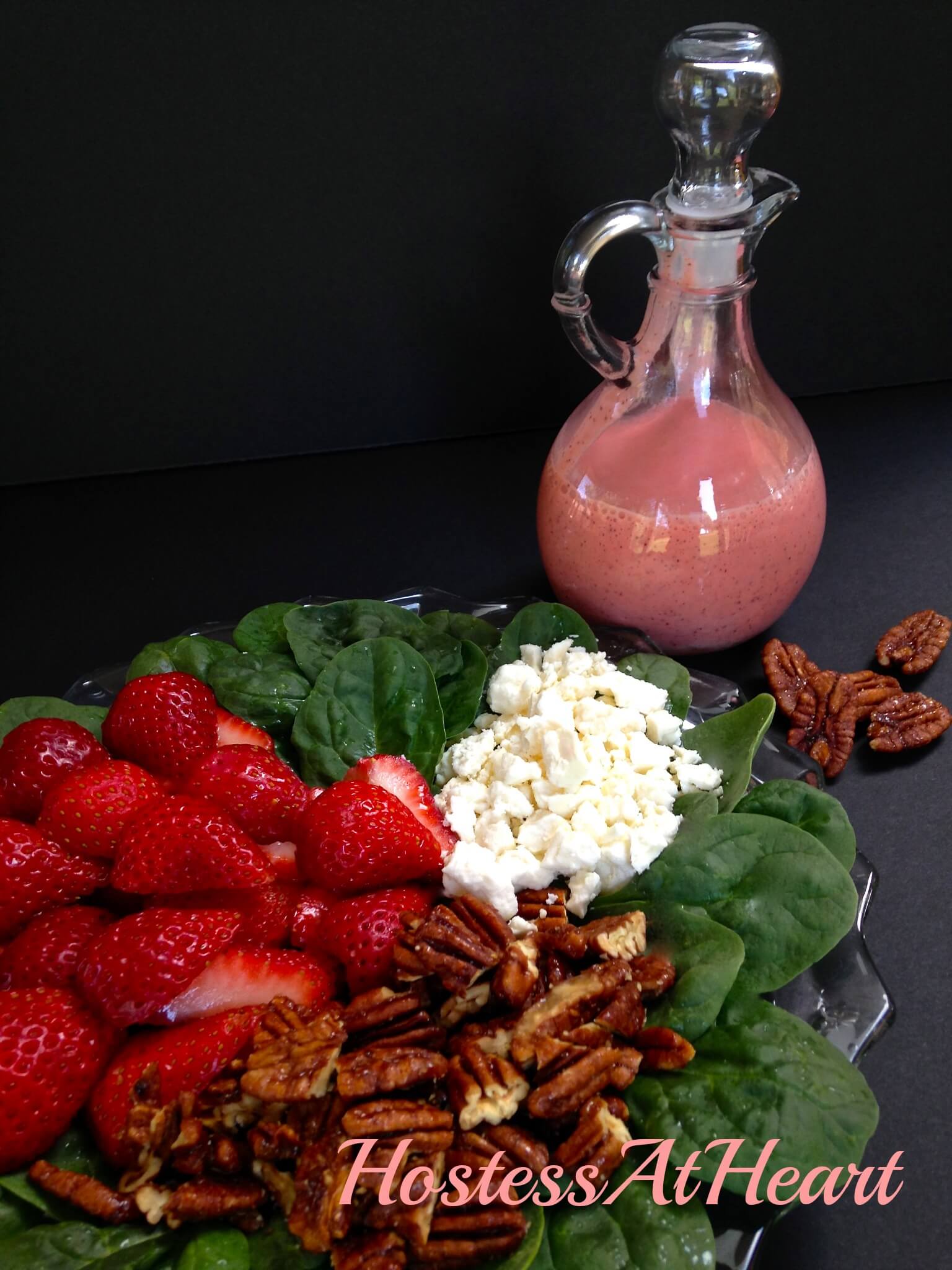 I recently attended my niece's wedding. Everything was just perfect including a beautiful spinach salad that was served at her reception. I couldn't wait to try and recreate it.
In addition to the flavor, the salad was just beautiful. The dish showcased each ingredient so you knew exactly what was in the salad.
Why I love Fresh Spinach Salad with Strawberries
This salad would be another great to take to a get-together or a ladies' brunch because it can be assembled easily at the last minute.
You can add the ingredients you enjoy. I've made some suggestions below.
It's so easy to make!
I purposely left my strawberry huller in this picture. It does a great job removing the hull from strawberries. I also use it to remove the seeds and ribs from jalapenos.
Strawberry Spinach Salad Ingredients
fresh strawberries
baby spinach
canola oil or any neutral tasting oil such as vegetable oil
honey
apple cider vinegar – you can substitute with balsamic vinegar
lemon
Dijon mustard
poppy seeds (optional but recommended)
pecans – I used candied pecans but any nut can be substituted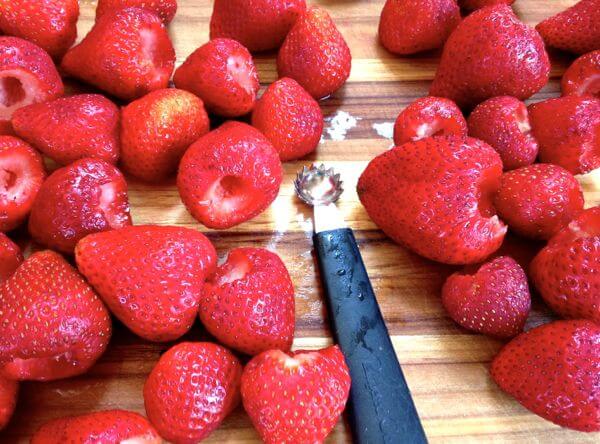 I had two pounds of strawberries, and I put the pretty ones on one side of my cutting board for slicing and the large or very ripe berries on the other side for my vinaigrette.
How to make Fresh Strawberry Spinach Salad Recipe
In a blender, add the strawberries, oil, apple cider vinegar, honey, salt, juice from 1/2 lemon (approximately 1 tablespoon), poppy seeds, and Dijon mustard. Blend until completely combined. Refrigerate until serving. Shake lightly prior to use.

I added my oil first and used the same measuring cup for my honey so the honey would slide right out. Blend until completely combined. Refrigerate until serving. Shake lightly prior to use.

Remove large stems from the spinach and wash if necessary.
How to construct a Spinach Salad with Strawberries
Step 1: Add baby spinach on a large platter, or in a large bowl.
Step 2: Top with crumbled feta, candied pecans, and sliced strawberries.
Tip: You can mix it all together or build it out visually as I did. I don't pre-dress this salad prior to serving. I've made candied nuts before, but I took the easy way out and bought a package at Trader Joe's.
The dressing is best made ahead of time so the flavors can mingle and get to know each other. For this reason, I made the vinaigrette first so it could chill while I constructed the salad.
Substitutions and variations
Add grilled chicken or shrimp. I can eat Strawberry Spinach salad as a complete meal. John likes a little protein.
Use a combination of strawberries with other fresh fruit such as blueberries or raspberries.
Any nut will do. I happen to love the taste and texture of pecans.
Substitute crumbled blue cheese or goat cheese for feta. It's amazing!
How to store Strawberry Spinach Salad
Spinach Strawberry salad is best if it's constructed fresh right before serving. You can make the vinaigrette and prepare the salad ingredients ahead of time. Assemble it when you're ready to serve it.
Frequently Asked Questions
Is Strawberry Spinach Salad good for you?
Yes, it can be. Spinach is packed with vitamins C and K, folate, potassium, and fiber. Strawberries and nuts also have health benefits. However, eating too much of any food can add up the calories.

I suggest exchanging the Strawberry Vinaigrette for a low-calorie low-fat salad dressing if you're watching your weight.
Can this salad be made in advance?
Yes! You can premake the vinaigrette up to a day in advance and prepare the salad ingredients, storing them in separate air-tight containers and then just assembling it before serving.
How do you keep strawberries fresh?
You can extend the life of strawberries by putting them in a vinegar bath or hot water bath. You can learn more here.
Here are a few more recipes you may enjoy
Don't forget to stop back and tell me how your Fresh Strawberry Spinach Salad recipe with Strawberry Vinaigrette turned out!