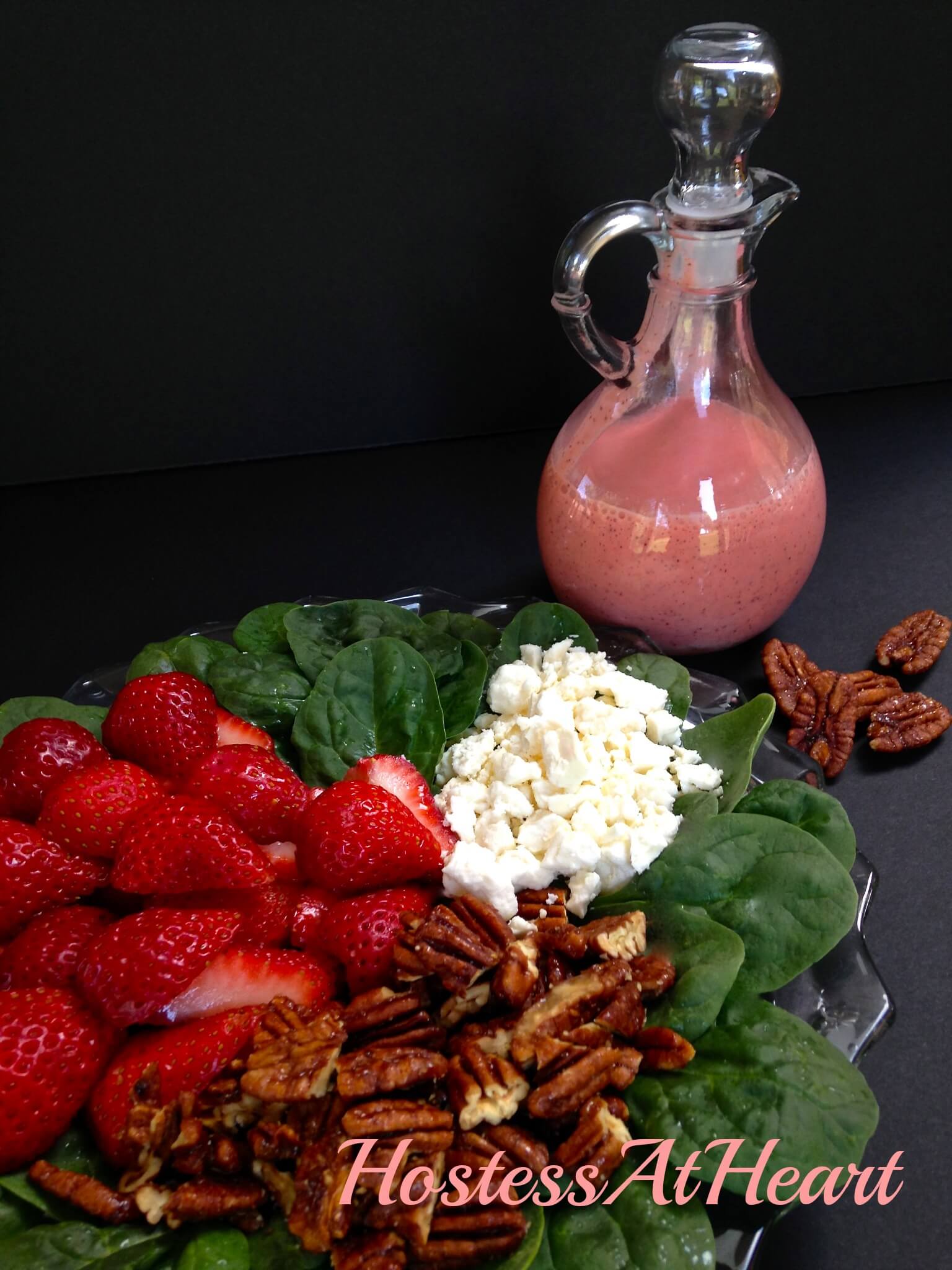 I recently attended my niece Kayla's wedding. Everything was just perfect including this amazing strawberry spinach salad with a strawberry vinaigrette that was served at her reception. I couldn't wait to try and recreate it. In addition to the flavor, I was so impressed by the presentation. The dish showcased each ingredient so you knew exactly what was in this Strawberry Spinach Salad with Strawberry Vinaigrette.
This salad would be another great salad to take to a get-together or a ladies brunch because it can be assembled easily at the last minute. The dressing is best made ahead of time so the flavors can mingle and get to know each other. For this reason, I made the vinaigrette first so it could chill while I constructed the salad.
I have determined that I am a strawberry snob. I am not proud of this, but it's the truth. I had two pounds of strawberries, and I put the pretty ones on one side of my cutting board for slicing, and the large or very ripe berries on the other side for my vinaigrette.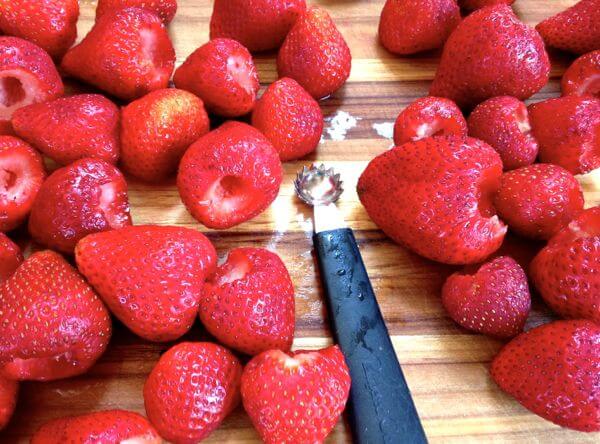 I purposely left my strawberry huller in this picture. It does a great job removing the hull from strawberries. I also use it to remove the seeds and ribs from jalapenos.
In a blender, add one pound of the berries, 1/2 cup of canola oil, 1/4 cup apple cider vinegar, 1/3 cup of honey, 1/2 teaspoon kosher salt, juice from 1/2 lemon (approximately 1 tablespoon), 1 tablespoon poppy seeds, and 1 teaspoon Dijon mustard. I added my oil first and used the same measuring cup for my honey so the honey would slide right out. Blend until completely combined. Refrigerate until serving. Shake lightly prior to use. You could use another oil or vinegar, but I really wanted to keep this light.
For the salad, I washed and spun dry one bag of organic baby spinach. You can use a lot more than one bag (I used a 6 oz bag) because the dressing recipe makes quite a bit. Just increase the other salad ingredients as well. I removed the stems if they were thick or too long. Even if the salad I buy says it's triple washed and ready to eat, I wash it anyway. I am very careful when it comes to food and hygiene.
Construct the salad by laying down the baby spinach on a platter or in a large bowl. Add 1 cup of crumbled feta, 1 cup of candied pecans, roughly chopped, and 1 pound of strawberries sliced into thirds. You can mix it all together or build it out visually like I did. I don't pre-dress this salad prior to serving. I have made candied nuts before, but I took the easy way out and bought a package at Trader Joes.
Strawberry Spinach Salad with Strawberry Vinaigrette
Notes
6 oz baby spinach, washed and spun dry
1 cup feta, crumbled
1 cup candied pecans, roughly chopped
1 lb of strawberries, sliced in thirds
Salad can be tossed all together or built on a platter showcasing each ingredient. Dress salads individually.
Recipe provided by HostessAtHeart
Strawberry Vinaigrette
This Strawberry Vinaigrette is a fabulous accompaniment to a spinach salad.
Ingredients
1/2

cup

Canola Oil

1/3

cup

Honey

1/4

cup

Apple Cider Vinegar

1/2

tsp

salt

1

tsp

Dijon Mustard

1/2

Lemon Juiced

1

lb

Strawberries
Notes
Ingredients:
1/2 cup canola oil
1/3 cup honey
1/4 cup apple cider vinegar
1/2 tsp salt
1 tsp dijon mustard
1 lb fresh strawberries
1/2 lemon juiced
Instructions:
Combine all ingredients into a blender and blend until thoroughly mixed. Refrigerate until serving. Shake prior to use.
Recipe provided by HostessAtHeart
Nutrition
Serving:
4
g
|
Calories:
1495
kcal
|
Carbohydrates:
129
g
|
Protein:
4
g
|
Fat:
114
g
|
Saturated Fat:
8
g
|
Sodium:
1232
mg
|
Potassium:
796
mg
|
Fiber:
9
g
|
Sugar:
115
g
|
Vitamin A:
55
IU
|
Vitamin C:
266.7
mg
|
Calcium:
73
mg
|
Iron:
2.3
mg
Linked to Fiesta Friday at The Novice Gardner