This Grapefruit Martini is bright, slightly sweet and easy to drink. It's perfect when you just want to sit back and let your troubles melt away!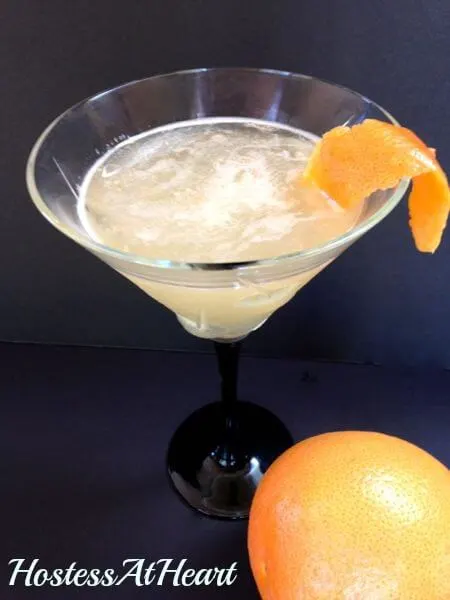 How can something so good be bad? Well, I went out with a couple of my friends to a sushi bar. They had a grapefruit martini on the menu, and being a warm day it just sounded refreshing. Boy, I could have drank a dozen of those bad boys. I have been determined to recreate this drink so that I can indulge at home and not worry about being a danger to the general population.
I think I finally nailed it! I started by putting ice in a martini glass so that it chilled nicely. I added 3 oz of freshly squeezed pink grapefruit juice to a shaker. I think pink grapefruit are a bit sweeter than the white grapefruit. I then combined 1 1/2 oz of good vodka, 1/2 oz triple sec, and 1/2 oz of simple syrup. You could also use agave syrup. If your grapefruit is overly tart, you can add a bit more simple syrup to your shaker. Pour ice into shaker with drink ingredients and shake until chilled. Strain liquid into your glass. Using a vegetable peeler, remove a strip of the grapefruit peel for garnish. Sit back and let your troubles melt away.
I would love it if you would follow me on Pinterest, Instagram, Facebook, and Twitter!