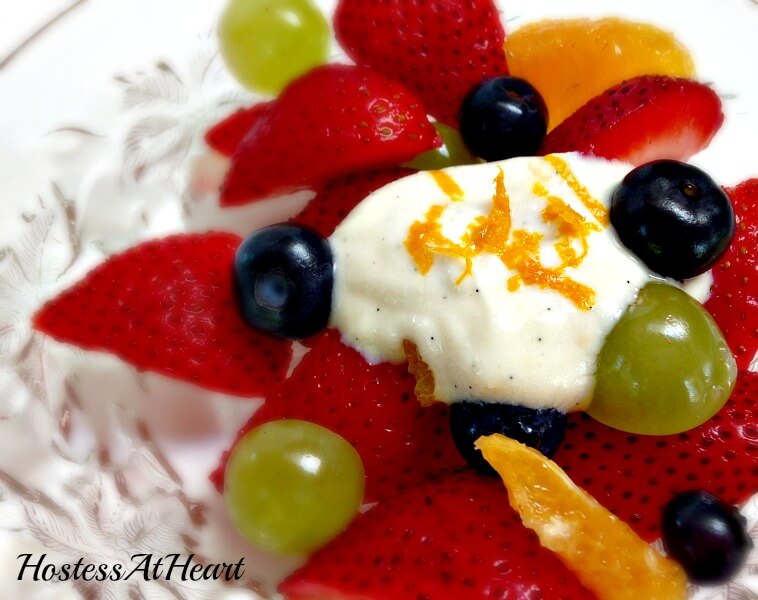 Red, White and Blue, this recipe would make a great addition to your 4th of July get together.
This time a year, I can't get enough fresh fruit! Nothing grows during our winter months, so we really take advantage of our summer produce. I love to have fresh fruit or veggies with every meal. While I don't need to fancy it up any, my husband enjoys a little more variety.
After I took my pictures of this dish, my little neighbor children volunteered to eat the prop. I got two thumbs up from them and later from my husband.
You can use any combination of fresh fruit. I like adding orange segments too. I think they just make it a little more special. Plus it helped tie the flavors to my sauce.
I started by putting 2 cups of non-fat Greek yogurt into a medium bowl. Add 1 teaspoon of brown sugar, 3 tablespoons honey, 1 tablespoon of vanilla bean paste and 1 teaspoon of orange zest. I like the specks of vanilla that you get with the paste, but if you don't have it, you can use pure vanilla extract.
The longer this sauce is allowed to set the better it gets. It's one of those sauces that can definitely be made a day or two before you need it. I ran out of fruit but still had some sauce left, so I dunked apple slices into it for lunch. Yum.