Mongolian Beef Stir fry is so good without one serving of guilt. It's delicious without all of the sodium or preservatives found in other Asian dishes.

Asian food at home is delicious without all of the fat and sodium you get with commercial Asian food from a restaurant. Mongolian Beef Stir Fry has all of the flavors without any of the guilt. Let me tell you how we made it.
The thing about maintaining your weight is to eat food that doesn't taste like diet food.
This recipe isn't diet food, it's real food, and it is delicious.
We often crave Asian dishes, but they can be loaded with sodium among who knows what. Mongolian Beef Stir fry is so good without one serving of guilt.
I used sirloin for the meat in this dish. You could use any protein or leave it out all together. Just bulk up on the veggies.
That's another thing, you can use the veggies you like.
I kept the veggies in my dish sliced thinly so that it would cook quickly. It wouldn't have taken that much time to use heftier veggies such as broccoli or zucchini.
Best kind of meat for Stir Fry.
I used sirloin steak because it is a lean meat that cooks up tender and is flavorful.
A flank steak would have been another good choice.
Don't be afraid to substitute chicken if you're not a beef lover.
Tip: Meat is easier to slice if it is very cold. Place the meat in the freezer for 10 to 15 minutes before slicing it.
Add whole grains in to your arsenal for eating healthy. They not only fill you up but are proven to help prevent heart disease.
Besides, they are delicious. Rice is an obvious choice, but choose brown or wild.
Outside of the box, you could use wheat berries or barley too.
If you like Asian dishes at home, here are a few of our favorites!
Our Most Popular Recipes
Do you have any proven practices that help you in the battle of the bulge? I would love to hear from you!
Here are a couple more recipes that are healthy and delicious!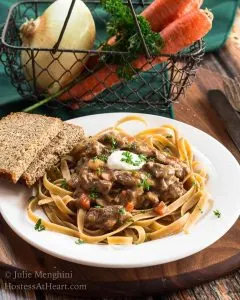 Turmeric Chicken with Wild Rice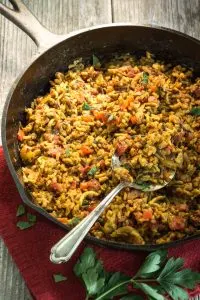 POST WORDING UPDATED 1/27/17 – NO CHANGES WERE MADE TO THE RECIPE.