Baked Acorn Squash with Bacon and Brown Sugar is sweet, smokey and perfect for Fall. It's delicious as a meal or side dish.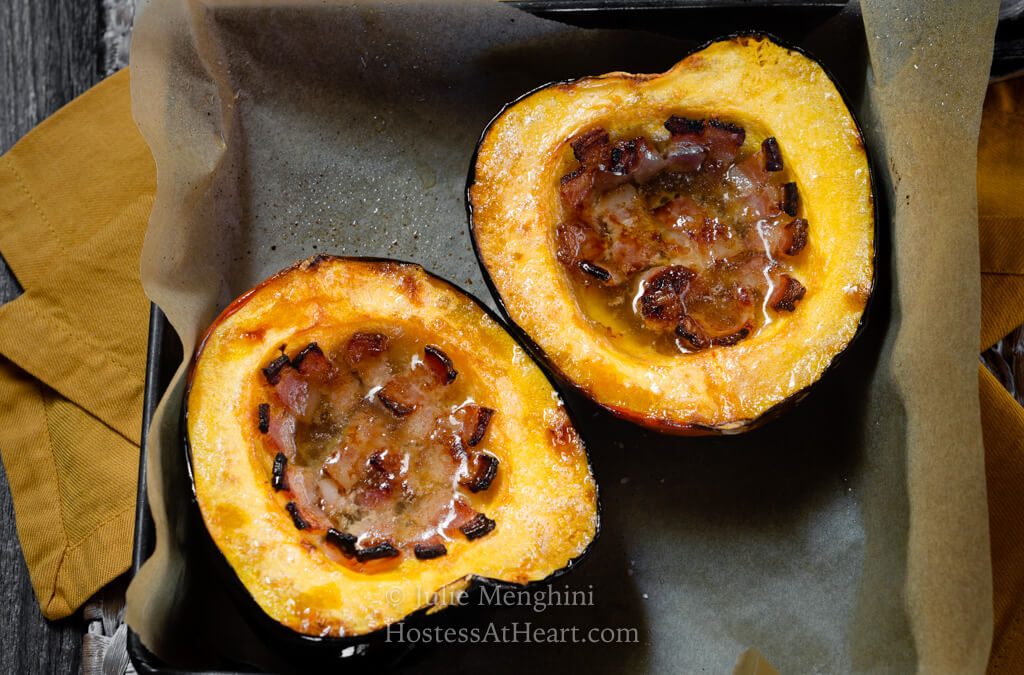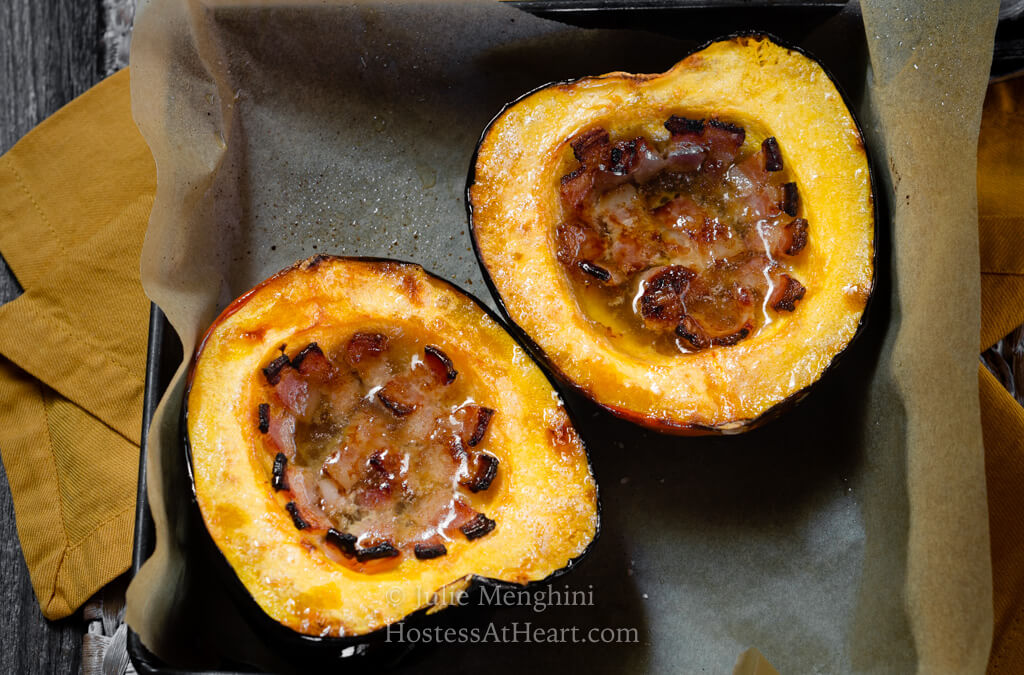 Nothing screams more than a Baked Acorn Squash and nothing is better than having your own Baked Acorn Squash flavored with bacon, butter, and brown sugar!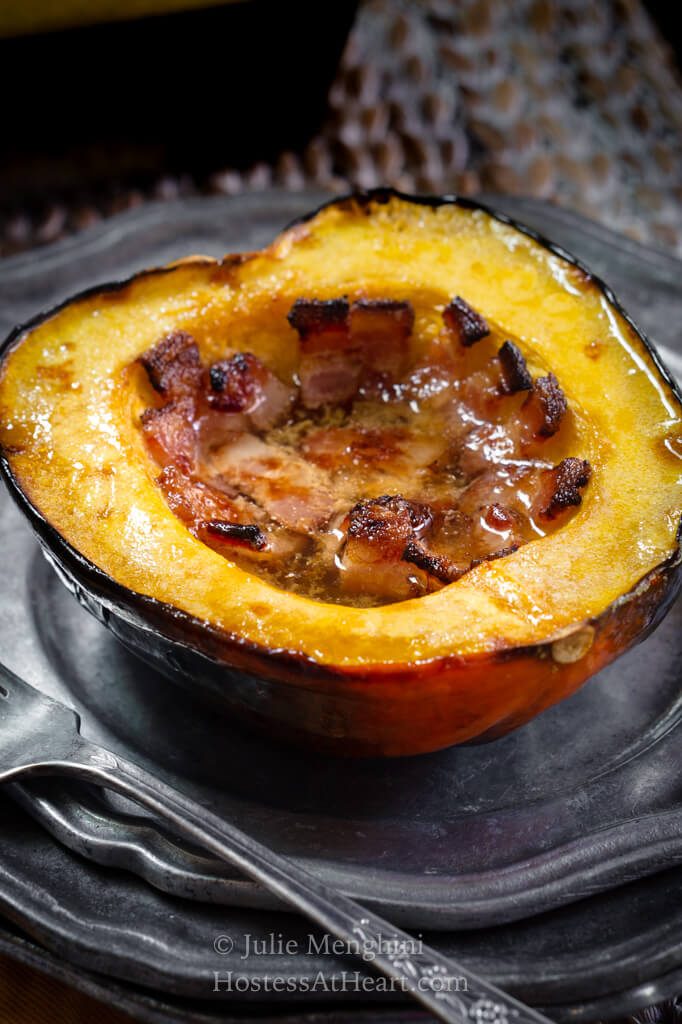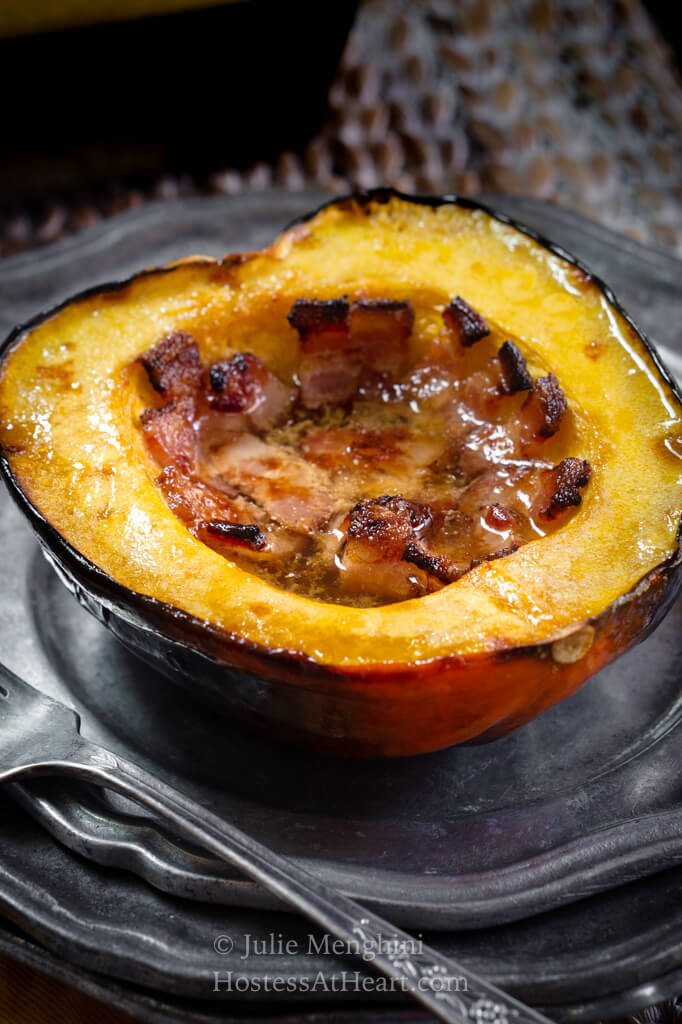 My daughter has an incredible memory. She often brings up stuff that I know not to question and just marvel at what that brain of hers has the capacity to hold. Now I would like to take the credit for that, well maybe I will claim half, but most of my childhood memories are related to food! Maybe it's our priorities?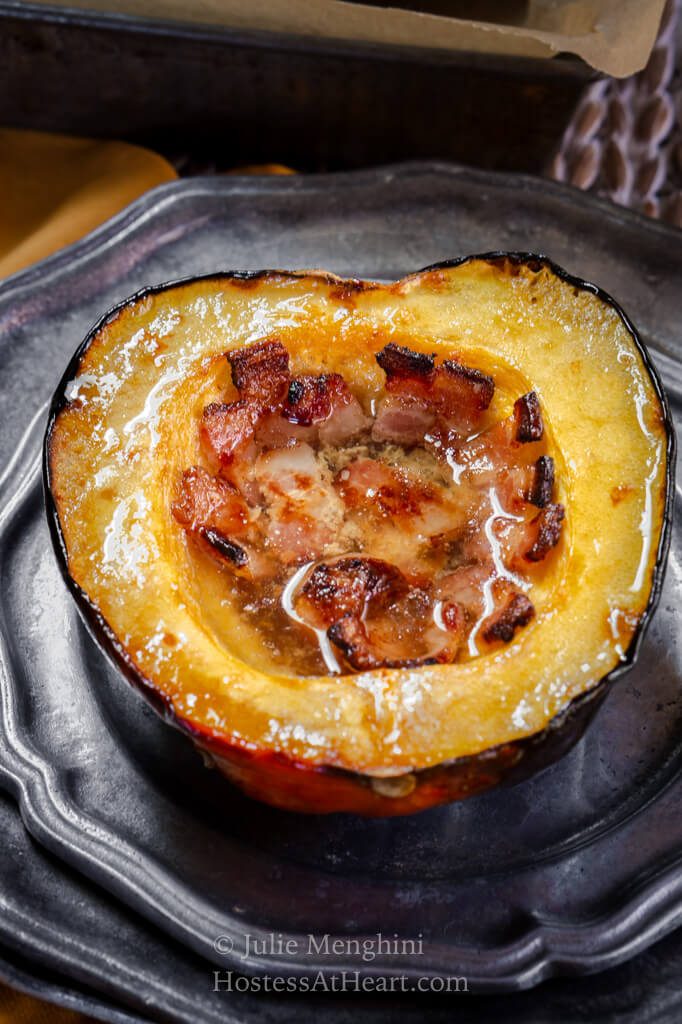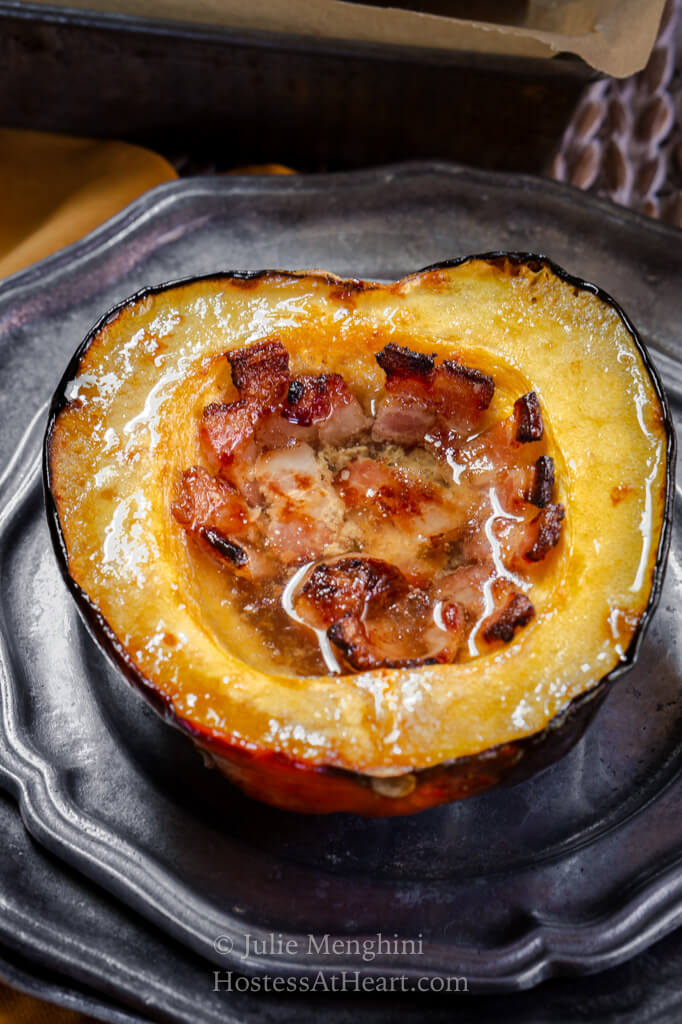 When I was a youngster, My siblings and I often wrestled over the new box of cereal before it was even out of the grocery sack. There were four of us and it was a fight of the fittest. However, when we had Baked Acorn Squash, we all got our own half. I savored it even as a child. It made me feel like a grown up!
Don't have time to make it now?

Pin it

for later!
Baked Acorn Squash with Bacon and Brown Sugar
Baked Acorn Squash with Bacon and Brown Sugar is a sweet, smokey and perfect for Fall. It's delicious as a meal or side dish.

Ingredients
1

acorn squash

2

tsp

butter

divided between each half

2

tsp

brown sugar

divided between each half

1

slice

bacon

1/4

tsp

salt

Light Karo Syrup
Instructions
Preheat the oven (or grill) to 400°F.

Microwave the whole acorn squash for 3-1/2 minutes. Remove with hot pads or a towel. Lay the squash on its side (not end) and slice the squash in half. Scoop out the seeds using a spoon. Put the squash in a baking dish lined with parchment paper.

Rub the cut side of the squash with 1 teaspoon of butter and put the remaining piece in the center for each half.

Add 1 teaspoon of brown sugar in the center of each half of the squash.

Drizzle each half lightly with light Karo syrup. This glazes the squash and helps the bacon line the center of the squash. Sprinkle each side with a pinch of salt.

Slice the bacon down the short side and line the center of each squash.

Bake for 45 to 50 minutes or until the squash is fork tender.
Nutrition
Calories:
180
kcal
|
Carbohydrates:
25
g
|
Protein:
3
g
|
Fat:
8
g
|
Saturated Fat:
4
g
|
Cholesterol:
18
mg
|
Sodium:
406
mg
|
Potassium:
769
mg
|
Fiber:
3
g
|
Sugar:
3
g
|
Vitamin A:
18.3
%
|
Vitamin C:
28.7
%
|
Calcium:
7.1
%
|
Iron:
8.4
%
Well, Mr. Picky declared he didn't like squash just like he didn't like sweet potatoes. In his older years, he learned that he would like it if I told him he would. Smart boy that Mr. Picky. He loves this version even though there are a ton of ways you can stuff them.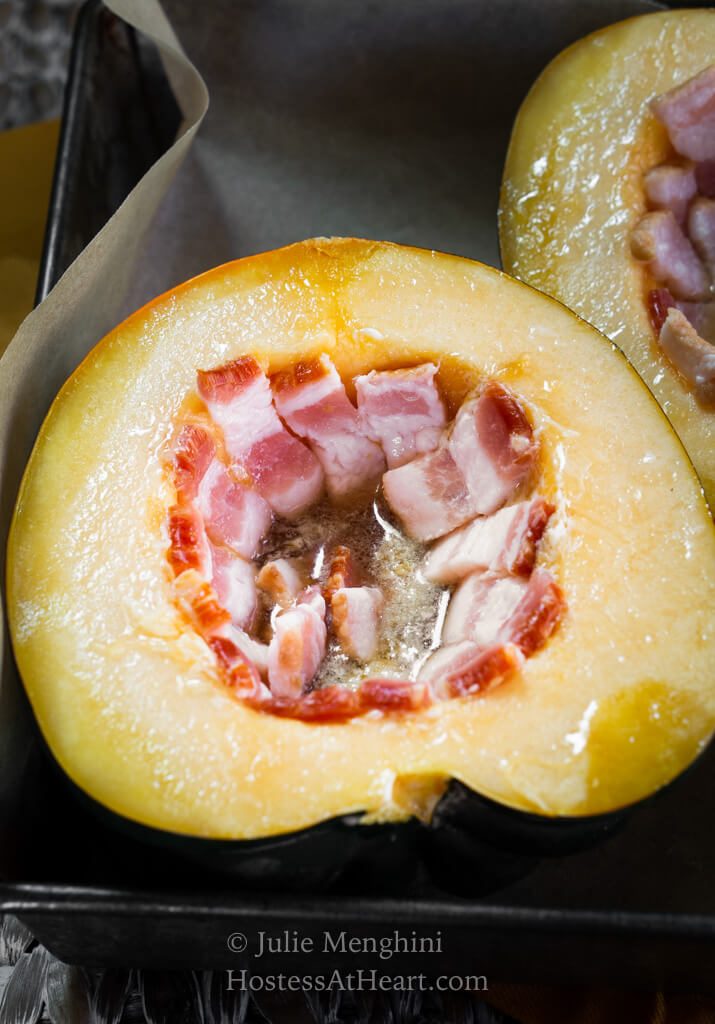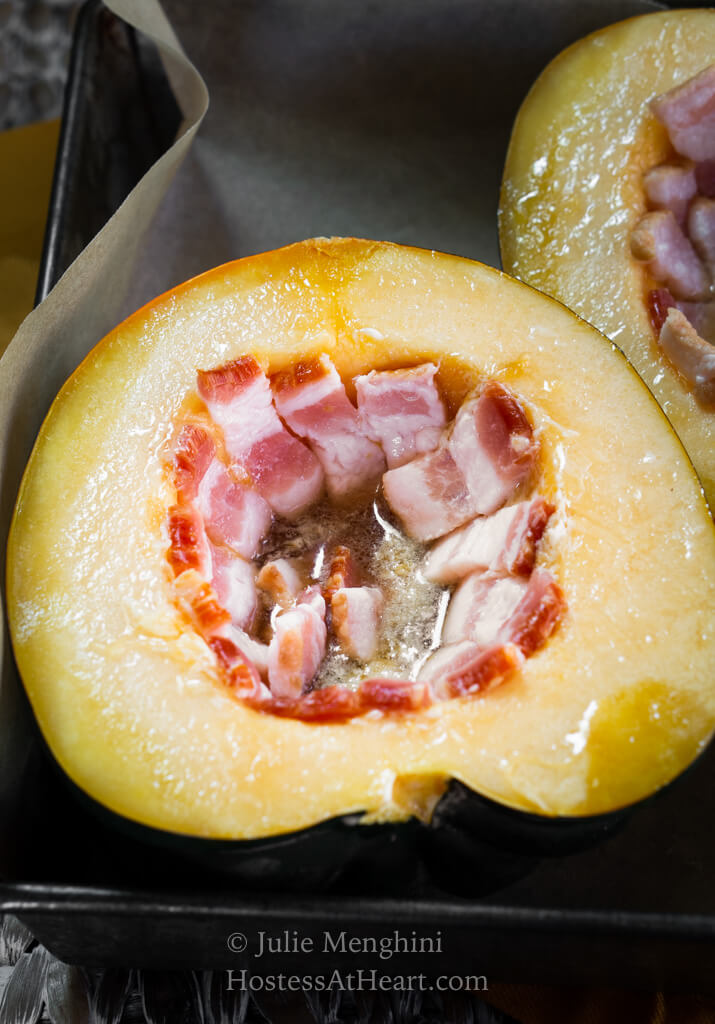 These Baked Acorn Squash are perfect to eat as a side dish, especially with poultry. John has cooked them on the grill and loves the smokey flavor they take on.
Here are a couple of other versions we love!
Canadian bacon and pineapple
Filled with stuffing and leftover chicken or turkey.
Ground Sausage and Thyme
Brown Sugar, Butter, and pecans
Fresh apple slices, cinnamon, and dried cranberries
Do you have another version that you like? I'd love it if you'd share! I'm always looking for inspiration.
While Baked Acorn Squash makes a great meal or side dish, here are a few more that we love!
Let's keep in touch!  You can find me on Pinterest, Instagram, Facebook, Twitter, and The Mix!  Better yet, enter your email address in the box below and never miss a recipe!