Baked Acorn Squash with Bacon and Brown Sugar is sweet, smokey and perfect for Fall. It's delicious as a meal or side dish.
THIS POST HAS BEEN UPGRADED FROM 11/6/18 TO IMPROVE READER EXPERIENCE.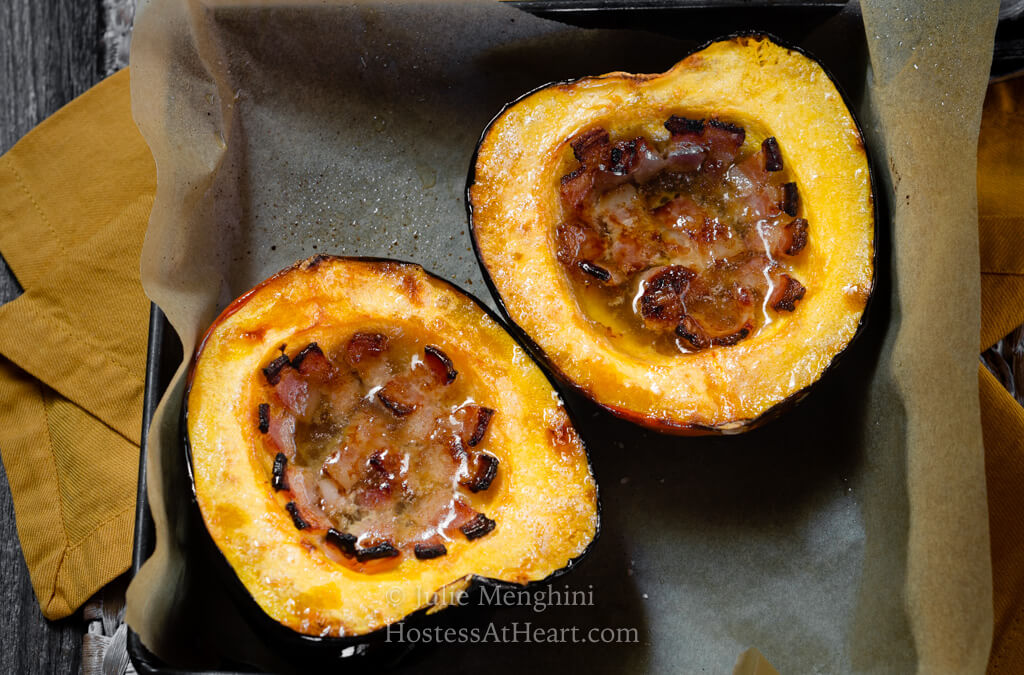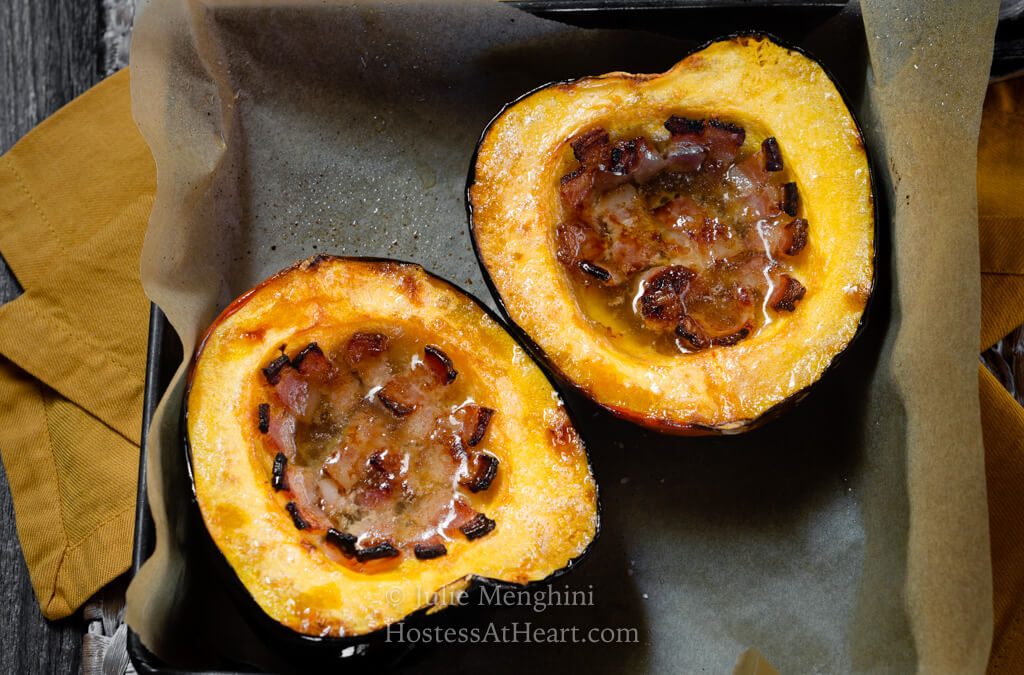 Nothing screams Fall more than a Baked Acorn Squash and nothing is better than having your own Roasted Acorn Squash recipe with bacon, butter, and brown sugar!
When I was a youngster, my siblings and I often wrestled over the new box of cereal before it was even out of the grocery sack. There were four of us kids and it was a fight of the fittest.
However, when we had Baked Acorn Squash, we all got our own half. I savored it even as a child. It made me feel like a grown-up!
I've got to be honest, the only squash I'd ever had or cooked was acorn squash with brown sugar and butter. But why mess with something that isn't broken right?
Well, how about expanding your horizons little miss Hostess At Heart? So, I started expanding my squash horizons with a little investigating.
What's the healthiest squash?
According to Care2 Healthy Living Winter squashes tend to have higher nutrients. They state "Acorn squash takes the gold thanks to its higher amounts of folate, calcium, magnesium, and potassium than butternut, hubbard, or spaghetti squash.
One cup of cooked acorn provides more potassium (896 mg) than two bananas (844 mg)" Squash is also full of soluble fiber. In fact, one-half cup of cooked squash has as much soluble fiber as a cup of lentils or barley!
Bacon, butter and brown sugar sound like a recipe for weight-conscious failure but an entire half only has 180 calories!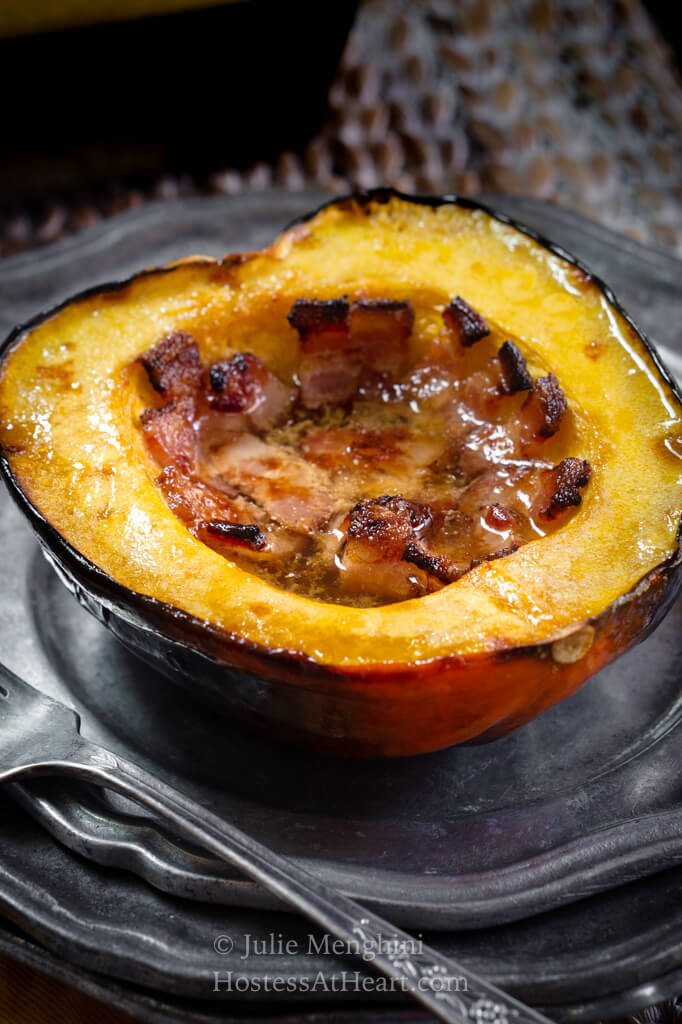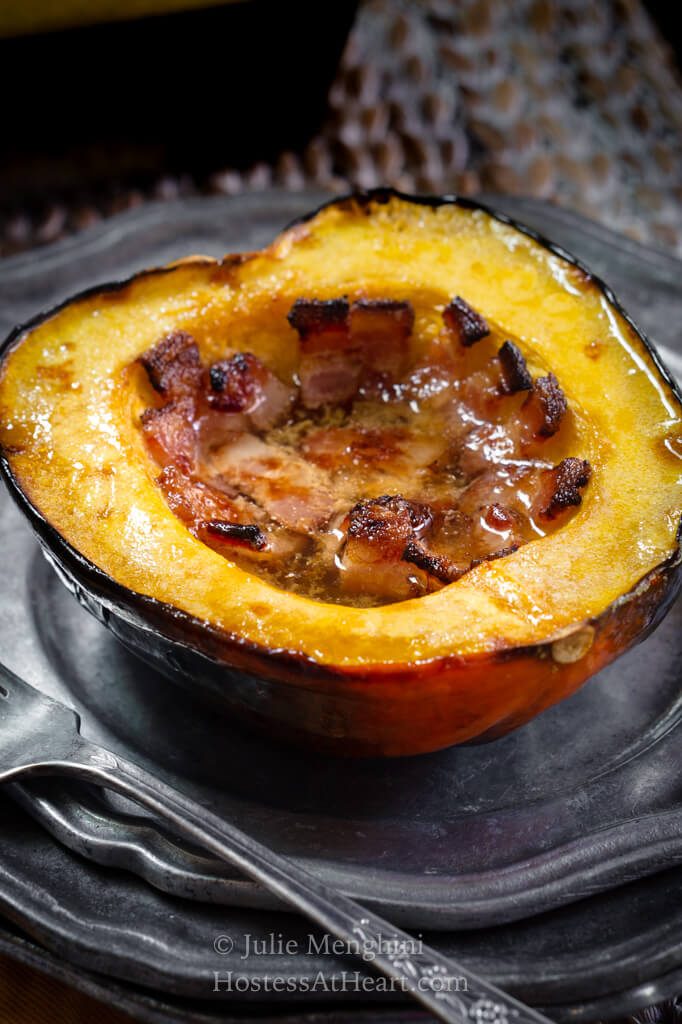 That being said, I've now expanded my horizons and have tons of recipes to share with you like my Hasselback Bacon Apple Butternut Squash recipe. It's delicious and a real eye-catcher.

How to bake Acorn Squash
Wash the skin of the squash. I use a vegetable brush
Microwave the whole squash or 3 minutes
Lay the squash on its side and cut it in half.
Scoop the squash seeds out
Place the squash in a baking dish flesh side up.
Season and fill with ingredients
Bake until tender when pierced with a fork
Don't forget to pin this recipe to your favorite Pinterest Board!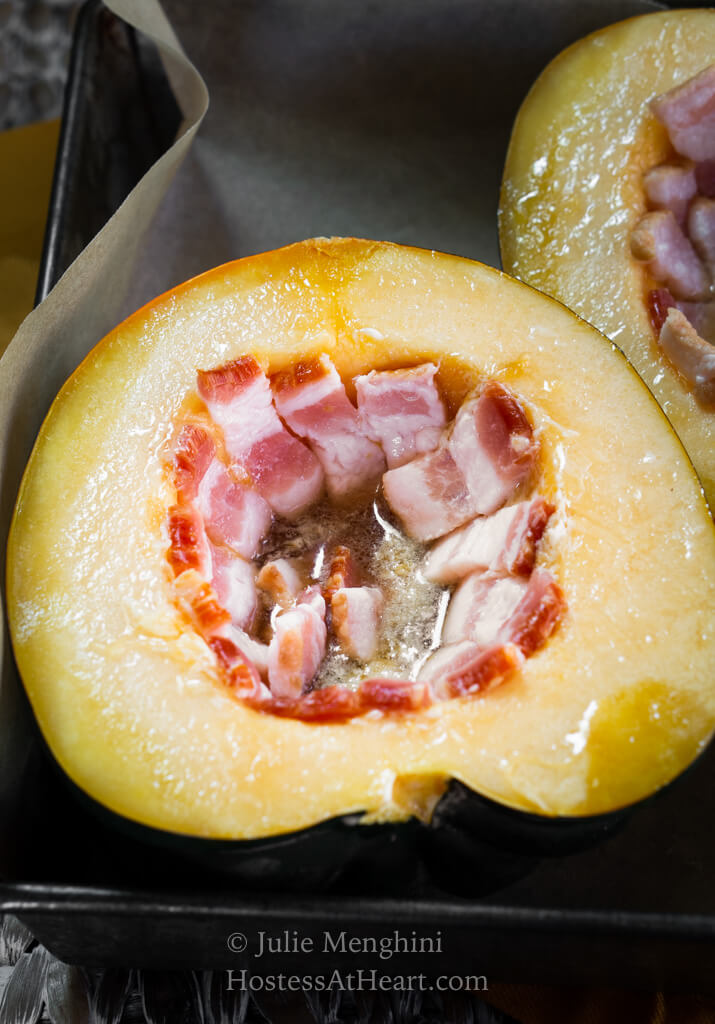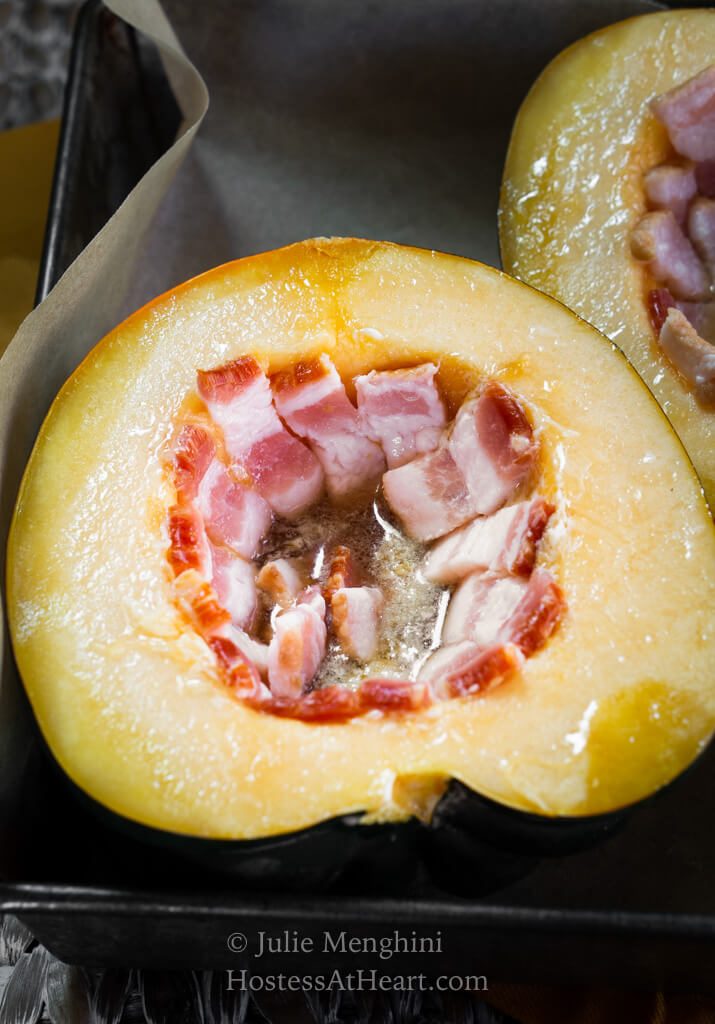 Tips for cooking squash
I microwave my squash before cutting it. It makes cutting or peeling it so much easier. Make sure you handle it with a hot pad or towel. It gets really hot!
Scrub the squash before cutting or peeling it. If your squash is not clean, you're transferring anything on the outside to the inside when you cut it.
Many recipes have you adding liquid to the baking dish and baking the squash flesh side down for half the baking time. I've never found that to be necessary. This squash is tender and moist baking it the entire time flesh side up. Plus I love the color and roasted flavor that it takes on.
What to serve with Baked Acorn Squash
I love serving Roasted Acorn Squash with grilled chicken and steaks. John has cooked them on the grill and loves the smokey flavor they take on. It's filling enough that you don't need a lot of other sides and it makes for a delicious simple meal. Here are some great recipe ideas.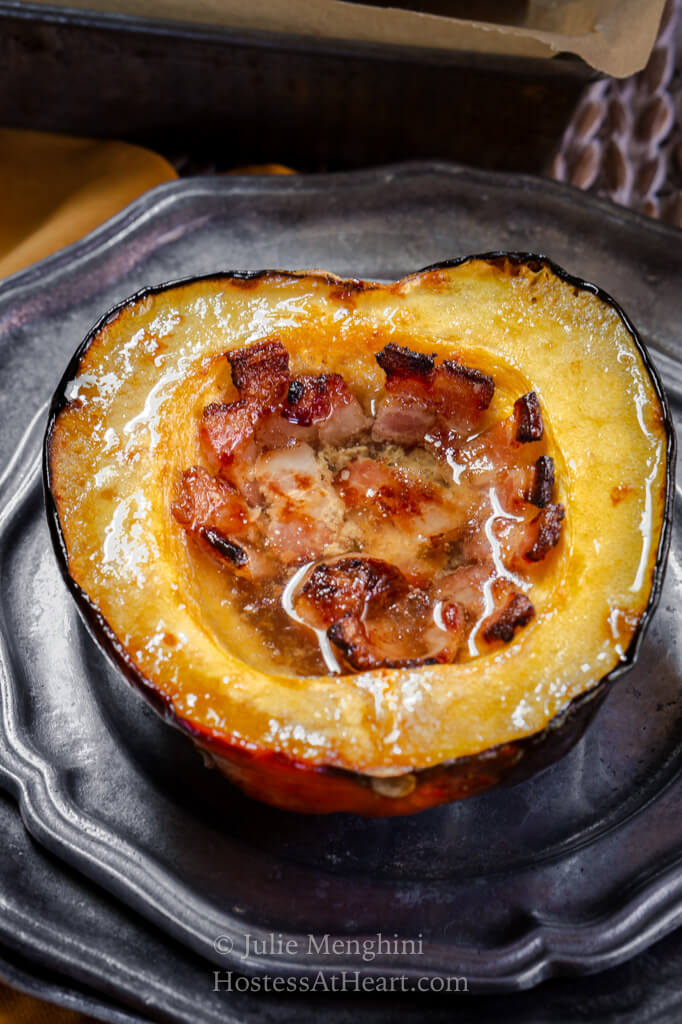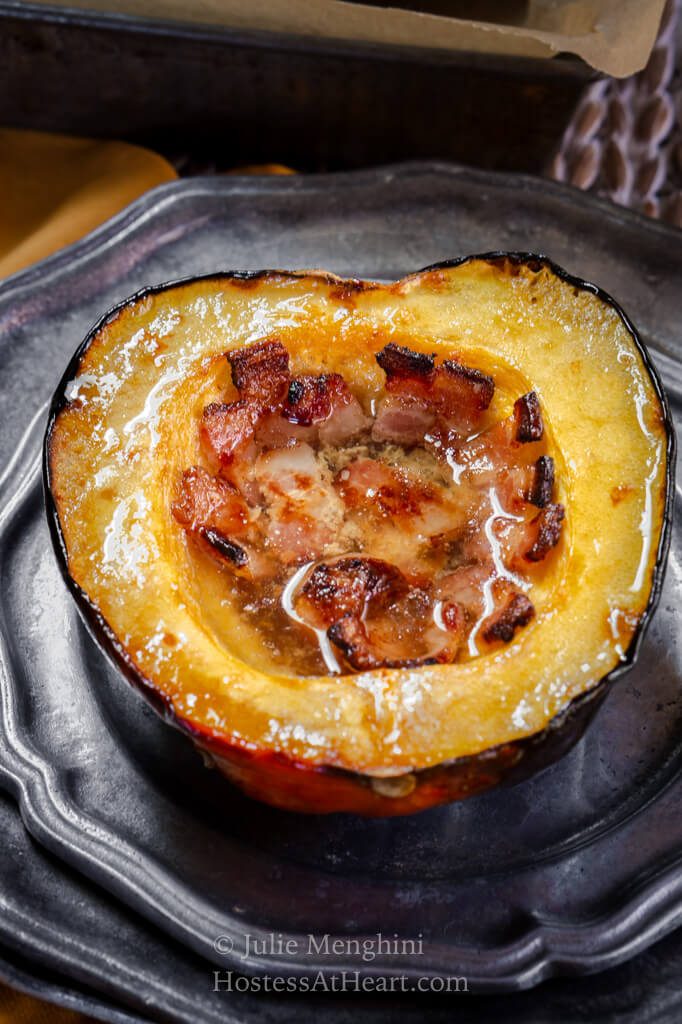 Items you may need to make Baked Acorn Squash:
The following are affiliate links. We are a participant in the Amazon Services LLC Associates Program, an affiliate advertising program designed to provide a means for us to earn fees by linking to Amazon.com and affiliated sites. For more information, please see our disclosure.
Vegetable Brush – I try and keep the peel/skin on my vegetables when I cook them. They contain vitamins and other nutrients. It's important to get them clean and using a brush works well!
Loaf Pan – I find that both halves of the squash will usually fit in a loaf pan without tipping over. I like that these pans are a little bit bigger. I use them for meatloaf and bread recipes too!
Chef's Knife – This is my favorite knife and I use it 95% of the time. I've used this knife for years and it still looks brand new. It's been worth the investment!
Here are some other variations that we love!
Canadian bacon and pineapple
Filled with stuffing and leftover chicken or turkey.
Ground Sausage and Thyme
Brown Sugar, Butter, and pecans
Fresh apple slices, cinnamon, and dried cranberries
Baked Acorn Squash with Bacon and Brown Sugar
Baked Acorn Squash with Bacon and Brown Sugar is a sweet, smokey and perfect for Fall.  It's delicious as a meal or makes a great side dish.

Ingredients
1

acorn squash

2

tsp

butter

divided between each half

2

tsp

brown sugar

divided between each half

1

slice

bacon

1/4

tsp

salt

Light Karo Syrup
Instructions
Preheat the oven (or grill) to 400°F.

Wash the outside of the squash.

Microwave the whole acorn squash for 3-1/2 minutes.  Remove with hot pads or a towel.  Lay the squash on its side (not end) and slice the squash in half.  Scoop out the seeds using a spoon.  Put the squash in a baking dish lined with parchment paper. A loaf pan will usually work.

Rub the cut side of the squash with 1 teaspoon of butter and put the remaining piece in the center for each half.

Add 1 teaspoon of brown sugar in the center of each half of the squash.

Drizzle each half lightly with light Karo syrup. This glazes the squash and helps the bacon line the center of the squash. Sprinkle each side with a pinch of salt.

Slice the bacon down the short side and line the center of each squash.

Bake for 45 to 50 minutes or until the squash is fork tender.
Nutrition
Calories:
180
kcal
|
Carbohydrates:
25
g
|
Protein:
3
g
|
Fat:
8
g
|
Saturated Fat:
4
g
|
Cholesterol:
18
mg
|
Sodium:
406
mg
|
Potassium:
769
mg
|
Fiber:
3
g
|
Sugar:
3
g
|
Vitamin A:
915
IU
|
Vitamin C:
23.7
mg
|
Calcium:
71
mg
|
Iron:
1.5
mg
This recipe was calculated using the exact brands and measurements I used to make this recipe. If you are following a strict diet please note changing anything will cause the nutritional info to change. My calculations are intended as a guide only.
These Baked Acorn Squash are perfect to eat as a side dish, especially with poultry. John has cooked them on the grill and loves the smokey flavor they take on.
Do you have another version that you like? I'd love it if you'd share! I'm always looking for inspiration.
While Baked Acorn Squash makes a great meal or side dish, here are a few more that we love!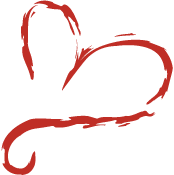 Thank you from the bottom of my heart for spending some time with me today!