Roasted Cabbage and Carrots with Apples has a smooth and slightly sweet flavor making it the perfect side dish to a savory meal. Baking it in the oven assures that the vegetables are colorful and have a delightful crunch.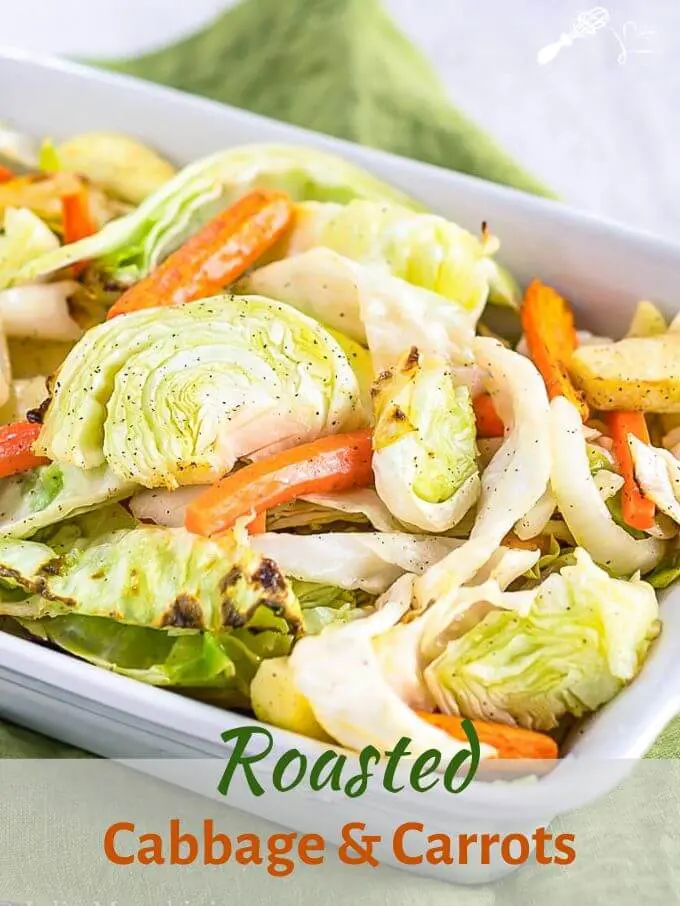 Roasted Cabbage and Carrots are naturally sweet from roasting and blend beautifully with the touch of apple.
I never used to make cabbage recipes except when celebrating St. Patrick's Day with Corned Beef and Cabbage.
Cabbage is one of those ingredients that John always insisted that he didn't like. What I've learned is that John doesn't like over-cooked mushy or tasteless cabbage.
Some recipes for cooking cabbage require you to boil cabbage almost as long as you do the corned beef brisket.
Well, I don't boil my corned beef either! I'll share that technique down the road with you.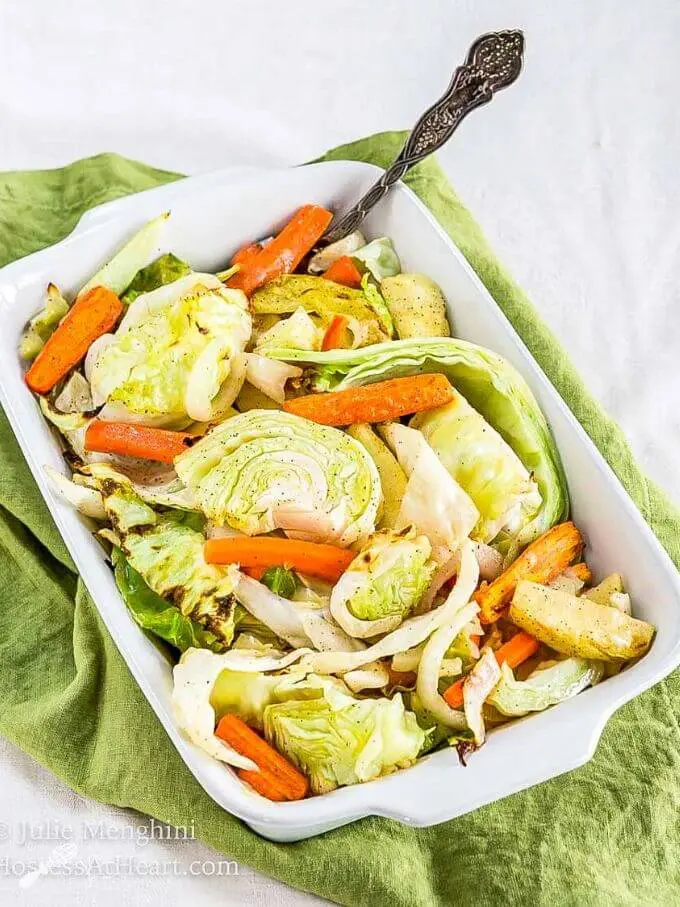 I used to drown my cabbage in melted butter. Was it good? I used to think so but now I don't miss all of that extra fat and the texture which was more like a limp noodle than this deliciously crunchy roasted cabbage recipe.
We've found that we prefer the cleaner taste of baked cabbage and carrots with the onions and apples. It's the perfect blend of naturally sweet and savory flavor with a delightful al dente texture.
3 ways to make cabbage
Eat it raw! There are tons of flavor and fiber in cabbage. When you cook it the nutrients and fiber are reduced.
Put enough water in the bottom of a shallow baking dish to just cover the bottom. Place slices or small wedges of cabbage in a single layer. Salt and pepper and dot with butter. Cover the dish and microwave at 2-minute intervals until the cabbage just begins to soften.

I don't use this method if I'm making a cabbage and carrots recipe because the carrots take a little longer to cook.

Roast it as I've done in this recipe.
Can I substitute red cabbage for the green cabbage?
Yes, you can. There isn't any flavor difference. The only thing I would caution you on is that the red cabbage will tint the ingredients you cook it with. For that reason, I usually choose red cabbage for my raw cabbage recipes such as our Cabbage Cashew Salad.
How to cook cabbage in the oven? With this dish, I roasted the veggies and apple together on a baking sheet after giving them a simple drizzle of EVOO and a little S&P until they just began to soften.
The high heat coaxed out and combined all of the flavors.
Is Cabbage Good For Me?
Cabbage is actually good for you if you don't drown it in butter. There are only 33 calories in a cup of cooked cabbage, and it is low in fat and high in fiber.
What ingredients are good with Cabbage?
Consider your textures and flavors. When roasting you want ingredients that will bake at the same rate such as:
Carrots
Onions
Leeks
Potatoes
Apples
Pears
Fennel
Don't forget to save this recipe to your favorite Pinterest board for easy reference!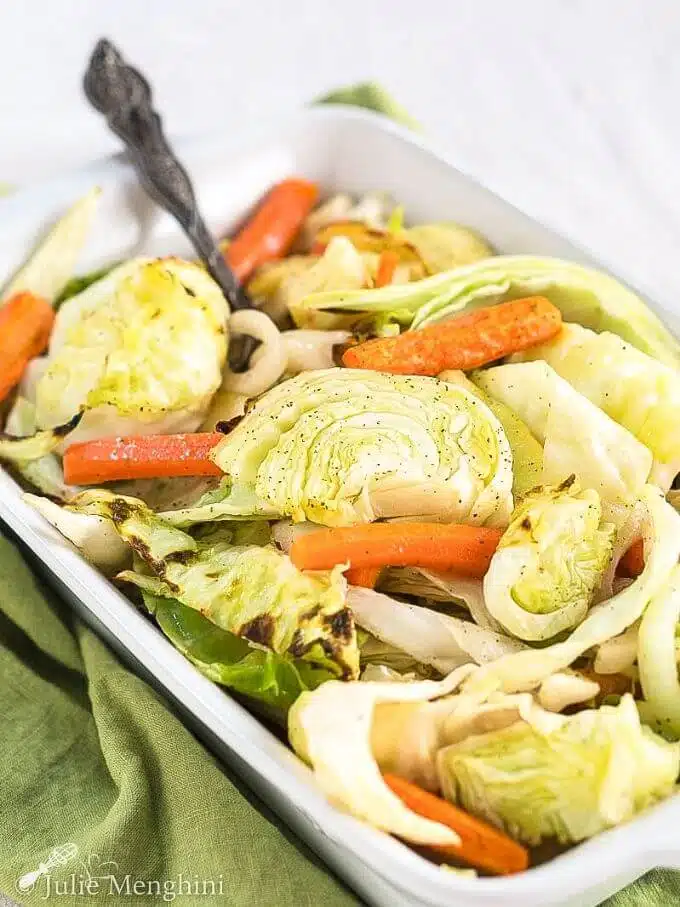 Tips for a delicious baked cabbage recipe:
Cut the cabbage in wedges or slices.
Remove the cabbage core.
Use smaller carrots or cut them thinner so they cook at the same rate as the cabbage.
Add chopped potatoes.
Use a baking sheet pan and spread the vegetables out.

If they're too close together they will steam and not roast.
This also allows you to season the vegetables evenly.

This Roasted Cabbage and Carrots recipe can be served as a delicious vegetarian cabbage recipe or a side dish too.
Variations you can make to this Roasted Cabbage and Carrots recipe
Bacon or corned beef would be delicious in this dish too.

I would recommend adding pre-cooked meat at the end. You don't want your vegetables to become greasy or your meat to overcook. This recipe is all about a fresh dish of perfectly cooked ingredients.

Add chopped potatoes.
Replace the onion with fennel or leek.
Products you may need
Vegetable Peeler – my kitchen couldn't exist without a vegetable peeler. I didn't know what I was missing until I replaced my old one for a nice new sharp one!
Baking sheet – These sheet pans are durable and I have four of them so I can get everything baked in a jiffy!
Here are a few more recipes you may enjoy!
Don't forget to comeback and let me know how your cabbage and carrots came out.
If you're like me sometimes making side dishes is more difficult than the main meal. Here are a few recipes that are my go-to recipes.
I'll be making this oven-roasted cabbage recipe a lot more instead of just saving it for St. Patricks Day.