Honey Yogurt Parfait with Pears and Granola is smooth, creamy, crunchy and delicious. It makes a great breakfast or post-workout snack that's good for you!
We just love starting out our day with delicious waistline-friendly meals. Just take a look at our Pear Smoothie with Ginger and our Peach Parfait!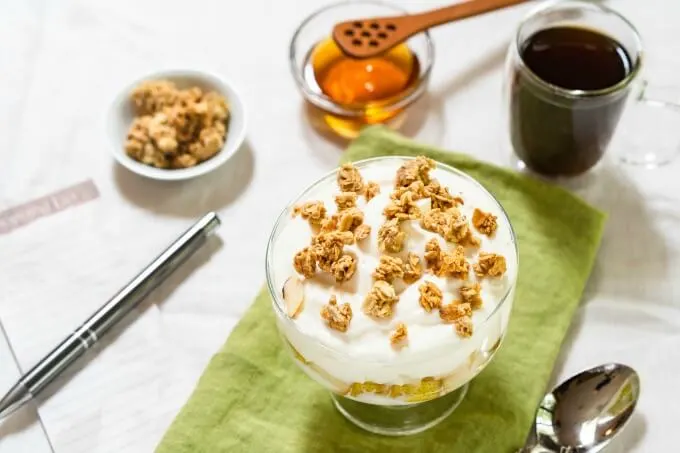 How can something so simple have so many health benefits and taste delicious too? Greek Yogurt Parfait recipe is loaded with fresh pears and topped with crunchy granola. A Honey yogurt parfait makes a great breakfast, post-workout snack, or a no-guilt treat for the kiddos.
I can remember growing up when our little grocery store first got yogurt. I thought that I'd be cool or worldly if I ate it. Well, after my first taste all I can say is it WASN'T love at first bite. In my opinion, it tasted like sour milk and nothing like this yogurt parfait recipe!
So, the cool club was out of reach for me once again. But the truth in all of this is that not all yogurt tastes the same. If you've tried it before and had the experience that I did, try another type.
Types of Yogurt
Traditional – unstrained and usually contain fruit. Can contain artificial sweeteners or food coloring. As always, read the label
Greek yogurt – strained with a thicker texture, characterized as tart, especially if plain.
Australian – unstrained with a creamy texture. Taste is a cross between traditional and Greek.
Icelandic – tangy and thick like Greek yogurt but smoother.
These are just a few types. Others include non-dairy, kefir, and lactose-free. You can read more information on Wide Open Eats.
Like any product, it's very important to read the label. Not all yogurts are created the same. Some contain an enormous amount of sugar and additives. You'd be better off eating a candy bar.
When I started eating yogurt it was a traditional yogurt. It didn't take long before I found them too sweet and I could taste the artificial flavor and now choose Greek, Australian, and Icelandic varieties. I usually go for plain and add just a drizzle of honey and a sprinkle of granola. Sometimes I add fresh fruit to Greek yogurt with honey. It makes a great honey yogurt parfait that is like dessert!
I am pretty predictable and eat about the same thing every morning. I try to start off with a healthy breakfast but also want it to keep me satisfied until my next meal or healthy snack.
It depends a little on the weather. If it's cool outside I'm going after oatmeal such as Crockpot Spiced Apple Steel Cut Oats or Berry Nut Oatmeal. If it's warm, I'm going after Greek yogurt with honey and fresh fruit. I also love a granola snack. Vanilla Nut Granola and Honey Harvest Granola with Dried Fruit are delicious options over store-bought.
My Greek Yogurt with Honey checklist is:
No artificial colors, sweeteners, or flavors
No Preservatives
Contains live and active cultures
Plain Greek yogurt. Nonfat, 1% or 2% is my choice.
Raw or pure honey, local if possible
Health benefits of eating Greek yogurt:
High in protein which is important for cell growth, tissue repair, and building muscle.
Full of probiotics which contain healthy bacteria that live in your intestines. Probiotics aid in digestive health and help ward off bad bacteria that damage immune systems.
Natural B-12 supplement. B-12 is necessary for energy and healthy brain function. Yogurt is a great source of B-12 especially if you don't eat meat.
High Calcium content which is important for healthy teeth and bones but calcium can also limit fat production in the body which can help with weight loss or other health goals.
These are only a few of the health benefits of eating Greek yogurt every day. Adding raw honey provides a natural carbohydrate that adds energy and helps the body have a faster healing process. This is especially important if you are routinely working out. Yogurt In Nutrition does a good job of describing a few more benefits. See my earlier post about the Benefits of Combining Honey and Yogurt too.
If I don't start my day with a bowl of yogurt with honey for breakfast I will still eat a couple of teaspoons each day just for the health benefits. I can see the difference in my body.
You don't need any gadgets to make a honey yogurt parfait recipe. However, yogurt is amazing to cook with and can be substituted for butter or oil in many cases.
Dessert Dishes – I love these simple dishes for serving yogurt parfait, desserts, pudding, and ice cream!
Small Silicone Spatulas – I use these spatulas all the time for emptying out cans or smaller bowls. I just love the colors and they're heat resistant so I don't worry about using them in hot pans. They also make layering my little yogurt parfaits easy!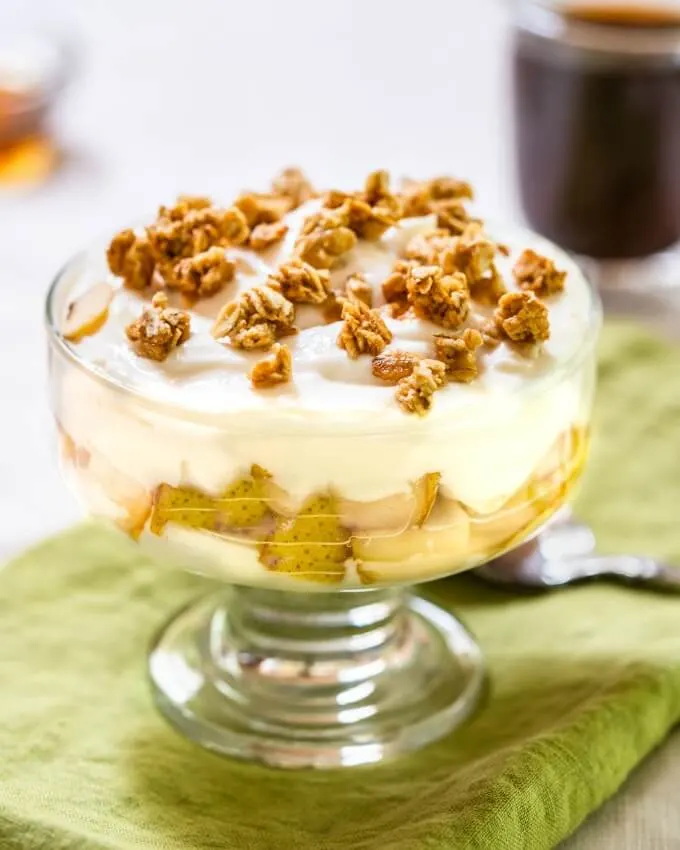 What is your favorite way to use yogurt? Here are a few tasty ideas!
What's your favorite type of yogurt? Do you have a favorite way to eat it or are you a grab it and go kind of person? It's all good, just enjoy it!