Chicken Salad with Yogurt is a lighter chicken salad. It's also a low-carb meal in a lettuce wrap or makes a great sandwich too.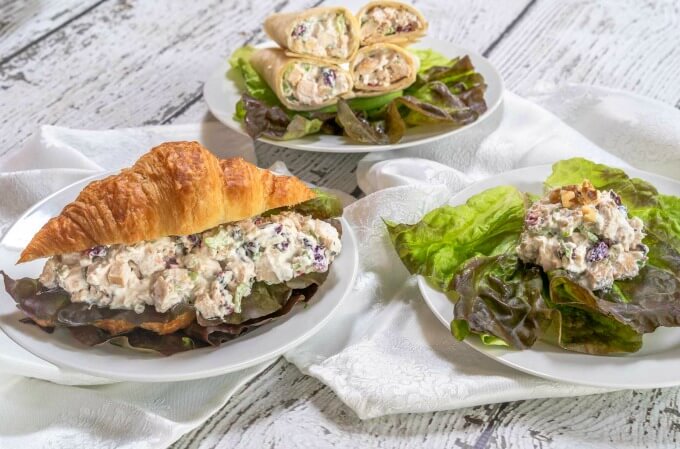 Chicken Salad with Greek Yogurt is the perfect recipe for a warm summer day, a healthier lunch, or a fresh delicious way to use up leftovers.
Up until now, I haven't shared a lot of salad recipes like this light chicken salad recipe. The reason is that John has a major aversion to mayonnaise.
I grew up eating chicken salad sandwiches, ham salad, and egg salad, but once I married "his highness" I thought those days were over.
I bought a large package of boneless-skinless chicken breasts when they were on sale. Usually, I'll do this and put them in smaller packages before freezing them but didn't get that done this time. So, when I thawed them we grilled up the entire package with just a little olive oil, salt, and pepper.
We had a delicious chicken dinner but I had to get strategic using the rest of the leftovers. This Chicken salad no mayo recipe was a great choice!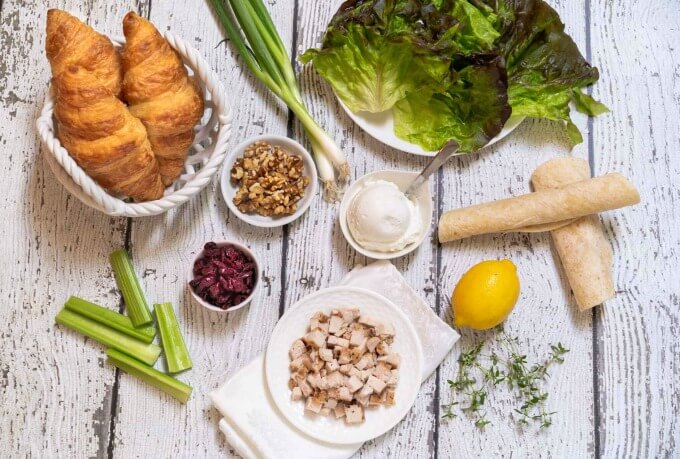 Chicken Salad Ingredients:
Chicken
Yogurt
Celery
Craisins
Walnuts
Parmesan cheese
thyme
green onion
garlic powder
lemon juice
S&P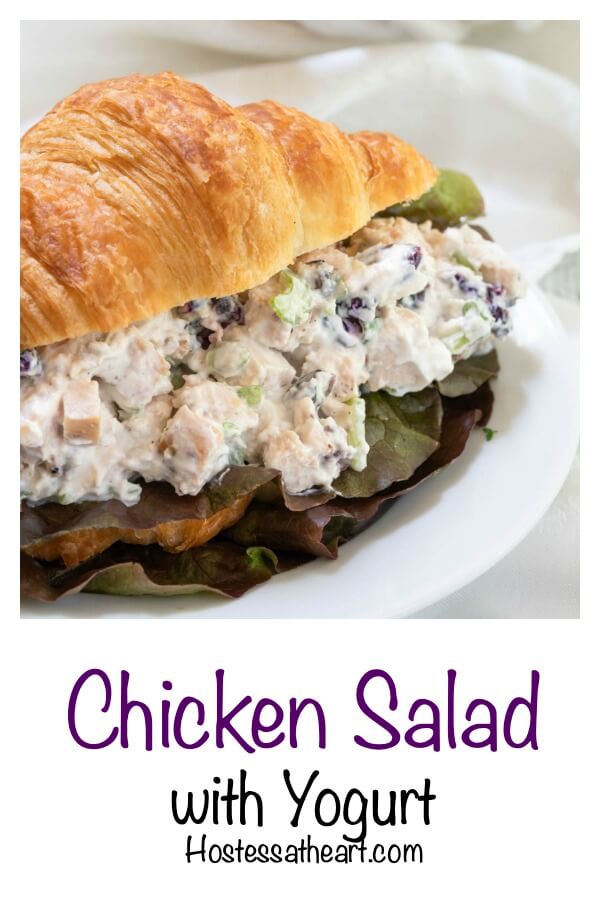 I'm really picky about chicken salad for some reason. It has to have distinct flavors and maybe that's why I like Chicken Salad with Yogurt. The thyme is a great contrast to the sweetness of the Craisins (dried cranberries).
The texture is a thing with me too. Some salads are really kind of mushy. This no mayo chicken salad uses diced chicken, crunchy celery, walnuts, and fresh green onion and just enough yogurt to tie it all together. Not bathe in it.
Can you substitute yogurt for mayo?
Lastly, I want my food to taste good and even though I don't prescribe to a particular kind of diet, health is important to me. I know how easy that darned extra 5 pounds you'd like to lose turns into 10. Yogurt can be substituted for mayonnaise one to one as in this lighter chicken salad. It's delicious and helps keep the calories down. We really don't miss the mayo.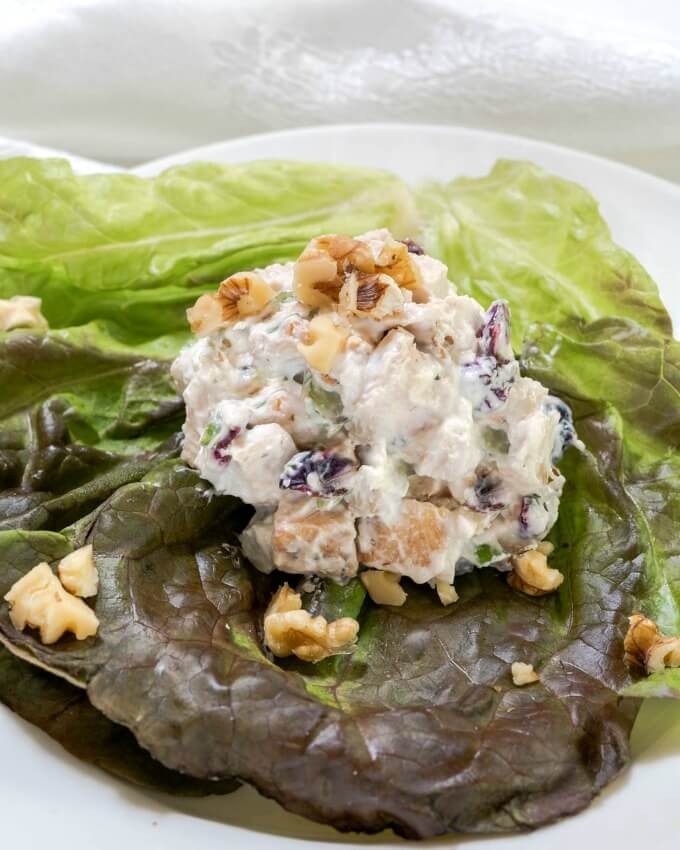 No bread keeps it low-carb too. Use lettuce as a wrap or cut celery and use them as scoops. Your body will thank you for the extra fiber.
Rolling this salad in a tortilla or stuffing it in a pita is perfect for lunch. Make them the night before and just grab them on the way to work. Kiddos love wraps, and who doesn't love a picnic? Does wine go with this no mayo wrap? Definitely, a nice chilled white is what I'd choose.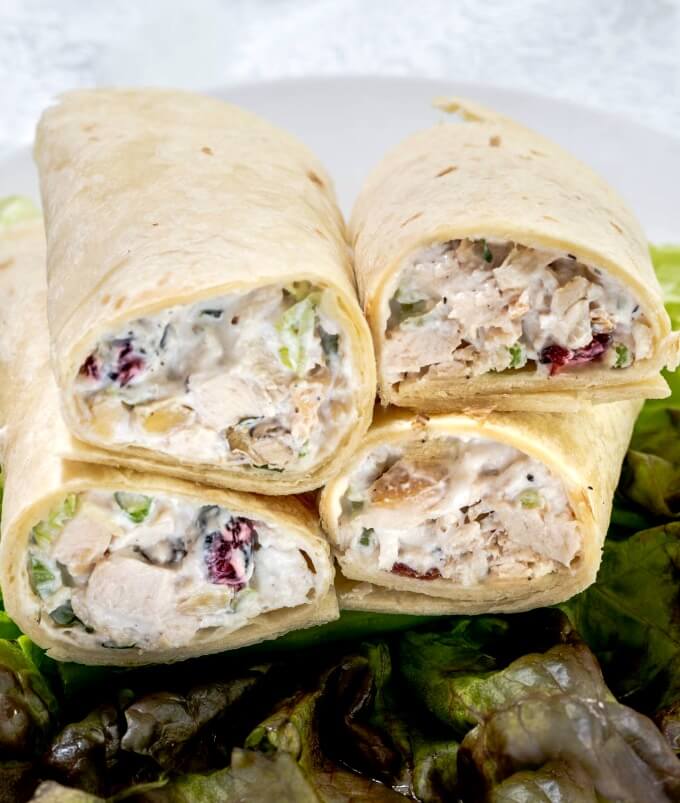 What should I serve with chicken salad?
I would serve a very minimal side, a simple dessert or just a cool beverage. Here are a few ideas:
---
---
Don't forget to pin this delicious recipe to your favorite board!
---
---
Variation ideas:
Replace thyme with dill or other herbs
Exchange Parmesan with Asiago cheese
Use Rotisserie chicken instead of cooking your own
I use Greek yogurt in this recipe. Feel free to use your favorite variety
Cut sandwich bread and cut into quarters for finger sandwiches
Serve with a pita, tortilla, bread or with pieces of celery
You may need some of my favorite gadgets to make this Chicken Salad with Yogurt:
Cutting Boards – I use these cutting boards when I want to put my cutting board into the dishwasher, such as when cutting cooked meat.

Wooden cutting boards are better on your knives. I'll use this cutting board for fresh veggies and making salads.
No fibbing, I love this recipe using leftover chicken. Here are a few more that we really like!
You'll be glad to know that "his highness" loves this Chicken Salad with Greek Yogurt recipe.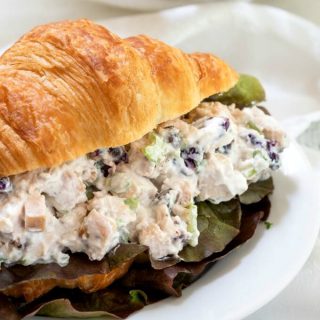 Chicken Salad with Yogurt
Chicken Salad with Yogurt makes a fresh delicious sandwich or low carb lettuce wrap. You'll never miss the high-fat mayonnaise version and using leftover chicken makes it a quick meal too.
Ingredients
2

cups

diced chicken

I used leftover grilled chicken

1/4

cup

celery

thinly sliced

1/4

cup

Craisins

1

green onion

sliced thinly

1/4

cup

walnuts

chopped

1

cup

Greek yogurt

I used 2% but any is fine

1/4

cup

Parmesan cheese

grated

1

tsp

lemon juice

1

tsp

thyme

I used dried but fresh is great too

1/8

tsp

garlic powder

1/8

tsp

kosher salt

1/8

tsp

ground black pepper
Instructions
In a large bowl mix the chicken, celery, craisins, green onion, and walnuts together.

In a separate bowl mix the greek yogurt, Parmesan cheese, lemon juice, thyme, garlic powder, salt, and pepper together.

Combine the ingredients of the two bowls together.

Store covered in the refrigerator.
Notes
This salad takes on flavor as it sits so it's a great dish to make ahead.
Note: Calories don't include bread or tortillas.
Nutrition
Calories:
166
kcal
Carbohydrates:
7
g
Protein:
13
g
Fat:
10
g
Saturated Fat:
3
g
Cholesterol:
33
mg
Sodium:
158
mg
Potassium:
151
mg
Fiber:
1
g
Sugar:
5
g
Vitamin A:
125
IU
Vitamin C:
1.5
mg
Calcium:
97
mg
Iron:
0.5
mg
Nutritional Disclaimer
This recipe was calculated using the exact brands and measurements I used to make this recipe. If you are following a strict diet please note changing anything will cause the nutritional info to change. My calculations are intended as a guide only.
What is your favorite salad recipe? I hope you'll give this easy Chicken Salad with Greek Yogurt a try and let me know what you think. If you make changes, please share! Our community loves ideas and I love your inspiration!
This Greek Yogurt Chicken Salad is a light meal. Here are a couple more recipes that will keep it light!