Easy Chicken Marsala recipe combines golden pan-fried chicken breasts with a rich marsala wine and mushroom sauce to make a creamy dish that is quick enough to make on a weeknight and fancy enough to serve to guests.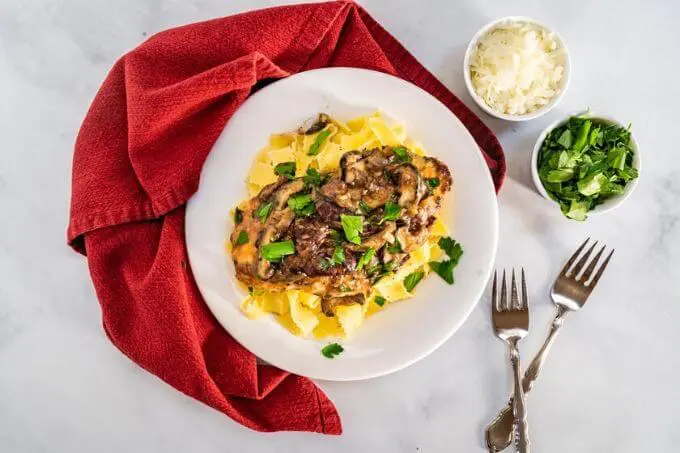 I love an easy recipe that tastes decadent like this Chicken Marsala recipe with mushrooms. The thick rich sauce coats the chicken perfectly and guarantees every bite is flavorful.
I'm always looking for different recipes that use chicken because it's easy to prepare, delicious, and I've always got it in my freezer.
I'm loving this Easy Chicken Marsala because it's simple enough to make on a weeknight but it would be great for guests and Sunday dinner too.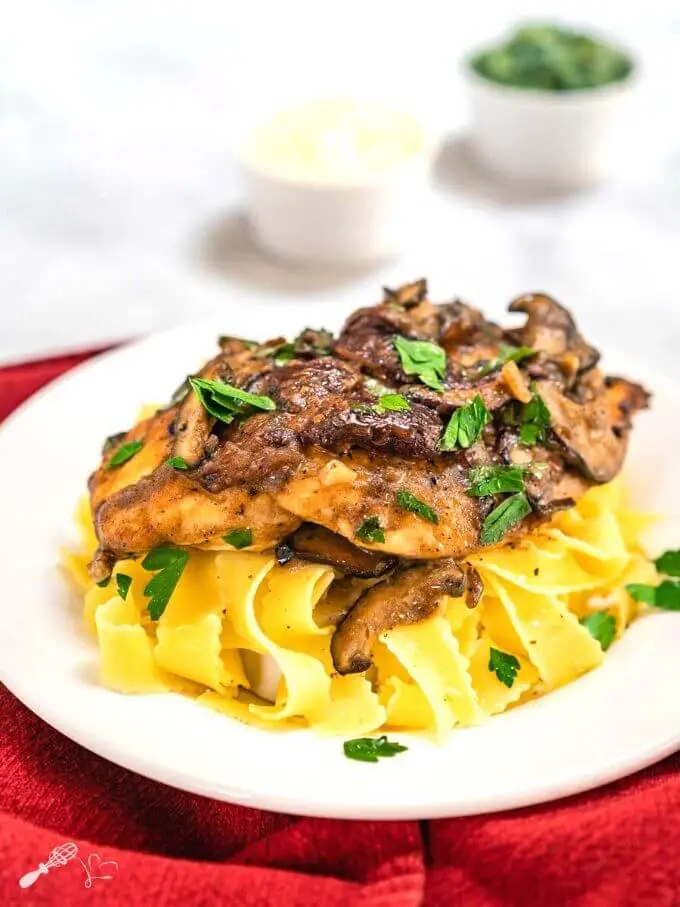 This recipe comes from my dear friend Angela, who is the creative mastermind behind the food blog LeMoine Family Kitchen.
Let me tell you a little bit about Angela. Angela has Italian roots and hails from Jersey. She married her high school sweetheart and has two active boys. I really don't know how she has time to blog let alone cook!
Like me, she grew up in the middle of the kitchen and is passionate about her family. We both love sharing family recipes and creating new ones too.
There are a couple of methods to my culinary madness in making this recipe you see.
Today I'm celebrating our annual Freaky Friday 2020 Winter Edition.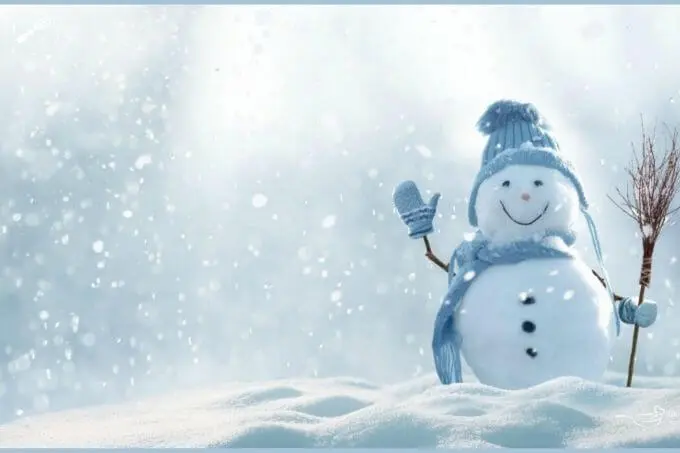 The Freaky Friday blog hop, organized by Michaela who runs An Affair From the Heart, is a group of bloggers that are secretly assigned each others' blogs from which we choose a recipe appropriate for the theme. It's so much fun and there are so many quality recipes.
The theme for this event is very appropriate. The recipe must fit with a winter theme, and the blog that I was secretly assigned was LeMoine Family Kitchen.
I rubbed my fingers together thinking that this was going to be a piece of cake. I love Angela's recipes. Well, choosing ONE recipe was no easy task!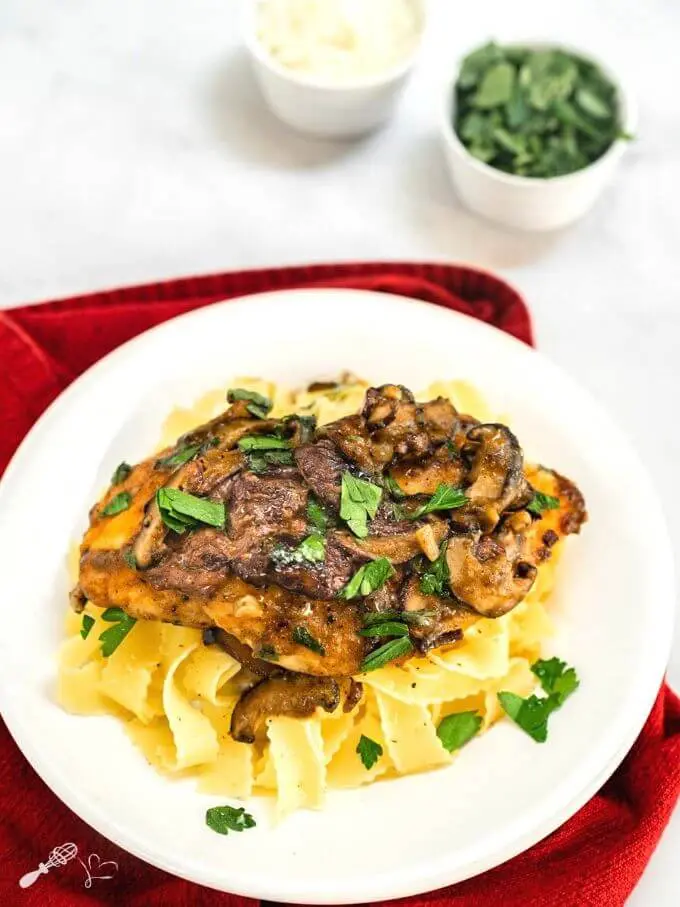 Being a baker, I immediately dove into her desserts and was drooling over her Orange Pecan Biscotti and her Mixed Berry Muffins. O.k., it wasn't going to be that easy.
Over the holiday we ate so many sweets so I decided to dive into her savory dishes.
When I think of winter, I think of warm comfort food. Her Easy Vegetable Orzo soup looked amazing but I ultimately landed on her Classic Chicken Marsala recipe and thought this was the perfect recipe.
Her Chicken Marsala recipe is heaped with mushrooms and I liked that she skipped the cream. Regardless, this recipe is just as luscious as the Creamiest Chicken Marsala dishes that I've tried.
Frequently Asked Questions
What is Marsala wine?
Marsala wine is a fortified wine made in Sicily. It can be labeled as sweet or dry. Use dry Marsala wine for this recipe.
It's also good to know that Marsala wine doesn't go bad so if you've had a bottle in the cupboard for a while, it may have lost a little of its flavor but it's still good to use.
Another thing to note is like any wine it contains alcohol. Even wine that is "cooked off" will still contain about 5% alcohol. It's your call if you choose to serve it but I just wanted to make sure you knew this.
How to make Easy Chicken Marsala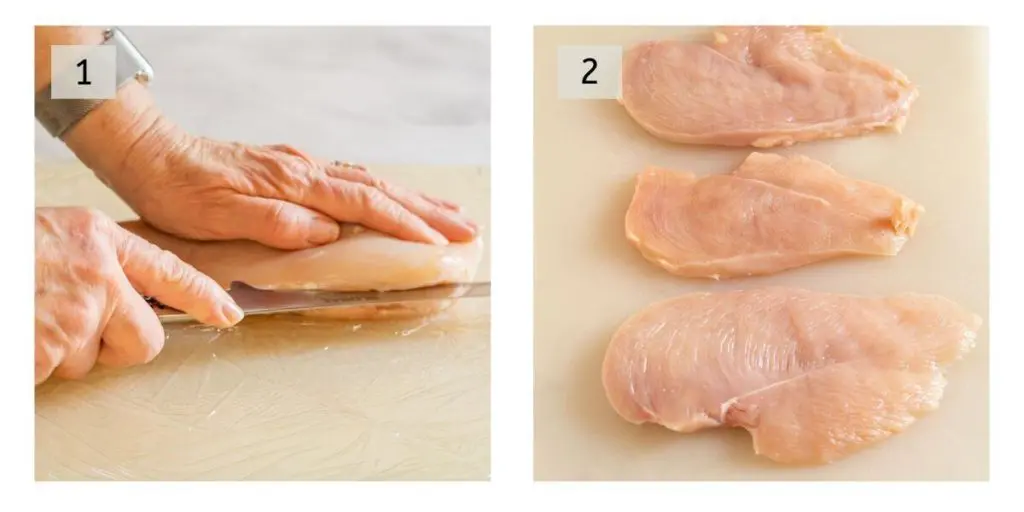 1. Depending on the thickness of the boneless chicken breasts, slice through the meat 2 to 3 times.
2. I sliced through it three times as Angela instructs so my chicken was thin. You can slice through it twice and pound it thin with a meat mallet but you will have large cutlets.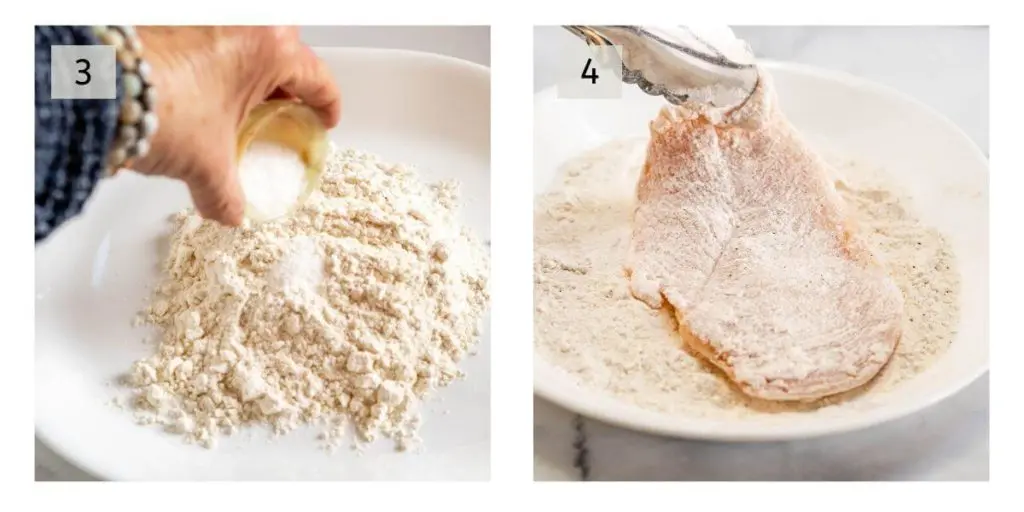 3. Season the flour with salt, pepper, and garlic powder. Reserve 1/2 cup for later on.
4. Dredge the chicken cutlets through the flour.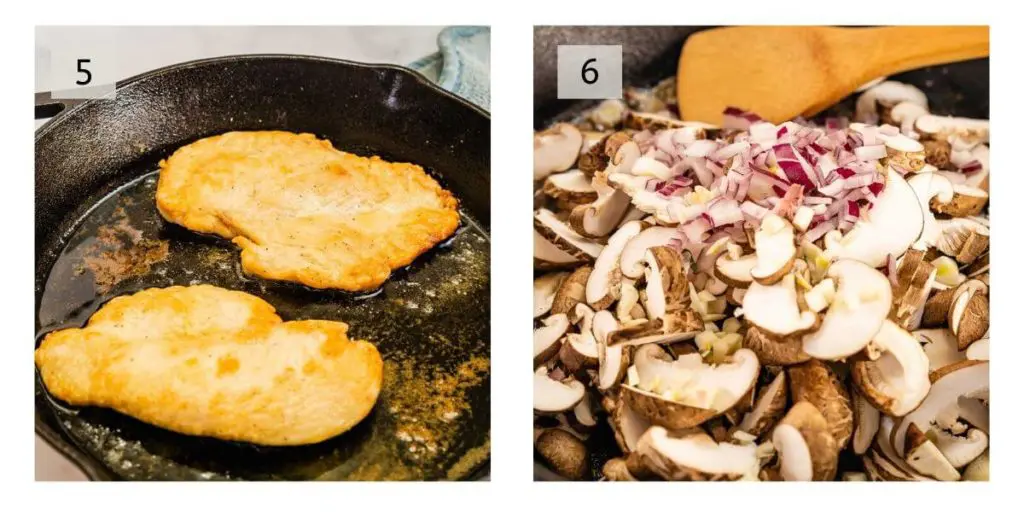 5. Add olive oil to your skillet and when it's hot, brown your chicken over medium-high heat. Remove the chicken from the pan.
6. Add 3 tablespoons of butter to the drippings and add the mushrooms and onions to the pan and let them brown and the liquid cook off. Add the garlic and cook for just another minute or two and remove from the pan.
7. Add the reserved flour and allow it to cook for just a couple of minutes and then add the Marsala wine. Reduce the wine by half and add the chicken broth. Let it simmer for about 10 minutes. Salt and pepper it to your liking.
8. Add the chicken and mushrooms back to the skillet and simmer for 5 minutes.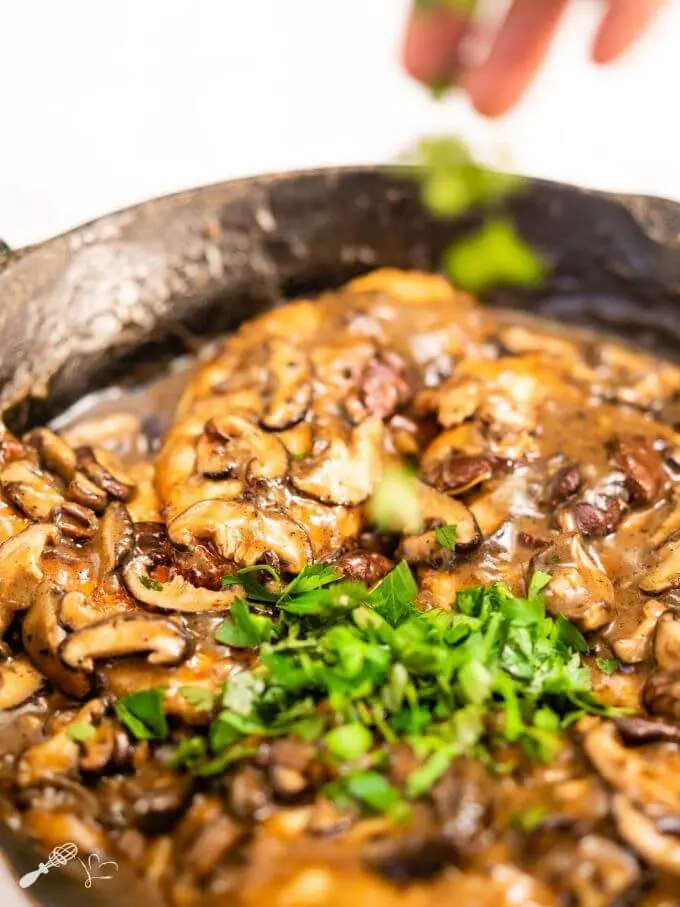 Finish with fresh parsley and 4 tablespoons of butter.
What to serve with Chicken Marsala
You can serve Chicken Marsala over noodles such as in this recipe, polenta, or mashed potatoes. A side of Brussels Sprouts, my Favorite Green Salad, and don't forget the crusty 6-Ingredient Italian Bread would definitely round out this meal. Now you've got a feast!
We just loved this Easy Chicken Marsala Recipe. It tasted like something you'd get at an Italian restaurant.
Helpful products you may need
Large Cast Iron Skillet – I use cast-iron skillets whenever I can. There isn't anything like them when it comes to browning food. They last forever, and they're our favorite pan for camping too.
Fish Spatula – This is one of our very favorite kitchen tools. The length allows you to turn your food without breaking it.
If you like this recipe, we would appreciate your comment and a 5-star ⭐️⭐️⭐️⭐️⭐️ review!
More chicken inspired recipes!
I had so much fun with this Freaky Friday Recipe Blog Hop and want to thank Angela for an amazing recipe. Keep scrolling to see what everyone else participating has made!
Love it? Pin it!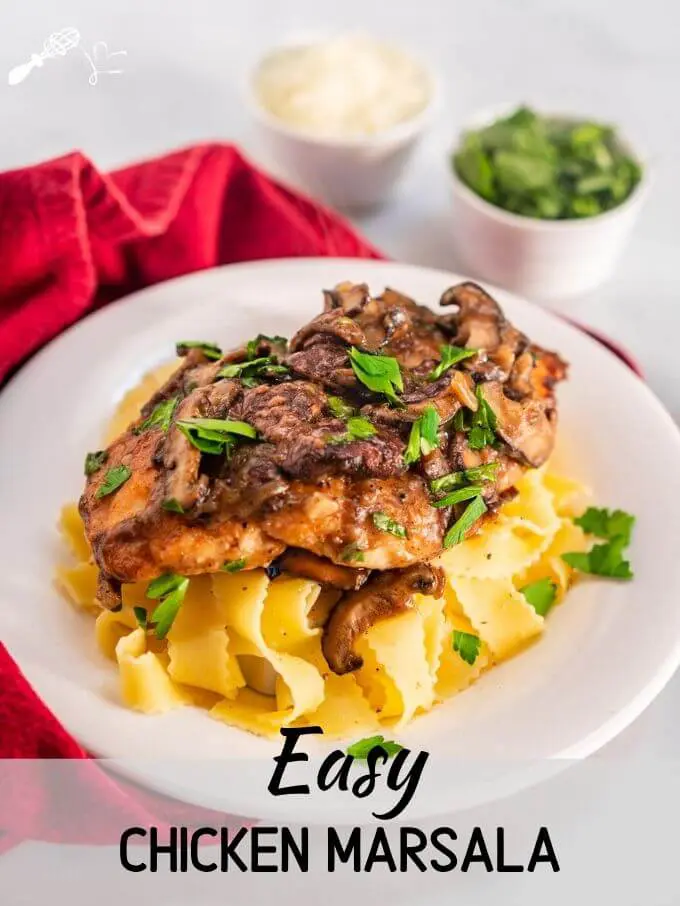 Take a look at all of our 2020 Freaky Friday Winter Edition Recipes: