Honey Whole Grain Bread makes a deliciously soft and tender loaf with a sweet nutty flavor. This organic bread recipe is easy to make and one you'll feel good about feeding to your family.
This post was updated from 2017 to improve our reader's experience. No changes were made to the recipe.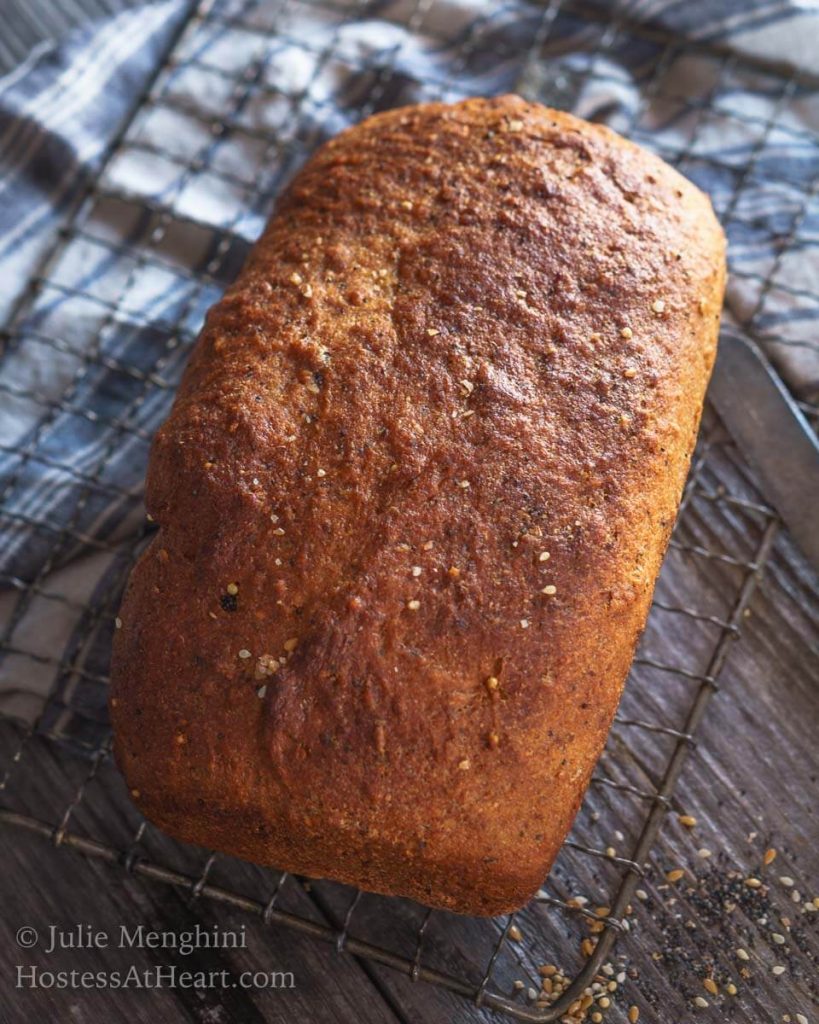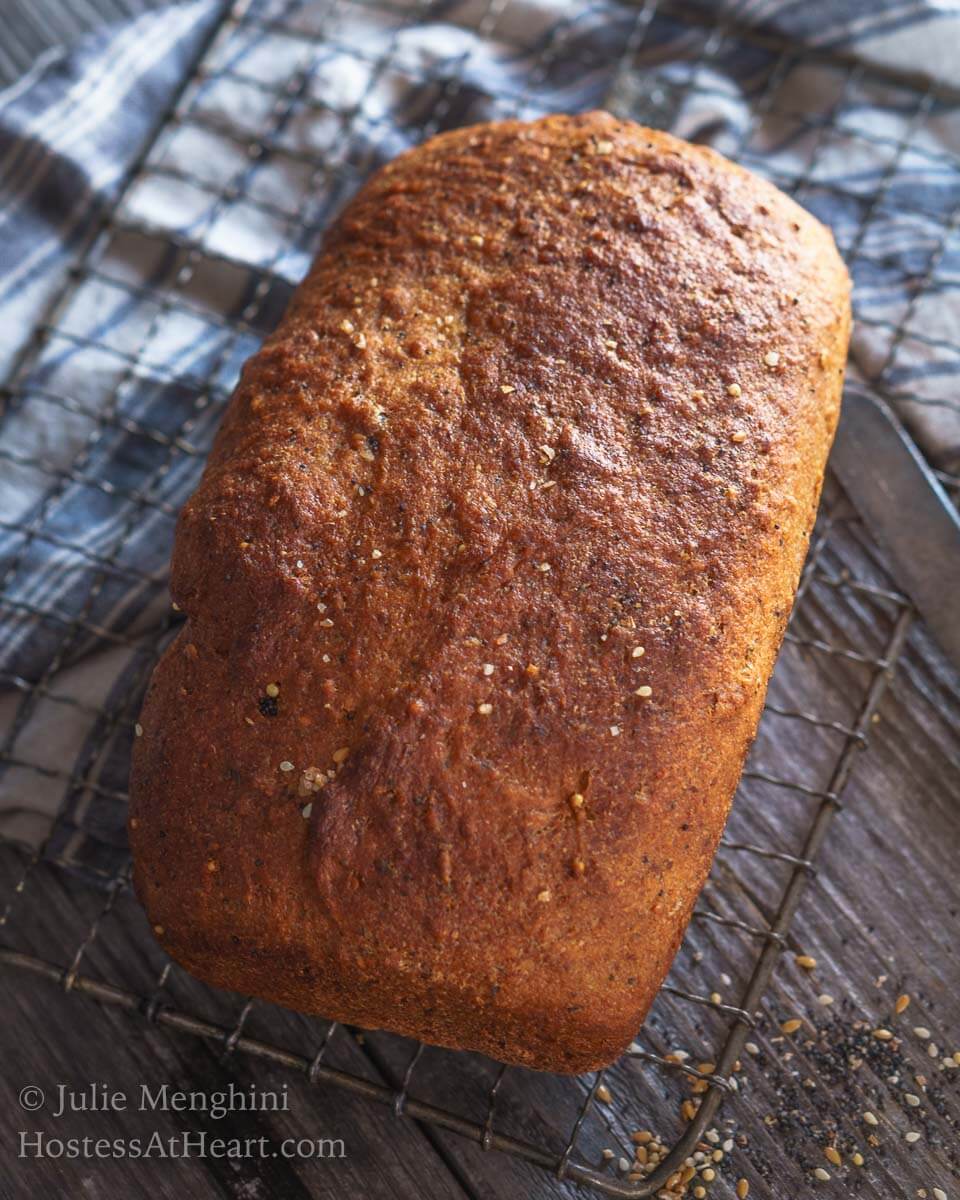 Whether you just want to eat a little better or want delicious soft and tender bread, you're going to love this Honey Whole Grain Bread Recipe!
Baking a delicious loaf of Whole Grain Bread is just as easy as baking a loaf of any other type of yeast bread. The difference is what you are looking for.
We find that a loaf of Honey Whole Wheat bread is over the top in flavor and texture.
This organic bread recipe will have you baking bread that your family will love and that you'll feel good about serving.
I first made this recipe as a part of a bread baking group. The theme was "Healthy Bread" from our host, Pavani, the creator behind Cook's Hideout.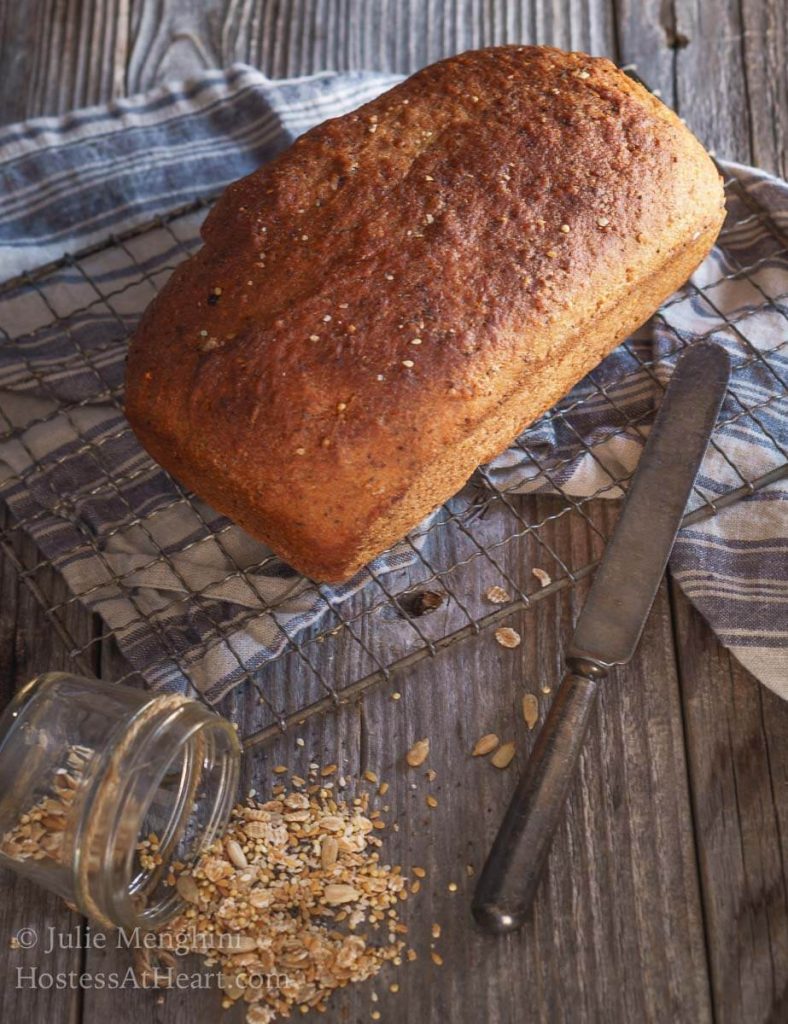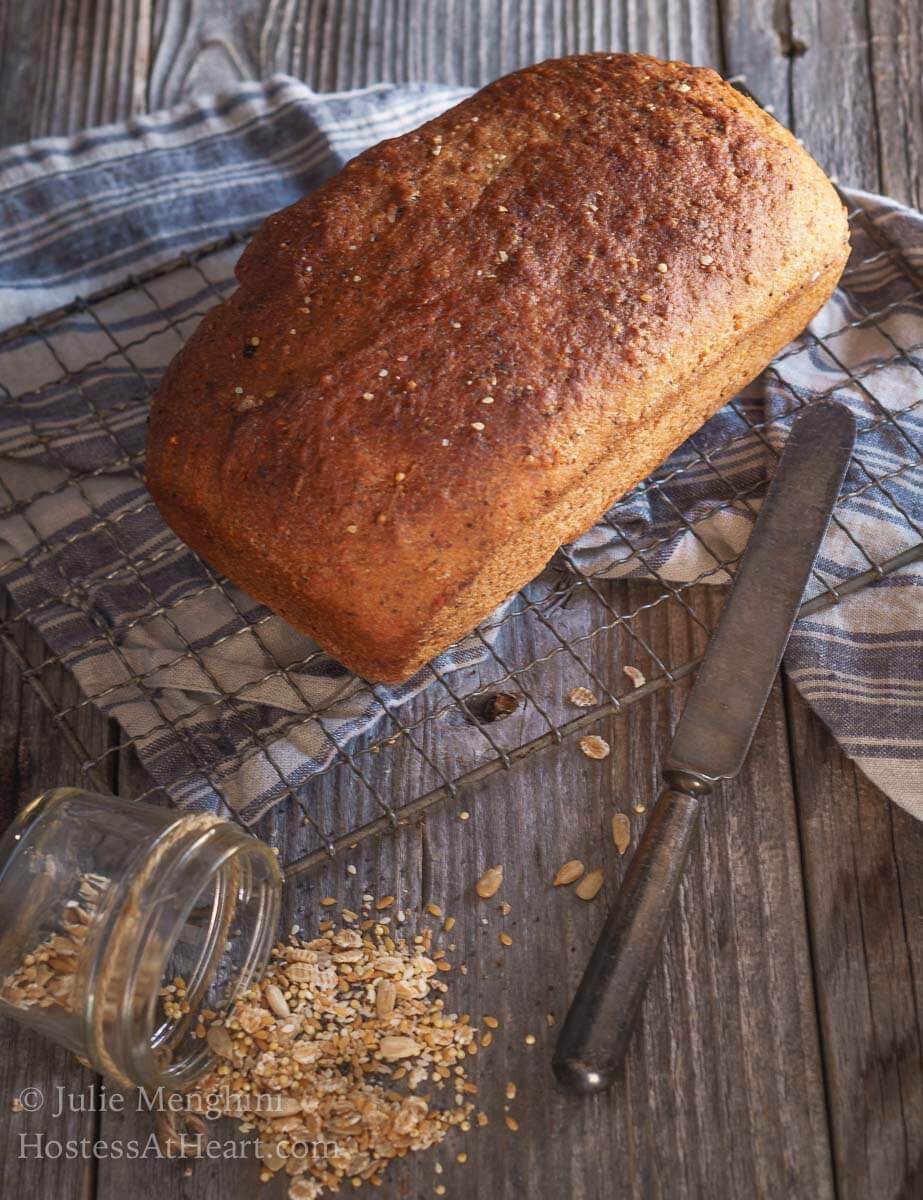 If you put two loaves of bread in front of us, We're going for the one loaded with as many mixins as possible.
By mixins, we mean nuts, spices, fruits, seeds, the list goes on.
Some people think that bread that's good for you tastes like cardboard. Not this one, it's a slightly sweet nutty loaf that uses only whole grains and no dairy or refined sugar.
Definitions
Bread and what they call it can be darned right confusing. Just because they call it "whole grain", doesn't necessarily mean it's 100% whole grain. What?
What is whole grain? Whole grain bread is made up of grains that are fully intact meaning that they haven't undergone processes that remove their bran and germ, not to mention nutritional benefits.
Wheat flour isn't always whole grain. You need to look for the word "whole".
Is whole grain bread healthy? In addition to tasting good, there are benefits to eating whole grains. Whole grains provide more vitamins, minerals, and fiber than refined.
Spoiler alert, overeating anything isn't good for you and can add pounds, too.
Organically Grown is another confusing term. The USDA states organic bread must have ingredients that are grown without the use of pesticides, synthetic fertilizers, sewage sludge, genetically modified organisms (GMO's), or ionizing radiation.
Geez, I'll have a side of sewage sludge with my bread, please. Thank goodness it's easier to get organic ingredients!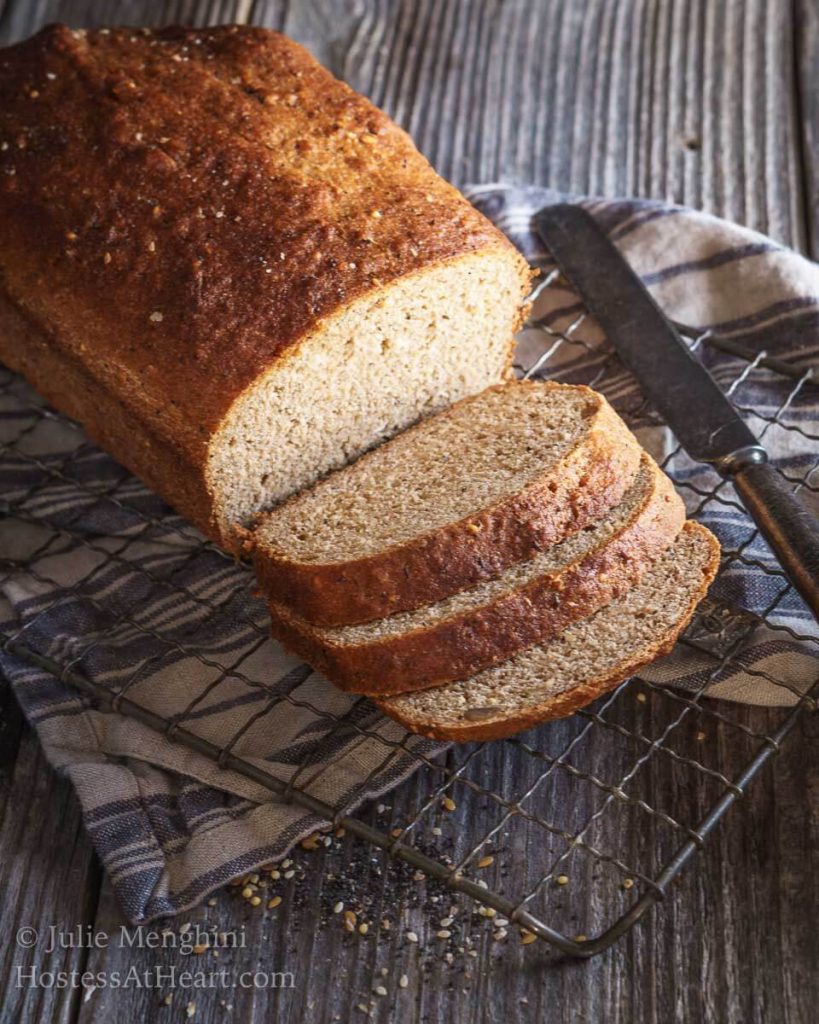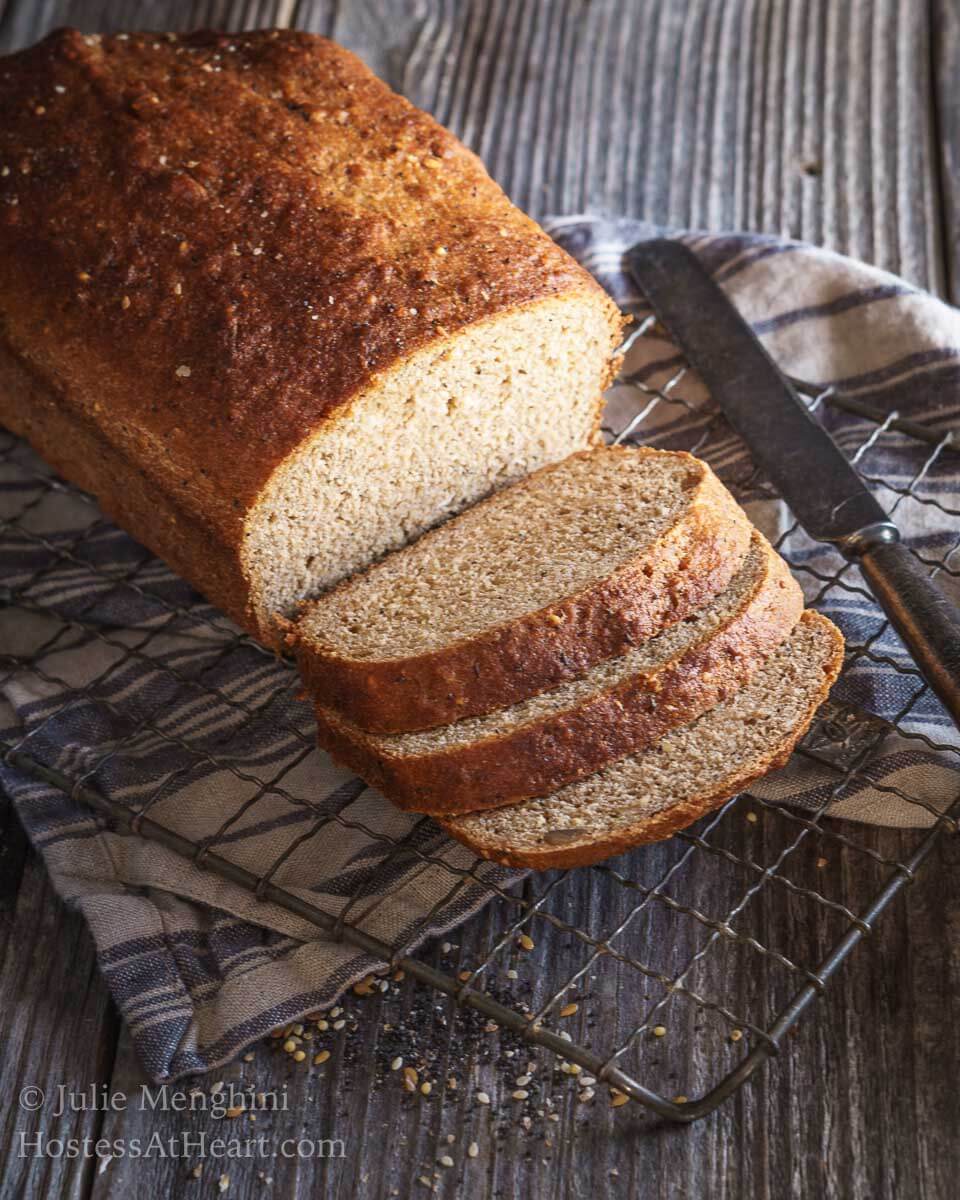 Honey Whole Grain Bread Ingredients
Spelt Flour – Explained below, spelt flour can be substituted with whole wheat flour.
Whole Wheat Flour – We used organic WHOLE wheat flour.
Honey – We prefer locally grown honey. Use what you have available or prefer.
Instant Yeast – Also referred to as rapid rise or quick rise.
Vegetable oil – Any neutral oil will work such as canola, grapeseed, or olive oil.
Salt – We prefer using fine sea salt when making bread because we like the way it dissolves.

We add it to the liquid ingredients instead of the dry ingredients. The larger grain sea salts tended to sink to the bottom of our dry ingredients instead of blending with them.

Whole Grain Blend. This is our own blend. You can use your own mix of grains or even leave them out altogether.
Hemp Hearts – We took the opportunity to add hemp hearts that have great nutritional value. This is optional.
Water – In this recipe any water that you would drink will work.
What is Spelt
Spelt is an ancient whole grain in the wheat family but is not wheat!
It lacks the gluten that wheat has so it's said to be tolerated by gluten-sensitive people. It's not recommended for people with celiac disease.
Spelt has a nutty flavor that we love. However, because spelt lacks the structure of other flours it's best to mix spelt flour with another flour, such as wheat or all-purpose flour at a 50/50 ratio.
We found out the hard way when we initially made our Spelt Sandwich Bread.
Other spelt recipes you may enjoy
It's best to store Organic Honey Whole Grain Bread at room temperature for 2 to 3 days.
Bread may be frozen in an airtight container for up to 3 months.
Whole Grain Wheat recipes
Like we said, you can replace the spelt flour in this Honey Whole Grain Bread recipe for a delicious whole grain wheat flour. Here are some of our favorite wheat flour bread recipes!
Pin it!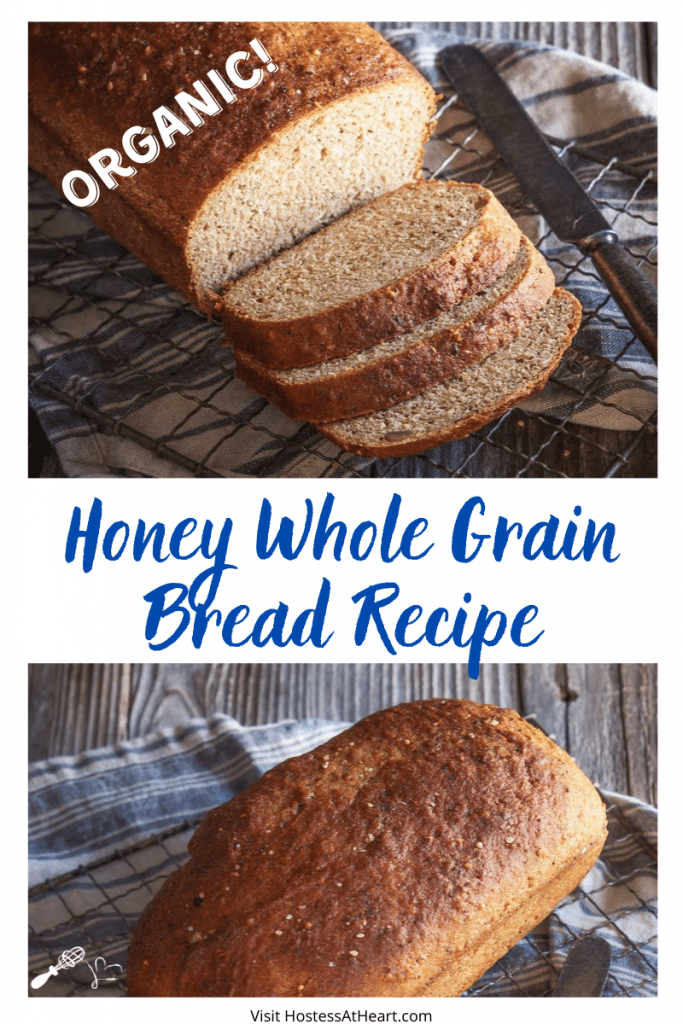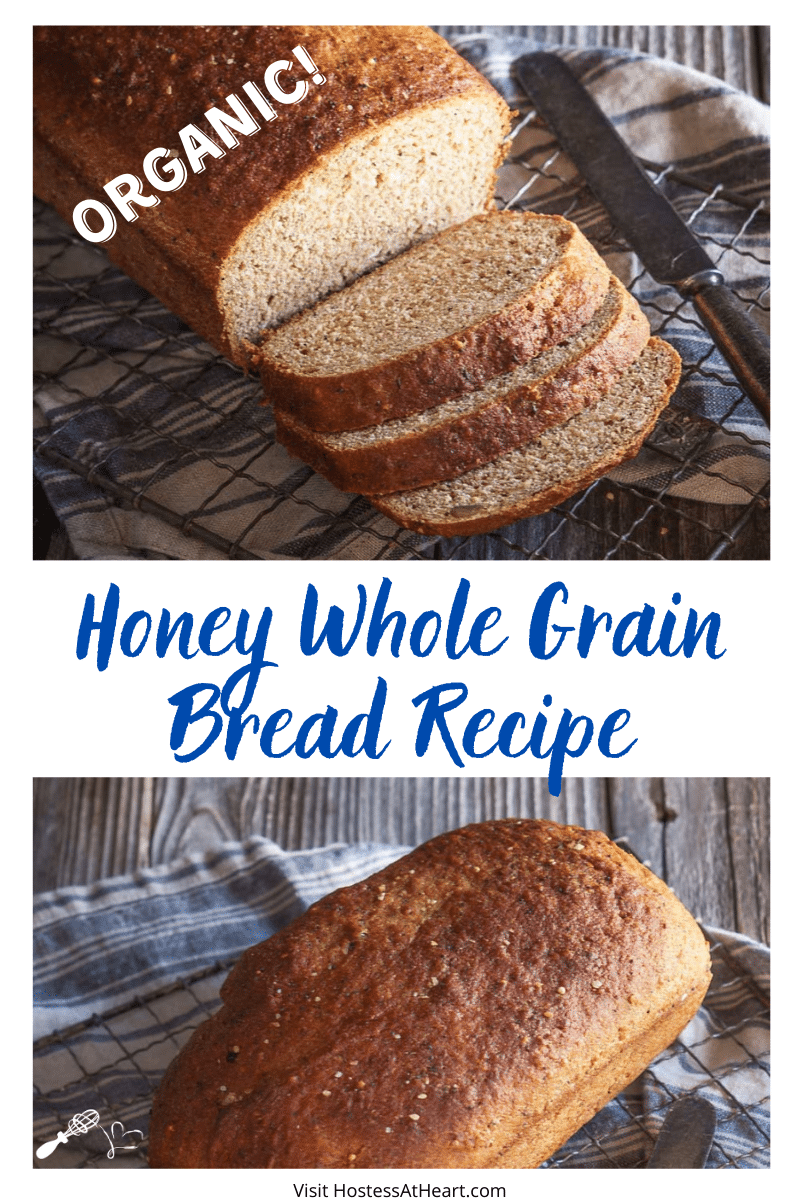 Supplies you may need
Our most popular bread recipes
Here are the Healthy Bread that our fellow #BreadBakers have baked!