This Whole Grain Bread Recipe makes a deliciously soft and tender loaf with a sweet nutty flavor. It makes the Best Whole Grain Bread and is easy to pull off. An organic bread recipe, it's one you'll feel good about feeding to your family.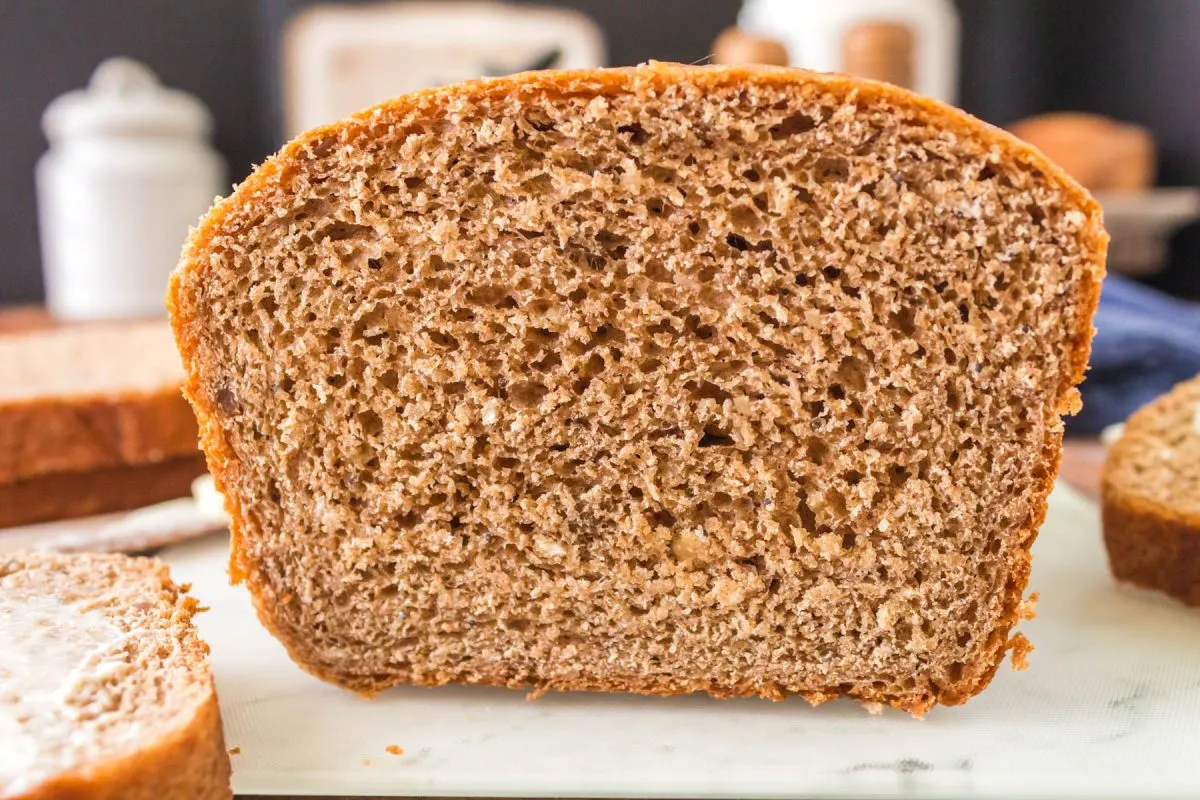 Whether you just want to eat a little better or want delicious soft and tender bread, you're going to love this Honey Whole Grain Bread Recipe!
Why You'll Love This Organic Bread Recipe
A simple recipe. This is an organic bread that's easy enough to make for your everyday bread.
Better for you than white bread. You will be baking bread that your family will love and that you'll feel good about serving. Some people think that bread that's good for you tastes like cardboard. Not this one, it's a slightly sweet nutty loaf that uses only whole grains and no dairy or added refined sugar.
Easy variations. Baking a delicious loaf of Whole Grain Bread is just as easy as baking a loaf of any other type of yeast bread. The difference is what you are looking for. We find that a loaf of Honey Whole Wheat bread is over the top in flavor and texture.
If you put two loaves of bread in front of us, I'm going for the one loaded with as many additions as possible. I love adding nuts, spices, fruits, seeds, and the list goes on. Check out our huge list of variations in this post that you can use to customize the loaf differently every time you make it.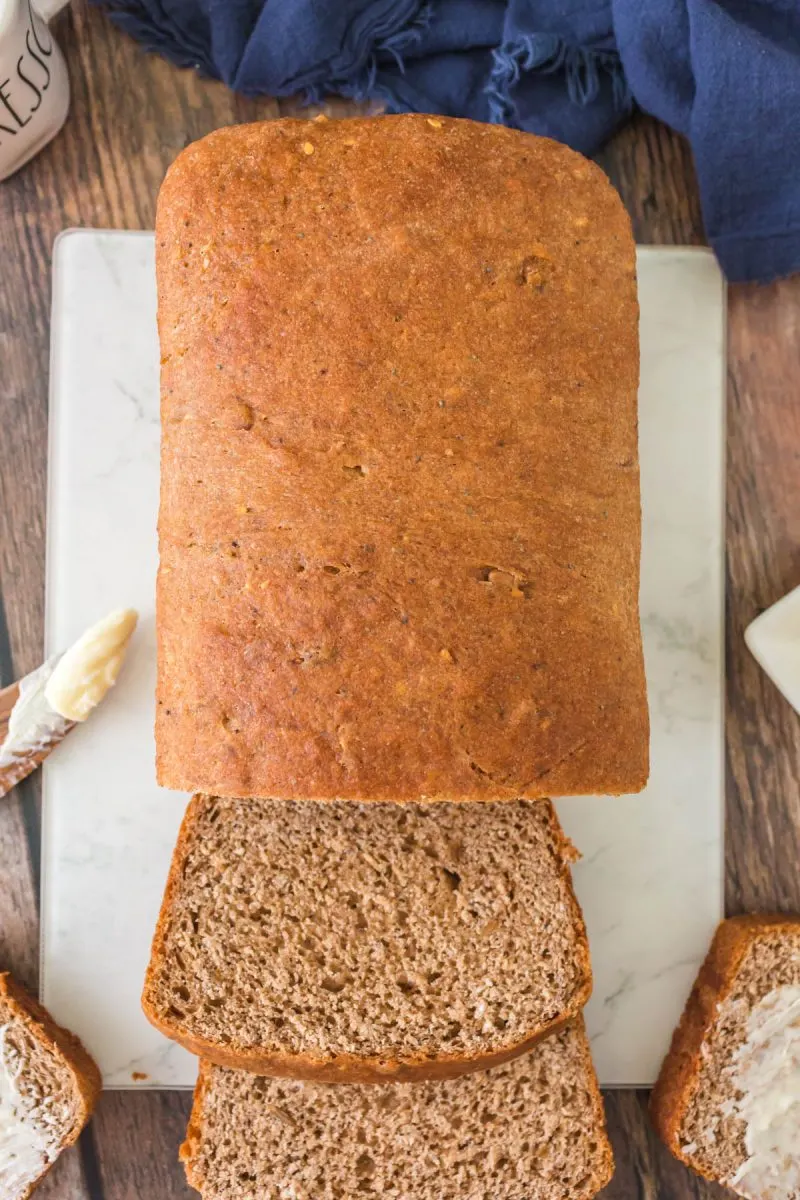 Equipment Needed To Make Multigrain Bread Recipe
Hostess At Heart participates in affiliate programs. As an Amazon Associate, I earn a commission from qualifying purchases. Please refer to my disclosure page for more information about these affiliate programs.
Definitions for this Whole Grain Bread Recipe
Bread and what they call it can be darned right confusing. Just because they call it "whole grain", doesn't necessarily mean it's 100% whole grain. What?
What is whole-grain? Whole grain bread is made up of grains that are fully intact meaning that they haven't undergone processes that remove their bran and germ, not to mention nutritional benefits.
Wheat flour isn't always whole grain. You need to look for the word "whole". Flour that has had the bran and germ processed is referred to as "refined flour" like all-purpose flour or flour that isn't listed as whole grain.
Is whole-grain bread healthy? In addition to tasting good, there are benefits to eating whole grains. Whole grains provide more vitamins, minerals, and higher fiber than refined ones which is important for your digestive health.
Organically Grown is another confusing term. The USDA states organic bread must contain ingredients that are grown without the use of pesticides, synthetic fertilizers, sewage sludge, genetically modified organisms (GMOs), or ionizing radiation.
The Whole Grains Council is another great source of information when it comes to clarifying these terms.
Whole Grain Bread Recipe Ingredients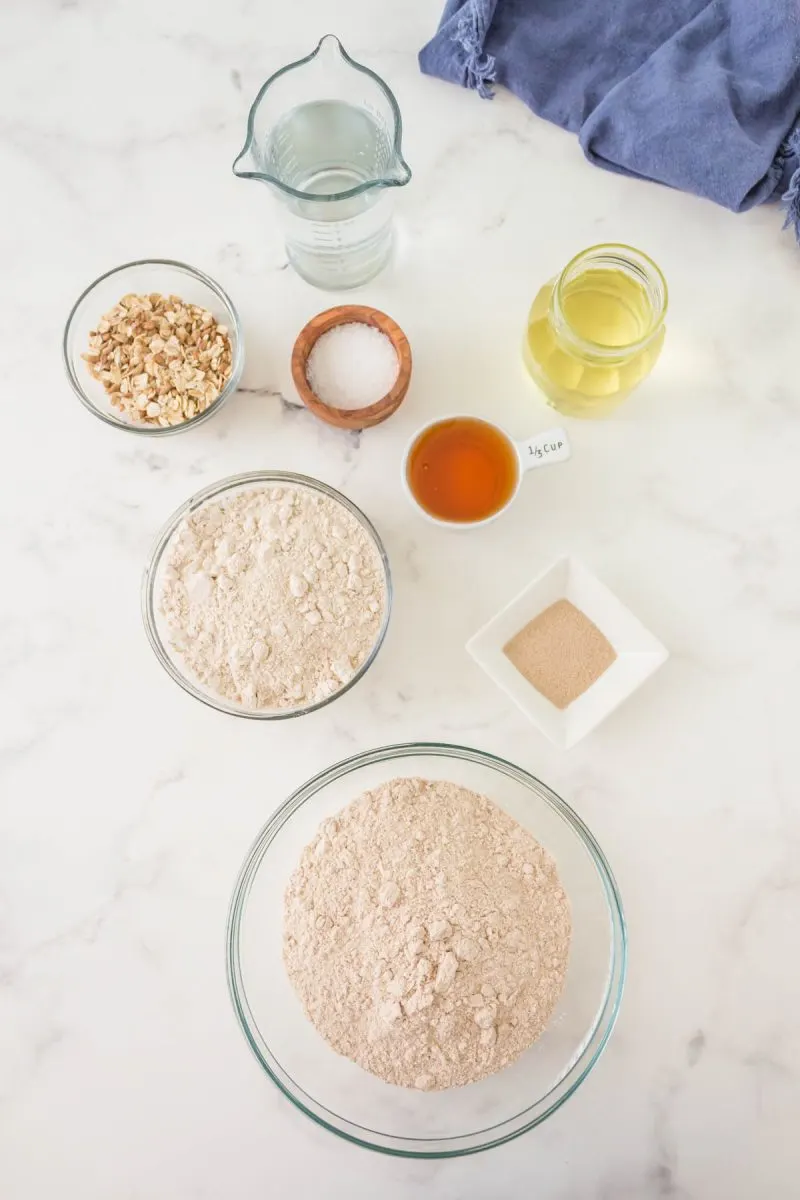 Spelt Flour – Explained below, spelt flour can be substituted with whole wheat flour.
Whole Wheat Flour – We used organic WHOLE wheat flour.
Honey – We prefer locally grown honey. Use what you have available or prefer.
Instant Yeast – Also referred to as rapid rise or quick rise.
Vegetable oil – Any neutral oil will work such as canola, grapeseed, or olive oil.
Salt – We prefer using fine sea salt when making bread because we like the way it dissolves.

We add it to the liquid ingredients instead of the dry ingredients. The larger grain sea salts tended to sink to the bottom of our dry ingredients instead of blending with them.

Whole Grain Blend. This is our own blend. You can use your own mix of grains or even leave them out altogether.
Hemp Hearts – We took the opportunity to add hemp hearts that have great nutritional value. This is optional.
Water – In this recipe, any water that you would drink will work.
What is Spelt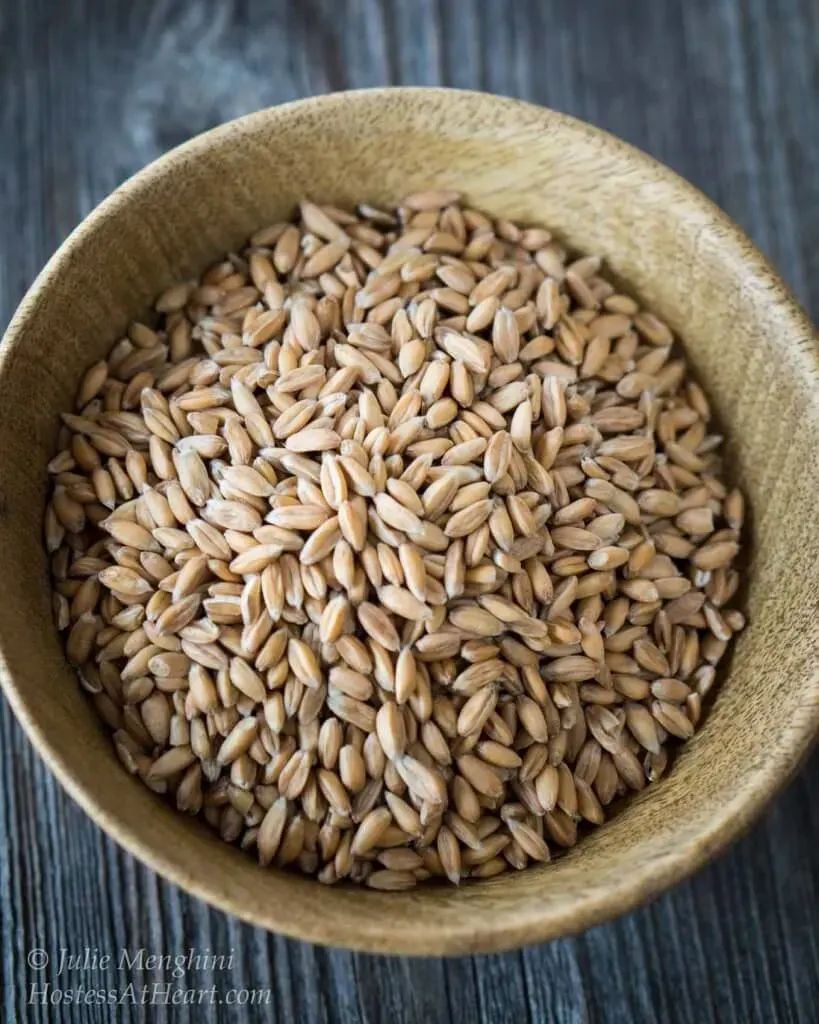 Spelt is an ancient whole grain in the wheat family but is not wheat!
It lacks the gluten that wheat has so it's said to be tolerated by gluten-sensitive people. It's not recommended for people with celiac disease.
Spelt has a nutty flavor that we love. However, because spelt lacks the structure of other flours it's best to mix spelt flour with another flour, such as wheat or all-purpose flour at a 50/50 ratio.
We found out the hard way when we initially made our Spelt Sandwich Bread.
Please note, that the printable recipe card has ingredient quantities, complete instructions, and nutritional information. The following is a quick overview of the recipe.
How to Make the Best Whole Grain Bread
Step One: Proof the yeast.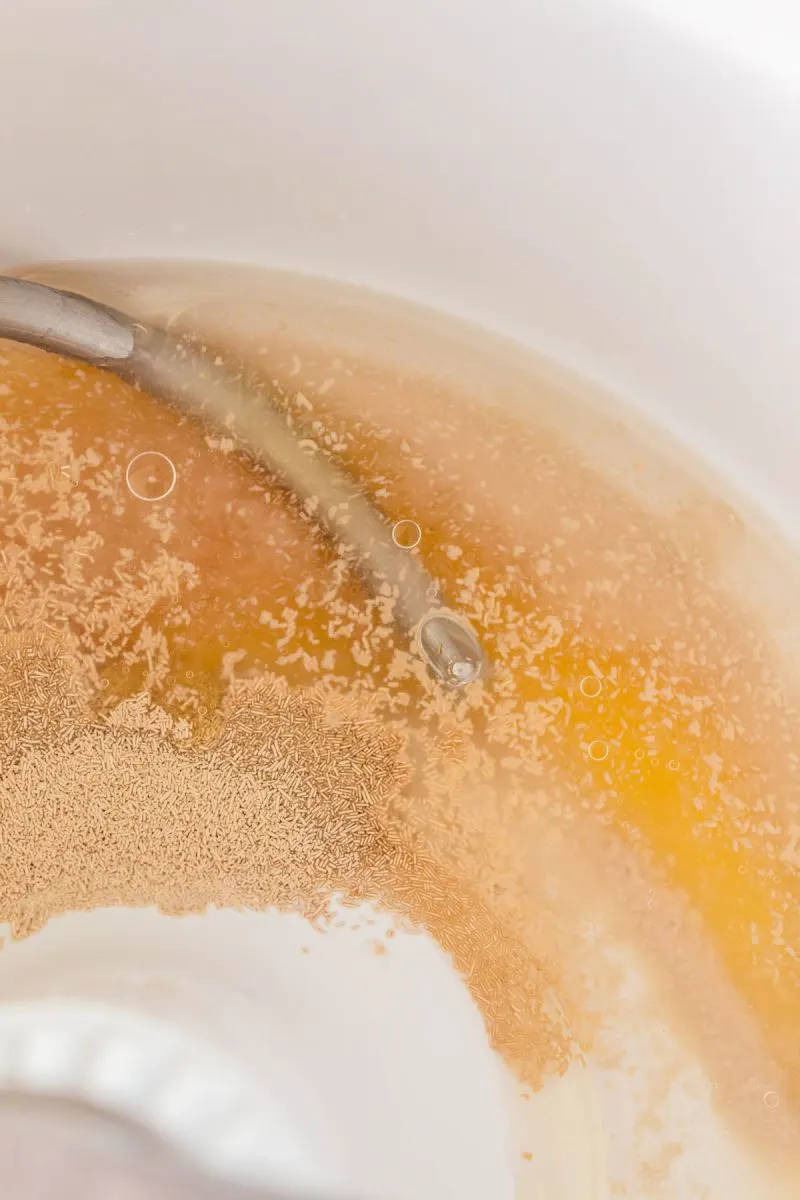 Combine the honey, vegetable oil, yeast and warm water. Let this mixture sit while you combine dry ingredients to make sure the yeast is actually working.
Step Two: Combine the dry ingredients.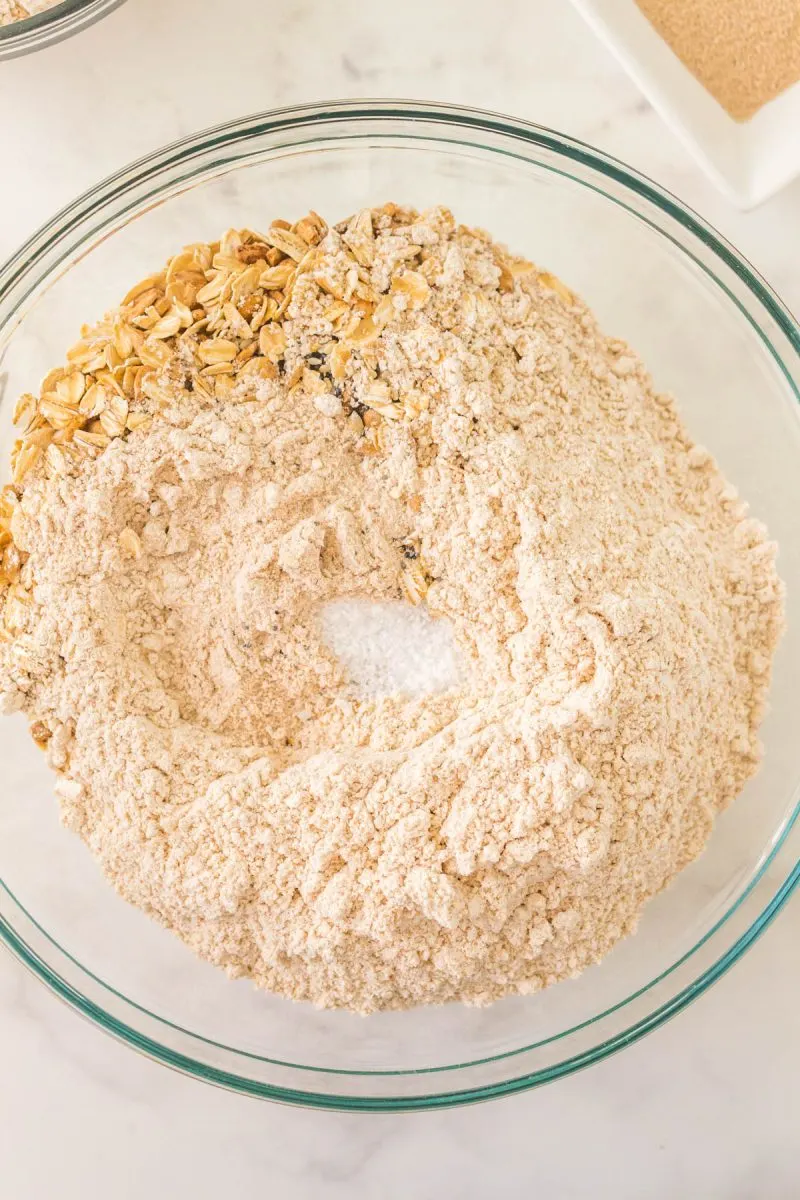 In a large bowl combine whole wheat flour, some of the spelt flour, the salt, organic whole grain bread blend and hemp hearts.
Step Three: Mix the wet ingredients and combine.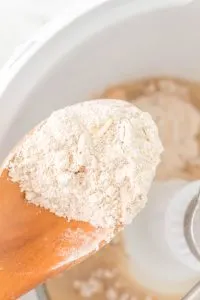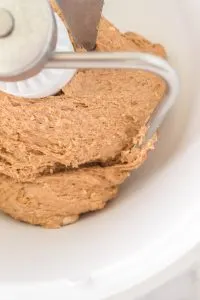 Mix the wet ingredients together and then gradually add the dry ingredients. Add spelt as needed. Continue to mix it for four minutes. Knead the dough either using the mixer or by hand only until smooth.
Step Four: Rise the Whole Grain Bread dough.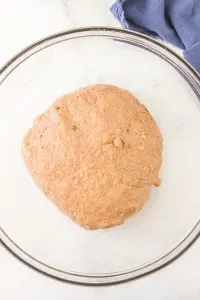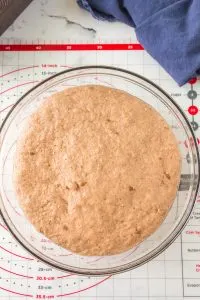 Oil the dough, cover it and let it rise until doubled.
Step Five: Form the Loaf.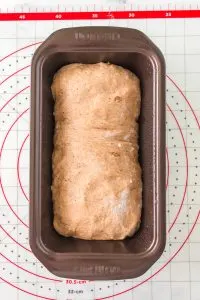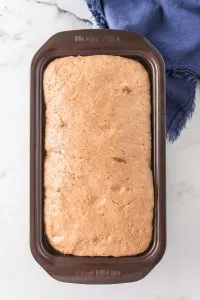 Remove the dough from the bowl. On a lightly floured surface, shape it into a sandwich loaf and let it rise in a bread pan for another hour.
Step Six: Bake and cool your whole grain organic bread.
You will need to bake it for up to forty-five minutes
What to Pair with The Best Whole Grain Bread
Our honey whole grain bread makes a fantastic sandwich! It is hearty enough to hold up to several sandwich ingredients and just nutty enough to work with a variety of flavor profiles.
Why make sandwiches on store bought sandwich bread when you can make homemade bread so easily? This bread is also fantastic with soup, salad, or any meal where a loaf of bread is a welcome addition. It also works well as toast with butter, preserves, or jelly.
Substitutions – Additions – Variations
Add seeds such as sunflower seeds or pumpkin seeds.
Nuts. Walnuts or pecans would be delicious.
Herbs. Dried or fresh thyme or rosemary.
Dried fruit. Add raisins, apricots, or your favorite dried fruit to the dough.
Top the loaf with seeds or oats for another whole-grain element.
How To Reheat & Store the Best Whole Grain Bread
Best Way To Store This Organic Bread
It's best to store Organic Honey Whole Grain Bread at room temperature for 2 to 3 days.
Can I Freeze and Thaw Multigrain Bread Recipe
Bread may be frozen in an airtight container for up to 3 months. Thaw slices in the toaster. Thaw a partial or whole loaf by setting it out on the counter (still in it's container) until it reaches room temperature.
Frequently Asked Questions for this Multigrain Bread Recipe
Is this organic bread recipe whole wheat bread?
No. This recipe uses spelt and wheat flour so it is a multigrain bread. It can easily be made into whole grain wheat bread by using all whole grain wheat flour.
Which is healthier whole wheat or whole grain?
They are equally nutritious since both whole grain and whole wheat use the entire kernel.
Tips to Make the Perfect Whole Grain Bread Recipe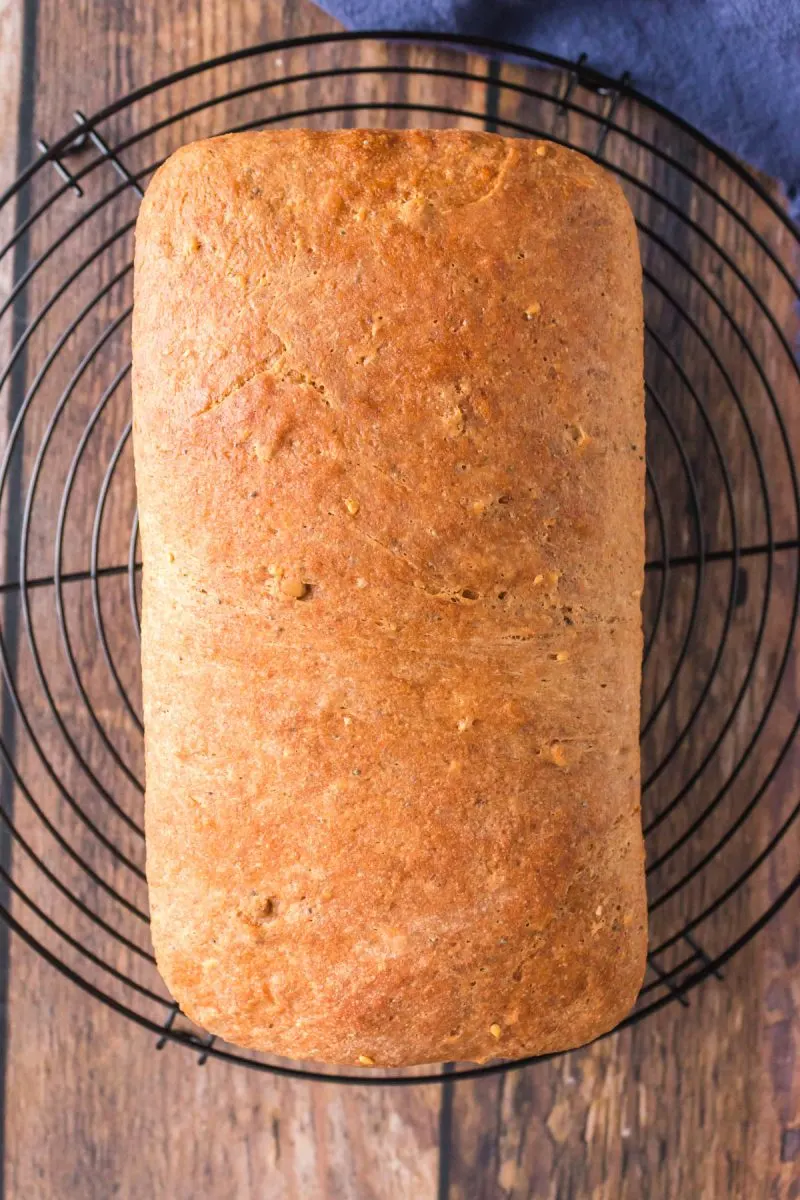 Make sure you let the bread cool completely before attempting to slice it. Otherwise, it will get smashed by the slicing process.
Do not over-knead the bread dough. This recipe does not depend on a lot of kneading to come out beautifully.
It's a very sticky whole grain bread dough, so make sure you use vegetable oil and coat the bowl, the bread dough, oil it again after shaping it to fit the pan, and oil the baking pan. You can use a very small amount of oil each time, but give it a light coating.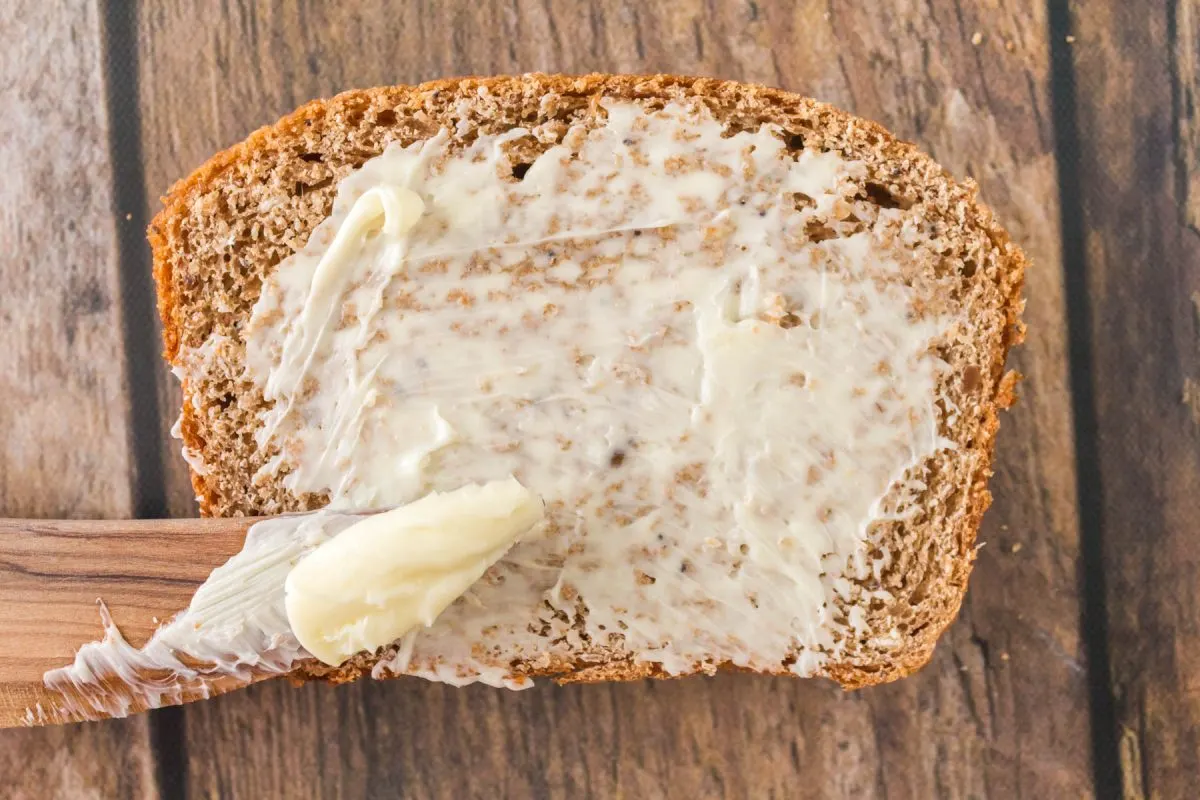 Whole Grain Wheat Recipes
As we said, you can replace the spelt flour in this Honey Whole Grain Bread recipe with delicious whole-grain wheat flour. Here are some of our favorite wheat flour bread recipes!
I hope you enjoyed this delicious recipe as much as we do. Drop me a comment below, and don't forget to give it a star rating. ⭐⭐⭐⭐⭐. Your comments and ratings help others decide if this recipe is for them too.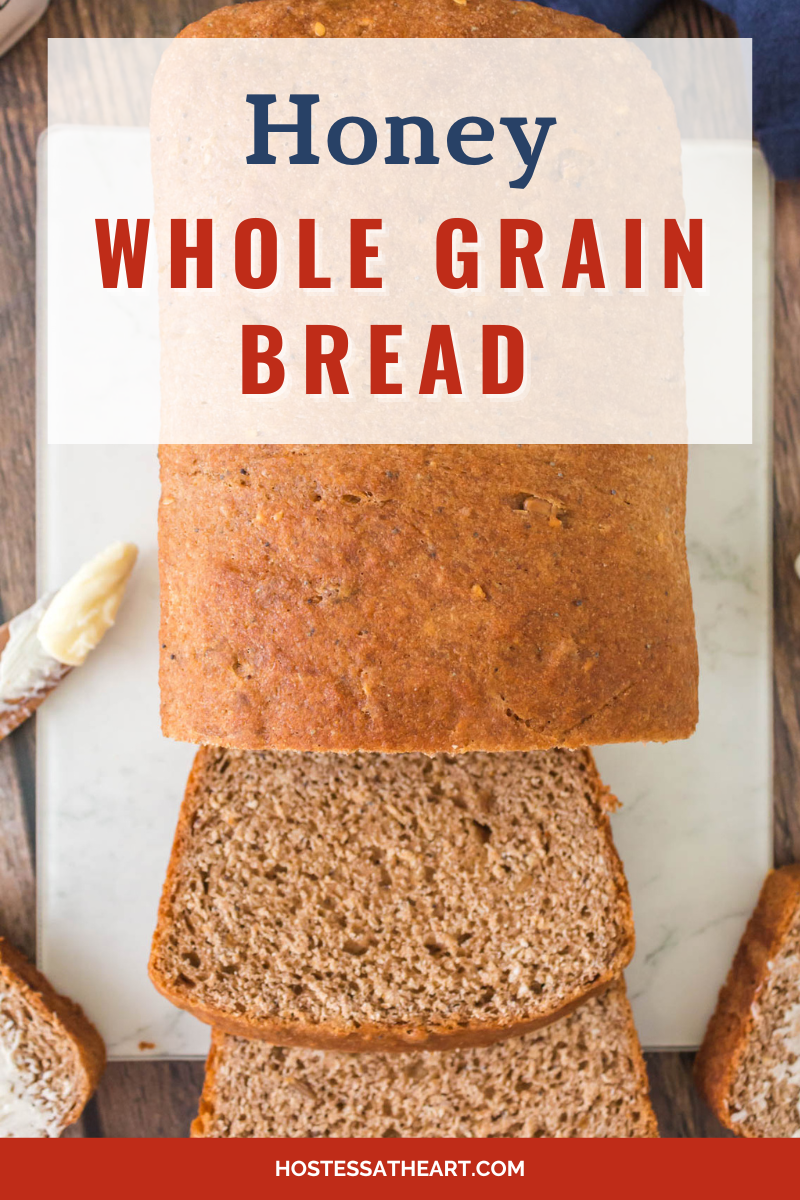 This homemade whole grain bread recipe was originally shared in 2017. Additional images and tips have been made to improve our readers' experience. No changes were made to the recipe.
I first made this recipe as a part of a bread-baking group. The theme was "Healthy Bread" from our host, Pavani, the creator behind Cook's Hideout. Here are more Healthy Bread recipes that our fellow #BreadBakers have baked!