Whole Grain Sourdough Bread is an artisan loaf you can make at home. Simple ingredients and minimal handling transform this homemade Multigrain Wheat Sourdough Bread into a nutty soft and tender loaf with a perfectly crunchy crust.
This post has been updated from 2019 to improve readers' experience. No changes were made to the recipe.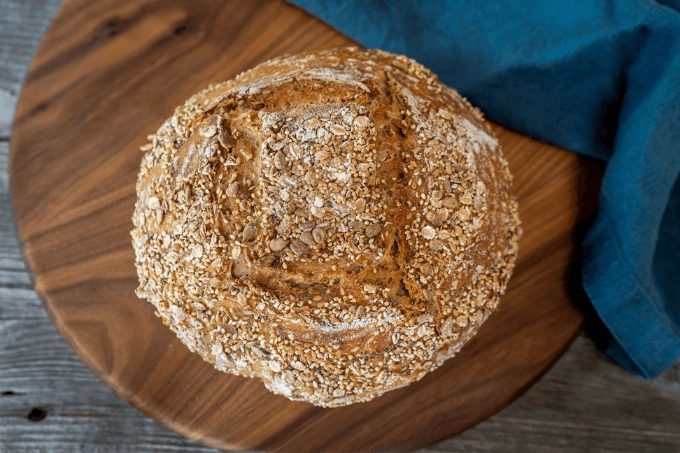 If you want bread with a soft and tender interior, and that crispy crust, you're going to love this Multigrain Sourdough Bread. This Whole Grain Bread has just enough holes to hold all that butter and a nutty flavor your family will love!
This multigrain wheat loaf of bread is what keeps you searching for the perfect bakery. You'll be surprised how a few turns of a simple dough come together into a nutty homemade bread that's bakery beautiful.
I love grains, seeds, nuts, and lots of them. I start my morning with yogurt topped with granola and nuts, and there's nothing better than a piece of homemade bread slathered with butter or mashed avocado with my morning coffee.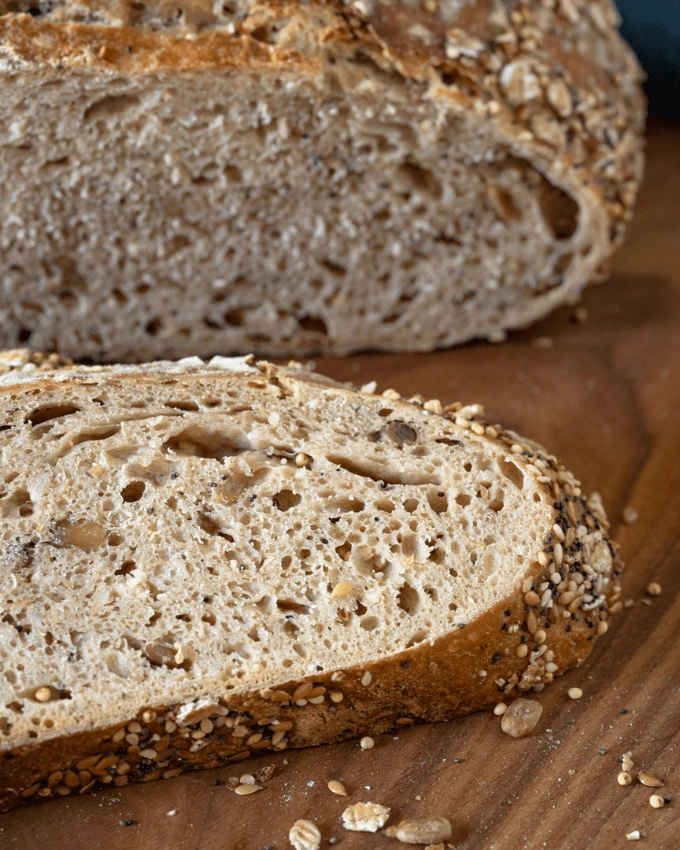 I've always loved baking and always wanted to bake bread with a wild yeast starter but it took me a while to try it.
You see, most of the recipes and books that I looked at talked about percentages and interactions, and I just wanted to make the darned bread.
But I had to change my ways. One thing that I did have to do is to weigh my ingredients. I know using grams in the United States drives people nuts However, 1/4 cup of my starter isn't going to measure 1/4 cup of your starter. The reason is because of the gasses this ingredient has. But you still need 150 grams.
It took me a while to get the confidence to try it, but I was lucky enough to start with a pretty easy Overnight Sourdough recipe. That recipe includes a video that I've added to this recipe card for you.
If you have questions on making or using a Bread Starter or need to start one for yourself, read "Sourdough Bread Starter."
After making that recipe several times, I got enough experience with what my dough should feel like.
Can a beginner make Multi-Grain Sourdough Bread?
Yes! In order to make bread like this, I recommend just rolling up your sleeves and jumping in. Read the recipe through and just take it one instruction at a time. It's just flour you know? And, hey, give me a shout with your questions. I answer all my own comments and mail.
I've had a few loaves that didn't turn out quite like this one but I learned something each and every time. I still do.
Take a recipe such as this one and remake it until you have enough confidence to diagnose any issues you might have.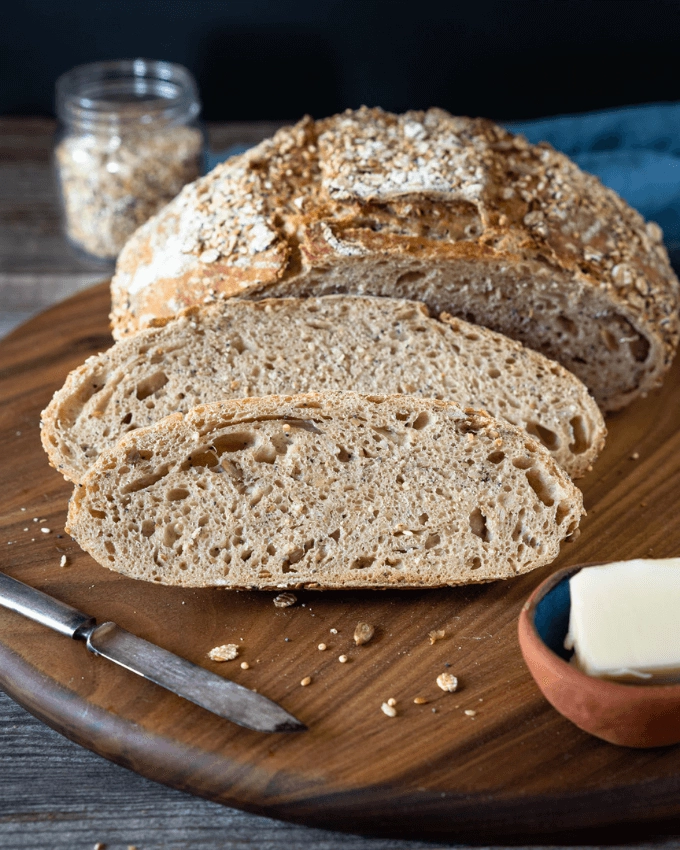 Why isn't this a Whole Wheat Bread Recipe?
The short answer is that it could be. You see, the Whole Grain Council requires that only 51% or more needs to be made of whole grain in order for it to be called whole grain. What?
60% of this homemade Wheat Bread recipe is a whole grain so legally I could have called it Whole Wheat.
For this loaf, I used a mix of bread flour and wheat flour in order for this loaf to be fluffy and not too dense or heavy. If you use all whole wheat flour, gluten is often added to get the right texture.
This recipe may not be whole wheat but it is organic, multigrain, dairy-free, nut-free, and vegan. Oh, and most important, delicious!
What you may need
Hostess At Heart participates in affiliate programs. As an Amazon Associate, I earn a commission from qualifying purchases. Please refer to my disclosure page for more information about these affiliate programs.
The Ingredients used in this Multigrain Organic Wheat Bread: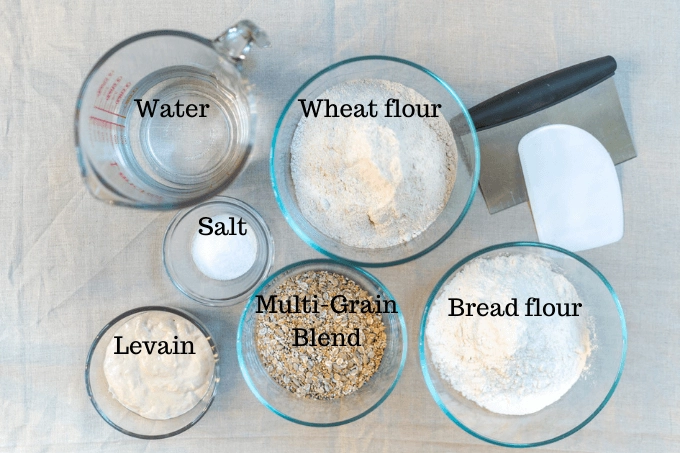 Bubbly starter (Levain) – I recommend feeding your starter and letting it get active for a couple of days. Once it's it's consistently active, it's ready to use.
Salt – I use fine sea salt. It is easier to incorporate and dissolve than coarser salt.
Wheat Flour – I used organic whole wheat flour. It has an amazing nutty flavor.
Organic Bread Flour – Bread flour has a higher protein content than AP flour. That higher protein provides more structure to your loaf. It worked very well with the wheat flour
Water – There's a lot of controversy regarding water in bread making. Some experts say if you can drink it you can bake with it. Other experts say the chlorine and mineral content can inhibit yeast activity.
Multigrain Blend – my own Organic Whole Grain Blend recipe.
Variations – You don't have to use the Multigrain blend that I recommend. You can use all sesame seeds, flax seeds, sunflower seeds, oats, poppy seeds, or whatever you like, or leave it all off. Make this homemade wheat bread your own.
NOTE: You do not have to use organic ingredients and this bread will turn out just fine. It's a personal choice.
How To Make Sourdough Multigrain Wheat Bread
Prepare the Sourdough Starter
The night before
Step 1: feed your starter and wait until it's increased in volume from 30% to 50%. I put a rubber band or a piece of tape on the container to measure the increase in volume.
For my baking, I feed our starter before bed by taking 1 tablespoon of starter and mixing it with 200gr filtered water and 200gr of our 50/50 flour mix. It has always passed the float test the next morning which can be 6 to 8 hours. This makes more starter than what you will need but I bake several loaves at a time and freeze them.
If your starter is runny it can be because it's starving and it will need to be fed again before you can use it.
Mix and Proof
The next day
Step 2: Using a large glass bowl, combine all of the ingredients together, including the seeds and grains. Mix by hand just until the ingredients are combined (less than 5 minutes). Cover the dough and let it rest for 30 minutes. While the dough rests, prepare to shape the dough
Note: I've found when using whole grain flour that you need a higher moisture content (hydration). Or, even baking in a dry climate or during the winter for me, the dough needs a higher moisture content.
It's all about the feel of the bread. You want it to feel wet but not so wet that it isn't manageable. I will often hold back about 50 grams or roughly 1/4 cup of the water that the recipe calls for.
After I get the ingredients mixed, if the dough feels dry, I'll mix in the additional water. Sometimes you'll need even more than that. Just keep adding a little bit at a time. It will not take you long to get the feel of what you want. This isn't a real wet dough.
Shaping bread dough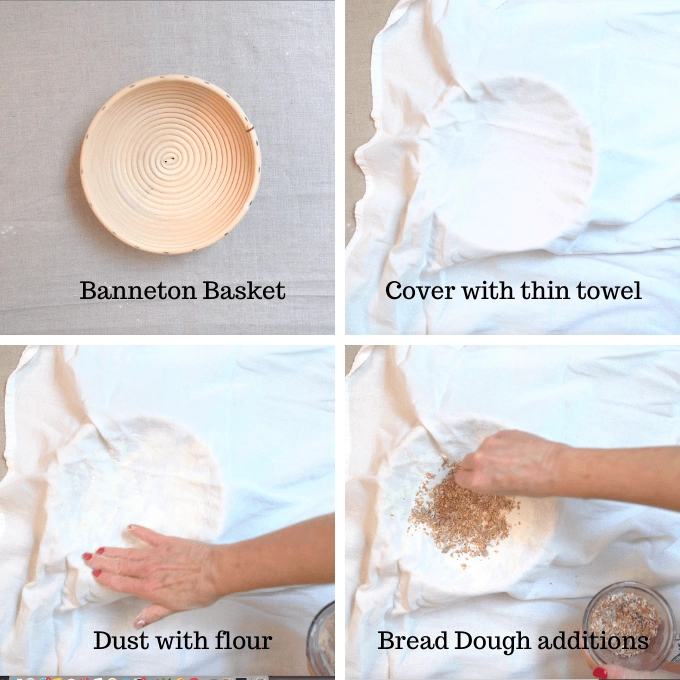 Step 3: When shaping bread dough into a loaf, there are a few simple things that you'll want to do.
Prepare the container that you want your dough to rise in. If you have a round loaf, you want a round container.

This can be what's called a banneton or a simple basket or a bowl.

I line the container with a thin flour sack or linen towel and then dust it with flour, or my favorite, a 50/50 mix of rice flour and whole wheat flour.

The bread dough will pick up the texture of the container you use. You can see the rings from the banneton basket.
You can also add seeds, oats or other ingredients you want on top of your bread.
Stretch and Fold
Step 4: Stretch and fold the dough by pulling the outside of the dough to the center as you turn the bowl. I usually do about six pulls or as many as it takes me to get all around the loaf. Pull the loaf towards you, from the outside of the loaf toward you turning the dough in a circular motion. The skin of the dough should become taught.
Step 5: Roll the round loaf in additional seeds and grains and set it smooth-side-down in your container (smooth side down).
Bulk Fermentation (rise time)
Cover the dough with the ends of the towel and let it rise for 6 hours at room temperature or you can let it rise for 4 hours at room temperature and then set it in the refrigerator to bake the next day. This is known as the bulk fermentation phase.
The rise time may vary when left at room temperature depending on the weather and temperature. The loaf may not double in size but will be noticeably larger in size.
If you push a dent into the loaf and it springs back quickly it needs a little more time.
Slowly springs back means it's ready to bake.
If it doesn't spring back at all, it may be over-proofed. You can still bake it but it will not have as much oven spring and be much denser.
Unlike our Overnight Sourdough recipe, I didn't don't do a second proof before baking this Sourdough Multigrain Bread recipe.
Bake and Cool
Step 6: Preheat the oven. I'll put the empty covered dutch oven in my oven and let it preheat for up to an hour. You want it hot. Remove the shaped loaf from the bowl or basket and place it in a pre-heated dutch oven. Score the bread with a razor blade or sharp knife. See my video for putting the bread loaf into the hot dutch oven below.
Replace the lid and put it in the oven. Reduce the temperature and let the bread bake for 20 minutes. Remove the lid and let it bake for another 15 to 20 minutes or until an instant-read thermometer reaches 209°F to 212°F.
Remove the bread from the dutch oven and let it cool on a cooling rack for at least 90 minutes.
Bread Flip Technique
I used to worry about getting my bread into a hot pot quickly without deflating the bread dough and/or burning myself. This simple flip technique solves that issue. Please note that in the video I used a cold pot for demonstration purposes only.
You will need a strip of parchment paper and a pie plate. A round pie plate works even if your loaf is a shape other than round.
Place the strip of parchment paper over the top of your bread dough container.
Holding onto the parchment paper and the container, flip upside down. Your parchment paper is now on the bottom side of your loaf of dough.
Score the dough as desired.
Pick up the loaf of dough and carefully insert it into the pot.
Dutch Oven Baking
I've been asked if you must bake this sourdough wheat bread recipe in an enameled cast-iron dutch oven. My experience has shown me that it's the closest that I can get to a professional steam oven.
I've used an aluminum roaster and while I got good spring, the bottom was hard and much darker, almost burnt.
I've also baked this multigrain sourdough bread in my dutch oven without preheating the pan. I get better color on the bread when I preheat the pan in the oven versus putting it in a cold pan.
I've had readers report that they placed the bread on a baking stone and misted the edges of the oven but I haven't tried it with this loaf for two reasons.
Every time you open your oven, you lose valuable heat which can affect the spring, baking time, and moisture content of your loaf.
If you drop water on the glass insert of your oven it can shatter.
How to store Sourdough Wheat Bread
Sourdough bread can sit out on the counter without covering it until it's cut or up to 2 days.
Sliced sourdough can be placed cut-side-down on a cutting board at room temperature.
I've had wonderful results storing artisan bread in linen bags.
Multigrain Sourdough freezes really well. I'll often bake 6 loaves at a time and freeze 5 of them. I'll place a loaf in a freezer-safe bag and then wrap it in foil. It's good for 3 months.
Whole Grain Sourdough Bread F.A.Q's
Is multigrain sourdough bread healthy?
Using whole-grain ingredients does provide about twice the fiber as found in other bread recipes.

It's been said that sourdough is easier to digest and that the fermentation process has been shown to lower blood sugar.
Is Sourdough Multigrain Bread Recipe Vegan?
Yes, this recipe is vegan.
How do you know when the Sourdough Wheat Bread is finished baking?
I use an instant-read thermometer and bake to 212°F. I've read that if you tap the loaf and if it sounds hollow, it's done. That's not always true.
Why do you score the bread?
As the bread bakes, it expands (also called oven spring). Scoring the bread prevents the crust from cracking or "blowing out". Some people like this look. Whether you score it or not, the bread will still taste the same.
Why do you have to let the bread cool before slicing it?
The bread still has a lot of moisture retained in the crumb once it comes out of the oven. When the bread cools, the water evaporates.

If the bread is cut before it's cool the moisture is absorbed by the crumb making it gummy and the crust making it hard once it's cool.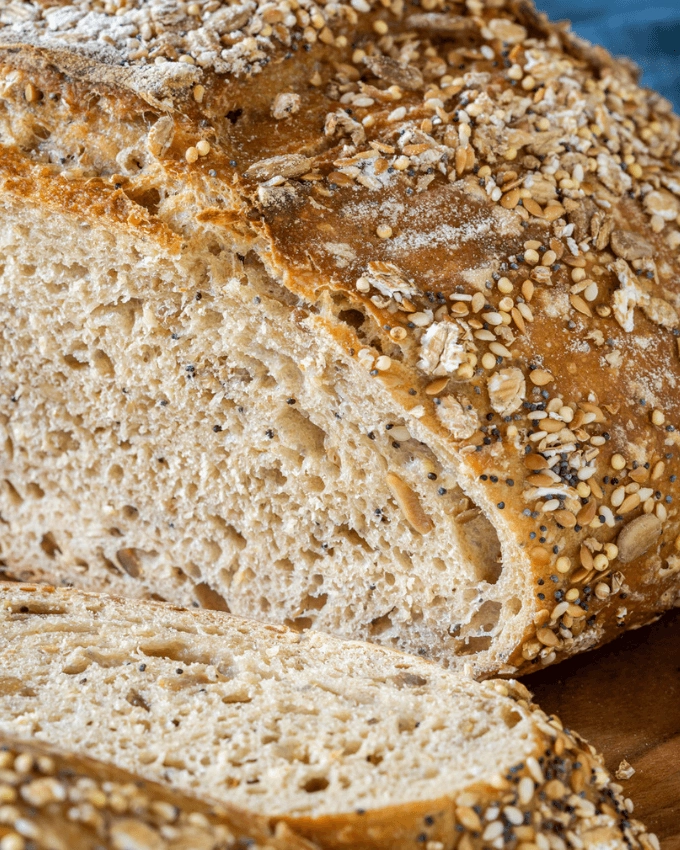 Why is my multigrain sourdough bread dense?
There can be several reasons and I'll cover the most obvious.
This loaf of sourdough bread has low moisture content and minimal handling. Some of the sourdough recipes you see have a high moisture content that makes handling them more difficult. They also go through multiple stretches and fold series. I wanted a loaf that a beginner could make and be proud of.
You also have to have a bubbly starter. If your starter isn't vigorous, it will not have the energy to bubble, which creates more of an open crumb.
Don't forget to come back and let me know how your Multigrain Sourdough Bread turned out!
If you enjoyed this Multigrain Bread recipe, here are a few more you may enjoy.
Don't forget to pin this amazing Sourdough Multigrain bread recipe before you go!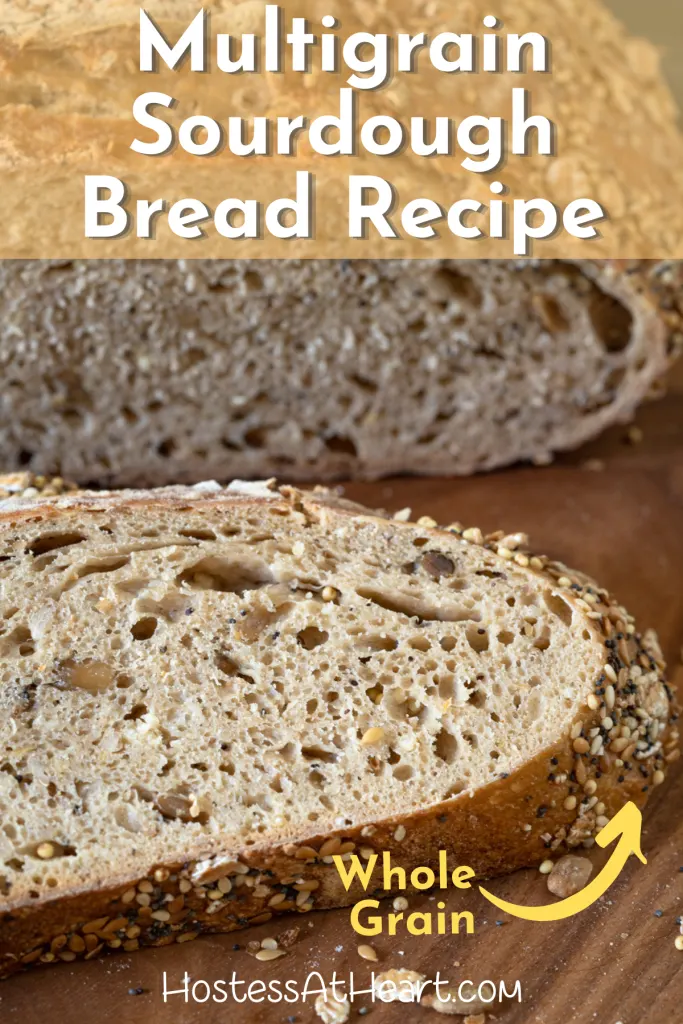 I have two books (out of several) that I've learned so much from. I recommend them exclusively to help in your bread experience. They are easy to read and will help you get that beautiful loaf on the table!
Don't throw out your discard starter! Here are a few sourdough starters discard recipes that you can make!