This Delicious Harvest Grains Bread recipe is a warm and hearty bread filled with healthy whole grains and seeds. This bread is perfect for sandwiches all week long.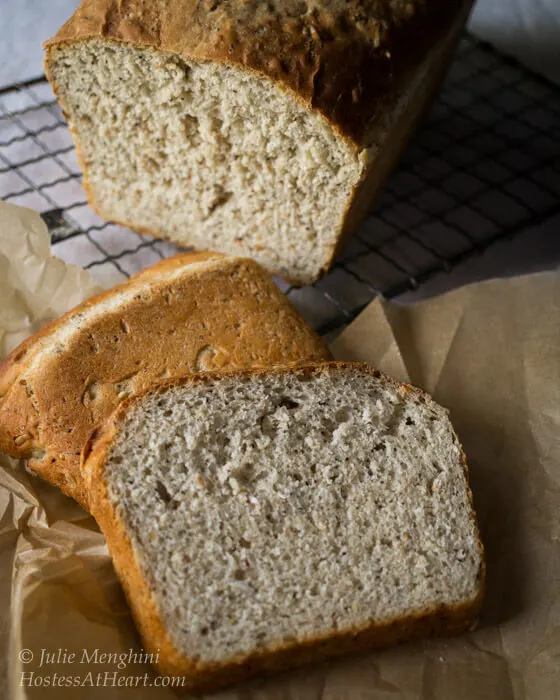 This time of year is perfect for bread baking. The days are cool, and perfect for kneading, and I don't mind my oven adding a little heat to my kitchen. Especially when it's baking this Harvest Grains Bread!
I am mindful of our health when I cook or bake, but mindful in the moderation philosophy.
We enjoy our treats here and there, but most of the time stay with non-processed whole foods.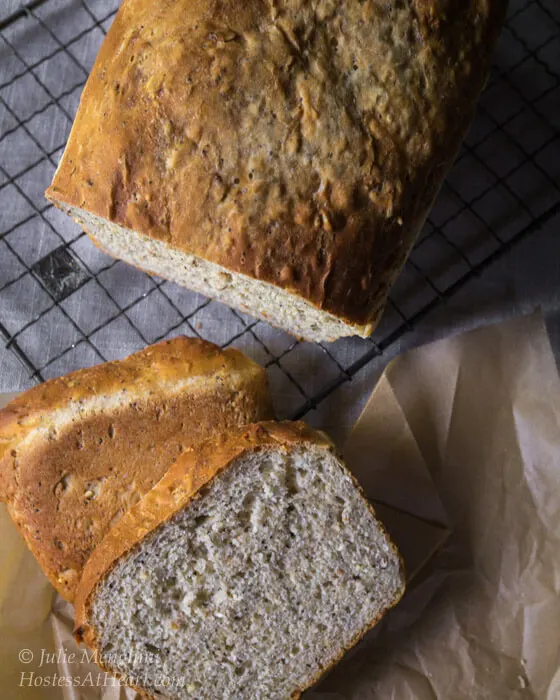 I am lucky that I naturally love whole grain and seeds. I just love the toasty nutty flavors that they add. So, when this month's Breadbakers challenge was "Hearty Fall Breads", I knew that I wanted to try the King Arthur Flour Grains Bread recipe.
This delicious Harvest Grains Bread recipe is the reason I bake bread. It has a soft center, with a slightly sweet and nutty flavor.
The crust is moist but yet has a great crunch. This bread is great on the dinner table or can be used for your everyday sandwich bread.
You can cut it thin without disintegrating into crumbs or cut it thick to dig into a bowl of soup.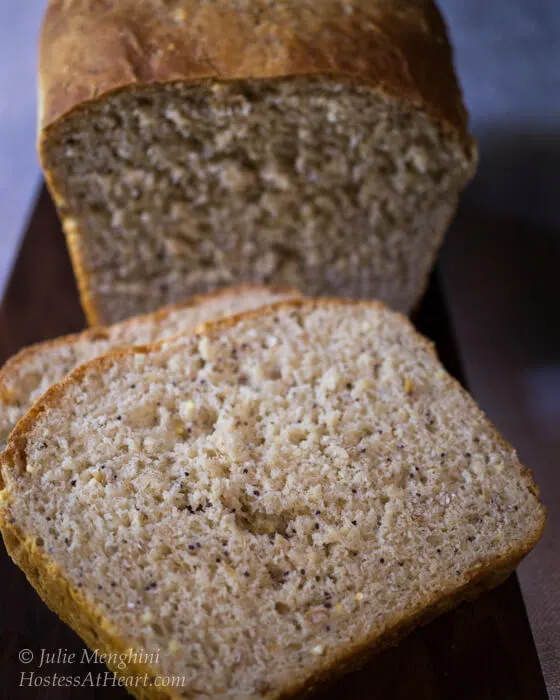 Their recipe had you just combine everything all at once which makes it a super easy recipe to make.
I also used a 9×5 bread loaf pan because the reviews said it made such a large loaf.
I'm glad that I did because this larger size was perfect.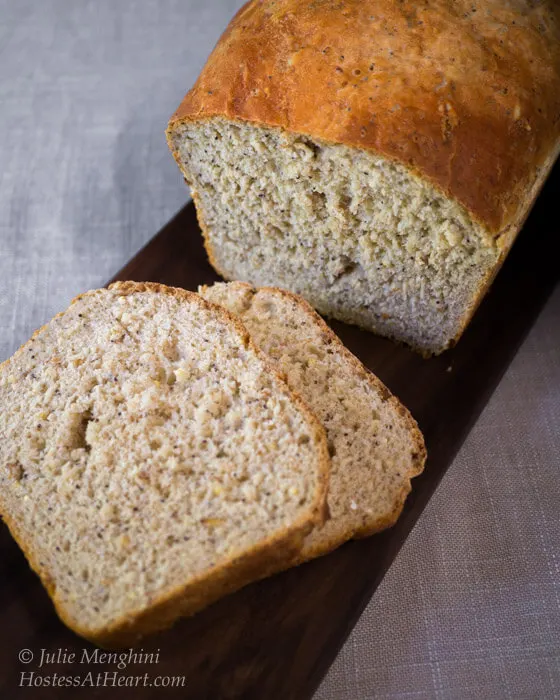 Lastly, I brushed softened butter over the top of the loaf as soon as I turned it out of the pan. I like the slightly softened crust when you do this, but it's not necessary. Try to let it cool before you cut it. It will cut without tearing.
I now make my own organic whole grain and seed blend. If you don't want to, King Arthur Flour Company has it available on their website.
As you know, I LOVE baking bread and this Harvest Grains Bread recipe is a super easy one and perfect if you are a beginner or if you just want a delicious loaf of bread for your family and don't want to spend all day in the kitchen. Here are a couple more of our favorite bread recipes!
IF YOU LIKE THIS BREAD RECIPE I THINK YOU'LL ENJOY THESE RECIPES TOO!
We LOVE baking bread! You can find all of our bread recipes here!
Don't have time to make it now?

Pin it

for later!
Let's take a look at the other Fall Flavors being shared today
#BreadBakers is a group of bread loving bakers who get together once a month to bake bread with a common ingredient or theme. Follow our Pinterest board right here. Links are also updated each month on this home page.
We take turns hosting each month and choosing the theme/ingredient.
If you are a food blogger and would like to join us, just send Stacy an email with your blog URL to [email protected].
This recipe was updated 4/9/18 to include updated links and very small changes were made to the recipe.