Enjoy the wholesome goodness of our Harvest Grain Bread Recipe. Whole grains and seeds add flavor and nutrition to this simple bread. Each bite is warm and hearty, and, the nutty aroma that will transport you to a rustic countryside bakery. It's the perfect addition to any meal.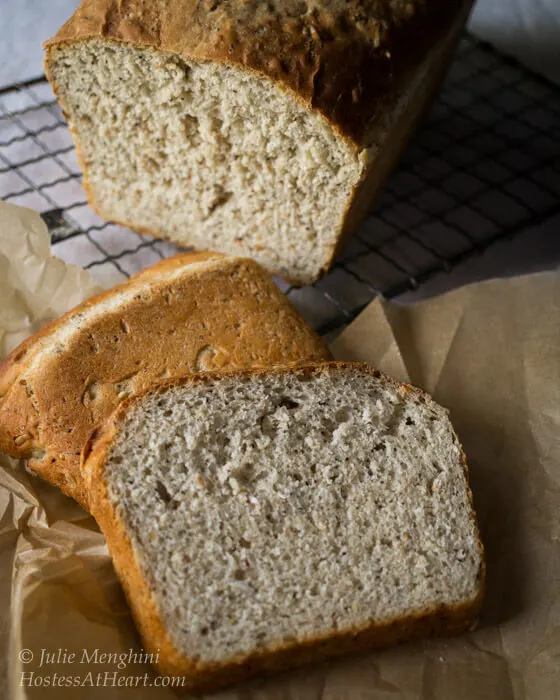 If you're looking for an easy homemade bread that's easy enough to make for everyday sandwiches and you can feel good about feeding to your family, you're going to love our Harvest Grains Bread recipe.
This wholesome wholegrain recipe tastes like homemade bread should taste, not the typical flavor described as cardboard that you get in bread labeled "healthy" in the grocery store.
Best of all, this bread recipe is simple enough for the beginner baker or the baker who doesn't want to spend all day in the kitchen for a loaf of homemade bread.
What are the Harvest Grains Bread Ingredients?
This recipe is adapted from a King Arthur Flour recipe that I adapted to use my own 8-ingredient organic whole grain and seed blend. If you don't want to, King Arthur Flour Company has it available on their website.
Whole Grain and Seed Blend
Bread Flour – Unbleached bread flour. You can use bleached bread flour.
Whole Wheat Flour – When buying whole wheat flour look at the ingredients on the package. They should read "whole wheat flour" and not contain any artificial preservatives, artificial colors, or additives.
Whole-Grain Bread Improver – This is a product that King Arthur Flour carries and states that loaves will rise higher, and have better texture. I use it and haven't made this bread without it. I wouldn't be afraid to make this recipe without it, however.
Instant Yeast – Make sure your yeast is fresh. I store mine in the refrigerator and if I haven't used it in a while, I'll replace it instead of using it.
Sugar – White granulated sugar
Nonfat Dry Milk – This ingredient has many benefits that I'll explain. It can be found in most grocery stores. I look for the dry milk package that has individual packets which is convenient if you're not using it frequently.
Salt – You can use any salt. I prefer fine sea salt because it dissolves well and blends easily with the other ingredients.
Butter – Salted or unsalted doesn't make a difference in this whole grain bread recipe.
What you need to make this recipe.
Hostess At Heart participates in affiliate programs. As an Amazon Associate, I earn a commission from qualifying purchases. Please refer to my disclosure page for more information about these affiliate programs.
The glory of this simple recipe is that you need very few items to make it.
Loaf Pan – This harvest loaf recipe makes a larger loaf so I recommend a 9×5-sized pan.
Mixing Bowl – I use these mixing bowls daily in my kitchen. In addition to mixing, we keep leftovers in them and use them for our make-and-take dishes since they come with lids.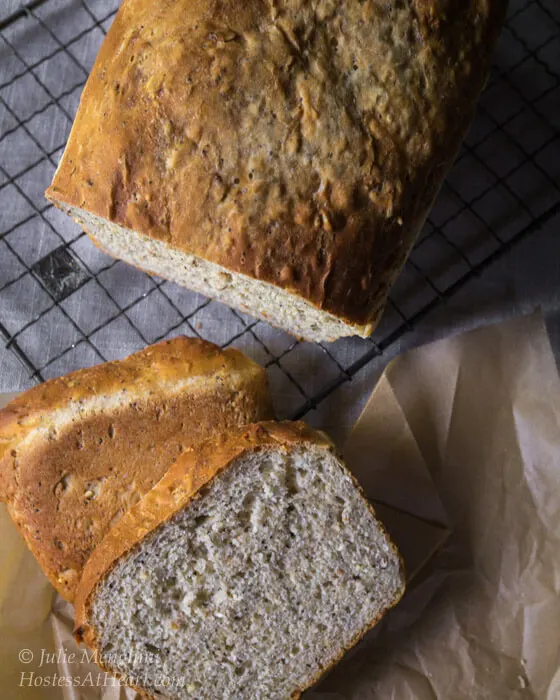 How Do You Make Harvest Grains Bread?
Please note, that the printable recipe card has ingredient quantities, complete instructions, and nutritional information. The following is a quick overview of the recipe.
This is actually a very simple bread to make with a minimal number of steps. Let's break it down.
Combine all of the ingredients together. Mix until the dough comes together. I used a large bowl. You could use an electric stand mixer but it's not necessary.
Knead the bread for 10 minutes. It should become soft and not sticky.
Put the dough into a greased bowl and let it rise.
Shape and put the dough into a loaf pan. Let it rise a second time.
Bake.
Note: I brush softened butter over the top of the loaf as soon as it's turned out of the pan. I like the slightly softened crust when you do this, but it's not necessary.
Harvest Bread Recipe FAQ's
Can I substitute bread flour with all-purpose flour?
Yes, you can usually substitute all-purpose flour for bread flour in most recipes, including bread recipes like Harvest Grain Bread. Bread flour has a higher protein content than all-purpose flour which gives the bread more structure allowing a better rise and giving bread a chewy texture. The difference in protein content might result in a slightly softer or less chewy texture in the finished bread.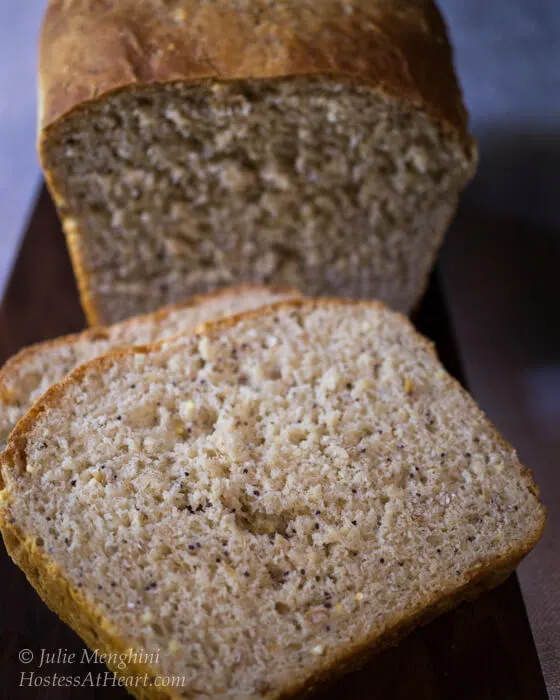 What does nonfat dry milk do in a bread recipe?
Nonfat dry milk does a number of things including, but not limited to:
Conditions the dough making it easier to shape and handle.
Nonfat milk improves the texture by strengthening the dough leading to better volume and a softer, more tender crumb.
The lactose aids in browning the bread while baking. The beauty of browned bread is the flavor it adds as well as the appealing color.
Milk proteins can help retain moisture in the bread helping to extend its shelf life.
What grains and seeds can I use for this recipe?
While you can make up your own whole grain bread blend such we did, or buy it, you don't have to. The following recommendations are just suggestions. Use what you can find or the flavors you want for your harvest loaf bread. Aim for about 1/2 cup. Sesame seeds, sunflower seeds, pumpkin seeds, rye flakes, barley flakes, chia seeds, wheat flakes, flaxseed, poppyseed, and oats will all add their own unique nutty flavor and will add texture.
What is the best way to store and preserve this bread?
First of all, make sure the bread is completely cooled before storing it. If the bread is warm it will create condensation in the container which will make the bread mushy.
It's best to store harvest wheat bread in an airtight container at room temperature for 2 to 3 days. Bread may be frozen in an airtight container for up to 3 months. Thaw slices in the toaster. Thaw a partial or whole loaf by setting it out on the counter (still in it's container) until it reaches room temperature.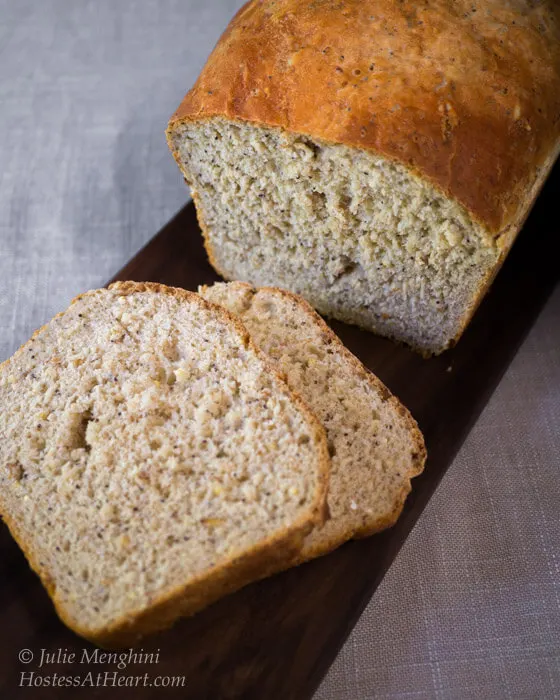 Bread with a soft and tender crumb like this recipe for harvest bread, our Honey Whole Grain bread or No-knead English Muffin Bread recipes are perfect for everyday sandwiches. We love rustic artisan bread with a crusty exterior such as this No-Knead Bread with a great bowl of soup.
We LOVE baking bread! You can find all of our bread recipes here!
If you like this recipe, here are a few more I think you'll love.
I hope you enjoyed this delicious recipe as much as we do. Drop me a comment below, and don't forget to give it a star rating. ⭐⭐⭐⭐⭐. Your comments and ratings help others decide if this recipe is for them too.
Don't have time to make it now?

Pin it

for later!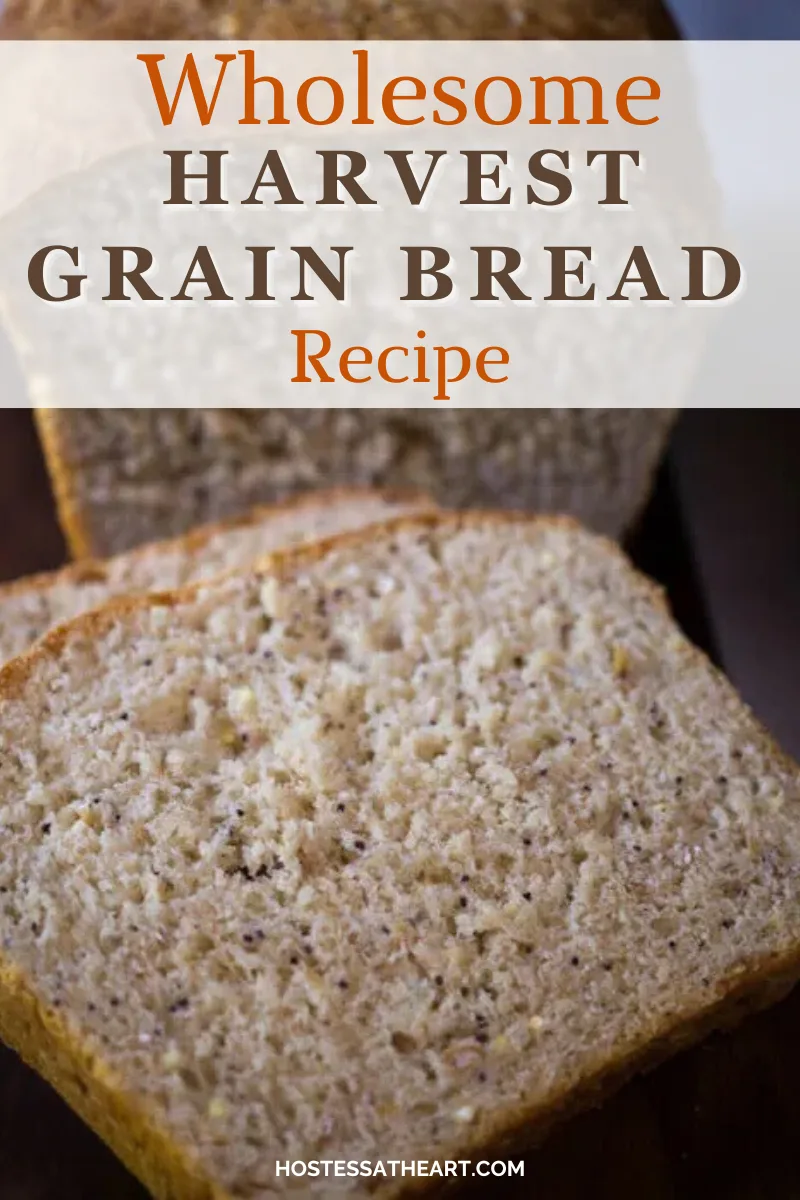 Let's take a look at the other Fall Flavors being shared today
#BreadBakers is a group of bread loving bakers who get together once a month to bake bread with a common ingredient or theme. Follow our Pinterest board right here. Links are also updated each month on this home page.
We take turns hosting each month and choosing the theme/ingredient.
If you are a food blogger and would like to join us, just send Stacy an email with your blog URL to [email protected].
This recipe was originally published on October 13, 2015, and has been updated with additional tips. Very small changes were made to the recipe.