Where would we be if we never tried anything new? #Breadbakers are responsible for my baking outside the box! Success or failure, I'm better with the experience. Julie Menghini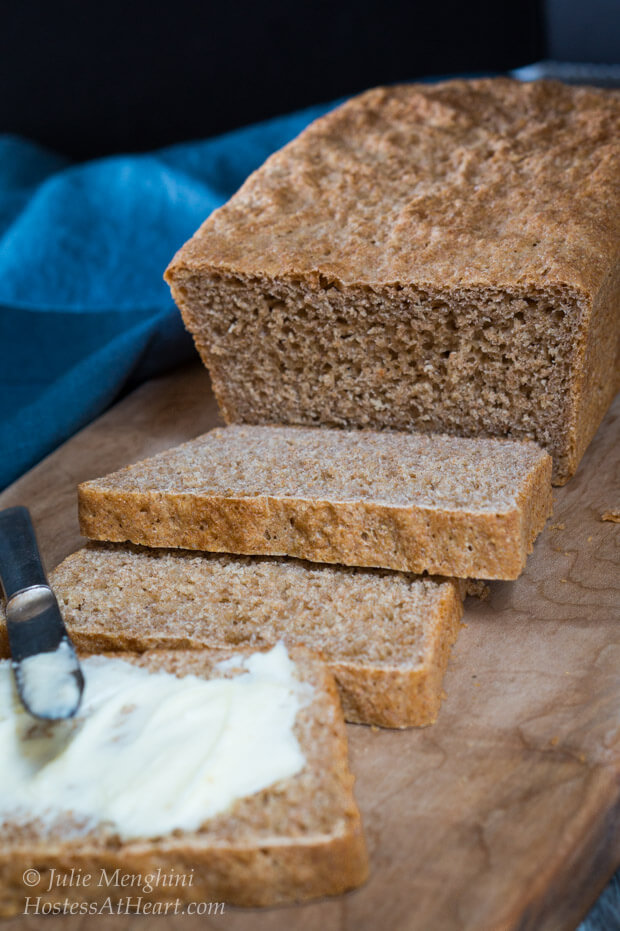 We are off and running into a new year. I've just finished baking my bread for the first #Breadbakers event of the year. Our theme this month was to bake completely with "ancient grains flour". I chose Spelt Bread, from whole grain spelt flour, because it's something I've wanted to try.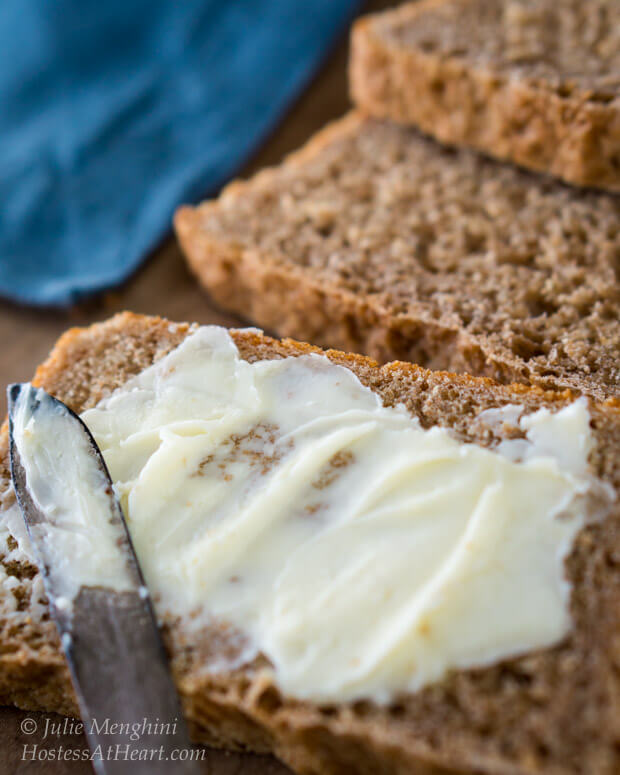 What is ancient grains? The Whole Grains Council,  generally define ancient grains loosely as grains that are largely unchanged over the last several hundred years.
This means that modern wheat (constantly bred and changed) is not an ancient grain, while einkorn, emmer/farro, Kamut®, and spelt would be considered ancient grains in the wheat family. Heirloom varieties of other common grains — such as black barley, red and black rice, blue corn — might also be considered ancient grains. Other grains largely ignored until recently by Western palates (such as sorghum, teff, millet, quinoa, amaranth) would also be widely considered to be ancient grains. Sometimes less common grains, like buckwheat, or wild rice, are also included."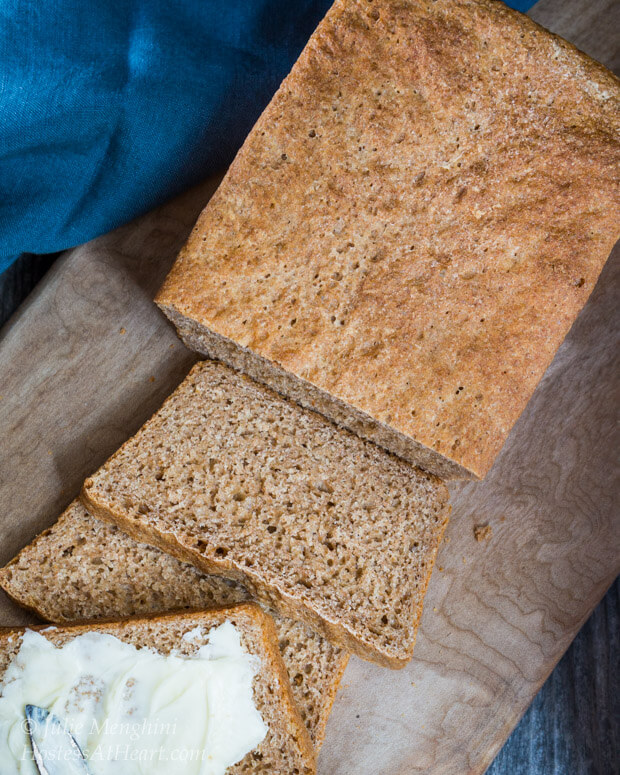 I had read some of the characteristics of working with this flour. It doesn't have the gluten content of other wheat flours, and often lacks structure. It does contain some gluten however, and is not safe for people with celiac disease. It's also important not to over knead this dough. It can be a very loose and sticky dough. It's better to bake this bread in a loaf pan than free form. I consulted with fellow bread baker, Elaine, at Foodbod, who concurred with what I had found, and she gave me some welcome tips too.
Well, long story short, after my second proof, I watched my perfectly domed loaf flatten. The second proofing was only for an hour, and it rose above the rim of the pan but had a bit of spread too. This was very consistent with a lack of structure. I looked at the website that I had seen this recipe on, and my bread was very similar to the one on the site. I don't know if this is also characteristic of spelt or something that I did. This is where I am asking for feedback from other bread bakers. I did question the way that the ingredients are combined in this recipe. Salt is added before the yeast. It did raise though so the yeast did it's job.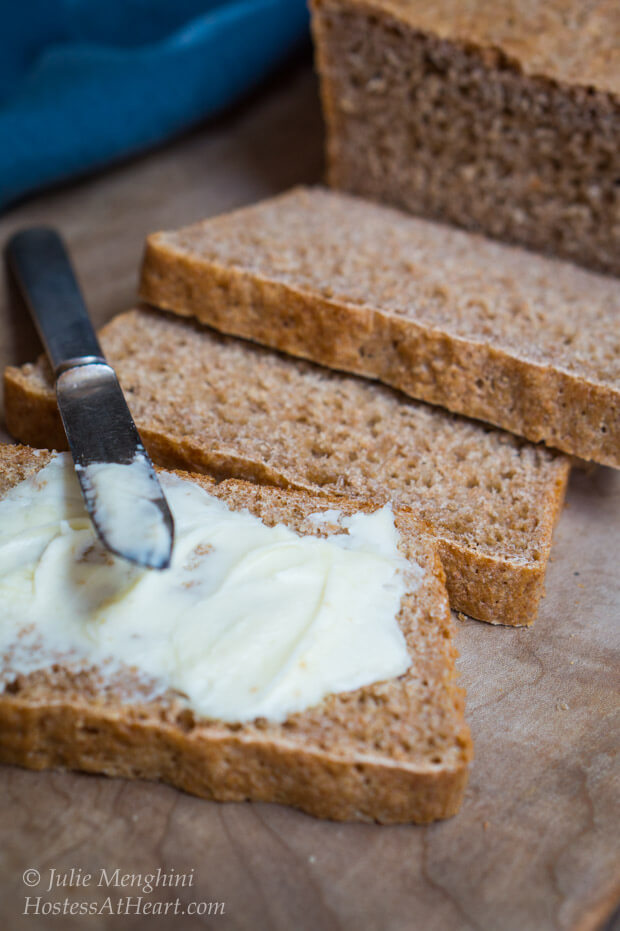 How did it taste? This bread had a sweet nuttiness to it, and was soft and moist. It made an amazing piece of toast, and has poached egg avocado toast written all over it. It was an easy bread to put together, and I am anxious for you bread aficionados to chime in so I can make tweaks if this isn't how this bread is supposed to behave.
Spelt Bread - #BreadBakers
An easy and simply delicious bread made with Spelt, an ancient grains flour. Spelt bread has a sweet and nutty taste. It is soft and moist, and is perfect toasted.
Ingredients
1

cup

warm water

non-chlorinated

1 1/2

tablespoons

honey

1 1/2

tablespoons

unsalted butter

melted

1/2

teaspoon

kosher or sea salt

2 1/3

cups

whole grain spelt flour

plus additional for dusting

1 1/4

teaspoons

instant yeast
Instructions
Put one cup of water in a large bowl and heat it in the microwave until warmed. Add honey and stir until combined. Stir in butter and salt and when combined, stir in 2 cups of flour and the yeast. Stir briskly with a wooden spoon. Add more flour until dough comes together. It is a sticky dough, but you will want to be able to handle it. Turn it out on a floured surface and knead for 5 minutes, adding additional flour if necessary, until smooth and elastic.

Put dough in a well oiled bowl, turning once to coat both sides. Cover and allow dough to raise in a warm area for 2 hours.

Shape dough and put in a well greased 8 x 4 loaf pan. Cover and allow to raise for 1 hour.

Bake in a preheated oven at 350 degrees F for 25 to 35 minutes. Bread will sound hollow when tapped.

Remove from the bread pan and allow to cool completely on a cooling rack before slicing.
Notes
Prep time includes inactive raising time.
Recipe adapted from https://www.asplashofvanilla.com/
Nutrition
Serving:
1
g
|
Calories:
1415
kcal
|
Carbohydrates:
237
g
|
Protein:
44
g
|
Fat:
27
g
|
Saturated Fat:
11
g
|
Cholesterol:
45
mg
|
Sodium:
1196
mg
|
Potassium:
143
mg
|
Fiber:
41
g
|
Sugar:
26
g
|
Vitamin A:
525
IU
|
Iron:
14
mg
This recipe was calculated using the exact brands and measurements I used to make this recipe. If you are following a strict diet please note changing anything will cause the nutritional info to change. My calculations are intended as a guide only.
Now if you want to see how the pros bake bread, take a look at the other #BreadBakers contributions.
This month's BreadBakers' theme is Ancient Grains, hosted by Robin at A Shaggy Dough Story. Ancient grains are generally accepted to mean grains that have remained largely unchanged/un-hybridized over the last several hundred years, which means NO MODERN WHEAT. Here's what our creative bakers came up with.
#BreadBakers is a group of bread loving bakers who get together once a month to bake bread with a common ingredient or theme. You can see all our of lovely bread by following our Pinterest board right here. Links are also updated after each event on the #BreadBakers home page.
We take turns hosting each month and choosing the theme/ingredient. If you are a food blogger and would like to join us, just send Stacy an email with your blog URL to [email protected].
This recipe is shared with link parties Throwback Thursday, Fiesta Friday and Saucy Saturdays! Come party with us and pick up some amazing recipes!