Honey-Oat Pain de Mie recipe has a warm homemade flavor with a touch of sweetness. It will take your everyday sandwich to a whole new level. This delicious homemade pullman sandwich bread has four corners and a tender crumb that cries out for PBJ or BLT. If you've always bought your bread, watch out!
This post has been updated to correct the recipe ingredients and to add process shots to make it easier for our readers.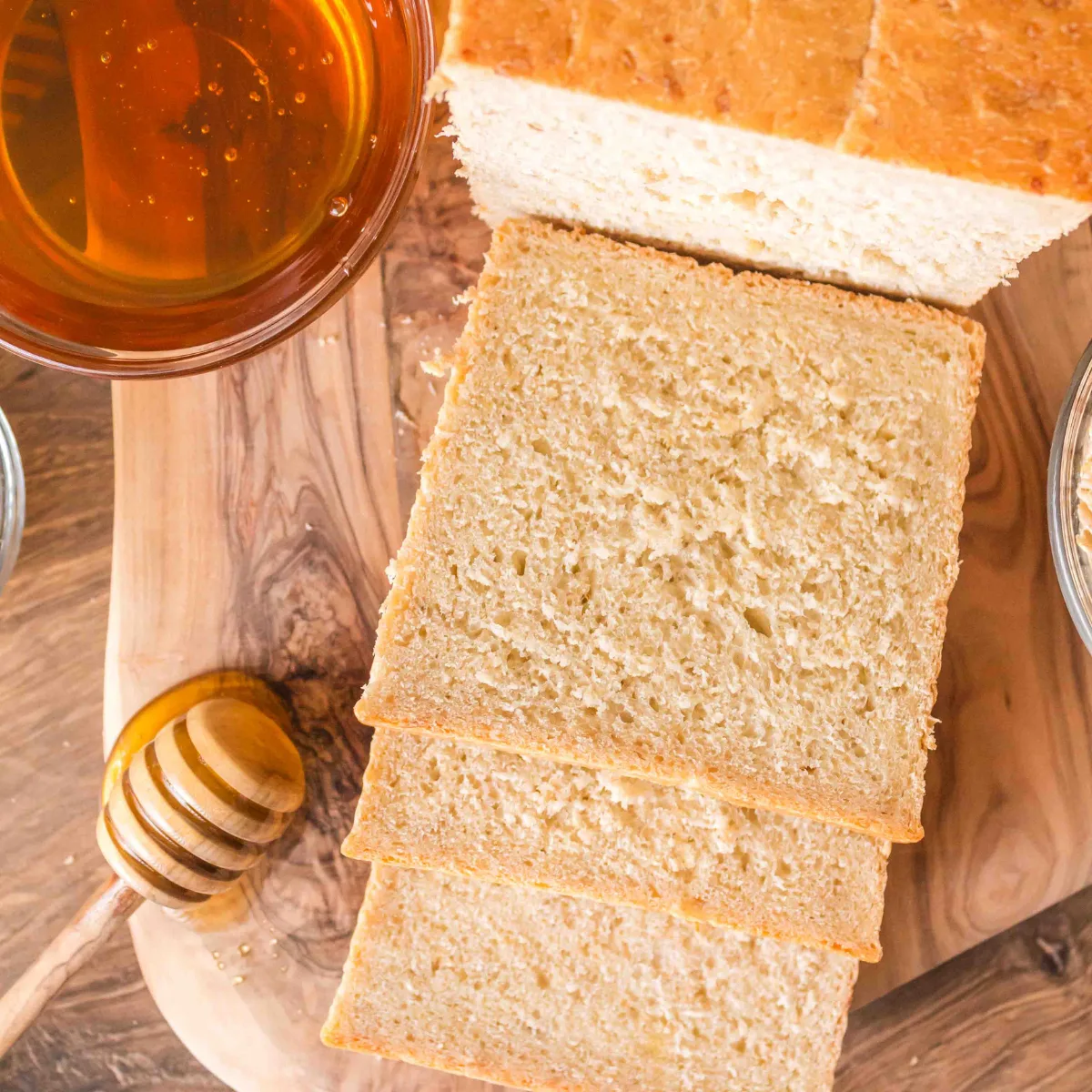 Honey-Oat Pain de Mie takes an ordinary white loaf of bread to a whole new level!
Why You'll Love This Recipe
It's Simple. The only thing fancy about this bread is the name. It's a simple loaf to make and a simply delicious bread to eat.
It Works Well for Sandwiches. Quite some time ago, Josette from The Brook Cook baked a Pullman Loaf of bread. It was called a Pullman because it's baked in a Pullman pan. I'd never heard of this pan, but it made a perfect loaf of bread for sandwiches.
I bake a lot of the bread we eat weekly, but I'd never baked soft white bread that resembled the size and shape found in the grocery store. That isn't that big of a deal, but the sandwich-sized slices work well when packing them for lunches or putting them into a toaster. I ordered this pan and tried it with my recipe for King Arthur's Honey-Oat Pain de Mie loaf.
It's Consistent. I like this bread because it comes out perfectly every time. No guessing. As you can see, this loaf of bread looks pretty ordinary. What isn't ordinary is that it's one of John's favorite loaves of bread. I've made this bread a lot; it always works.
It Uses Natural Sweeteners. I like this bread because it uses "Natural Sweeteners," which are a healthy and tasty alternative to refined sugar, high fructose corn syrup, and artificial sweeteners." Natural sweeteners include honey, maple syrup, molasses, dates, banana puree, coconut sugar, balsamic glaze, brown sugar syrup, real fruit jam made without any sugar, stevia, and palm jaggery.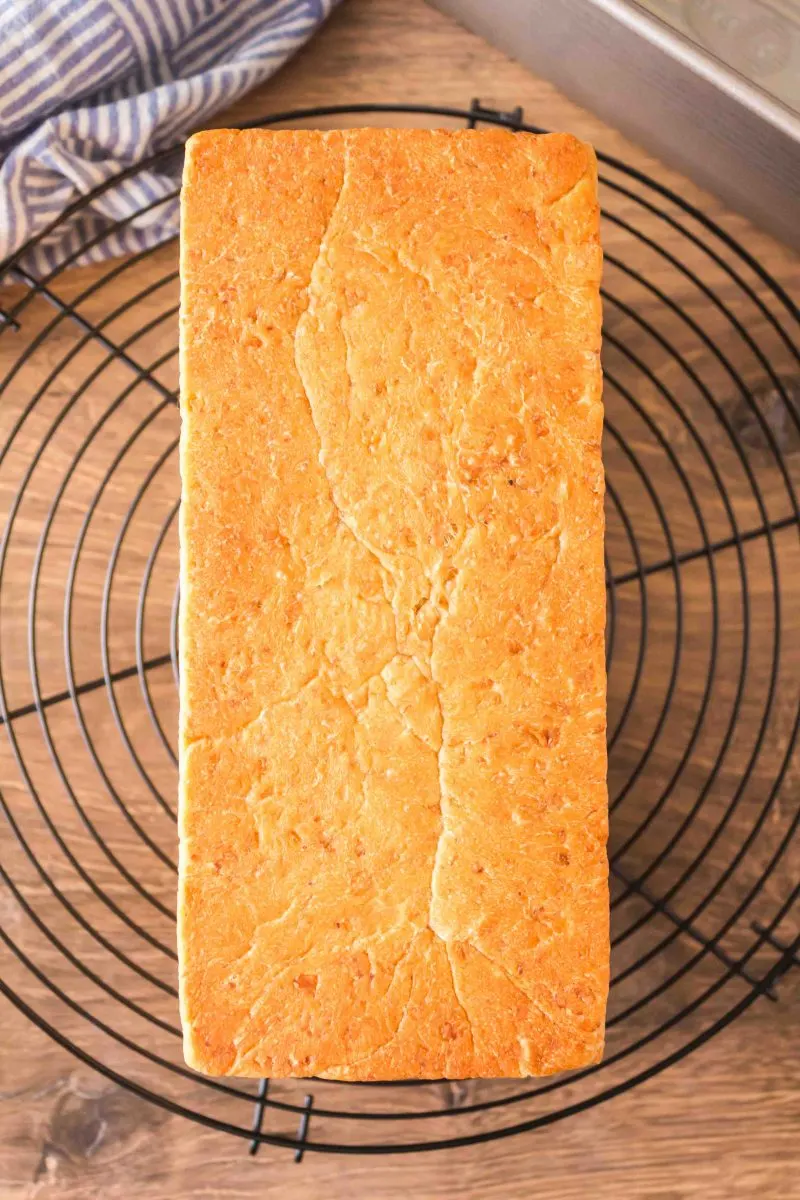 What is Pain de Mie?
This gorgeous, soft homemade sandwich bread is baked in a pullman loaf pan with a lid to give it a nice square shape for perfect sandwich loaf. It is sturdy and delicious and our honey oat pain de mie has a great texture too. Translated, the French phrase Pain de Mie in English means "bread, the soft part" or a bread with finer crumb than the traditional French Baguette or hard breads. It's referred to as a French sandwich bread as well.
Ingredients for Pain de Mie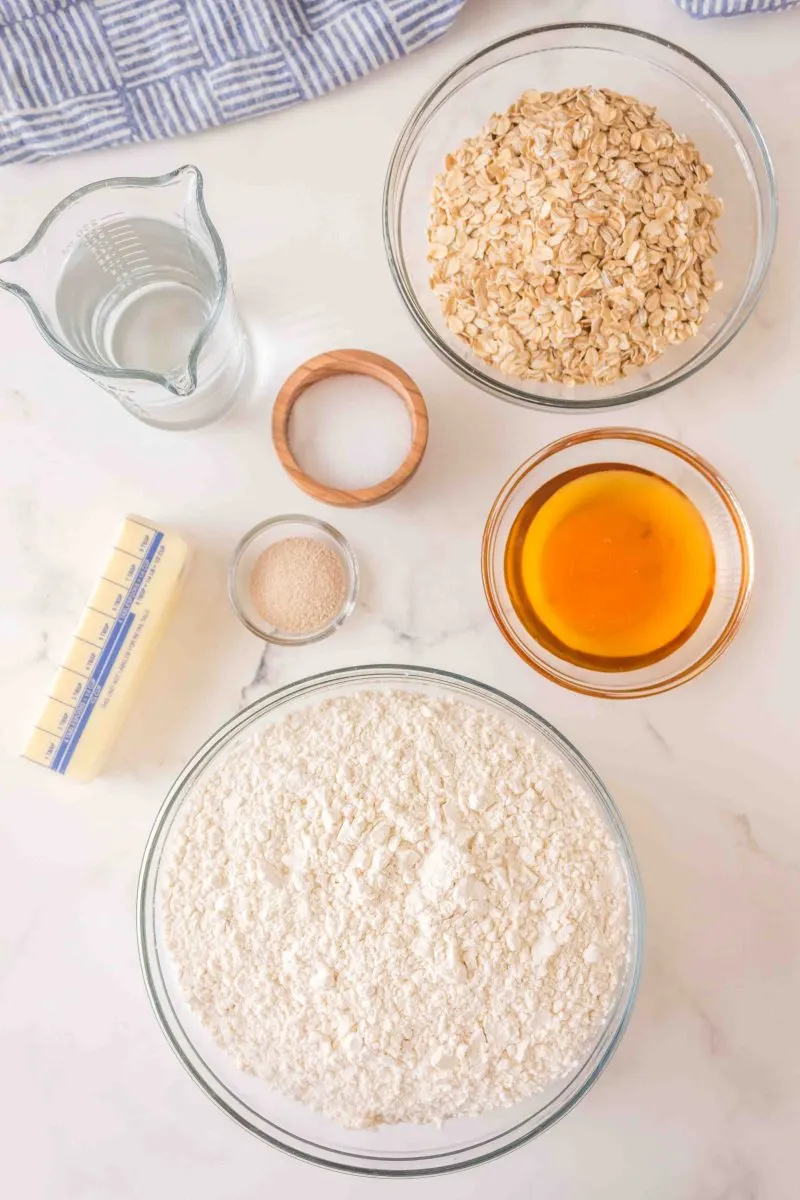 All-Purpose Flour. Unbleached flour is preferred.
Instant Yeast. Yeast comes in several forms. Instant Yeast, Active Dry Yeast, and Bread Machine Yeast. For this recipe you need the instant variety.
Old-Fashioned Oats. Not quick cook oats.
Salt.
Melted Butter.
Honey.
Warm Water.
Please note, that the printable recipe card has ingredient quantities, complete instructions, and nutritional information. The following is a quick overview of the recipe.
How to Make Pain de Mie
Step One. Mix ingredients for your pullman bread recipe.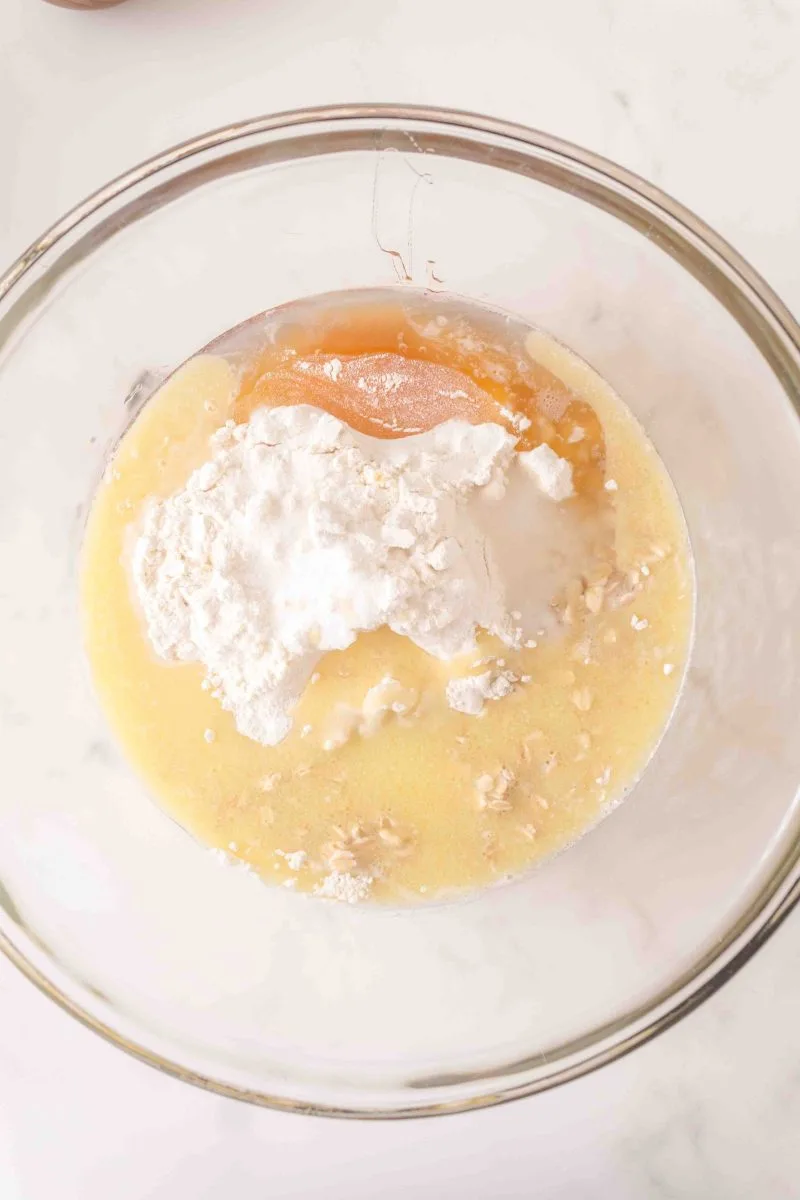 Add all ingredients to a large mixing bowl and mix until blended into a rough dough.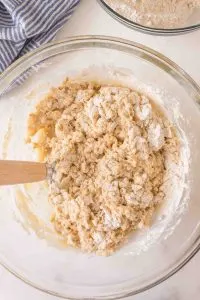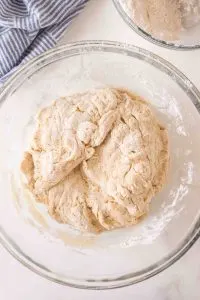 Step Two. Rest your mixture.
Cover and let rest 20 minutes so the oats can absorb some of the liquid.
Step Three. Knead the Pain de Mie dough.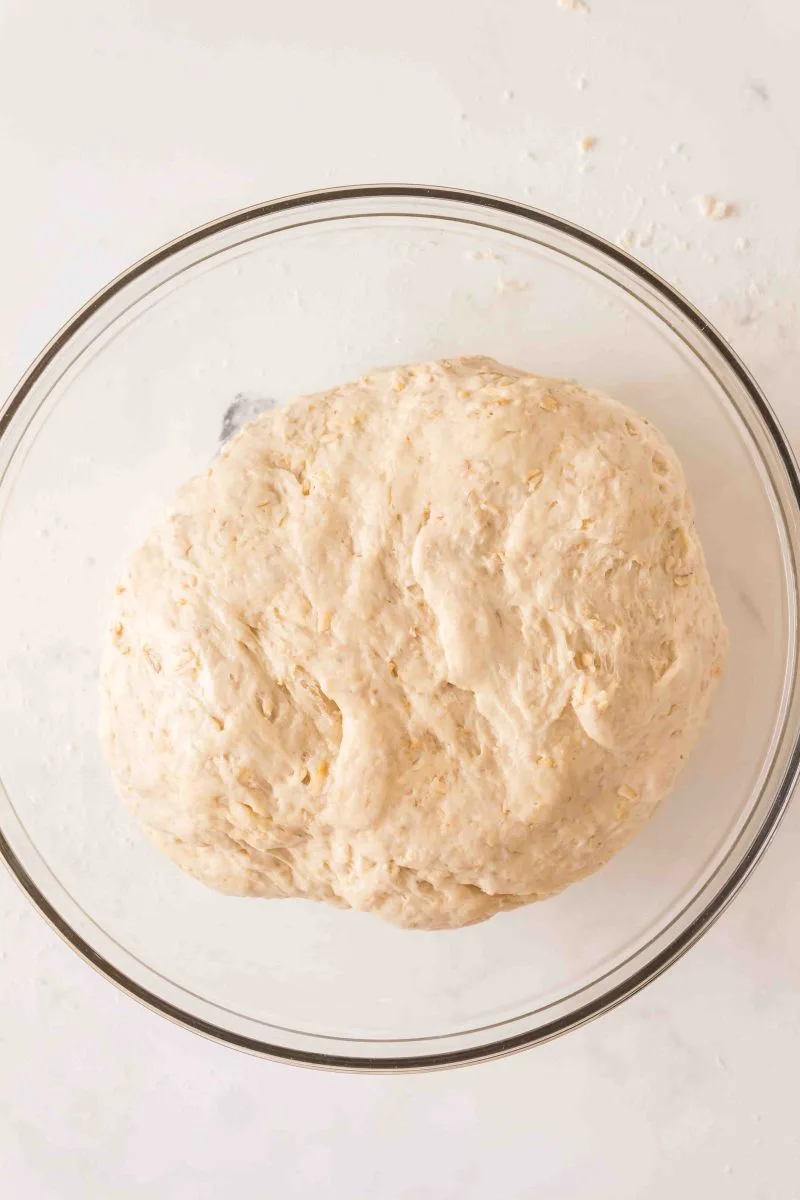 After 20 minutes, knead the dough until it is smooth and elastic. We removed the dough from the bowl and kneaded it on a lightly greased work surface. You can leave it in the bowl if you wish.
Step Four. Let the Pain de Mie dough rise.
Let the dough rest in a lightly greased bowl, covered, for the first rise.
Step Five. Move the dough to the pan.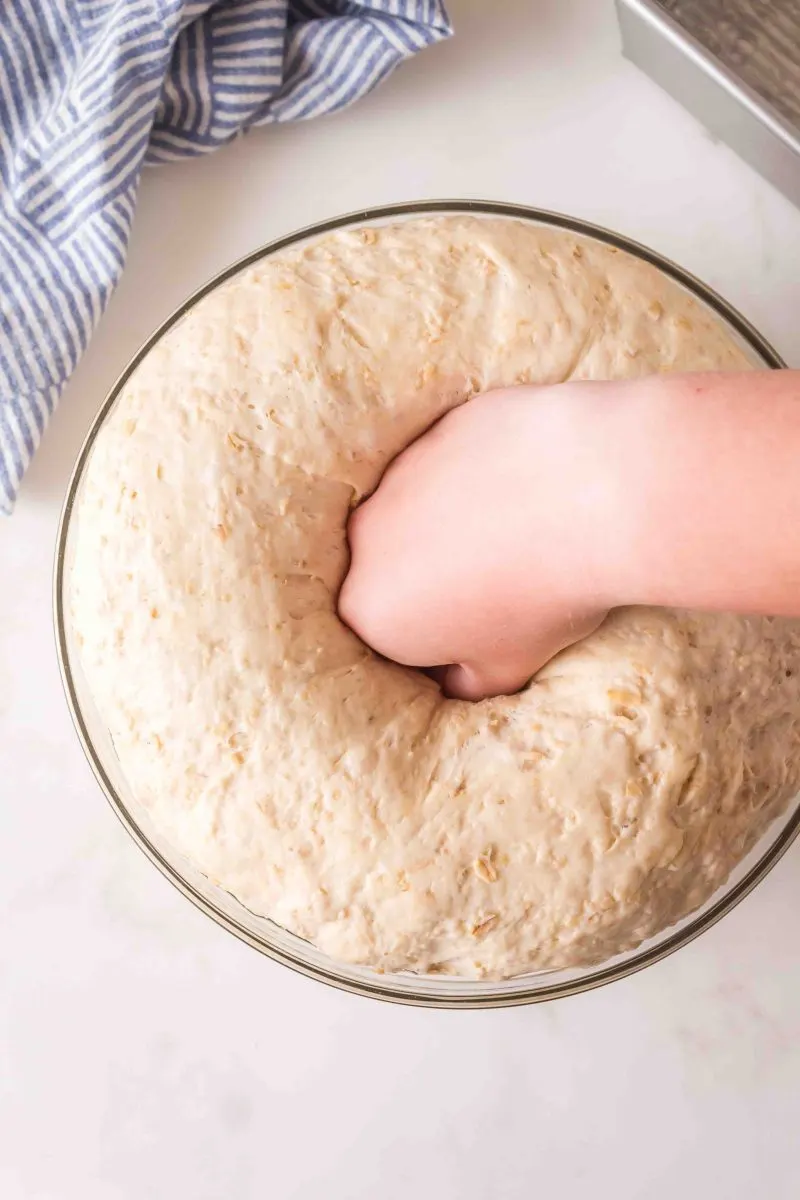 Deflate the risen dough and form it to fit the greased pullman bread pan. Cover it in plastic wrap so that it doesn't dry out and let it sit in a warm place for the final proof until the dough rises within 1 inch from the top of the pan, 60 to 90 minutes depending on the warmth of your kitchen.
Step Six. Bake your pullman bread!
Remove the plastic wrap and close the lid. Bake your bread, removing the lid at 35 minutes. Remove the lid and finish baking. The pain de mie bread is done when it is golden brown and the internal temperature registers 190°F on an Instant Read Thermometer.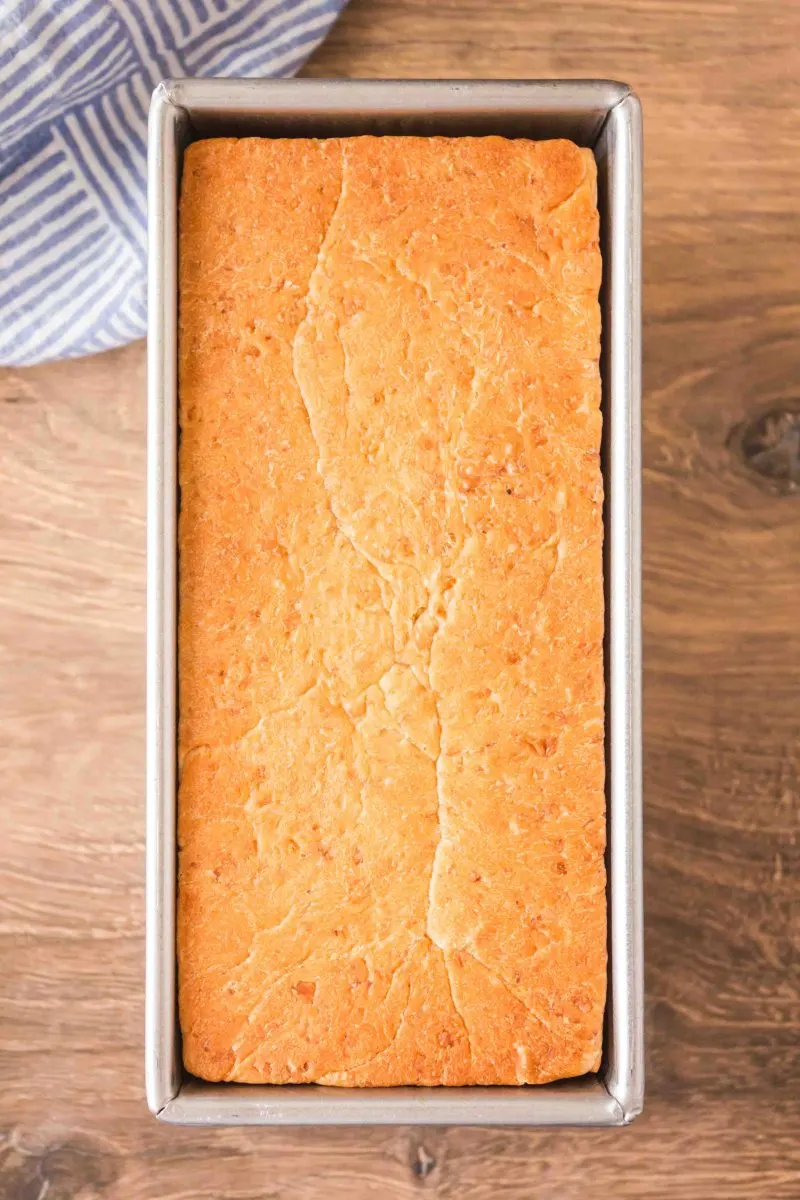 Step Seven. Cool the Bread Completely.
Remove the bread from the pullman tin onto a wire cooling rack. Butter the top of the bread when it comes out of the oven and then let it cool completely before slicing so that it doesn't tear.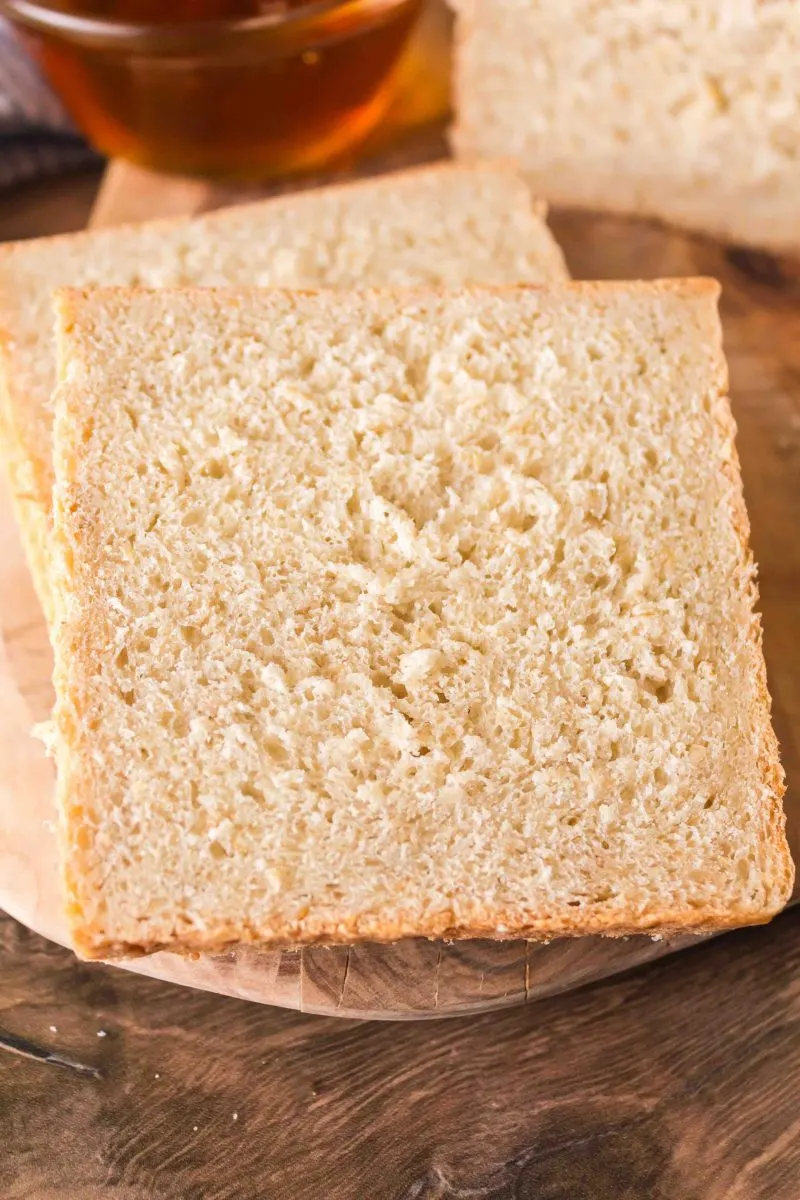 Frequently Asked Questions
How do I store fresh Pain de Mie?
Store this bread at room temperature in an airtight container for several days. You can also keep it in a plastic bread bag.
How long will homemade Pain de Mie keep?
This recipe will keep 4 to 5 days days at room temperature or you can place it in the refrigerator for longer storage.
Can I freeze a loaf of Pain de Mie?
Yes, you can freeze an entire loaf or individual slices. Thaw at room temperature. Place the bread in a plastic bread bag and then wrap it in foil.
How would you serve a homemade pain de mie?
This beautiful pullman bread makes perfect toast for jelly and butter or simple slices for sandwiches of any kind. You can slice it thick to make paninis in your panini press or slice it moderate to thin to make a cold sandwich for lunch.
Substitutions and Variations
You can use a regular loaf pan or split the loaf into two pans if you wish. Our recipe card has more specific instructions for this option.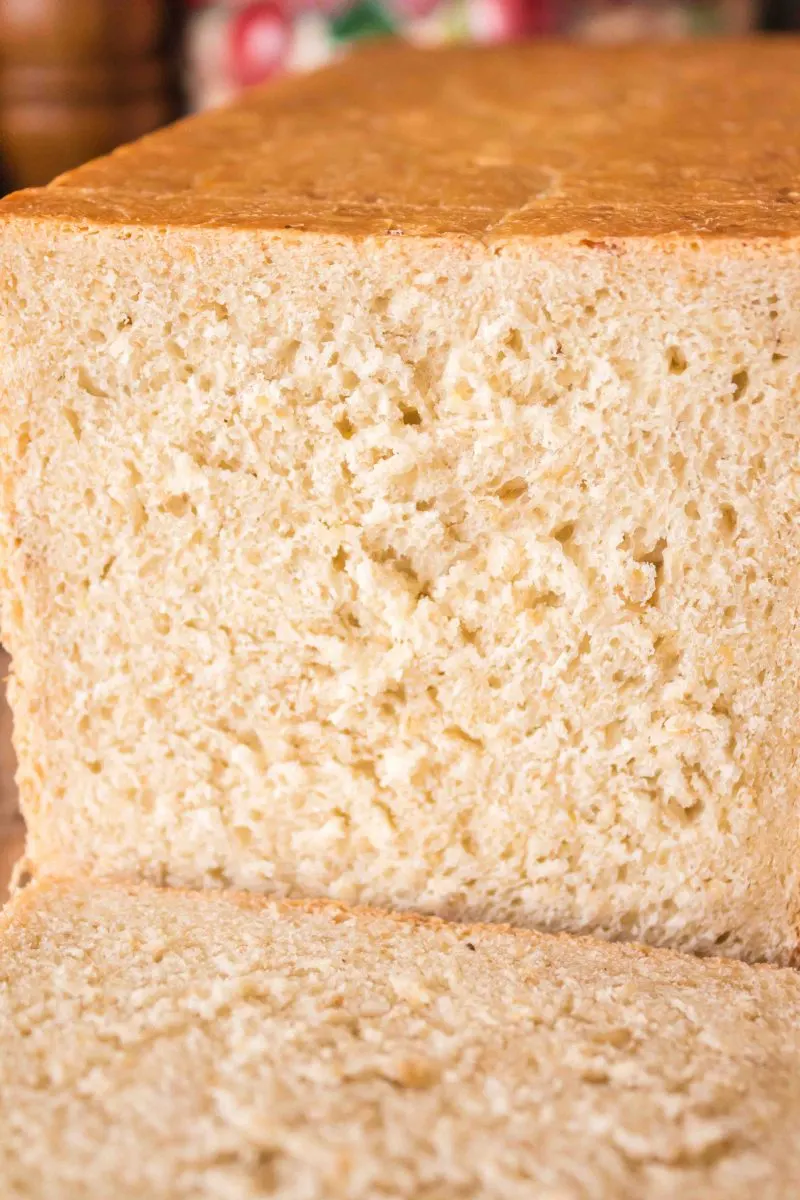 Hostess Tips and Tricks for our Pain de Mie Recipe
Avoid over mixing your bread as this will cause it to dry out or become tough. Knead gently until smooth and elastic.
You do not have to use the pan with a lid unless you want pullman loaves; with a flat top and straight sides
Watch the progression of the rising dough after shaping and putting it into the pan. You don't want the dough to go beyond the top of the loaf pan or you wont be able to put the lid on it. If this happens, bake the bread without the lid. You will not get the same style of bread but it will still be delicious.
​You can prepare the pan with non-stick spray but we prefer to grease it with butter. It adds a delicious rich flavor to the crust.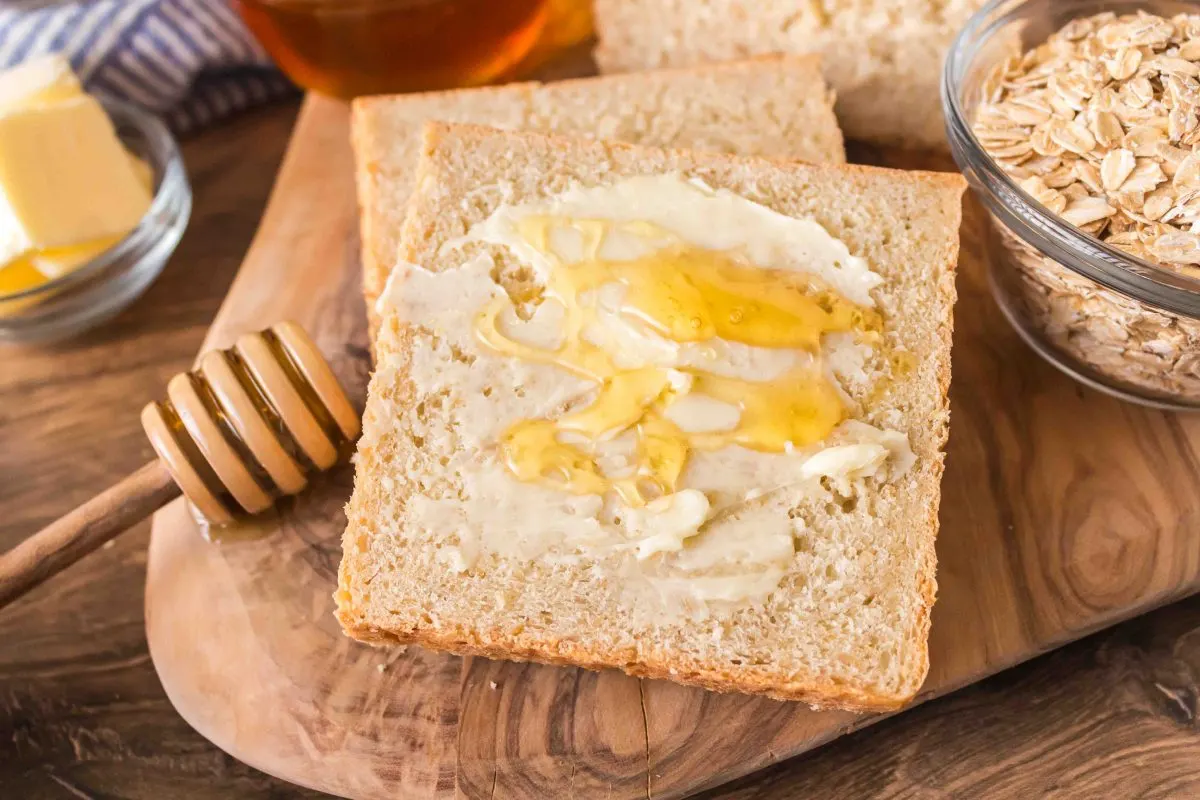 We LOVE baking bread! You can find all of our bread recipes here!
I've made this bread so many times. It makes perfect sandwich bread slices and French toast muffins. When we don't use it up right away, we make amazing Homemade Bread Croutons!
If you like this bread baking like we do, I think you'll enjoy these recipes too!
I hope you enjoyed this delicious recipe as much as we do. Drop me a comment below, and don't forget to give it a star rating. ⭐⭐⭐⭐⭐. Your comments and ratings help others decide if this recipe is for them too.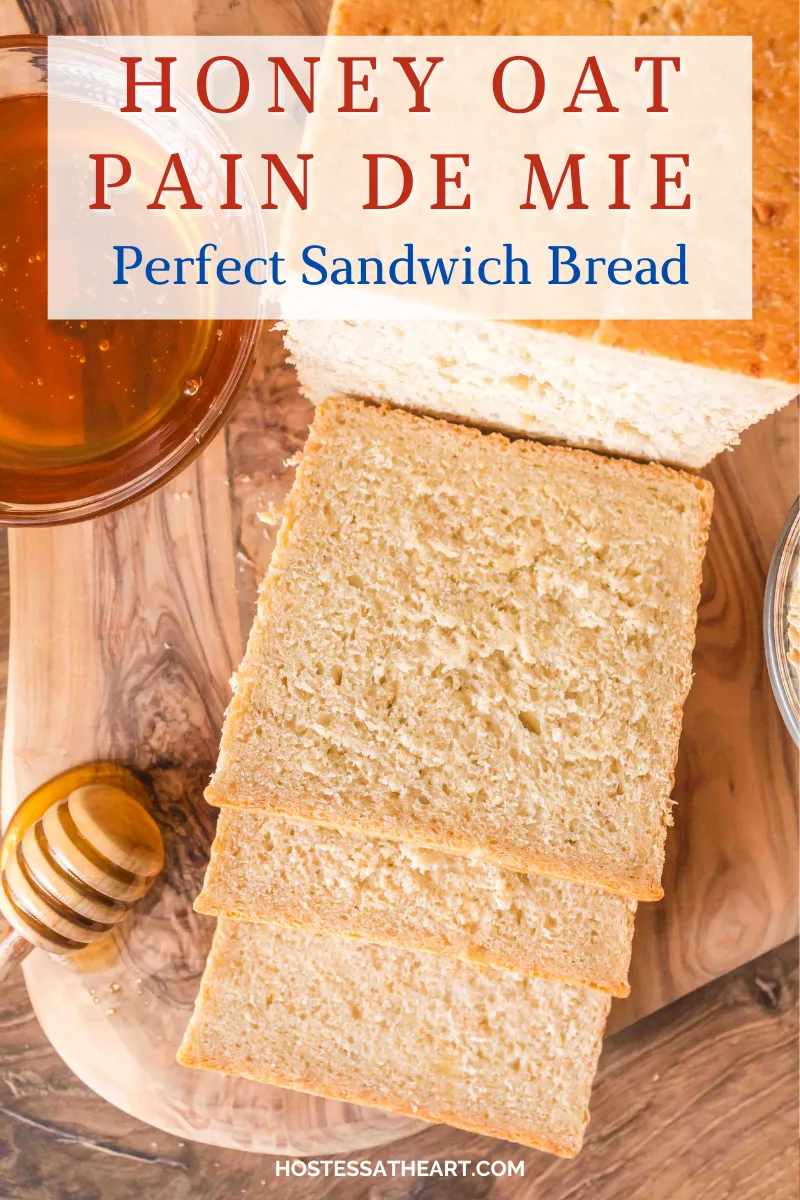 This Honey Oat Pain de Mie recipe was originally shared on 7/12/2016 so it was time for an update. New images and tips have been added to improve reader's experience. No changes were made to the recipe.