Some cravings do not need explained. Honey Butter Biscuits are worth their weight in gold and our drop biscuit recipe with honey butter glaze is incredible. As if that were not enough, it's also really easy to make this special dinner treat.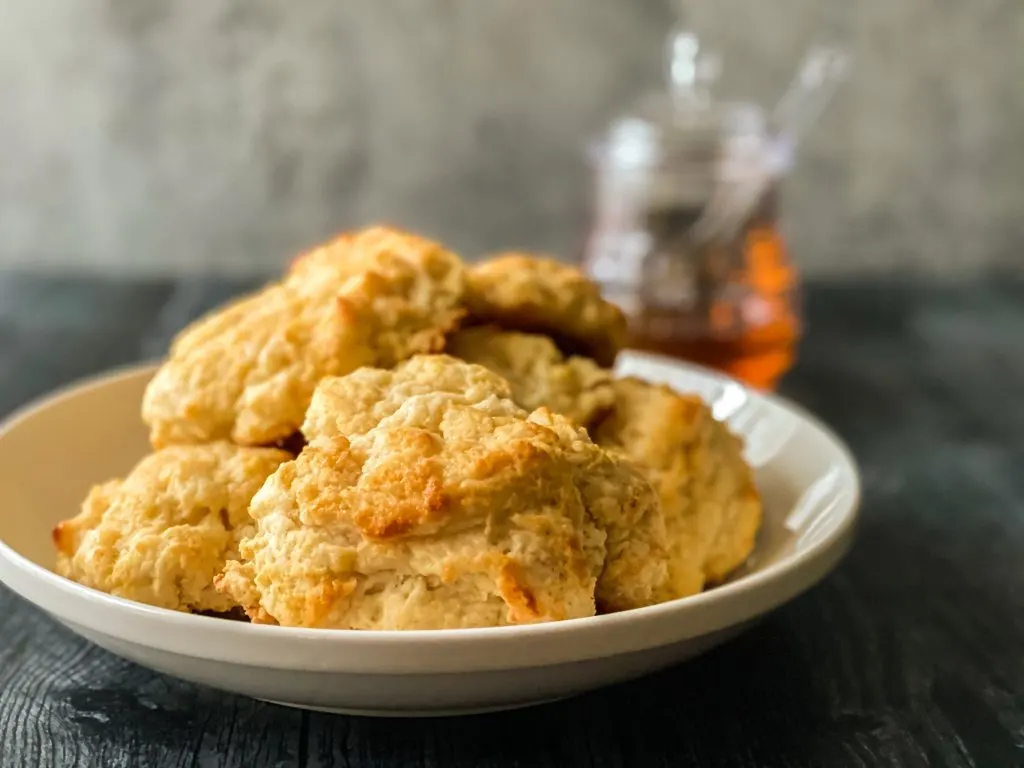 Why You'll Love This Drop Biscuit Recipe
Simple ingredients. You won't need anything surprising or extra for these easy drop biscuits. You probably already have all of these ingredients in your kitchen.
Easy to mix. Mix the dry ingredients together and then cut the butter into the flour.
Bakes in 10-12 minutes. You'll have hot glazed biscuits on the table in no time at all.
Equipment Needed For Honey Butter Biscuits
Baking sheets. High-quality baking sheets make a world of difference to how your baked goods turn out, especially on the bottom.
Parchment Paper. Time is money, and lining your sheet pans with parchment paper will save you time and make clean-up a breeze. The color of baking sheets can affect how recipes bake. Covering them with parchment removes that issue.
Pastry Cutter. Also known as a pastry blender. If you want perfect biscuits and pie crust every time, you need a pastry cutter. This is how you get the fat and dry ingredients perfectly blended for a gorgeous even rise in biscuits or a flaky pie crust. Watch how to use one.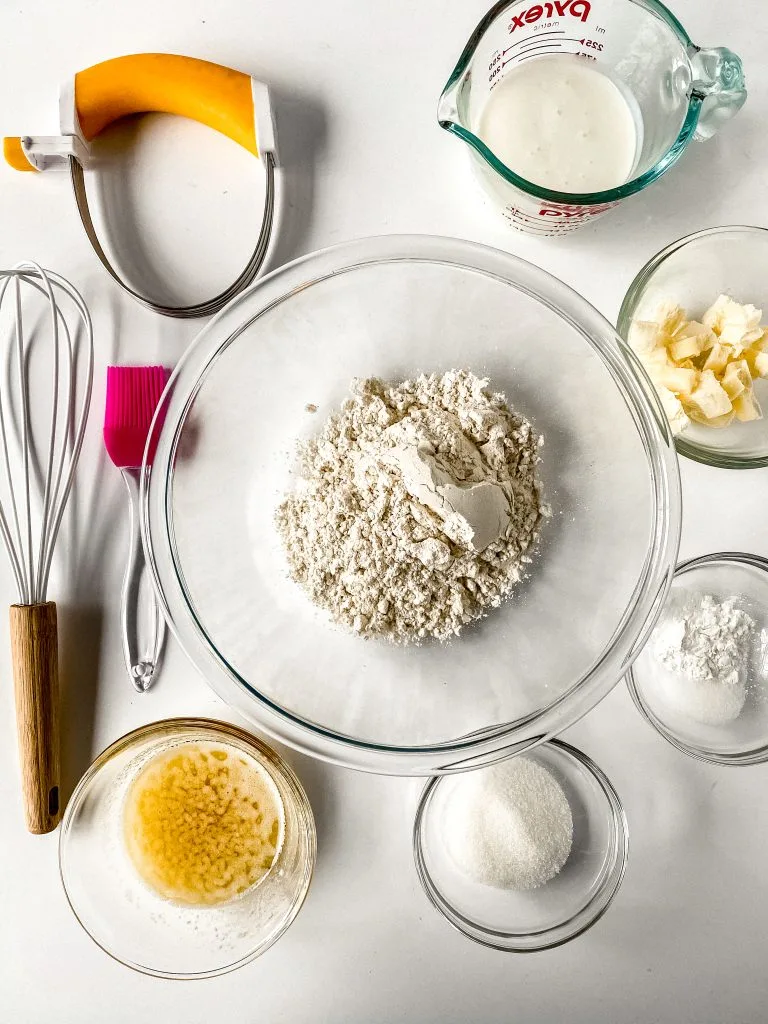 Ingredients for the Honey Butter Biscuits Recipe
All-Purpose Flour. Bleached or unbleached all-purpose flour both work just fine.
Sugar. White table sugar like you mix into your tea.
Baking Powder. Fresh baking powder is a must for making homemade biscuits. Find out if your baking powder is fresh using the instructions in my Baking Basics Guide.
Salt. Kosher table salt or fine sea salt are my favorites.
Cream of Tartar. Acts as a leavening agent in baked goods.
Butter. I use real unsalted butter. If you use salted butter eliminates the additional salt called for in this recipe.
Buttermilk. The full-fat version gives our biscuits flavor and a nicely moist spring.
Ingredients for Honey Butter Glaze for Biscuits
Butter.
Honey. Local honey is always lovely, but any honey you have on hand will work for your biscuit glaze.
Please note, that the printable recipe card has ingredient quantities, complete instructions, and nutritional information. The following is a quick overview of the recipe.
How to Make Honey Butter Biscuits
Making these biscuits is really straightforward. You will wish you'd been making them for years!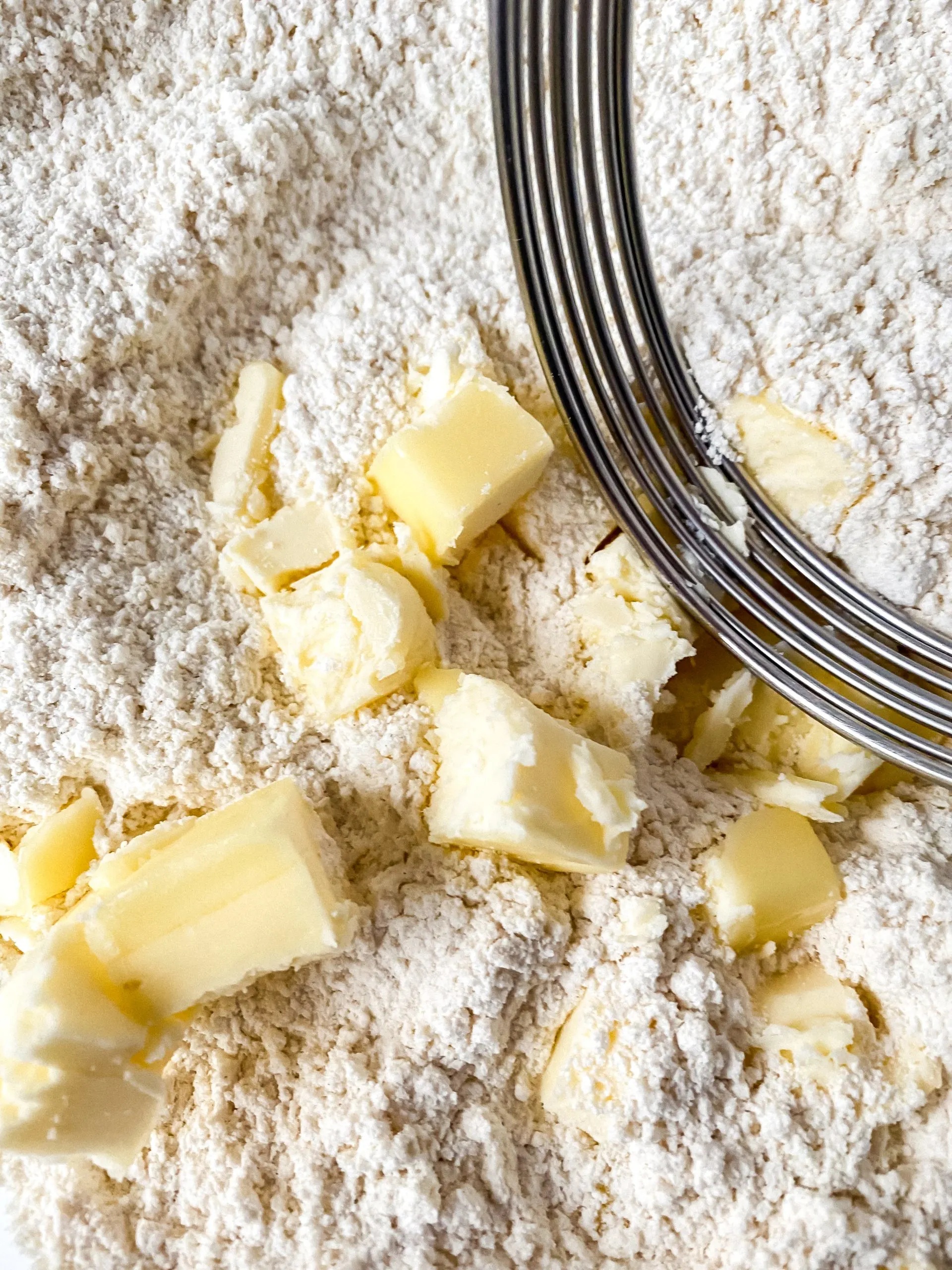 Once you've preheated the oven and readied the pan, in a bowl whisk the dry ingredients together. Then cut the butter into the flour mixture using a fork or pastry cutter.
When the mixture is crumbly and well mixed, fold in the buttermilk.
Drop small portions of the biscuit dough onto your prepared baking sheet using either a tablespoon or a cookie scoop.
Making the glaze is simply a matter of melting the butter and stirring in the honey. Brush the dropped biscuits with the honey butter glaze.
Bake your biscuits golden brown and finish with another brush of honey butter.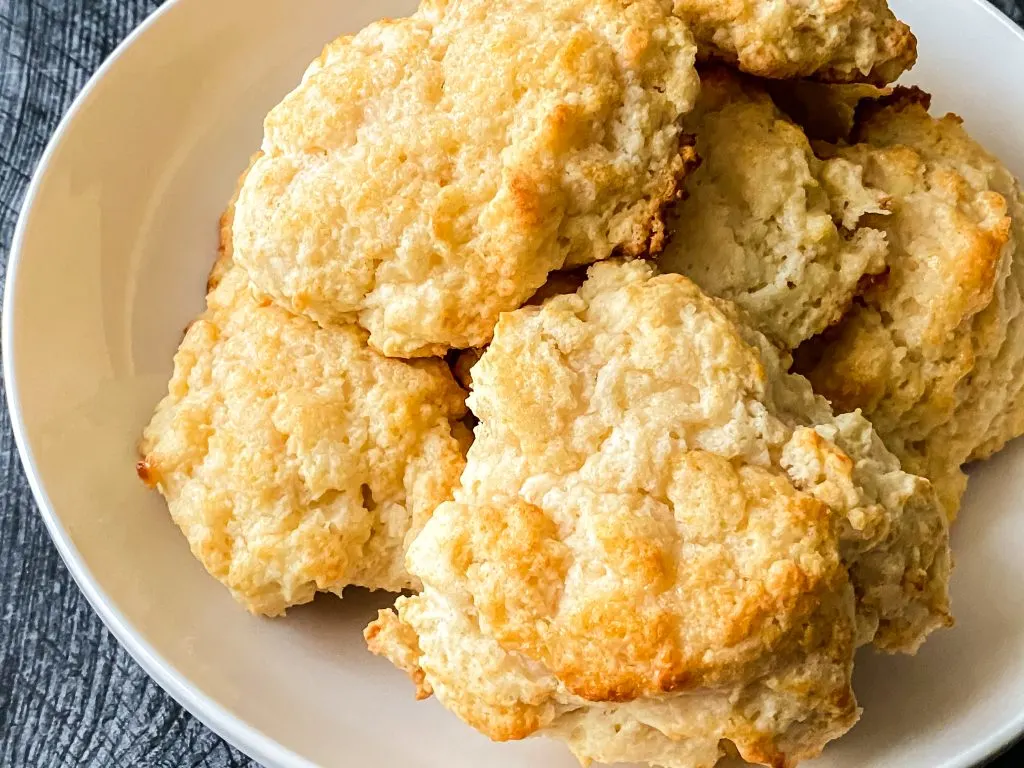 What to Serve with Honey Butter Glazed Biscuits
Biscuits go great with everything! These biscuits are a particularly lovely sweet contrast for any savory grilled or baked meat, a salad, or a soup such as Ham and Bean Soup.
Substitutions and Additions
If honey is difficult to find, you can use powdered sugar or maple syrup to make a sweet butter glaze. If you choose powdered sugar, you may also need a bit of warm water.
Thinned jams and jellies can also be brushed on as a glaze. A raspberry glaze would be amazing.
Should you need a dairy-free option, cold non-dairy butter (preferred) or shortening can be used in this recipe.
How To Reheat & Store Honey Butter Biscuits
Best Way To Store Honey Butter Glazed Biscuits
If you have any leftovers of these delectable biscuits, and I have some doubts as to whether or not that could happen, but if you did they should be kept in a sealed plastic bag or container at room temperature for a few days or in the refrigerator.
How Long Will Honey Butter Biscuits Last In the Fridge?
If you keep the leftover biscuits in your refrigerator, they may last for an extra day or so but will also absorb the moisture in the glaze more and potentially become soggy.
If you expect to have leftovers, save some of the honey butter glaze in the refrigerator instead and leave some of the biscuits unglazed for later.
Can I Freeze and Thaw Easy Drop Biscuits
Yes. You can freeze biscuits after they are baked in an airtight plastic container or sealed freezer-quality plastic bag for up to three months.
Microwave them for about twenty to thirty seconds to thaw. If you prefer, you can freeze the dough in biscuit portions and bake from frozen.
You'll just need to add a few minutes of extra time in the oven.
How To Reheat Easy Drop Biscuits
Room temperature honey butter biscuits can be microwaved for about ten seconds depending on the power of your appliance.
Pin this amazing Honey Butter Biscuit Recipe!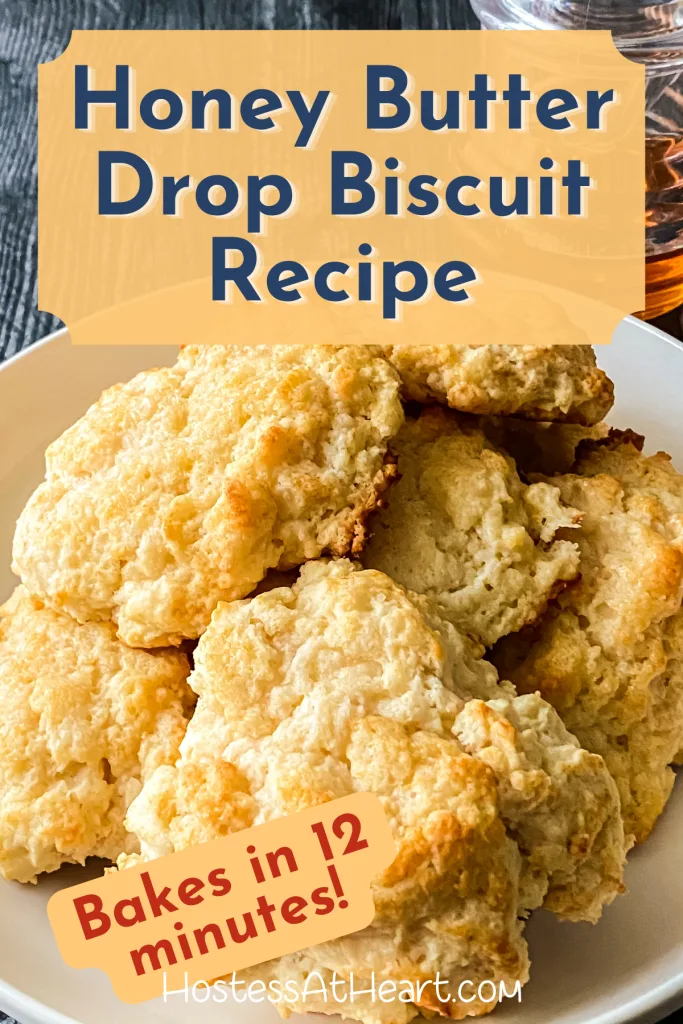 Easy Drop Biscuits FAQ
What is a drop biscuit?
This is a biscuit recipe that doesn't need to be rolled out or cut. Instead, the dough is dropped by the spoonful straight onto the baking sheet. Our honey butter biscuit recipe is a drop biscuit.
What does it mean to cut butter into flour?
Butter is "cut" into the flour with a fork or pastry cutter or even two knives. The two ingredients are not blended thoroughly with a hand mixer or machine, because you want little chunks of butter to remain throughout the dough. The melting butter creates lovely pockets of air and releases water into the dough to create rise and results in flaky, fluffy biscuits.
Tips to Make the Perfect Honey Butter Biscuits
Make your own buttermilk. Don't have buttermilk? Make your own by combining 1 tablespoon of white vinegar or fresh lemon juice with 1 cup of milk. Let it sit for 5 minutes or until it starts to thicken.
Hands Off. Use a pastry cutter or two forks to work in the butter. Don't use your hands. The heat from your hands will warm the butter and your biscuits will not be fluffy.
Cold Butter. Keep it cold until you need it. Cold butter cut into cubes or diced will make amazing biscuits.
Preheat your oven. Don't skip this step. A hot oven causes the pieces of cold butter to burst in the dough and expand which creates a fluffy, flaky biscuit.
Go easy on the dough. Don't over mix the dough because over mixing can cause a flat and dry biscuit.
More Biscuit Recipes You Will Love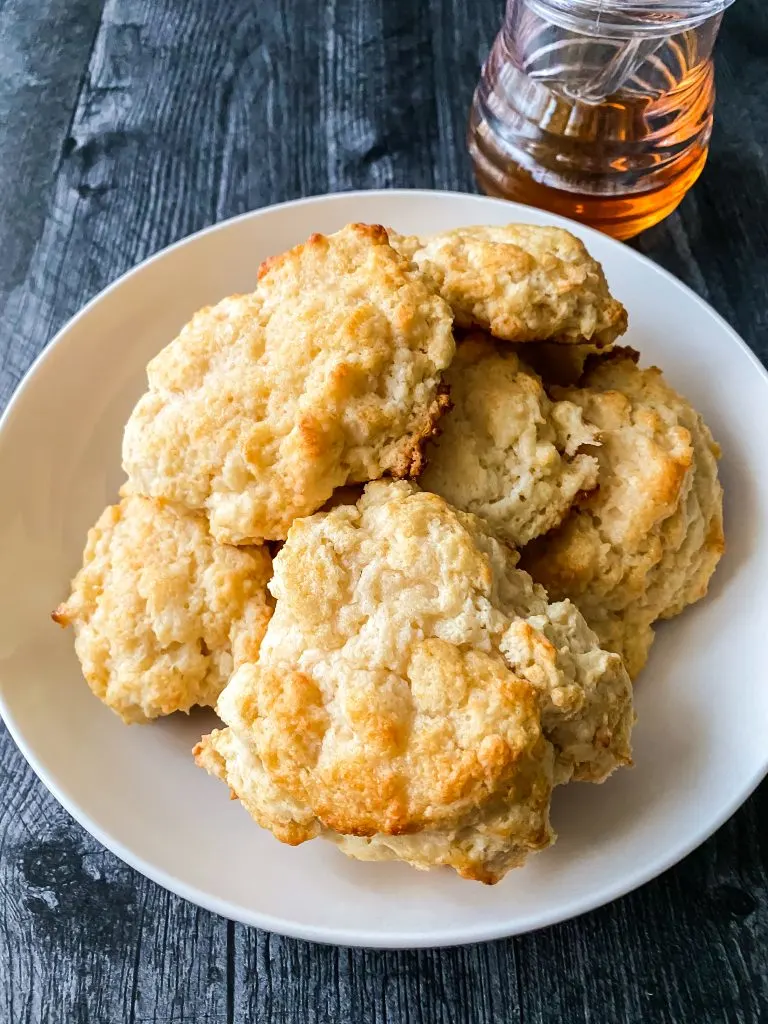 Don't Forget To Come Back And Let Me Know How Your Honey Butter Biscuits Turned Out!