Spelt Sourdough Bread is an easy overnight recipe that tastes nutty and a little sweet. Fresh rosemary adds a smooth herb flavor. This spelt bread recipe has a crusty exterior and a soft tender center. Exactly what you look for in artisan bread.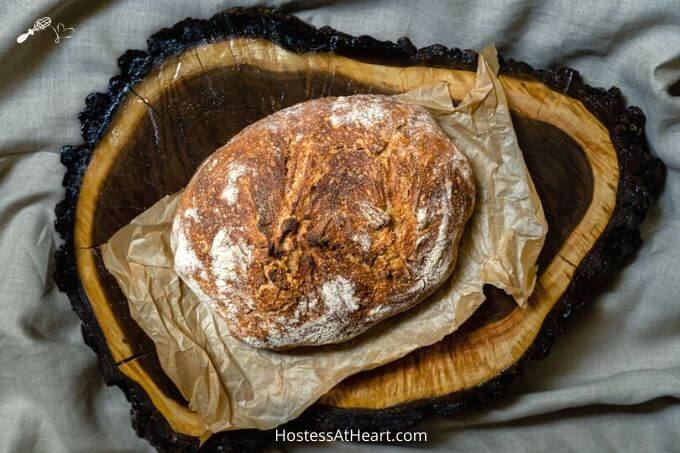 Spelt Sourdough Bread recipe is an easy bread to create. This smooth nutty bread has a wholesome flavor that goes perfectly with about any meal.
It's delicious fresh out of a hot toaster with a slather of butter and it also makes an amazing turkey sandwich!
I get comments about ideas for products or gifts for a bread baker that would be helpful if someone wanted to get started baking artisan-style bread.
I put together a list and asked what bread you'd like to see made here on Hostess At Heart and received some amazing requests that I'm working on.
One of the requests that I couldn't wait to tackle was for a Spelt Flour Bread Recipe.
I've made a Spelt bread recipe before so I knew how amazing it tastes, but it's for a quick sandwich loaf. This recipe request was for a Spelt Sourdough Bread recipe.
What is Spelt?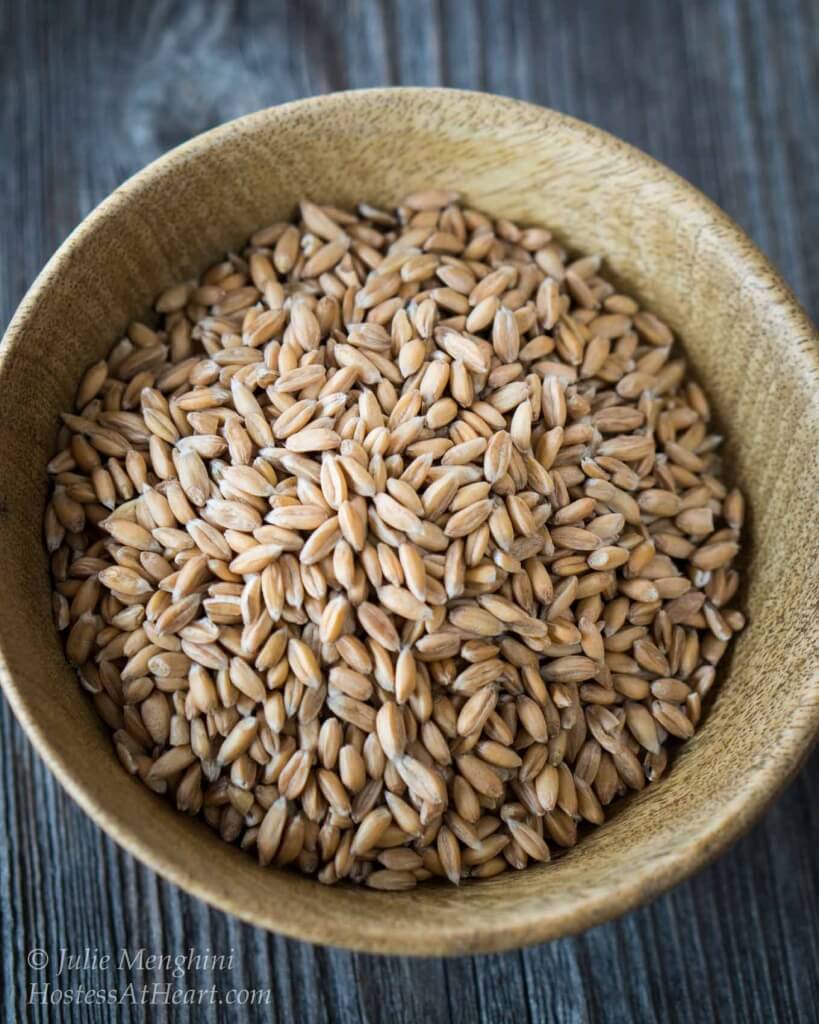 Spelt is an ancient whole grain in the wheat family but is not wheat!
The benefits of using spelt flour
I've read that spelt has less gluten than wheat and some gluten-sensitive people can tolerate it. I would use caution here however because it does contain gluten. People with celiac disease shouldn't consume spelt.
I bring up gluten in spelt because it is more fragile than in wheat flour. For this reason, it acts differently than wheat flour in baking.
I've found that spelt flour on its own will deflate or flatten once it's removed from the oven in my quick bread recipes. I haven't baked a 100% spelt flour loaf of bread.
For that reason, I combine spelt flour with other flour such as bread flour or white flour. Using a mix of flour still allows the spelt flavor to shine.
Spelt flour comes in several varieties. We used whole grain, stone-ground flour in this recipe.
I found this resource helpful in tips for using spelt flour.
I used a different technique for rising this spelt bread recipe compared to our Overnight Sourdough Bread and Multi-grain Wheat Bread recipes. It still has minimal handling, but after a countertop rest like the other bread recipes, I put it in the refrigerator for a slow overnight fermentation.
I use this method with some of my other artisan bread and like the flavor it takes on.
How to make Spelt Sourdough Bread
I made adjustments to the flour mix and the water ratio. Spelt absorbed the water so this bread has is higher in what's called "hydration" than some of our other sourdough bread recipes.
Hydration is the ratio of flour to water. For example, we use a total of 500 grams of flour in the recipe and 375 grams of water so the hydration is 75% (500/375).
Don't get hung up on the math stuff since I've done it for you. As you can see in the first picture below, this is a wetter dough.

Squelch all of the ingredients together.
Place the dough in a container that you can measure its progress. I have several rising buckets in several sizes, but a bowl works just fine.
When dough has doubled, remove it from the container and shape.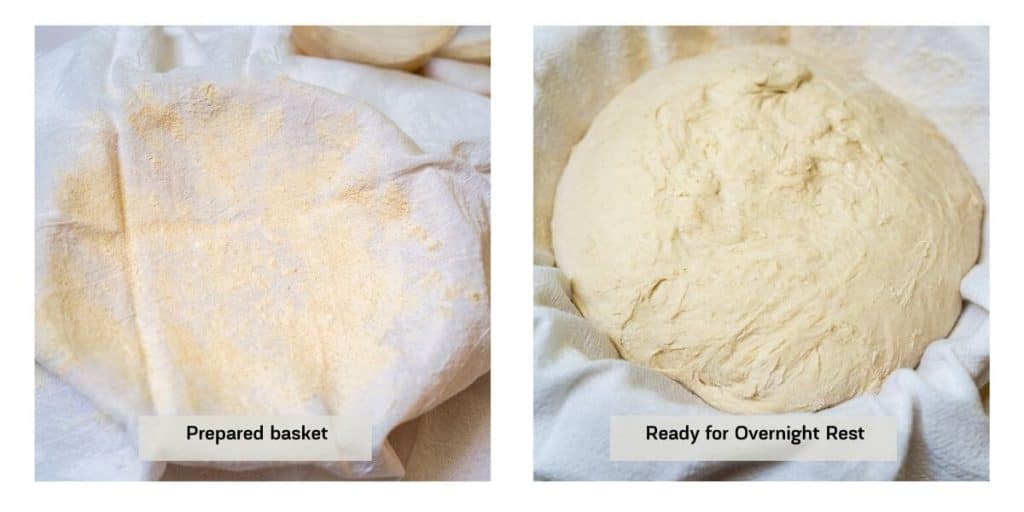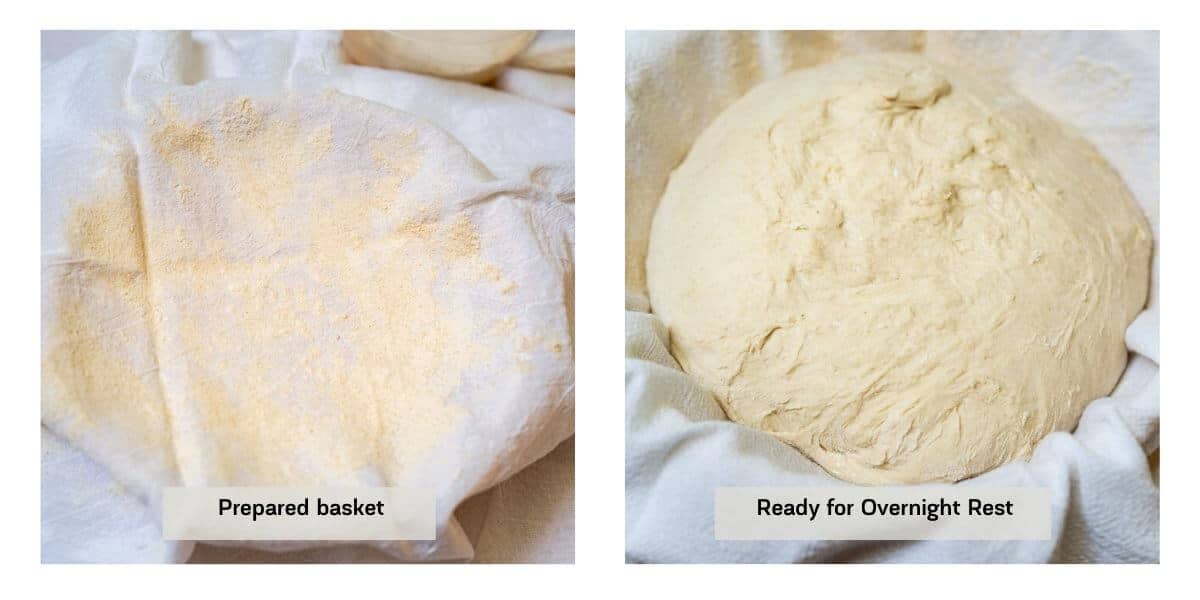 Prepare a bowl, basket (banneton) by dusting it with flour. I use a 50/50 mix of white whole wheat with rice flour. Use what you have.
Place the shaped dough, seam side up in the prepared bowl or basket. Cover the dough and place it in the refrigerator for up to 12 hours. I'll put the whole basket in a plastic grocery bag.
Bake as instructed in the recipe card below.
If you would like to see how I get the dough into a hot pot without ruining the shape of the bread or burning myself, I've got a "how-to" video on my Wheat Bread post.
Products that I use to make Spelt Sourdough Bread
Make your own starter
This bread uses a "starter". You can build your own and have your very own sourdough bread on the table in less than 8 days. Our step-by-step guide takes out all of the mystery.
You could feed your starter with spelt flour instead of the wheat flour used in my starter recipe. However, I don't think that it makes a difference and I don't want to maintain several different starters according to the flour used in the bread I'm making.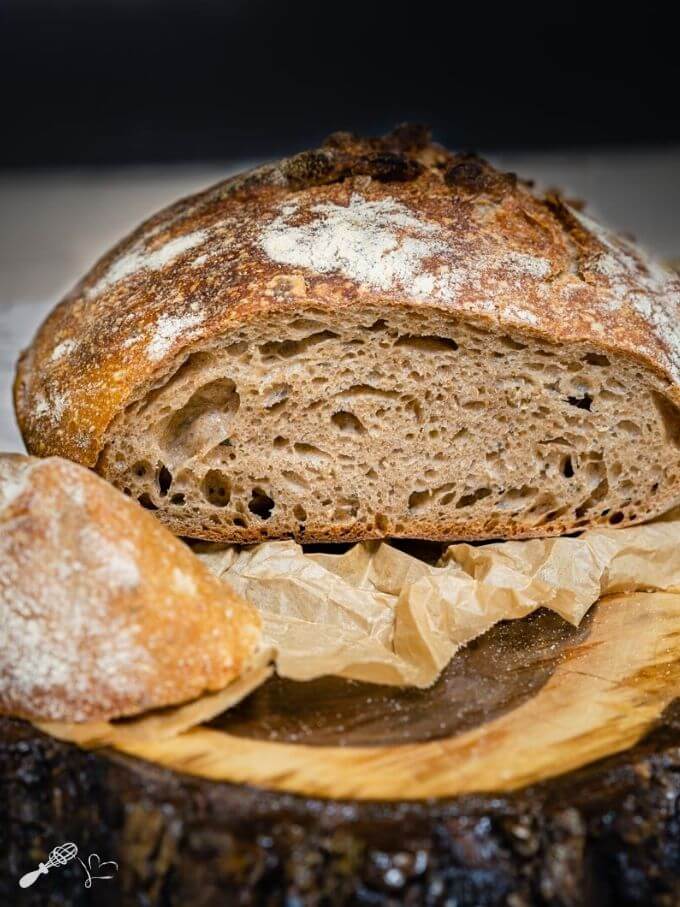 FEED YOUR SOURDOUGH STARTER
Fed starter is also referred to as a "Levain". Don't get hung up on the terms. It's just a fed starter.
We feed our starter before bed by taking 1 tablespoon of starter and mixing it with 200gr filtered water and 200gr of our 50/50 flour mix. It has always passed the float test the next morning which can be 6 to 8 hours.
If you're making your bread without letting your starter feed overnight, you just have to watch it. It's ready when it's increased by about 30% which is about 4 hours for mine. Room temperature and strength can be variables, however.
This makes more starter than what you will need but I bake several loaves at a time and freeze them.
Homemade Spelt Ingredients
This Spelt Sourdough bread came out with that delicious crispy crust and that pull you want in a sourdough loaf. The center was soft and tender with that sweet nutty flavor from the spelt flour and essence from the fresh rosemary.
Pin it!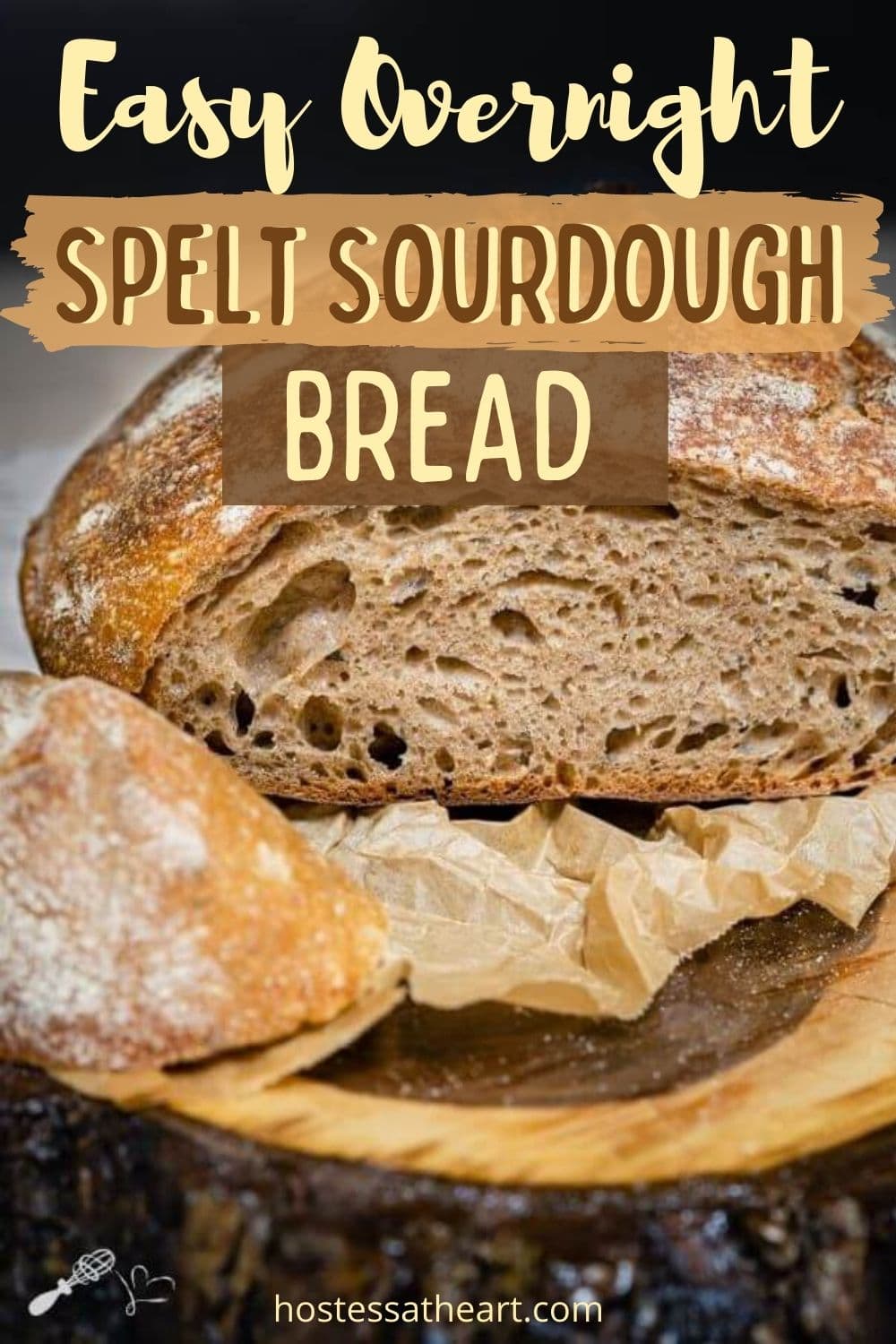 Other Sourdough Starter Bread recipes
Unlike my other sourdough bread recipes, I didn't score this loaf prior to baking. Since Spelt doesn't contain the structure of other flour I didn't feel it was necessary.
Scoring the loaf prevents a "blow out" or tear while baking. Some bakers like this effect so don't score any of their bread.
As you can see, this Spelt Sourdough Bread didn't blow out. It didn't bake as tall as our other sourdough bread recipes but that was expected.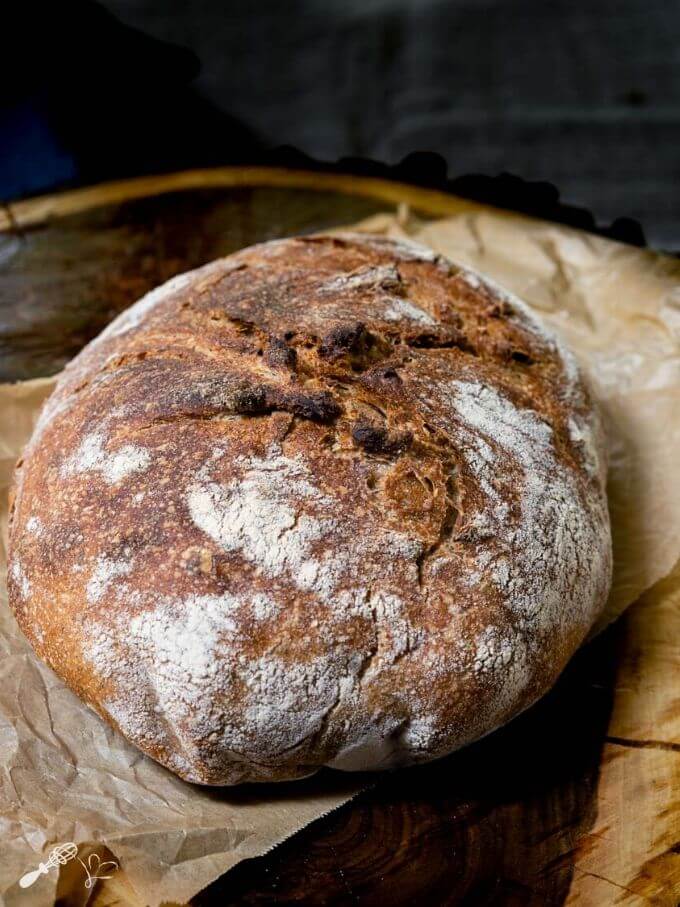 Some of our popular bread recipes
If you hate throwing away sourdough starter discard, you're going to love these Sourdough Starter Discard recipes!
I want to thank the reader that suggested that we make a spelt bread recipe. I loved it and hope you will too!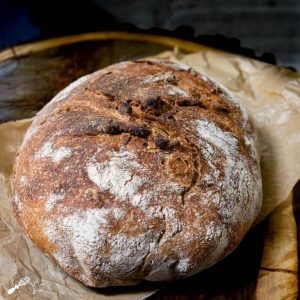 Spelt Sourdough Bread with Rosemary
Spelt Sourdough Bread is an easy overnight recipe that tastes nutty and a little sweet. Fresh rosemary adds a smooth herb flavor. This spelt bread recipe has a crusty exterior and a soft tender center. Exactly what you look for in artisan bread.
Ingredients
150

grams

bubbly starter

385

grams

*purified water

or filtered water at room temperature

200

grams

bread flour

organic

300

grams

spelt flour

9

grams

sea salt

fine

1/4

cup

rosemary

fresh, chopped
Instructions
Squelch all of the ingredients together briefly (just for a minute is enough) with your hand. Cover the bowl with plastic wrap and let the dough rest for 30 minutes. Don't skip this step!

Stretch and fold the dough into the bowl several times for about a minute. I just pull the outside to the center as I turn the bowl. Place the dough into a large bowl or clear container and let it rise until doubled, approximately 6 hours.

Dust your counter with flour. Scrape the dough out onto the counter. Don't punch it down. You want to keep as many of those bubbles as you can.

Pull the outside thirds into the middle and shape as you wish. Try to pull the outside of the dough as tightly as possible so it will hold its shape well. I shaped mine into a ball also known as a boule. Place the dough into a prepared bowl or banneton seam-side up.

Cover and put the shaped dough in the refrigerator overnight.

When ready to bake, remove the dough from the refrigerator while the oven preheats.

Preheat the oven to 240/250C (I preheat to 475°F and place my lidded pot inside to heat up. You can use an enamel dutch oven or aluminum roaster. You can also put the dough into a cold pot but I find I don't get the same golden color when I do that.

Carefully remove the pot from the oven and remove the lid. Carefully place the dough into the pot. I lift mine by the edges of the *parchment paper and put the whole thing into the pot. Replace the lid and place in the oven.

Reduce the heat to 220C (425°F convection). Bake for 20 minutes. Remove the lid and bake for an additional 20 to 25 minutes.

Immediately remove the bread from the pot and place it on a cooling rack. Let it cool completely before slicing. Warm bread is more difficult to slice but, sometimes you just got to have that slice of warm bread!
Video
Notes
*Start with 375g of water but if the dough is too dry add up to an additional 10g.
*Parchment paper has a heat rating. Make sure what you're using is rated for this hot of an oven. If it isn't, it can catch fire in the oven.
If you need assistance getting your shaped dough into a hot pot, I've deveoped a technique that may help. You can see the video here.
Your bread can be cooked in a cold dutch oven but I like the color and rise I get from preheating my lidded pot.
This bread freezes beautifully. I wrap it in plastic wrap or a ziplock bag and then heavy-duty foil.
Nutrition
Calories:
107
kcal
Carbohydrates:
20
g
Protein:
4
g
Fat:
1
g
Saturated Fat:
1
g
Sodium:
196
mg
Potassium:
11
mg
Fiber:
2
g
Sugar:
1
g
Calcium:
2
mg
Iron:
1
mg
Nutritional Disclaimer
This recipe was calculated using the exact brands and measurements I used to make this recipe. If you are following a strict diet please note changing anything will cause the nutritional info to change. My calculations are intended as a guide only.
Most Popular recipes
I have a great list of loaves of bread to put together and would love to know if you'd like to have one featured too!