Baking bread isn't difficult if you have the right tools to get you started. Gifts for the Bread Baker are items that make it easier to make that beautiful loaf of bread. Why not treat yourself or someone you love with a bread baking gift?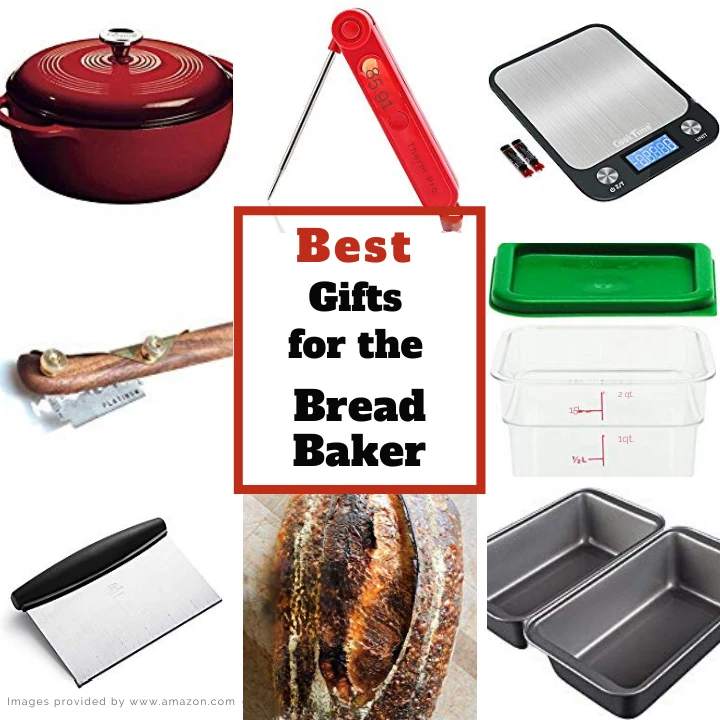 For the longest time, I wanted to bake bread that looked like those beautiful Artisan loaves you buy or enjoy at your favorite restaurant.
You know, that bread with the soft crumb and the crispy crust with just the right pull?
What stopped me was I didn't know where to start. If that's you or if you know that's what's in the heart of a loved one, I'm listing some of my most prized bread baking supplies to help you (or them) get started.
If you're more of a quick bread baker, I have some items for you too. I love quick bread as well but the items you need are a little different.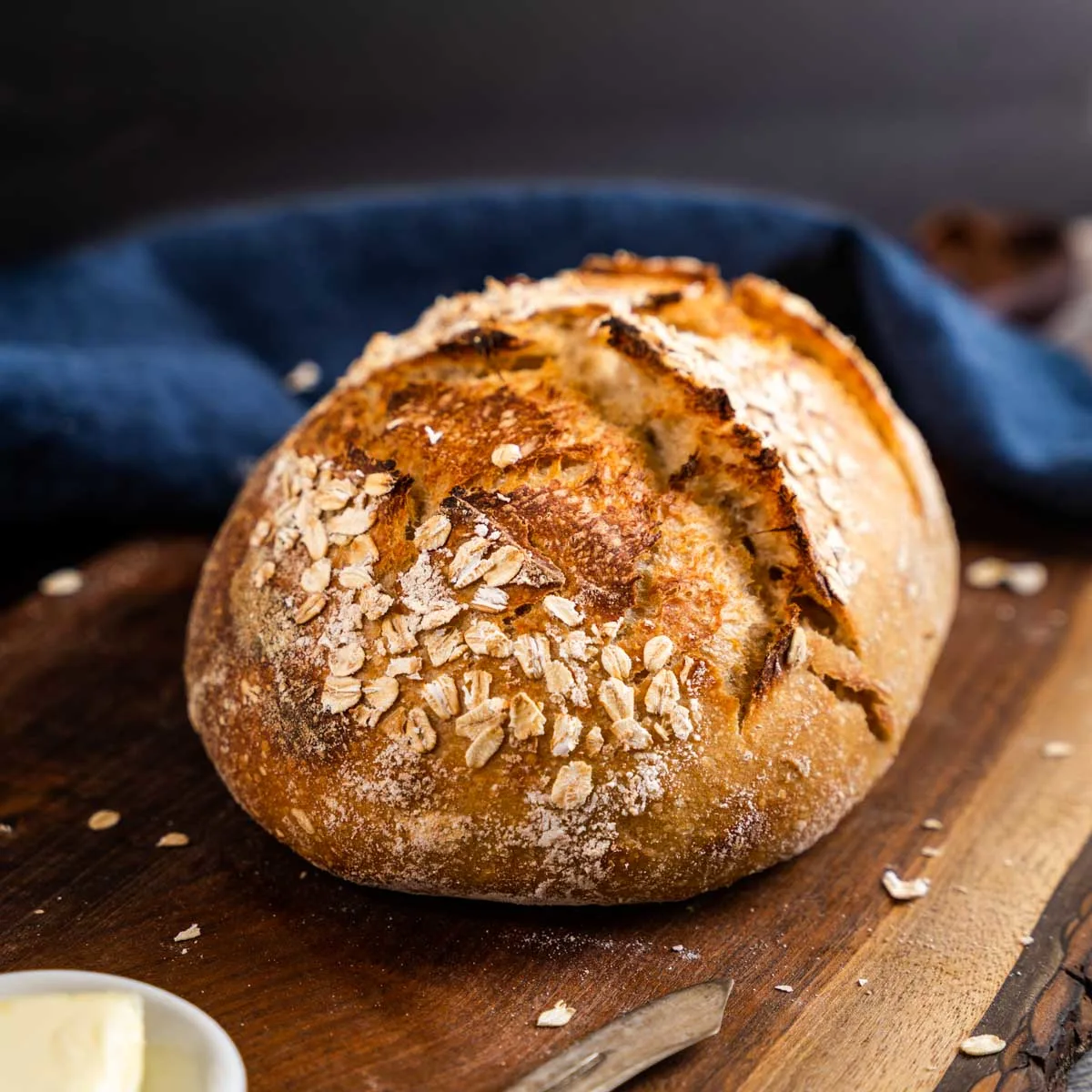 Artisan & Sourdough Bread Baking
If you're new to sourdough bread baking or just want to give the gift of sourdough, I love this sourdough bread kit. It's reasonable and a great way to update your sourdough baking experience.
This is first on my list for a very important reason. Baking beautiful leavened bread requires that you weigh your ingredients. Don't roll your eyes at me (I did it too at first). The reason is that leavened ingredients can't be measured in volume.
The starter is full of gasses and a cup of my starter isn't going to equal a cup of your starter. Heck, my starter today isn't going to be the same as my starter tomorrow, but 150 grams is always 150 grams.
I have several enameled cast-iron dutch ovens. I started out with a few that cost about 4 times what this one does and it's my favorite! I make my sourdough bread in it and it's perfect for soups, stews, and so many other recipes. It cleans up like a dream too!
You can pick the color that you like. As you can tell from my website, red is my favorite. In the middle of winter, color is a must!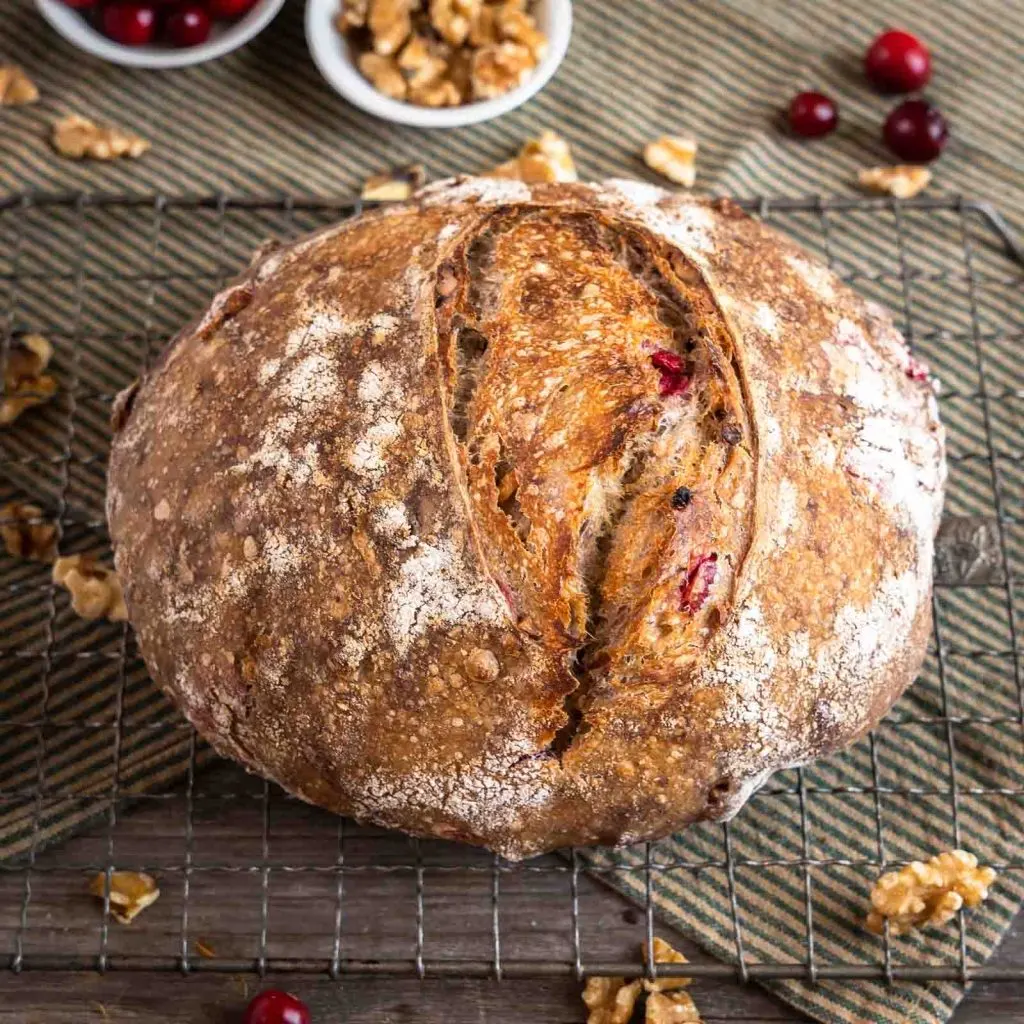 I'm a born researcher. I made a career out of it in the corporate world. So, when I wanted to learn how to make these beautiful loaves of bread, I did what came naturally, research.
That being said, I bought a lot of books that looked and sounded pretty darned good but weren't right for me. I know what appeals to one doesn't always appeal to another but I found Tartine Bread a wonderful reference.
Baking bread can have a lot of science jargon that would just make my eyes glaze over at the time. Tartine has a lot of process shots and you can take their basic recipe and grow from there. They just released a new book and I have it but if you're just getting started definitely get the book listed here.
A clear container but what's it got to do with bread right? Well, when you are Starting a Bread Starter and Maintaining It you need to track the progress. The same is true when you make your Levain. I use this container every time I bake my naturally leavened loaves of bread.
When it comes to baking bread you can't judge whether a loaf of bread is baked by its appearance. I bake my loaves to about 210°F. There isn't any way I would know where it's at if I didn't use this thermometer.
Some say to tap it and if it sounds hollow it's done. Not necessarily, trust me. Bread with a dense interior like our Multi-grain Wheat Bread is very difficult to tell when it's done. It's very frustrating to do the work to make bread like this and have it underbaked when you cut into it!
I need to get John one of his own. He says he couldn't properly grill a filet without this instant-read thermometer either.
When it comes to making bread I rely heavily on this bench scraper for splitting and moving my shaped loaves around. The dough doesn't stick to it like it does your hands which can really mess up a loaf that's been shaped.
A bench scraper is also useful for picking up diced veggies instead of dulling your knife. (You aren't guilty of that right?)
A bread lame is what you use to score (make a cut) into the top of the loaf just before you bake it. It gives the bread a place to expand and prevents cracking or "blow-outs" by releasing carbon dioxide. In simple terms, it helps your bread keep its shape.
This lame is a piece of art. I feel pretty chef-like when I use it. I must admit that it also works better than a cheaper model that I started with. This one is black walnut and comes in a wooden box for storage and easy wrapping! Oh, it's also made in the good ole USA too!
I could list a truckload more supplies that I enjoy but these are the must-haves.
Yeast and Quick Bread Baking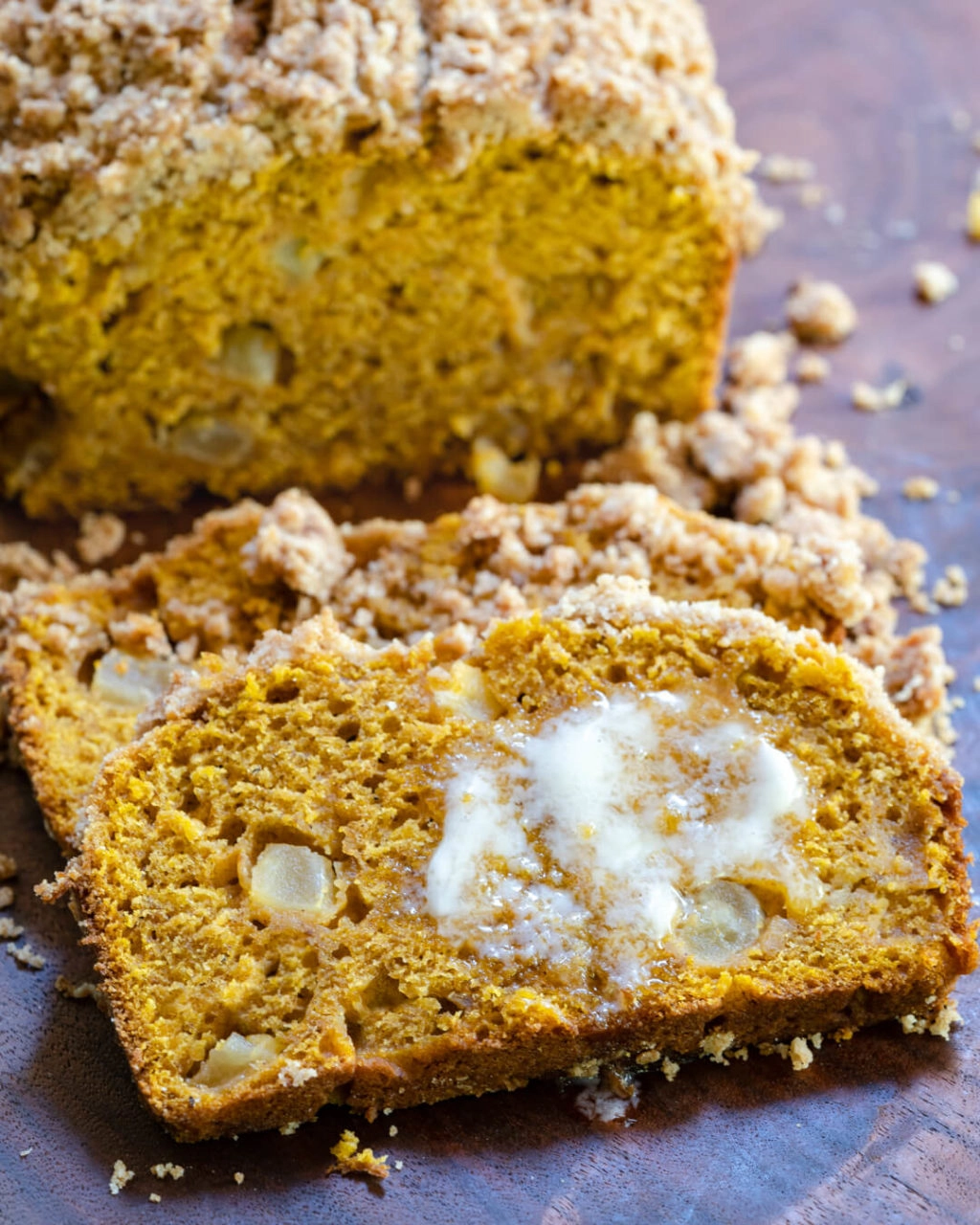 These bowls are different sizes. I mix the wet ingredients in the medium-sized bowl and the dry in the large bowl which is where my final mix takes place too. If you've ever taken a bite and it was like a mouthful of salt, the baker skipped that step.
I use this set of bowls for all my mixing jobs! I love that they're microwave safe and that they have lids so that I can make and take! They also wash up beautifully. I've been using this same set since the day I got them years ago.
These loaf pans are non-stick and will last forever. In addition to baking a beautiful quick bread like this Quick Peach Streusel Bread recipe, I find that both halves of the squash will usually fit in one loaf pan. I like that these pans are a little bit bigger. I use them for meatloaf recipes and even freeze homemade ice cream in them too!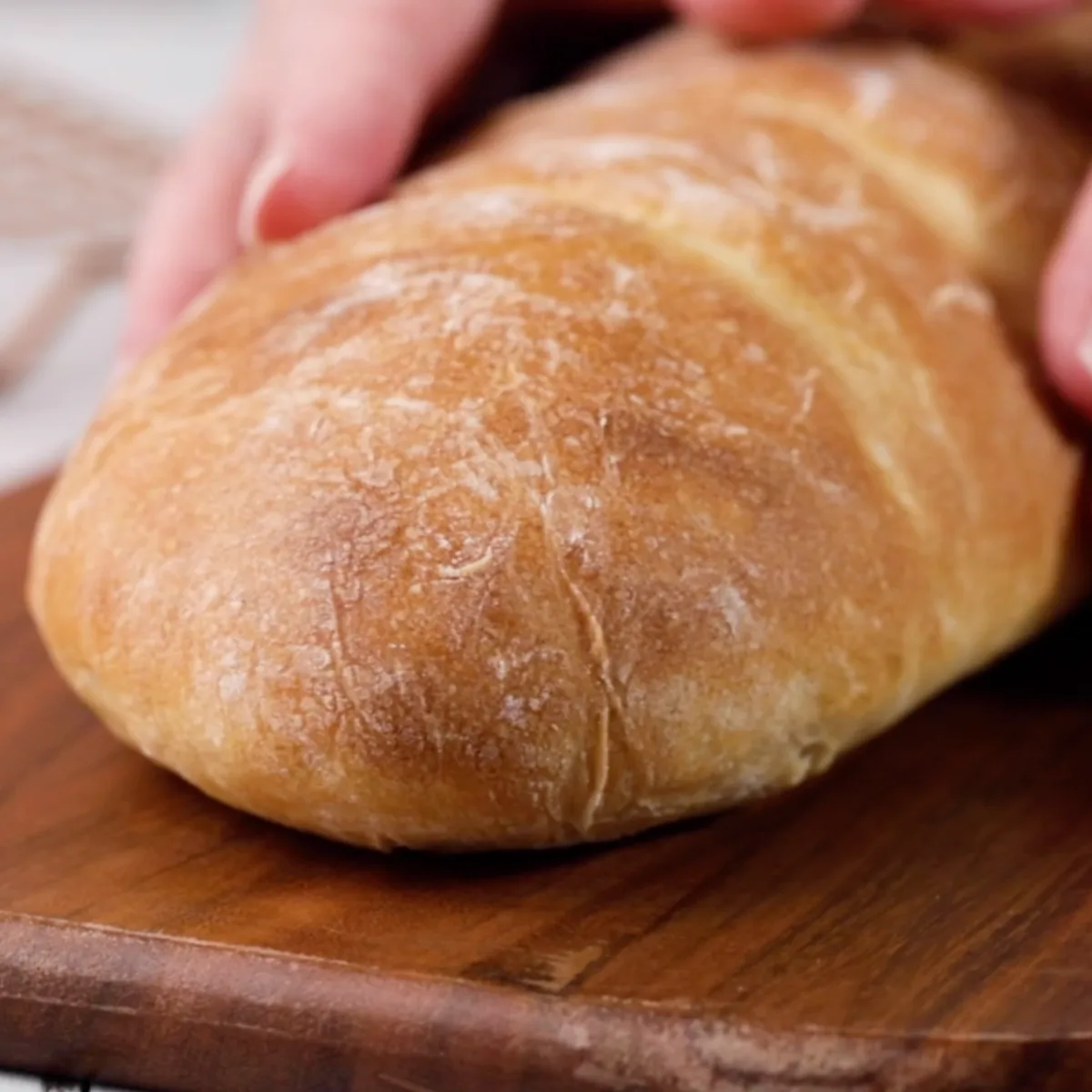 We use our baking stone in the oven and the grill. They're great for bread that you free form bake like our Italian baguettes and pizzas.
What I love about it is that it will saw through the crustiest of crusts or breeze through a fresh tomato without ever getting sharpened!
I bought this knife when it was recommended by America's Test Kitchen years ago. Like this bread gift guide, they could have recommended a much more expensive knife but were honest with their opinions.
I hope this gift guide for bread bakers has been helpful. I use everything on this list and hope you will find some gifts for bread bakers or yourself!
The costs of these tools are very minimal to moderate. I don't think you have to spend a lot to get started making bread.
Why not treat yourself or an aspiring bread baker you care about with a bread baking gift?
They'll think of you every time they take their own beautiful loaf of bread from the oven.
More Gift Ideas
Gifts for the Baker is a resource for all levels of bakers and we cover all price points.
Basic Baking Techniques, Tools & Ingredients is a comprehensive post that covers how we do it, why, and with what. It's geared for all levels of skills.