Baking isn't difficult if you have the right tools to get you started. I've compiled 30 of the Best Gifts for Bakers. These are items that make it easier to make that beautiful plate of cookies, cakes, biscuits, or whatever you desire.
Why not treat yourself or someone you love with a gift for baking? I guarantee you that everything on this list is used constantly in my kitchen. And, as you will discover, there's a wide range of prices from under $5 and up to $500.
Hostess At Heart participates in affiliate programs. As an Amazon Associate, I earn a commission from qualifying purchases. Please refer to my disclosure page for more information about these affiliate programs.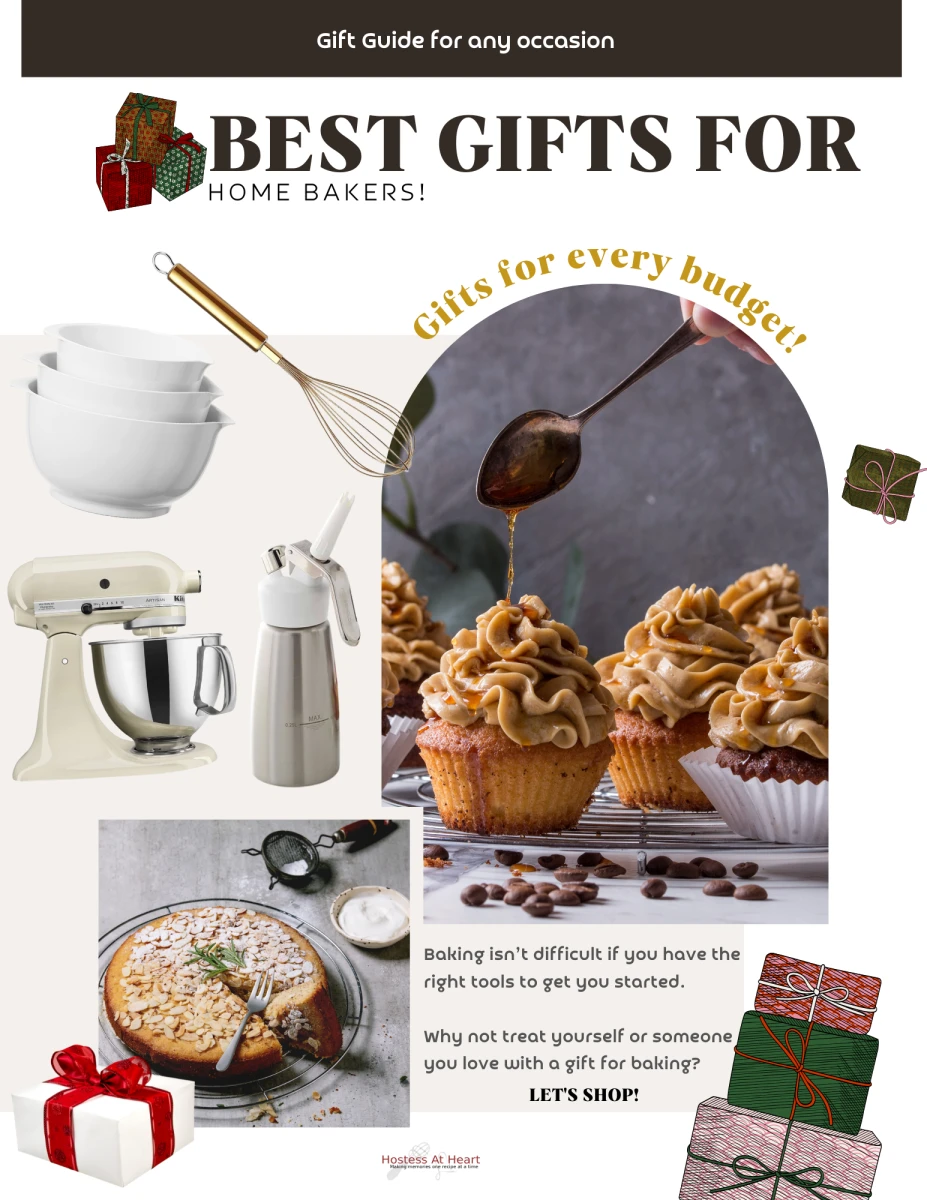 Ideas for Practical Gift Giving
I love gift-giving, and even though gifts are associated with the holidays, there are so many other times that are perfect for gift giving. Here are just a few. Can you think of others?
Wedding showers are perfect for gift giving. I had a kitchen shower when I got married. Each guest provided me with kitchen gifts associated with a recipe. My mother-in-law gave me items to make her spaghetti and meatballs recipe. I still use the recipe and the items she gave me. That's a whopping 40+ years!
New homeowners have so many things that they have to buy just to get moved in! A basket of new baking gifts would be a heartfelt gift. In my humble opinion, baking is something that I do for those I love. Why not give them the things that you love.
Graduations! Now that your nose isn't stuck in the books, do something fun like taking up bread baking.
You got that new job! If you want to get to know your co-workers, take cupcakes!
When I retired from corporate life, I wanted to learn how to bake sourdough and I did! I love it and have helped so many people tackle it as well. That was one of the reasons that I put together another gift guide called 10 Gifts for the Bread Baker!
Get well gifts are supportive and much needed. Letting someone know you're thinking of them is so therapeutic. Give them a plate of cookies, the recipe, and the baking sheet. What a unique thoughtful sentiment while convalescing which will give them something to look forward to once they recuperate.
Child leaving the nest – When my kiddos left home, I incorporated cooking and baking gifts for the holidays and birthdays. They loved the items and I love seeing them use them. My goal as a parent was to make sure my kiddos could keep themselves alive. I taught them how to read a recipe and to follow it. They're both professionals that also do the majority of the cooking for their families.
Best Gifts For Bakers – First 14
Best Gifts for Bakers continued
For more ideas, take a look at our Basic Baking Techniques, Tools, and Ingredients! We list a lot of our secrets and top tips.
What Baking Gifts do I need?
Themed gifts are the best! In my recipes, I list the products that I use. So, if you want to help someone learn to bake cookies, give them a cookie recipe and the products listed! If you're super thoughtful, put it all in a basket with the ingredients! Now, that gift would definitely set you apart!
Do you make a cake that everyone loves? Give them a baking gift so they can make it for YOU! Ah here's mine (wink wink).
Last year I received a silicone whisk in a beautiful turquoise color. I smile every time I use it, and guarantee the gifts you give will remind people of your thoughtfulness too. You can see it in several of my recipes too. Thank you, Michaela!
Don't forget to pin this list for gift ideas all year long!
If you liked my cute checklist, just print it. Organization can make gift giving quick and easy.
I hope our Gifts for the Bakers have been helpful for you. Anytime you need assistance just leave me a comment or email me at hostessatheart(at)gmail(dot)com.