Holidays are the perfect time to enjoy this gorgeous Gingerbread Bundt Cake with maple glaze. This gingerbread cake recipe is amazing and the bundt pan takes it over the top, allowing plenty of surface area for the tasty maple glaze.
An elegant dessert for any formal occasion, this gingerbread cake recipe is also perfect for the family table. It takes about 50 minutes to bake and can be made ahead of time so that your time is used wisely. If you make it more than a few hours ahead, I recommend saving the maple glaze drizzle until shortly before you wish to serve the cake.
How to Make Gingerbread Bundt Cake
Step 1: Prep work
Mixing up this delicious cake is very straightforward. First, make sure you preheat your oven so that it's ready to go when the cake is in the pan. Also, prepare your pan with grease and flour, baking spray, or our favorite method explained below.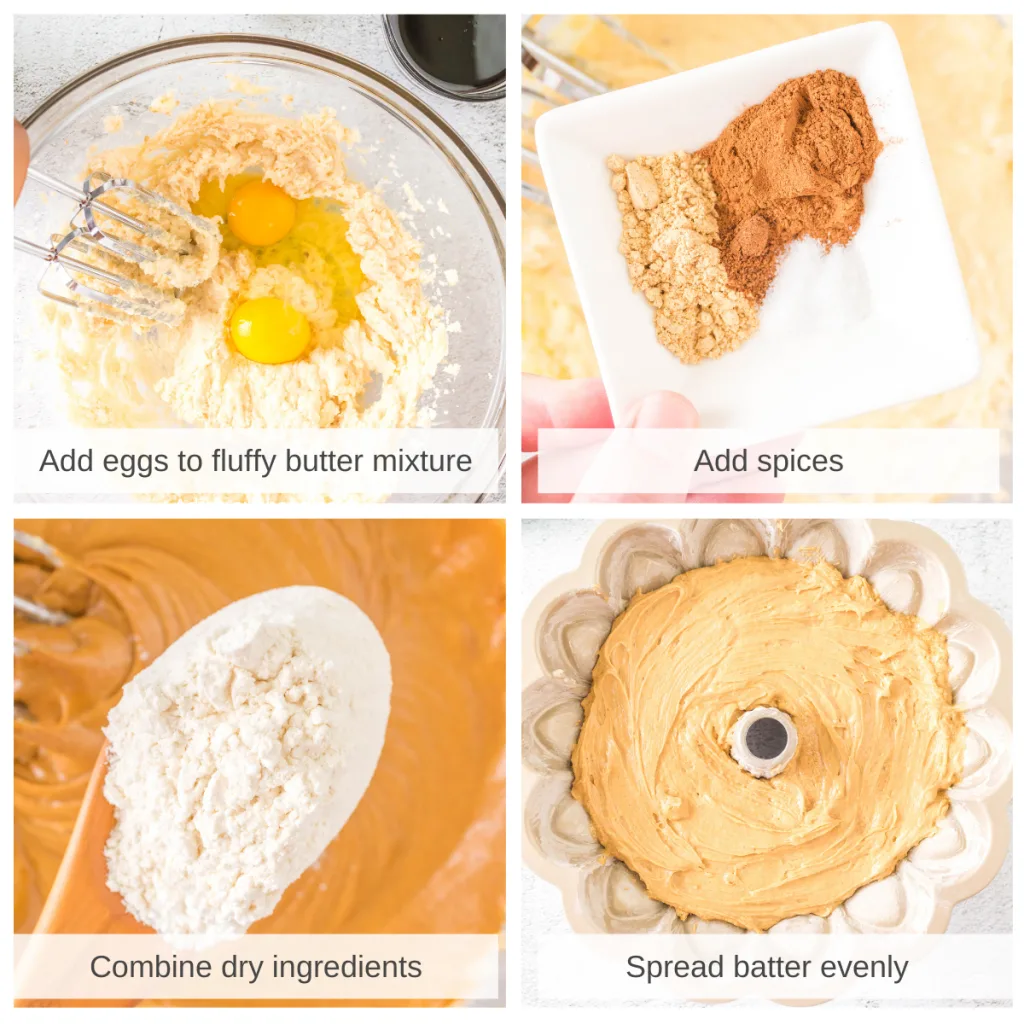 Step 2: Combine Gingerbread Cake Ingredients
Next, you will beat together the butter and sugar until it is fluffy and lighter in color, which takes at least three to five minutes.
Lightly beat the eggs and add the eggs and vanilla and combine with the butter mixture. Then add the spices and mix it all again really well. Next, add the molasses.
Add and whisk your dry ingredients together in a separate bowl first.
Take your dry ingredient mixture and slowly incorporate it into the wet mixture, adding the milk about halfway through. Once you have a nice light brown batter with no more dry flour visible, pour the batter into the greased Bundt cake pan and spread it evenly.
Step 3: Bake and cool
This cake is baked for 48 – 50 minutes with one turn halfway through. It is done when a toothpick inserted into the center comes out clean. While the cake is cooling you can mix up a batch of the easy maple glaze.
Tips for the perfect Gingerbread Cake
Don't over mix the batter. This being said, make sure your butter and sugar are light and fluffy and then everything else is only mixed until incorporated.
Properly prepare the pan before filling. Bundt pans aren't hard to cook in, but if the pan isn't properly prepared, your cake will stick to the sides and tear getting out. I show you my favorite way to prepare the pan below.
I usually set my bundt pan on a baking sheet which makes inserting and removing the bundt pan from the oven so much easier.
Turn the cake in the oven halfway through. Even the best of ovens can bake unevenly from front to back.
Don't overbake the cake. When a toothpick or cake tester comes out with just a few crumbs, it's done. Since this cake stays in the pan to cool for about 15 minutes, it will continue to set as it cools. Don't skip cooling the cake in the pan.
Tips for the Maple Glaze
Make sure your cake is completely cool before applying the glaze or it will just melt off.
You want your butter room temperature or it will not blend smoothly.
I usually prepare my glaze and don't apply it until my guests are due to arrive. Glaze can soak into the cake which makes it like you were a little stingy applying it.
Also, I like to hold a little back and drizzle a bit on each slice of cake after it's served. I think it makes people feel just a little more special when you take this simple step.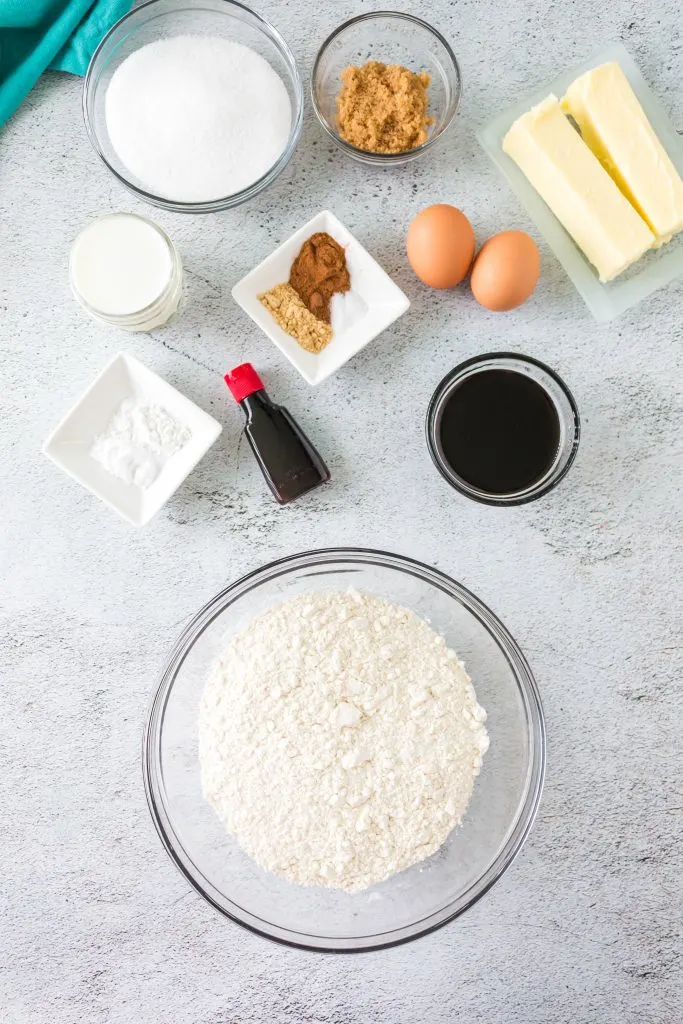 Ingredients for the Gingerbread Bundt Cake Recipe
Ingredients for the Maple Glaze
Variations on the Gingerbread Cake
This cake doesn't need a thing but you could easily add about 1⁄3 cup of raisins or chopped nuts.
Glaze Variations – our Maple Glaze was just made for this cake. Other options are just a dusting of powdered sugar, Vanilla Bean Glaze, Rum Sauce, or Cream Cheese Icing.
FAQ
Why use a bundt pan?
Some cakes cook better in a bundt pan because more of the cake is in contact with the pan assuring that the cake cooks evenly. The center of some denser cakes such as a pound cake would have trouble getting the center cooked if placed in a round cake pan.
We love using a bundt cake pan with this recipe because it allows every slice to have a generous drizzle of our sweet maple glaze. Also, bundt cakes are very festive.
Bundt Cake Pans to Choose From
We used the Nordic Ware Crown Bundt pan for this particular cake. You can use any bundt pan but make sure it has a 10-cup capacity.
What is the best way to prepare a bundt pan? (Besides praying.)
You can use a paper towel or a pastry brush and coat the pan with butter or shortening. Add flour (about 1⁄4 cup) and gently tap and rotate the flour around the sides to make sure the surface is completely coated.
My second favorite way to grease a Bundt cake pan is what I learned in a cake decorating class I took several years ago. It combines the grease and flour together and you can make as much as you want. I store it for about 6 months at room temperature. This is how it's done.
Homemade Pan Release: Take an even amount of flour, vegetable oil, and shortening and blend it together until it becomes a smooth paste. Apply this mixture evenly over the inside of the pan with a brush or papertowel.
How long do you let a bundt pan cool?
Cool the bundt cake over a cooling rack for 10 to 15 minutes. You don't want to overdo this because it can adhere to the sides.
Release the cake – I check the edges to make sure that the cake has been released from the side of the pan. You can use a sharp knife if there are any edges still attached. I then cover the top with a serving plate and flip it over. You can gently shake it to release it as well.
What is the best type of Molasses to use in baking?
I recommend using light, unsulfured molasses. It is sweet and mild. Blackstrap can be bitter and some compare it to coffee. It's best used in savory recipes. This article explains the process and types further.
Storing Leftovers of the Gingerbread Bundt Cake
Keep the leftover cakes in an airtight container on the counter for 2 to 3 days or in the fridge
for up to 5 days.
You can also freeze individual gingerbread cake slices by wrapping each piece in parchment paper like you would a present, and then putting it into a freezer-safe baggy. Thaw for thirty seconds or so in the microwave to serve.
If you enjoyed this gingerbread cake recipe, check these out!
It's time to start planning our holiday parties we all need some delicious and festive recipes to serve! Check out all these amazing holiday appetizers as part of the #FavoritePartyFood blogging event hosted by Jennifer from Take Two Tapas
FAVORITE PARTY FOODS
Don't forget to Pin this amazing Gingerbread Bundt Cake to your favorite Dessert Board!