Have you ever dipped a pretzel into a warm and flavorful beer cheese dip and thought to yourself, "Oh my gosh, this would make a fabulous soup!"? Me too! My easy beer cheese soup recipe is bold and flavorful and oh-so-comforting.
This soup is to-die-for, it is rich and creamy with that beautiful hoppy flavor that hails from the beer. This is the perfect dish for football season, a cold snowy day, or a backyard cookout! Serve with steak for a real special treat!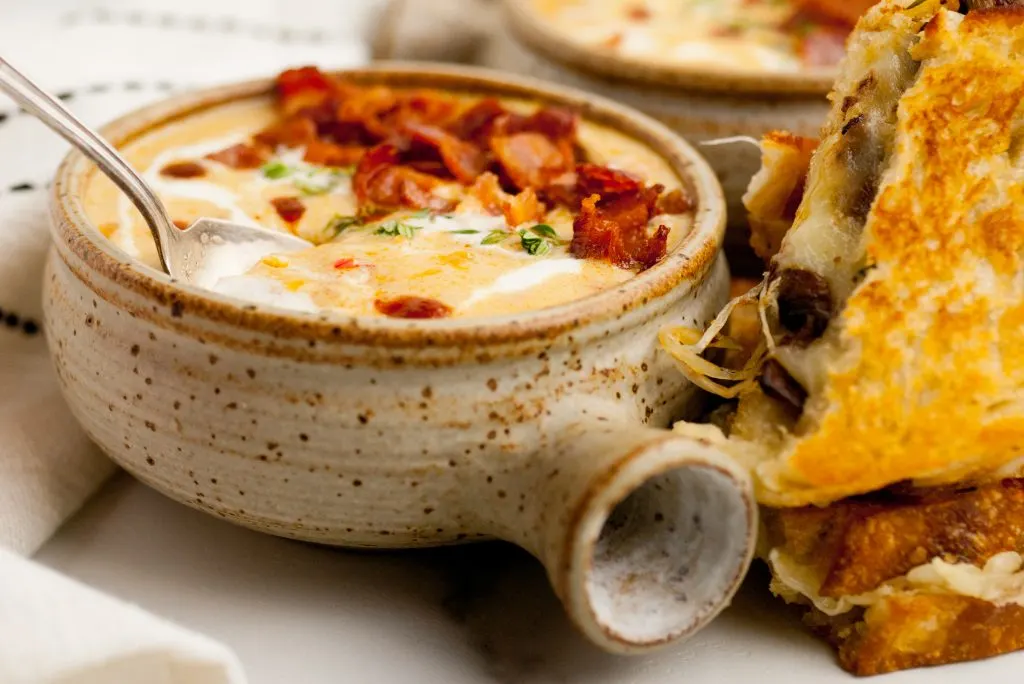 How to make Beer Cheese Soup
This soup really is great – it has become a favorite of mine. You might be wondering how hard it is to make. I'm happy to reassure you that this is an easy beer cheese soup recipe — nothing complicated in these instructions!
Ingredients for the Beer Cheese Soup Recipe
Beer. Belgium wheat or American pale ale.
Chicken Stock.
Half and Half.
Sharp White Cheddar Cheese. Hand-grated is best.
Pepper Jack Cheese. Hand-grated is best.
Bacon. Cut into bite-sized pieces
Onion. Yellow or white are fine. Finely chopped for easy spooning.
Carrot. Finely chopped.
Red Pepper. Finely chopped.
Garlic Cloves. Minced.
Fresh Thyme Sprigs.
Green Onions. Chopped including both the white and light green parts
Flour. This is used to thicken the soup.
Butter. Since this recipe cannot be made dairy-free, you might as well go all in with the good stuff!
Hot Sauce.
Dry Mustard Powder.
Ground Black Pepper. Freshly ground pepper is so good!
Salt.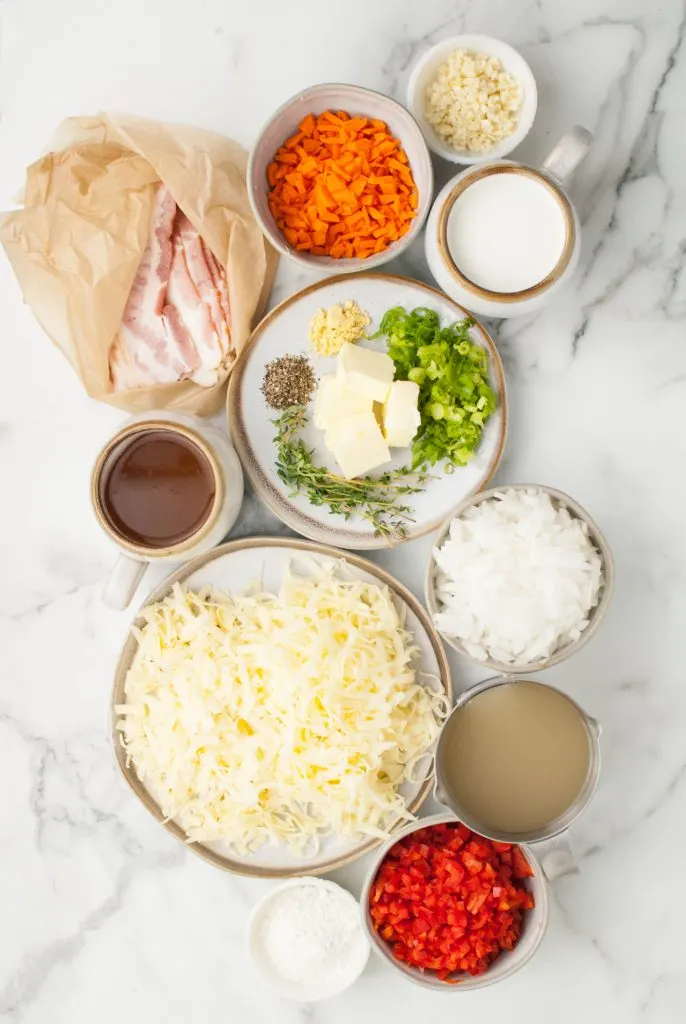 Step-By-Step Instructions
Step 1: Cook the bacon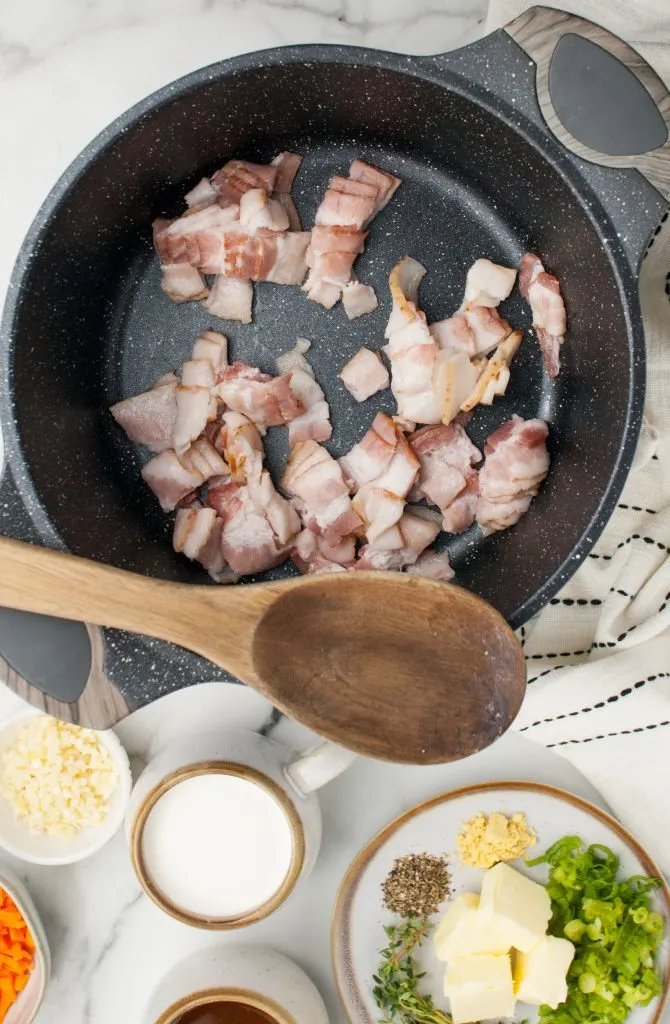 In your big soup pot or dutch oven fry up the bacon.
Remove the pan from heat and scoop out the bacon pieces and drain them. Leave the grease in the pot for flavor!
Return the pot to the heat.
Step 2: Basic beer cheese soup recipe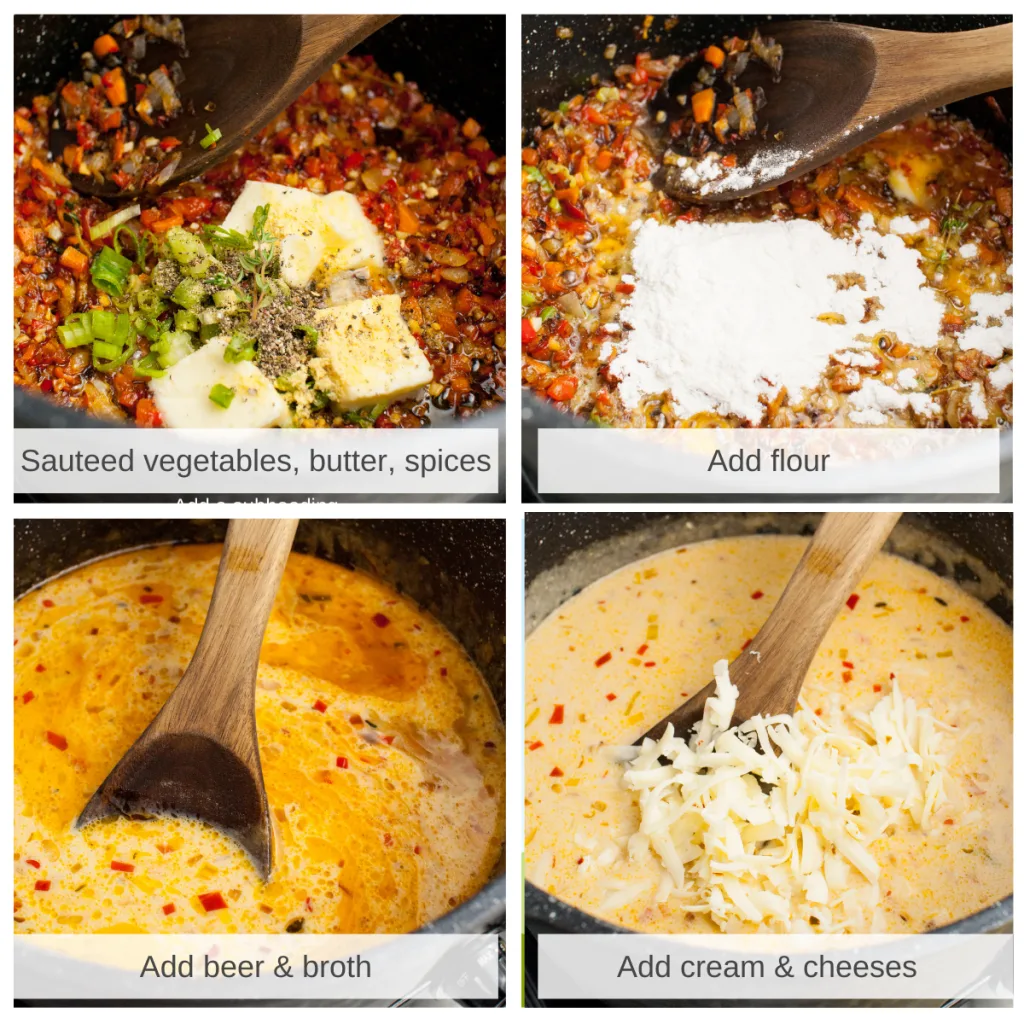 Saute the onions for a few minutes and then add the veggies and saute those. Let the veggies cook until they are soft and begin to have some color.
Add in the garlic and saute that for a few minutes.
Add in the butter, thyme sprigs, mustard powder, ground pepper, salt, and hot sauce.
Let the butter melt completely then add in the flour and stir it up. Cook for 3-5 minutes.
Saving the bacon for a garnish instead of putting it back into the pot of soup keeps it crispy, gives the soup a great texture and layer of flavor!
Pour in the chicken stock and beer, mix it with a whisk to get the flour fully mixed without lumps, and let the soup simmer to thicken.
Add in the half and half and when the soup has gotten very hot again (but not boiling) begin to slowly add the cheeses, a little bit at a time.
Taste the soup carefully, add any additional salt or pepper to taste at this time.
Step 3: Garnish if desired
When ready to serve you can garnish the soup with the bacon pieces, a swirl of cream, dots of hot sauce, and fresh thyme or green onion.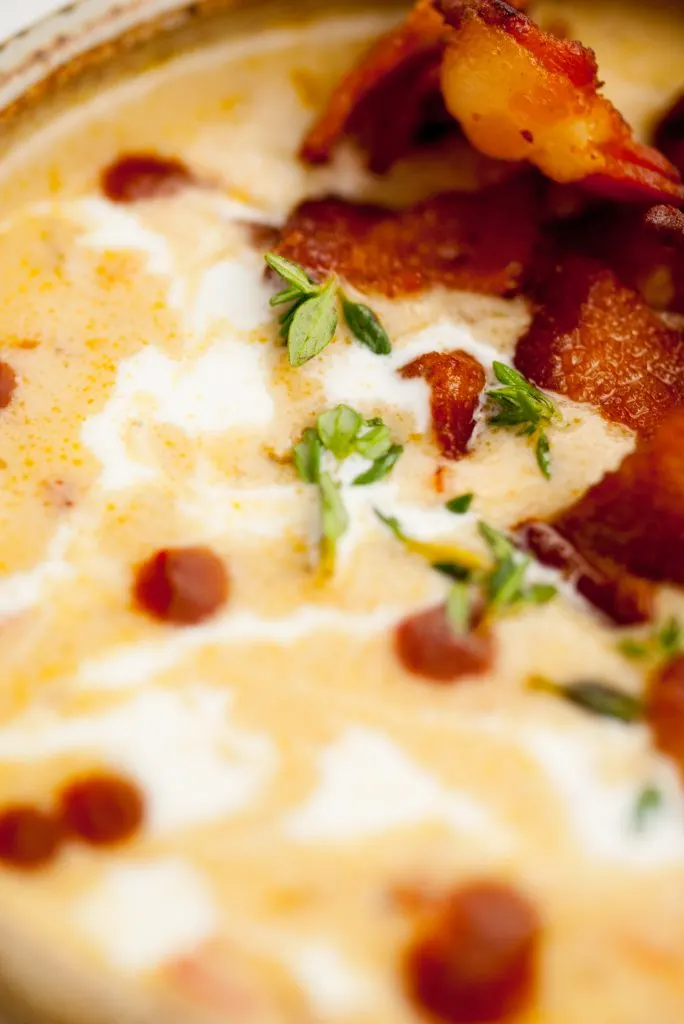 Tips for Amazing Beer Cheese Soup
The soup is bold in flavor, the beer is hoppy and rich, I use half and half instead of cream so that it doesn't overpower the other flavors in the soup.
You can use white or yellow cheddar with pepper jack cheeses varieties which give this soup either a beautiful natural color or a bright orange color. Both are equally delicious.
For the ultimate treat, serve with steak sliced thinly on top, it is perfection!
Any beer will work, each beer will change the flavor slightly. My favorite is a Blue Moon because it is a nice light-tasting beer with great citrus notes which gives the soup an extra bright flavor. An American Pale Ale would also be delicious.
Use the right cheese – I recommend semi-hard cheeses such as cheddar and pepper jack. I also recommend that you hand grate them. Store-bought shredded cheeses contain anti-clumping agents that can make it hard for your cheese to melt smoothly. Self-grated cheese also melts better and is creamier in this soup recipe.
This recipe makes 4 servings but can easily be doubled.
FAQ
Can you freeze beer cheese soup?
Yes, this beer cheese soup freezes great. Store it in an airtight container and freeze for up to 3 months. Thaw this soup completely before heating it over low heat.
What's the best beer for beer cheese soup?
Make sure it's a beer that you like to drink. We like a Belgian Wheat such as Blue Moon or an American Pale Ale that isn't as hoppy as an India Pale Ale (IPA).
Why did my beer cheese soup curdle?
Curdling occurs when the proteins in a sauce denature and bind together, separating from the water and tightening up into curds. In this recipe, don't cook the soup on high heat and gently add the dairy which is usually the biggest culprit. We slowly add the dairy last and cook on low to medium-low, whisking as we go. If this happens to you, Food52 has fixes for you.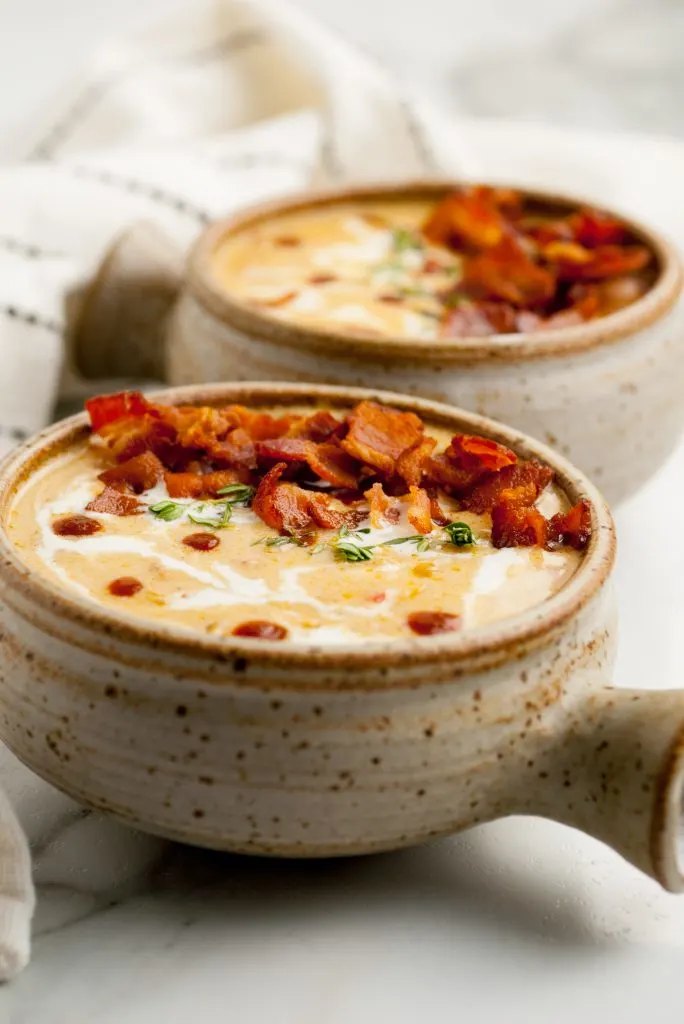 Does beer cheese soup contain alcohol?

Yes, it does. A small amount of alcohol remains after simmering this soup. According to this post on Just Motherhood, beer cheese soup is safe for pregnant women to consume. You can use non-alcoholic beer as well.
Is beer cheese soup gluten-free?

No, this recipe is not gluten-free as is, but you can make it GF by making two changes. First, substitute the flour with gluten-free flour and use a gluten-free thickener such as corn starch or arrowroot powder. Second, make sure you purchase a gluten-free beer.
Can I keep leftover beer cheese soup?

Yes! You can store your leftovers in an airtight container for up to five days in the refrigerator and up to three months in the freezer. I recommend making individual meal-sized containers so that this soup is easy to grab and go for work lunches or fast meals.
Can I make a Vegetarian version of this Beer Cheese Soup recipe?

Yes, for a vegetarian option leave off the bacon garnish and replace the chicken broth with vegetable broth.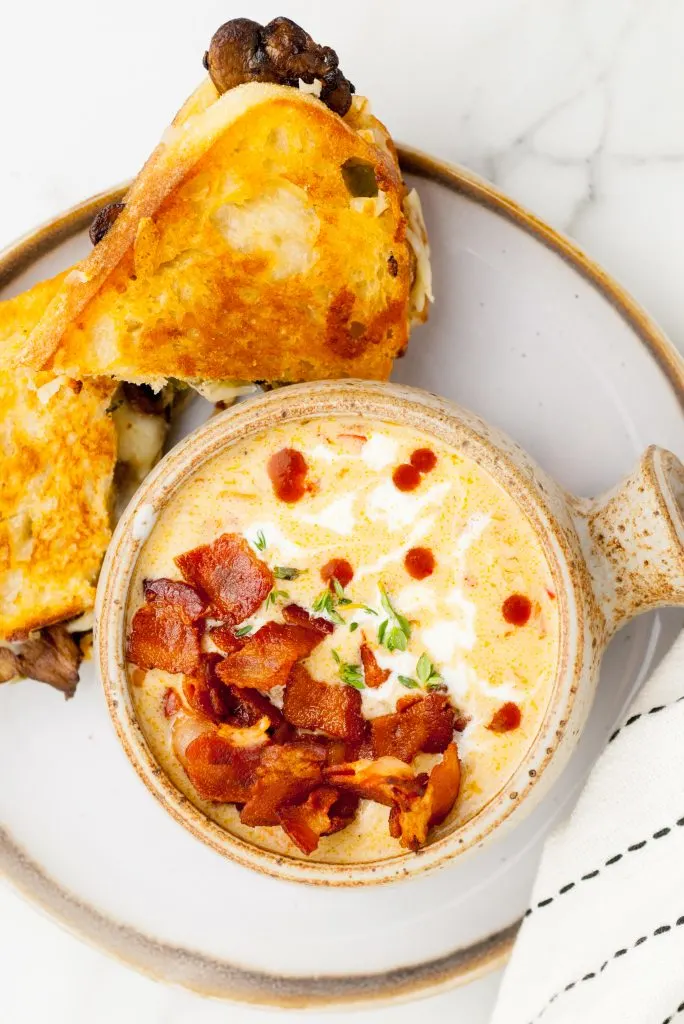 Equipment you will need
More Soups to Love
Corned Beef and Cabbage Soup – with Leftovers
Healthier Chicken Pot Pie Soup Recipe
Thick Cheesy Baked Potato Soup Recipe
The Best Ham and Bean Soup Recipe
You can find all of our soup, stew, and chili recipes here!
Don't forget to pin this amazing soup recipe to your favorite board!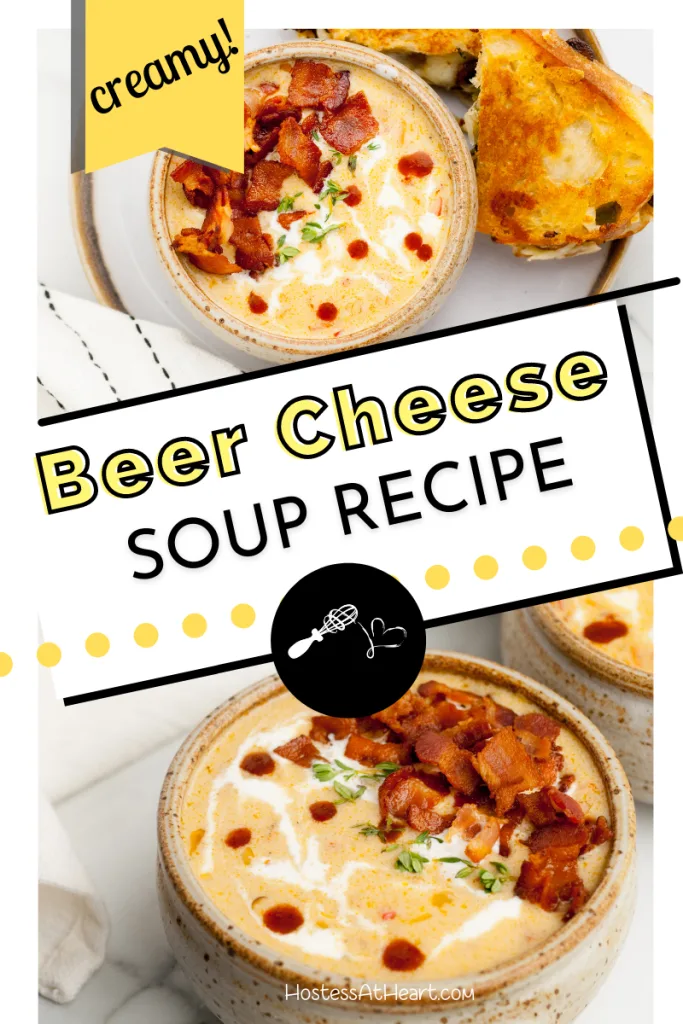 If you enjoyed this recipe leave us 5 stars ⭐️⭐️⭐️⭐️⭐️ and a comment!