Celebrate Thanksgiving in style with a classic and easy Cornbread Dressing Recipe perfected for baking in the oven. The age-old war between cornbread dressing and bread-based stuffing will come to a head when you present your family with this beautifully baked version of the classic along with our very own Thanksgiving Dressing. Both are amazing!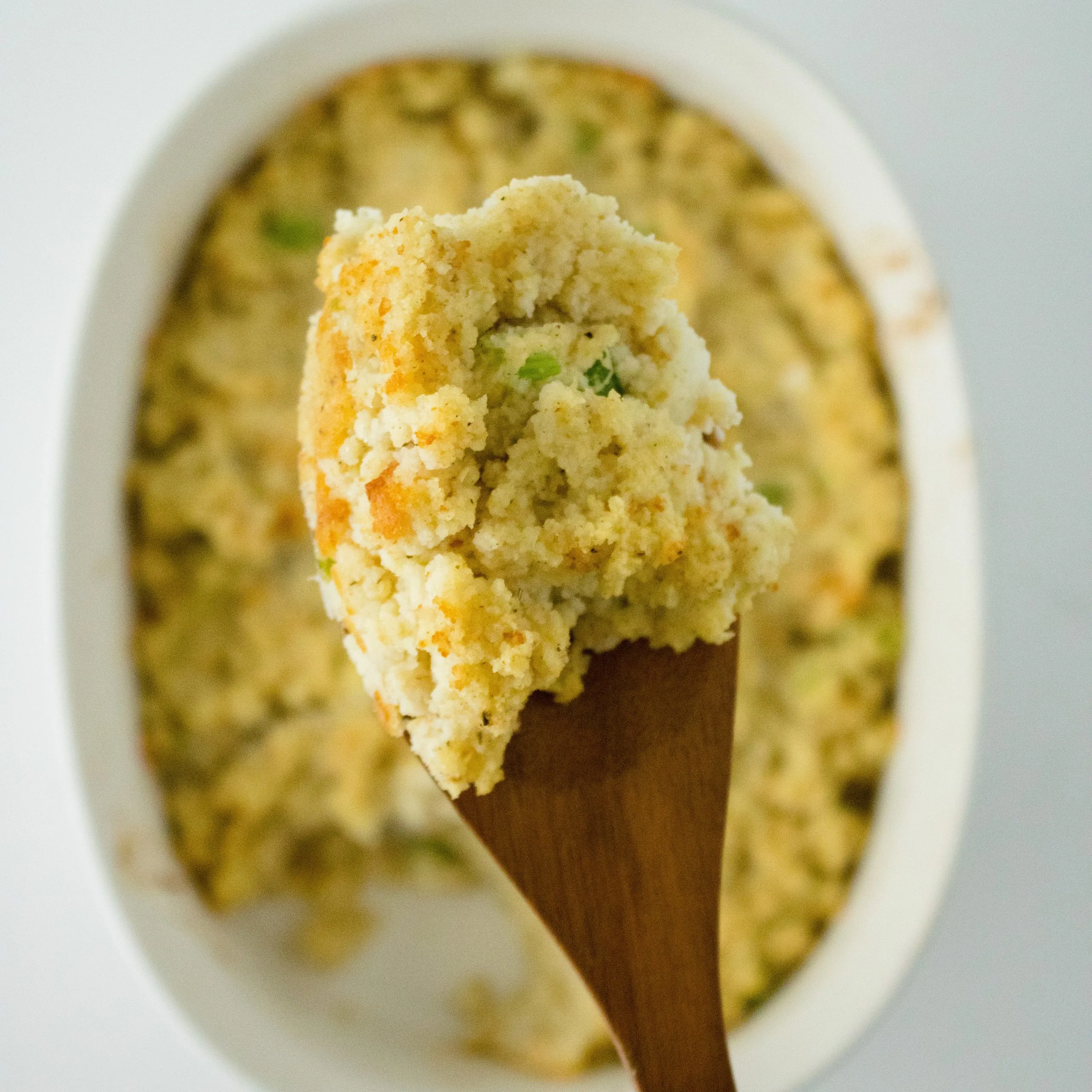 The good news is — you don't have to choose! Even though the U.S. Department of Agriculture has officially stated that it's okay to cook your stuffing in the turkey, I've switched to baking our dressing separately to preserve the moisture and flavor of the turkey while also enjoying the classic Thanksgiving side dish we all know and love. So pull out a couple of 9 x 13 pans and make both. Everybody wins!
How to Make Cornbread Dressing
Making your cornbread is simple and also kinda fun, so this is a great time to get your kids involved in the kitchen.
Step 1: Make the cornbread ahead of time so that it's cool and ready to go when you want to make the cornbread dressing.
Step 2: Preheat your oven to 350ºF and then start sauteeing your onions and celery in the butter. While that is happening on the stovetop, someone can start crumbling up the cornbread in a large mixing bowl.
Step 3: Add the sauteed veggies, seasonings, broth, and buttermilk to the crumbled cornbread and stir it really well to combine. Don't be afraid to get in there and mix this up with (clean) bare hands.
Step 4: Finally, pour the cornbread dressing recipe mixture into a greased 9 x13 pan and smush it in. It should be fairly dry and not runny at all. Bake it for 20 -25 minutes until it begins to brown.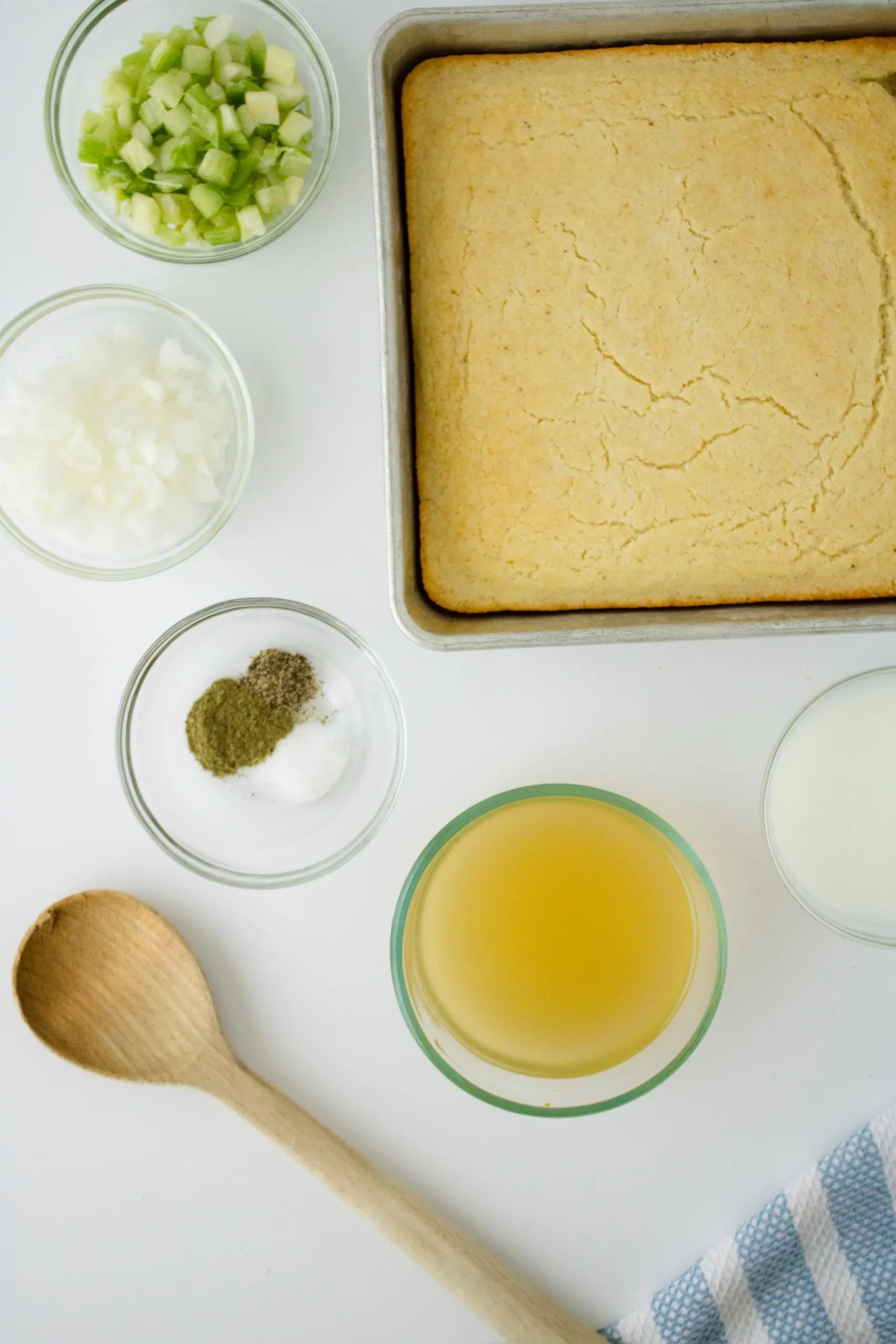 Ingredients for Cornbread Dressing
Cornbread. Pre-baked cornbread.
Yellow Onion. Diced.
Celery. Diced. I cut each celery stalk into long, thin strips before dicing to the same size of the onion.
Unsalted Butter. If you use salted, taste the dressing and adjust your salt.
Chicken Broth. Canned or homemade will both work. I use a low sodium, fat-free variety.
Buttermilk. This unsung hero ingredient should be in every refrigerator during the holiday season — you will find so many great applications!
Salt. – I use kosher salt but any variety will work
Pepper.
Poultry Seasoning. A convenient blend of all the best spices for your turkey.
Sage. This ingredient is optional based on your personal taste.
Cornbread Dressing Variations
If you love spicy foods, you might enjoy adding diced jalapenos or habaneros to your cornbread dressing recipe. Make sure you saute those peppers with the onions and celery.
Vegetarian cooks can substitute vegetable broth and still enjoy this classic favorite.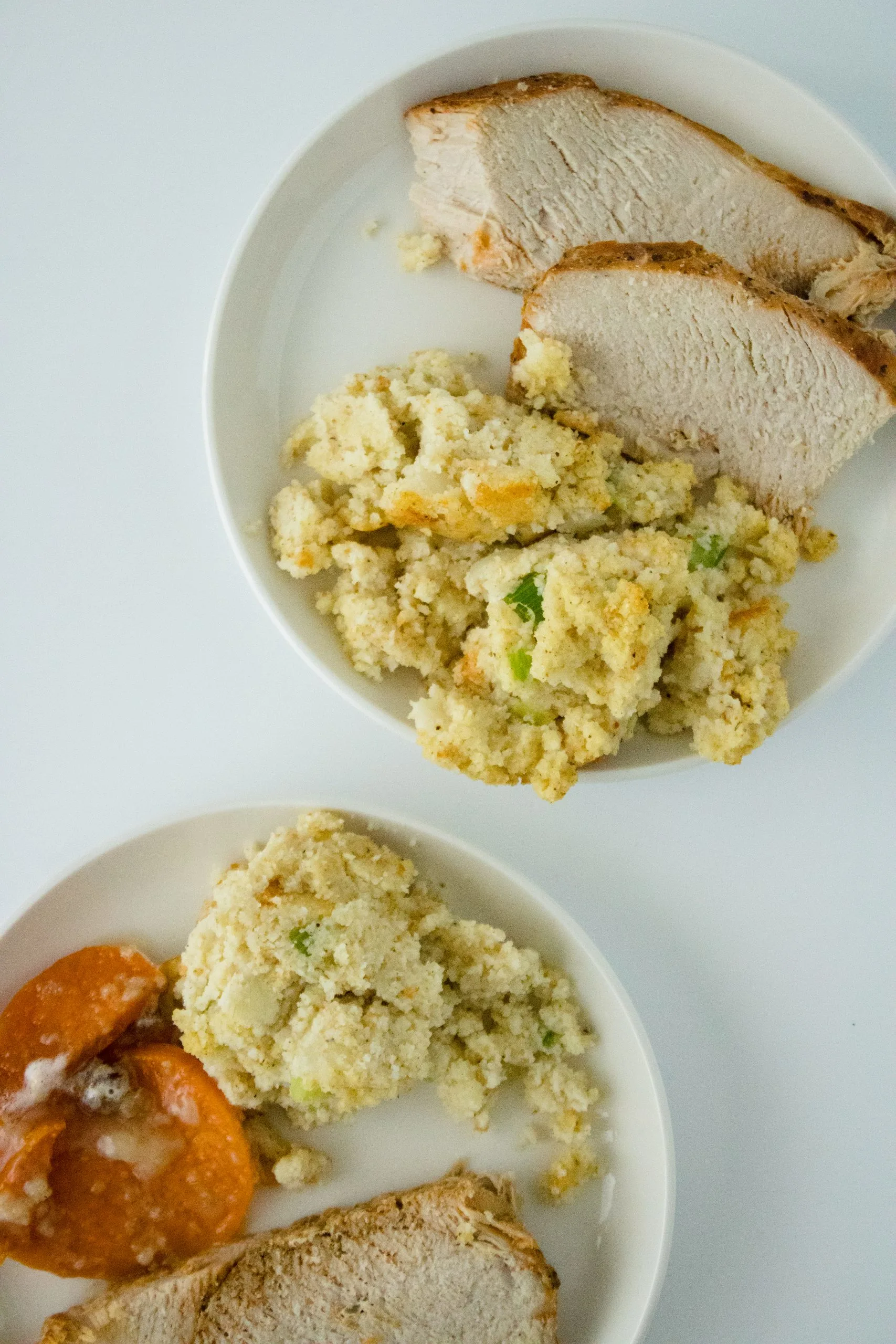 Tips to Make the Easy Cornbread Dressing Recipe
If you haven't replaced your poultry seasoning since last Thanksgiving, now is the time. Spices should be replaced every six months at a minimum to keep them fresh and effective.
Should you need emergency buttermilk, you can make your own using milk and vinegar or lemon juice. Add one tablespoon of distilled white vinegar or lemon juice to one cup of milk and stir it well.
If you are in a rush, purchase pre-made cornbread at your local grocery store in the bakery department for a quick and easy cornbread dressing recipe!
Since this is a savory dish if you are making your cornbread from a mix choose one with less sugar content. This is not the time for sweet cornbread.
FAQ
Can Cornbread Dressing be made ahead?
Yes! I will often make our dressing the night before Thanksgiving and bake it fresh the day of. In fact, we like to make extra and if we don't use it we'll freeze it after baking it for future cornbread dressing casseroles.
Can Cornbread Dressing be frozen?
Yes! We often make an extra pan specifically for this purpose. We put it in the freezer for a delicious side dish with baked chicken at a later date.
Is the easy cornbread dressing recipe gluten-free?
Yes! If you will be entertaining gluten-free guests on Thanksgiving Day it will be super easy to make a delicious cornbread dressing recipe using the Bob's Red Mill Gluten-Free Cornbread Mix to make your cornbread.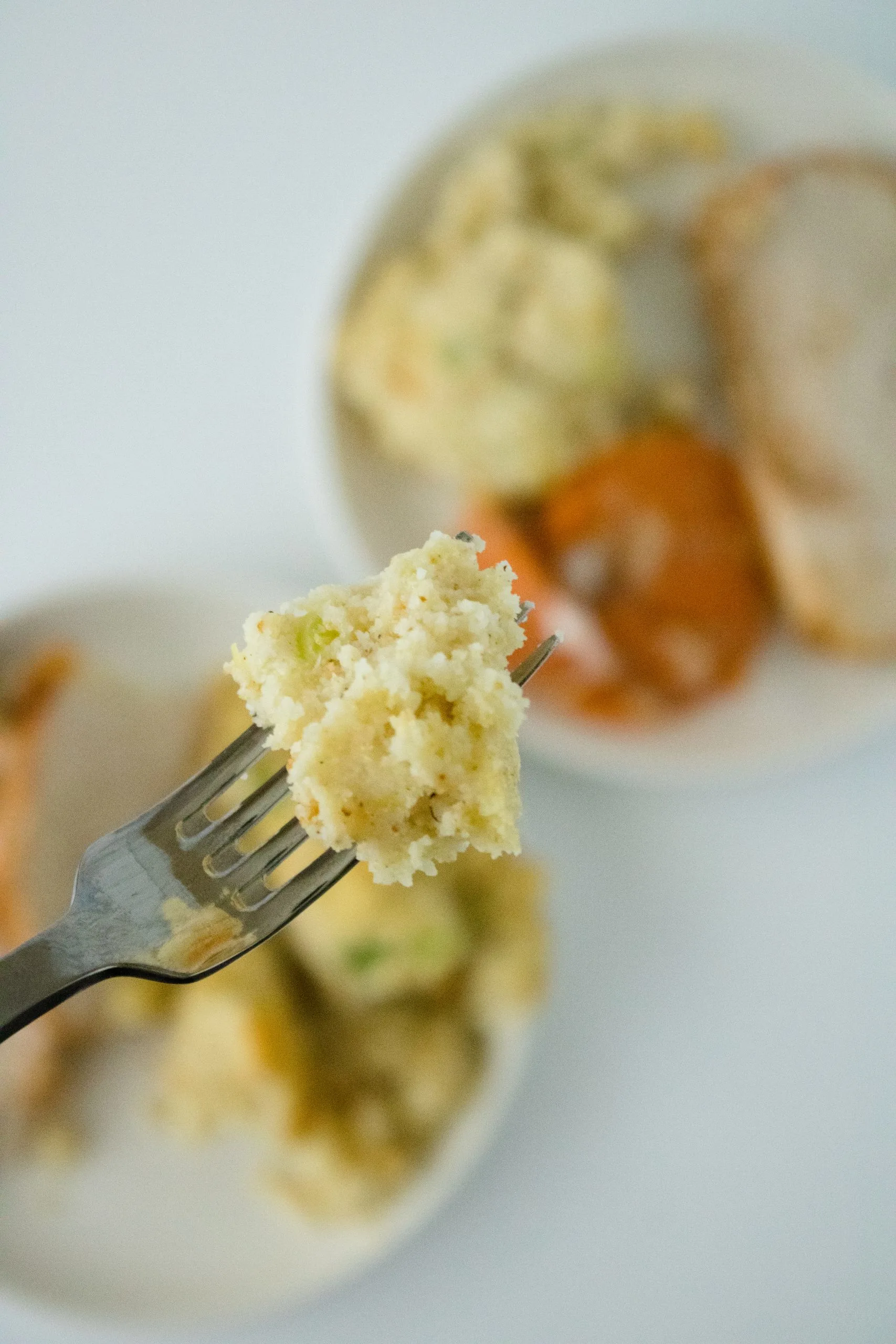 More Thanksgiving Dishes to Enjoy
Besides this being and amazingly good bread-based recipe we mentioned at the beginning of the post, you may also enjoy these recipes on your holiday table or the next day!
Frozen Cranberry Salad – Easy Make-Ahead Recipe. Kids love this creamy treat. The beautiful color will dress up your table.
Pumpkin Bundt Cake. Another use for that yummy buttermilk in your refrigerator!
Smooth & Creamy Pumpkin Cheesecake Swirl Bars. A fun twist on the ever-present pumpkin dessert.
Creamy Hot Turkey Sandwich with Leftovers. The perfect way to use up leftovers and stun your family with how good that turkey still tastes on Saturday.
Turkey a la King Recipe with Leftovers. Another great way to use up extra turkey.
If you tried this delicious recipe, don't forget to rate it and leave me a comment telling me what you think. I love hearing from you!
Don't forget to pin this delicious Thanksgiving side dish to your favorite Holiday board!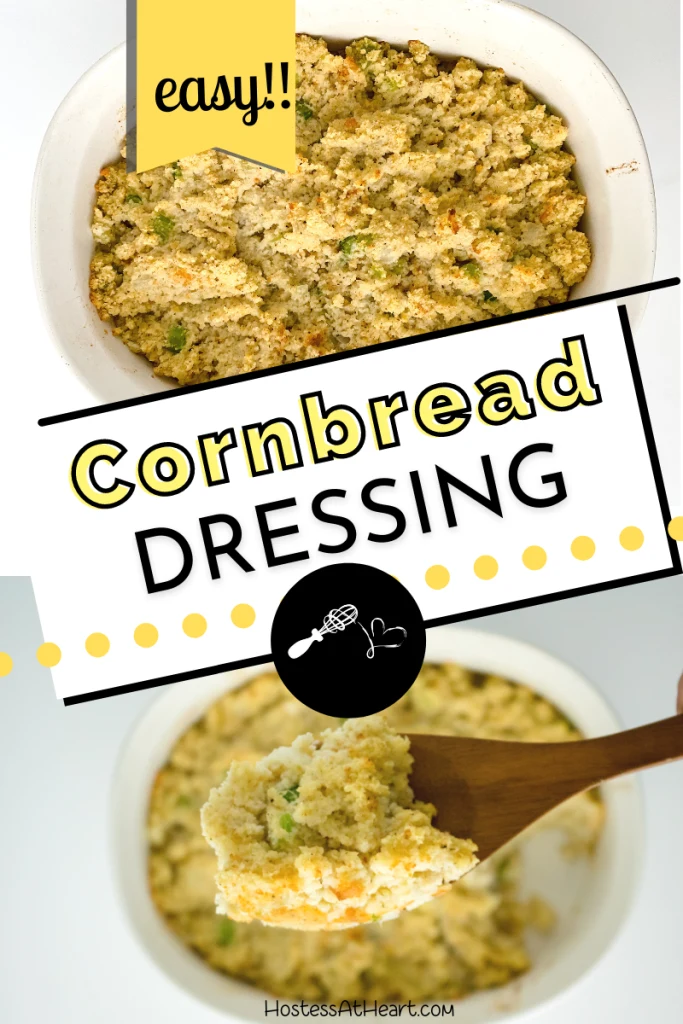 Still looking for Dressing and Stuffing Recipes? Here are a few from our friends!
Scrumptious Stuffing

We share Recipes From Our Dinner Table! Join our group and share your recipes, too! While you're at it, join our Pinterest board, too!