Everyone is starting to get hungry, your favorite family meal will be on the table in about an hour, and you suddenly realize you forgot the dinner rolls. I have good news! My one-hour dinner rolls recipe makes it easy to bake homemade dinner rolls fast.
This homemade dinner rolls recipe will be your most requested dish for holidays, birthdays, home from college on break days, and more. It's a good thing the recipe is easy and fast!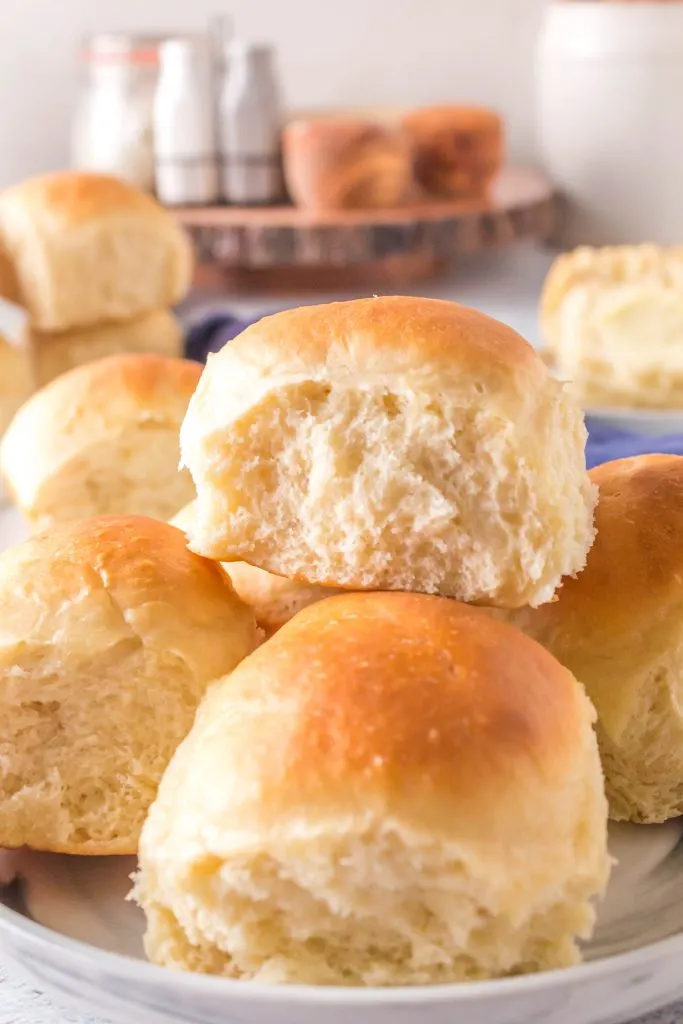 How to Make Dinner Rolls in About One Hour
Yes, it is entirely possible to have top-notch homemade dinner rolls on your table in about one hour. You can do this! Follow my step-by-step one-hour dinner rolls recipe below — you can print the recipe card too! Here's what you'll need to have on hand:
Recommended Products
One of the best things about this recipe is it uses equipment that you probably have in your kitchen. I used a 9×13 baking dish but you could even bake these rolls on a couple of pie plates. You'll also need measuring cups and spoons.
Ingredients for Homemade Dinner Rolls
Active Dry Yeast. One of the most important things you can do ahead of time is make sure your yeast is active, Check the expiration date and store in a cool dry location. Yeast can be stored in the refrigerator or even frozen.
Sugar. Granulated white sugar. This is what feeds the yeast so you cannot leave it out.
Milk. Any milk other than skim brought to room temperature.
Butter. Melted and then cooled.
Salt. Granulated kosher salt is what we use.
Flour. We use unbleached but bleached is fine.
Tip: The fat in the milk and butter is what makes these rolls light and fluffy! Don't skimp on full-fat milk or real butter.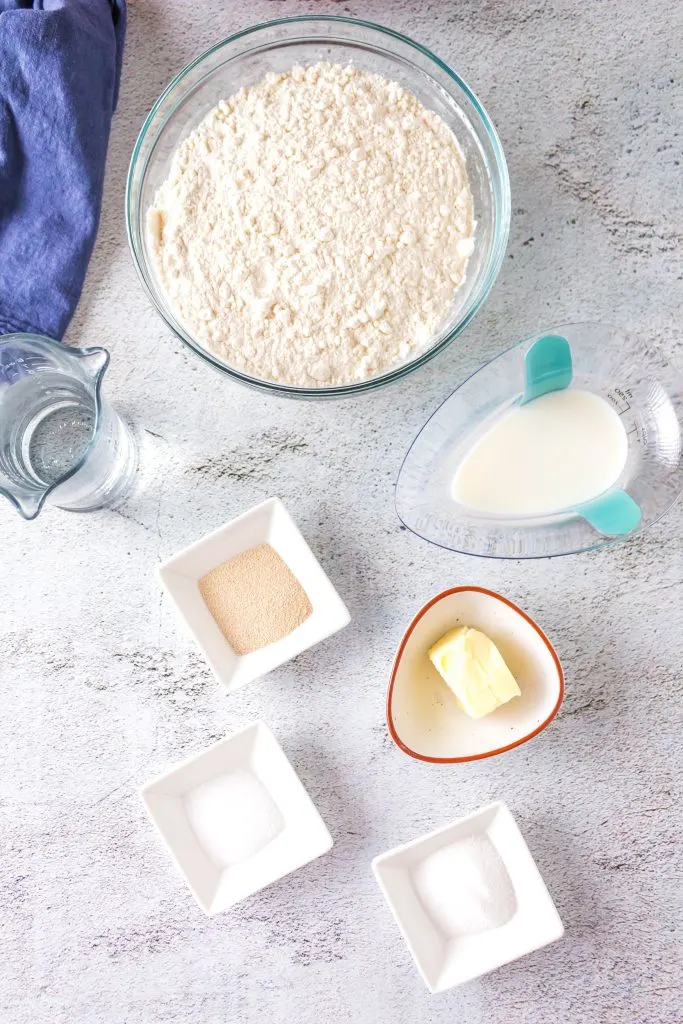 Step-By-Step Instructions for the One Hour Dinner Rolls Recipe
Before you begin, preheat the oven to 175°F.
Step 1: Proof yeast
To proof your yeast, pour the water, yeast, and sugar into the bowl of a stand-up mixer fitted with the paddle attachment. Let it stand for 5 minutes or until it starts to foam. This is proof that you have active yeast and your bread will rise. If you do not see foam, start over with fresh yeast.
Step 2: Wet Dinner roll recipe ingredients
In a microwave-safe bowl, add the milk and butter. Heat for approximately 1 minute to 115 degrees F. We use an instant thermometer to check the temperature. Mix well.
Add the milk-butter mixture to the yeast. Mix until all are combined.
Step 3: Dry Homemade Dinner Roll ingredients
Combine the flour and salt in a separate bowl.
Switch out the mixer paddle attachment for the dough hook. With the mixer on low, add the dry ingredients one tablespoon at a time until the flour has been incorporated.
Once all the flour is incorporated, keep mixing for 4 to 5 more minutes for kneading.
Step 4: Proof and shape
Cover the bowl with plastic wrap and rest for 5 minutes.
Butter a 9×13 dish and set it aside.
Roll the dough onto a lightly floured surface and cut it into 12 equal pieces.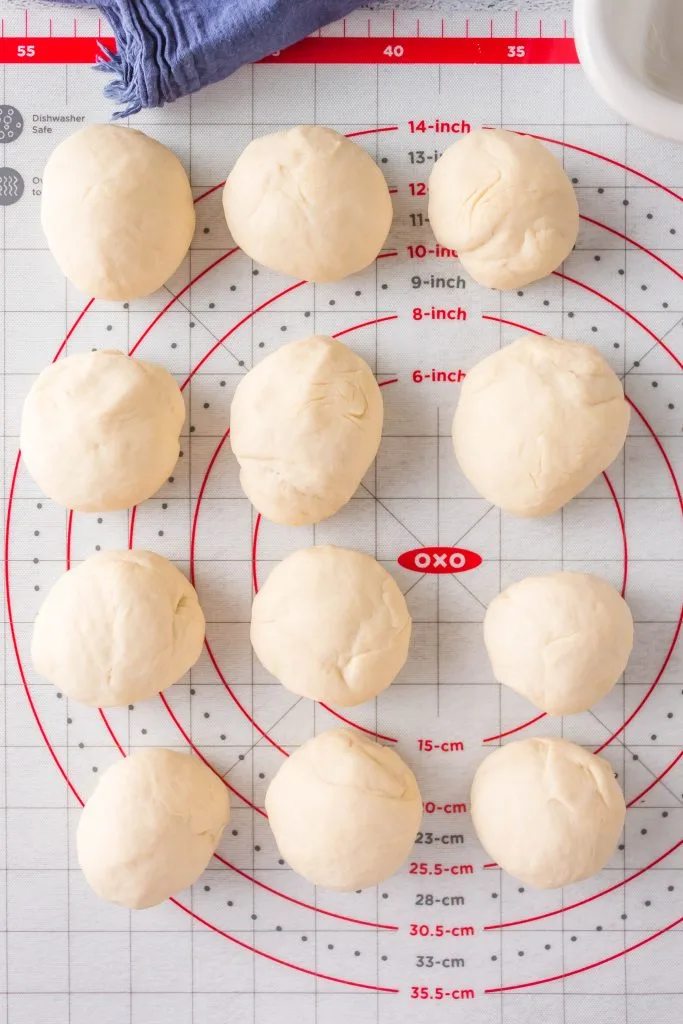 Roll them into balls and place them in the buttered dish.
Cover with plastic wrap and place in the preheated oven for 20 minutes. TURN THE OVEN OFF. (NO PEEKING)
After 20 minutes, remove the baking dish from the oven and heat the oven to 350° F.
Step 5: Bake 1-hour dinner rolls
Take the plastic wrap off the bread and bake for 18 to 20 minutes or until the bread is nice and golden.
Brush the tops of the rolls with melted butter if desired. It will keep the rolls soft and add a buttery flavor. I often just run a stick of butter over the tops of my bread instead of brushing it on just the way my mama did.
Variations on the Homemade Dinner Rolls Recipe
To add a garnish to the rolls with seeds or grains, brush the dough with melted butter and apply the garnish right away so it will stick. For ungarnished rolls, you don't need to brush the dough with butter but I do anyway. It keeps the rolls soft and tender.
Once baked, brush the tops with garlic butter. They make the perfect bread roll to a plate of pasta! You can also sprinkle a little coarse sea salt to the top of the buttered rolls.
Add 1⁄3 cup of grated parmesan to the dough for a delicious cheesy roll. Brush the tops with melted butter after they're baked and then sprinkle the tops with more parmesan. Pop the rolls into the oven for a couple more minutes if you want the cheese browned. Watch them carefully so they don't get too brown.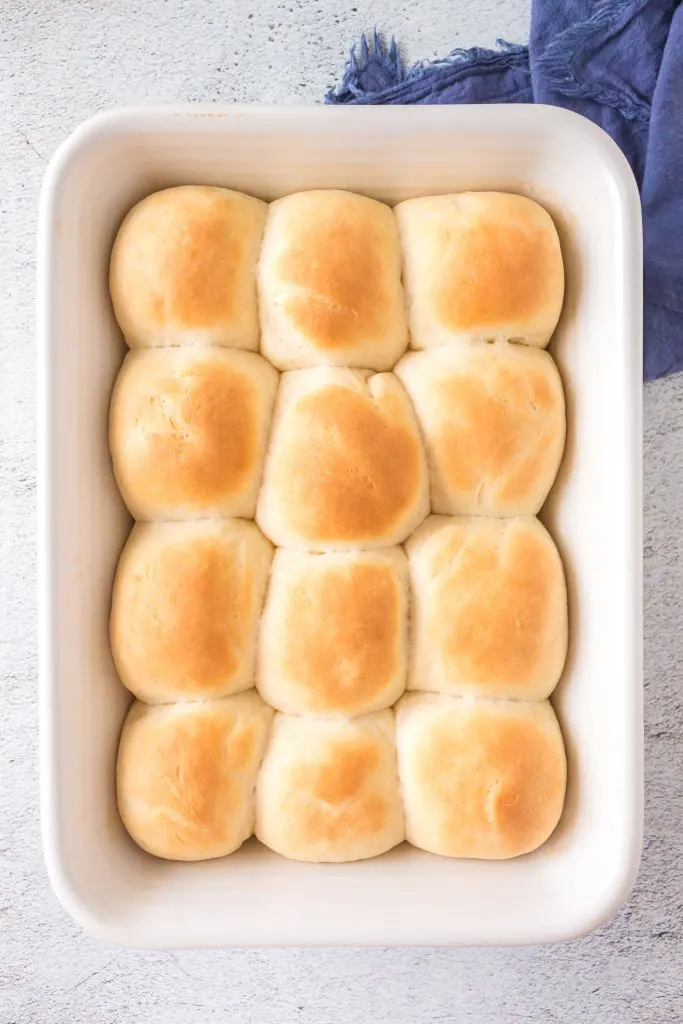 Tips and Tricks for the Best Homemade Rolls Ever
If the butter is too cold when you are warming it up with the milk, you will have to overheat the milk to get it to 115°. However, if it's still cold while pouring it into cold milk it will congeal. Therefore, we recommend using room temperature milk and melted butter that has cooled in step #4.
Active dry yeast has to be rehydrated and activated. After letting it stand with the sugar and water for about 5 minutes it should foam or bubble. If it doesn't, start over with fresh yeast. If the different kinds of yeast are confusing, our Basic Baking article could help.
You do not have to use a stand-up mixer, you can knead the dough on a lightly floured surface for 8 to 10 minutes, or until the dough is smooth and elastic. When you knead by hand, you want a smooth soft dough. Try not to add additional flour. Too much flour will cause your rolls to be dry and tough. Then put the dough back in the bowl and proceed.
Adding butter to the tops of the rolls when they come out of the oven will keep the rolls soft and add a buttery flavor. I often just run a stick of butter over the tops of my bread instead of brushing it on just the way my mama did.
I add the flour and the salt by the tablespoon with the mixer on low. That way you will not splatter flour all over which is what happens if you add it all at once. Continue until you've added all of the flour. Do not add extra flour.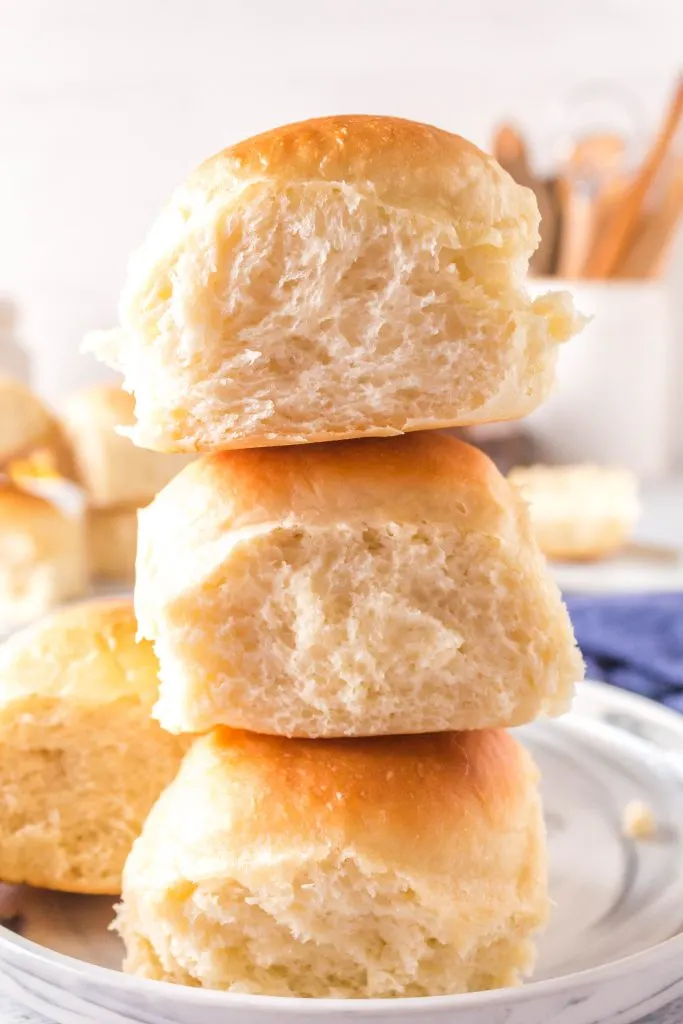 FAQ
Can these dinner rolls be frozen?
Yes, they freeze well. We wrap them in plastic wrap and then in foil. Make sure to label them as well.

You can thaw them at room temperature and warm them up in the microwave or place them in an oven heated to 350°F for 12 to 15 minutes.

You can also freeze the shaped dough. To bake, bring to room temperature and allow to rise until doubled. Bake as instructed.
Homemade Dinner Rolls be made ahead?
Yes, rolls can be made ahead of time too. After you mix up the dough cover it with plastic wrap that has been sprayed with non-stick cooking spray. Slip the bowl into the refrigerator.

To bake them the next day, remove the dough from the refrigerator and shape it into rolls. Allow the rolls to rise until doubled in size. Since the dough is cold, this may take up to 2 hours.
How do you shape Quick Dinner Rolls?
I shape our rolls into tight ball-shaped rolls in a 9×13 prepared pan 3 across and 4 down for 12 rolls and 4 across and 4 down for 16 rolls. You could make 20 rolls (4×5) but I like the way they bake up as larger rolls. That and my family wouldn't know what to do with a small dinner roll!

You can either weigh them to get the proper weight for each roll or just cut them
to similar sizes.

You can also leave them rectangular or when rolling the dough into a ball, on a flat surface, form a dome with your hand roll the dough in a circular rotation and slight pressure on the top. Even if it looks a little bumpy it is okay, the rise in the oven will smooth them out.

What kind of yeast should I use?
We use Active Dry Yeast in this recipe. If you're confused by the names and uses of yeast, our Basic Baking article should help.

Active dry yeast needs to be rehydrated and activated. We combined it with warm water and sugar and let it stand until it foams. Once we've proved that it's alive, we add it to our other ingredients and not before.

That way if our yeast doesn't activate, we haven't wasted all of our ingredients just to get rolls that didn't rise. If it doesn't activate, we can start over with fresher yeast.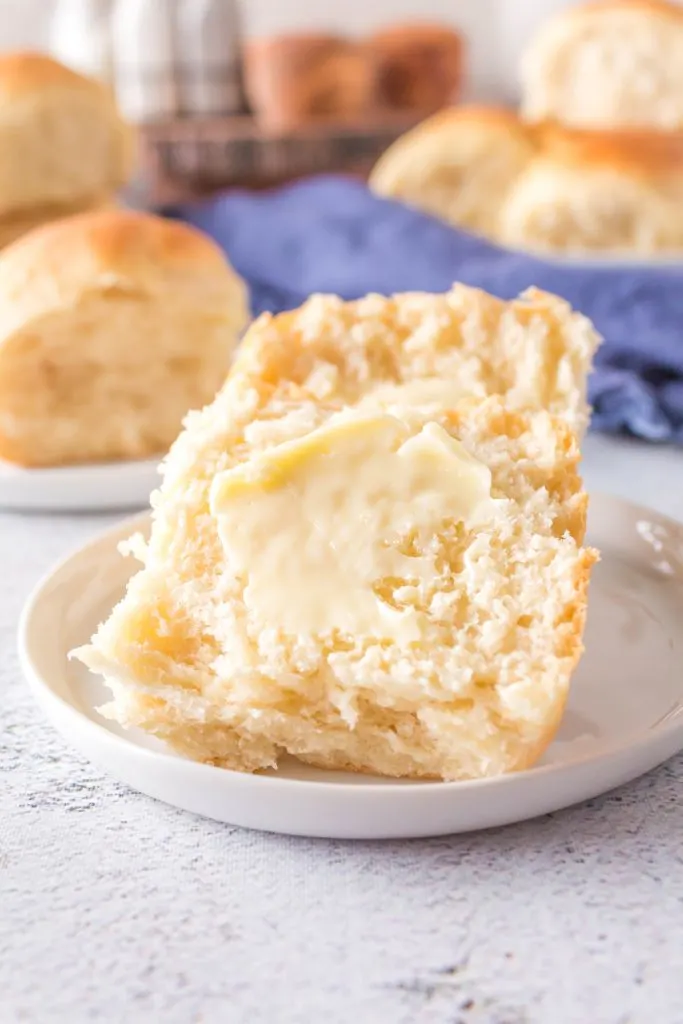 How to Store Leftover Rolls
If you have any leftovers, let them completely cool then place them in a freezer-quality zipper baggy. Store at room temperature. I've never actually had the leftovers last until the rolls went bad, but they should keep for about three days. If you purposely made extra you can also freeze baked dinner rolls and reheat one at a time in the microwave for about thirty seconds.
More Great Bread Recipes
Waterford Blaa – Irish Bread Rolls
Sweet Molasses Brown Bread Rolls Recipe
Organic Honey Whole Grain Bread Recipe
Beer Cheese Bread from my friend at Lisa's Dinnertime Dish.
We LOVE baking bread! You can find all of our bread recipes here!
Don't forget to pin this Easy Homemade Dinner Roll Recipe to your favorite Bread board!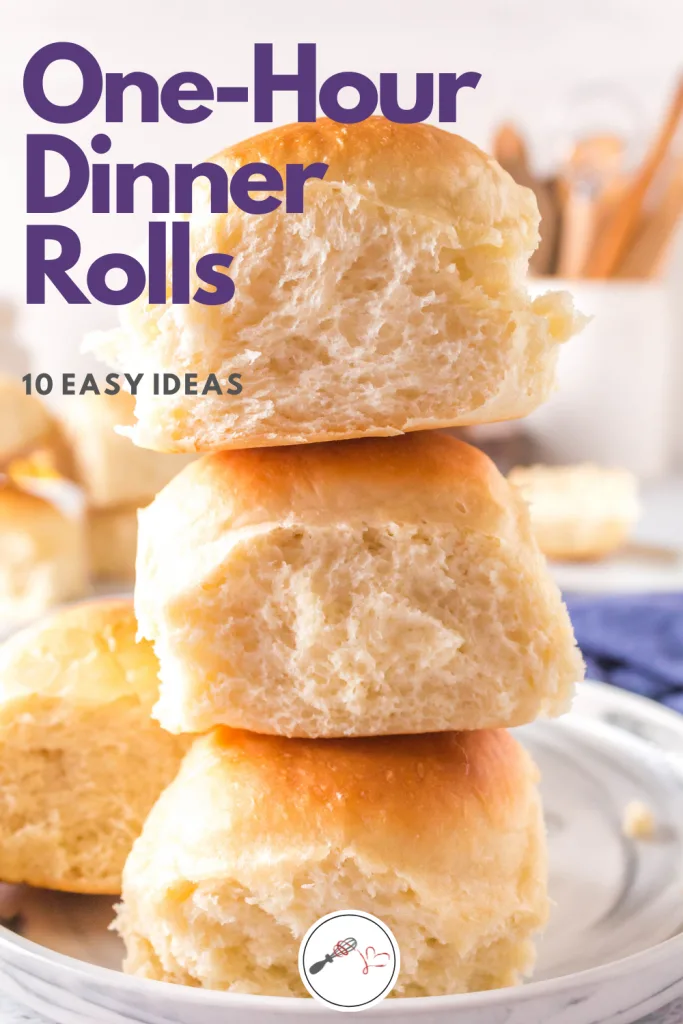 Don't forget to stop back and let me know how your One-Hour Dinner Rolls turned out!