Thanksgiving Dressing is tender, moist, and seasoned perfectly to go with or stuffed in your Thanksgiving Turkey. Make it ahead for stress-free entertaining!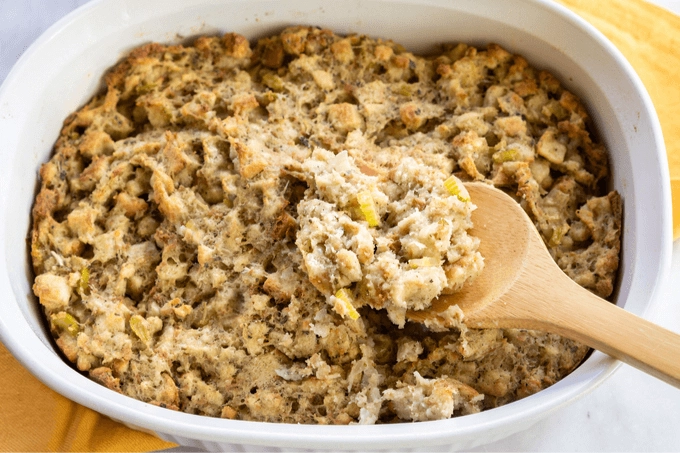 I grew up eating what we deliciously call "Thanksgiving Dressing". There's probably as many homemade dressing recipes as there are Thanksgiving tables but this one is simple and delicious.
Just like world peace, I can't solve the stuffing versus dressing debate. However, in my humble opinion, Thanksgiving stuffing is dressing put into the Thanksgiving turkey, and dressing isn't put in the turkey.
That just makes sense to me. Well, maybe I will work on world peace after all.
Growing up we always had Dressing on Thanksgiving. In the early days, my Grandmother always hosted. She'd stuff the bird with dressing and make another casserole dish of it so we had plenty.
Later, when my mother took over, she always made this bread dressing in a casserole dish. She didn't stuff the bird, and now that I've taken over the Thanksgiving Holiday festivities, that's the way I do it too.
Even though this is a simple dressing recipe, we all have our own way of seasoning it. My Aunt's dressing was so full of sage that it was green. I was always grateful we had our own homemade dressing at home before going to her house.
What is this Simple Thanksgiving Dressing made of?
Bread is the main ingredient. You can either dry your own and use any variety. Your dressing will take on the flavor of the bread. For example, if you use sourdough it will have a tang to it. Whole grain will be a little nuttier.
Sometimes I dry my own bread but most of the time buy the Pepperidge Farms® Herb Seasoned Bread Cubes. They also have bread crumbs but I like a cubed texture in my Thanksgiving Dressing Recipe and add enough liquid to mash most of it and leave some cubes intact.
Other ingredients in my Simple Thanksgiving Dressing Recipe include:
Unsalted butter – I would rather control my own salt than use salted butter.
Onion – a yellow or white onion
Celery – I love lots of celery in my bread dressing. It adds flavor and texture.
Stock or broth – you can make your own, or buy stock. I often use canned chicken broth but you can use vegetable broth for a vegetarian option.
Dried oregano and sage – The bread cubes I use are already seasoned. However, when I make my own bread cubes I'll add more oregano, sage or often just a poultry seasoning which is a blend of thyme, marjoram, sage, rosemary, black pepper, and nutmeg.
Salt and pepper.
Many recipes call for eggs which are used as a binding agent. I don't use eggs in mine and it bakes up beautifully without it.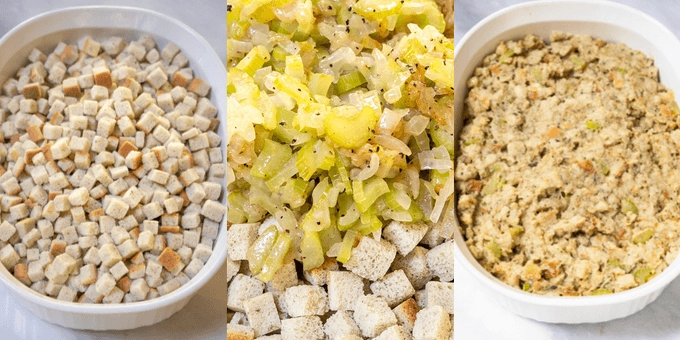 How to make Dressing:
Grease the inside of a 2-quart baking dish or spray it with non-stick cooking spray.

I mix my ingredients in a separate dish and then pour the mixture into the dish prior to baking.

In a medium-sized saucepan, melt the butter. Add the onion and celery and cook until slightly soft.
Add the onion and celery mixture to the bread cubes and add the spices. Stir to combine and add the broth until you think maybe you've added just a little too much. Moisture will cook out of the dressing but you don't want it dry.
Pour the bread dressing mixture into the prepared dish. Cover it with a lid or foil.
Half-way through baking remove the foil and allow the top to brown.
Remove from the oven and cover until your ready to serve it.
Thanksgiving Dressing Tips:
You can mix-up your dressing the day before and refrigerate it. Remove it from the refrigerator 30 minutes before you want to bake it.
I often make 1 1/2 batches. I put one in a 2-quart dish and a second in a freezer-safe dish. I bake both of them and have plenty just in case. If I don't need the second one I will put it in the freezer to enjoy with roasted chicken or pork chops. What a delicious treat!
You can also bake half in a casserole dish and use the other half for turkey stuffing.
I've cooked my dressing in a crockpot before to free-up my oven. Just make everything as required and spoon it into the crockpot. Cook it on low for 4 to 5 hours and then turn it on warm until you're ready to serve it. It's oven-safe so you can crisp it up in the oven if that's the way you like it. It's delicious either way.
If you choose to stuff your turkey with dressing, the CDC has some Food Safety Guidelines to help you out.
This is my go-to Turkey Dressing recipe, but here are a few more you might enjoy:
Depending on where you are your homemade dressing recipe may be made with cornbread, oyster-based or with wild rice. It doesn't matter as much as it does spending time with people you love and giving thanks that you're together.
If you happen to have leftover dressing, this Leftover Turkey Casserole is delicious!
Here's our tutorial on How to Spatchcock and Carve your Thanksgiving Turkey as well as some easy tips for making it stress-free!
Here are a few more recipes that will be great for the Thanksgiving Holiday!
Thanksgiving Side dishes:
Thanksgiving Bread and Desserts
You may need the following item to make the perfect Thanksgiving Dressing Recipe:
2-Qt Casserole Dish – I got this very dish for my wedding almost 40 years ago and it's like new. It bakes up great and is pretty enough to put right on the table.
Do you have a favorite Dressing or Stuffing recipe? Please share in the comments below. You are my inspiration!