Creamy Hot Turkey Sandwiches are delicious comfort food. Our Open Faced Turkey Sandwich transforms leftover turkey into a meal everyone will love in only 3 steps.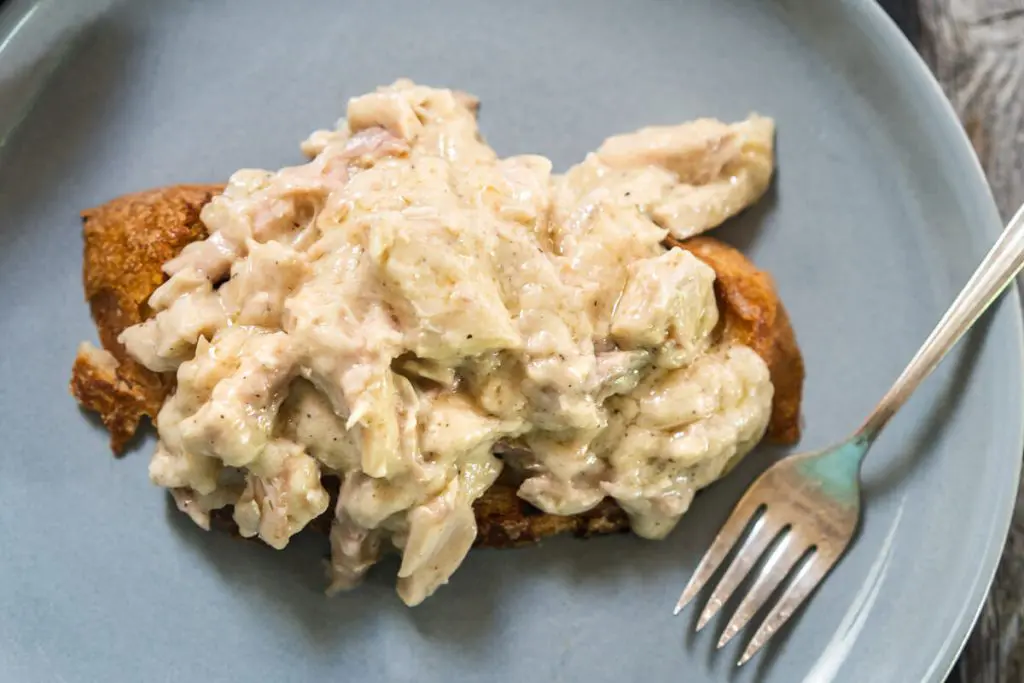 Hot Turkey Sandwiches have a creamy tender filling that is more flavorful than when it was first cooked.
It's one of our favorite ways to repurpose leftover turkey and has been known to save a dry turkey dinner.
This filling can be made with minimal leftovers or several. We'll show you how!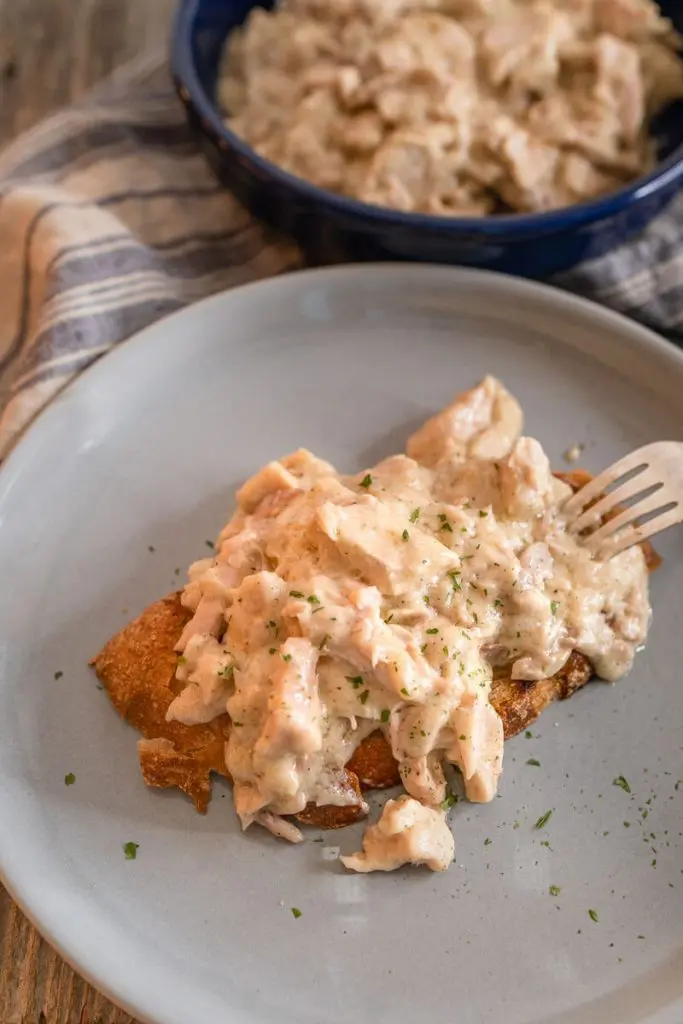 HOW LONG IS LEFTOVER TURKEY GOOD FOR?
According to USDA, refrigerate leftovers within two hours. Keep hot food hot and cold food cold until then. They have a lot of handling tips that are very helpful as well.
It's important to use your leftover turkey as soon as possible. Most leftovers can be kept for three to four days in the fridge.
If you have more food than you plan to eat within four days, freeze within two hours after it's cooked.
Ingredients
This list of ingredients makes the creamy filling from scratch.
Turkey – You can use this recipe all year long with chicken too.
Broth – We often make turkey stock for my homemade Turkey Dressing Recipe. You can use

canned chicken broth

too.
Cream – We love the richness that cream brings to creamed-based fillings.
Butter – You can use salted or unsalted. We don't use butter substitutes but that is our preference.
Flour – All-purpose flour is used as a thickener for our Hot Turkey Sandwich filling.
Seasoning – Salt and pepper.

You can use herbs such as sage and oregano too.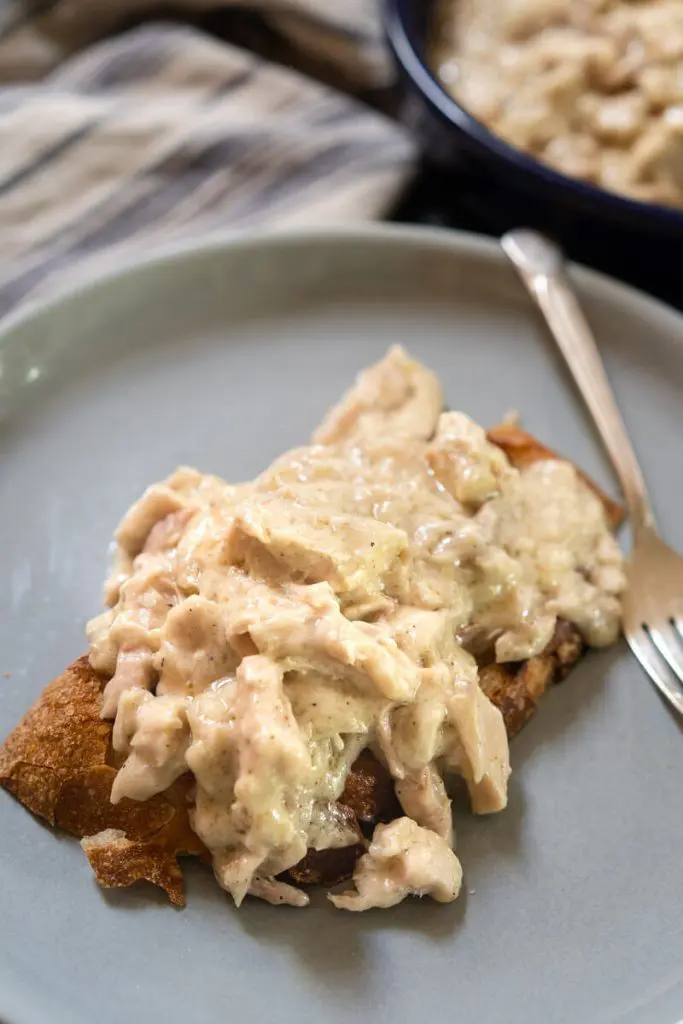 Variations
~Add your turkey to leftover gravy if you're lucky enough to have some.
~You can also add turkey to cream of chicken soup for a quick meal.
~Add chopped vegetables to the filling. Saute them separately and add them to the filling when you add the turkey. We love the crunch and flavor added celery and onion add.
~Add a dollop of leftover cranberries to the top of the open faced Turkey Sandwich for a sweet and savory contrast.
How to make it – 3 simple steps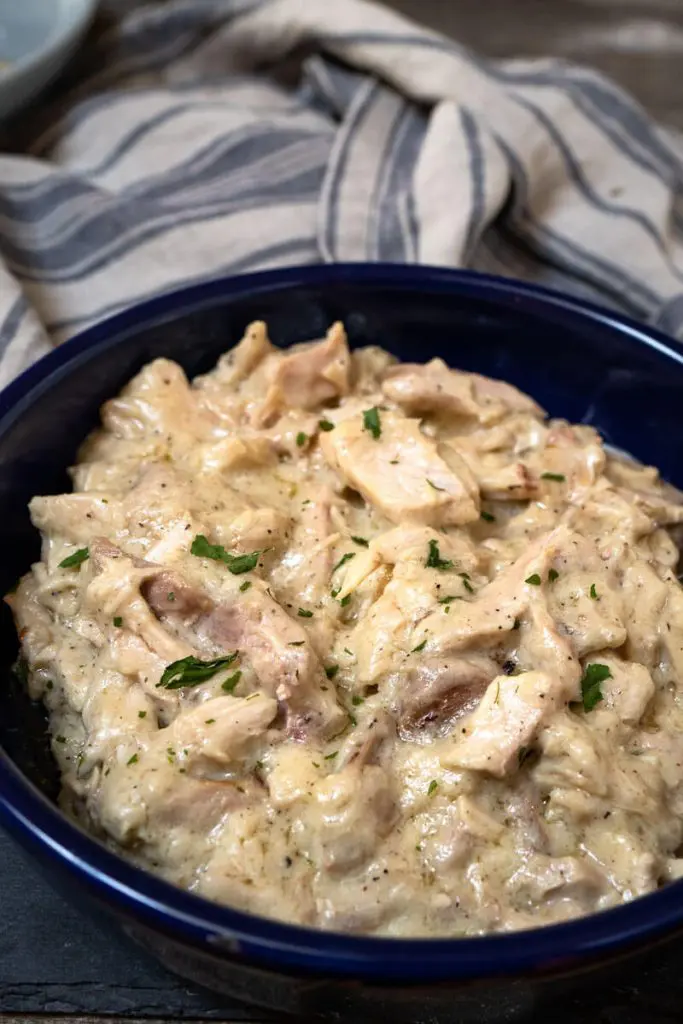 Whisk in the broth into the flour mixture and when it comes up to a simmer add the cream. Cook until the sauce begins to thicken.
Stir in the turkey and season with salt and pepper. Heat through.
I've included a short video in the recipe card to show you the thickness of the filling. We didn't want it as thick as gravy but thick enough to be creamy.
Serving options for open faced turkey sandwiches
You have a lot of options here. We like using crusty bread such as our Overnight Sourdough Bread. We'll toast it with a slather of butter. It makes our Hot Turkey Sandwich an experience and not a meal using leftovers.
However, if you have leftover rolls or biscuits such as these Black Pepper Biscuits or delicious One-hour Dinner Rolls, you can use them too. Sweetened rolls such as the Hawaiian rolls make a great sweet and savory combination.
Skip the bread and serve this over your leftover mashed potatoes or dressing!
How to reheat and store
Turkey filling can easily be reheated on the stove or in the microwave.
Immediately refrigerate any leftovers and use them within 4 days from the day they were initially cooked.
Turkey filling can be frozen in an airtight container for 3 months.
Pin it!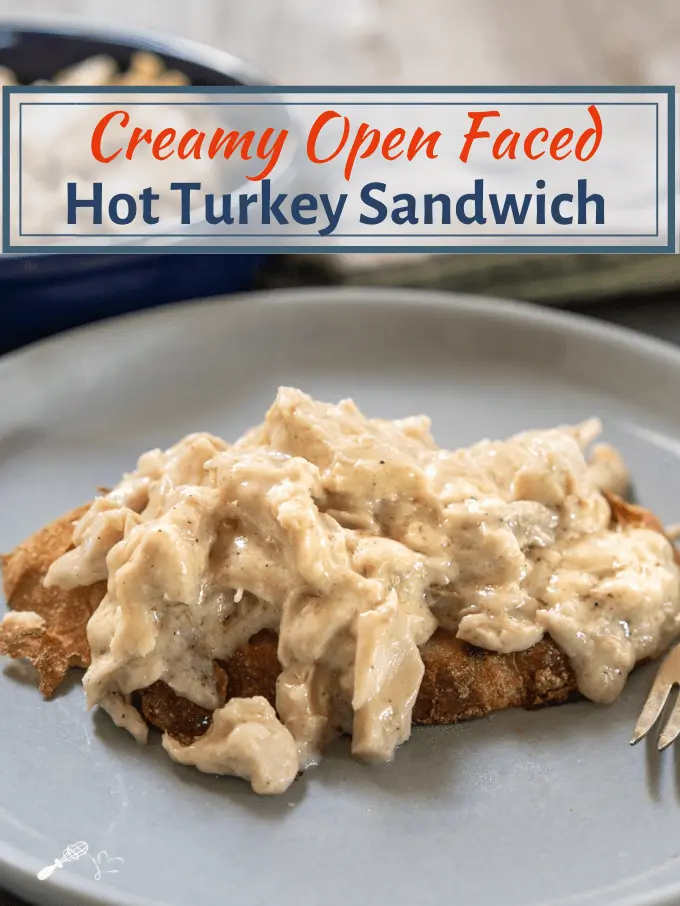 What to serve with Hot Turkey sandwiches
In our humble opinion, this is a meal in itself. Follow it up with a piece of leftover pumpkin pie! Here's a few more ideas.
You don't have to serve your turkey sandwich open-faced. We do so we can load on the filling!
You can put this filling between two pieces of bread and cover it with leftover turkey gravy.
More delicious recipes for Thanksgiving Leftovers
O.k., I'll say it. I like Thanksgiving turkey leftovers probably more than the carved bird on Thanksgiving.
Especially when they're creamy flavorful comfort food like our Hot Turkey Sandwich with leftovers.