Creamy Chicken Pot Pie Soup recipe is delicious comfort food loaded with tender chicken and fresh vegetables. When it's cold outside a cozy bowl of this hearty homemade chicken soup is like wrapping yourself in your favorite sweater.
Traditional chicken pot pie is loaded with fat and calories. Not this healthier version. Enjoy your favorite flavors with simple ingredients without the calories.
This recipe was updated from 2018 to improve the reader experience. No changes were made to the recipe.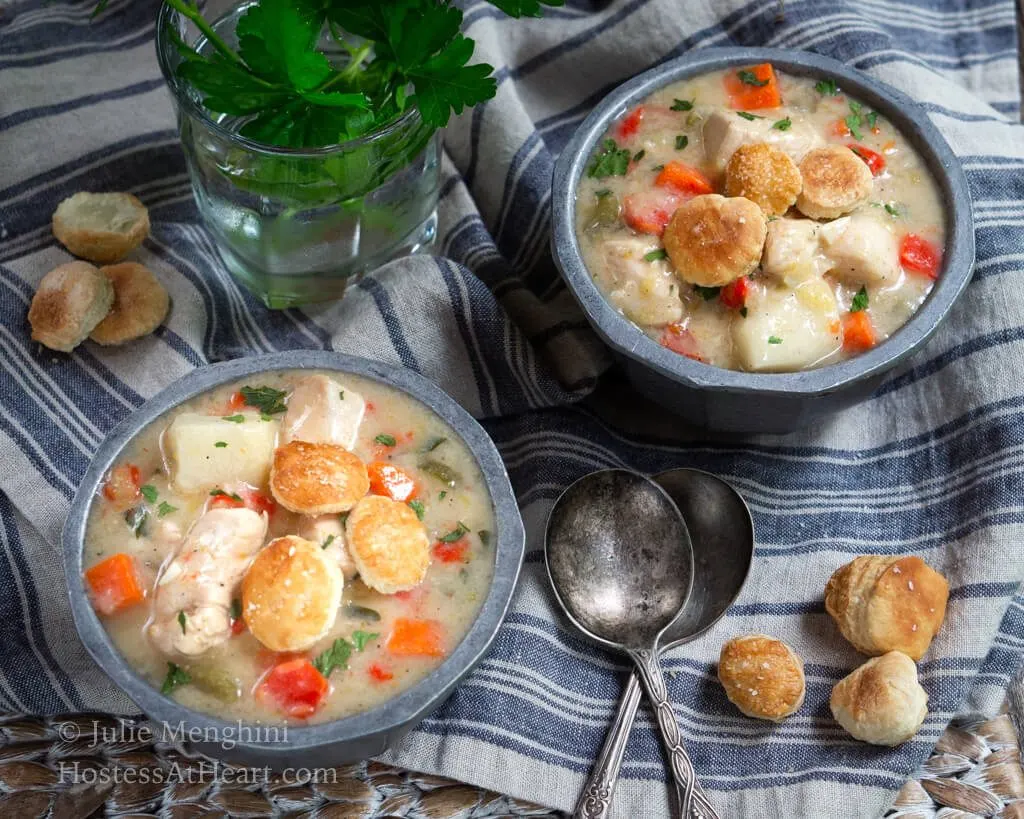 Chicken Pot Pie soup is creamy warm comfort food that will not put you in a food coma. We could eat this homemade Chicken Pot Pie Soup every single day.
Why we love Chicken Pot Pie soup recipe
Chicken pot pie soup can be served as a lite lunch or hearty dinner.
It's an easy recipe to make and can be made ahead of time.
Simple ingredients can vary to make it a family favorite in your home. I'll share some ideas with you.
Healthy chicken pot pie soup tastes like a traditional chicken pot pie without all of the fat and calories.
Make as much or as little as you want.
What is Chicken Pot Pie?
A chicken pot pie is a savory pie filled with creamy chicken and vegetables. The original chicken pot pie was created by the greeks. They placed cooked meats in an open pastry. The Romans later added the top crust.
When I was a child I could eat one of those frozen pot pies daily. This Healthier Chicken Pot Pie Soup tastes better than those little pies that were actually more crust than that delicious filling.
It wasn't until I had a family of my own that I started reading the nutritional labels. The 630 calories were a sad shock, but the shocker was almost 1100 grams of sodium!
That was the last commercial pot pie that I've ever eaten. Sad indeed.
Chicken Pot Pie Soup Ingredients and substitutions
Leek – A leek tastes like a mild onion. You can substitute onion for the leek if you choose. We would use a yellow onion.
Red Bell Pepper – Bell peppers come in several colors and they do taste different from one another. The red bell pepper is a little sweeter. You can substitute with another bell pepper or omit them if you choose.
Carrots – Carrots are a traditional ingredient in a pot pie and a must in our opinion.
Celery – Celery is a traditional ingredient in a pot pie and also a must in our opinion.
Potatoes – Russet potatoes were used in this recipe. Russets hold up well in soups. Yukon Gold potatoes are also a great choice. They cook up creamy and delicious.
Garlic – Minced fresh garlic. You could substitute with 1/2 teaspoon of garlic powder.
Chicken – Boneless and skinless chicken breast is what we used. It's a very lean protein so it will not add a lot of fat to our chicken pot pie soup recipe. It also cooks up well in recipes like this.

For a quick option, use a store-bought rotisserie chicken or this recipe is perfect for leftover chicken.

Chicken stock – Homemade or purchased. We prefer low fat and low sodium.
Seasoning – We used the herb blend "Herbs de Provence", parsley, salt, and pepper. You can use fresh or dried thyme or your herbs of choice.
Olive oil – Extra virgin olive oil. Vegetable or canola oil can be substituted.
Butter – We used a small amount which added flavor to our vegetables.
Arrowroot powder – We use this powder to thicken our soup. It's flavorless and will not gel up like cornstarch as it cools.

You can substitute arrowroot powder with cornstarch, flour, or instant tapioca.

Low-fat evaporated milk – This is our substitution for cream. Mixed with the arrowroot powder will mimic the cream. You could substitute it with any liquid such as unsweetened almond milk or even water.
Puff Pastry – This is optional. A traditional pot pie has a pastry top. We stamped out little crackers instead of covering the top. You can substitute with soup crackers or omit them altogether.
Variations – Add the vegetables of your choice. You can purchase a blend of frozen vegetables to save a lot of chopping and time. Some of my favorite ingredients are frozen peas and fresh Baby Bella mushrooms.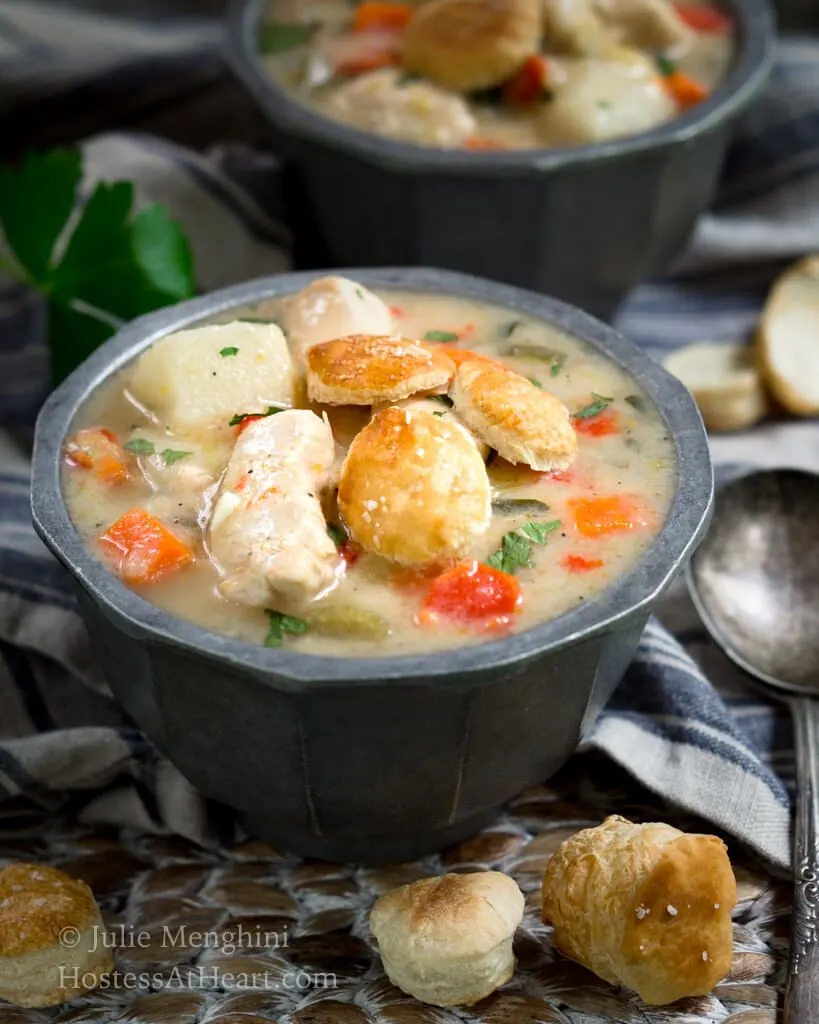 What is Arrowroot powder?
Arrowroot powder is a natural thickener that's made by extracting starches from the arrowroot plant. It's naturally gluten-free and vegan.
How to make Chicken Pot Pie Soup
In a large pan such as a dutch oven or large stock pot, saute the leek, chopped celery, red pepper, and sliced carrots for about 5 minutes on the stovetop. Add the minced garlic and continue cooking for just another minute or two. Remove the mixture to a bowl.
Add the diced chicken to the same pan and cook until the chicken surface starts to brown. This will allow it to stay juicy and not break down in the soup.
Add the vegetable mixture back in with the chicken and cover it with the chicken broth. Add the herbs, salt, and pepper.
How to thicken Chicken Pot Pie Soup Recipe
Add the arrowroot powder and the evaporated milk to a separate bowl or cup. Whisk or stir together until smooth.
Once the soup is hot, stir the arrowroot mixture into the soup. Soup will thicken as it cooks.
Note: If you don't want to thicken soup this way, you can add a can of low-fat cream-based soup such as celery, cream of mushroom, or cream of chicken soup.
Chicken Pot Pie Soup with Puff Pastry
Instead of the buttery crust, I stamped out some little puff pastry bites. A handful of oyster crackers would work too. it's delicious without either.
For a decadent option, you can cut out puff pastry the size of your bowl. Add soup to your bowl and top it with the puff pastry. Bake 10 to 20 minutes until it's brown.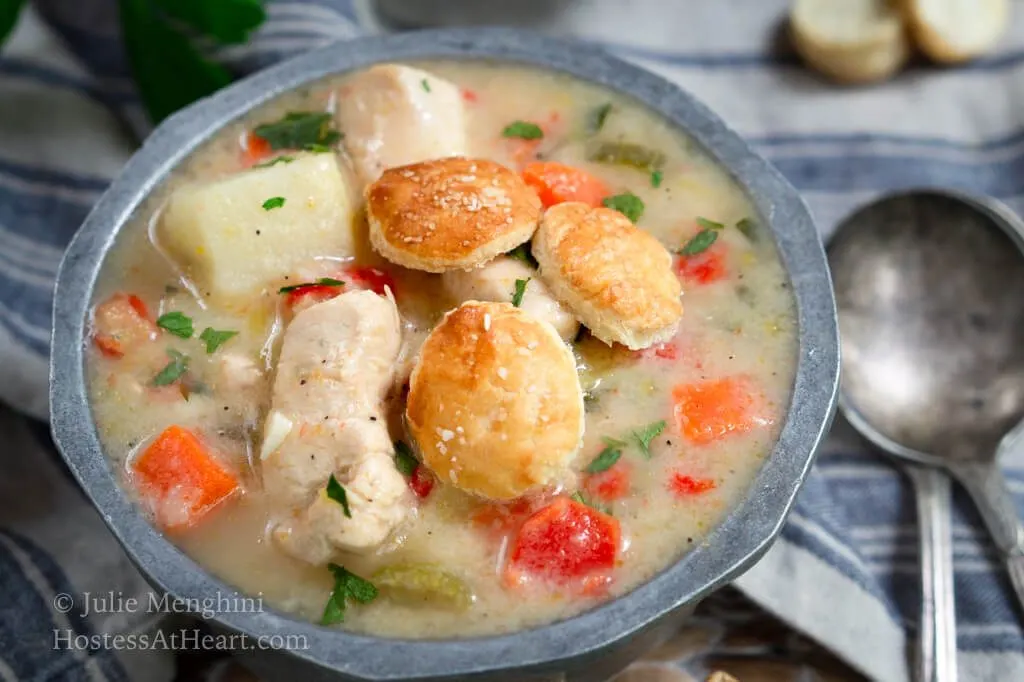 Chicken Pot Pie Soup Recipe FAQs
Can I use a protein other than chicken?
Yes, you can! You can use stew meat, turkey, and ground lamb are great options. Substitute the broth with beef or vegetable depending on the protein you use.
For a vegetarian option, use a vegetarian broth and load up on those delicious vegetables.
Can I make healthier chicken pot pie soup ahead of time?
Yes, you can make it ahead of time and either store it in the refrigerator or freeze it for another day. I don't recommend making the optional puff pastry crackers until you're ready to use them.
What is the best way to store leftover creamy pot pie soup?
Soup should be stored in the refrigerator in a covered container for up to 5 days.
Can you freeze pot pie soup?
Yes! When I make soup I always make a lot of it. I freeze it in individual servings which make the perfect meal when the mood strikes or when we don't have the time to cook. I've frozen this soup for several months. To guarantee optimum flavor I recommend using it within 3 months.
To thaw frozen soup, place the container in the refrigerator overnight. Frozen soup can also be heated slowly in a saucepan.
How do you reheat chicken pot pie soup?
Soup is easy to heat up by the bowl in the microwave. Or, you can add the soup to a pan and heat it on the stovetop until it simmers.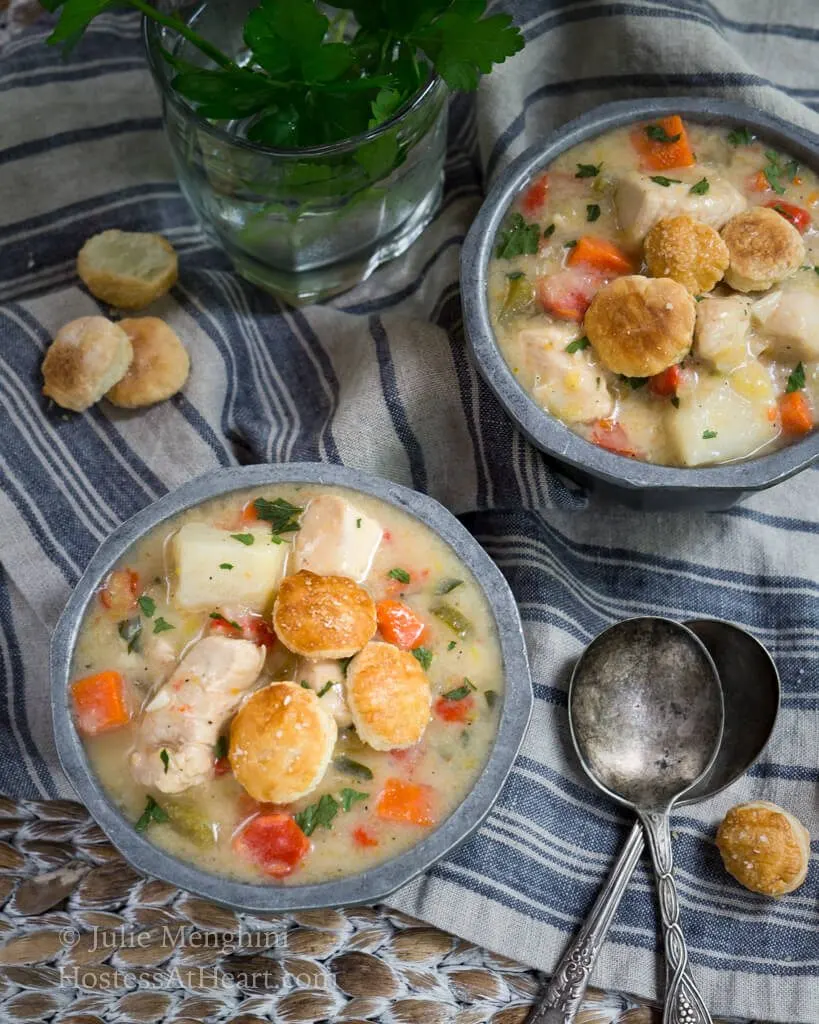 Tips for making the perfect chicken pot pie soup
Chop the chicken and vegetables in equal-sized pieces so they cook at the same rate.
It's best to simmer soup and not cook it at a high boil. Your ingredients will overcook.
Freeze your leftover Turkey from Thanksgiving to make this soup.
What to serve with Easy Chicken Pot Pie Soup
This delicious creamy healthy Chicken Pot Pie soup is a meal all by itself. If you wanted to add to the menu we would suggest maybe a simple fruit salad and a muffin or bread. Here are some of our favorites.
If you enjoyed this recipe, check these out!
We're soup lovers and you can find all of our soup recipes here.
I hope you enjoyed this delicious recipe as much as we do. Drop me a comment below, and don't forget to give it a star rating. ⭐⭐⭐⭐⭐. Your comments and ratings help others decide if this recipe is for them too.
National Soup Swap Day
Happy National Soup Swap Day! Today, I'm linking up with other bloggers for a virtual soup swap hosted by Kate's Recipe Box – and we're all sharing some tasty soup recipes to warm you up!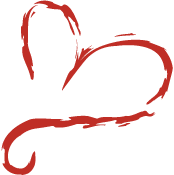 Thank you from the bottom of my heart for spending some time with me today!