Sourdough Rye Bread recipe makes a light rye bread with a soft and tender crumb and chewy crust. The soft flavor of rye is enhanced by a dash of honey making it perfect for sandwiches or toast.
Rye Sourdough bread is delicious any time. It makes the most amazing corned beef sandwiches, and is delicious on a charcuterie board.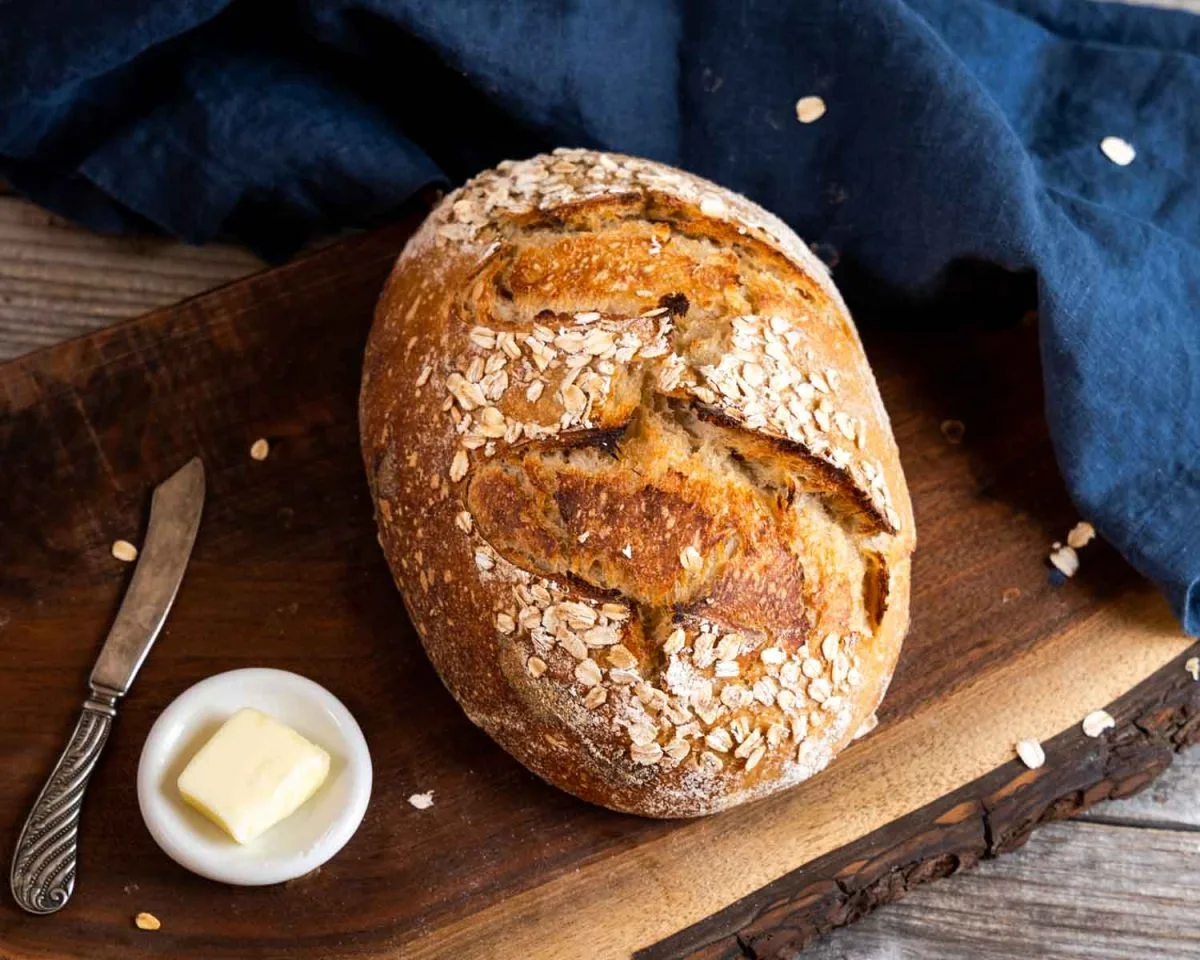 Think you aren't a Rye Sourdough Bread lover? I can't wait to change your mind with this recipe for sourdough rye bread.
If you've only had dark or strong rye bread, I get why you think you don't care for it. That was me. I always felt that the bread overpowered whatever you ate it with.
This rye sourdough bread recipe has a slightly sweet and mild rye flavor. And, even though this rye bread is made with a sourdough starter, it doesn't have a strong sourdough tang.
Is rye sourdough recipe hard to make?
Once I had a handle on successfully making sourdough bread, I thought I was ready to make other flour varieties. And, I did until I tried making rye.
I ended up with such a wet sticky mess that guaranteed I wasn't going to try it again and had me second guessing my bread making skills. I don't want this to be your experience so let's do this together.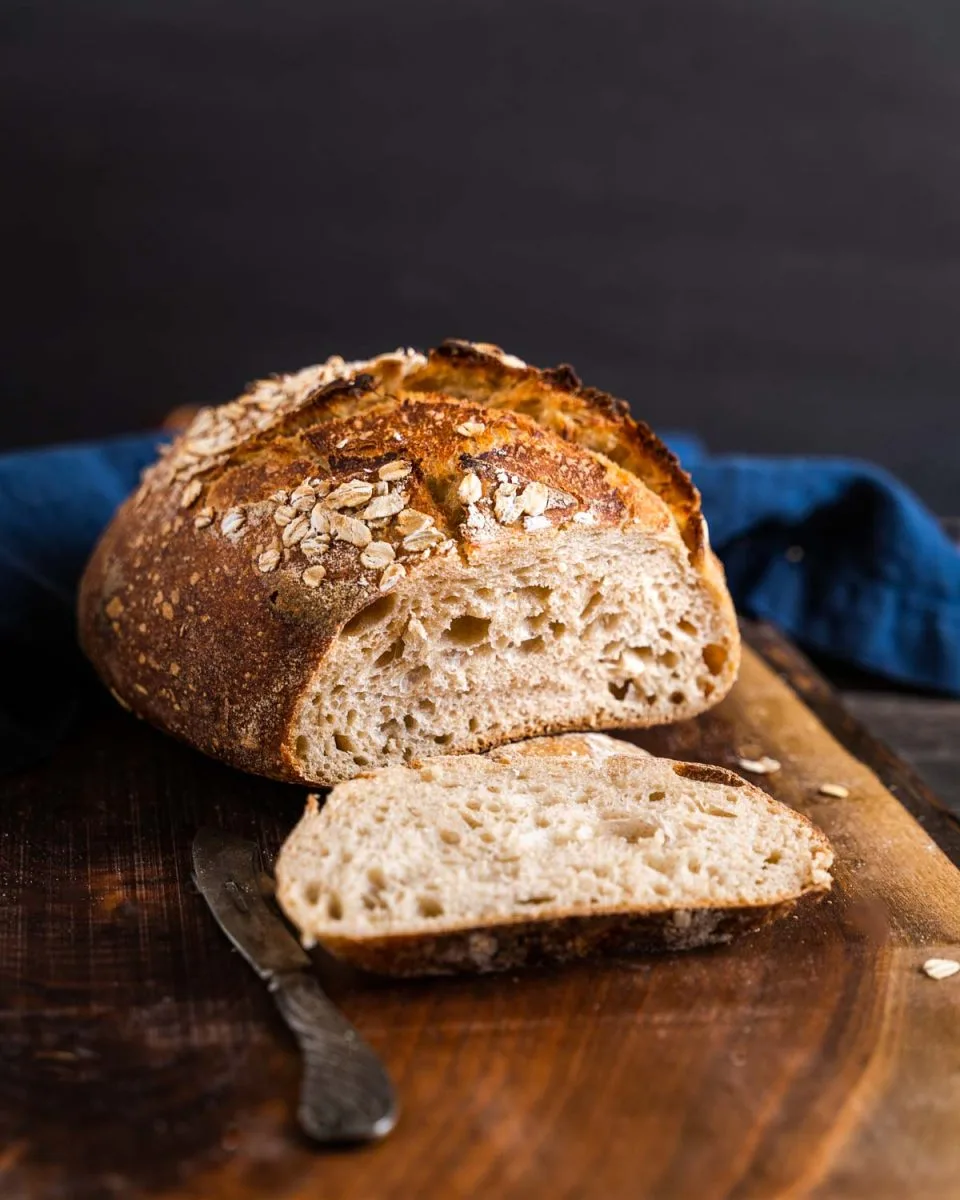 What is rye sourdough?
Rye is considered a "small" grain crop known as a "cereal grain" somewhat like wheat or barley. Unlike wheat, it is very low in gluten which is why I had my massive fail the first time I tried to bake with it.
Rye grain is ground to make rye flour which can be light or dark in color. It can also be strong in flavor or milder. Bread characteristics include a lower rise and the bread can be dense.
Rye sourdough is made using a sourdough starter. Rye flour becomes very active when introduced to sourdough starters because of its unique yeasts. Using a sourdough starter also helps rye to ferment and produce a lighter more tender crumb than other rye bread recipes.
Why this recipe for rye sourdough bread works
This recipe only uses about 17% rye flour which makes it manageable and the remaining flour is bread flour. Bread flour has a higher protein content that helps add structure to this recipe for rye sourdough bread.
What you may need
Hostess At Heart participates in affiliate programs. As an Amazon Associate, I earn a commission from qualifying purchases. Please refer to my disclosure page for more information about these affiliate programs.
Dutch oven – like most of my sourdough bread recipes I bake them in a dutch oven. Doing so mimics steam ovens used in professional bakeries.
Mixing bowl – I use a large mixing bowl and optionally proof it in the bowl or transfer it to a proofing bucket.
Bench scraper – It really helps handle and shape the dough.
Instant read thermometer – I check the internal temperature of my bread to see if it's done. Tapping or the weight of the bread is too subjective.
Ingredients you'll need for this recipe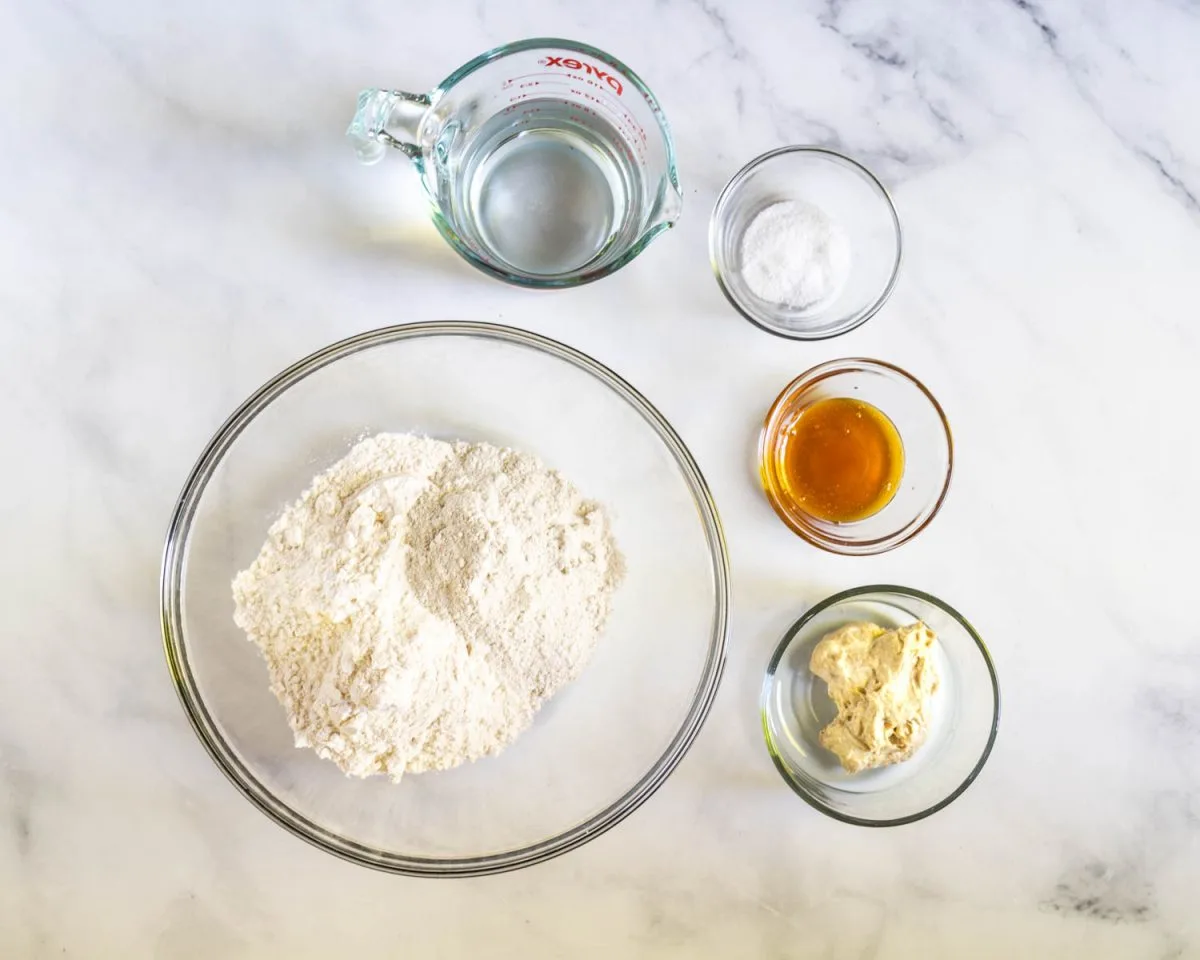 Medium Rye Flour – This flour has a mild flavor.
Bread Flour – Because rye flour is so low in gluten, it needs to be combined with another flour to provide structure. Bread flour is great for producing a light and tender crumb.
Water – I use filtered water.
Honey – Sweetens the bread just a little bit adding a nice contrast to the rye flavor. I try and buy locally sourced honey and sweet clover is my favorite.
Salt – I prefer to use fine sea salt for baking. I find that it dissolves better and is less likely to leave pockets of salt.
Seeds and grains are optional. I used oats just on top of this loaf. More recommendations are included in the variations and additions section below.
How to make rye sourdough bread
Please note, that the printable recipe card has ingredient quantities, complete instructions, and nutritional information. The following is a quick overview of the recipe.
Step 1: Prepare the leaven (bubbly starter)
The day before you mix your bread dough you will need to feed and possibly increase your starter. I will often feed my starter in the morning with 1 tablespoon of starter, 100 grams of water, and 100 grams of flour (a 50/50 mix of all-purpose flour and whole wheat flour). At bedtime (6 + hours later) I repeat this and in the morning your starter should be ready to go to work. You must do the float test to determine this.
Step 2: Mix
In a bowl or glass measuring cup Add 260 grams of water that's approximately 87°F, the honey, and the leaven. Stir to combine.

In a large bowl, add the bread flour and rye flour together.
Add the leaven mixture to the flour and mix by hand until all of the flour is incorporated.
Cover with a dish towel and let rest for 30 minutes.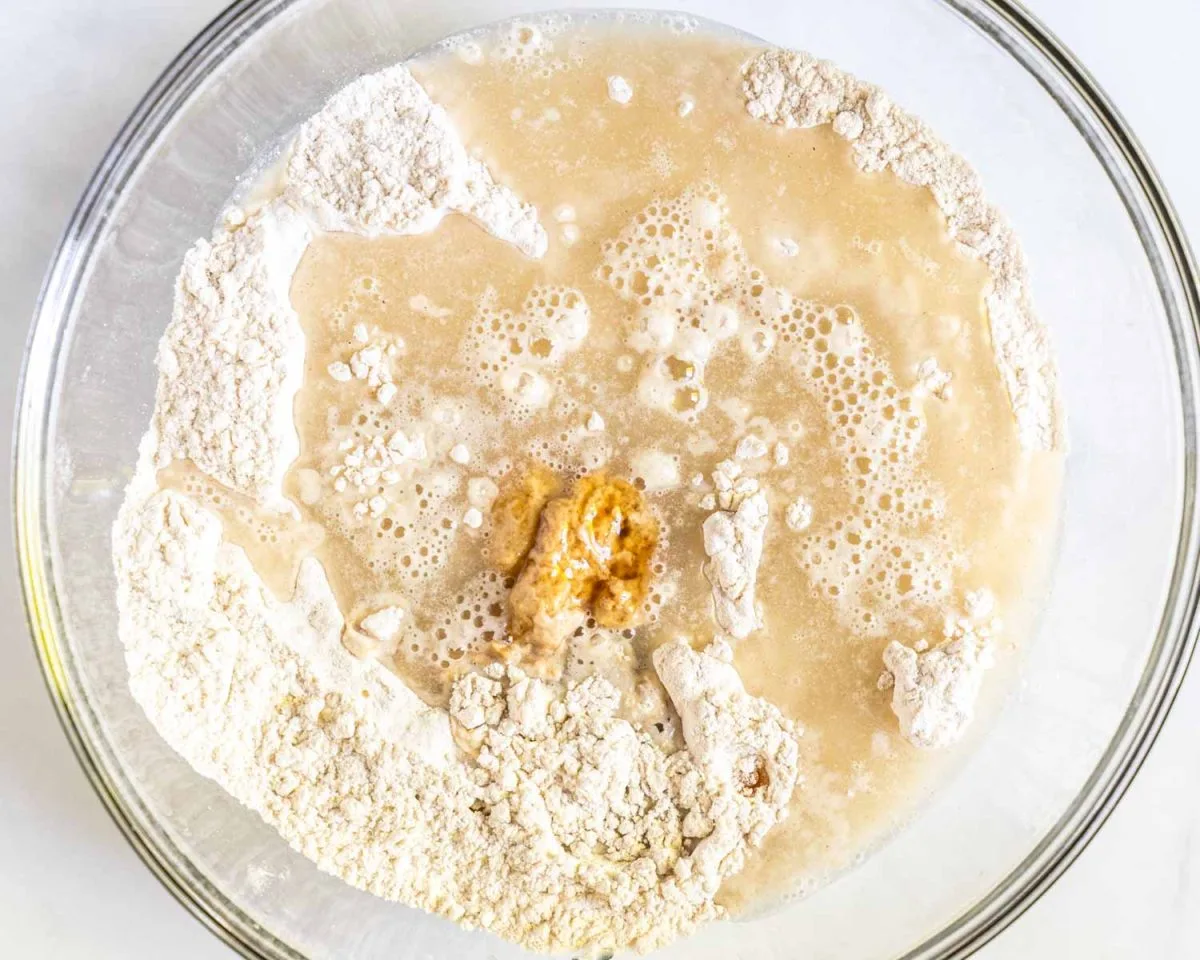 After 30 minutes, sprinkle the salt over the dough and add the remaining 28 grams of 87°F water. Combine using a pinching motion. The dough will come apart but will come back together. Cover the dough and place it in a warm area for the fermenting (rising) process.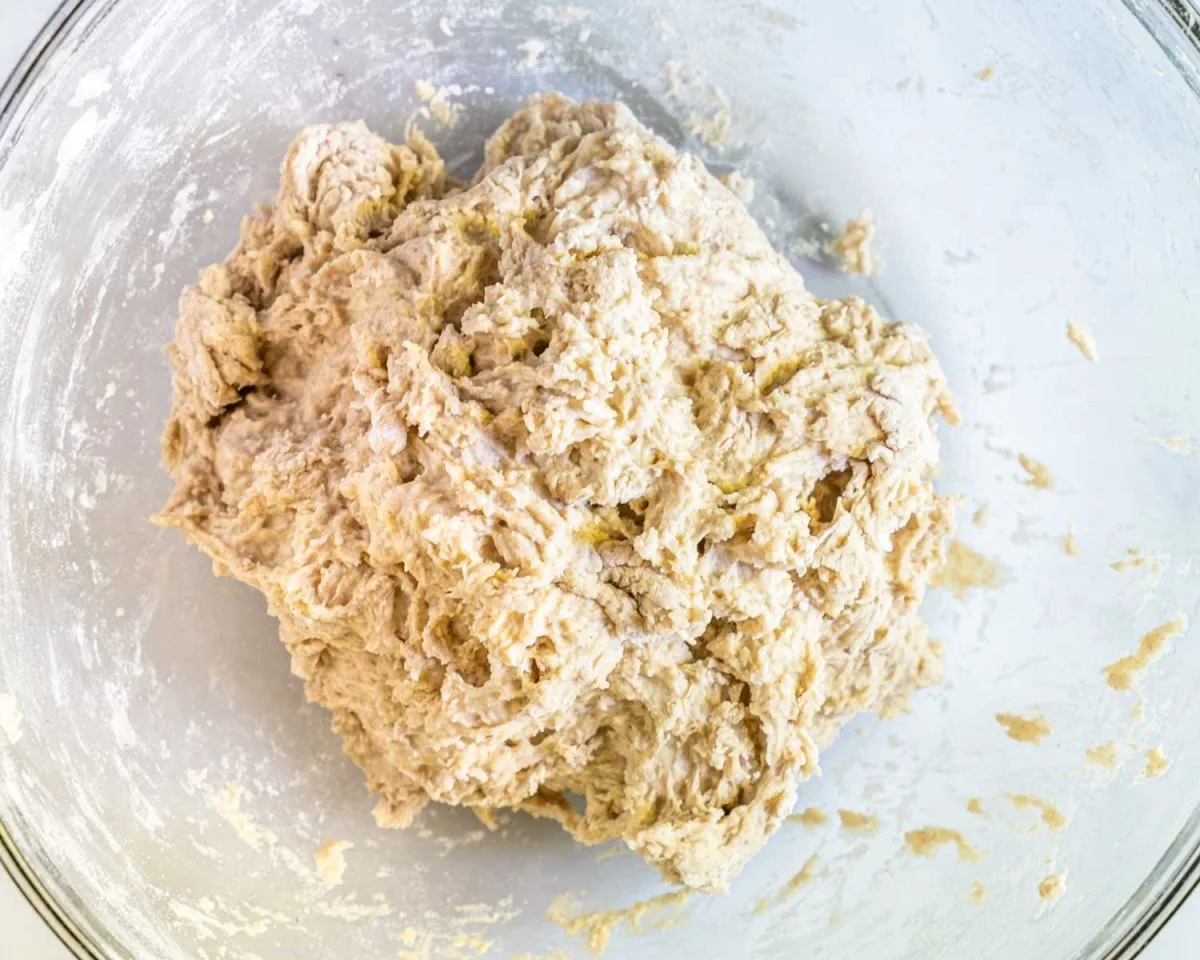 Step 3: Fermentation
For the first 2 hours, set a timer for every 30 minutes. Pick up the edges of the dough and stretch them to the center. The dough will be loose and sticky. Wetting your fingers helps to keep the dough from sticking to your fingers. Cover and repeat in 30 minutes.
At the end of 2 hours, stretch and fold the dough and let it rise for one hour. Set another timer for 1 hour.
At the end of the hour sprinkle flour onto your working surface. Remove the dough from the proofing (bowl/container). Shape the dough into a round loaf and let it rest uncovered on your work surface for 30 minutes.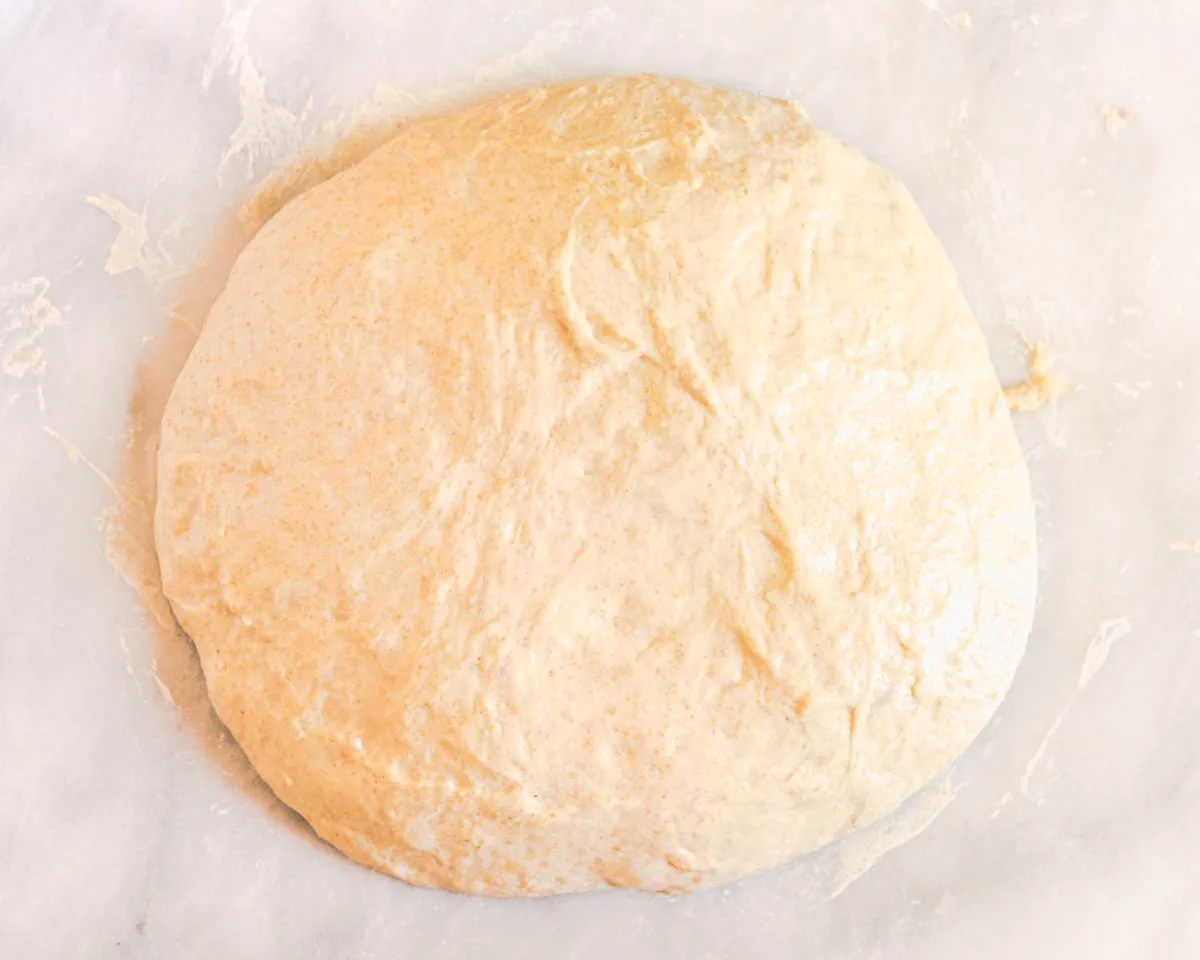 Prepare a banneton basket or a bowl by lining it with a floured tea towel. Sprinkle the towel with flour and add oats to the bottom of the container.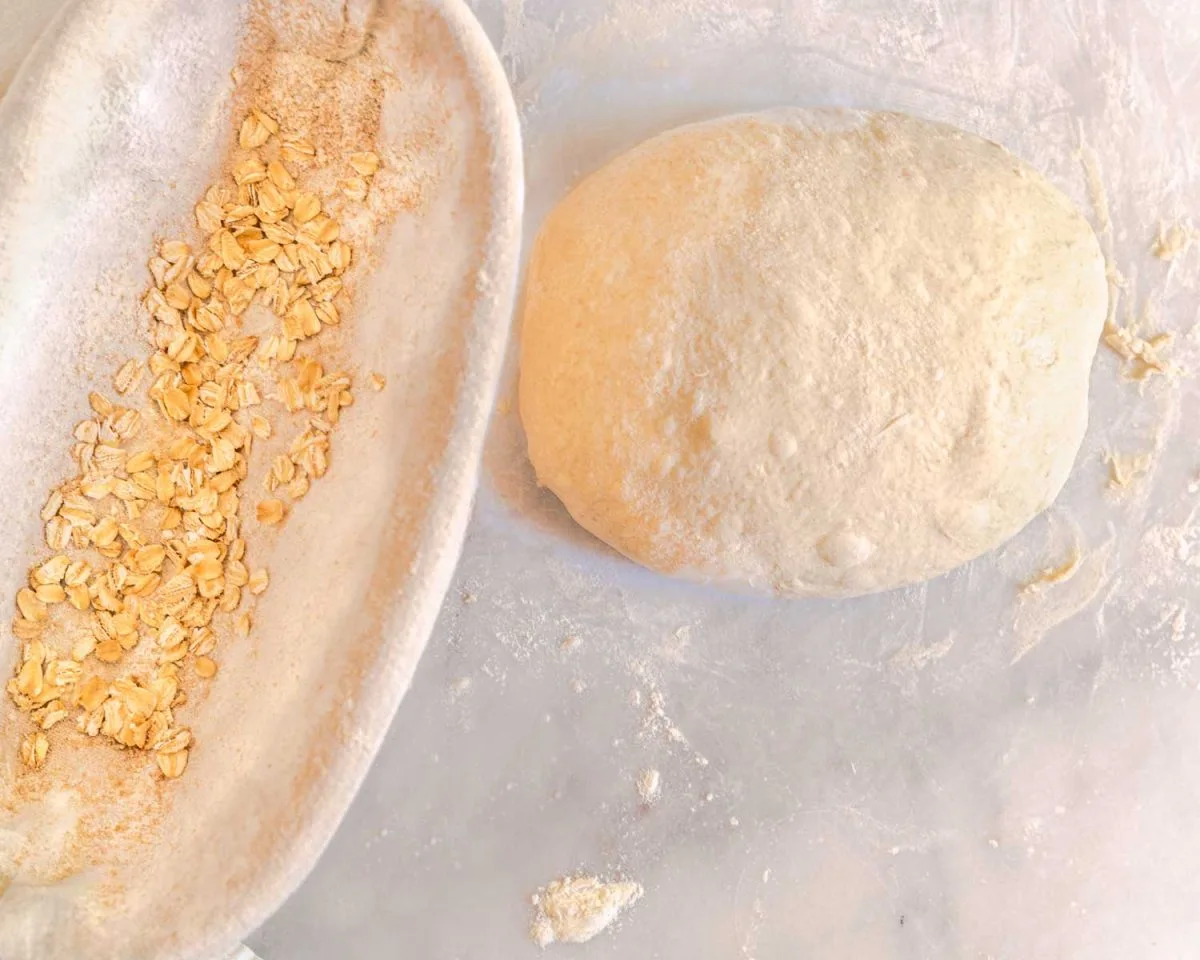 Step 4: Shaping (envelope fold)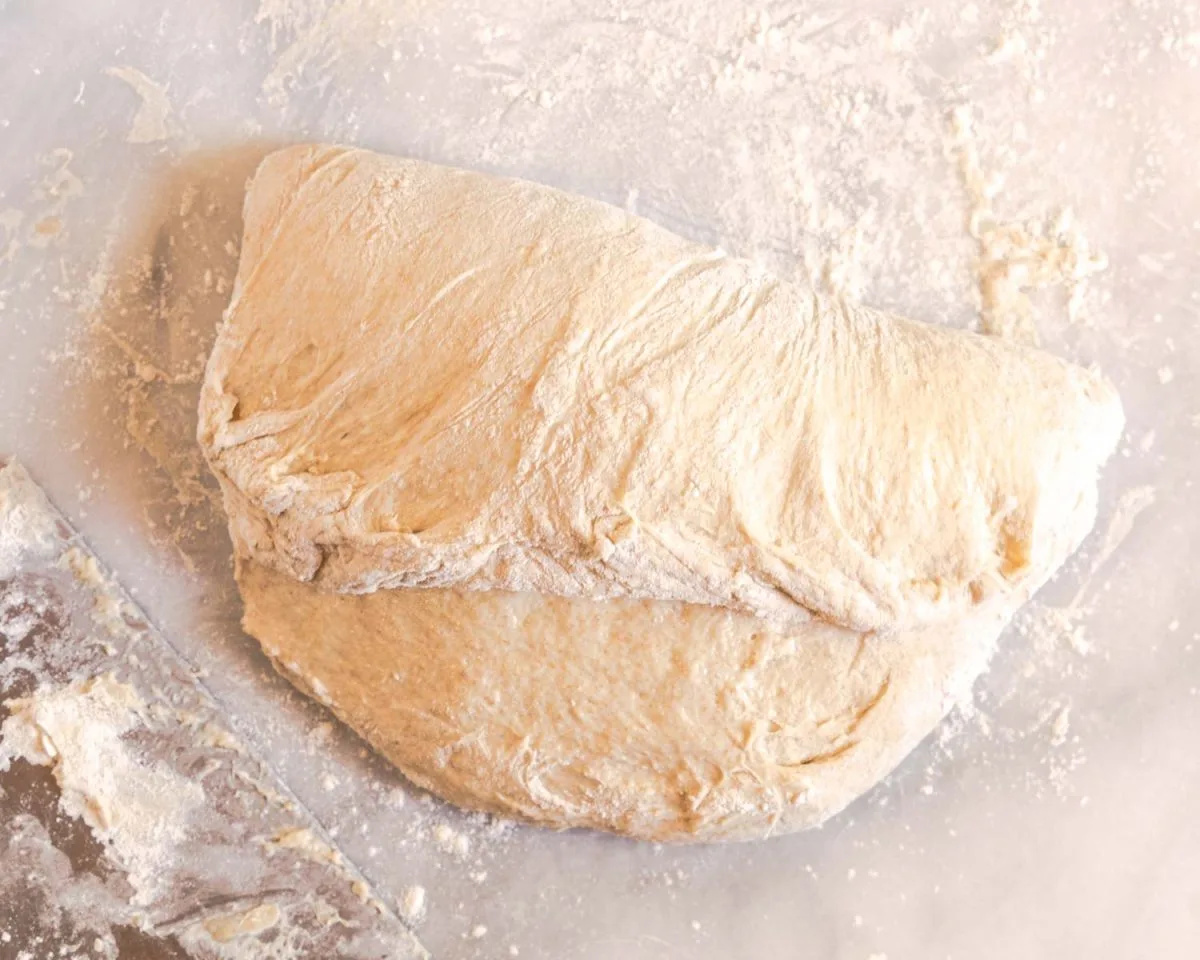 I perform what's called an envelope fold on the dough. I always do this backward but it ends up the same.

1st fold – Grab 1/3 of the dough closest to you and fold it back over the center.
2nd fold – Take 1/3 of the dough on the right side and slightly stretch it and then fold it over the center to the right side.
3rd fold – Repeat on the right side.
Final fold – Grab 1/2 of the dough furthest from you and stretch it toward you and over the previous folds.

Tighten the dough by cupping your hands and pulling the dough towards you in a circular motion until the loaf has a tight exterior. Flour your hands if necessary. Dough can be shaped in a round or oval.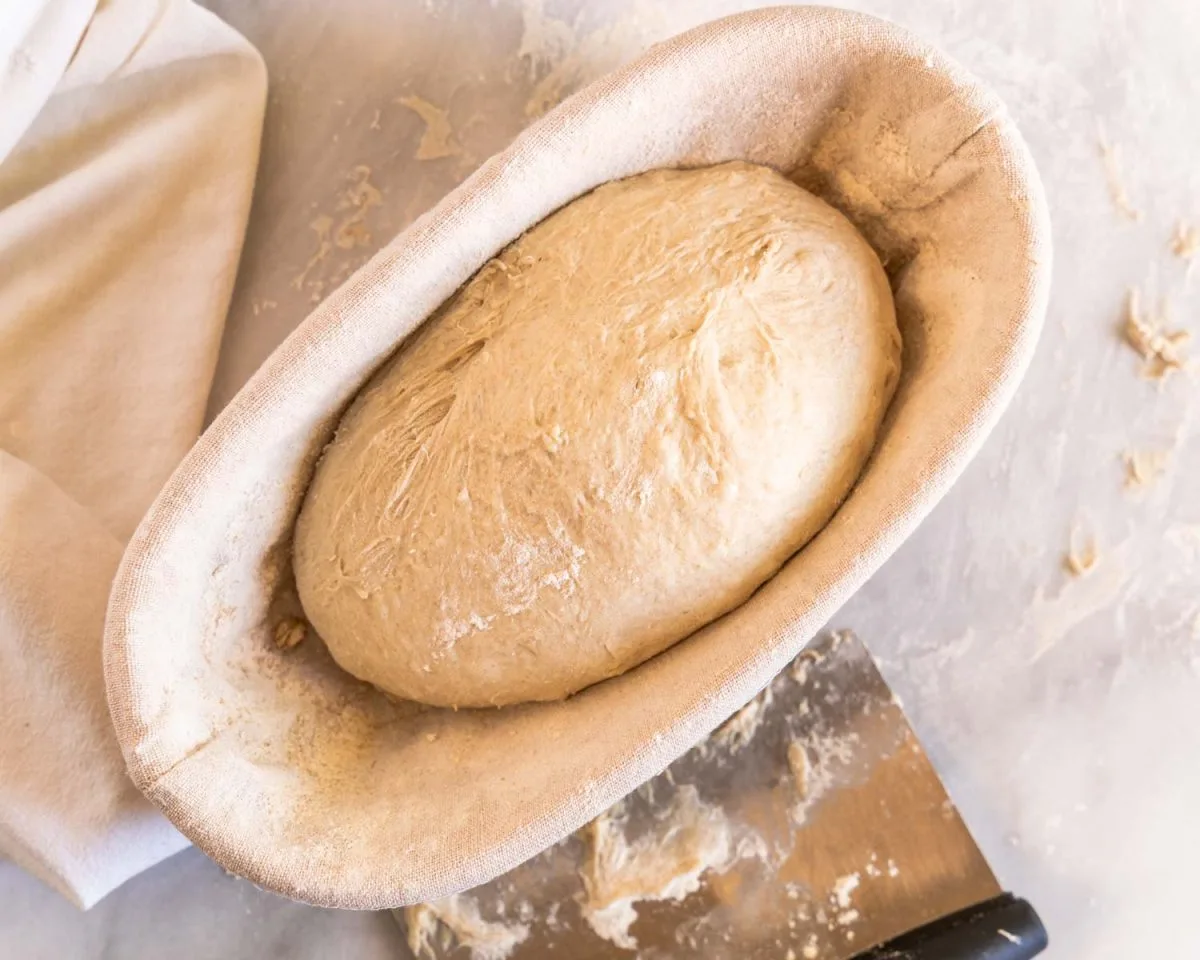 Using a bench knife, flip the shaped loaf into the prepared banneton or bowl upside down meaning the top goes down into the bowl or basket first. That way when you turn it out for baking the top is nice and smooth. Dust the dough lightly with flour so the cover doesn't stick and place it in the refrigerator for up to 18 hours.
Step 5: Bake
On the day of baking, preheat the oven with the covered dutch oven to 475°F.
Remove the bread from the refrigerator and carefully flip it into the dutch oven (I show you how). Score the bread with the lame or razor blade and put the lid on the pot. Place the dutch oven back into the oven and reduce the heat to 450°F. Bake for 20 minutes. Remove the lid and bake for 15 to 20 minutes or until the loaf reached an internal temperature of 206-211 °F.
Sourdough rye frequently asked questions.
Do I have to make a rye starter to make rye sourdough?
No, you do not have to make a rye sourdough starter. I use the same starter for all my sourdough regardless of the types of flour I use.
Can I use 100% rye flour?
No, not in this recipe. Rye flour doesn't have enough gluten to maintain its shape.
Is rye bread good for you?
Rye bread is considered more nutritious than other bread. It's higher in fiber and filling. It also has higher B vitamins than wheat bread.
Is it better to use cold or warm dough when making sourdough ryebread?
When mixing and fermenting bread I recommend a warm environment. Once this sourdough rye recipe is shaped and put into the refrigerator, it's fine to remove it from the refrigerator right to the oven. There is no need to let it come to room temperature.
Why is my sour dough gummy?
Gummy sourdough is a sign that the starter wasn't vigorous when it was used or that it wasn't fermented long enough.
If your starter isn't as strong as it used to be or just underperforms, see my post on Starter.
Bulk fermentation isn't something that can be timed exactly. Your bread dough is done when it's done. If patience isn't your strong suit, I recommend that you put this loaf in the refrigerator and don't even think about baking it for at least 12 hours.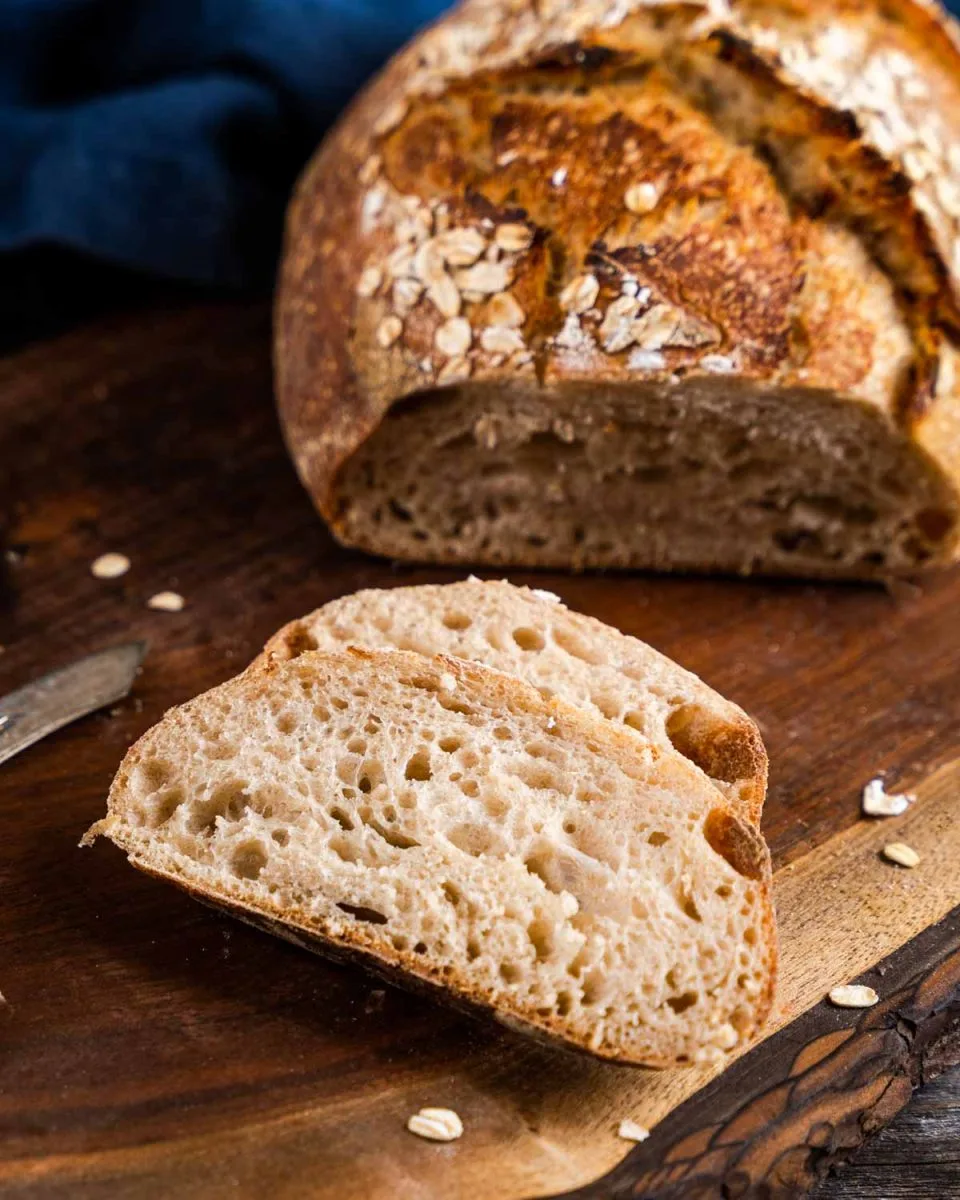 How To Reheat and Store Sourdough Bread
Best Way To Store Sourdough Bread
Store sourdough at room temperature. Once the bread is cut you can store it cut-side down on a cutting board but never in plastic. I've also had good luck with linen bread bags. Wrapping it in a tea towel or Bee's wrap works too.
Do not refrigerate sourdough bread. The condensation will create a gummy crust.
How Long Will Sourdough Bread Last?
The chemistry that occurs in sourdough makes it last longer and keeps it fresher than other fresh bread. Your bread should be good for up to 5 days. If it gets dry make homemade croutons!
Can I Freeze Sourdough Bread?
Yes! I often make up to 6 loaves at a time. Once the bread is completely cool, wrap it tightly in plastic wrap and then foil. It will be good for up to 3 months
How To Reheat Sourdough Bread
We make sandwiches and heat them briefly in the microwave.
You can freshen up or revive a loaf of sourdough by sprinkling it with a little water and putting it in a 250° F oven for 5 to 10 minutes.
Toast it in a toaster or the oven. It makes amazing avocado toast!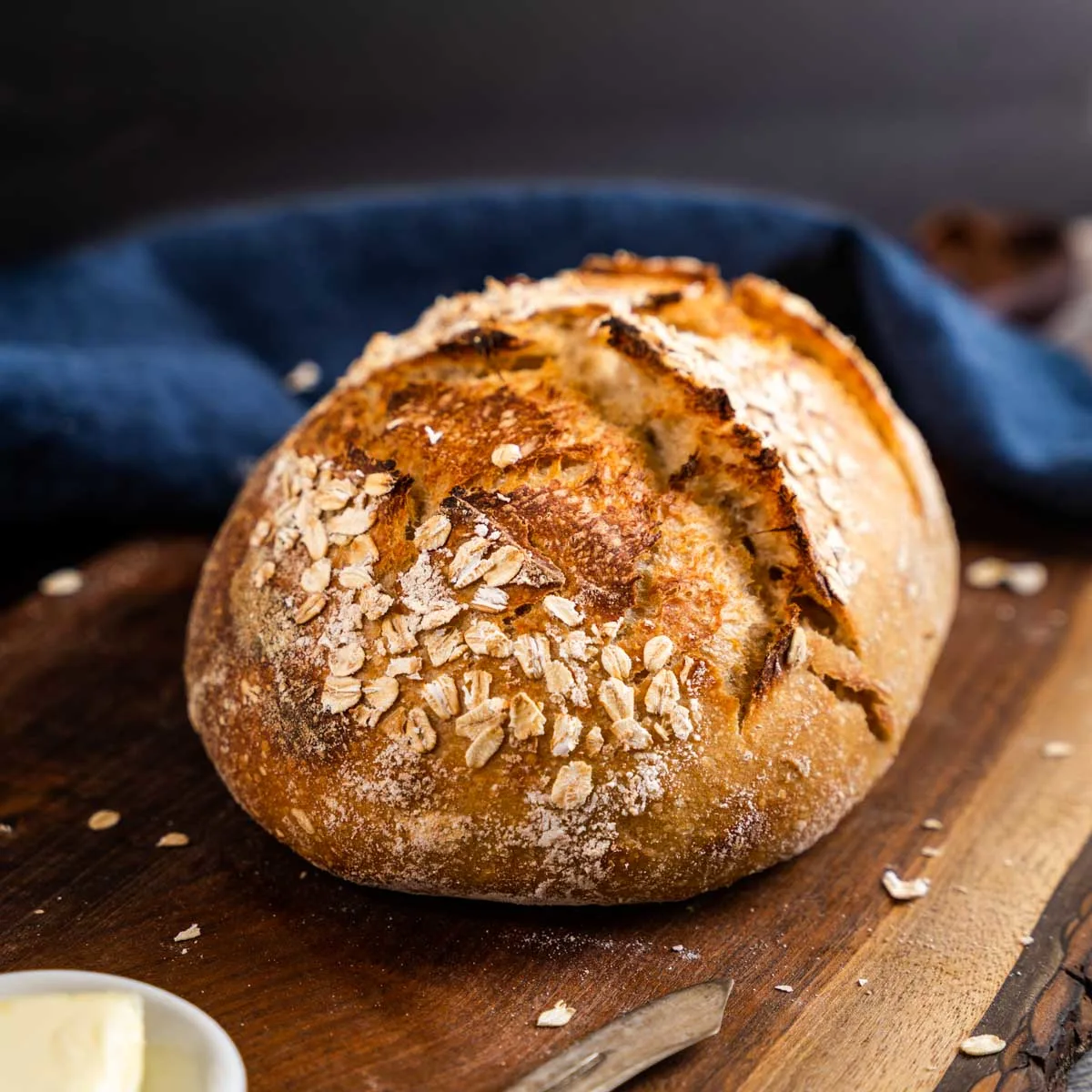 Tips for the perfect homemade rye bread
This is a wetter dough so turning it like other sourdough recipes isn't the same. Wet your fingers and lift it from the edges toward the center, more as a slapping technique instead of performing traditional stretches and folds.

This bread will gain structure but will never be as strong as non-rye sourdough bread recipes.
Most of the spring happens during baking so if it hasn't noticeably risen after the overnight rise, don't worry.

Rye likes a long fermentation so using the overnight sourdough method is perfect for this bread. You can refrigerate it for up to 19 hours before baking.
As tempting as hot bread is, you shouldn't cut sourdough until it's completely cool. Just let it sit on a cooling rack uncovered for 2 to 4 hours.
Sourdough rye recipe variations and additions
Add seeds or grains to the dough. Caraway, fennel, and coriander work well with rye. Rye bread is often topped with oats as I did here. You can also include the seeds mentioned above.

If you want to add seeds to the dough, add 1 to 2 tablespoons and add them with the salt.
Add seeds or grains to the bottom of the banneton before adding the dough so they bake on top as I've done with the oats in this recipe.
If you want a stronger flavor that's found in other rye bread recipes, you can substitute the medium rye flour with dark rye flour 1:1.
Honey is a mild sweetener. If you are looking for a stronger less sweet flavor use molasses. Don't use 35 grams, however. That would be overpowering. I would recommend about 14 grams or 1 tablespoon.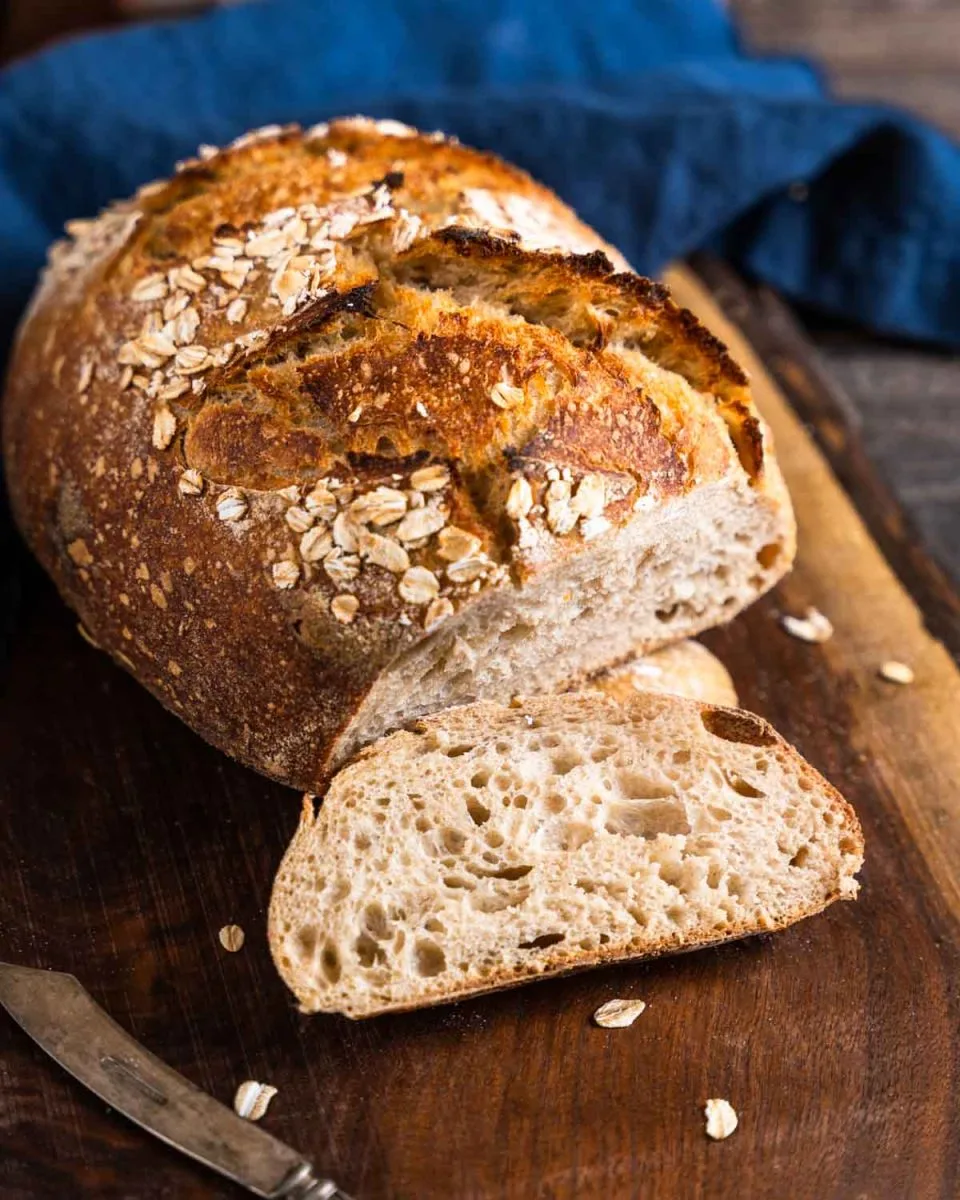 Sourdough rye serving suggestions
I served small slices of this bread with warm brie and a dollop of fig jam on a charcuterie board. Amazing!
Make this your go-to bread for anything on St. Patricks Day!

Corned Beef dinner
Corned Beef Sandwiches
Corned Beef and Cabbage Soup
I hope you enjoyed this delicious recipe as much as we do. Drop me a comment below, and don't forget to give it a star rating. ⭐⭐⭐⭐⭐. Your comments and ratings help others decide if this recipe is for them too.
I'd read "easy recipe" or "perfect for the beginner". My recommendation is to try something other than rye until you get a little confidence. This overnight sourdough is my recommendation.
And, as always, I'm always here to help with your questions. It's just flour, right?
More great sourdough recipes
Pin this sourdough rye bread recipe!