This Sourdough Sandwich Bread is soft and tender and perfect for every day. This bread uses a sourdough starter and doesn't need any additional yeast.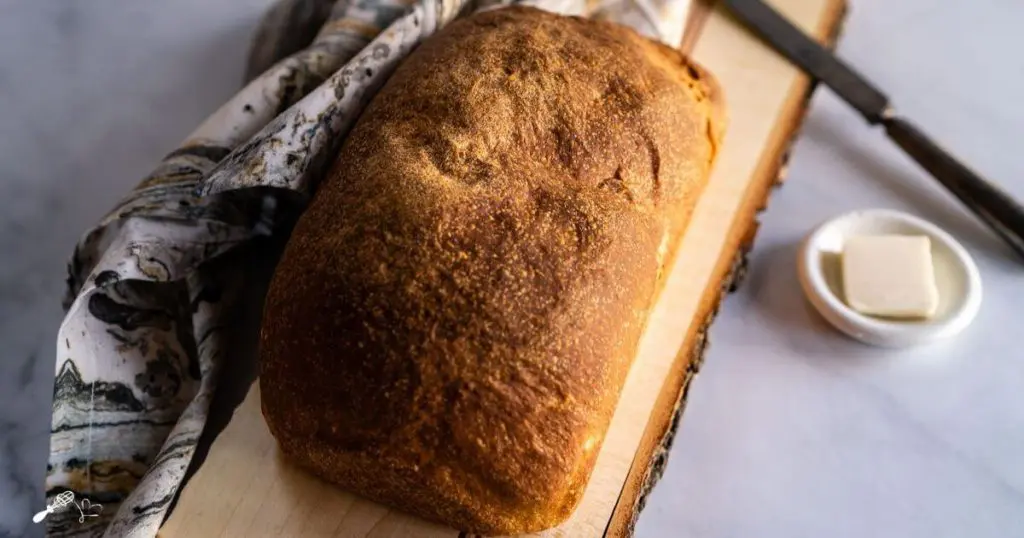 A soft white Sourdough Sandwich Bread that makes an amazing sandwich or a perfect slice of toast. No added yeast makes this a basic bread that you can bake every day.
I started my sourdough journey a few years ago to expand my bread baking skills and to get that artisan loaf of bread that we bought at the bakery.
Our Overnight Sourdough Bread was the recipe that I developed and have continued to expand on ever since and continues to be the top recipe on our site.
I never thought I would be using my sourdough starter for a sandwich bread!
Lately, a lot of my friends have been finding it difficult to get dry yeast from their grocery store. I knew that our starter could be used in place of dry yeast.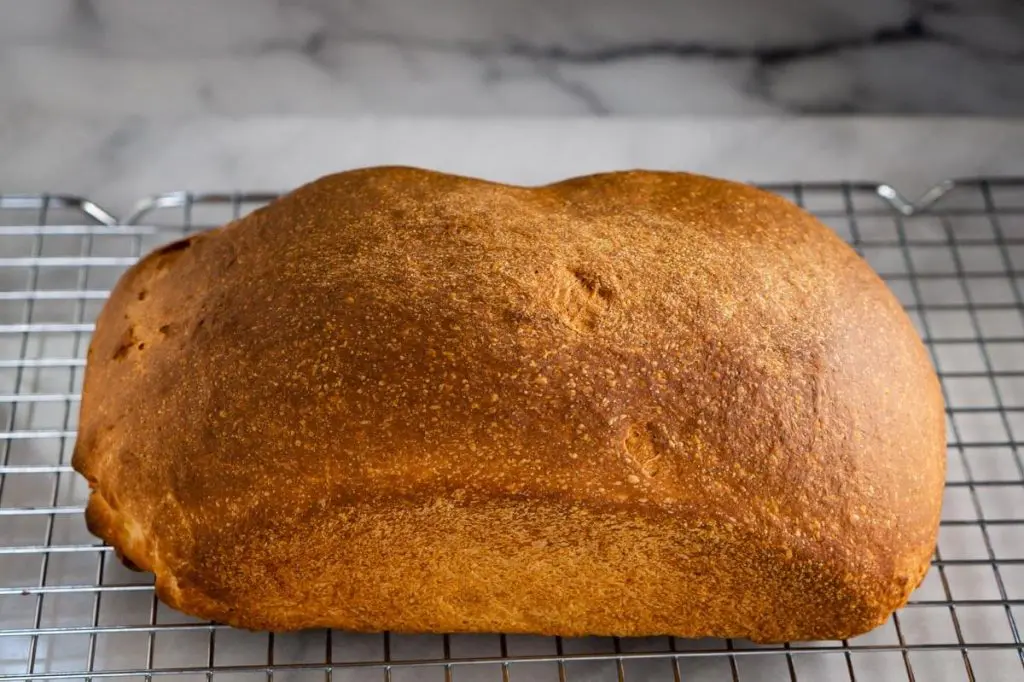 Bread starter is yeast. It's not dry yeast, rapid rise yeast, or yeast that you buy in a little packet. I wanted to mention this because some bread recipes indicate they are a "Yeastless Bread". They're not if they use a natural or wild yeast such as our bread starter.
I sent them our post on How to start your own Bread Starter and told them this sandwich bread recipe was on its way. It's just bread and water with a little magic bacteria and microbes. You can read a little more about its science if you're interested.
I'm also using all-purpose flour in this recipe. I know that not everyone keeps a cache of flour varieties like I do.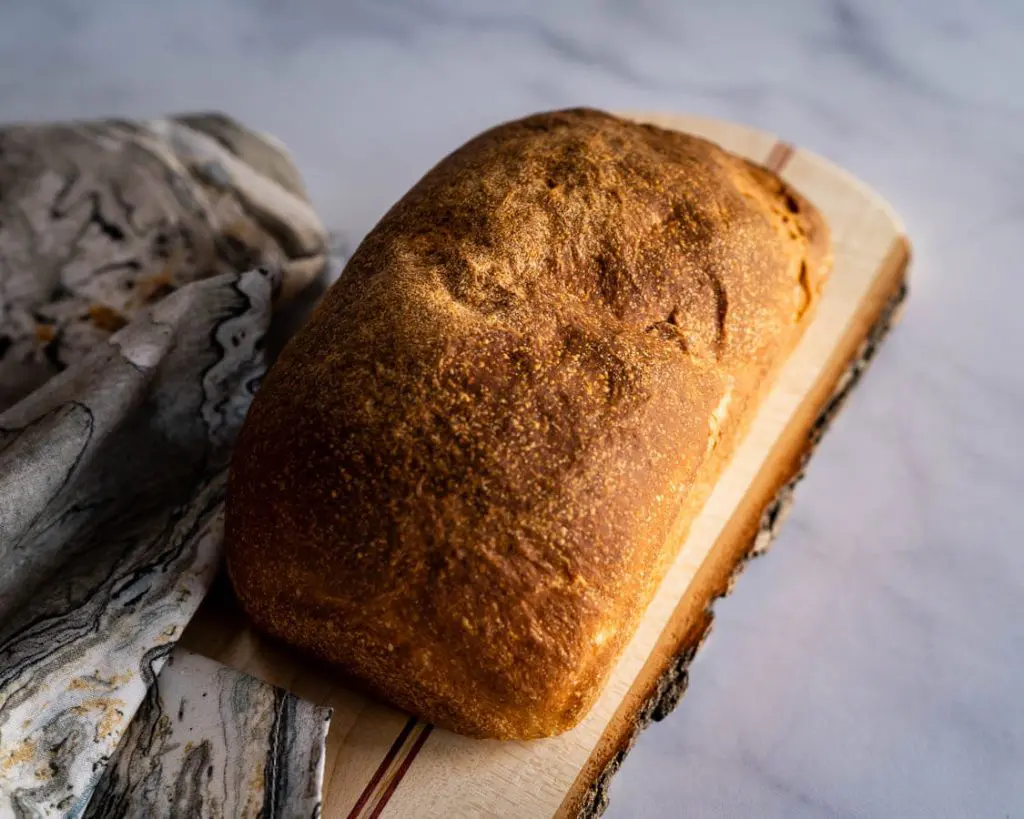 I popped out a loaf in a jiffy. However, It didn't have a nice domed top, and even though it looked like bread, the crumb was dense. Not that fluffy interior that I sought. The flavor was fair the day I made it but resembled cardboard the next day.
I did a ton of reading and discovered some ideas that made sense to me.
How to replace dry yeast with starter
If a bread recipe is made up of mainly flour and water, it is a good candidate to convert from dry yeast to starter. It must also contain a sufficient amount of flour and water.
One cup of starter (227g) equals 1 packet or 2 1/4 teaspoons of dry yeast.
Let's talk about the starter for a minute. My starter is referred to as a 100% starter meaning that it contains an equal amount of water to flour. That makes it very easy to work with and calculate my recipes.
If my starter is 100% hydration (equal parts water to flour) I can replace 1/2 cup of flour and 1/2 cup of water (liquid) in the recipe.
For example, if you have a recipe calling for 3 cups of flour and 1 cup of water and we are using 1 cup of 100% starter, you would reduce the flour to 2 1/2 cups and the water to 1/2 cup. Clear as mud?
Don't substitute sourdough starter for liquid sweeteners or liquid fats.
Soft Sandwich Bread Ingredients
I wanted this bread to be made up with ingredients that you probably have in your house. The variations you can make may change the flavor but not the outcome.
Flour – All-purpose flour.
Water – We used filtered water and warmed it to about 85°F in the microwave.
Salt – Any will do but I use fine-grain sea salt.
Butter – Adds flavor and softens the texture. We used non-salted but you can use salted if that's what you have. You can also exchange the butter for vegetable or canola oil.
Honey – Adds flavor and is said to give the starter a boost. Sugar also aids in the loaf browning. You can substitute with sugar.
Starter – 100% hydrated.
I'm giving you this recipe in grams and U.S. conversions to keep it simple. However, I can't stress enough how important it is that you weigh your ingredients. (I know blah blah blah).
Why should ingredients be weighed?
When I was calculating this recipe I measured out 1 cup of my starter and it weighed 250 grams. This recipe is calculated at 227 grams of starter. That throws off our liquid and flour ratios.
I scooped and leveled a cup of flour 3 times and got different weights every single time.
Since I'm pushing you so hard to do this, I'm giving a scale away at the end of this post! Now's the time to throw your hat in the ring and get a chance to win your own!
Why this Sourdough Sandwich Bread recipe works
This recipe is my second attempt. My first attempt went wrong for these reasons.
With my first attempt, I treated the dough like it was dry yeast. I didn't work it like sourdough, and while it did rise, I thought I'd get more oven-spring from it. In the end result, flavor and crumb were all wrong.
Sourdough develops more slowly. The kneading and folding that is shown and explained in this post is necessary for the bread to develop gluten and gains strength which helps it to maintain its shape.
Steps for making this Sourdough Sandwich Bread Recipe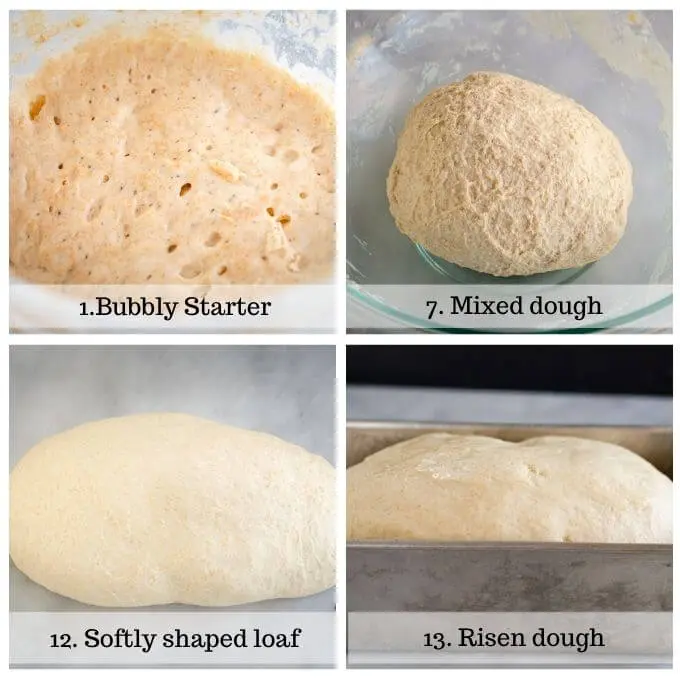 Build your bread starter – This recipe uses 227 grams of bubbly starter. That's about the amount I keep on my maintenance schedule so I build it up before using it. Instead of using 100 grams of water and 100 grams of flour to 1 tablespoon of starter, use 2 tablespoons of starter and 200 grams of each flour and water.

I will actually split this starter up in two separate containers and put 1 tablespoon of starter and then feed each with 100 grams water and 100 grams of flour. This isn't necessary but it works for me.
This also assures that I have enough to feed and maintain by not using it all in the bread.

On the day of baking, test the starter using the float test.
Measure out all of the ingredients.
Add the flour and water together and stir.
Next, add the honey and melted butter.
Blend together and then add salt.
Squelch all ingredients together until combined. I use my hand for this.
Knead the bread for 10 minutes or until smooth. You can also use an electric mixer on medium. However, I like being able to feel the texture so use my hand.
Shape the dough into a ball and put it in an oiled bowl, turning it once to make sure it has oil on all sides. Cover with plastic wrap and let it rest for 1 hour.
Stretch and fold the dough over itself for about 6 to 10 turns. Cover the bowl and let the dough rest for another hour.
Repeat the stretch and fold and rest for another hour.
At the end of the second rest, the dough should have gained strength. It will also be softer and smoother. Remove it from the bowl and stretch the outsides to get a tighter exterior. Rolling it on a smooth surface while keeping it tight will help too. Shape it into a loaf that will fit an 8 1/2″ x 4 1/2″ loaf pan.
Oil the loaf pan and place the shaped dough, seam side down. Cover with a piece of oiled plastic wrap and let rest until the dough rises over the rim 1 1/2″. This will take about 3 hours.
In the last half hour, set up your oven using a baking stone in the middle rack with a metal broil pan on the bottom rack.

If you don't own a stone, you can use a baking sheet pan.

Place the pan of bread on the stone and add 1 cup of boiling water to the broiler pan. Bake for 15 minutes and then remove the broiler pan.
Remove the bread from the pan after 25 minutes and place the loaf directly on the stone. Bake an additional 20 minutes or until the bread reaches 200°F internal temperature using an instant-read thermometer.
Cool completely before slicing.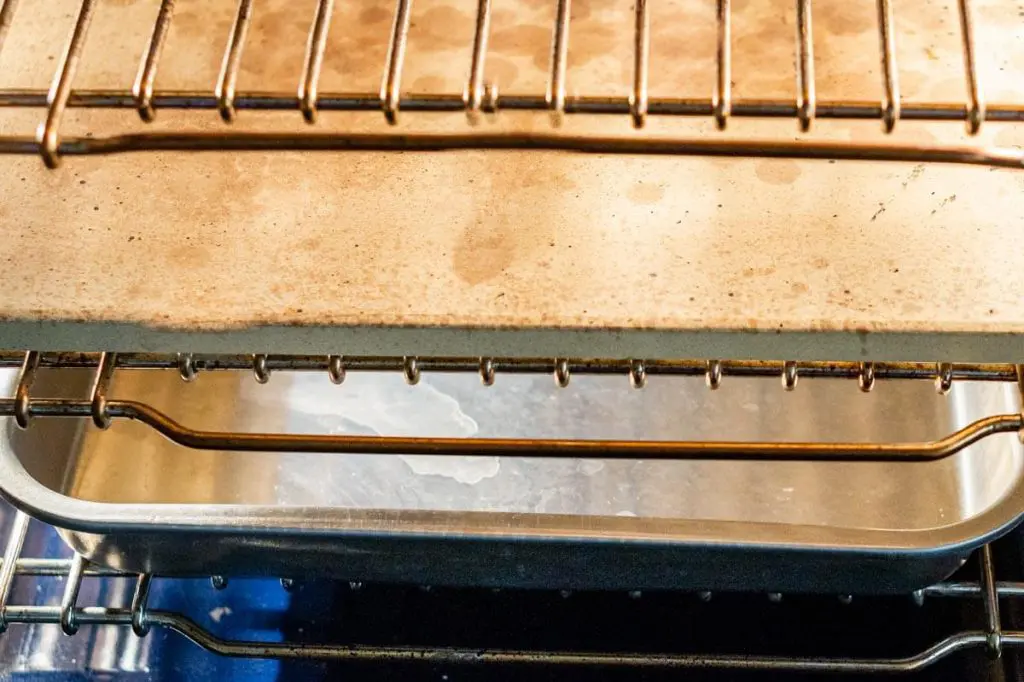 IMPORTANT: Do not replace the broiler pan with a glass dish. The boiling water may cause it to shatter. Also, take care not to spill water on the glass in the door of the oven for the same reason.
You can place a dish towel over the door as an extra precaution.
This may look like a lot of steps, but I wanted to be as detailed as possible. Also, this bread has a lot of resting time. There really isn't a lot of hands on work, however.
The toughest part is that you must allow your bread to cool completely on a cooling rack before slicing it.
When can I cut my Sourdough Sandwich Bread?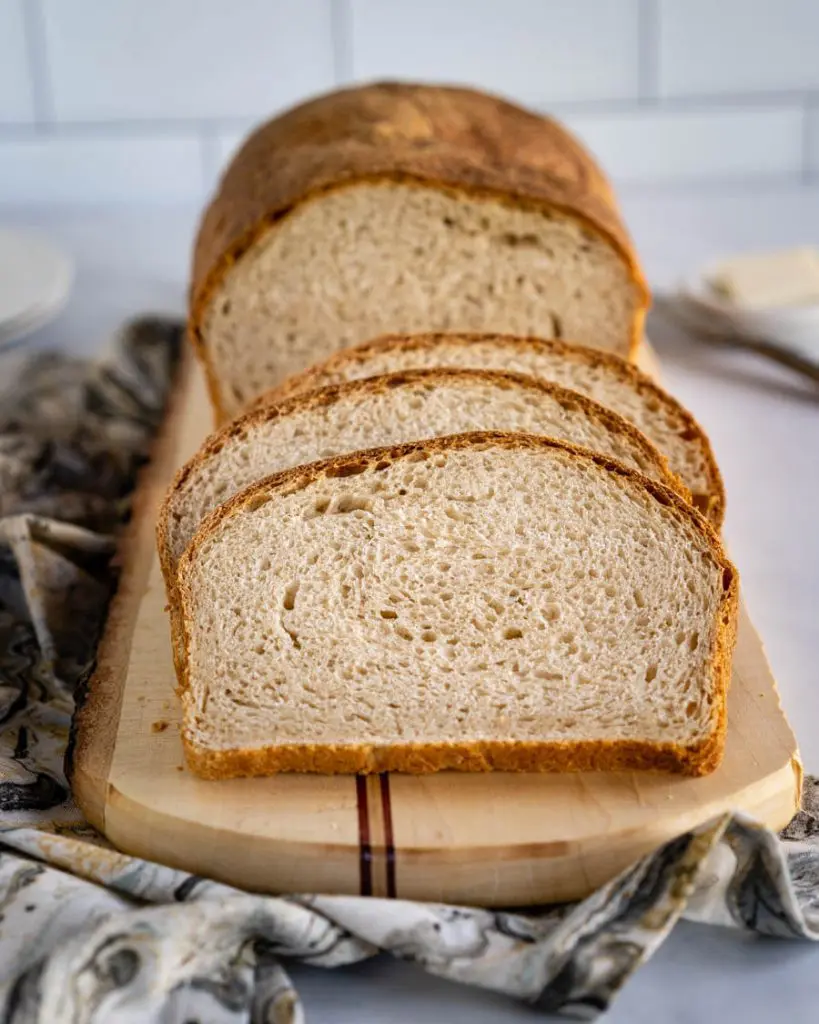 You thought you just had to bake the darned thing right? To get nice even slices you've got to let it cool.
Sourdough continues to cook throughout the cooling period. A conventional 1.5-pound loaf should be cooled for about 2 hours but sourdough can take up to 4 hours. The denser and larger the loaf the longer the cooling period.
You know you've rushed it if…
When you go to slice it, your bread "smushes" together or will be doughy when you try and cut it.
The proper moisture content will not be established and your bread will be overly moist and tear.
The crust will not have enough structure to allow you to slice it without tearing.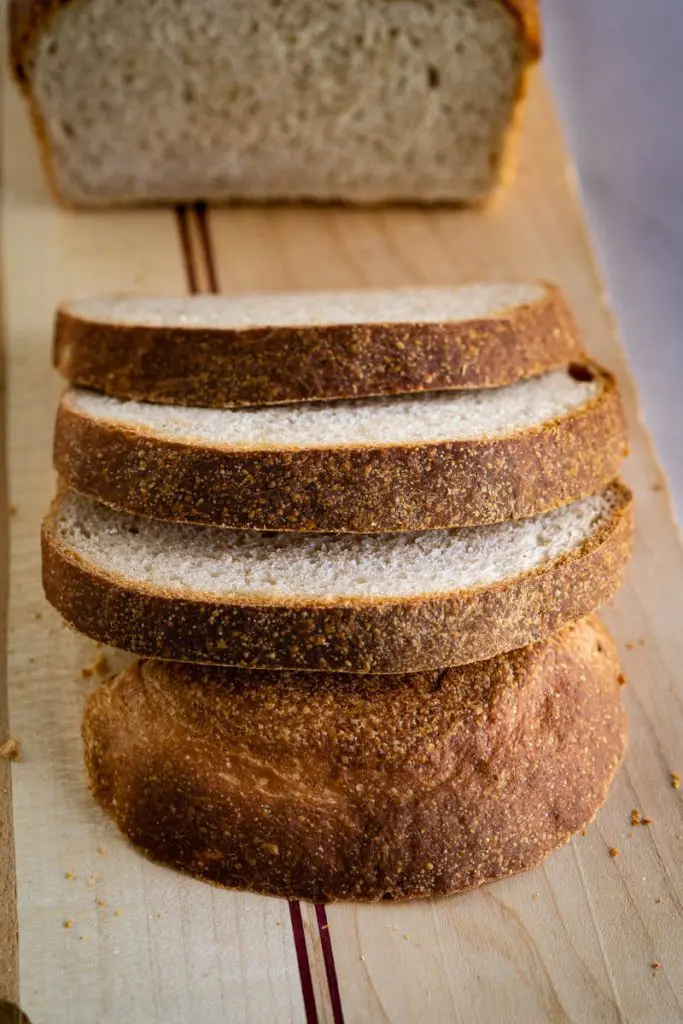 Products we use
Kitchen Scale – You absolutely must have a scale. This one holds up to 22 lbs and will weigh grams and ounces. Make sure you tare the scale with the container sitting on top of it then add the ingredients.
Baking stone – I use this stone a lot and love its size. I just leave it in the oven even when I'm not using it.
Instant Read Thermometer – I use an instant-read thermometer for this recipe, for grilling, and even baking bread! I couldn't function without one.
Bread recipes for overnight sourdough starter
We LOVE baking bread! You can find all of our bread recipes here!
RECIPES YOU'VE MADE POPULAR!
Pin this Recipe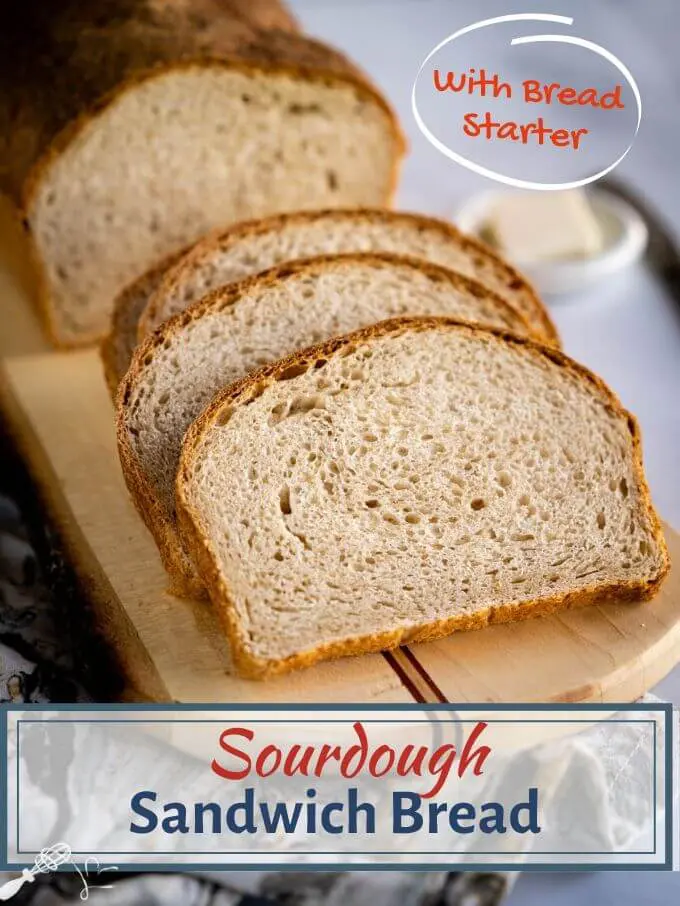 Conversions for this recipe
You know that I'm always preaching the value of a scale and I'll keep doing that. For this recipe, I did calculate my ingredients as I went.
2 1/2 cups all purpose flour
1 cup starter
1/2 cup water
1 tablespoon honey
1 1/4 teaspoons salt
1/4 cup butter
That said, I'm adding a disclaimer that I can't guarantee how your recipe comes out or troubleshoot any problems you have if you don't weigh. I see you rolling your eyes!
If you hate throwing away sourdough starter discard, you're going to love these Sourdough Starter Discard recipes!
If you like this recipe, we would appreciate your comment and a 5-star ⭐️⭐️⭐️⭐️⭐️ review!
I'm so grateful to you. This soft and tender Sourdough Sandwich Bread recipe is a conglomeration of requests that I've received and something I've wanted to do for a long time.