Lamb Kabobs are slightly sweet with an Asian flair. Marinating and grilling the lamb makes sure that every bite is tender and delicious.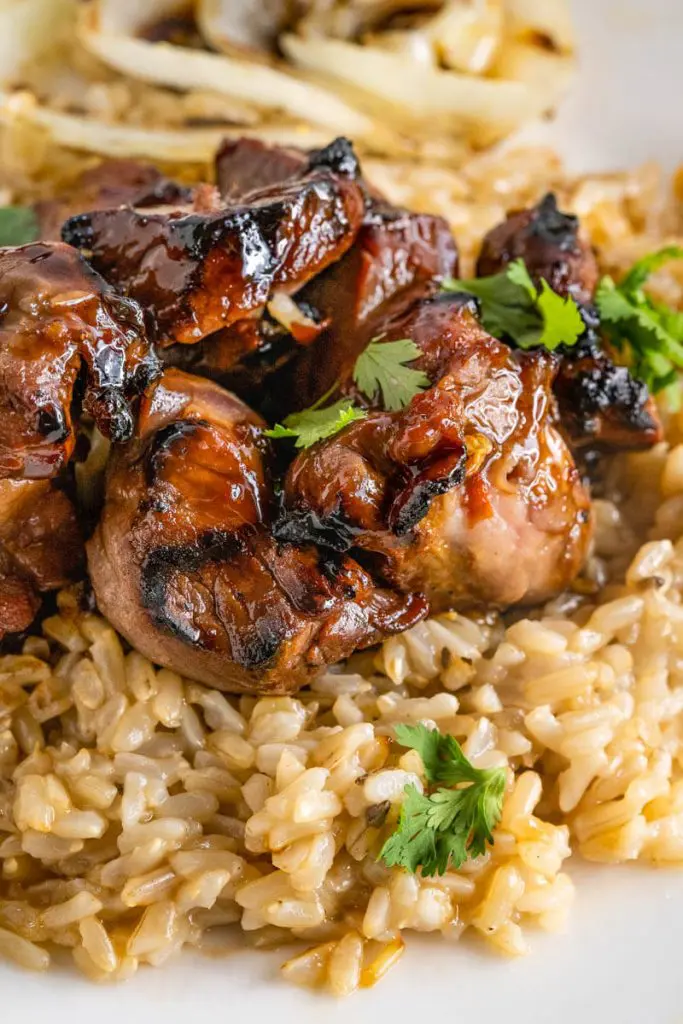 Marinating and grilling Lamb Kabobs couldn't be easier. This tender slightly sweet lamb recipe has an Asian flair that makes a quick and easy weeknight meal.
Sometimes people think lamb should be reserved for special occasions.
You can definitely serve lamb as an elegant meal such as our Pistachio Crusted Lamb Chops, Grilled Lamb Loin Chops, or our Lamb Roulade, but lamb is actually a quick and easy protein that makes it perfect for weeknight cooking.
This post is sponsored by True Aussie Beef & Lamb but the opinions here, and love I have for their products and their story are all my own.
I recently purchased a boneless leg of lamb. It's not as big as a ginormous pork shoulder but it goes a long way.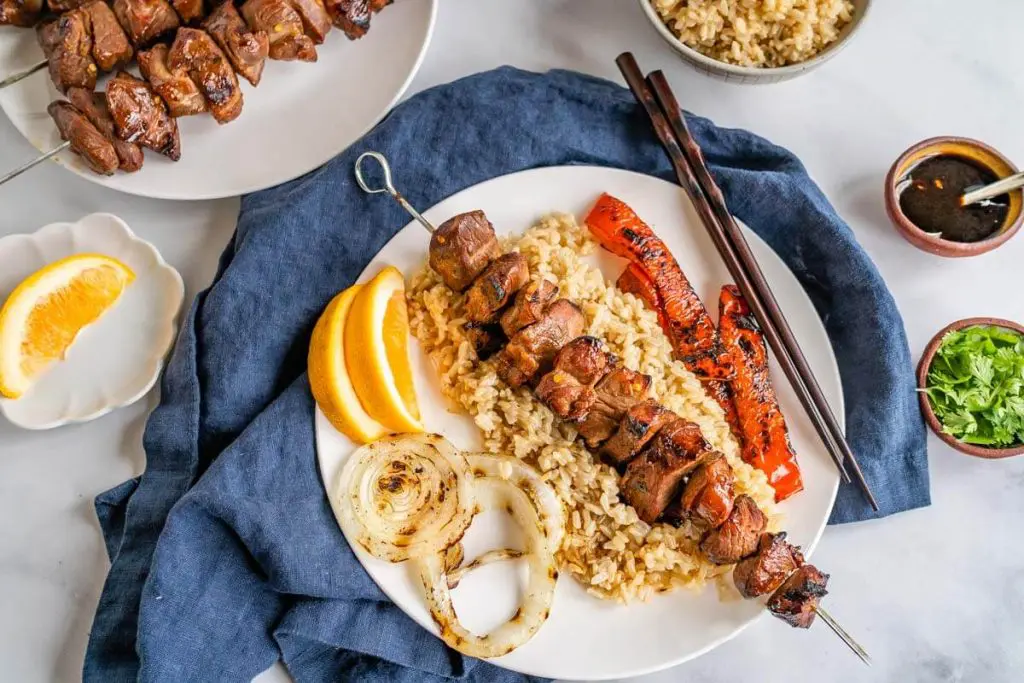 Since the bone is removed, the meat is netted together making it so easy to create a lot of recipes from.
The largest piece is perfect for roasting that Lamb Roulade or you can make several meals from it which is what I chose to do.
I'd already used part of this boneless leg of lamb in our Homemade Pho with Lamb and had plenty left, and we decided to make Lamb Skewers for an easy dinner.
I love Asian flavors but we're very picky when it comes to eating in Asian restaurants since so many of those meals are loaded with salt and can include preservatives that make me feel awful. Therefore, we make a lot of them at home.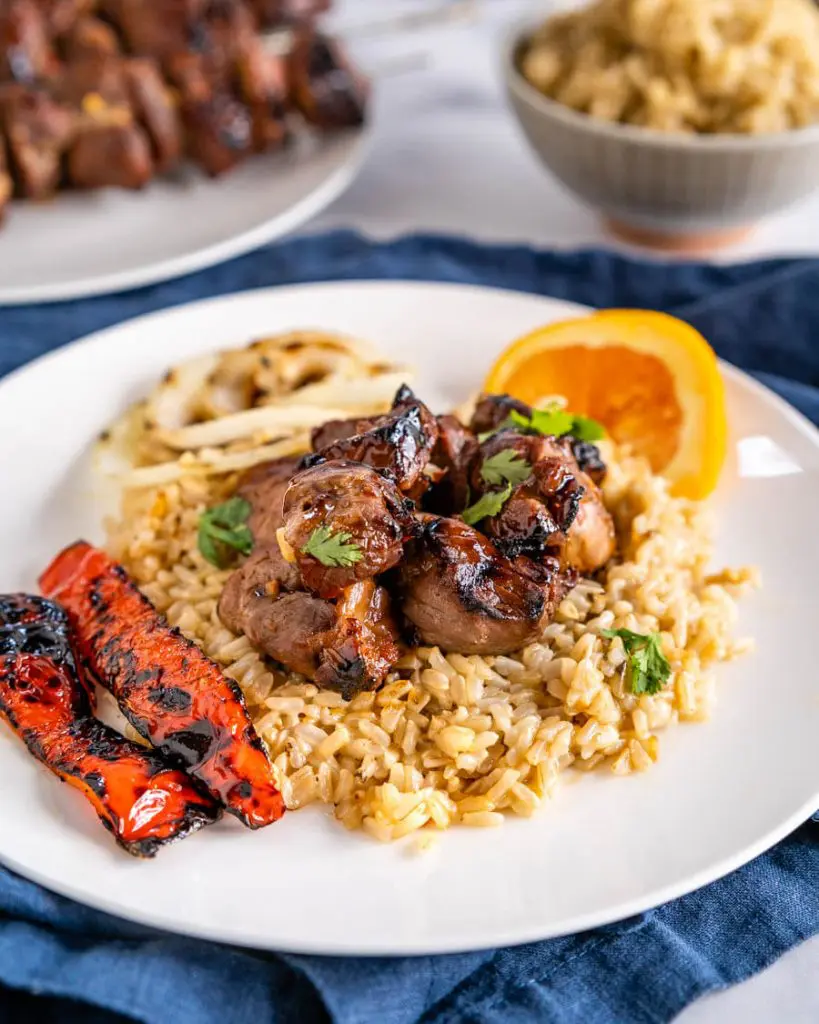 These Orange-Glazed Lamb Kabobs included that ginger flavor that we associate with Asian dishes. Fresh Ginger worked amazingly in our Lamb Marinade recipe. Here's how we made it.
How to make Lamb Kabob Marinade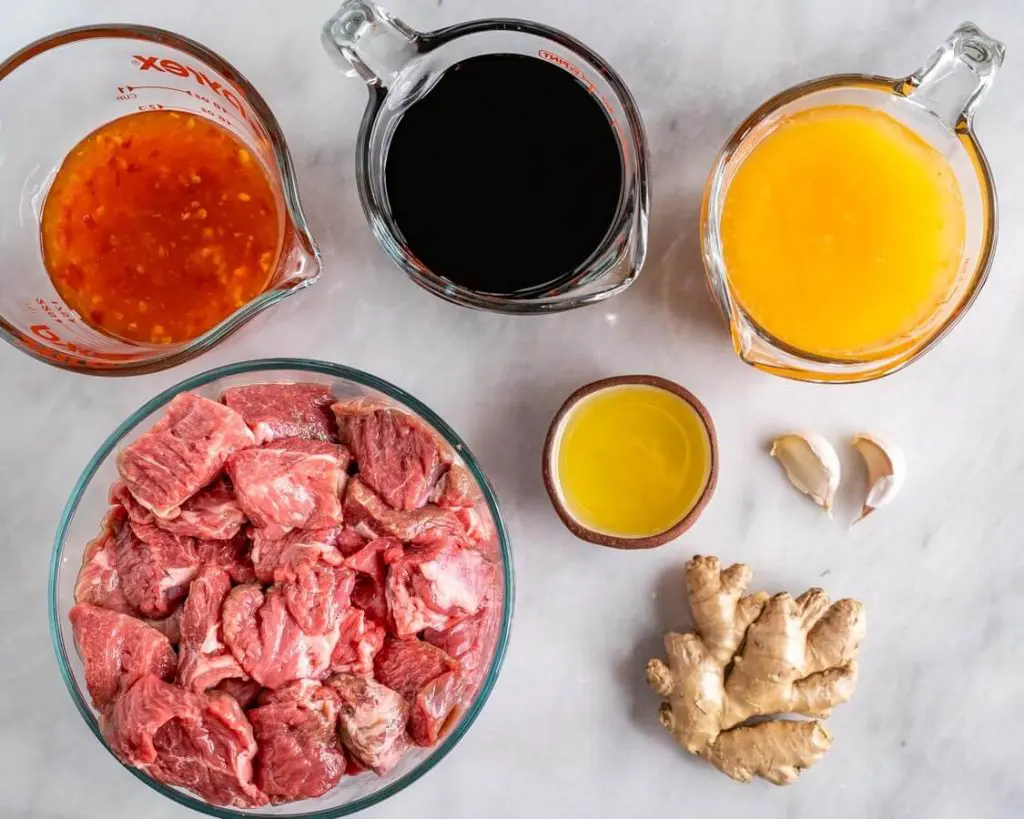 In a resealable bag, I recommend the gallon size, combine the following ingredients.

Orange juice – Purchased or fresh squeeze.
Soy Sauce – Original or low sodium is fine
Sweet Chili Sauce – This ingredient is relatively easy to find in most grocery stores where other Asian ingredients are found.
Sesame oil – I love the flavor that this oil adds. You can use another oil suitable for cooking too. I store sesame oil in the refrigerator since I don't use a lot of it.
Fresh ginger – no need to peel it, just thinly slice it.
Garlic – Just peel it and slice it. No need to mince it.
Brown sugar – light or dark is fine. We love the dark brown sugar since it has more of a molasses flavor.
Crushed red pepper – We love that sweet and spicy combination in our Asian recipes.

Remove 1/2 cup of the marinade before you add the lamb and set it aside. We'll use it to make our glaze.
Use high-quality lamb. The True Aussie Beef & Lamb Company produces lamb that is free-range and naturally fed on Australian pasturelands, so it's mild tasting and naturally lean and tender. Aussie Lamb is free of artificial additives and hormone growth promotants.
This locator can help you find True Aussie Lamb in your area.
How to make Lamb Skewers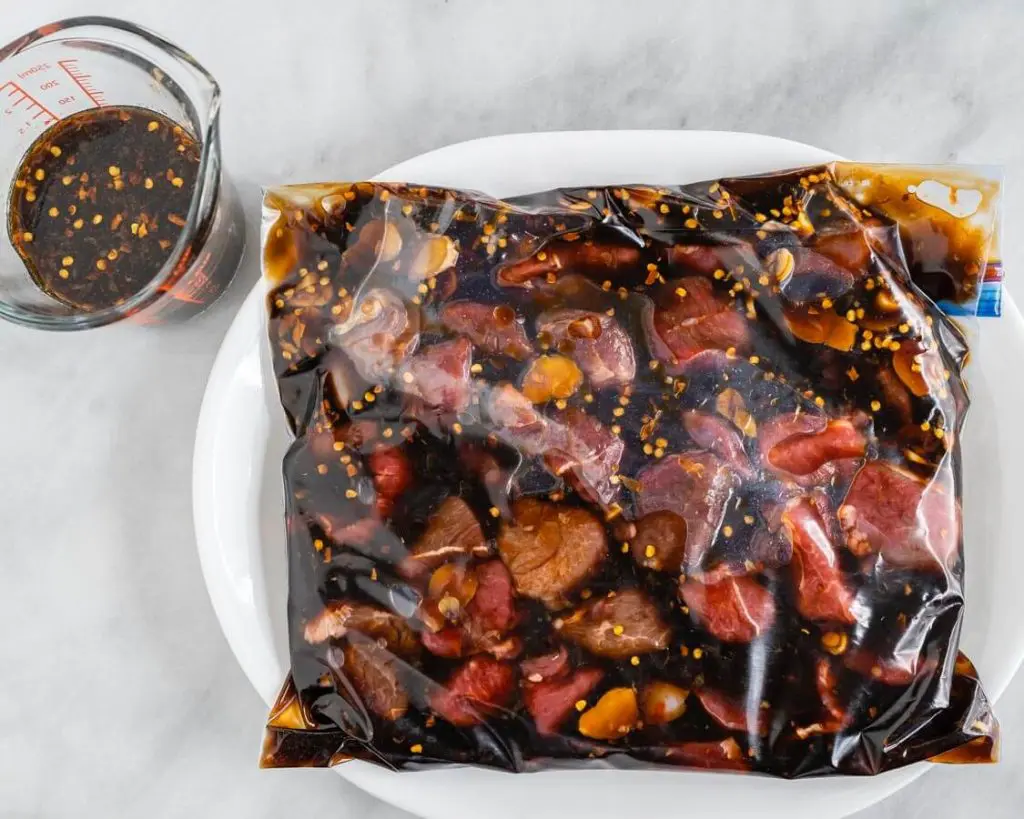 Add the cubed lamb to the bag of marinade and refrigerate it for 30 minutes up to two hours.
Remove the lamb from the marinade. The ginger and garlic have done their job so discard it with the marinade.
Slide the lamb cubes onto the skewers. It's better to use several skewers and not overload each skewer. The lamb will cook evenly if you leave enough space in between the cubes for the heat to surround each piece.
Add the reserved marinade to a saucepan and bring it to a simmer. Allow the sauce to cook until it begins to thicken. Remove the pan from the heat. The orange glaze will continue to thicken as it cools.
Grilled lamb kabobs can be served on the skewer or removed for serving.
Tips to make Grilled Lamb Kabobs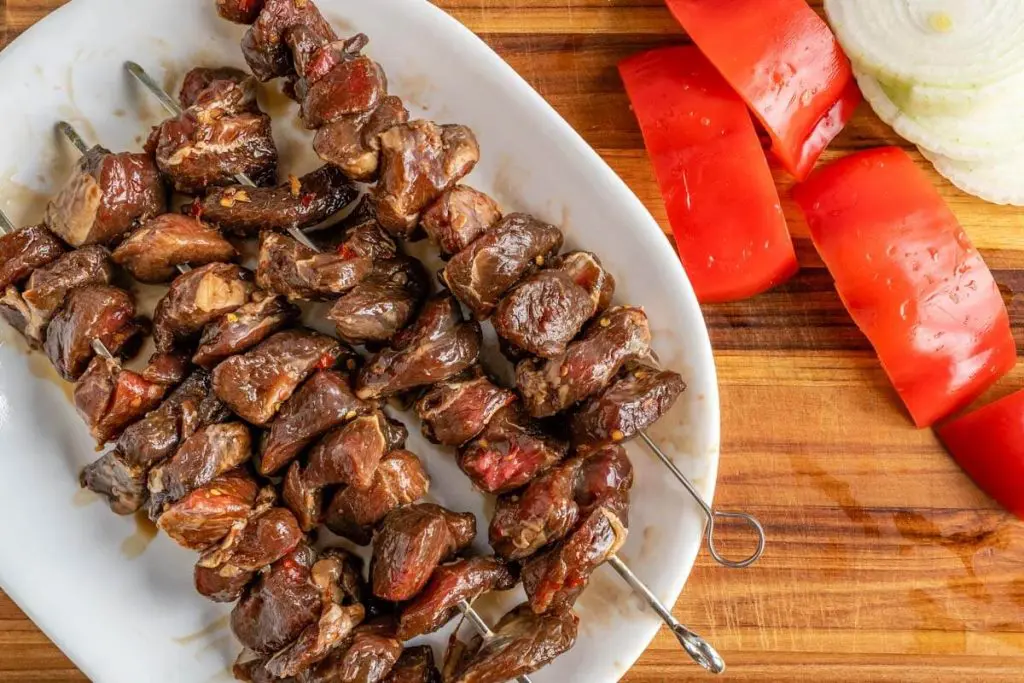 Kabob recipes often include chunks of vegetables interwoven with the meat. We don't do this because lamb is best if it's not overcooked. Since the vegetables take longer to cook, we grilled them separately and started them before our kabobs.
If you use wooden skewers, soak them in water for 20-30 minutes before adding the lamb. That will prevent the skewers from burning.
Use a spatula to turn the lamb kabobs. This will keep the pieces of lamb from turning and allow each side to get that beautiful grilled flavor.
You can make the orange glaze prior to grilling the kabobs.
We drizzled our glaze on after our grilled lamb kabobs were done for two reasons.

We didn't want to contaminate it with the raw meat.
Drizzling the glaze on the lamb after it's removed from the skewer allows the entire piece to be favored with the glaze.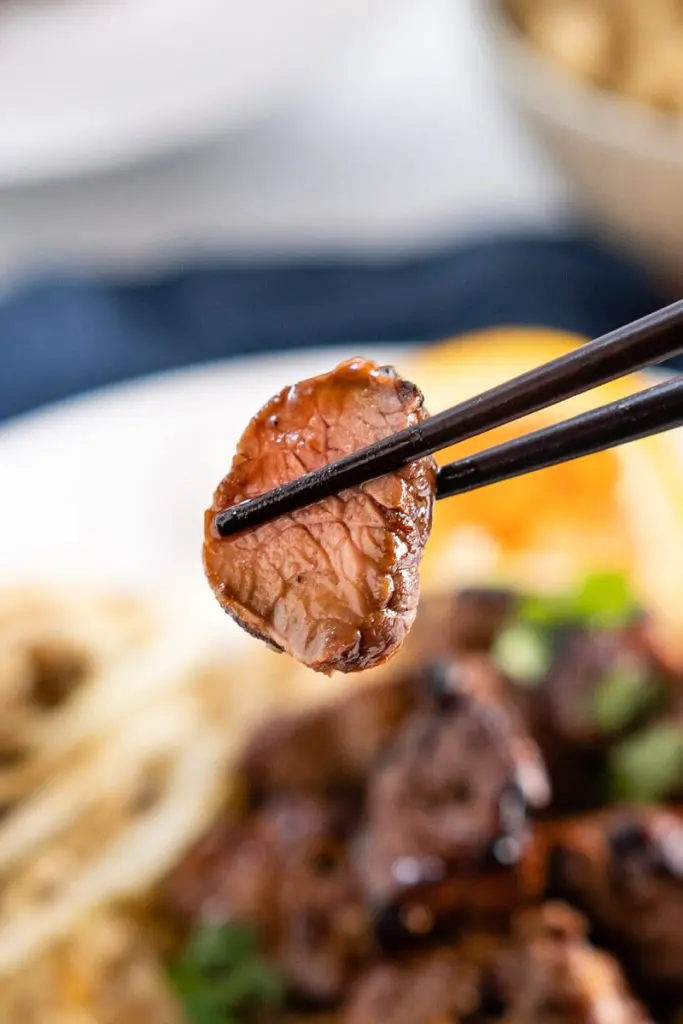 Suggested Side dishes
We served simple brown rice and roasted vegetables with our Simple Lamb Kabobs. I always make my rice in our Instant Pot. The instructions can be found in our Instant Pot Chicken and Rice recipe.
You could dress this rice up and make our 5-Spice Asian Seasoned Rice or our Simple Asian Rice Instant Pot Recipe.
A simple cool salad such as the following would also be delicious.
HERE ARE A FEW MORE EASY LAMB RECIPES YOU MAY ENJOY
We love lamb and you can find all of our lamb recipes here!
Products we use to make Grilled Lamb Kabobs
Skewers – I used to use the wooden variety but kept forgetting to soak them. I now use this variety and can reuse them. These beauties are stainless steel and have a push so you can remove the food on the skewers. They're my newest obsession!
Don't forget to
PIN

this amazing Grilled Lamb Kabob recipe!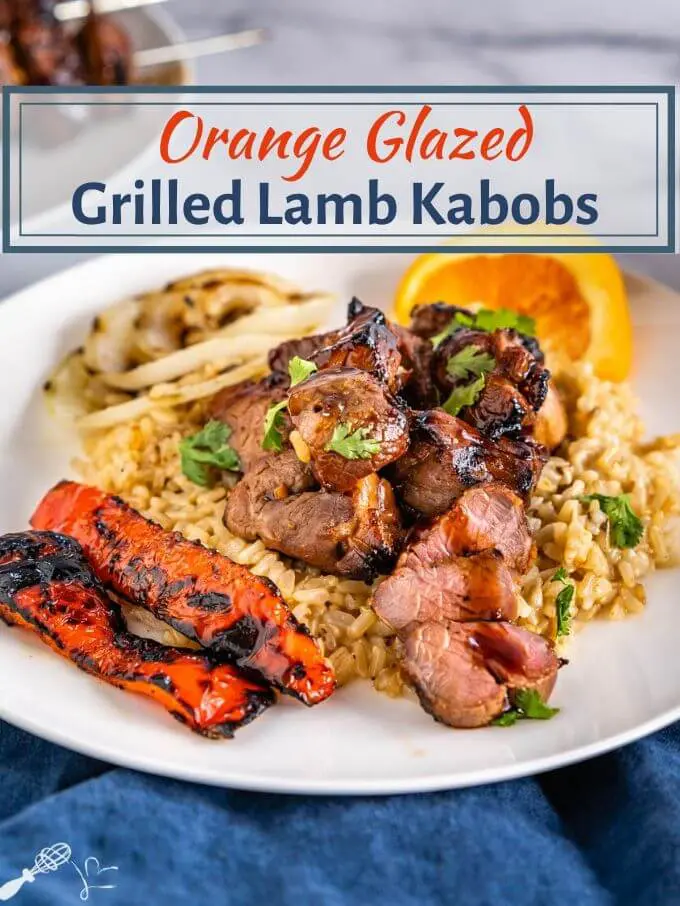 Recipes you've made popular!