Green Chili Pork Stew is thick and rich in flavor with a deliciously warm kick. It can be made in a crockpot or simmered on the stove. Either way, you're going to love this spicy pork stew. Served over Tomatillo rice makes it a complete meal.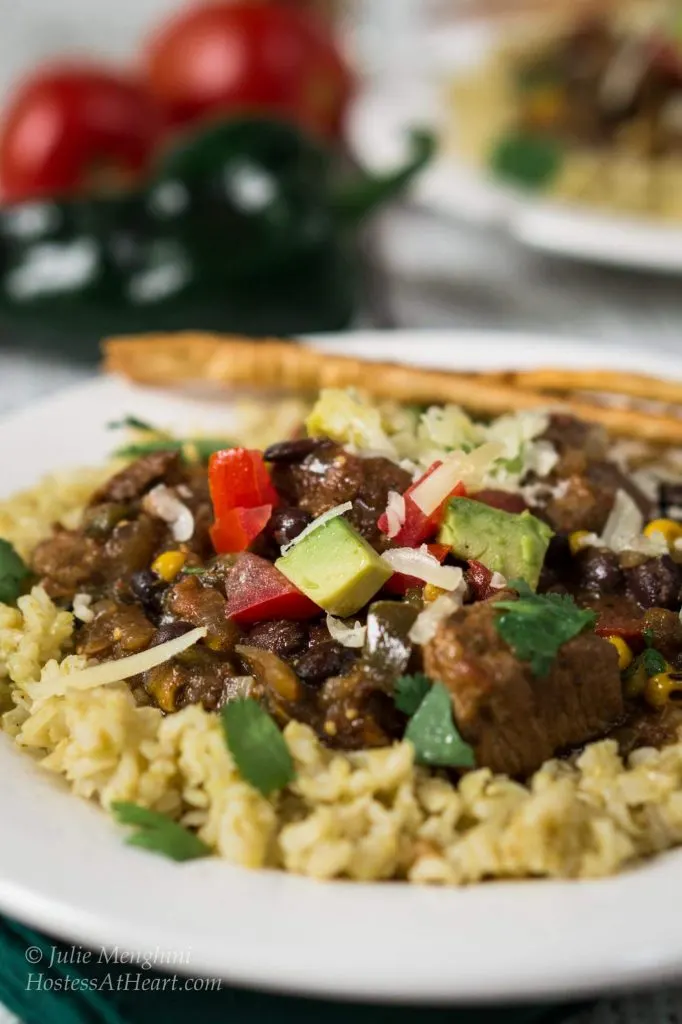 Green Chili Pork Stew is one of those recipes that I created on the fly. I wasn't quite sure what I was going for, but what I ended up with is an amazing thick pork stew that's become one of our favorite recipes.
I had a can of tomatillos in my cupboard that I'd bought for a recipe that I wanted to try.
By the time I got around to it, I couldn't remember where I saw the recipe or what it even was!
Do you do this? Is kitchen ADD a thing?
I put this can to one amazing use, and I'm 100% sure that they're just as delicious (or more so) in this easy Pork Stew recipe than in the recipe that hasn't resurfaced.
Cooking in layers and giving each step it's own love and attention and really makes a big difference when it comes to flavor.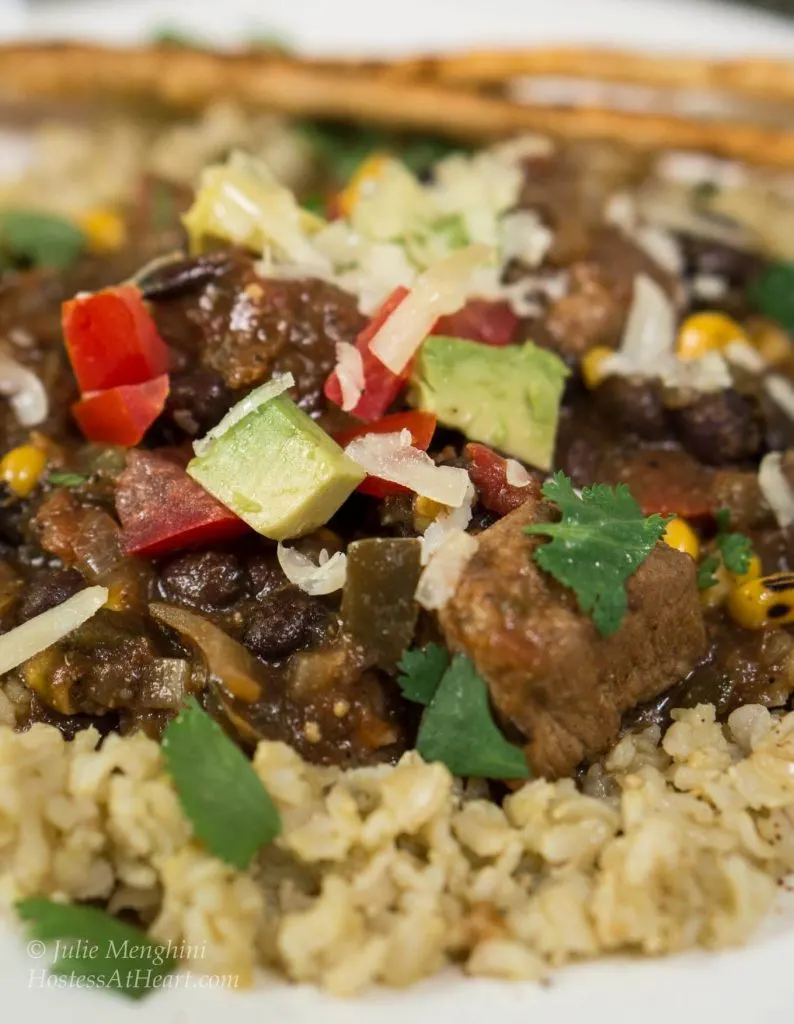 Helpful Tips
This pork and green chili stew recipe can be a little time consuming so you could put this recipe (minus the rice) in a crockpot and just let it cook away while you're at work or chasing after the family.
Spicy Pork Stew freezes very well in an air-tight container.

Tomatillo rice can be mixed into the pork stew and frozen together or frozen separately.
What kind of Green Chili's work in Green Chili Pork Stew!
I used Poblano Chile peppers. Poblano peppers are a mild green pepper. You can also use an Anaheim Chile or Hatch Green Chili. They are similar in heat.
The heat of green chiles is rated by "Scoville Heat Units" The higher the rating the hotter the chile. You can have two of the same peppers and they can vary in heat.
Some chiles are rated over 1,000,000! The green chili's in this recipe is 500-2500.
Feel free to throw in a couple of jalapeno peppers for a little more spice. Jalapenos are rated 2500-8000 but are a smaller pepper. Like most peppers, most of their heat is in the seeds and ribs. Remove them if you don't want a lot of heat or keep them in if you like it spicy.
Do you have to remove green chile pepper skins?
If you don't roast the green chili pepper, you don't have to remove the skin.
Roasting the pepper blisters the pepper and creates a paper-like skin. It's edible but the texture isn't desirable.
Roasting peppers does deepen the green chile flavor and while I didn't do it in this recipe, I did in our Pulled Pork Green Chili Stew.
The best pork stew meat:
I used a pork shoulder, also referred to as a pork butt. I trimmed most of the fat from the meat but love the flavor this cut of meat gives to my pork recipes.
What goes with Pork and Green Chili Stew?
I tied this meal together by serving the Green Chili Pork over some Tomatillo rice. The instructions listed here are for the stove-top. I've since developed a Tomatillo Rice Instant Pot recipe.
Our Quick Black Bean recipe would be amazing too!
Ancho tortilla straws are so fun. I love using these over the pork stew like you would a cracker. Leftovers are delicious over a taco salad too. Instructions are listed in the recipe card.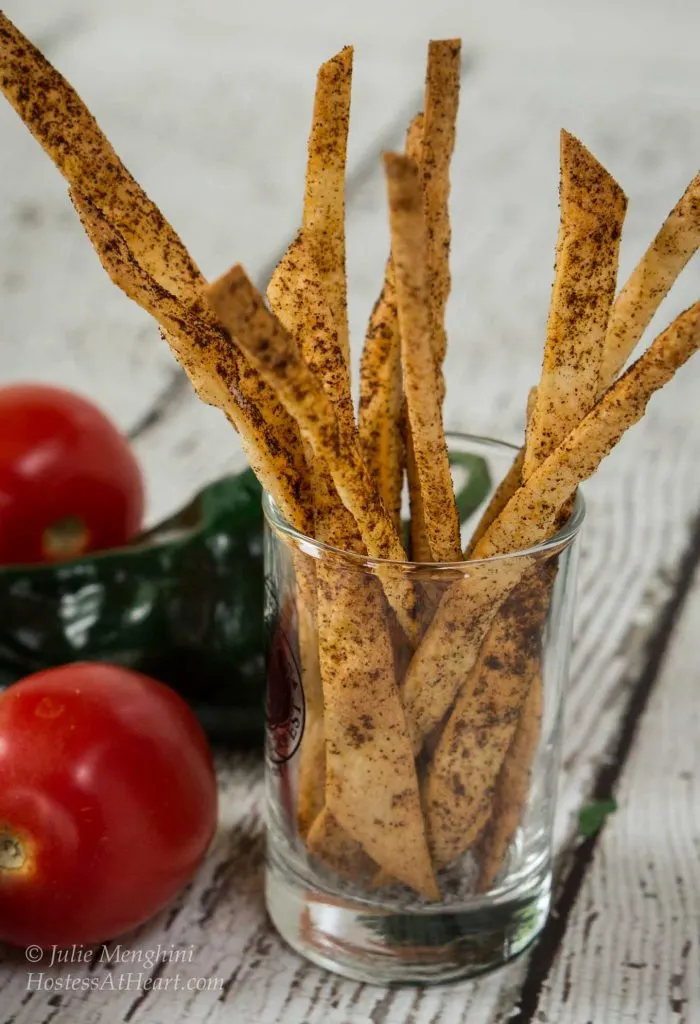 Tortilla straw tip: To make these straws puffy, you have to use uncooked tortillas. I love using our Jalapeno Tortilla recipe for this. If you don't use uncooked tortillas, you will have flat tortilla strips. They're delicious too and can be made the same way.
Don't have time to make it now?

Pin it

for later!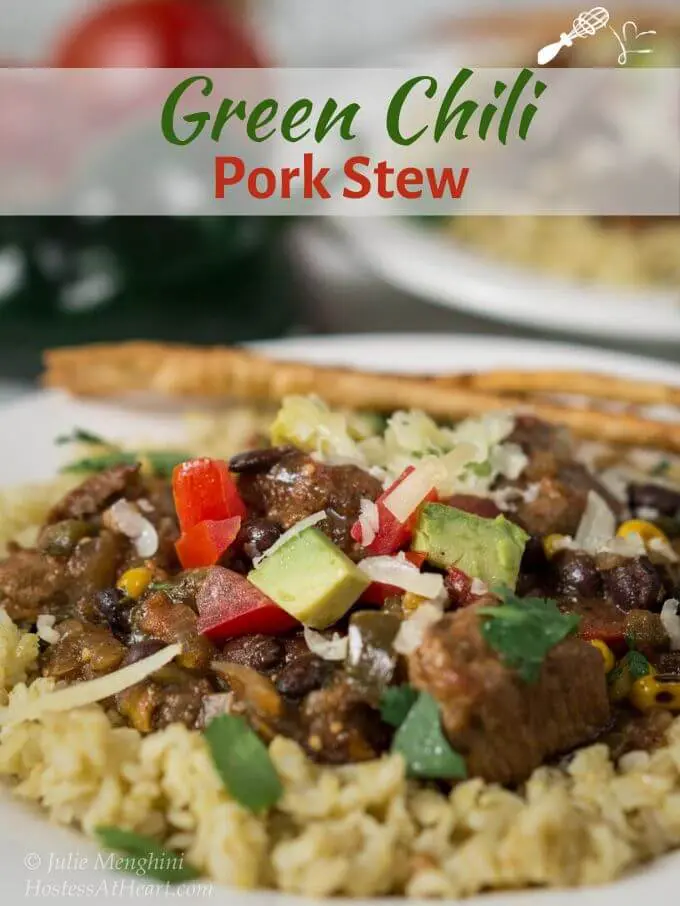 If you like this recipe, I think you'll like these too
Products that I use to make Green Chili Pork Stew
Dutch Oven – I have several enameled cast-iron dutch ovens. I started out with a few that cost about 4 times what this one does and it's my favorite! I make my sourdough bread in it and it's perfect for soups, stews, and so many other things. It cleans up like a dream too!
Cutting Board – I use a plastic cutting board for meat so I can sanitize it in the dishwasher. I like the juice groove when cutting meat too.
What's popular on Hostess At Heart
Do you have a favorite spicy recipe? Please share in the comments below. I'm always getting inspiration from the Hostess At Heart community!