Easy Leg of Lamb Roulade Recipe combines the deep flavor of lamb with a rich smooth filling of cheese, pinenuts, mushrooms, and spinach. It's a celebration of flavors, textures, and colors perfect for a special dinner.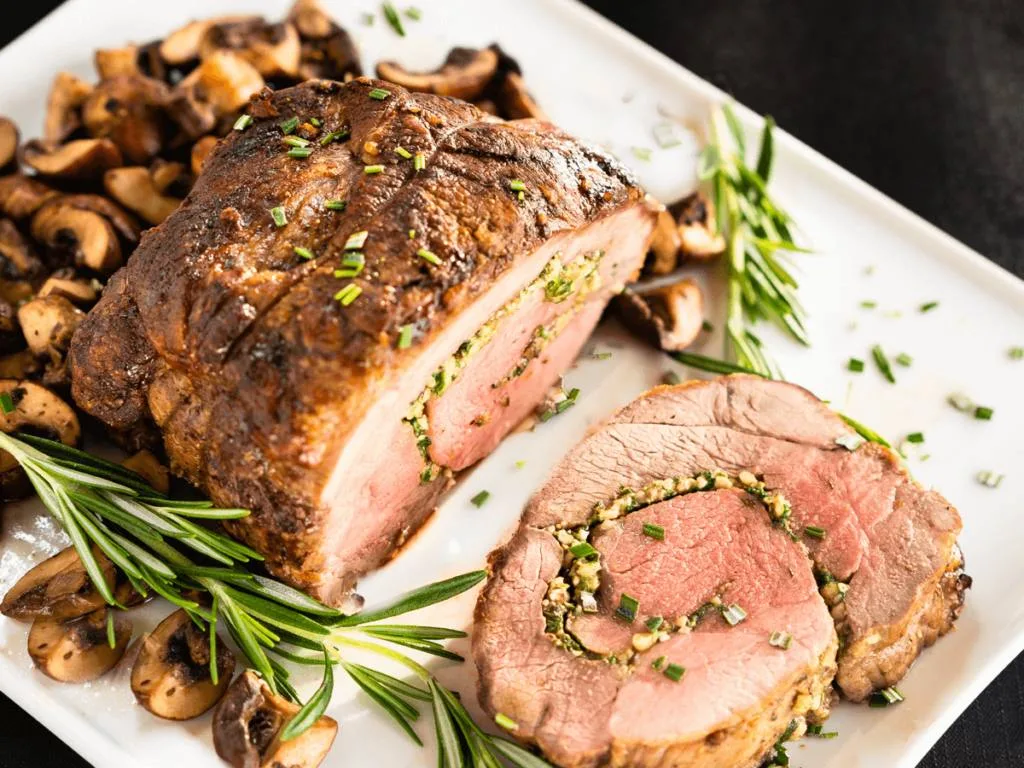 Elegant doesn't have to be hard. This Easy Leg of Lamb Roulade Recipe may look fancy but it comes together quickly. There's no better way to make people feel special then to serve them a beautiful dish like this Roasted Lamb Roulade Recipe.
I used to be a ninny that said: "I don't like lamb".
On a couple of occasions when we would have our friends over for a special night such as New Year's Eve, John often cooked lamb chops on the grill. I had to admit that they were definitely striking to look at, and when he coaxed me to try it, I had to admit that they were delicious too.
Gradually I got over being a ninny and started branching out. Our family congregates at our house over the holidays and we always enjoy our Rich and Meaty Lamb Ragu over a Cheesy Polenta or Pistachio Crusted Lamb Chops. These dishes are elegant enough for company but easy enough for dinner.
In the summer, we love grilling this Greek Lamb Burger with Lemon sauce. It's the perfect recipe to serve to ninnies that state they don't like lamb. It will change their minds I'll guarantee it!
With entertaining in mind, I hope that this Lamb Roulade recipe inspires you to either try lamb or making this Roulade recipe.
It may look a little fancy, but it's one of those recipes that's guaranteed to impress.
You can take all the credit and don't even have to fess up as to how easy it is. Follow along and I'll show you exactly how easy it is to make.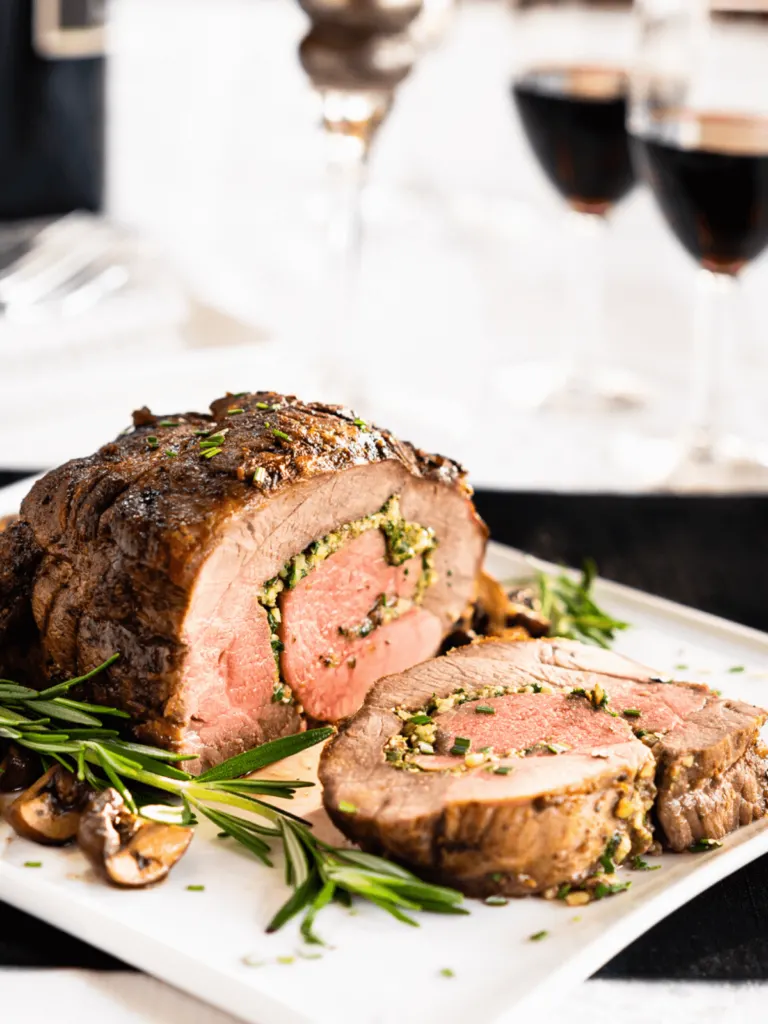 This post is sponsored by True Aussie Beef & Lamb but the opinions here, and love I have for their products and their story are all my own.
I've always purchased Australian Lamb for my recipes. When I had the opportunity to work directly with True Aussie Beef & Lamb, I learned that I was making an excellent choice and that they do so much more than just producing quality lamb for the consumer.
This locator can help you find True Aussie Lamb in your area.
With entertaining in mind, I hope you enjoyed our Lamb Bites with Fig Balsamic Glaze. That recipe was so fun to make and with all of the colors, textures, and flavors, it really elevated these cold drab days.
We served our Savory Vegetable Lamb Soup as a second course but it's so simple and delicious for any time.
That finger-friendly lamb appetizer will be perfect to serve all year round. If you've tried it, I hope you'll let me know how you liked it.
For this recipe, I want to take you right to the main course. Roasted Leg of Lamb Roulade will just slide right off of your tongue when your guests ooh and aah over this dish.
What does Roulade mean?
Very simply, a roulade is a dish served or cooked in a roll. They are typically filled and can be savory or even sweet such as a swiss roll that is a sheet of cake filled and then rolled. Most often it's meat such as this recipe.
You can make a roulade out of most meats or fish and the filling can be anything you choose. I've seen them filled with a bread filling such as our Roasted Turkey Roulade or our Pork Roulade that's filled with spinach and goat cheese.
What's the best meat to use for a Roulade.
Any meat or fish that you can flatten and roll is suitable for a roulade. If you are starting with a larger piece of meat, you can make it into a thin flat piece suitable for rolling by butterflying it.
The most important thing is when making a lamb roulade is to have your meat in a uniform thickness for even rolling and roasting.
How do you butterfly meat?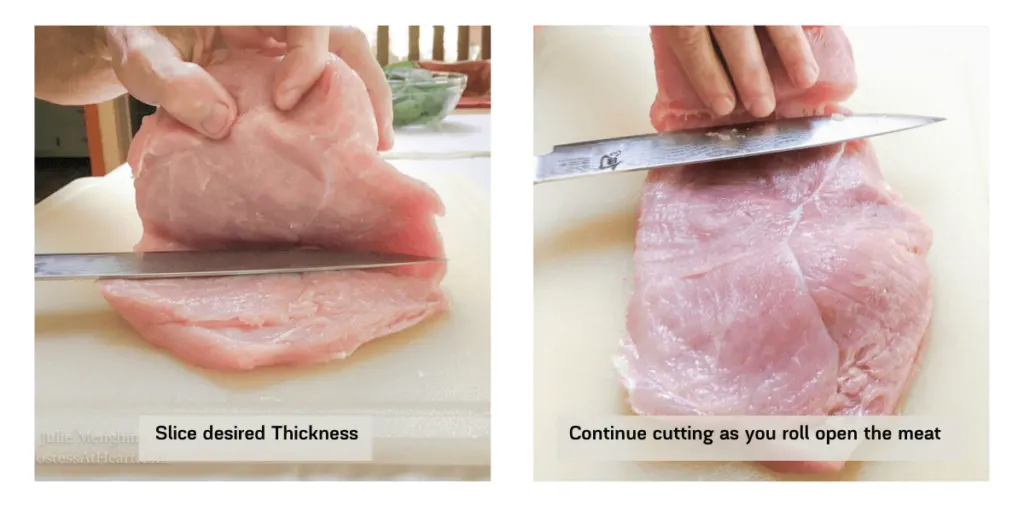 A boneless leg of lamb is generally wider on one end than the other. Cut off the narrow end of the meat so the width is uniform. We freeze the part that we cut off for our other lamb recipes.
The initial cut determines the thickness of your roll. We sliced our meat about 1-inch thick. Slide the knife along through the meat and open it up as you continue slicing it.
Hold the meat in place by keeping one hand on the top of the meat and unroll toward you. Keep your knife in a flat position cutting toward the back of the meat.
You will want to remove any excess fat or gristle that you find inside the meat. Don't worry about a few areas that are thinner than others.
If you are starting with a flat piece of meat, you can pound it into an even thickness by placing it in between two pieces of waxed paper or plastic wrap. Putting it in a plastic bag works too. Lightly pound the thicker areas of the meat until you reach a uniform thickness.
Tips for Lamb Roulade Filling: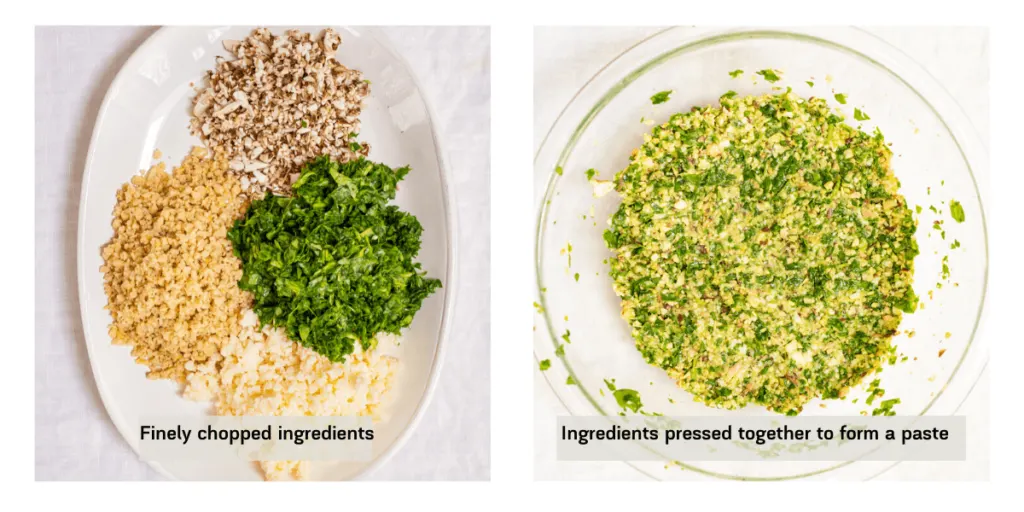 You can make any filling you desire. My biggest suggestion would be to use flavors that compliment the meat.
In my humble opinion, I like to have a contrast of colors and textures while also complimenting the protein.
One thing I've learned is to make a paste or chop the filling ingredients small enough so you can roll it without losing it as you go.
I also used a neutral oil to bind all the ingredients so it was "paste-like" but still maintained the texture of the ingredients.
Roulade Filling Ingredients and variations:
Pine Nuts – This nut is mild and has a softer texture.

Pistachios would be an amazing substitution.

Mushrooms – I used Portobella because they are a thicker flavorful mushroom that would not bake down and create a lot of liquid as my Roasted Lamb Roulade baked.

White mushrooms (Oyster) would work well too.

Spinach – I loved the color and flavor spinach adds. It also bakes up well without adding a lot of moisture.

Be careful substituting for other greens. Many aren't sturdy enough to be baked or can become bitter when baked.

Fontina Cheese – I chose Fontina because it would be a good flavorful melting cheese.

You could substitute lots of different cheeses here. I would choose a semi-soft cheese such as Gruyere, Mozzarella, or a semi-soft sheep's milk cheese would be great.

Seasoning – Very simply, salt, pepper, and fresh rosemary.

Fresh Thyme, marjoram, sage, or oregano would also work in this recipe.

Vegetable oil – Canola, olive oil, or other neutral-tasting oil.
Assembling Boneless Leg of Lamb Roulade: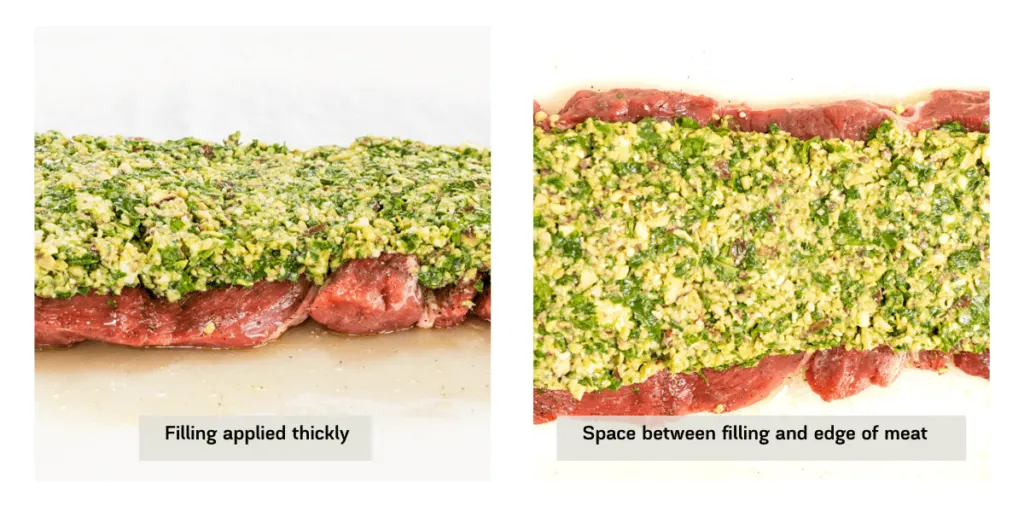 Lay the flattened piece of meat in front of you. Brush both sides of the meat with oil and sprinkle with salt and pepper.
Spoon the filling on top of the meat leaving a little space from the edges for the filling to fill when rolled.
Roll the meat tightly but not so tightly that all of the filling is pressed out the sides. Losing some is normal and can be placed back in the sides.
Lay 3 or 4 pieces of cooking string under the rolled meat. With the seam side up, tie the string securely. Cut the ends of the string ends off.
Place the rolled meat seam-side down on a rack placed in an open roasting pan.
How long does it take to cook Roasted Lamb Roulade?
Butterflying a boneless leg of lamb speeds up the cooking time. For a 4 to 7 pound leg of lamb, butterflied, it will take 40 to 50 minutes.
How do I know if my lamb is done?
Don't overcook this boneless leg of lamb recipe. We went with a medium-rare. Always use an instant-read thermometer and remove the meat as soon as you are close to the correct internal temperature.
The following chart should be helpful. Remember, the temperature can rise once it's removed from the oven.
| | | |
| --- | --- | --- |
| Medium Rare 130°F | Medium 140-145°F | Well done 155-160°F |
Note: This is our opinion of how we prepare our lamb.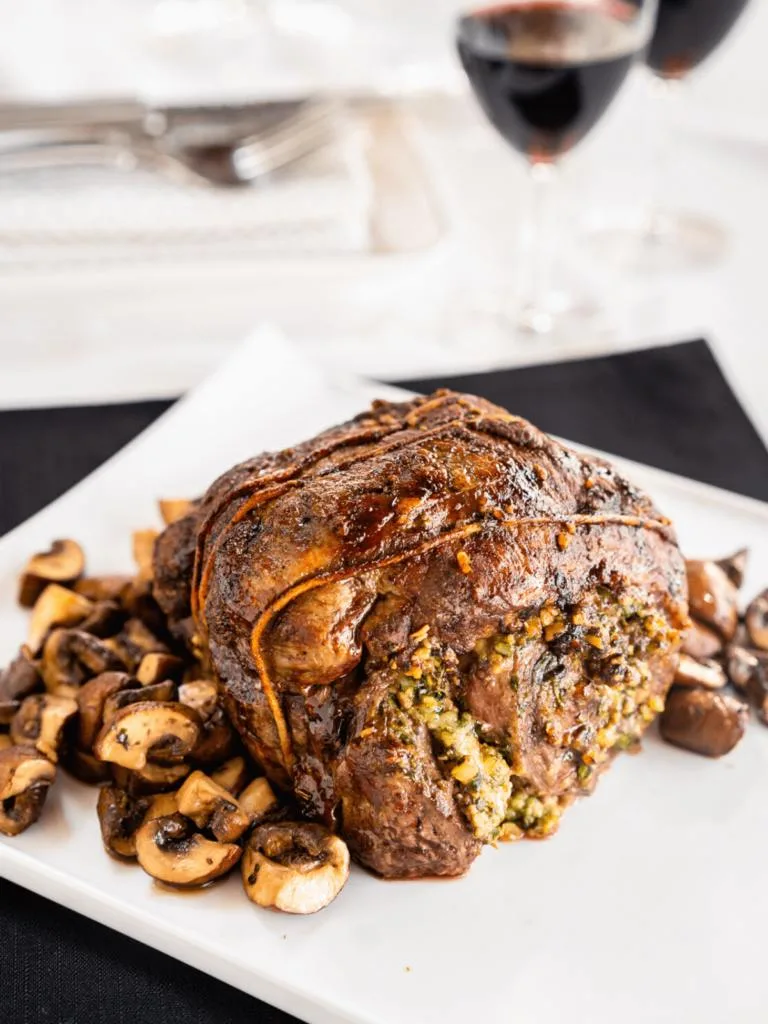 Important: This roasted Leg of Lamb Roulade must rest 15 to 30 minutes before slicing it. If you don't let it rest, the juices will run out and you may lose your filling.
Can Roasted Lamb Roulade be made ahead of time?
You could prepare it by rolling it with the internal ingredients the day before. Wrap it tightly and put it in the refrigerator. I would wait to cook it the day you need it, however. I just don't think any meat cooked in advance is as good as freshly cooked.
Recommended Products:
Instant-Read Thermometer – I use an instant-read thermometer for this recipe, for grilling, and even baking bread! I couldn't function without one.
Fillet knife -We love how this knife slices through the meat so smoothly. It's sharp and thin and helps keep our cuts smooth.
Mini Food Processor – I used this little powerhouse for my filling. chopped everything finely in a heartbeat. I'll pull this little guy out instead of lugging my big heavy food processor out 80% of the time.
What to serve with Roasted Leg of Lamb Roulade:
Don't forget to pin this recipe!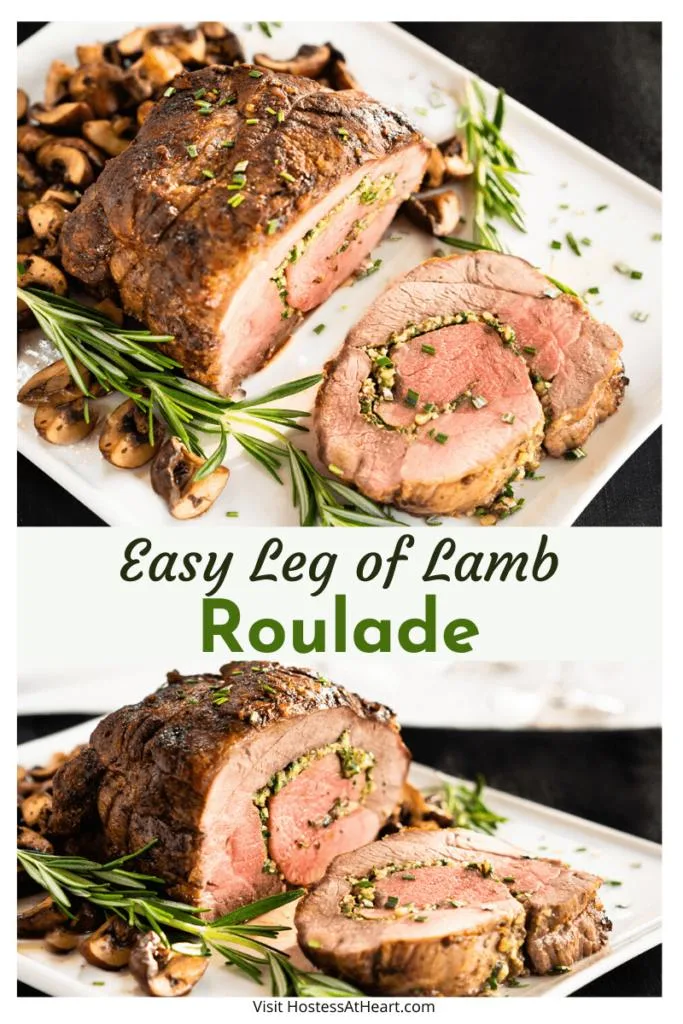 HERE ARE A FEW MORE EASY LAMB RECIPES YOU MAY ENJOY
We love lamb and you can find all of our lamb recipes here!
I hope that I've shown you just how easy this beautiful delicious Leg of Lamb Roulade recipe is to make. As always, I answer all my own comments and emails so let me know if you have any questions.
Don't forget to stop back and let me know how your Leg of Lamb Roulade turned out!