Lamb Bites with Fig Balsamic Glaze is a sweet and savory lamb appetizer. Pecorino Romano cheese garnish combines both flavors with a subtle salty finish.
Serving Lamb Bites with Fig Balsamic Glaze elevates any holiday gathering. It can be dressed up for a black-tie event or casual enough for sitting around the fire with a bottle of your favorite red.
The holidays are upon us. As you know, we love to entertain. That can mean casual get-togethers or an elegant dinner party.
Holiday entertaining doesn't have to be difficult. Serving Lamb Bites with a sticky balsamic reduction is going to look like you went to a lot of work to make your guests feel special.
No one needs to spend days in the kitchen in order to make their guests feel special. And, who wants to stay chained to the stove while everyone is visiting and wishing you were too?
There's something about a thick, smooth, and luxurious balsamic glaze infused with delicious figs that automatically elevates anything you use it with.
With just a few tips, I want to show you just how easy it is to make. You don't have to tell anyone that you didn't spend $30 for a bottle of Fig Balsamic Reduction either.
If you're not accustomed to cooking lamb, I'll be showing you step-by-step instructions on how to prepare this lamb bite appetizer recipe so you can serve it this holiday season.
When I want to make people feel special, Lamb is usually the first thing that I plan on serving.
We served our Greek Lamb Burger with Lemon Herb Sauce at a casual barbeque this last summer and everyone loved it, and it wouldn't be Christmas in my house if I didn't make Lamb Ragu over Cheesy Polenta at least once.
This post is sponsored by True Aussie Beef & Lamb but the opinions here, and love I have for their products and their story are all my own.
I've always purchased Australian Lamb for my recipes. When I had the opportunity to work directly with True Aussie Beef & Lamb, I learned that I was making an excellent choice and that they do so much more than just producing quality lamb for the consumer.
The True Aussie Beef & Lamb Company produces lamb that is free-range and naturally fed on Australian pasturelands, so it's mild tasting and naturally lean and tender. Aussie Lamb is free of artificial additives and hormone growth promotants.
Aussie cattle producers have also committed to becoming carbon neutral by 2030.
This locator can help you find True Aussie Lamb in your area.
Is Lamb good for me?
Aussie Lamb is a good choice because it is a grass-fed lamb making it a leaner protein, as well as naturally containing 13 essential nutrients required for good health, including Iron, Zinc, Omega-3 and B vitamins.
This Lamb Bite appetizer is easy enough to make ahead and the perfect starter for casual or elegant entertaining.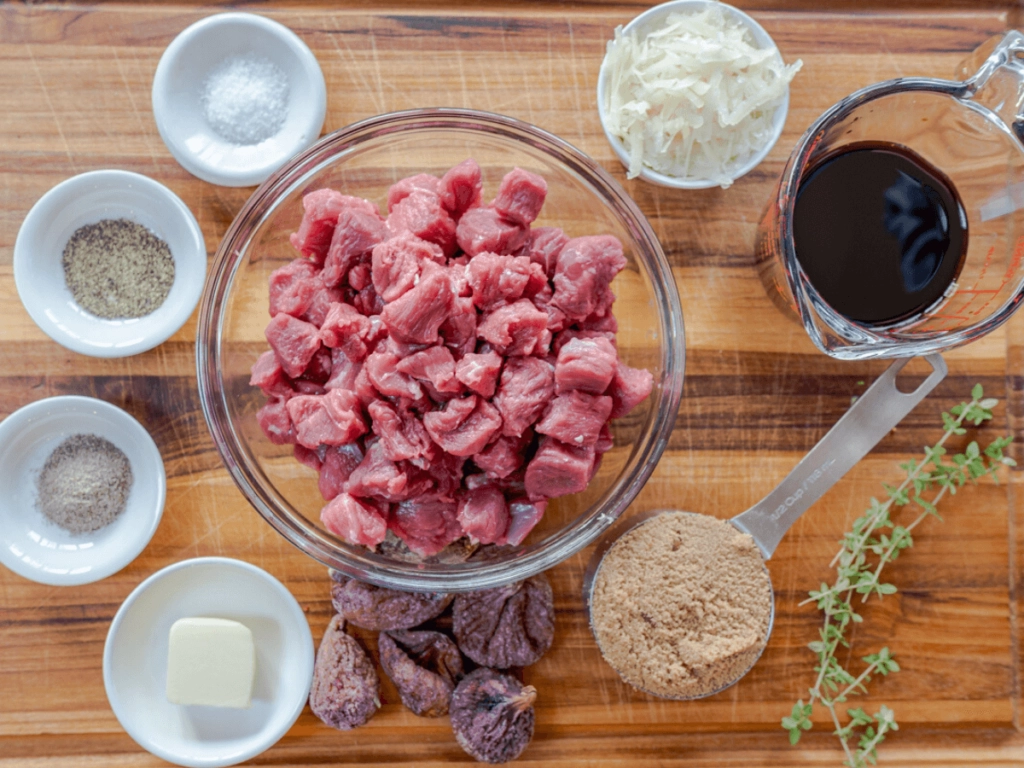 Ingredients for Lamb Bites with Fig Balsamic Glaze:
As you can see, I've presented this lamb appetizer in a couple of different ways. The first one uses endive lettuce leaves and the second one uses phyllo cups with the Lamb Bite filling.
John liked the endive leaves which added a slight bitterness to the sweet and savory filling.
I liked them both but the crunch of the phyllo cups appealed to me. They were a lot easier to fill too!
You could even put the filling in a decorative bowl with some decorative picks. All I would need is a fork! This filling is that good!

Tips for making Fig Balsamic Glaze:
Cook on low. Don't be tempted to speed cook this glaze. It will harden the sauce!
Strain the fig mixture in a fine-mesh strainer. The fig is loaded with seeds and no one wants to be picking them out of their teeth all night.
Glaze thickens as it cooks down and will continue to thicken as it cools.

Tips for cooking Lamb Bites:
Cut the pieces of lamb into pieces that you could eat without cutting with a knife. It's a lean meat so don't expect much shrinkage when cooked. Stir in the spices.
You want each piece of lamb to touch the pan in order for it to brown and not steam or poach so cook in batches if necessary.

Make sure that the pan is hot before you add the lamb pieces. This is a very quick sear over medium-high heat. Don't overcook the meat. We want a crisp brown exterior and tender juicy interior.

Stir in the Fig Balsamic Glaze.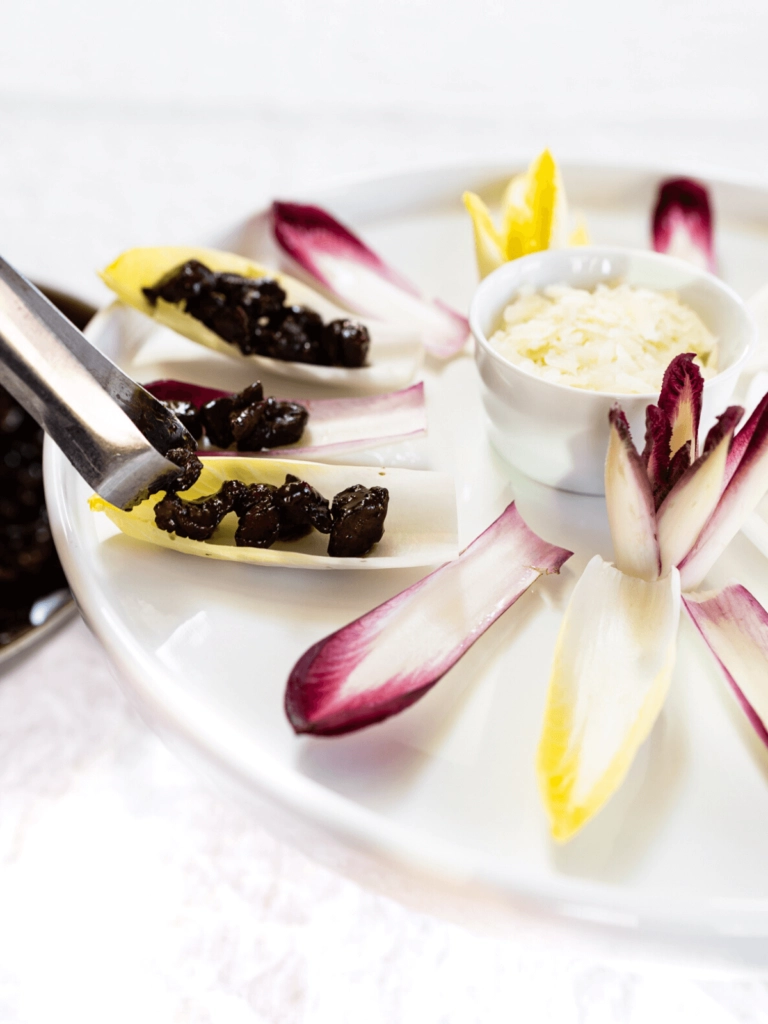 Tips for assembling Lamb Bites – Make sure the lamb filling has cooled just a bit before filling the endive leaves. If it's too hot, it will wilt the leaves. You can also lightly shave the bottom of the leaves so they'll sit up.
Items you may need to make the perfect Aussie Lamb Bites with Fig Balsamic Glaze:
So, which one of these serving ideas appeals to you? Do you have other ideas for this delicious filling? John said it would make an amazing stir-fry too!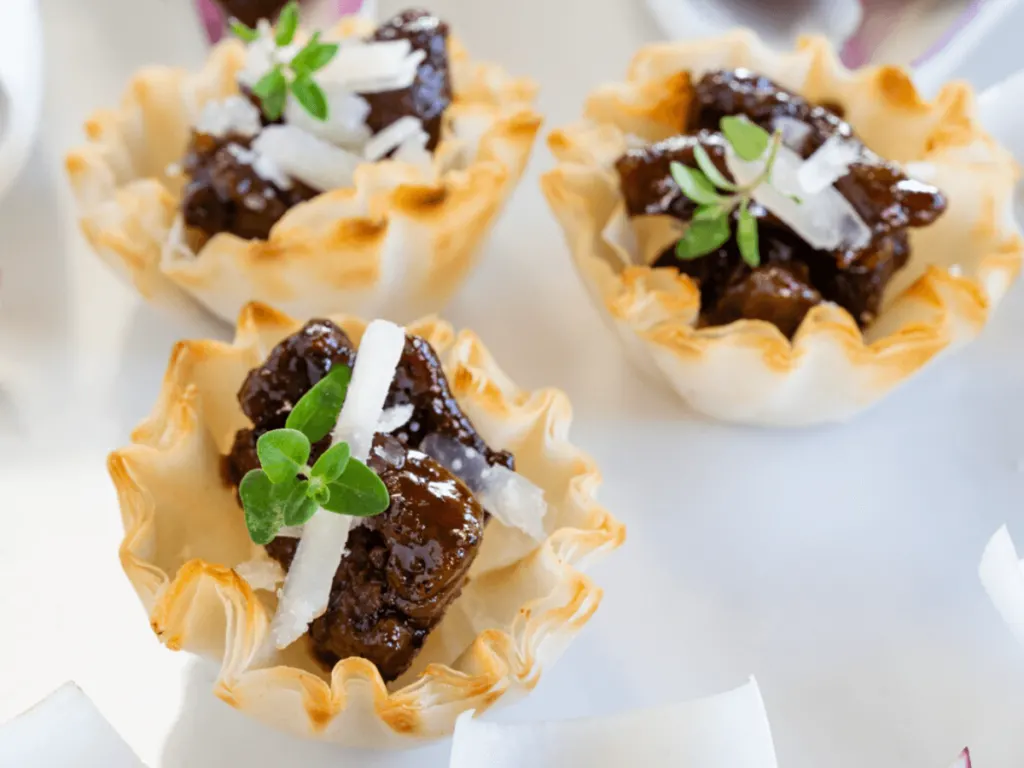 Popular finger-friendly appetizer recipes:
Hashtag any recipes you make from Hostess At Heart #hostessatheart or tag me @hostessatheart on Instagram to be featured on our stories!
Lamb recipes for entertaining:
I hope that I've shown you just how easy preparing lamb for your holiday season can be! I have a couple more recipes in the works so if you liked this Lamb Bites with Fig Balsamic Glaze recipe, you're going the love them too.