Fresh Balsamic Tomato Chutney tastes like Mother Nature made it herself. It makes a delicious Bruschetta or a condiment over fish, chicken, burgers & brats.
THIS POST HAS BEEN UPGRADED FROM 9/14/17 TO IMPROVE READER EXPERIENCE.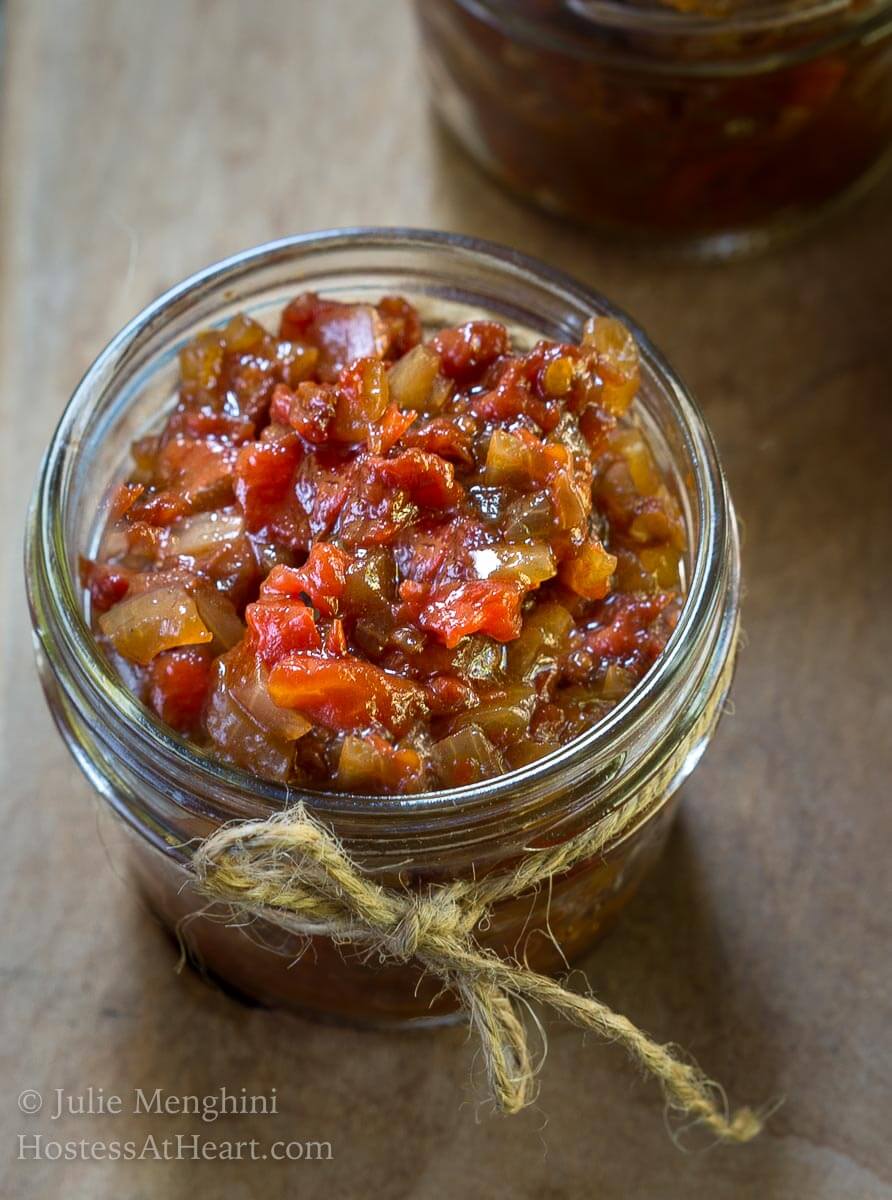 Fresh Balsamic Tomato Chutney is a great way to use fresh tomatoes. This recipe only uses 6 ingredients and is delicious loaded on a burger, grilled brats, or scooped with your favorite veggies.
Every once in awhile John and I'll try a dish that has us thinking "Oh my gosh, we've got to make this". We recently had a Balsamic Tomato Chutney that fell into that category.
On vacation, we drove from Pacific Grove California down the 17-mile highway. We were told about a great restaurant on the Big Sur called Nepenthe that we just had to try.
Some of the bridges were out due to a landslide, so we would have to drive, shuttle, and hike to get there but were told it was a doable hike and worth it. We exercise regularly so we were up for the adventure.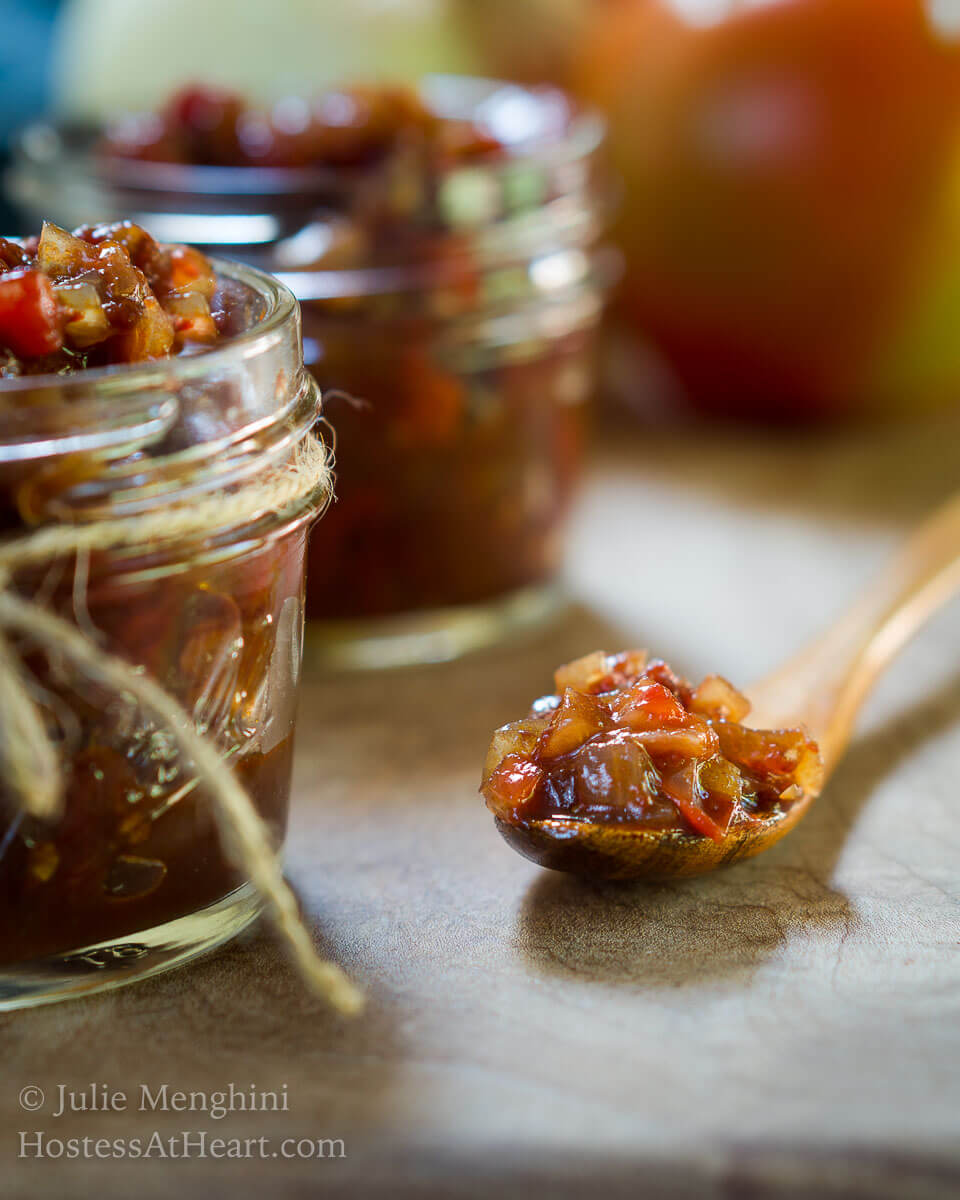 Well, the hike was like scaling a mountain. Killer folks a real killer! The hike was on a dirt path which I was totally prepared for in my white capris pants and gigantic bag which John ended up carrying.
I may have done a little (a lot) of whining too. What kept me going was thinking we were almost there. That and my competitive desire not to be passed.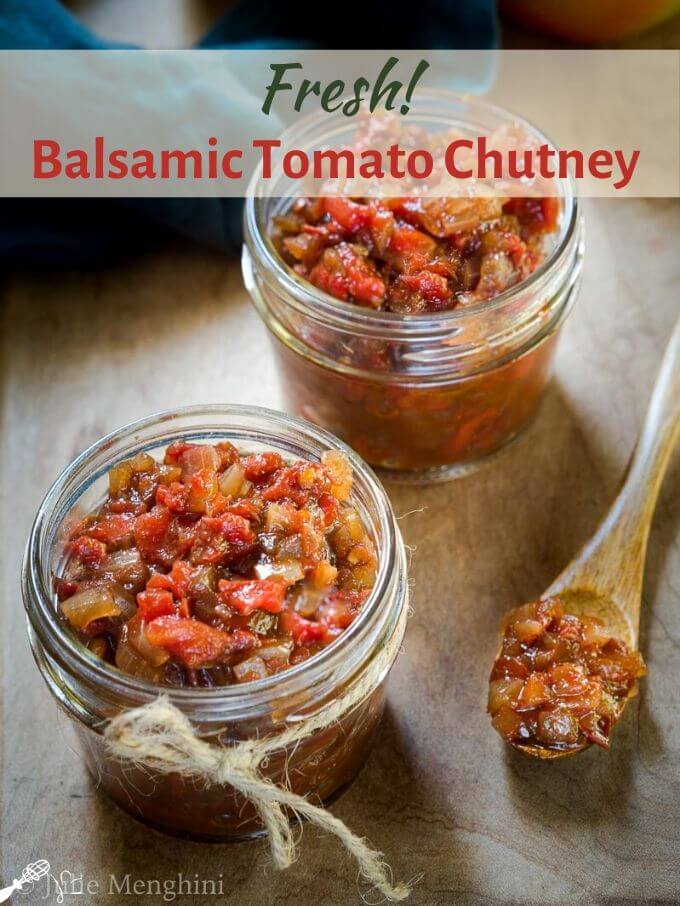 Once we'd arrived I was revived with an amazing margarita. Our waiter said their Shrimp BLT was the best he'd ever had.
You never know how someone else's "best" compares to yours but we gave it a try.
It was the best sandwich we've ever had. In our opinion, what made it so amazing was a Balsamic Tomato Chutney and knew that it would be one of the first things that we tried to recreate once we got home.
When we got home, we had several beautiful tomatoes ready for picking, and knew it was a sign…to get busy in the kitchen.
I can't even tell you how amazing this Tomato Chutney is. Balsamic infuses fresh tomatoes and onion mixed with fresh herbs. It's as sweet and flavorful as if Mother Nature made it herself.
Once the Balsamic Tomato Chutney was made, making the most Amazing Shrimp BLT Sandwich recipe followed. You guys, this combination is a culinary work of art, I promise!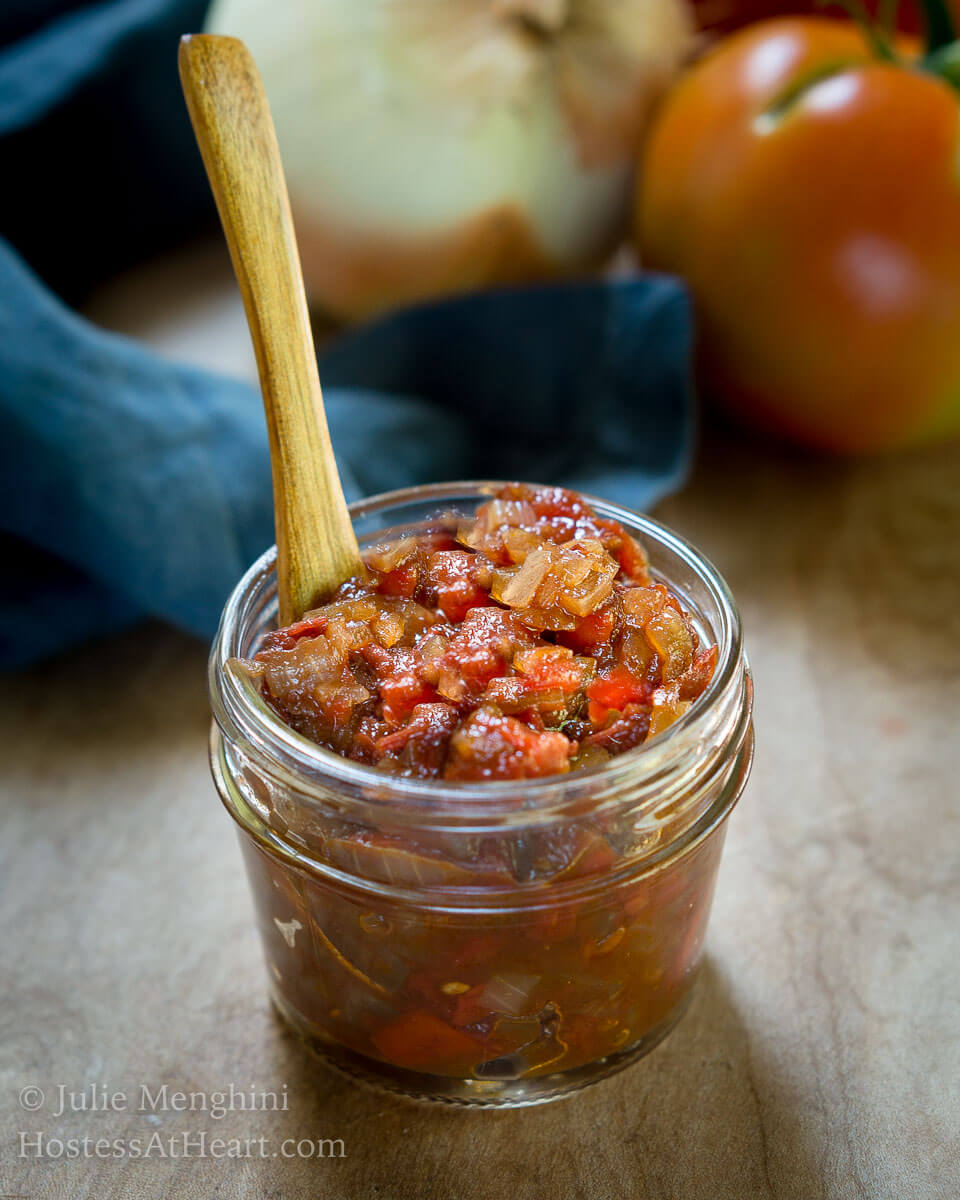 What is Chutney?
The India subcontinent is credited for chutney as a way to preserve fresh fruits and vegetables.
Chutneys could either be dried or pickled and were rarely sweet. They were often used as a condiment like a jam which is what we've done with this easy tomato chutney recipe. According to The Virginia Chutney Company, they're a savory jam.
What's the difference between Jam and Chutney?
Jams are usually cooked down and preserved with sugar and pectin. Chutneys are chopped. They can contain a mixture of vinegar and sugar and a combination of fruits, vegetables, herbs, and spices.
Commercial versions of chutneys can really blur the lines of Jams, Chutneys, Relish, and Pickling. Unfortunately, commercial versions often taste like vinegar and sugar. If you think you don't like chutney, try this Tomato Chutney Easy Recipe!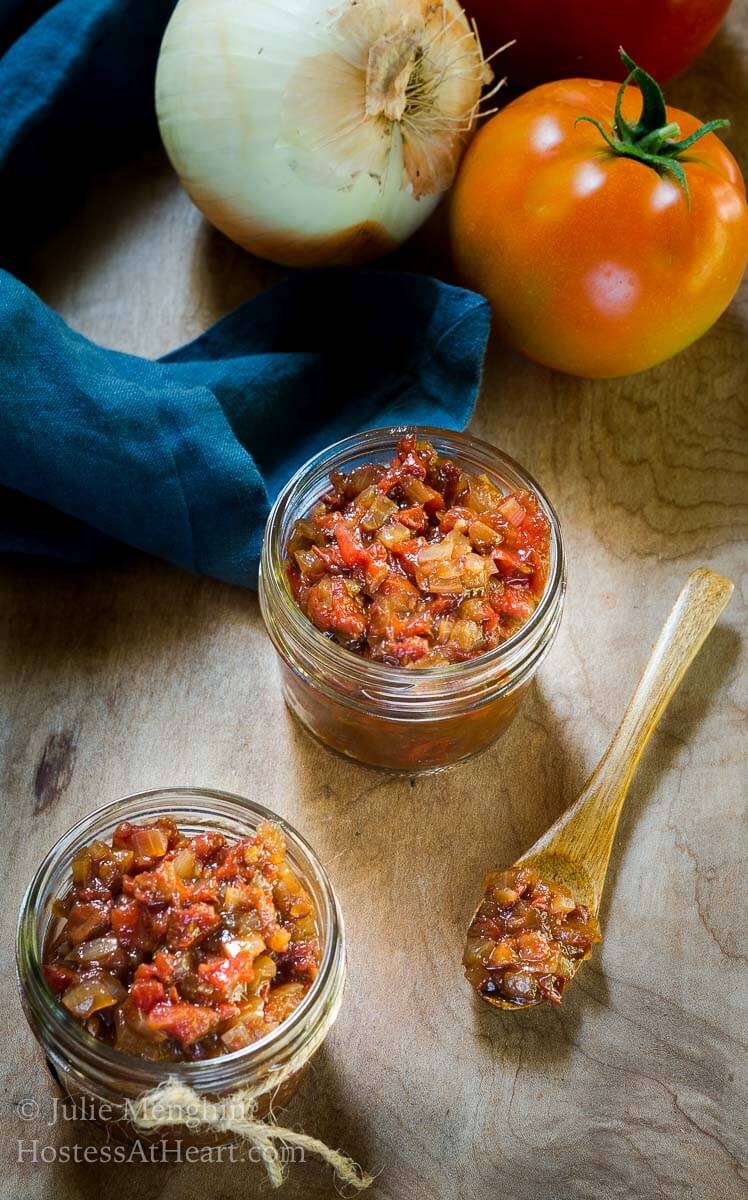 The best tomatoes for fresh tomato chutney are any fresh tomato you can get your hands on and the variety that you enjoy.
This Tomato Chutney recipe contains only 6 ingredients and is so much more healthy than commercial versions. It tastes so fresh and compliments anything you use it with.
Uses for Tomato Chutney
Condiment on an Amazing Shrimp BLT sandwich!
Topped over scrambled eggs
As a relish over grilled swordfish, or seafood.
Served as a Bruschetta
Piled on a hot dog or on top of a burger
Mixed into a fresh vegetable or pasta salad
You can freeze or can Fresh Balsamic Tomato Chutney so you can enjoy it when those beautiful tomatoes are gone for the season.
Items you may need to make Tomato Chutney:
4 oz Mason Jars – I love these little jars. They make a great jam size and the perfect size gift jar. They're also perfect for organizing items like paperclips in my office.
Saute Pan – I prefer the stainless steel pans. I love how this pan has a flat bottom so more food can sit on it directly. I also like the glass lids so I can see how it's cooking.
Time Saving Tip: This recipe can easily be made in a food processor. Process each ingredient separately and combine them in a bowl to prevent over chopping on any ingredient.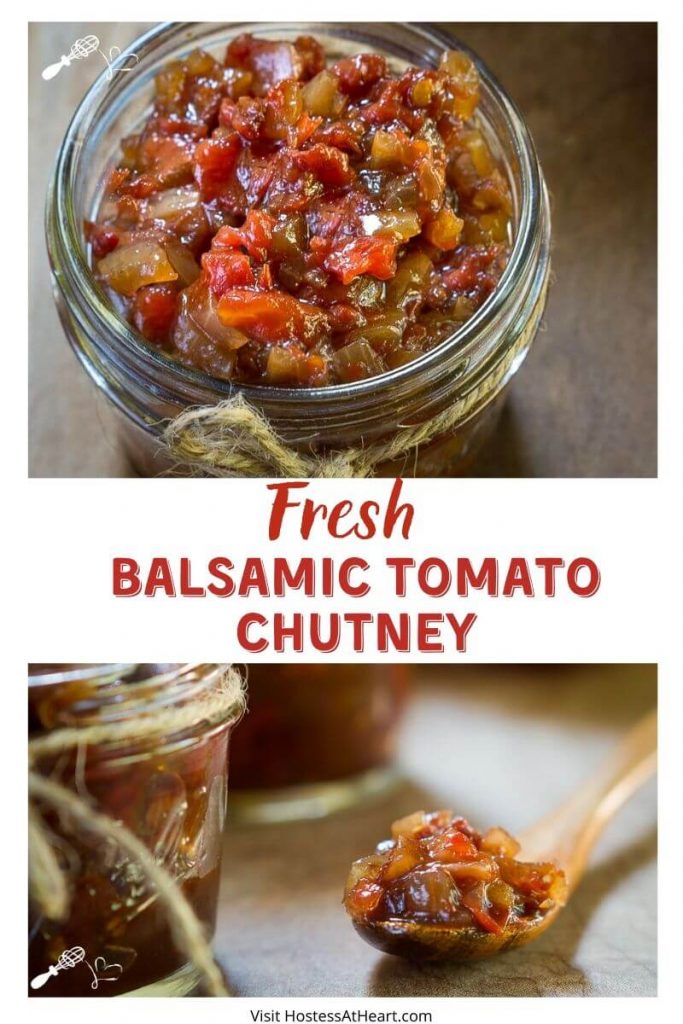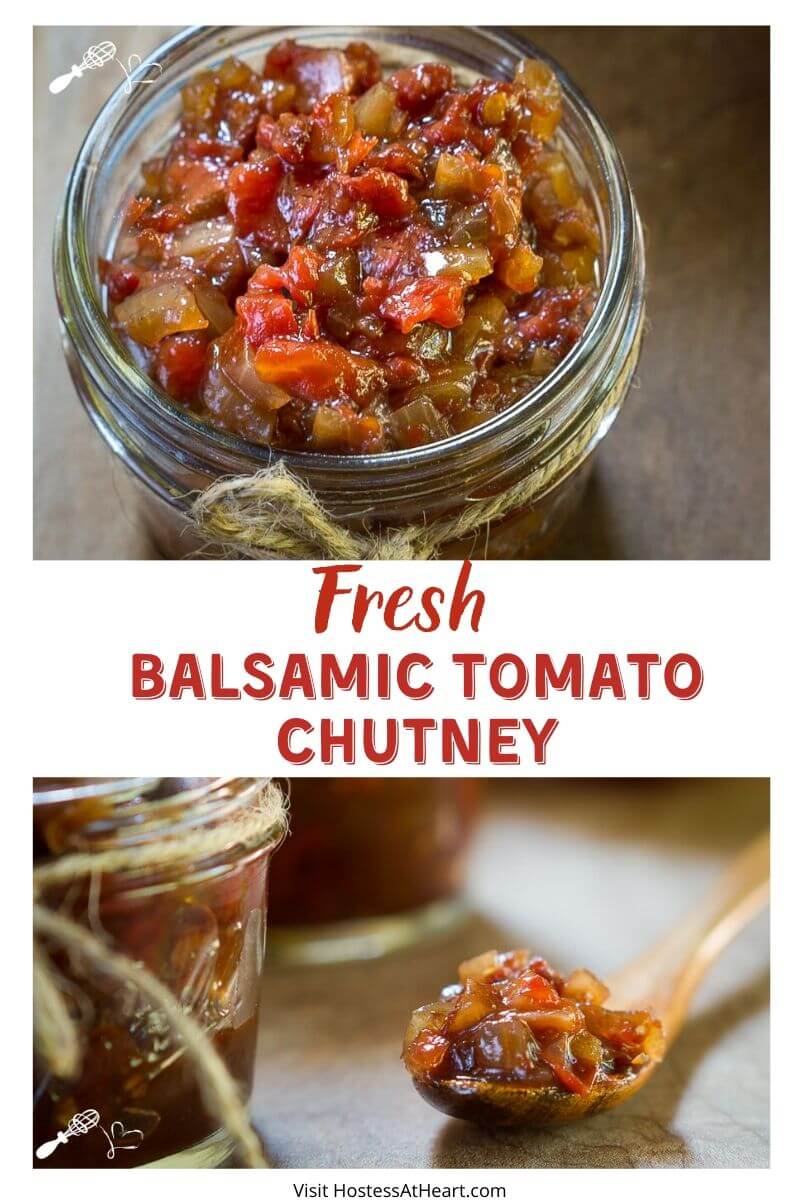 Other great tomato recipes!
Our most popular recipes
UPDATE: If you are in the Big Sur area, the road has been fixed! Unfortunately, they've changed their shrimp BLT recipe, so I guess our Tomato Chutney recipe is now the best!
What is the best dish you've ever had while traveling and where did you enjoy it? Please share in the comments below! You are my inspiration!
If you're still looking for great recipes to share with friends, here are a couple of my favorites!
Fresh Sweet Basil Pesto Recipe
This Sweet Basil Pesto Recipe is absolutely delicious and so versatile. As an appetizer, an amazing pasta dish or drizzle it over fish, pork, or chicken.
Check out this recipe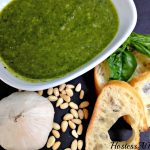 Homemade Lemon Ricotta with Honey Recipe
Homemade Lemon Ricotta With Honey makes a deliciously decadent appetizer that is both quick and very easy to make. Once you make it you will never buy it again.
Check out this recipe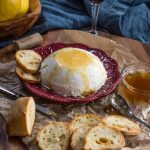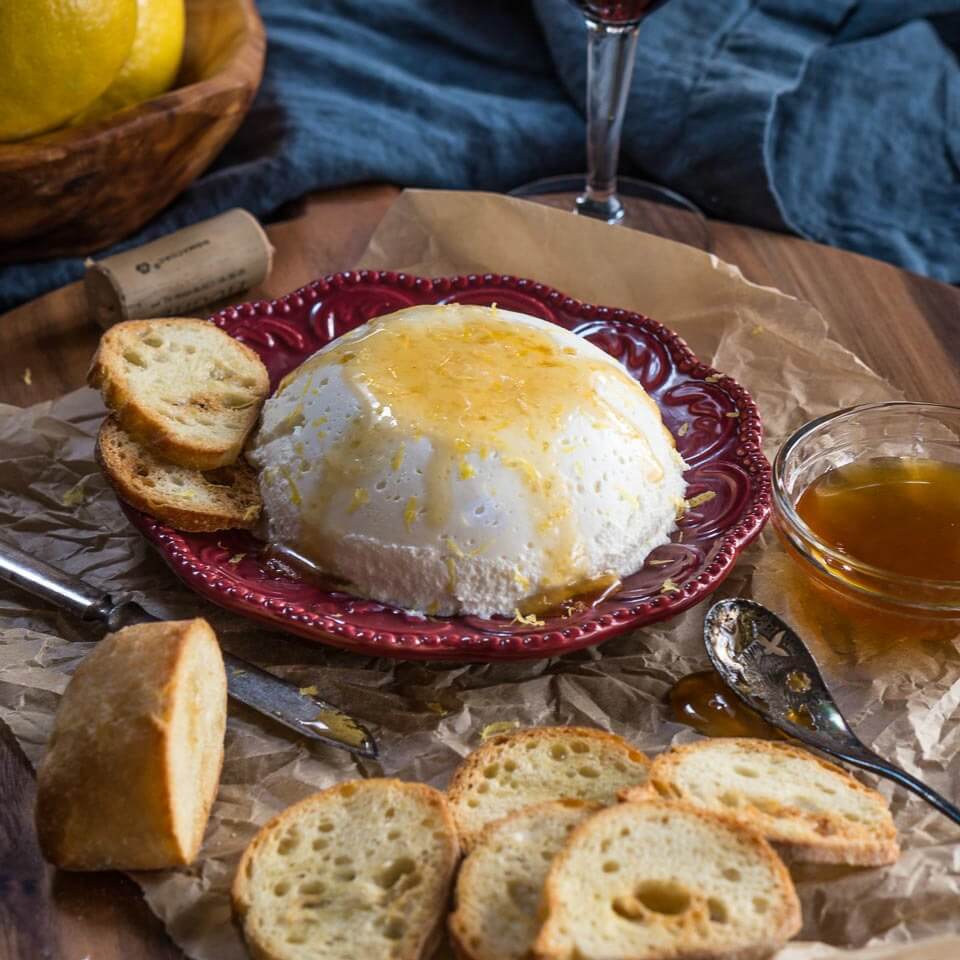 Easy Crab and Havarti Stuffed Portobello
Easy Crab and Havarti Stuffed Portobello Mushroom Caps are a quick and easy dish. They're filled with rich crab, creamy Havarti cheese, and then sweet sundried tomatoes.
Check out this recipe