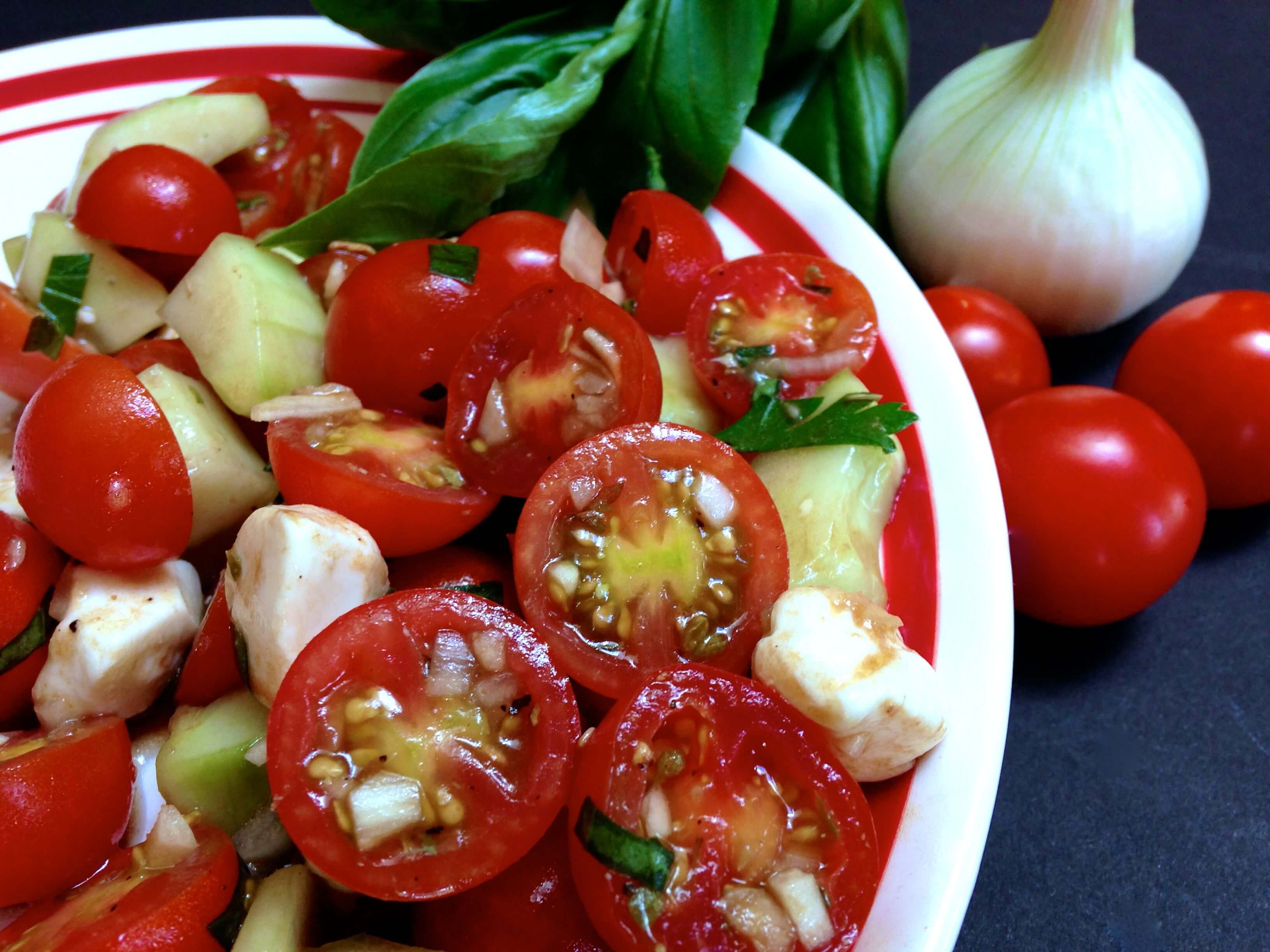 What? Another salad? Enough already you say? Well, I am totally into fresh produce, and while I can get it, I am salad crazy. This one happens to just be a side salad though and goes with so many things, so I am hoping you hang in there with me. Plus, it's so easy to make. It is quick, and you can make a single serving or a mountain of the stuff.
I recently commented on one of my blogging friends' website regarding a salad that she had posted. I stated that she proved that a dish doesn't have to be difficult to be delicious (I said nummy). So, I am taking my own comment to heart. This salad is a dish that I frequently make. We love the fresh ingredients. It is light and goes with so many things.
I have some beautiful tomatoes ripening right now. I have a large round variety that is great for burgers and sandwiches, some roma tomatoes that are great for salsa recipes, and some grape tomatoes that are so sweet that I pluck them into my mouth right off the vine. I like using the grape tomatoes in this recipe. Their sweetness is a nice contrast to the stronger garlic and sweet basil flavors.
This recipe is one of those that would drive my daughter crazy. She gives me a hard time when she wants a recipe and I tell her to just throw this and that together. Well, that is basically what we do with this recipe. Like I said, you can make a single serving, or make up a large bowl.
Slice grape tomatoes in half. In a bowl, add the tomatoes to peeled and chopped cucumbers. Chop the cucumbers approximately the same size as the tomatoes. To this mixture, add 1 finely chopped garlic clove, and some finely sliced green onions. I also have some beautiful sweet basil and italian parsley that is doing very well in my garden. I am making pesto every chance that I get, but will save that post for another day. I regress. I added thinly sliced sweet basil leaves (chiffonade is the fancy term) and finely chopped parsley. Sprinkle with dried oregano, and some salt and pepper.
For the dressing, you can just drizzle on a bit of olive oil and balsamic vinegar or a good italian dressing. I made a balsamic viniagrette that is an Emerill Lagasse Food Network recipe. I keep it in the refrigerator and it's my go to salad dressing. I've included the dressing recipe for you as well.
I add fresh mozzarella pearls to the salad right before serving. If you add them to soon, they can get mushy. You can slice or cube fresh mozzarella yourself if you don't have the pearls.
Italian Tomato Mozzarella Salad
Notes
Grape tomatoes, sliced in half
Cucumber, peeled and chopped
1 garlic clove, finely chopped
Green onion, finely sliced
Fresh sweet basil, finely sliced
Fresh parsley, chopped
Dry oregano
Salt and Pepper
Mozzarella pearls Combine all ingredients. Serve fresh and store unused portion in the refrigerator.
Provided by HostessAtHeart
Balsamic Vinaigrette
Notes
1/4 cup balsamic vinegar
1/2 cup extra-virgin olive oil
1 teaspoon sugar
1/2 teaspoon salt
Freshly ground black pepper
1 clove garlic, finely chopped
Sweet basil and fresh parsley finely chopped (optional)
Combine all ingredients in a salad dressing curette, jar, or something with a lid that will hold at least a cup. Shake and serve. Refrigerate unused portion for up to two weeks.