Pistachio Crusted Lamb Chops is an elegant dish that looks difficult but is easy to make at home. This dish combines a rich lamb flavor with a nutty pistachio crunch and a bright tarragon glaze finish.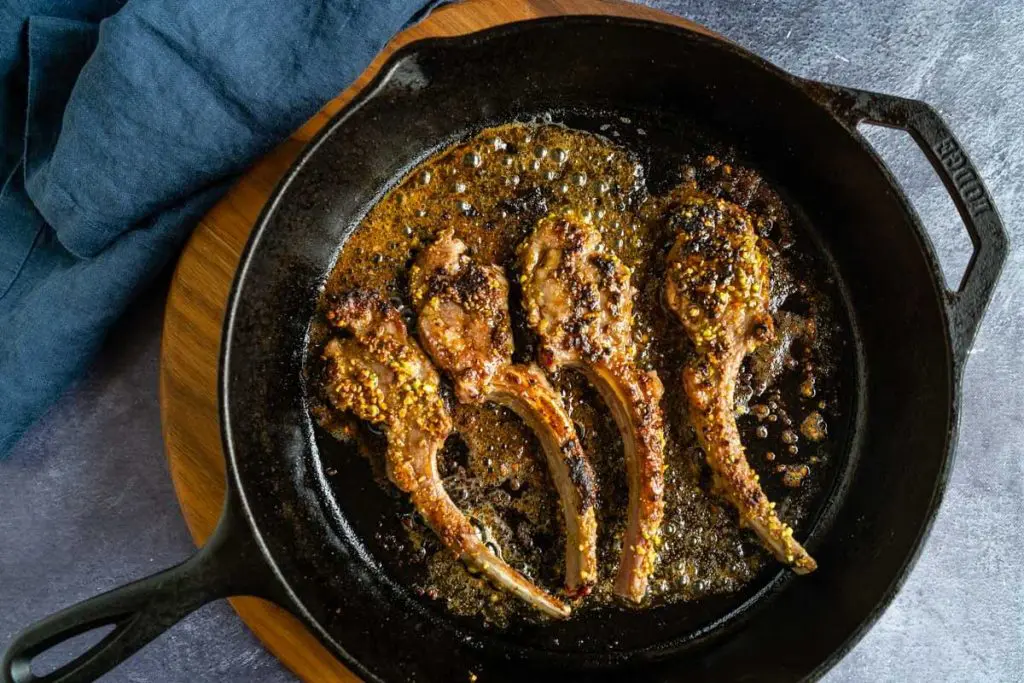 There's nothing more elegant than a "French-Cut" rack of lamb. Pistachio Crusted Lamb chops is an easy lamb recipe that will have you serving a lot more lamb in your own home.
If you're anything like me, there are times when you second guess your culinary skills and think some recipes are just out of your league.
This post is sponsored by True Aussie Beef & Lamb but the opinions here, and love I have for their products and their story are all my own.
I used to think that of lamb chops. In this post, I hope to show you just how quick and easy they are to serve.
The depression that some of our parents, and definitely our grandparents, went through formed a lot of our behaviors with food.
Growing up, my family lived in a rural community and had lots of beef, chicken, and pork in the freezer and 100-pound bags of potatoes in the cellar.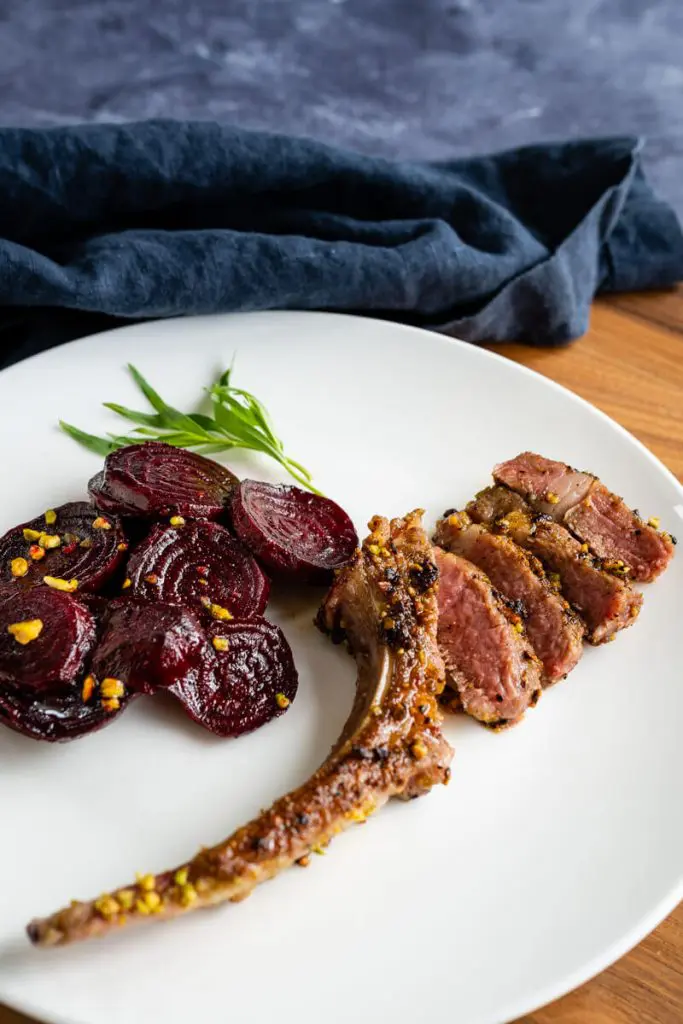 One ingredient we didn't have a lot of is lamb. There wasn't a lot of lamb producers in Nebraska, so it was reserved for special occasions.
One of my favorite special occasions was Mother's Day.
As a child, Mother's Day meant making hand-made cards that told my mother what she meant to me. I'll tell you, a lot of thought and crayons when into those cards.
This was also an event where we had a special menu that often included lamb chops.
If you've followed me for a while, you know that my mother didn't love cooking the way I do. However, when she made pan-fried lamb chops there were never any leftovers. They were amazing.
Simple pan-fried lamb chops are delicious. Pistachio Crusted Lamb Chops with Tarragon Glaze is a work of art.
Pistachio Crusted Lamb Ingredients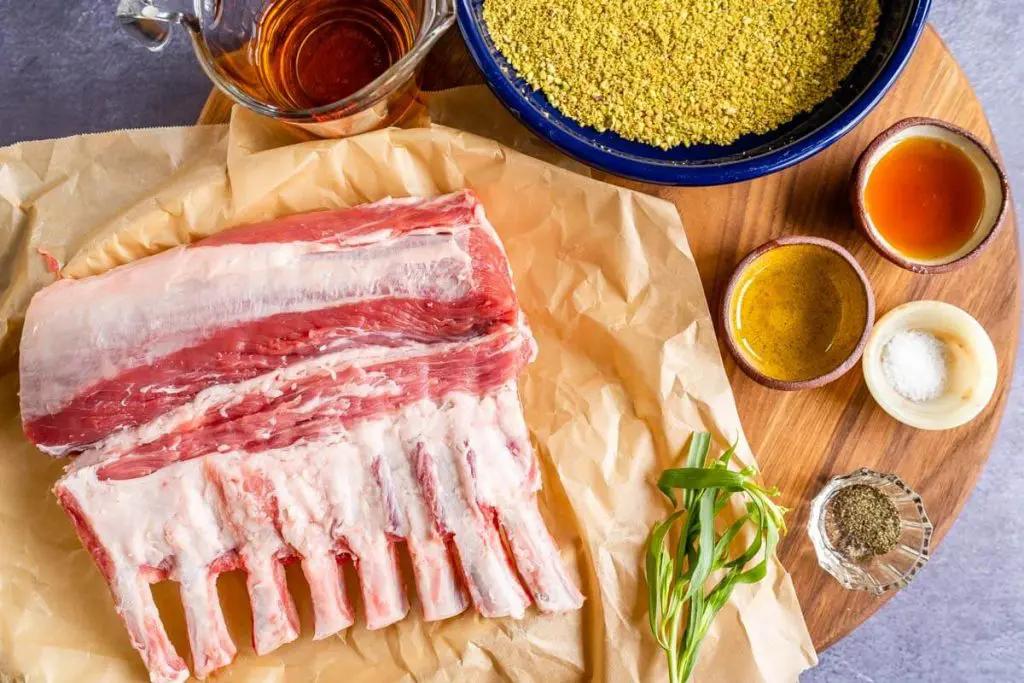 I find that lamb is the star in the dishes that I serve so the ingredients are simple.
rack of Australian Lamb
pistachios
honey
butter
tarragon
salt and pepper
What is Tarragon?
Tarragon is a mild herb grown primarily in Eurasia and North America. This herb is often used in French cooking recipes such as Béarnaise sauce.
Tarragon has a mild licorice or anise flavor. Tarragon isn't a great stand-along herb like parsley so I didn't use it as a garnish. If you can't get your hands on Tarragon, you can use a mild herb like parsley or marjoram.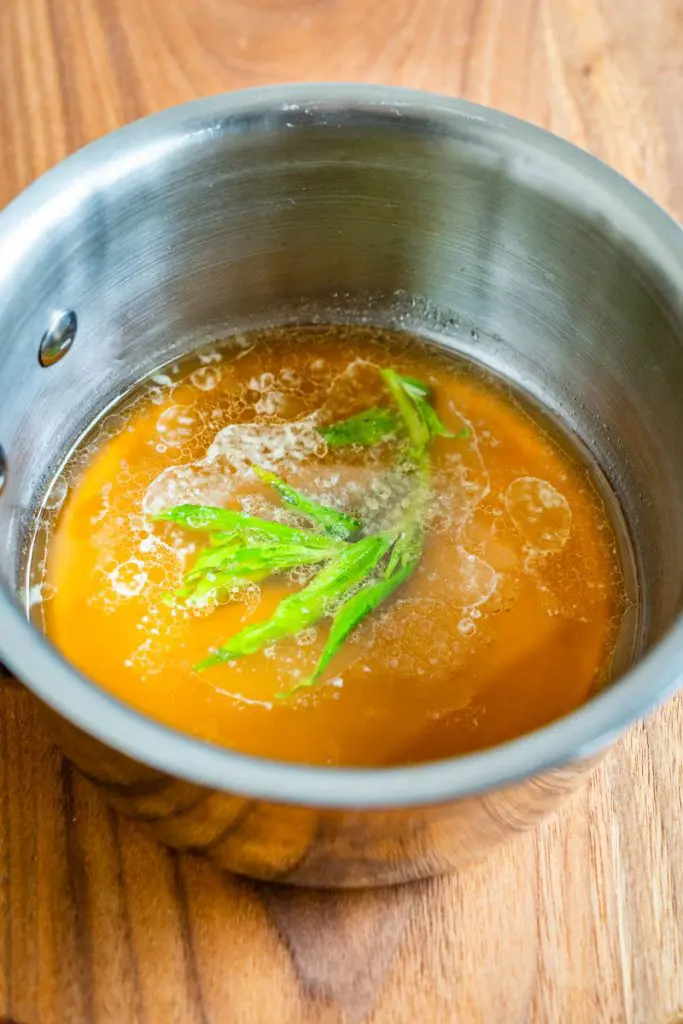 I put the tarragon right into the glaze ingredients and removed it before pouring the glaze over the pan-fried lamb chops.
How to french cut lamb chops
If you look at the piece of lamb that I'm using in this easy lamb recipe, it's called a rack of lamb. A rack of lamb comes from the ribs and will include 7 to 8 bones. Sometimes the chops from a rack of lamb are referred to as "rib steaks" too.
Exposing the bones is referred to as a "french cut". It's an elegant way to serve a lamb chop or a rack of ribs.
The benefit of cutting the Rib Rack into chops is that it speeds up the cooking time and every chop is cooked at the same rate.

Chilled lamb is easier to cut. Find the space between each rib and using a sharp knife, slice between the rib space until the chop is separated from the rack.
How to Pistachio crust lamb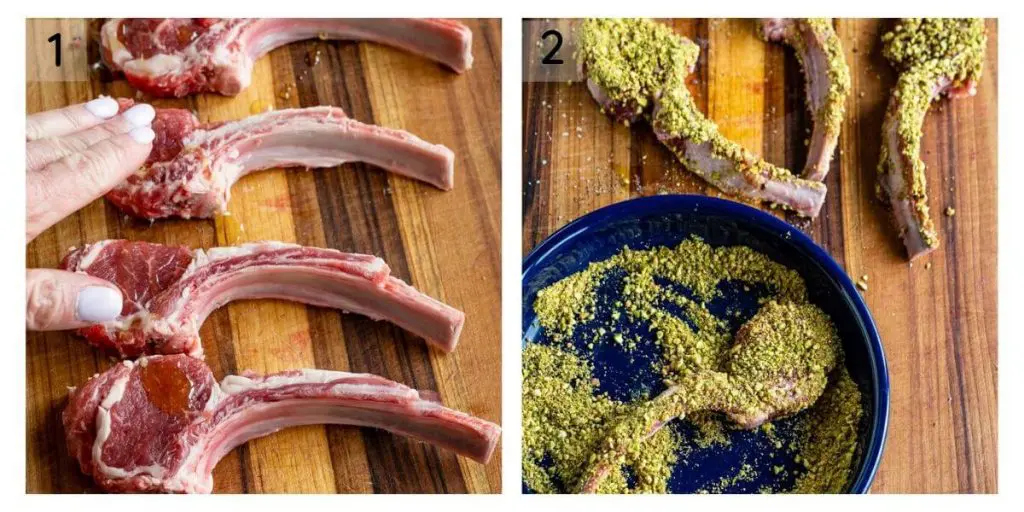 Drizzle the lamb chop with olive oil and sprinkle with salt and pepper.
Dredge each chop though chopped pistachios.
Tips for the perfect pan-fried lamb chops
It's easier to cut the rib apart when the rack is cold.
Bring the meat to room temperature prior to cooking.
Lamb is cooked until pink or slightly rare but never bloody. Use an instant-read thermometer.

Rare: 115 to 120°F
Medium-rare: 120 to 125°F
Medium: 130 to 135°F
Medium-well: 140 to 145°F
Well-done: 150 to 155°F

Make sure that you coat the bottom of your skillet with oil and that it's hot before adding the lamb chops. That's how that beautiful crust is developed.

This is a pan-seared lamb chop that cooks very quickly. My lamb chops were only cooked for 1-1/2 to 2 minutes per side.

Remove the lamb chops from the skillet just before the desired cooking temperature is met. The meat will continue cooking for a short period of time and raise the internal temperature as much as an additional 5 degrees.
Pan-seared lamb chops can be rested for 5-10 minutes or served immediately.
Another tip for the best lamb recipes is the quality of the animal. Choose grass-fed, outdoor reared animals from a reputable source.
The True Aussie Beef & Lamb Company produces lamb that is free-range and naturally fed on Australian pasturelands, so it's mild tasting and naturally lean and tender. Aussie Lamb is free of artificial additives and hormone growth promotants.
Aussie cattle producers have also committed to becoming carbon neutral by 2030.
This locator can help you find True Aussie Lamb in your area.
If you're a lamb lover here are a few more recipes I think you'll enjoy.
We love lamb and you can find all of our lamb recipes here!
What to serve with Pistachio crusted lamb chops?
I served Honey Roasted Beets with this easy lamb recipe. As you can see, beets and pistachios go great together too! Here are a few more great choices.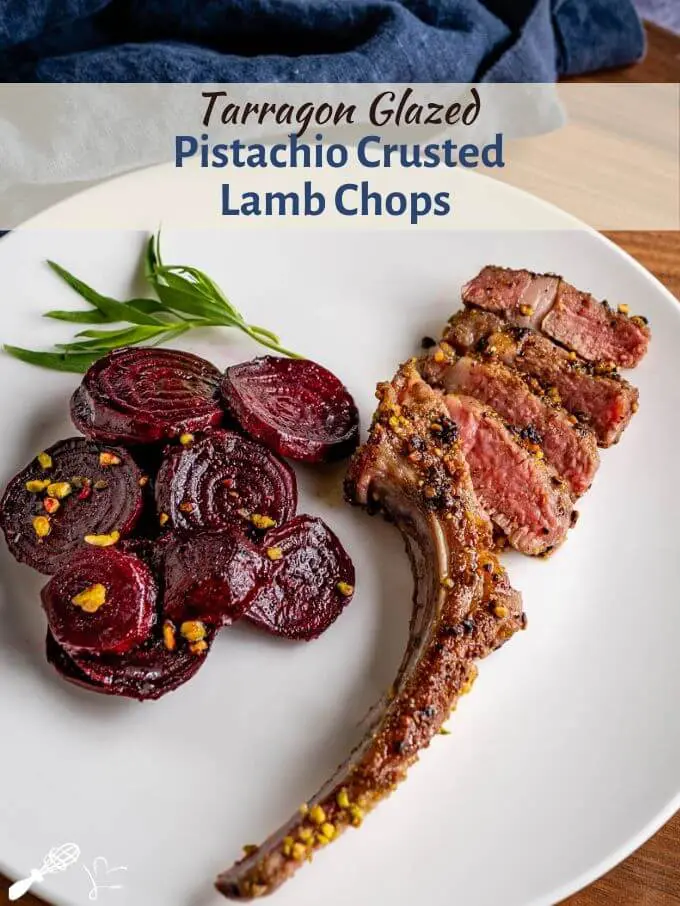 Products I use to make Pistachio Crusted Lamb Chops
Cast-Iron Skillet – I use cast-iron skillets whenever I can. There isn't anything like them when it comes to searing or frying food. They last forever, and they're our favorite pan for camping too.
Sauce Pan – I like having a small saucepan for glazes and sauces or just melting a stick of butter. This pan has a see-through lid and clean-up is a breeze.
I always say motherhood is the hardest job you'll ever love. I got those handmade cards from my kiddos too and kept every single one of them.
Mother's Day is the 2nd Sunday of May and celebrates motherhood and it's a time to appreciate our mothers and mother figures.
I hope that I've shown you just how easy this beautiful delicious Pistachio Crusted recipe is to make. As always, I answer all my own comments and emails so let me know if you have any questions.
Do you have any special memories or meals that you think of around Mother's Day? Please share, I love hearing from you!
Popular Posts