Brighten up your table with this perfect Easy Greek Salad recipe with Lemon Dressing. All the traditional flavors of a salad you love at restaurants, but incredibly easy to make at home. The fresh homemade dressing takes this salad over the top.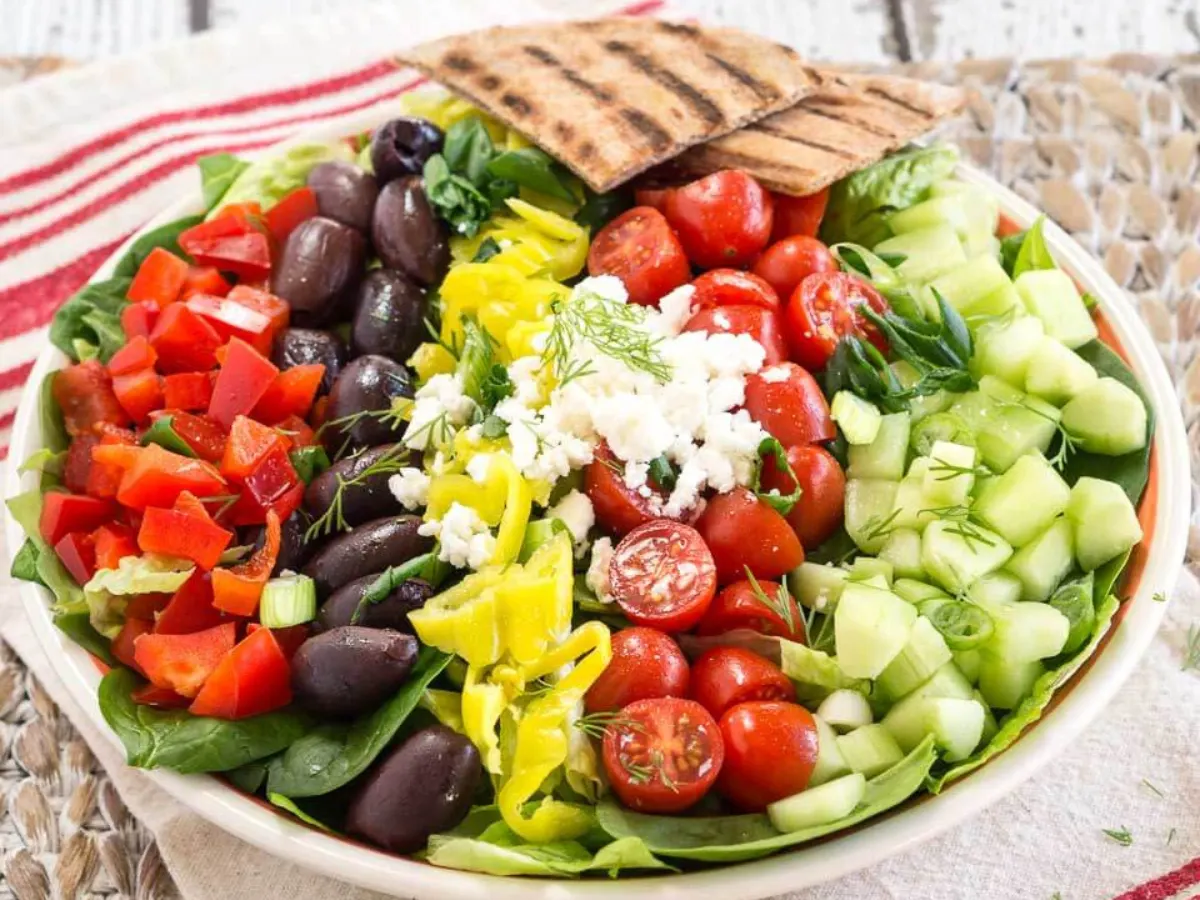 This recipe was posted in 2017. I've added detailed information and helpful hints to make it easier to read. No changes were made to the recipe.
We love Greek-inspired meals. Our Greek Burger, Tabouli salad, and Chicken Gyro are among our favorites!
This easy Greek salad recipe is a simple and delicious dish that combines classic Mediterranean ingredients that are healthy and delicious. The citrusy lemon dressing is fresh and bright, leaving you feeling satisfied without a serving of guilt.
Salads can be so deceiving. I used to order a salad at a restaurant we liked thinking that I was making a smart eating choice while everyone else noshed other entries. That is until they started posting nutrition content on their website. My salad was 1200 calories! No wonder I loved it.
Why You'll Love This Recipe
Plenty of Flavor. What I've learned over the years is that I want a salad that isn't your typical lettuce salad with a couple of tomatoes thrown on top. Those salads to me are boring and they make me feel like I'm being punished for something.
I want mixed greens that are beautiful and loaded with fresh ingredients, flavor, and textures without all of the calories.
Versatile. Sometimes we'll top this salad with grilled chicken or shrimp just to change things up and I love serving it with grilled pita bread. Use the ingredients your family likes and change things up. This easy Greek salad is also perfect as a main dish or side salad.
Great for you. This recipe is perfect for a quick and healthy lunch or dinner option and can be customized to suit your taste preferences. It is also a great option for those following a vegetarian or Mediterranean diet. I don't have to tell you all of the health benefits of Mediterranean ingredients. They're heart-healthy which is important for all of us, but this one will also keep you satisfied.
Always in season. Another thing that I like about these ingredients is that they are available year-round. I don't have to be in the sunny Mediterranean to get them even though that would be amazing too!
Equipment Needed
To make the easy Greek salad recipe, you will need basic cooking skills and a few basic kitchen tools. The salad can be made in just a few minutes, making it a great option for busy weeknights or for meal prep.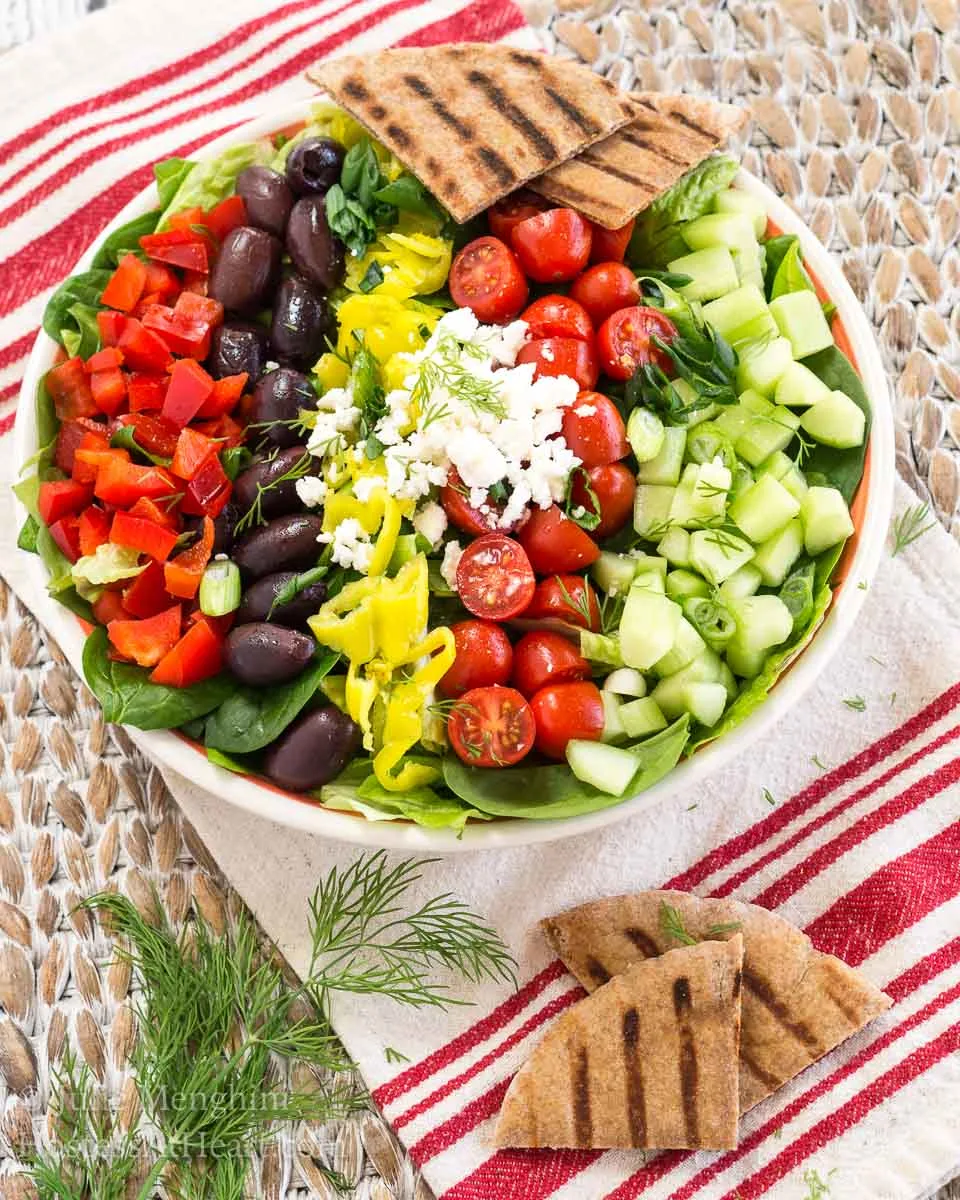 Ingredients in this Recipe for Greek Salad
Greens. I chose romaine because it stays crunchy. Many restaurants like to use a Spring mix.
Tomatoes. Small cherry or grape tomatoes are a traditional choice.
English Cucumber. Any cucumber will work if an English cucumber is not readily available.
Kalamata Olives. Get pitted olives. Don't add stress to your life.
Red Onion. I don't recommend using a different onion in salads as red onions are ideal in texture and flavor.
Feta Cheese. You might also like blue cheese or Cotija cheese on this salad.
Red Bell Pepper. Yellow or orange bell peppers can be used. I love the color contrast and flavor of red bell peppers.
Sliced Pepperoncini Peppers. I love the added spice that these peppers add to my salad, and will often add a little bit of the juice to my salad dressing.
Homemade Greek Salad Dressing. See our recipe!
Ingredients for the Greek Salad Dressing
Freshly Squeezed Lemon Juice. Brightens up the dressing.
Extra-Virgin Olive Oil.
Salt.
Ground Black Pepper. I love to use freshly cracked pepper or coarsely ground black pepper.
Herbs de Provence. Spice blends are delicious and prevent you from having several seasonings that you combine all the time anyway.
Sugar.
Dijon Mustard. Mustard serves as an emulsifier which means it helps everything blend together into a smooth creamy dressing. You can use any mustard but we love the flavor of Dijon.
How to Make an Easy Greek Salad
Tear or chop up the lettuce. Dice the onion, bell pepper, and tomato. Peel, seed, and dice the cucumber. Dice the tomato. Mix all of the ingredients and then toss it all together with the Greek salad dressing.
To make the dressing, place all of the ingredients in a jar and shake it extremely well. Or, place all of the ingredients in a bowl and use a whisk to combine.
The salad should be served cold. To make sure this happens, refrigerate all of the ingredients that might otherwise be warm including the tomatoes, the bell peppers, and the homemade dressing before you make the salad.
What to Serve with Your Easy Greek Salad
I grilled pita bread and served it with this salad. Simply brush the pita bread with olive oil and heat it up on the grill. You can make your own pita bread or find them in the bread aisle of your grocery store.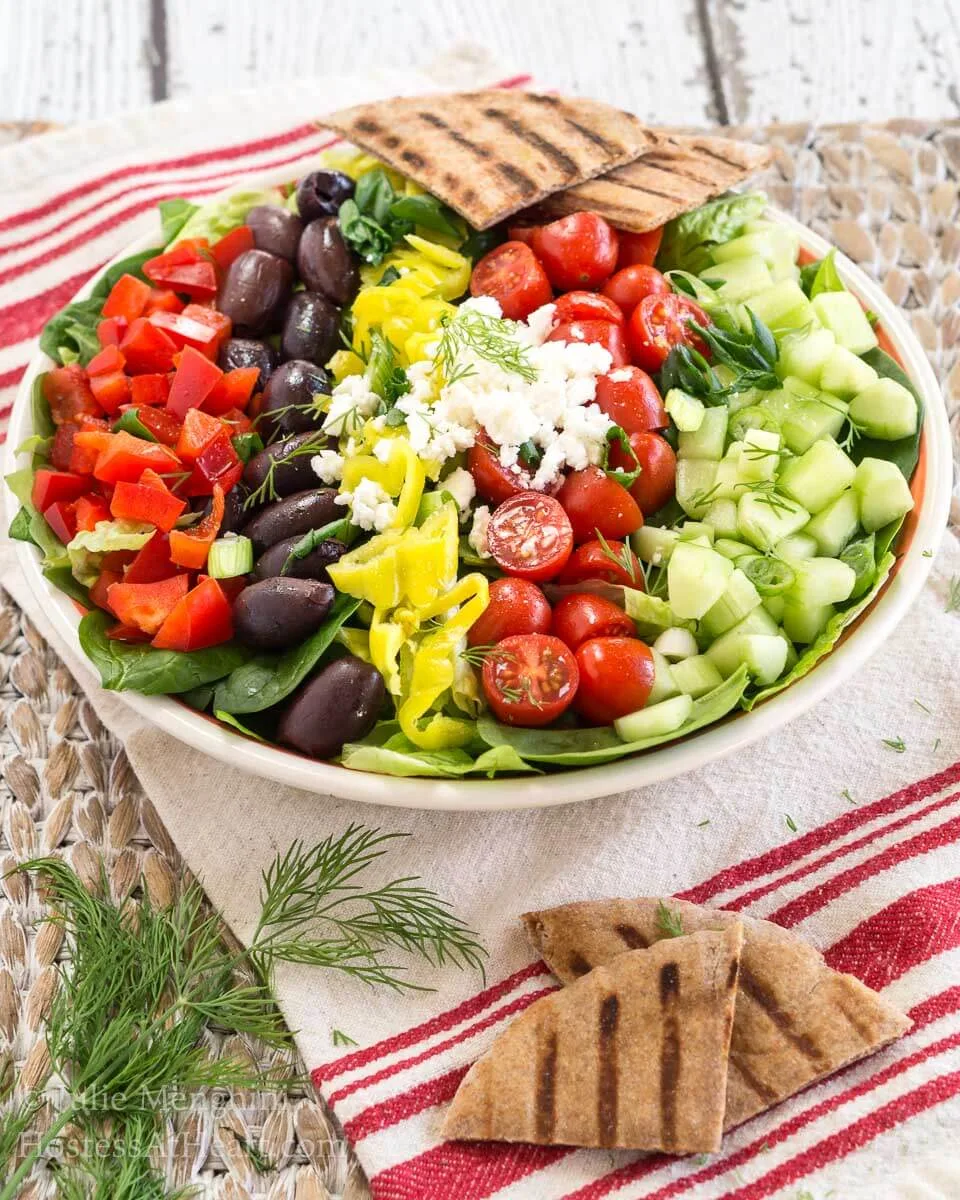 Substitutions and Additions
One of the things that makes this salad so special is that you can use whatever your family prefers!
Greek salads usually include plum tomatoes but I used grape tomatoes because they're sweeter. Use what you like.
Kalamata olives can be substituted with green olives or left out altogether.
Red onion is commonly found in an easy Greek Salad. Slice them and soak them in cold water for 30 minutes if you want to remove their strong flavor.
Add grilled chicken, shrimp, or boiled eggs.
Don't feel like making homemade Greek dressing? Purchase a balsamic or Italian dressing.
How to Store This Recipe for Greek Salad
Greek salad will last in the refrigerator for four days. Place it in an airtight container. You cannot freeze salad. I recommend storing all of the ingredients separately and assembling the salad right before you serve it.
Frequently Asked Questions
What types of lettuce are used in traditional Greek salads?
Romaine was my choice because it holds up to all of the other ingredients. You can use more than one variety. Iceberg, Spinach, or a lettuce blend would be delicious. You can also buy prepared lettuce which will make this an easy Greek salad perfect for a quick meal.
What is the difference between a Greek and Mediterranean salad?
Greece is a Mediterranean country. Even though Greek salads and some Mediterranean salads can have common ingredients, they can be very different as well.
Some Mediterranean countries are known for their own salads such as a Caprese salad you'd find in Italy or an Ensalada de San Isidro from Spain that includes seafood.
Some of the salads can be very similar. They usually contain lettuce, cucumbers, tomatoes, peppers, red onion, feta cheese, and olives and can have a similar dressing, which might have slight variations depending on the cook.
Is Greek Salad healthy?
Overall, the easy Greek salad recipe is a delicious and healthy option that is easy to make and perfect for any occasion. Greek salad is high in vitamins A and C, potassium, and iron. It also contains phytonutrients and antioxidants, which reduce the risk of health complications such as heart disease and cancer. Tomatoes help the body reduce heart disease and cancer risks. Cucumbers help with weight loss and low blood sugar.
Usually, the culprit in making a salad no longer healthy is the dressing. Many dressings and vinaigrettes contain a lot of sugar or are overdressed.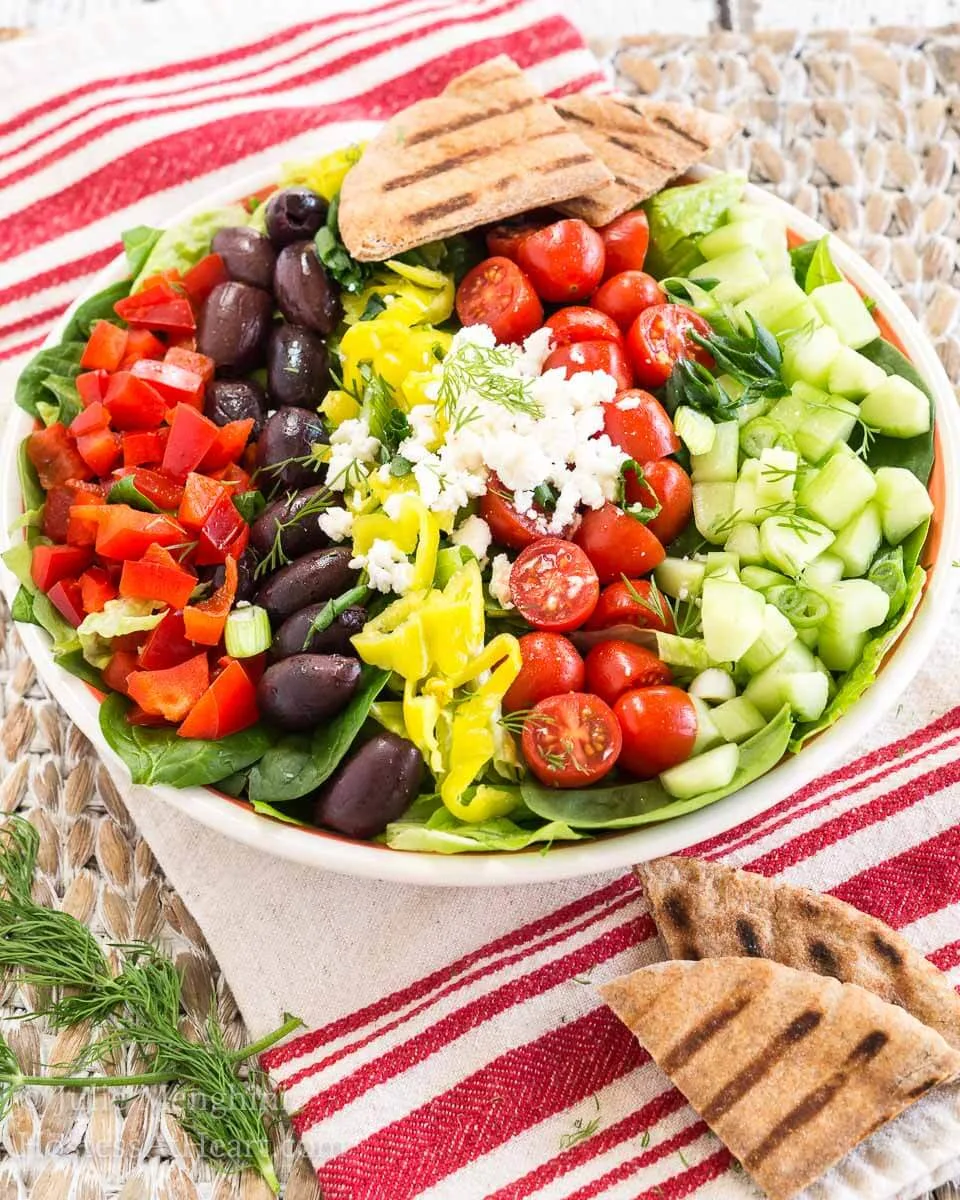 Tips for an Amazing Greek Salad
To keep Greek salad from getting soggy you should remove the seeds and pulp from the cucumber. You should also remove excess liquid from the tomatoes and only use the fleshy.
Cut the lettuce into large bite-sized pieces. It's easier to serve and to eat.
Red onions can be very strong. Soaking them in cold water for at least thirty minutes will help calm that intensity down a bit.
Do your prep ahead of time and assemble the salads right before you serve them. This keeps everything fresh longer. If you can keep it all separate and only mix what you need, your leftover salads will stay fresh as well.
Chill the salad bowls before you fill them to keep the perfect easy Greek salad fresh and crisp.
If you tried this delicious recipe, don't forget to rate it and leave me a comment telling me what you think. I love hearing from you!
If you like this delicious salad recipe, I think you'll enjoy these recipes too.
Want more delicious recipes? Follow Hostess At Heart on Pinterest!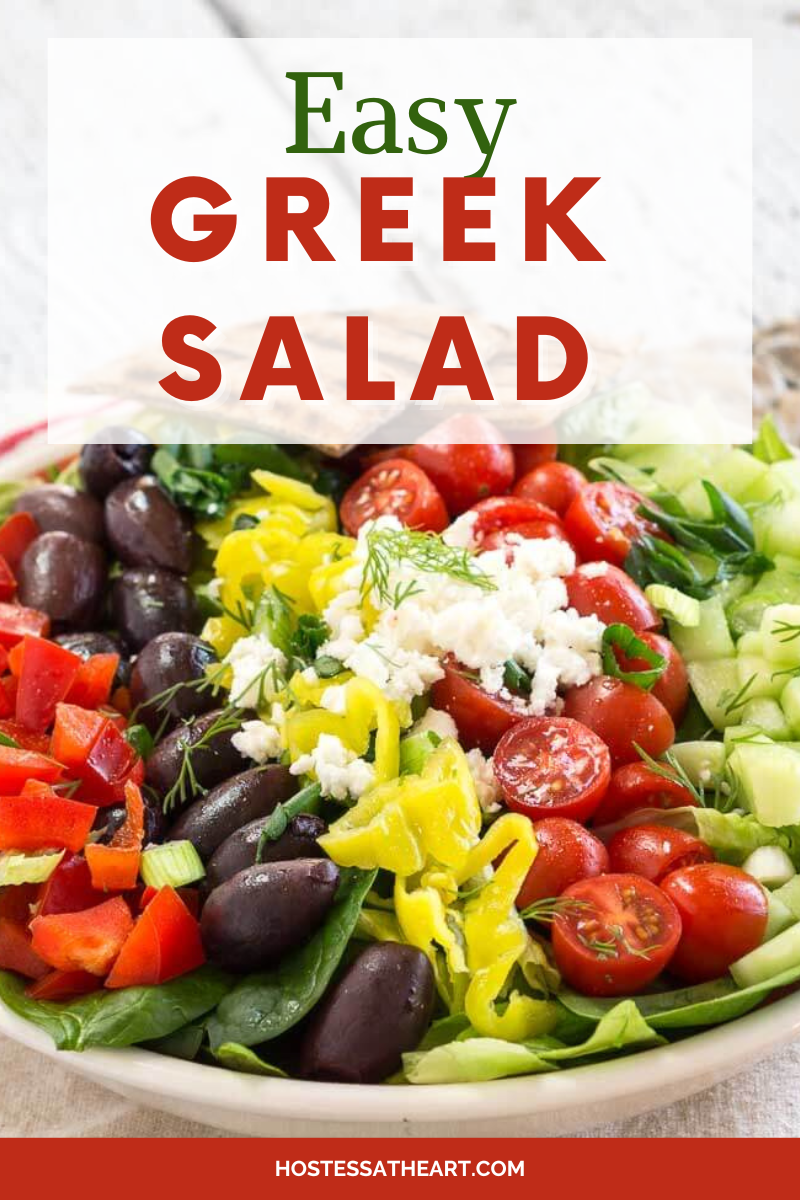 Popular Posts