A light tender easy to make pita bread recipe that is still strong enough to completely fill up. This pita is easy to make and delicious to eat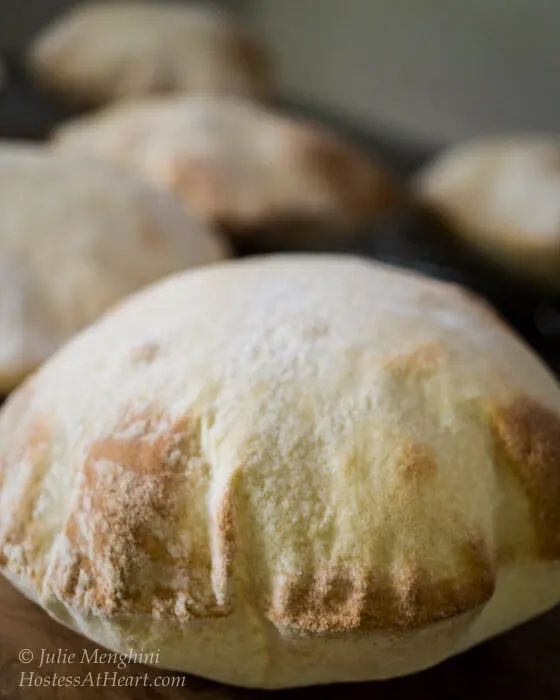 Yes, I made this Easy to Make Pita Bread recipe! You may think that isn't such a big deal, but it was to me. I've never done it before.
One of my friends, Debbie from the Mountain Kitchen, posted some Gyro recipes recently that I really wanted to try.
She has made them vegetarian or with meat and has shown how versatile they can be. The Greek dressing that she makes is delicious!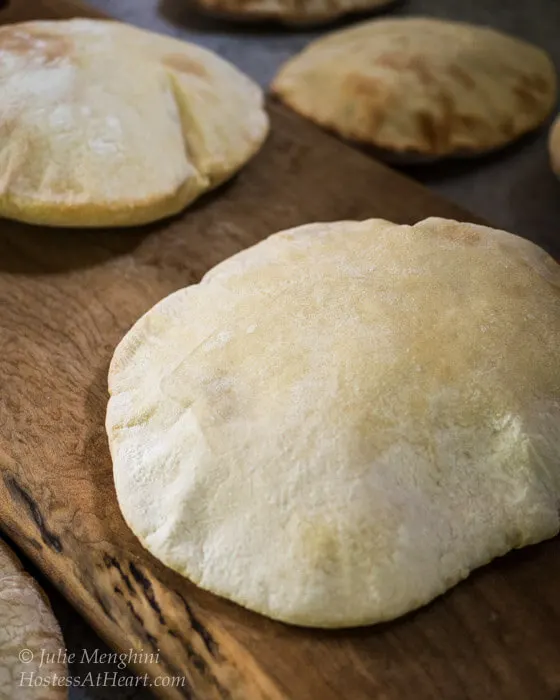 I had some fresh chicken breasts in the refrigerator when I saw Debbie's Chicken Gyro recipe, and I knew exactly what our dinner was going to be.
I went to the store to get the remaining ingredients that I needed but just couldn't get excited about the commercially made pita bread. It can be doughy, tough or chewy and not all that flavorful.
I went home with everything that I needed to make Gyros except the pita bread. I decided to make my own. If the pita experiment failed, we always had the salad option.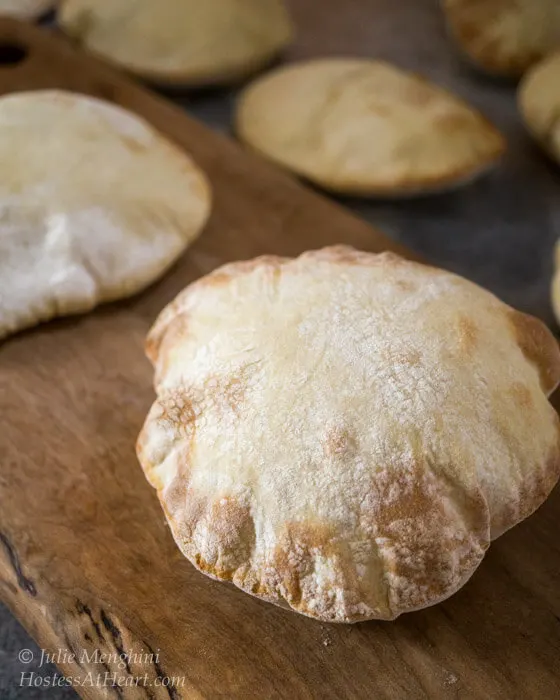 I found a King Arthur Flour (KAF) recipe in their Spring 2015 "Sift" publication, that looked easy enough.
I couldn't believe how soft and silky the dough was. Silk and baby butts came to mind.
One thing that I found was if you rolled most of the air out of the dough, they baked a little flatter and stayed softer which made a pita that was easier to cut and add stuffings.
The pitas that retained more air puffed up and were crispier. They were delicious, and I actually just ate them as a side to a Greek salad.
Since making this pita bread, I've learned that instant or rapid-rise yeast is finer and doesn't need to be activated in water. It can all be mixed together all at once, without worry that the yeast will fail.
You will need a baking stone that can take a hot oven for this recipe. I actually baked 2 at a time, and that worked well.
John and I really enjoyed this dinner. He was so impressed with the pita bread that he told his friends at the gym about them.
I thought that was pretty funny, guys pumping iron and talking about baked pita bread. You always hear that homemade is better than store-bought, and in this case, it's true!
Homemade bread recipes you might also enjoy
Popular posts
Pin this delicious Homemade Pita Bread recipe